Breast Cancer Awareness Month!
October is Breast Cancer Awareness Month and a big reminder that this disease continues to rake havoc in the lives of many families. Personally, I think Breast Cancer Awareness Month should be every month because we need every reminder to be aware of this disease. And how to reduce its risk factors, including eating foods to promote healthy breasts. Let's take this opportunity to dive deep into nutritious foods that bolster breast health! Plenty of foods that can support your breasts consist mainly of vegetables and plants. When in doubt, think of plants and more plants! Eating the rainbow is always a great call; the best thing is that you can eat these foods all year round to improve your breast health.
Though we celebrate Breast Cancer Awareness Month in October, you do not have to wait until every October to take care of your breast. Get all the information and resources for breast health here.
Good nutrition has long been man's best friend (move over dog). And in honor of Breast Cancer Awareness Month, here are 11 foods that support breast health.
Click To Tweet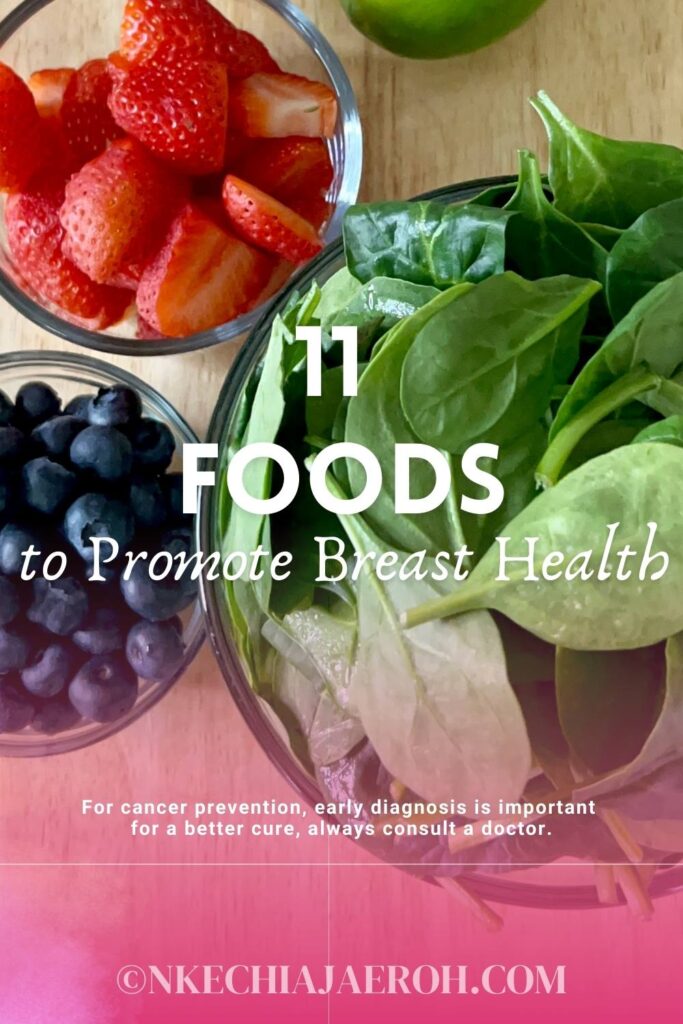 How to Support Your Breasts Nutritiously!
It is no longer news that nutritious foods can help the body thrive excellently! As it is October – Breast Health Month famously known as Breast Awareness Month, let's take a moment to spotlight some foods that promotes healthy breasts! See here for risk factors.
1. Go Nuts for Breast Health!
Nuts are generally heart-healthy, excellent as a snack and perfect topping for salads. Almonds, pecans, and walnuts. These nuts have several benefits, including a reduced risk of certain cancers. Specifically, a 2015 study revealed that "girls (women) who eat peanut, almond, and walnuts are less likely to develop breast cancer." Eating up to 2 ounces of nuts daily can significantly support breast health! 
I like roasting nuts in my air fryer or toasting them on stovetop. You can also eat raw nuts. Find a way that works for and start incorporating them into your diet today!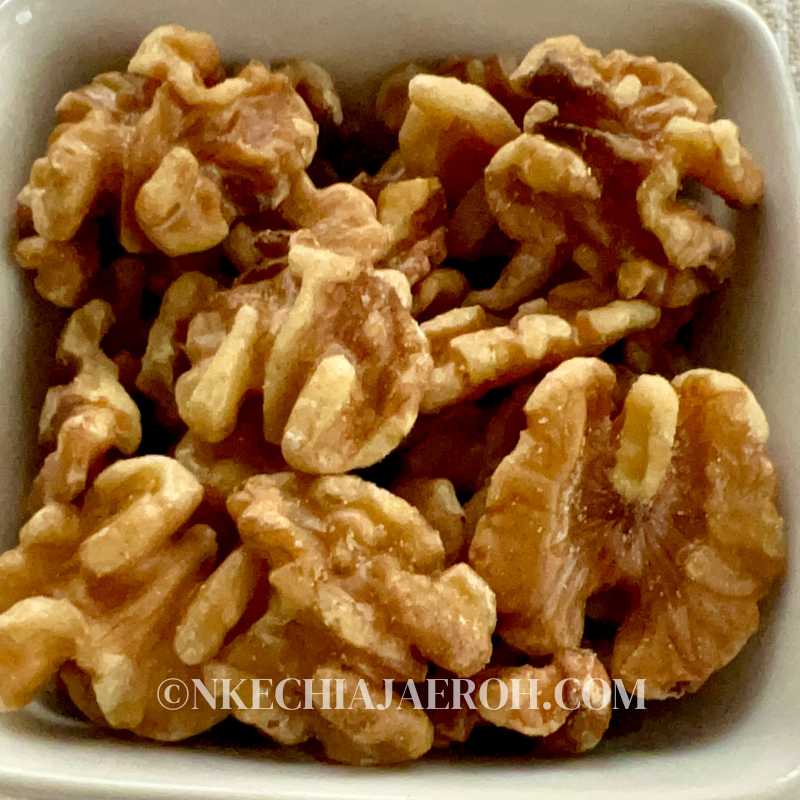 2. Olive Oil Supports Breast Health.
One of the best oils for cooking is undoubtedly olive oil, and not just olive but extra virgin olive oil (EVOO). It has powerful antioxidants that can decrease the growth of cancerous breast cells. Can we agree on this? 🙌🏾 my two hands are up!!!
Next time you have a choice regarding cooking oils, please choose olive oil; it is nutritious and can support your breasts. I like using EVOO not just for cooking but also for baking. See my whole wheat banana bread with olive oil and honey.
3. Leafy Green Vegetables Promote Healthy Breasts!
Leafy Green vegetables are packed with high-quality nutrients and vitamins essential for maintaining our body's functions. Vitamins and nutrients such as carotenoid antioxidants, zeaxanthin, and beta carotene all of which are linked to supporting breast functions while also reducing the risk of breast cancer.
All leafy vegetables are fantastic to eat; I recommend going for what you enjoy! You can't go wrong with kale, spinach, collard greens, arugula, lettuce, etc. I love spinach; this spinach and berry salad is one of my easy go to salads to enjoy! It is nutritious while fostering breast health!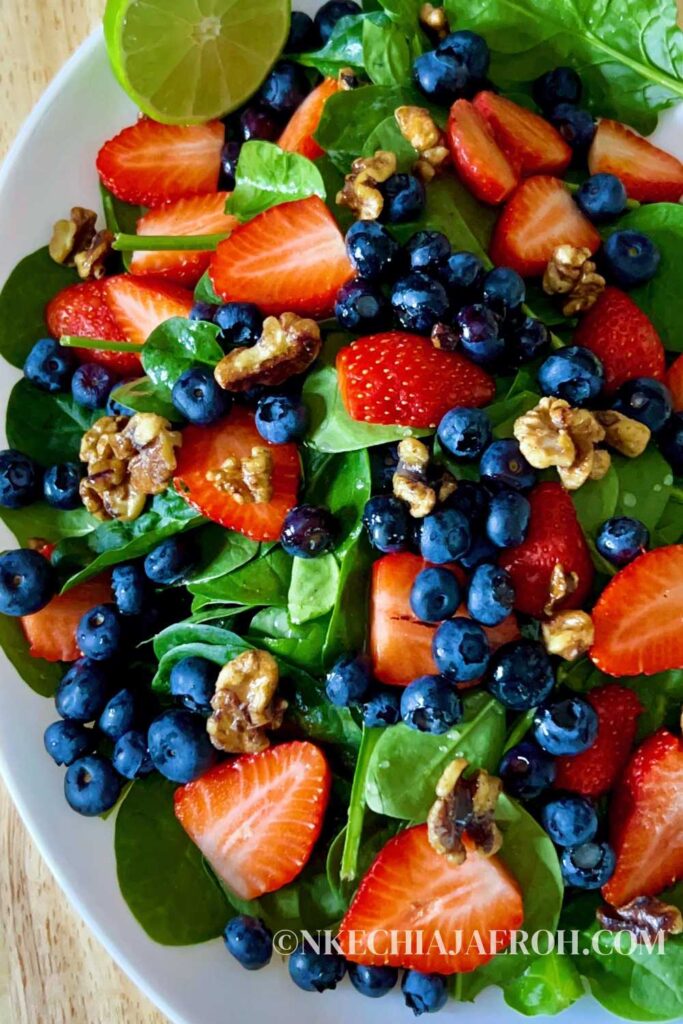 4. Promote Healthy Breasts with Allium Vegetables.
Garlic, onions, shallots, scallions, leeks, and chives not only add flavors to food, they promote healthy breast tissues. Allium vegetables belong to the onion's family; these are flowering plants and mostly have bulbs and are edible. Plenty ways to use all the vegetables that are part of the allium family.
Some health benefits of these vegetables include lowering high blood pressure, protecting the heart, and anti-cancer. Using garlic and onions in (almost) all meals is a necessity.
5. Cruciferous Vegetables.
Cruciferous vegetables (such as cauliflower, broccoli, cabbage may help lower the risk of breast cancer (according to cancer.com). This group of vegetables has anti-inflammatory, antiviral, and antibacterial powers.
Some other cruciferous vegetables may include kale, garden cress, bok choy, broccoli, Brussels sprouts, Bok choy, arugula, Collard greens, Horseradish, Radishes, Rutabaga, Turnips, Watercress, and Wasabi. I often make broccoli in my air fryer, such an easy side. Also, a great way to use fresh cabbage is hands down my red cabbage taco!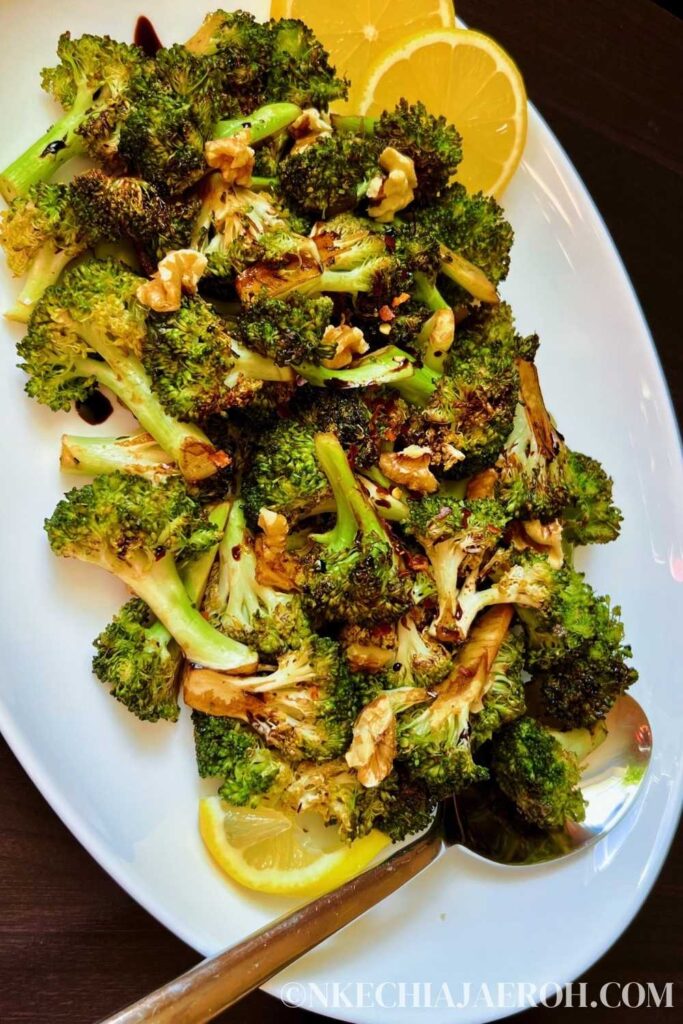 6. Apple, Peaches, and Pears.
Fruits are packed with essential vitamins and nutrients; the fruits, as mentioned above, specifically protect the body against breast cancer.
According to research, as little as two servings of peaches per week can reduce breast cancer risk by up to 41%! You can eat an apple a day, make some easy peasy peach smoothie, or just add pears to your salad. There are plenty of ways to add these fruits to your diets in other to create breast-healthy meals. I like topping air fryer pears with yogurt! Makes for a nutritious dessert!
7. Promote Breast Health with Berries.
Berries contain potent and powerful antioxidants that are notable for preventing cellular damage. Blueberries, in particular, may reduce DNA damage and protect against certain cancers. Check out my Berry spinach salad, peach strawberry smoothie, or blueberry smoothie; they all have an abundance of berries.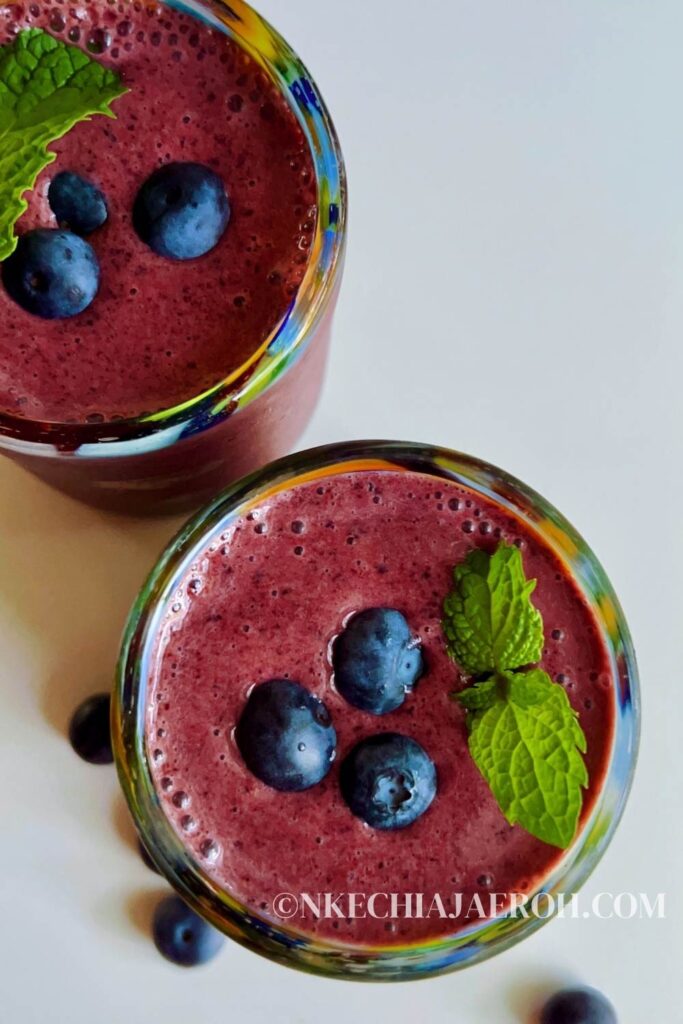 8. Herbs and Spices Boosts Healthy Breasts!
Excellent medicinal benefits are associated with the consistent use of herbs and spices. Parsley, celery, rosemary, oregano, thyme, turmeric, curry, ginger are great herbs and spices to start.
Apigenin, a compound found in parsley and celery, can prevent or limit the development of cancerous breast tumors, according to the University of Missouri scientists). I like celery juice; however, I'm aware some people may not like the taste of it. To those people, I suggest blending it into soups. This butternut squash soup contains but celery and turmeric, but you can't tell, lol.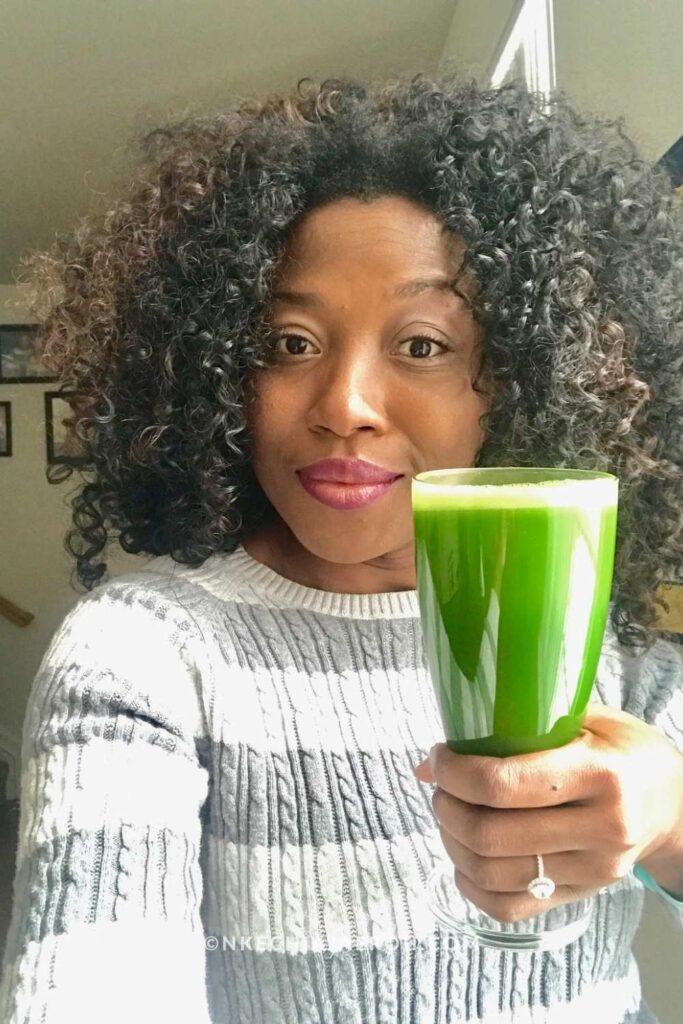 9. More Beans, please!
Beans is cheap, easy to cook, and always in abundance. You can easily create tasty diets for healthy breasts using beans. A high intake of fiber may lower the risk of breast cancer. The American Journal of Clinical Nutrition emphasizes the need for fiber in the fight against breast cancer. (*High beans intake decreased breast cancer risk up to 28% in a study of 1,260 Nigerian women! Beans remain one of the primary foods that promote breast health.
Also, chickpeas, barley, bulgur, lentils, peas, artichokes, and dates have a significant amount of fiber! We eat a lot of beans porridge around here. Grab my one-pot Nigerian beans porridge here. Also, check out my steamed Nigerian beans pudding.
10. Fermented Foods Can Promote Healthy Breasts.
Fermented foods have a substantial amount of probiotic bacteria and enzymes, which benefits the body in several ways, such as in the gut, digestive, and immune system. The benefits of fermented foods also extend to reducing the risk of breast cancer.
Other wonderful fermented foods that are linked to breast health may include Miso, Kefir, Kombucha, Tempeh, and Lassi. These foods promote healthy breasts alongside healing our guts. Check out my frozen yogurt bars.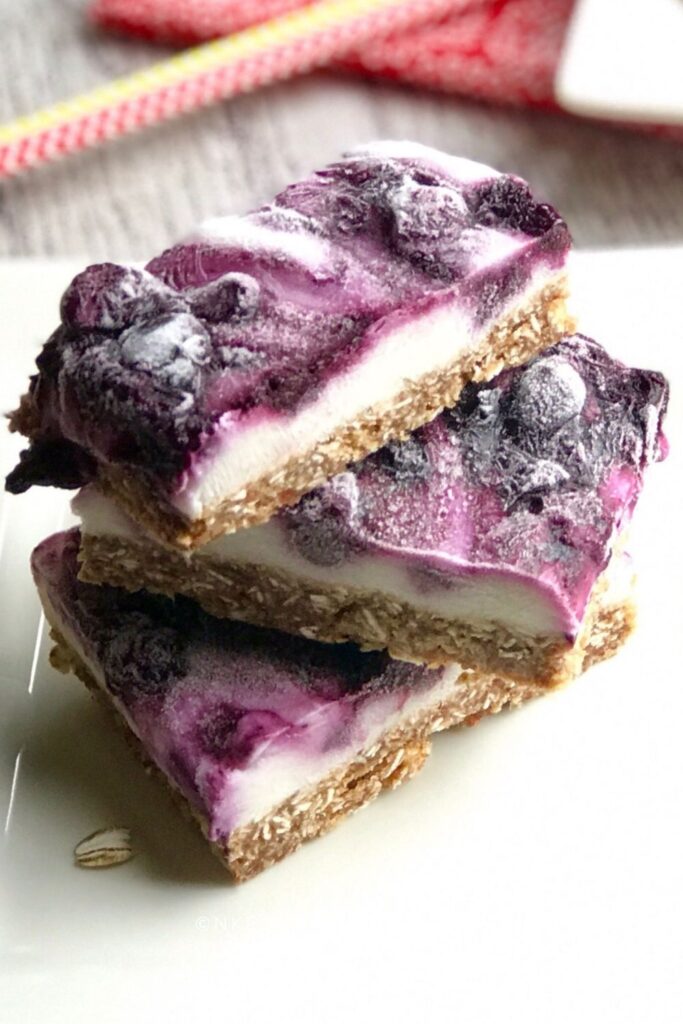 11. Fatty Fish Promotes Healthy Breasts.
Fatty fish such as salmon, sardines, and mackerel provide excellent nutrients to the body (Omega 3, selenium, and antioxidants). Also, we all love them because they are tasty and easy to make. Fish is generally my most favorite protein!
8 ounces of fish a week is recommended; otherwise, you can consult your primary care physician to decide on the best fish oil supplement. Fish oil supplements are popular these days, as well as this super easy salmon with green spinach sauce or this other air fryer salmon. Fatty fish are excellent for creating nutritious diets to support your breasts.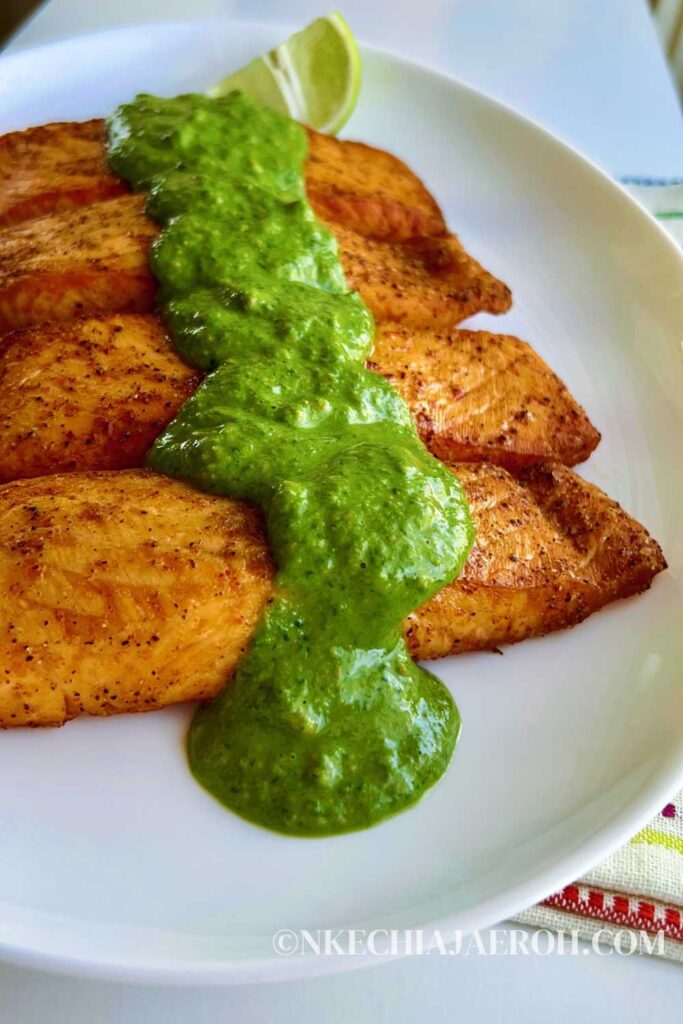 Which of these foods do you already eat regularly? Please share in the comments below.
Bottom Line:
Remember, these are not just the only foods that support breast health. Focus on healthy eating while adding these foods and more plants into your diet. You will slowly but surely boost your overall health, including those of your breast tissues. Read labels and stay away from over-processed foods. Learn more about breast cancer myths!
Please share your thoughts and tips in the comments. Thanks for stopping by!!
While you are still here, grab my FREE (5) spinach salad recipe bundle. It would be a great addition to your dinner table (if you like salads) or you are looking to incorporate more veggies. Get the recipes here.
Finally, let's connect on social media, am on Pinterest, Facebook, Instagram, Twitter, and YouTube. If you like video recipes, then be sure to head over to my YouTube Channel. Share this recipe post, and SAVE/PIN THIS IMAGE ON PINTEREST! ⤵️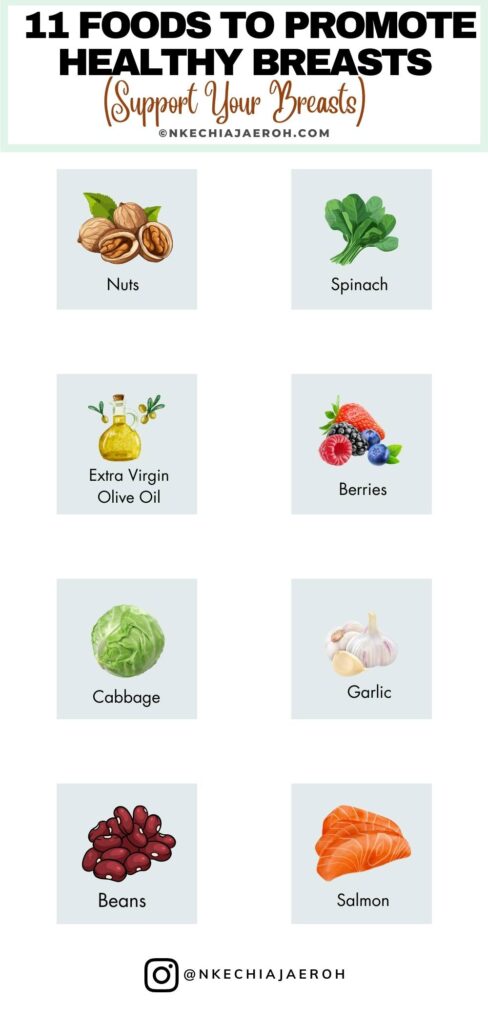 THANKS FOR STOPPING BY! Stay well, safe and keep cooking!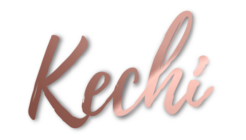 THIS POST CONTAINS AFFILI ATE LINKS, you are not charged more for using these links, but I make little coins when you do.