My Nigerian meat pie memories.
I have several, and I mean SEVERAL Nigerian meat pie memories. Ok, story time: I have three older sisters who were already married by the time I was in primary school (well, the age gap between my sisters and I are major, so) that means more travels and more time away from the village during end of school holidays. I particularly prefer spending my end of school year long holidays in Maiduguri where my (parents) second daughter lived. Notably, my sister has a hair salon (one of the best in Maiduguri at that time) and just like most businesses in Nigerian snacks are made available (for purchase) should in case the customers need it while waiting.
In this case, there is always a daily supply of Nigerian meat pie, chin-chin, buns and doughnuts to the salon (by the "supply lady"). And sometimes my sister would give us some of these snacks as a reward for good behavior, oh Lordie, good old days.

My love for Nigerian meat pie started years ago, fast forward to now and this soulful snack still remains one of my most treasured childhood (and adult) delicacies.
Click To Tweet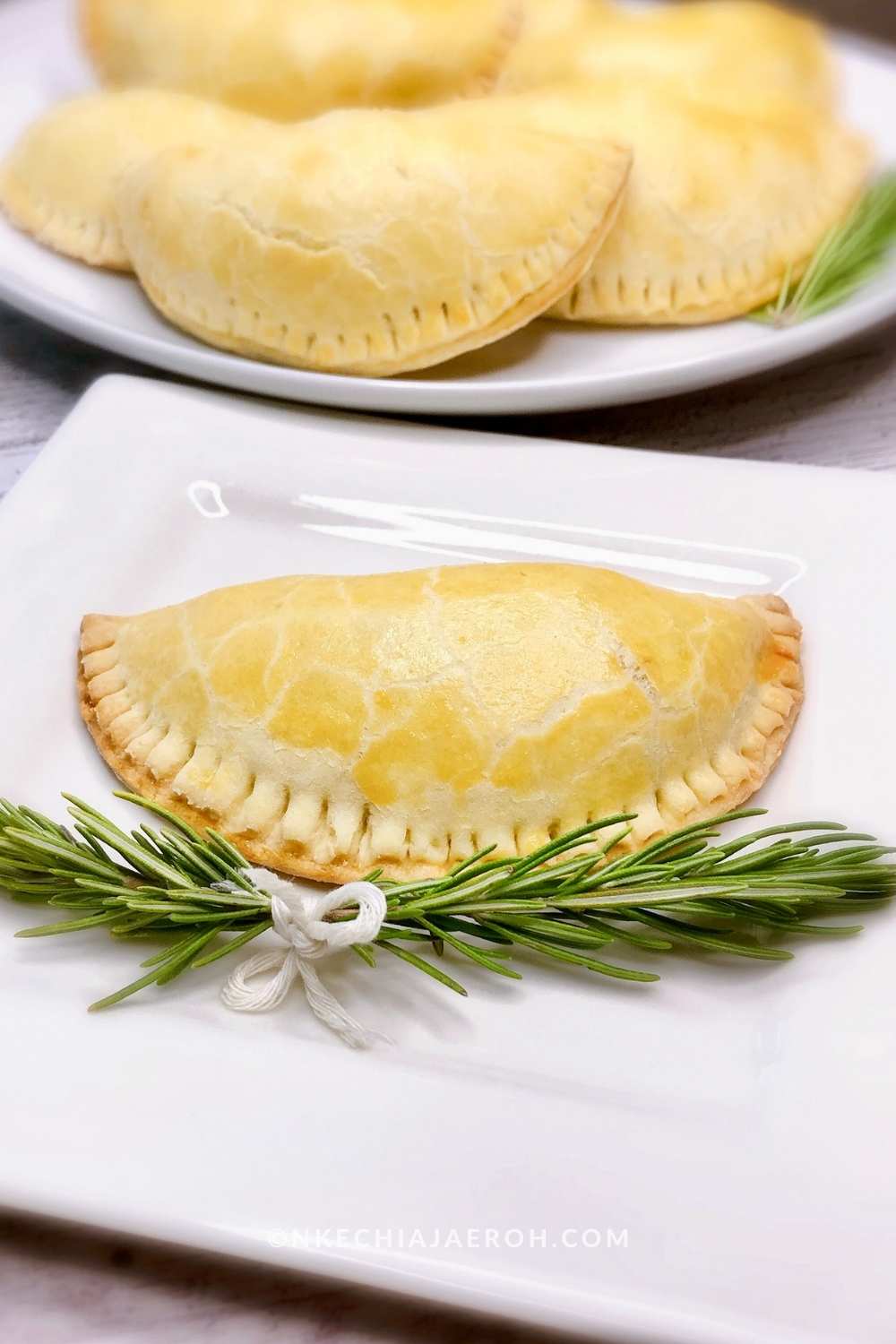 Savory street snack.
Firstly, Nigerian meat pie like most Nigerian snacks is usually sold on most streets in Nigerian. OK, here's what I mean: if you are one my very good friends that are not entirely familiar with my 9ja/African culture, let me explain; in most African nation snacks are sold on the streets. Yes, on the street! For instance, motorists and passengers can actually buy foods/snack on the road while on the go, and also at certain bus stops/red light stops or even during heavy traffic, yes quote me. I know this description might sound crazy, but it is very accurate. So do not be surprise when you see this kind of scenario at play in 9ja or any other African nation, got it? Wonderful!
Secondly, if you really do not like to get your hands dirty (I mean food dirty) and/or you do not want to get into the cumbersomeness of making Nigerian meat pie that means you can readily buy it on the street BOOM! Thirdly, if you live in Obodo Oyinbo (or abroad), that means you may not see it on the street (like in 9ja), but you may also still snag it from that African store around the corner if they do sell it. (For the record), most African stores also sell African snacks so you may be in luck! 🙂
This classic Nigerian meat pie recipe is divine, you will no longer have to wait for a trip to the store or the street, instead, you can now confidently make and enjoy meat pies at will!
Click To Tweet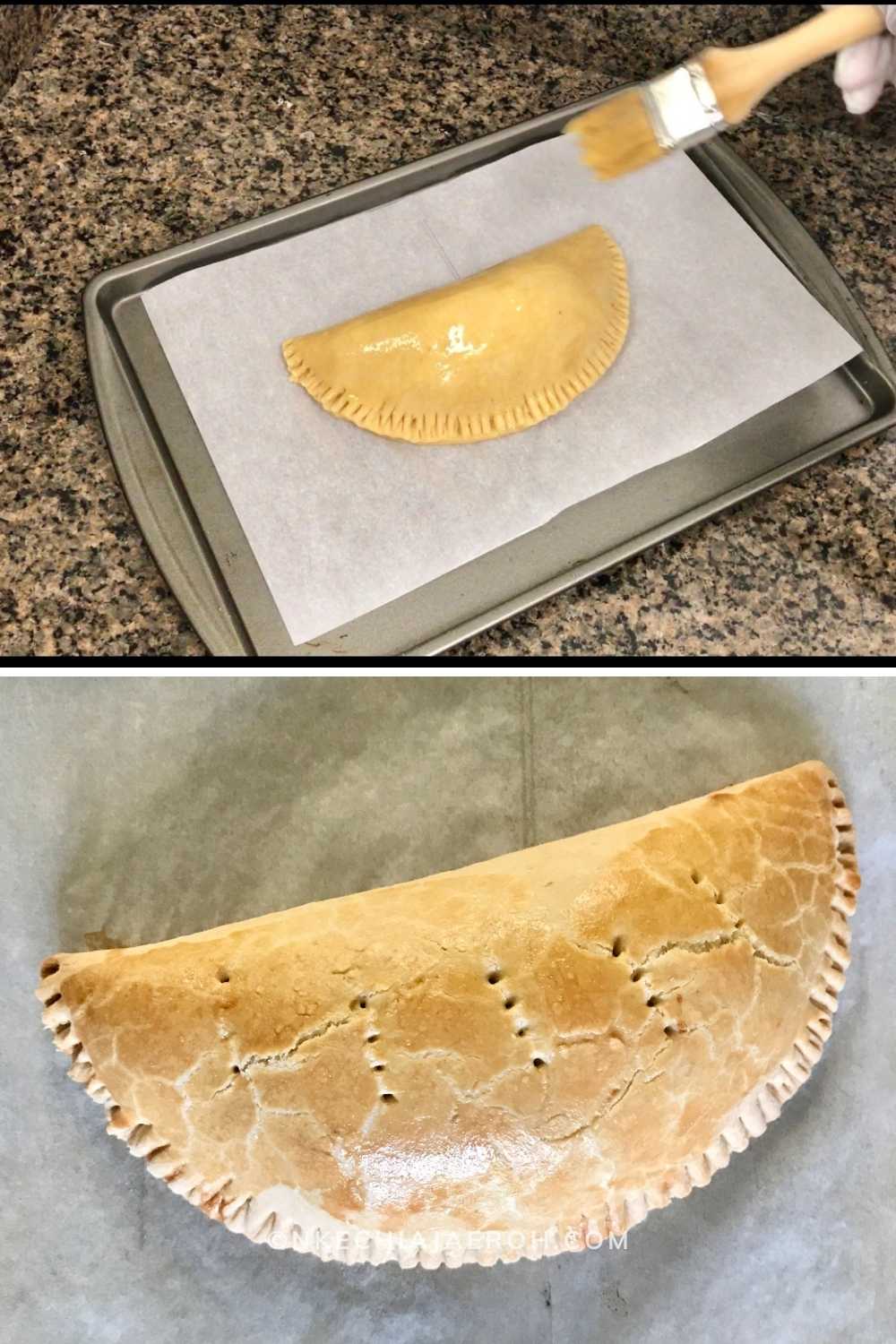 Mastering the Nigerian Meat Pie.
The Nigerian meat pie is a classic masterpiece. It is usually the first choice among Nigerian snacks without question. Very true that in Nigerian and in most African countries we savor a variety of snacks, yet, the meat pie is regarded as one of the best! This is unlike anything you may have seen, known or eaten; in other words, the Nigerian meat pie is E V E R Y T H I N G! Beautiful, sweet, and savory crust filled with well-seasoned moist, meaty and veggie goodness – Nigerian meat pie. Click To Tweet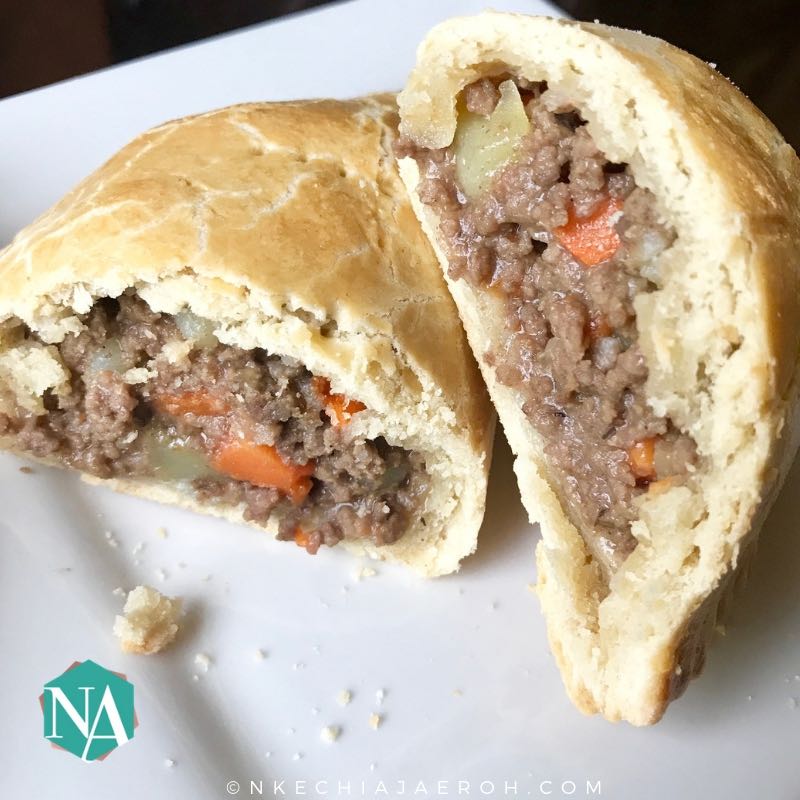 Making the Nigerian meat pie.
No doubt making Nigerian meat pie requires good amount of time and effort. I will be lying if I would say it doesn't. However, every time and energy spent on making this dish is totally worth it. Because meat pie making is an intimate process and OMG you made it, that's your creation (the best feeling ever)!
Step 1: Make Meat Pie Dough
Here are some of the things you will need to make a marvelous meat pie crust. They include flour, very cold butter, baking powder, eggs, sugar, nutmeg, all of these will make a great crust, trust me!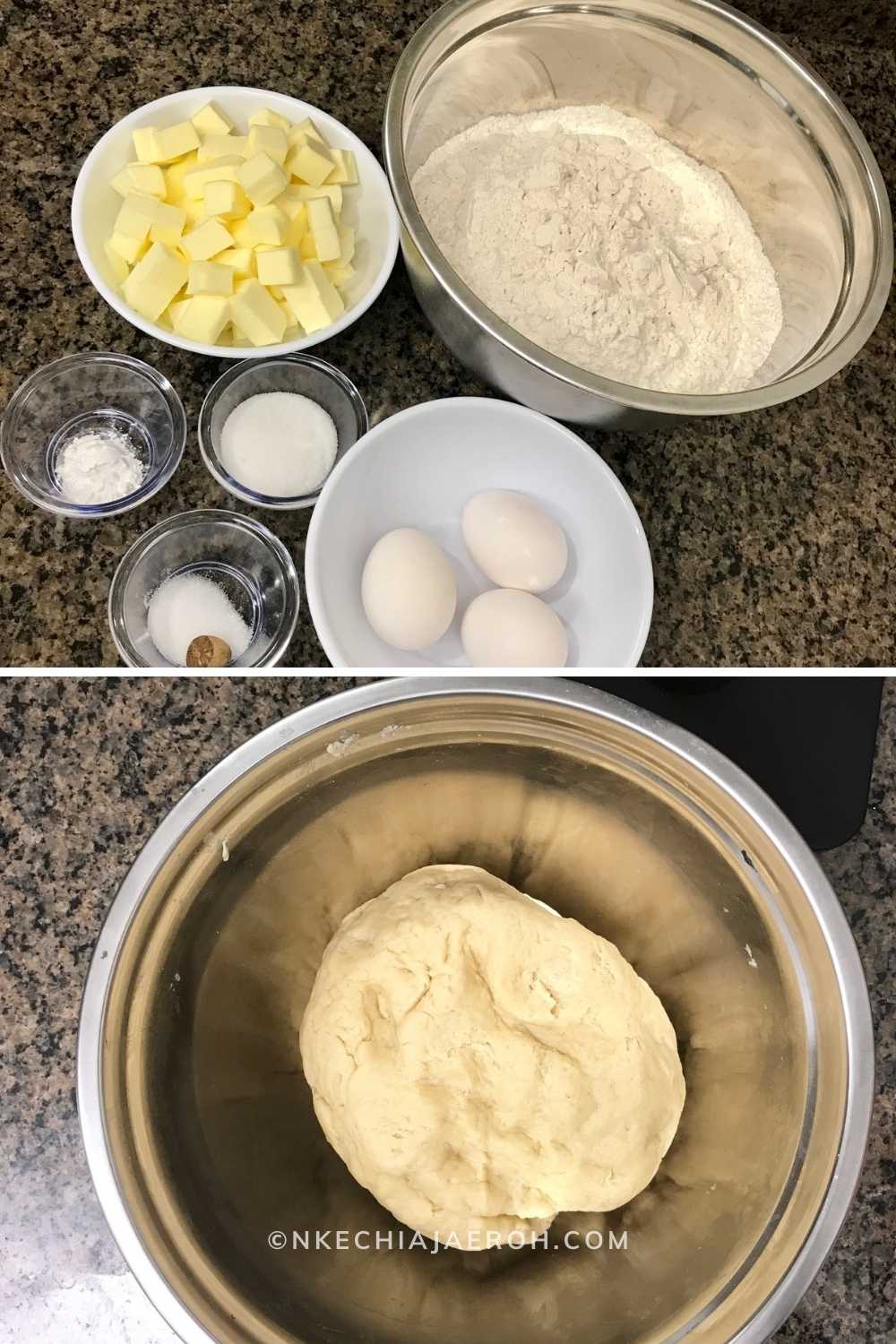 Step 2: Make the Nigerian Meat Pie Filling
On the other hand, for the filling, you will need the following. Lean ground beef, fresh carrots, fresh potatoes, olive oil, flour, seasonings, as  well as some water.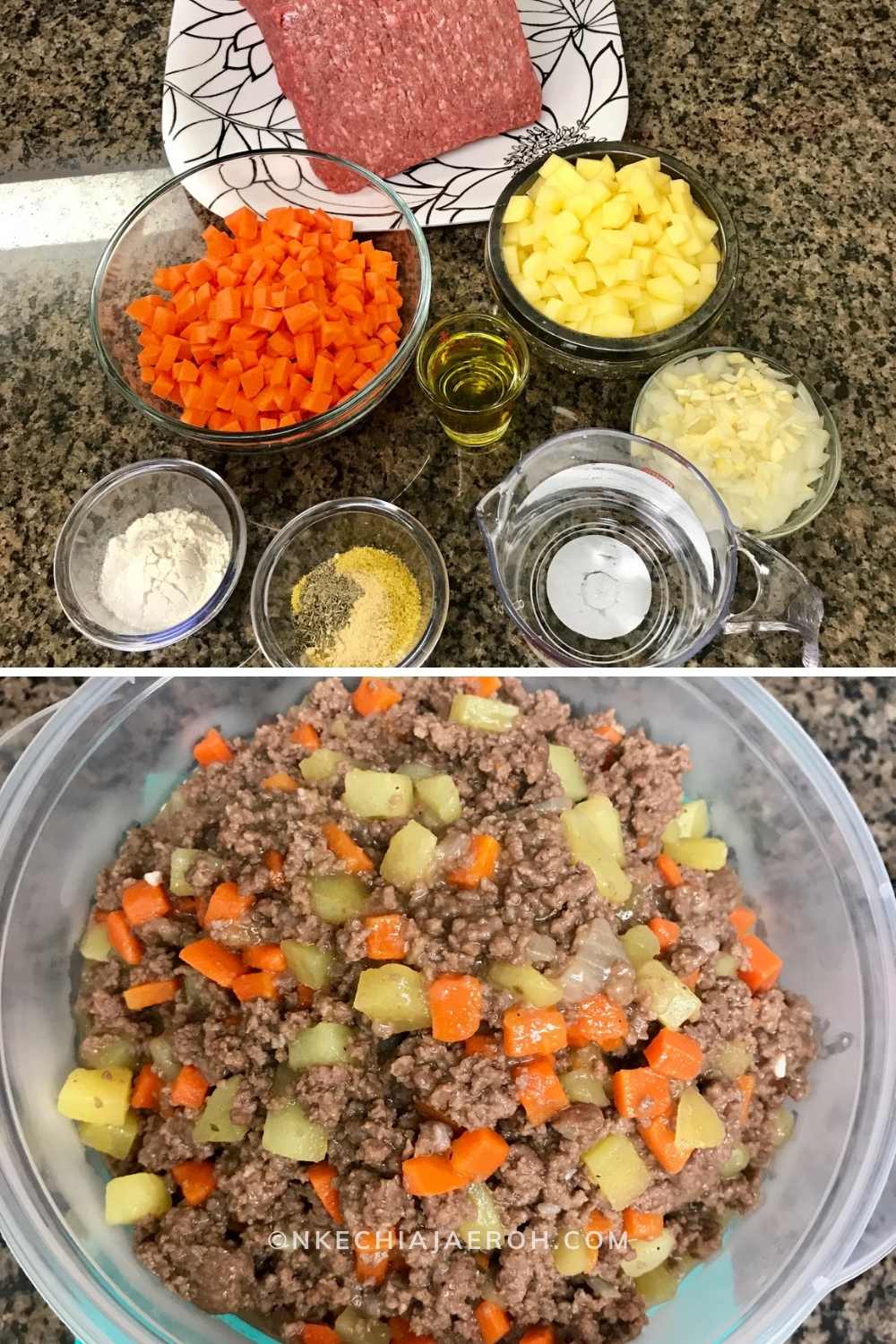 Step 3: How to Roll and Fill the Meat Pie Crust.
Rolling and filling the crust of this Nigerian meat pie is easy – cut the dough into smaller sizes depending on how many meat pies you intend to make (I made almost 30 recipes with this recipe). Then roll one small size of dough, and add the minced beef filling.
I use the pot cover for cutting my meat pies to get a precise and even shape. Brush a little egg wash around the edges of the pies to help them seal properly. Use a fork to press down on those edges to secure the seal fully. Repeat until done, and bake.

Equally important to know is that meat pie sizes differ and totally dependent on you – the maker! I made about 16 regulars and 1 supersize one from this recipe. That supersized one was a special order by the husband.😂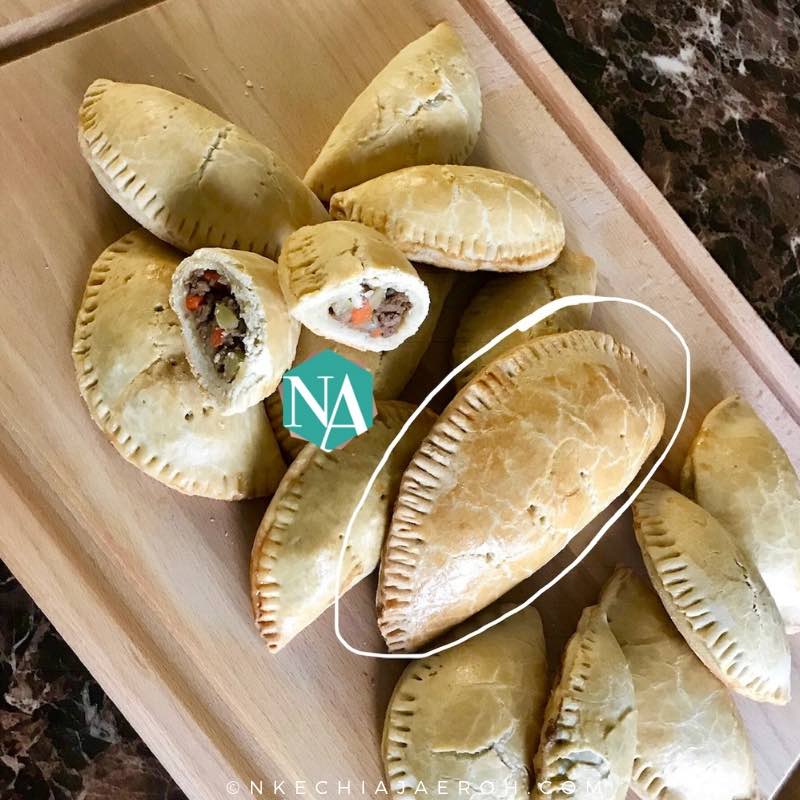 Now if you are ready, let's delight our souls with some delicious Nigerian meat pie.
Print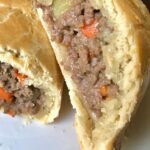 How To Make Classic Nigerian Meat Pie
---
Description
Nigerian meat pie is a classic masterpiece. It is usually the first choice among Nigerian snacks; beautiful, sweet, and savory crust filled with well-seasoned moist, meaty and veggie goodness.
---
For the dough
7 cups

of flour

2

-tablespoon sugar

½ teaspoon

of salt (because am using salted butter)

1

-teaspoon baking powder

½ teaspoon

of nutmeg

3

sticks (about 340g) of very cold butter (I used plant butter)

3

eggs (plus another egg for sealing and glazing)

¼

–

½

cup of very cold water
For the filling:
3.2

lbs. of ground beef (90% lean and above)

1

–

1½

cups of chopped potatoes

2 cups

of chopped carrots (or less depending on the amount of ground meat)

½ cups

of chopped onions and garlic

2 teaspoons

of seasoning powder

2 teaspoon

of salt

½ teaspoon

black pepper

¼ teaspoon

of thyme

2 tablespoon

of flour

2 tablespoons

of olive oil

1

–

1½

cups of water

½ teaspoon

of crushed red pepper or 1 bonnet pepper (optional; for extra spicy)
---
Instructions
For the filling:
Wash and cut all the vegetables, and set aside. Set a clean skillet or pot on a medium – high heat (on the stove) and allow the pot to warm up. Add olive oil to the pot and as soon as the oil heats up, add a dash of salt and the chopped onions and garlic, stir to cook to soften for about 2 – 3 minutes. Add the ground beef and use a wooden spoon or spatula to break down. Add the seasonings: salt, seasoning powder, thyme, black pepper, and ground ginger. Stir well to combine, and keep cooking on medium until all the pinkness disappears from the meat; for the next 8 – 10 minutes or so.
Then add the flour, cook for 2 minutes and then add water. Ensure the water is evenly distributed by stirring well. Now is the time to add potatoes and carrots; mix well to combine and cover to cook until the potato is fully cooked and also until the water inside the meat is visibly reduced (we do not want a runny pie but we do want it moist).
The cook time for this depends on the size of beef honestly. For this recipe (of 3.2 pounds of ground meat), it took about 20 minutes for my desired consistency. (Usually, this process would take about 10 minutes (if say I were cooking about 1 – 2 pounds of ground meat.) As soon as the meat filling is thoroughly cooked, set aside cool completely before using.
For the meat pie crust:
Add all the dry ingredients (flour, salt, sugar, baking powder, and nutmeg) to a big mixing bowl and mix. Add the very cold butter into the flour mixture and starting mixing. Work the butter into the flour until it sort of becomes like breadcrumbs, then add the eggs and continue to mix. At this point, the mixture will begin to form into a dough, add the cold water, and mix everything well. You may need to sprinkle some flour (I usually do) to reduce stickiness. Do not over mix; wrap or cover this dough and put in the fridge for about 30 minutes before using.
Filling up and baking the meat pies
Remove dough from the fridge after the set time, place on a clean pastry board. For the sake of convenience and also in other to avoid over-rolling of dough, I would typically cut the dough into smaller sizes depending on how many meat pies I have in mind to make. When I form and roll one small size of dough, it would make a meat pie. Meanwhile, place parchment(s) on the baking pan and set aside. Preheat the oven to 350 F.
Take one small cut dough, form it with your hands, and then roll it to flatten with the rolling pin. Then use meat pie press, (lol I mean empanada cutter/press) or small round pot cover to cut it (my favorite). I personally prefer the pot cover for cutting my meat pies to get a precise and even shape. While the flattened dough is still on the rolling board, fill it up with the already made pie filling. With my size of pie mold, I usually add 1 – 2 tablespoons of filling in each pie, precisely about 1½ tbsp. Then use the brush to take just a little egg wash and go round the edges of the open pie so that the egg wash will help to properly seal the pie. Use a fork to press down on those edges to fully secure the seal and (so that filling does not lick out while baking).
Place the meat pie on the already lined baking pan; repeat this process until all meat pies are filled (with fillings).
Place in the oven to bake for 25 minutes at 350. Gently remove from the oven after baking, allow pies to rest a little bit before serving. Enjoy with your family.
Notes
I would typically add 1 teaspoon of salt to about 1 – 1½ pounds of ground meat, (but of course, the amount of salt you add to your foods entirely depend on you.)
Bake at 350 for 25 minutes or little less (if you choose to bake on a lower temperature (for instance at 250) then the bake time would increase say up to 35 – 40 minutes.
I would generally take out one meat pie and taste to ensure that it is fully cooked before removing all of them.
Remember, this one of the ways I make my Nigerian meat pie, there are many other ways to make this dish.
Depending on the size of your meat pie molds, this recipe would make up 15 – 18 regular meat pies. I made about 16 regulars and 1 supersize one.
Usually, I would cut the butter into tiny pieces and put inside the freezer for at least 30 minutes before use (for this crust) to get that very cold butter needed for this perfect crust.
(By the time I was done I ended up not using up all the pie filling created for this recipe, and that's ok, it means more pie for another time.)
Prep Time:

35 minutes

Cook Time:

1 hour 10 minutes

Category:

Appetizer or Entree

Method:

Baking

Cuisine:

Nigerian
Keywords: Meat pie, Nigerian meat pie, Nigerian food, Nigerian snack, Nigerian street, African meat pie
Recipe Card powered by
The Best Nigerian Meat Pie Recipe.
What do you think, about my marvelous meat pie? Are you going to give it a try? Please feel free to share your thoughts in the comment below. Also, Please share out this post, let's get your family and friends to start loving meat pie!
If you love this Nigerian meat pie then PLEASE CHECK OUT MORE NIGERIAN RECIPES:
While you are still here PLEASE SUBSCRIBE TO MY YOUTUBE CHANNEL. Am brand new!
THIS POST CONTAINS AFFILIATE LINKS, you are not charged more for using these links, but I make little coins when you do.
Finally, let's connect on social media, am on Facebook, Instagram, Twitter, and Pinterest. Share this recipe post, and SAVE/PIN THIS IMAGE ON PINTEREST! ⤵️

Thanks so much for stopping by.