The Best Berry Spinach Salad Recipe.
Firstly, make sure to download the remaining four spinach salads here. This berry salad is part of my 5-spinach salad bundle. A collection of 5 easy to make immune-boosting salads that you can download free here. Secondly, this berry salad is very easy to make, and a fantastic salad for kids and every (salad) picky eater – and I mean anyone that detests salad. This berry spinach salad recipe can do no wrong; it is fruity, flavorful, easy to make, and immune-boosting! Click To Tweet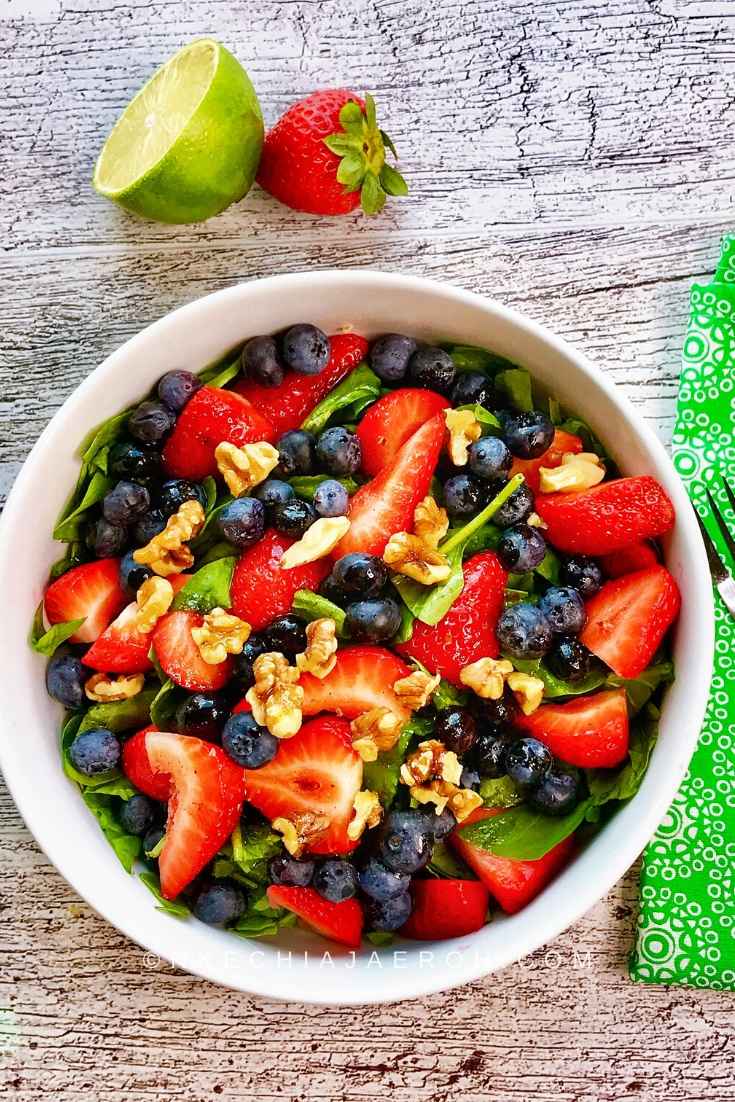 Good things come easy.
Well, when it comes to this salad, I will proudly say, good things surely come easy. There is absolutely no reason to spend 30 minutes to an hour figuring out a salad recipe; this berry spinach salad recipe is ready under 10 minutes! And as long as you make this once, you will love to make it again and again! They say healthy takes time, but it takes planning!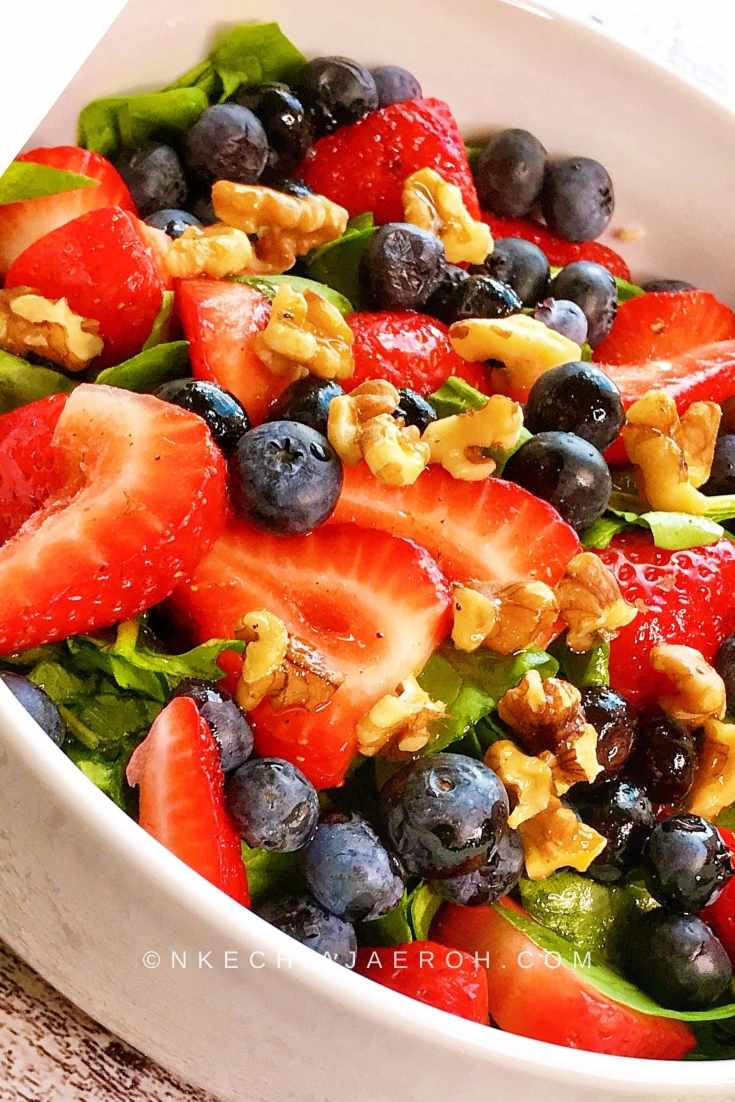 Ingredients.
In addition to this healthy salad been super easy to make, it also uses very minimal ingredients that your body needs:
Spinach.
Superfood spinach is a healing leafy vegetable that requires to be on your dinner table. Spinach is full of antioxidants and nutrient-dense, can reduce oxidative stress, and help with the management of High Blood Pressure. Also, spinach can help fight cancer plus other benefits. This berry spinach salad wouldn't be the same without spinach. Did I mention that spinach is also a fantastic addition to healthy smoothies?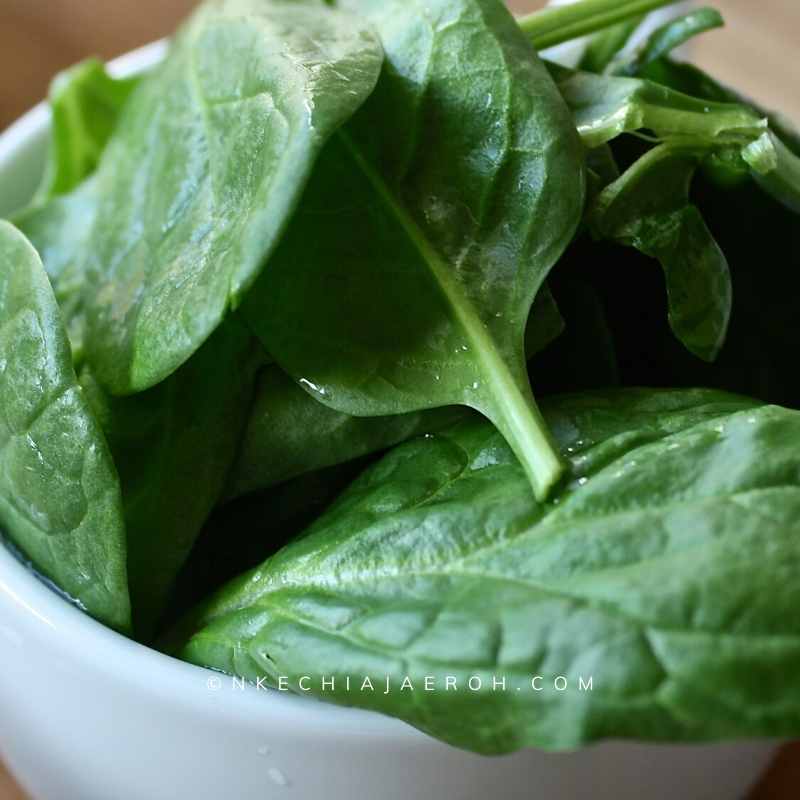 Blueberries.
This blue-black colored fruits are very nutritious and delicious; they have a high amount of calcium, phosphorus, iron, zinc, etc. All of which are fantastic for bone health. At the same time, blueberries are credited for maintaining high blood pressure, fighting cancer, heart-healthy, and immune-boosting. I think it is right to say that me – yours truly run on  blueberry smoothies!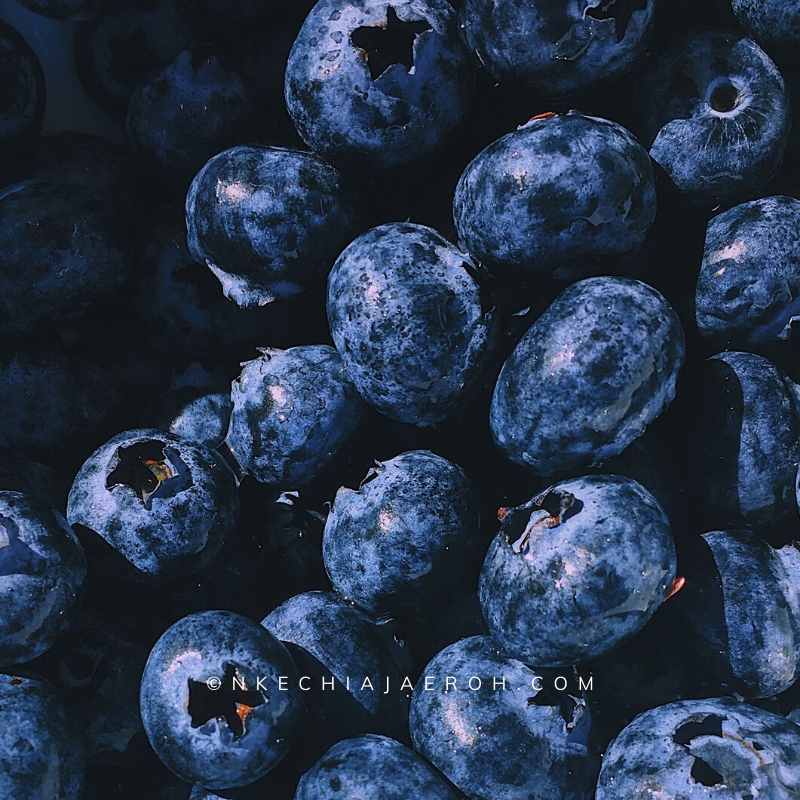 Strawberries.
Blueberry and strawberry are sisters; obviously, both are berries, and just like blueberries, strawberry can improve heart health, as well as great for managing the blood sugar. Not to mention that strawberries are tasty and enjoyable in salads – strawberries fruits are a great addition to this berry spinach salad!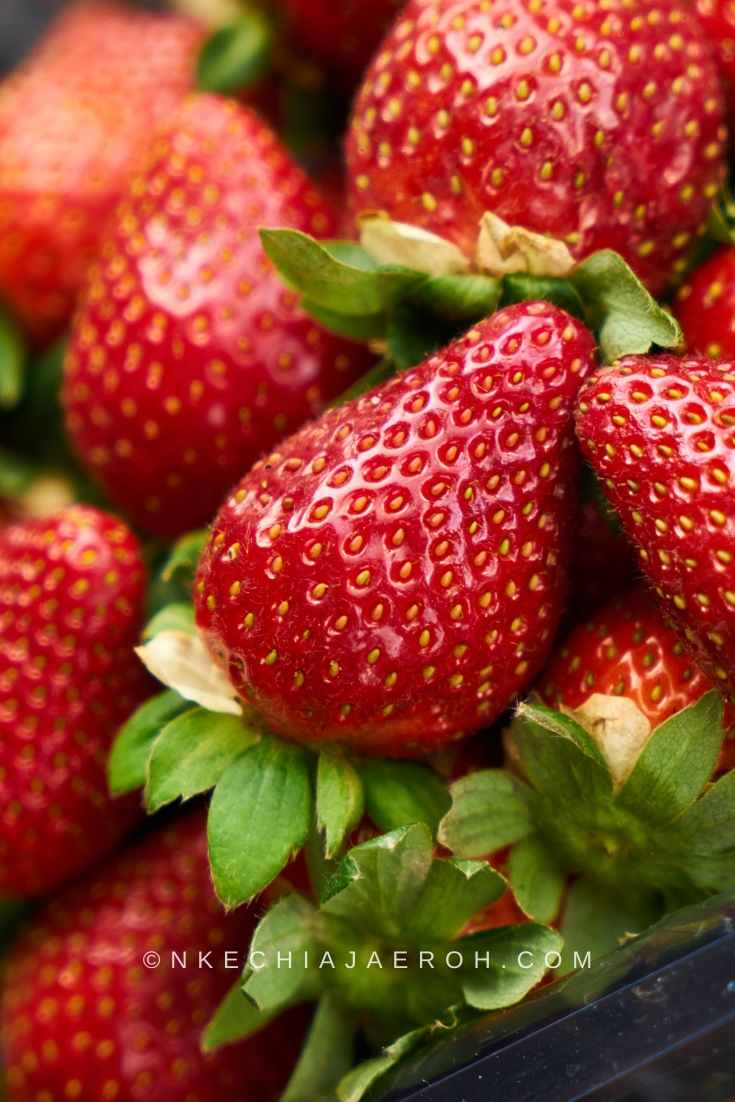 Also, Walnuts, olive oil, lime, salt, and pepper the things you will need. As per nuts, you use any other nuts of choice. I like using walnuts particularly because it promotes gut health, very rich in antioxidants, and are anti-inflammatory.
Walnuts are equally considered super plant because it is high in omega 3 fatty acid, great for managing weight, and diabetes. Additionally, it supports brain function and aging! Having said all of these, walnuts are an excellent addition to our yummy berry spinach salad.
Download the remaining four spinach salads here.
Making the berry spinach salad.
This is one of the easiest salads to make – wash/clean all the vegetables, throw everything into a bowl, sprinkle some dressing, top with some nuts, and voila! Easy to make and refreshingly delicious to enjoy.
Click To Tweet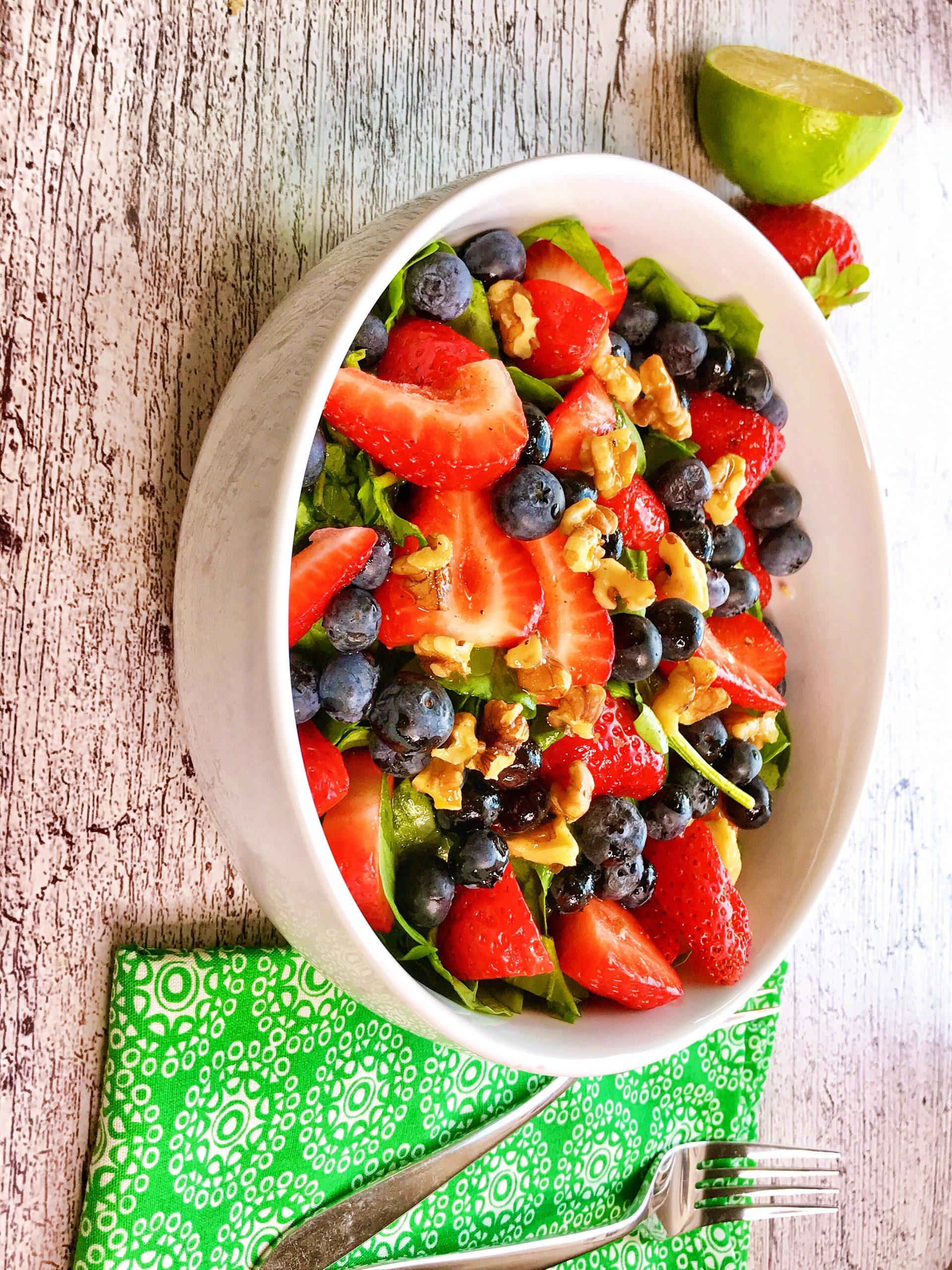 Print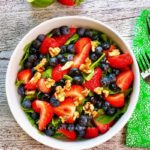 Berry Spinach Salad with Lime and Olive oil Dressing
---
Author:

Nkechi Ajaeroh, MPH

Prep Time:

10 minutes

Total Time:

10 minutes

Yield:

1

-

2

serving

1

x

Diet:

Vegan
Description
If you are craving for a refreshing and fruity plus easy to make summer salad, then look no further. This super-nutritious mixed berry spinach salad is incredibly delicious and satisfying. Not to mention that this salad goodness contains only four ingredients – spinach, blueberries, strawberries, and toasted nuts. It is an excellent choice for picky eaters and children.
---
3 cups of fresh spinach
1 cup of fresh blueberries
1 cup of fresh strawberries
2 tablespoons of walnuts (or any other nut of choice)
For the dressing:
1 tablespoon of olive oil
2 teaspoons of lemon juice
A dash of salt and ground black pepper

1 – 2 teaspoons of honey (for sweetness)
---
Instructions
For making the dressing:
Add all the dressing ingredients into a small bowl, use a fork to mix well together, taste, and adjust flavors.
If you are making a large quantity, then add into a mason jar, cover and give a good shake; use some and store the rest in the fridge.
Always remember to shake well before use, any and each time.
For the Salad:
Wash/clean and cut all the vegetables. Most spinach comes washed, so you may not need to wash it. If you have to wash the spinach, use a salad spinner to ensure that all moisture is removed.
Assemble the salad unto your favorite salad bowl and drizzles some of the lime olive oil dressing. Finish up by topping with nuts. Enjoy; this recipe serves one though two people can share it if using as a side dish.
Notes
This salad can serve up to 2 people if you desire for it to be a side dish. If this would be the main dish( like for lunch or dinner), it will serve just one person.
Like I have mentioned multiple times already, you use any other nut of choice.
The same way you can use any other berry of choice, you swap strawberries for raspberries. You can also swap blueberries for blackberries.
Category:

Salad

Method:

cutting

Cuisine:

Universal
Keywords: Berry spinach salad, mixed berry salad, berry salad, summer salad, blueberry spinach salad, berry spinach salad recipe, easy mixed berry salad, fruity salad, baby spinach salad with berries, strawberry salad. Healthy salad with berries and nuts
SHARE THIS POST: First of all, I want to thank you for stopping by and checking out this recipe. I will love you to share this recipe with family, friends, and social media! Also, please comment below and tell me what you like most about this recipe, and do not forget to RATE it!
If you like this simple mixed berry salad recipe, then you should definitely grab the rest of the spinach salad bundle, and it is FREE!
At the same time, I want to invite you to join my healthy lifestyle online community, learn how to cook up 50 meals plus weekly wellness training. Interested? Join from here.
Meanwhile, I started on Instagram (finally)! LOL, I did put that off forever, well I am there now, and I will love for us to connect! Follow me on Facebook and Twitter as well. Finally, do not forget to share this recipe post with people you love.
Stay well, healthy, and safe.