Easy Nigerian Coconut Jollof Rice.
I went to secondary boarding school, Girls Secondary School, Ihioma, one of the best model schools in Imo-State, Nigeria. This school also doubles a convent owned and operated by the Catholic Church. First of all, "secondary" school is the same as high school here in America. Boarding school was a bit challenging because you live in school, eat the meals provided by the school, and do not get to see your family until "visiting day." Every first Sunday of the month was our visiting day, and I just like all the other kids look forward to that. My mother would usually bring the bestest tastiest yummiest Nigerian coconut jollof rice ever. That is always the highlight of my month. Learn how to cook Nigerian coconut Jollof rice like a pro with my step by step easy to follow instructions. As you may already know, Nigerian Jollof rice remains the best across west Africa and the world. I am excited to show you how… Click To Tweet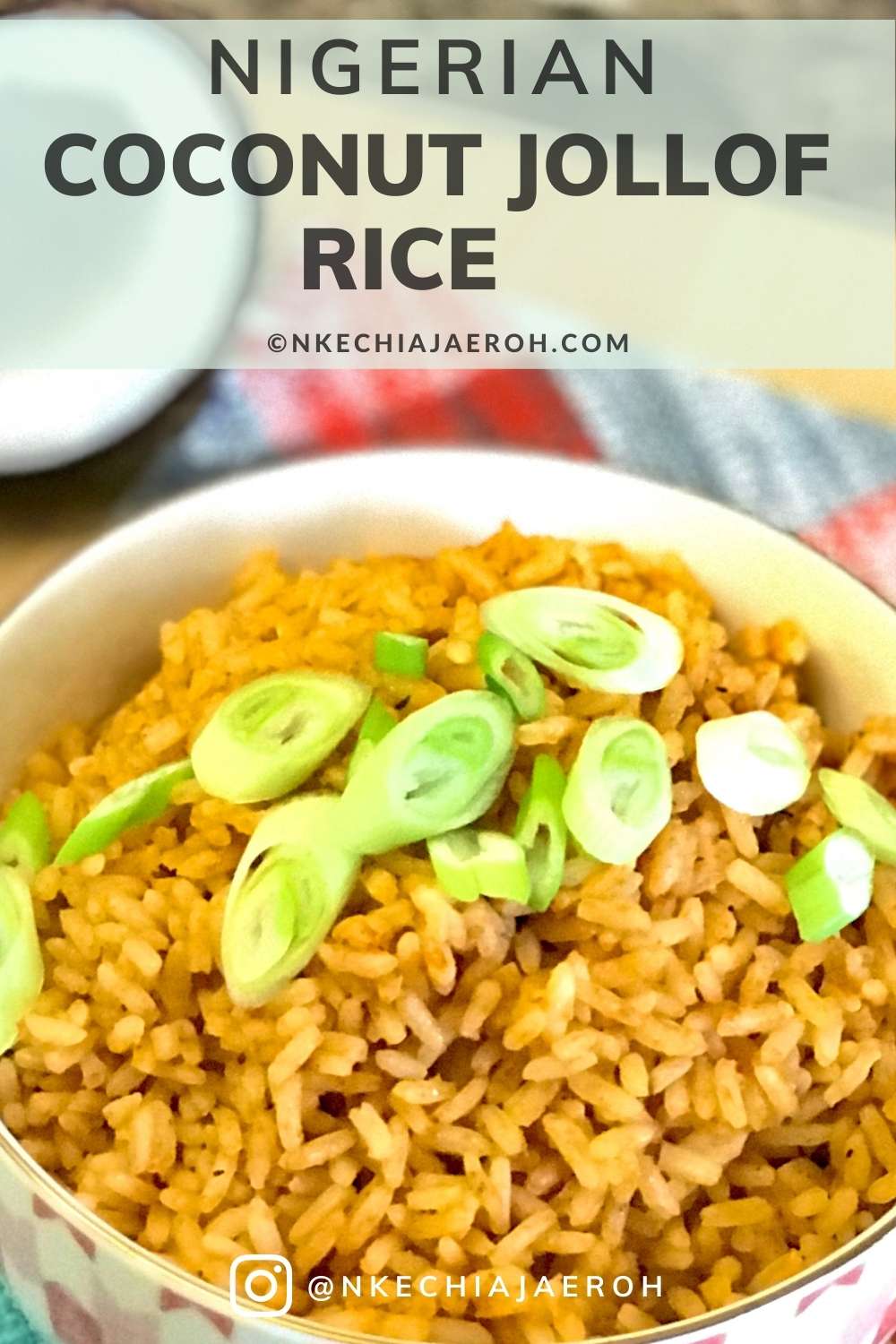 Year after year, even at this stage of my life (as a fully grown woman), I still feel that the need to give myself the best birthday gift of them all – Nigerian coconut Jollof rice (aka, West African Coconut Jollof Rice). It is flavorful, tasty, easy to make, and yet classic. As a matter of fact, I am not the only one in my family that feel the same way about coconut rice. My brothers and sisters all adore this deliciousness – it is the best!
It Starts with Raw Rice, and Coconut Milk.
Though I used the long grain rice for this recipe, you can also use basmati or short grain. I usually make my coconut milk from scratch, but the store-bought brand is excellent! The next step is to cook the rice in coconut milk and tomato sauce and boom, done! This dish comes together in a flash, and it is so flavorful; you have to try it!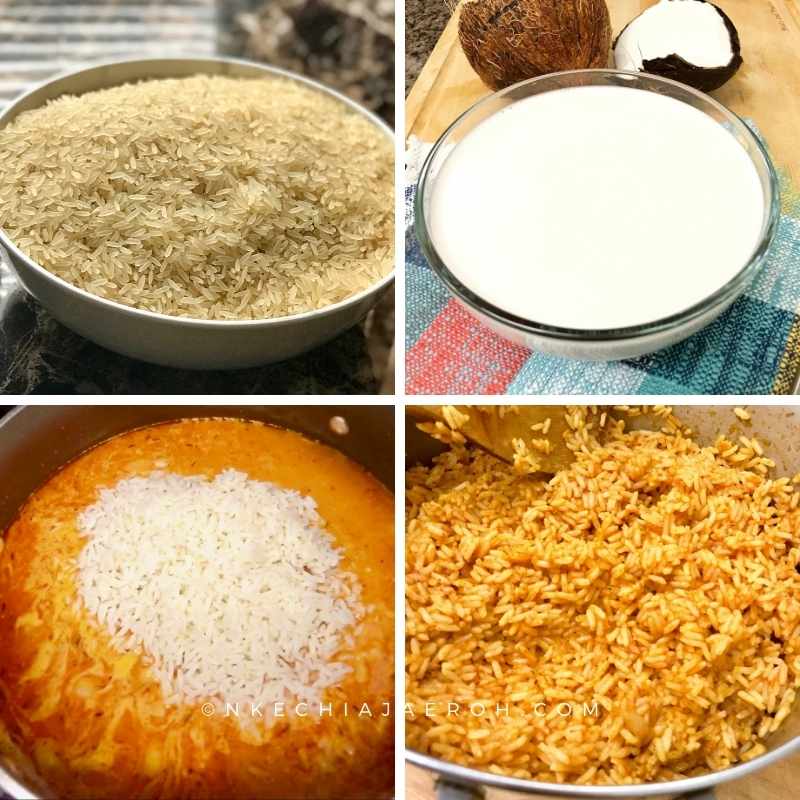 Nigerian Coconut Jollof Rice is the Best.
Growing up, I never knew that you could buy already made coconut milk in tins just like tomato paste. In fact, I never saw commercially produced coconut milk until I traveled abroad. Yikes. Am spilling all the tea, but you get what I mean? We always make our coconut milk! 😊 Mother would usually use a grinding stone to crush the fresh coconut meat, and then use hot water to extract all the milk. Afterward, she will use it to make the best coconut rice – sweet, fragrant, flavorful. My mother's coconut… Click To Tweet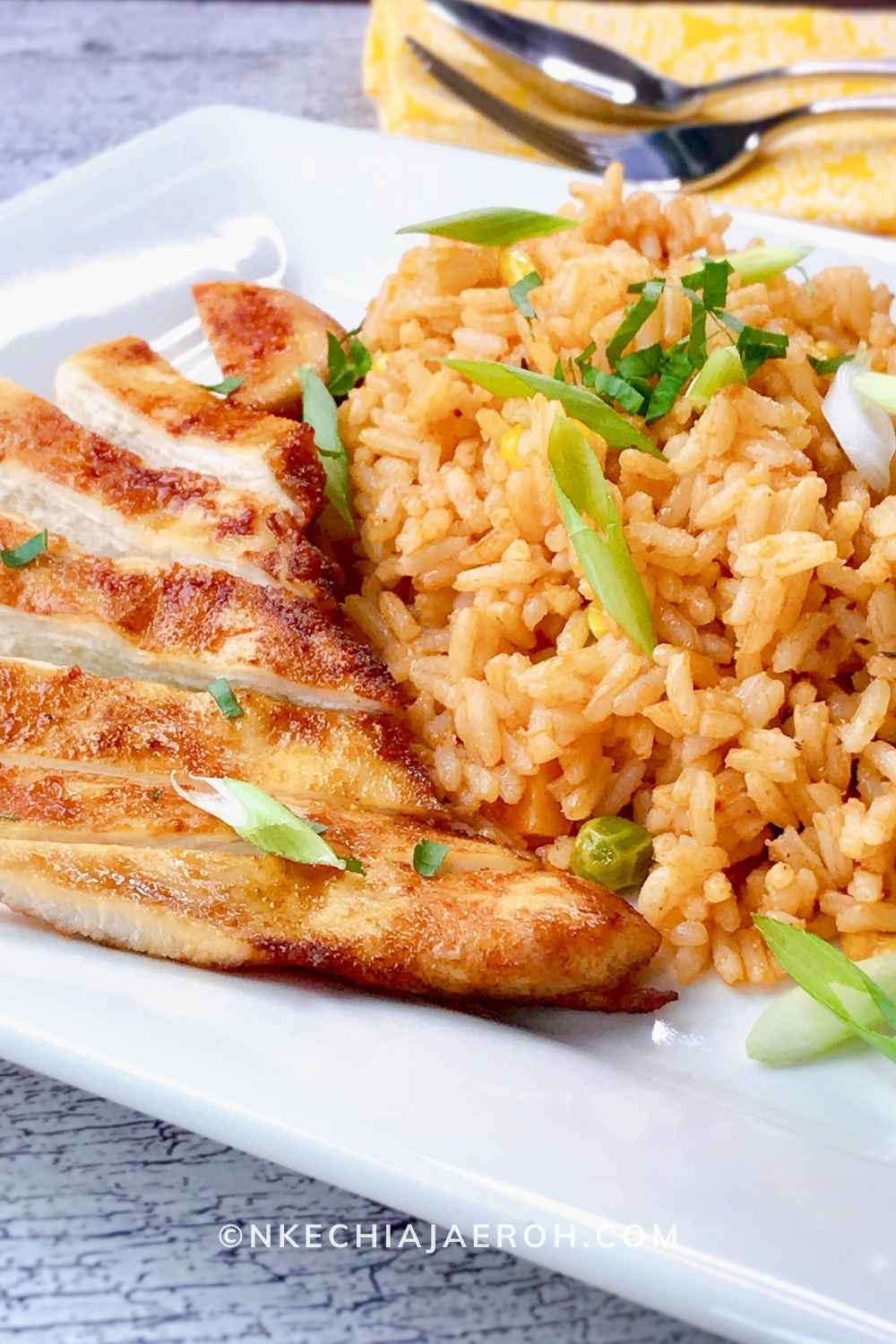 Countless Jollof Rice Recipes.
There are plenty of ways to cook Jollof rice and this coconut Jollof rice is one of them, just like there are many ways to cook fried rice and white rice. This is one of the ways I make my coconut rice, and it the easiest. For this very recipe, I use tomatoes (mainly paste), fresh bell peppers, onions, garlic, curry, thyme, nutmeg and of course coconut milk. And would generally finish up with some mixed veggies, which is optional. This Jollof rice recipe needs coconut milk and coconut oil to make it "coconut Jollof rice", and you may just exclude them to make this a regular Jollof rice.🤷🏾‍♀️
Vegan Coconut Rice (Vegetable or Not is up to you)
Yes, you decide whether or not to add veggies to this coconutty rice! I do both. Also, this Nigerian coconut Jollof rice recipe is vegan, gluten-free, and insanely delicious, but, you once again decide your choice of protein.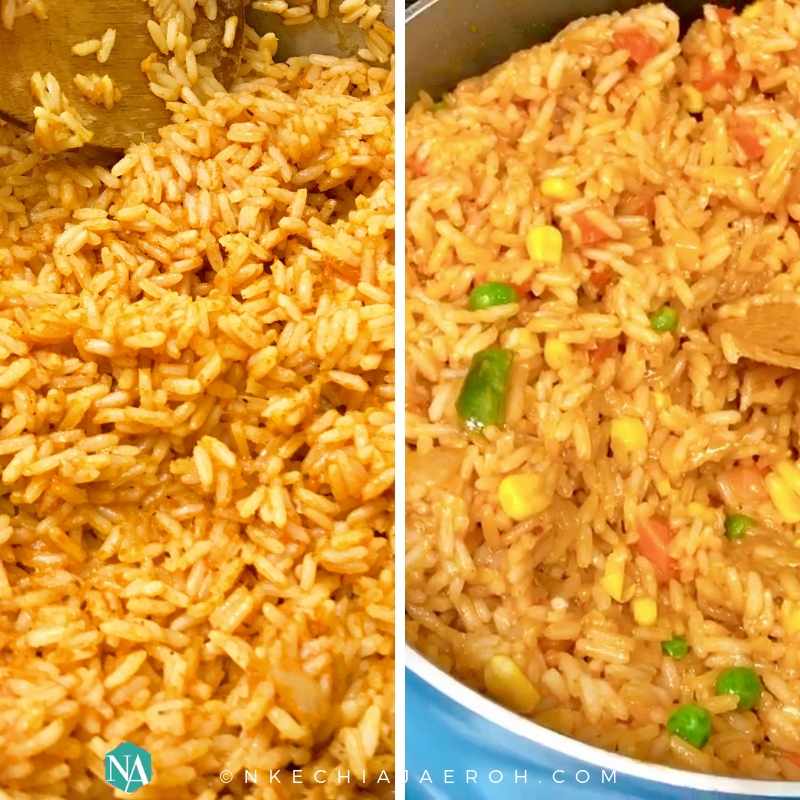 If you are indeed crazy about coconut rice like yours truly, then here you go for the recipe.
Print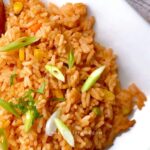 Tastiest Nigerian Coconut Jollof Rice
---
Author:

Nkechi Ajaeroh

Prep Time:

15 minutes

Cook Time:

40 minutes

Total Time:

55 minutes

Yield:

10

-

12

persons

1

x

Diet:

Vegan
Description
There are plenty of ways to cook coconut rice, but this recipe stands out, any time, any day. And don't forget to finish up with some mixed veggies, and your choice of protein. This chicken breast was a perfect accompaniment.
---
Scale
Ingredients
3 cups

of long grain rice

1

whole big bell pepper (any color works but I would normally use orange or red for this type of coconut jollof rice.)

1

tin of 6 oz. tomato paste; I would usually scope off 1 tipping tablespoon out of it, and use the rest.

3

garlic cloves

1

bulb of onions (divide into 2; chop up half for sautéing and blend up the other half with bell pepper, tomato paste, and garlic)

½

bulb of onions (chopped, as mentioned above)

2 cups

of fresh coconut milk or 1 (

13 oz

.) can of unsweetened coconut milk

1

–  1½ cups of broth (vegetable broth)

1

–

1½

cups of water plus another half to blend the bell pepper, tomato paste, garlic and onions.

3 tablespoons

of coconut oil (or a little less if your coconut milk is oily)

½ teaspoon

of grated fresh Nutmeg (optional)

1 teaspoon

of fresh thyme of ½ of dry Thyme

½

of curry powder

¼ teaspoon

black pepper

¼ teaspoon

of ground/crushed red pepper (or more if you like spicy foods)

2

-teaspoons of salt (always add salt according to your health need or taste; also reduce salt if your broth/stock is salted.)

2 teaspoons

– 1 tablespoon of vegetable bouillon or equivalent in cubes (about 2)

2 cups

of mixed vegetables (optional)
Spring onions (sliced; for garnishing; optional)
---
Instructions
Parboil rice in boiling water for about 5 – 7 minutes, wash with cold water until the water becomes clear, then place in a colander and set aside. Blend up onions, bell pepper, garlic, and tomato paste with a half cup of water, and set aside. Chop onions and set aside as well.
Set clean pot on the stove, and allow the pot to warm up, and then add coconut oil. Allow to heat up before adding the chopped onions, cook for 2 minutes or until it softens. Then add the blended vegetables (onions, bell peppers, tomato paste) and cook the blend for at least 10 minutes (stirring every now and there) until the water/liquid visibly reduces. In the process, add salt, pepper, thyme, ground red pepper, nutmeg, and vegetable bullion (except for 1 teaspoon for later). Make sure that the ingredients are well combined.
At this time, give your pot a good stir and add in the coconut milk, stir, cover, and bring to a simmer. Then stir in the broth as soon as it starts to simmer, taste the sauce, and then add the water (from the blender rinse). You can add just about one cup, keep the remaining half and see if you need it later. Give a gentle stir, cover, and allow simmering.
Make sure that the stove is on medium before adding the rice. Gently use a wooden spoon or spatula to ensure that the rice is evenly distributed, then add that last teaspoon of vegetable bullion, cover and cook for the next 30 – 35 minutes.
20 – 25 minutes into cooking check to see how the rice is doing; you may need to stir the top very lightly (barely). At this point, you can decide if you still need to add the last half-cup of water. Add the mixed vegetables; use a spatula to distribute gently. Ensure that your stove is at low – medium. Taste for flavor and use your hands to press one or two rice to check their level of tenderness. Cover and cook for the next 10 minutes or until the rice is tender and have absorbed all the liquid, and smells divine.
Enjoy warm, garnish with green onions, serve with avocado, beans, and your choice of protein. I used chicken suya! Other times I just eat them with some avocado. This dish taste fabulous by itself for real!
---
Notes
Do not be tempted to add too much water to this coconut rice recipe. Remember that the steam cooks the rice, not the heat, so little water/liquid (and low heat) as recommended is enough. Too much water could make it mushy. Start by add 1 cup of liquid (water & broth), and then add a little if you need it.)
Any color of bell peppers work but remember the colors you choose will affect the color of the rice. And this type of coconut rice needs to look a bit like Jollof or reddish or tomato-ish. I would use red or orange bell pepper for this purpose.
By the time you blend the onions, bell pepper, tomato paste, and garlic, you will have about 2½ cups of the blend.
Don't worry if you do not have bell pepper on hand. Tomato paste would work just fine. I have done it over and over with only tomato paste, and it would end up fantastic as well.
I would use about one and a half cup of water to rinse the blender after blending (the bell pepper, onions, tomato paste, and garlic). That becomes the entire water that this recipe needs.
I like using long grain rice for this recipe am sure any other type of rice would work.
If you parboil the rice for a long time, it may shorten the cooking time of the rice, and if you are not careful, it might become mushy.
Don't want "coconut rice"? Easy – do not use coconut milk substitute with more broth. And use olive oil instead of coconut oil. Easy Peasy!
Category:

Entrees/Lunch/Dinner

Method:

Stovetop

Cuisine:

Nigerian
Keywords: Rice, Coconut Rice, Nigerian Coconut Rice, Rice recipe, Coconut Jollof Rice, Easy Coconut rice, coconut milk recipe, Coconut recipe, Jollof rice, West African Jollof Rice, Nigerian Recipe, Rice and beans
If you like this Nigerian Coconut Jollof Rice, then be sure to check out my other healthy Nigerian recipes.
And some of my Afro/Mediterranean healthy lunches:
Finally, let's connect on social media, am on Pinterest, Facebook, Instagram, and Twitter. Share this recipe post, and SAVE/PIN THIS IMAGE ON PINTEREST. ⤵️

With love,