The Best Golden Rice Jollof Recipe.
Friends, I have the perfect lunch slash dinner that can also be the ultimate Thanksgiving and Christmas side dish that you and your entire family will love! And I mean L O V E! This healthy golden rice Jollof recipe with beets and plantains is nutritious, flavorful, delicious, and a crowd-pleaser! I am overly excited to share this recipe with you because this very golden rice Jollof recipe will change the way you see & think of whole grain brown rice, and I am confident that this recipe will become a significant part of your dinner table from now on.
First, we begin with the Ralston Family Farms™ Golden Rice. Personally, I have cooked tons of rice recipes in the past (boiled rice, coconut rice, fried rice, etc.), but this was my first using this US Grown brand – Golden light-brown rice from Ralston Family Farms. And you know what, I am so glad I did because we have discovered our family's new best whole grain brown rice recipe!
Learn how to cook this drool-worthy holiday brown rice side dish with beets and plantains that your entire family and guest will love and enjoy! Super easy to make, seasoned to perfection, tasty, and delicious. One word - YUM!
Click To Tweet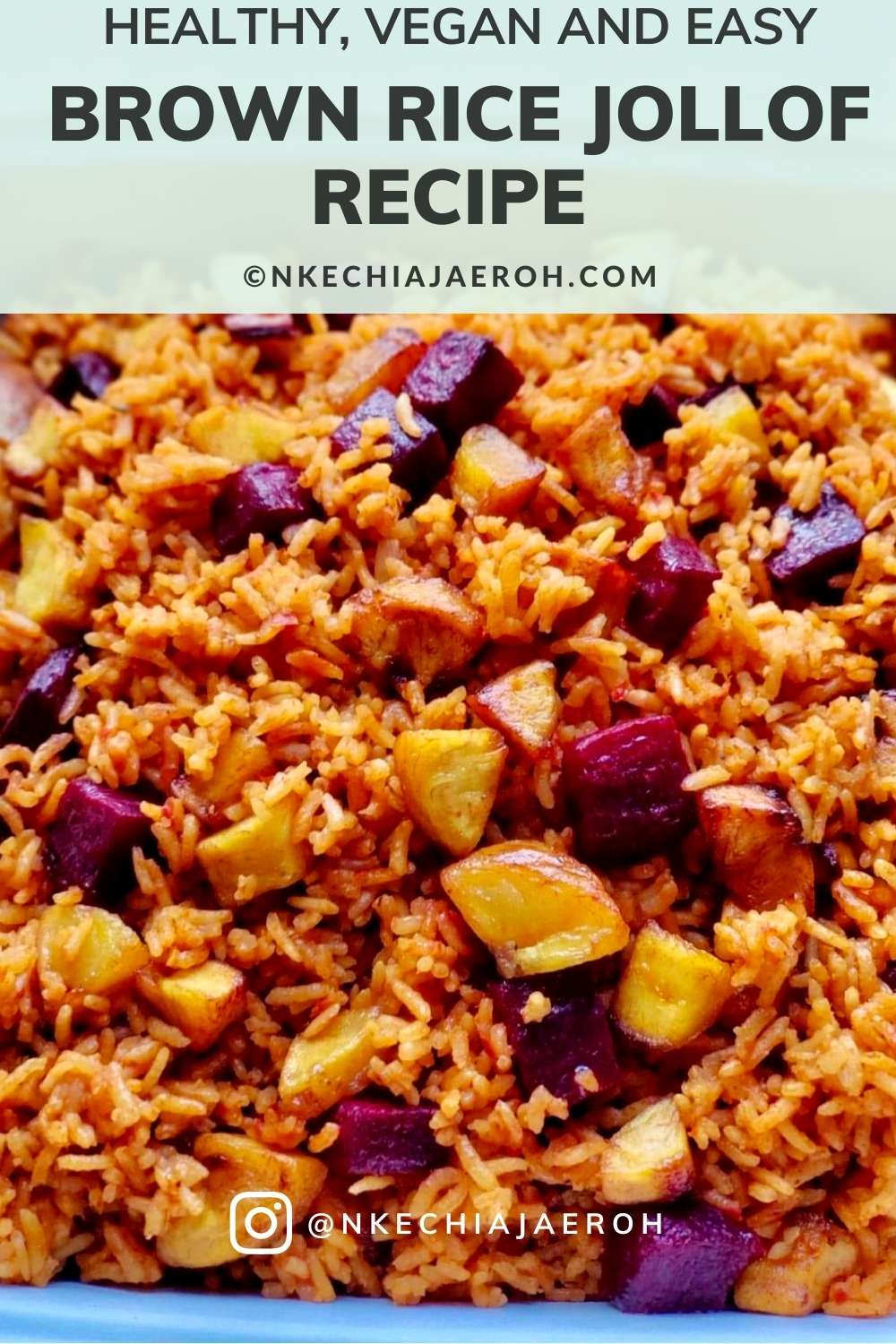 Gluten-free and Dairy-free Rice Recipe.
Rice is naturally gluten-free, and for centuries, it has been a staple in many families. This is because rice is easy to cook, very welcoming to try (I mean, you do not have to worry even if you are trying rice for the first time), and it is extremely customizable! Equally important is that this very brown rice Jollof recipe is dairy-free, vegan, and uniquely right for any and every occasion. The bottom line is that you will never go wrong with this recipe!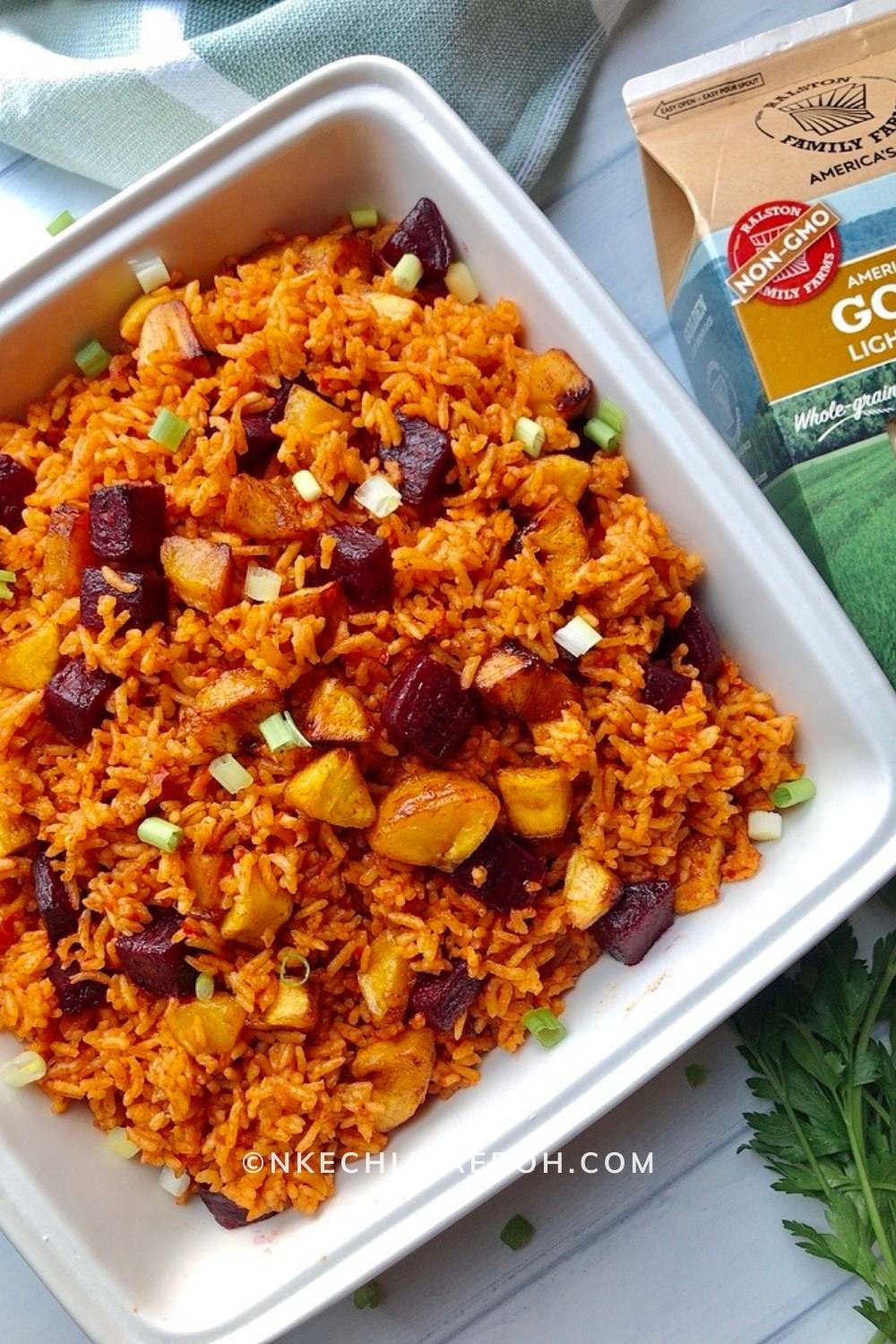 Some benefits of Brown Rice.
First, brown rice's most important benefits over white rice are its fiber from being whole grains. It is also considered a low glycemic index food, brown rice is excellent for cholesterol, and low blood sugar, respectively. The typical drawback of brown rice are the complaints about long hours of soaking and cooking. Well, not anymore, because Ralston's Golden Rice cooks faster and requires no soaking. This way, you can easily make dinner even in the shortest time!
Ingredients for the Best Brown Rice Jollof Recipe.
I happily grabbed (almost) everything I needed for this recipe from my local Publix supermarket; I enjoy shopping there! It would be worth noting that the Ralston Family Farms Golden Light-Brown is not just nutritious whole grain rice, but it is also a non-GMO and Kosher product! Besides rice, you will need bell pepper; luckily, I saw the exact type of bell peppers we use in Nigeria. Then, tomatoes, onions, garlic, broth, etc. Also, beets and plantains.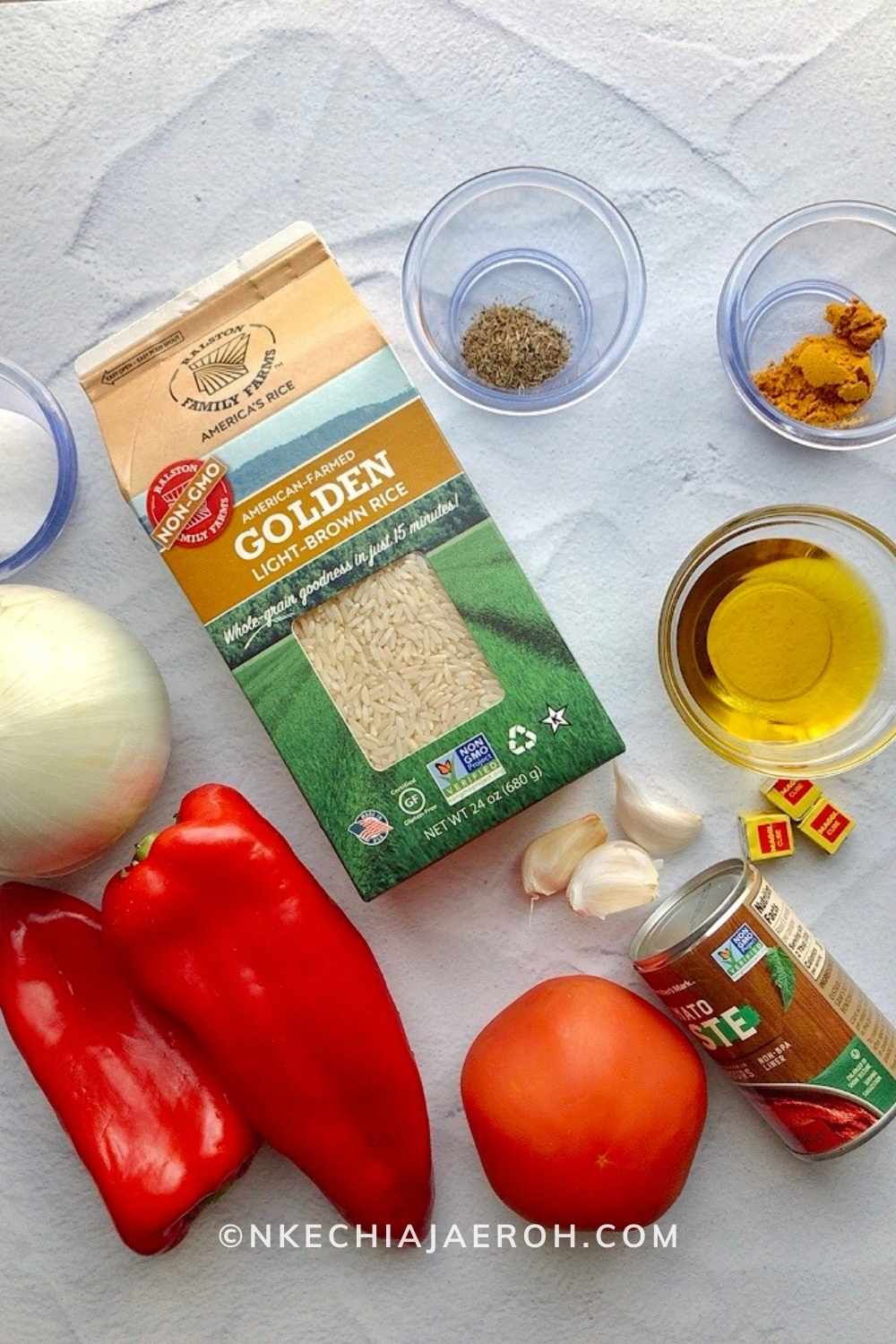 Making the Best Vegan Brown Rice Jollof.
Prep the Vegetables.
Beets and plantains go so well, and look so magnificent with this Jollof rice recipe! First, I start by prepping the plantains, beets; I usually boil the beets to soften them before sautéing. Second, I will fry the plantain bites, finally, I will blend the tomato and bell peppers. Then I will set aside and prep the rice.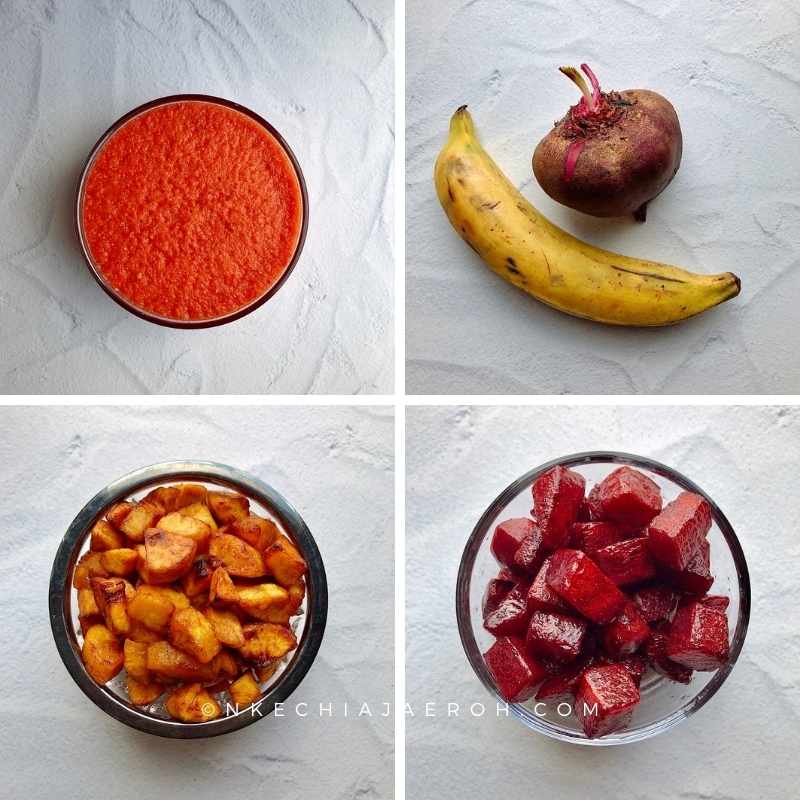 Wash the Rice.
As mentioned earlier, there is absolutely no reason to soak this brown rice like others. To make this easy brown rice, I washed the rice with cold running water until transparent, then I drain the water and set aside until I need it..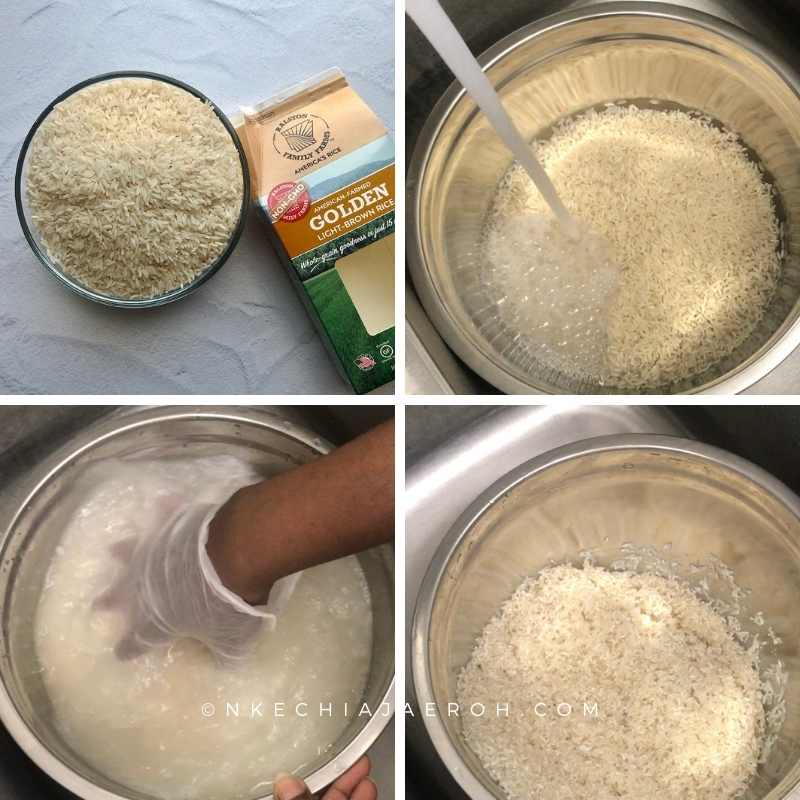 Alexa, which brown rice should I use for Jollof?
I loved this Golden light-brown rice guys, and it is now one of my favorites. I am glad to say that this is one of the best brown rice types for Jollof – nutritious, easy to cook, and insanely flavorful! My rice dish came out so well, we gobbled it down and saved the remaining for later! Such a yummy healthy rice side dish, this plate below will win everyone and anyone over! ⤵️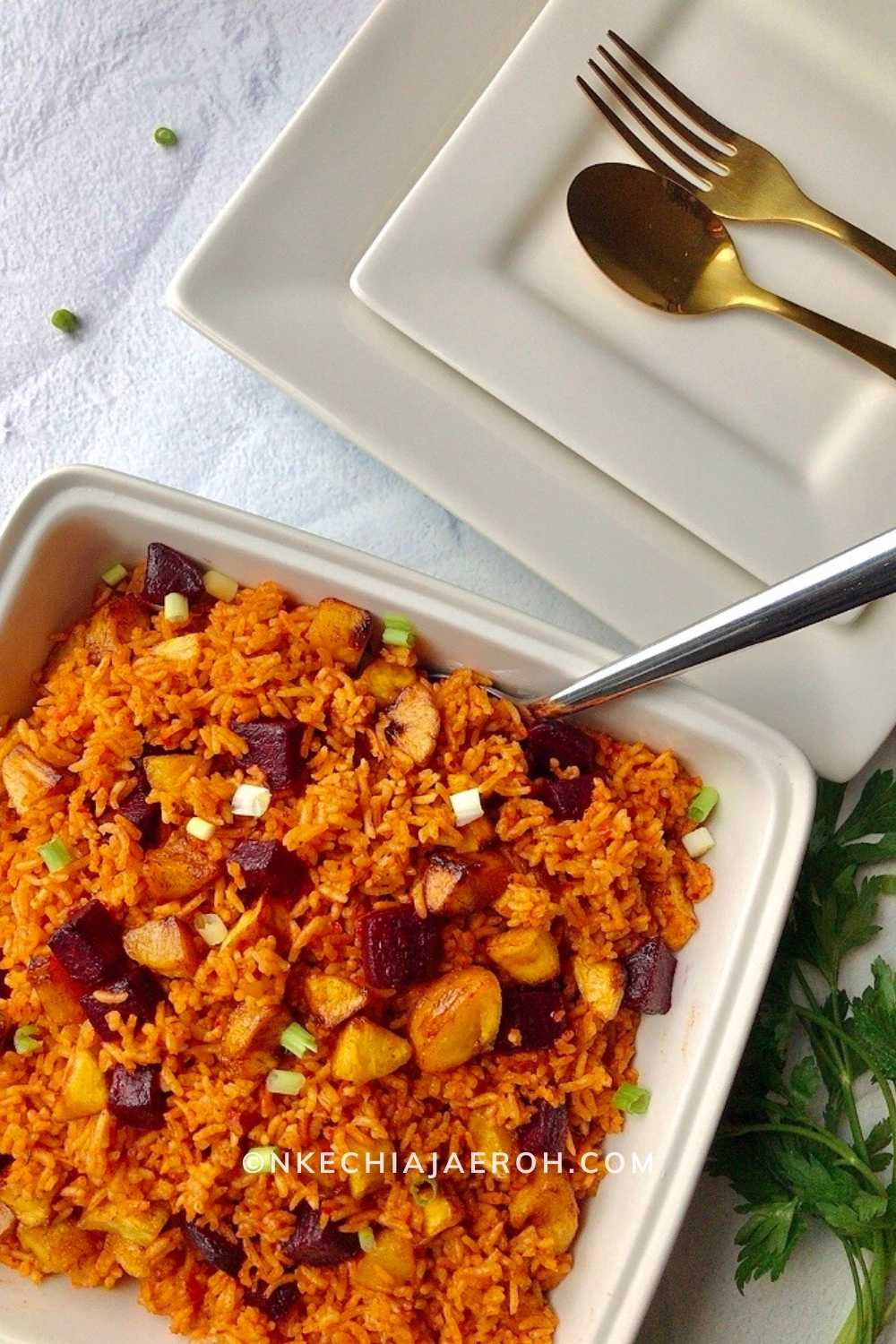 Print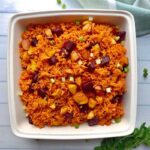 Golden Brown Rice Jollof Recipe with Beets and Plantains
---
Description
This healthy and insanely delicious brown rice jollof recipe is vegan, gluten-free, dairy-free, kosher, and the perfect side dish for every occasion. This brown rice recipe cooks very quick, and has a yummy nutty flavor. This dish is a winner, a crowd-pleaser, and hands down the best brown rice recipe! Whether you are looking for Thanksgiving side dish, Christmas side dish, or just good old dinner this recipe is just right and perfect!
---
---
Instructions
Wash the beets; peel the back and dice. Then add to a pot, add water, and some salt. Boil to soften, taste with a toothpick or fork. The amount of time this takes will depend on how big/small the beets are.
Wash, peel, and cut the plantain. Cut the same size as the beets. Season with a little salt, and fry/sauté. Set beets and plantains aside for later.
Add the washed bell peppers, ¼ of onions, garlic cloves, and tomato with a ¼ cup of water or less, blend and set aside. Chop ½ of onions and garlic set aside as well.
Open the box of the Ralston Family Farm Golden Light-Brown Rice, and pour it into a bowl. Add cold water to the rice bowl, wash the rice until the water becomes clear, then drain for the final time and set aside.
Place a clean pot on the stove; add the olive oil, warm up, and add sliced onions. Allow cooking until softened about 2 – 3 minutes then add the tomato paste. Cook while stirring continuously until it no longer tastes raw. This may take up 7 minutes, then introduce the fresh bell pepper/tomato blend. Stir very well, cover, and cook for at least 10 – 15 minutes (stirring frequently) until the liquid visibly reduces, and the sauce thickens.
Lower the heat, add the salt, curry, dry thyme, black pepper, crushed red pepper, and 2 Maggi cubes, stir very well, and add half of the broth. Stir, cover, and allow all of these flavors to simmer. Taste and adjust the flavor when it starts to simmer, and then add the rice. Gently use a wooden spoon or spatula to ensure that the rice is evenly distributed, then add another cup of the broth to the rice.
Use foil to cover the pot first, then place a lid on it—cook on low – medium for the next 25 minutes. Check the rice; the rice may still be a little hard at this time. Gently give a good stir, and add the last cup of broth.
Cover yet again with the same foil and cook/steam on low for 10 – 12 minutes. Then open the pot, stir to see fluffy single grains of perfectly cooked brown rice Jollof!
Add the already cooked beets and plantains, little by little, as your dish into the serving bowl. Finish up with spring onions. Serve this healthy brown rice Jollof recipe as a side or main dish!
Notes
Please know that the instructions to make this dish is detailed because I want you to make the best Jollof rice. I want you to replicate my result.
Make this dish meaty by add meat to it.
You can make it vegetarian by adding some fish or serving with some fish.
Serve this side as the main dish; it works perfectly fine.
PRO TIPS:
As a rule of thumb, we traditionally cook Jollof rice on low heat or low-medium heat. This way, there is an excellent infusion of all the flavors. I hope you map out good cooking time if you plan to make this dish!
Jollof rice cooks with steam, not water or liquid; do not add a lot of liquid to this dish. This dish SHOULD NOT be mushy; we want to see individual grains in jollof rice; remember,  it is not risotto. Usually, I start by adding half of the broth.
Making the sauce is an essential part of making jollof rice, and may take a little additional time. If you already have an authentic west African stew, you can easily add washed rice to it and make your healthy brown rice Jollof (the start from step 6), but if you don't, then it is crucial to make the sauce the right way if you desire to have the same result that I did.
I wash the rice with cold running water 6 – 7 times until the water is no longer cloudy.
When it comes to olive oil, I do one tablespoon of olive to one cup of rice, so I used 3 tablespoons for this recipe.
Remember to have a different oil for frying the plantain and sautéing the beets. I used peanut oil; do not fry with olive oil.
Remove the seed membranes from the pepper, and if using a big onion, then a quarter of that is all you need to blend with the tomato, garlic, and bell pepper. You need as little water as possible for this. I don't necessarily blend this to look like puree; I stop when it is barely smooth, the texture is essential in this dish.
The amount of salt you end up using for this dish will depend if your broth is salted or not.
The foil traps the heat back into the post and helps the rice to cook well even with less water and low heat.
The cooking includes making the sauce as well, if you do have sauce, then this time drastically shortens.
Prep Time:

20 minutes

Cook Time:

55

Category:

Side Dish

Method:

Stove Top

Cuisine:

West African
Keywords: Brown rice, easy to cook brown rice, healthy brown rice recipe, 30-minute brown rice, Jollof rice, healthy Jollof rice, brown rice jollof recipe, Rice side dish, Thanksgiving side dish rice, Christmas side dish, gluten-free rice recipe, dairy-free rice recipe, vegan jollof rice, vegan rice recipe, meatless rice recipe, beets and rice jollof, brown rice and plantain jollof, Jollof rice with beets and plantains, beets recipe, plantain recipe, Vegan Jollof rice recipe with brown rice, healthy beets recipe. Vegetable rice recipe, tastiest vegan jollof rice, how to cook brown rice in 30 minutes, how to cook brown rice without soaking,
Recipe Card powered by
Golden Rice Jollof for a Win!
PLEASE SHARE THIS POST, leave a comment, and a 5-star rating if you like this flavorful, and colorful brown rice Jollof recipe. Then please check out these other recipes that I am sure you will like:
THIS POST CONTAINS AFFILIATE LINKS, you are not charged more for using these links, but I make little coins when you do.
Finally, let's connect on social media, am on Pinterest, Facebook, Instagram, and Twitter, Share this recipe post, and SAVE/PIN THIS IMAGE ON PINTEREST! ⤵️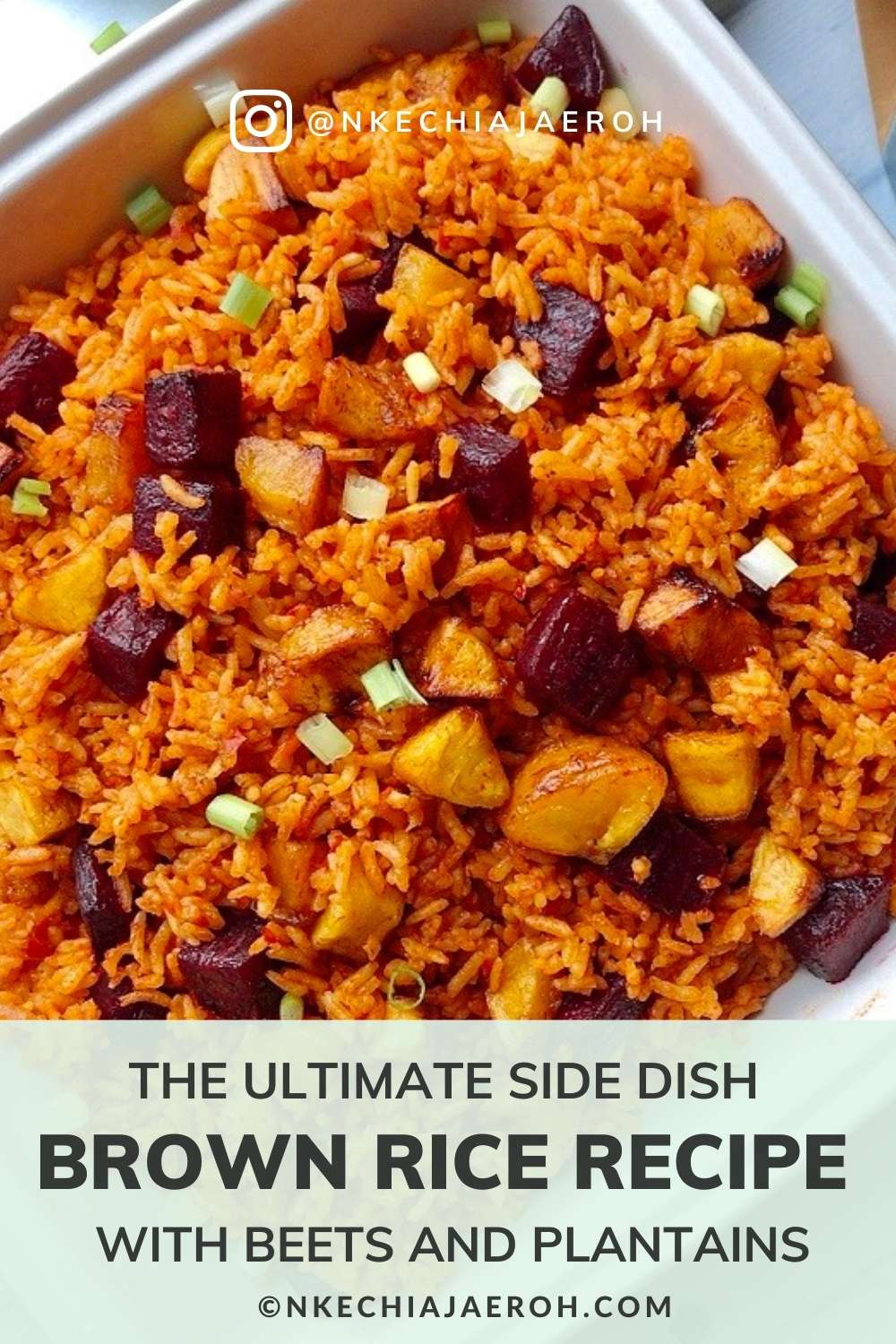 Stay well and safe.