The Best Taco Salad Bowl Recipe.
First of all, I do not say this lightly, because I am convinced that this deconstructed taco bowl recipe will rock your world. Second, you are going to make this yourself, and what that means is that you will add all your favorite veggies that make you happy! Thirdly, when you try this healthy taco salad one time, you are bound to make it again! Dear foodie friend, please take a moment and say hello to my one and only yummy and nutritious taco bowl, which is about to become your most favorite food on the planet. Click To Tweet

Why Deconstructed Taco Bowl?
I will say, why not? Unless you live on another planet, am sure you do know about tacos. Fortunately, tacos come in different shapes and sizes – shells, wraps, leaves, name it! Besides, you can also place all your taco components on a plate and enjoy them with a fork; in other words – taco bowl! Don't let the big name (deconstructed) trick you. This recipe is simple – taco in a bowl enjoyed with a fork! Deconstructed taco bowl is nutritious, flavorful, easy to make, and incredibly satisfying. And did I mention that it is kids-friendly? Oh, there you go! Click To Tweet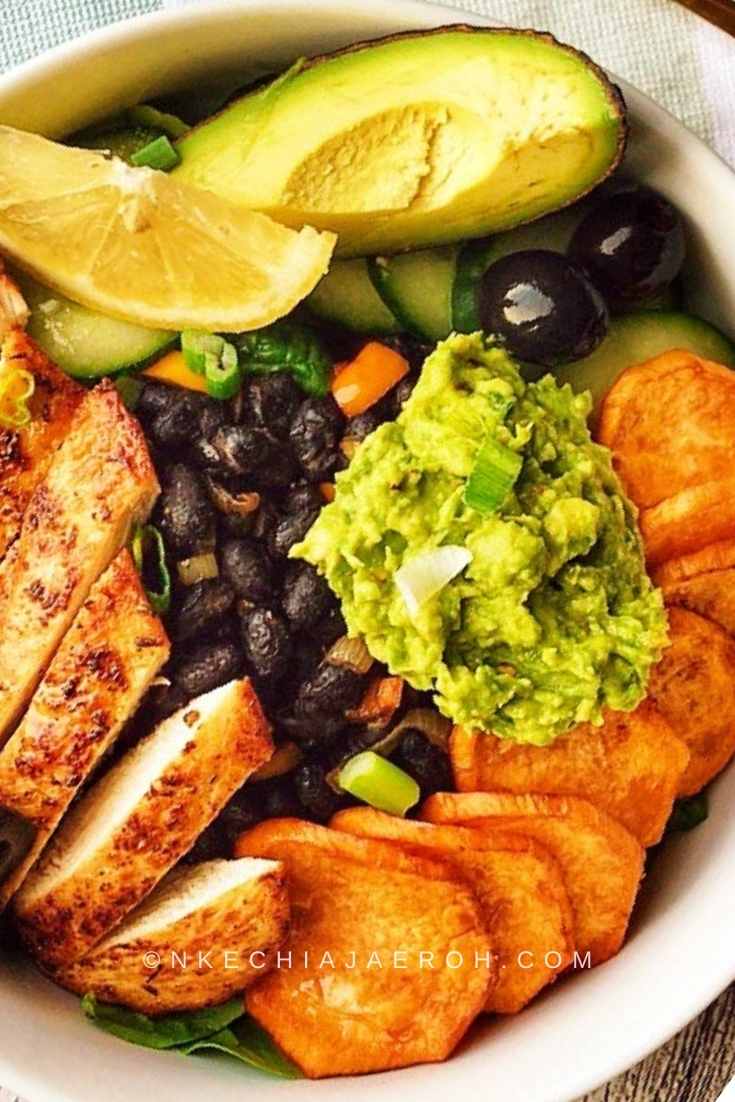 Everyone loves this Healthy Bowl.
So, I started my online healthy lifestyle community on May 9th, 2020, and part of the community's requirement is that I host a weekly online cooking class for the members. This has been the highlight of this community; we all have been bonding during cooking classes! And the other week, this healthy deconstructed taco bowl was on the menu, and everyone loved it! For this reason, I know you are also going to enjoy this recipe as well.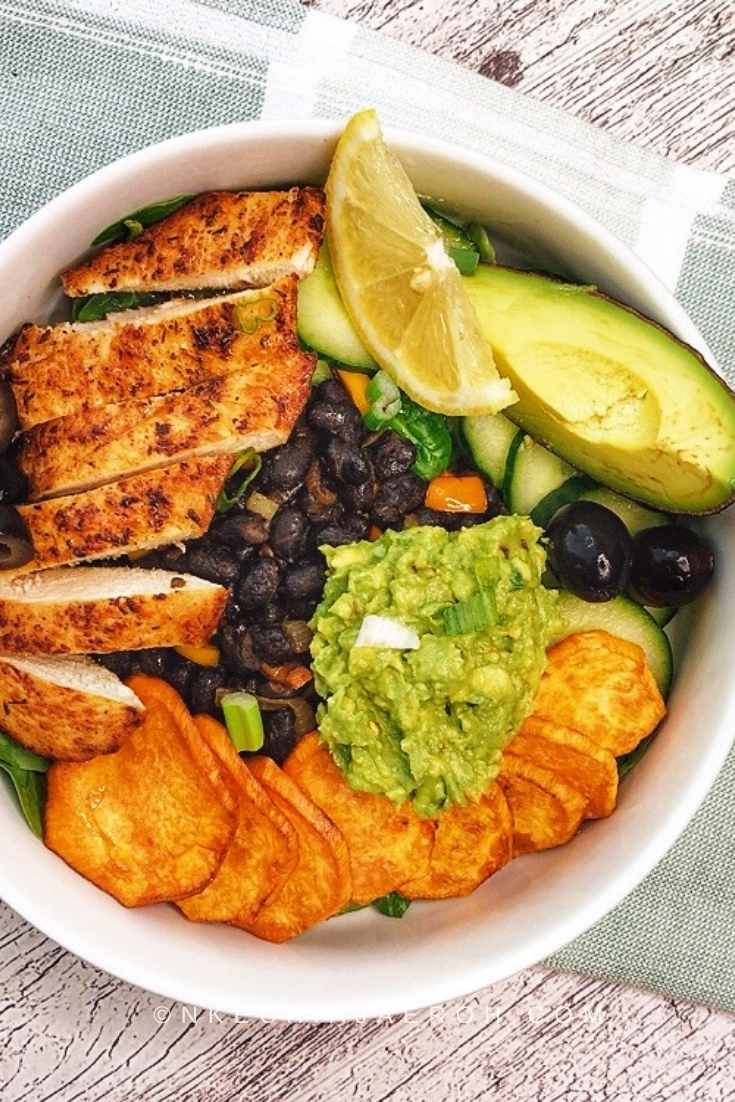 How to make a Deconstructed Taco Bowl.
To be honest, I think making taco is more of a personal business; in other words, you have the responsibility to add whatever you desire to your taco.  while my goal today would be to guide you, and show you how I make it to please me. Use this recipe as a basis and create something magnificent that you will enjoy. Making taco is not necessarily like cauliflower mac and cheese or banana bread, whereby you follow the exact ingredients, and instructions. Luckily when it comes to this recipe, you can decide what to add and what not to add – you are in charge!
The Ingredients:
Black beans. However, you choose to make your taco bowl; I honestly think black beans are a must. Black beans are very nutritious, and undeniably important aspect of taco bowls. Usually, I cook mine from scratch, but canned ones work just fine!
Sweet potatoes. I may as well call this taco bowl, sweet potato taco bowl. Sweet potatoes are excellent antioxidants, they also promote gut health and boost immunity and brain function, and they are incredibly tasty! In fact, sweet potatoes make this dish very significant! Am serious!
Cucumber. Surprisingly cucumber is actually a fruit, not a vegetable, yes seriously. Cucumbers are very low in calories but high in vitamins and minerals. They contain potent antioxidants that are instrumental in blocking oxidation. As mentioned, several times over oxidations are caused by free radicals, and they can cause many chronic illnesses such as heart disease, lung disease, certain cancers, and even autoimmune diseases.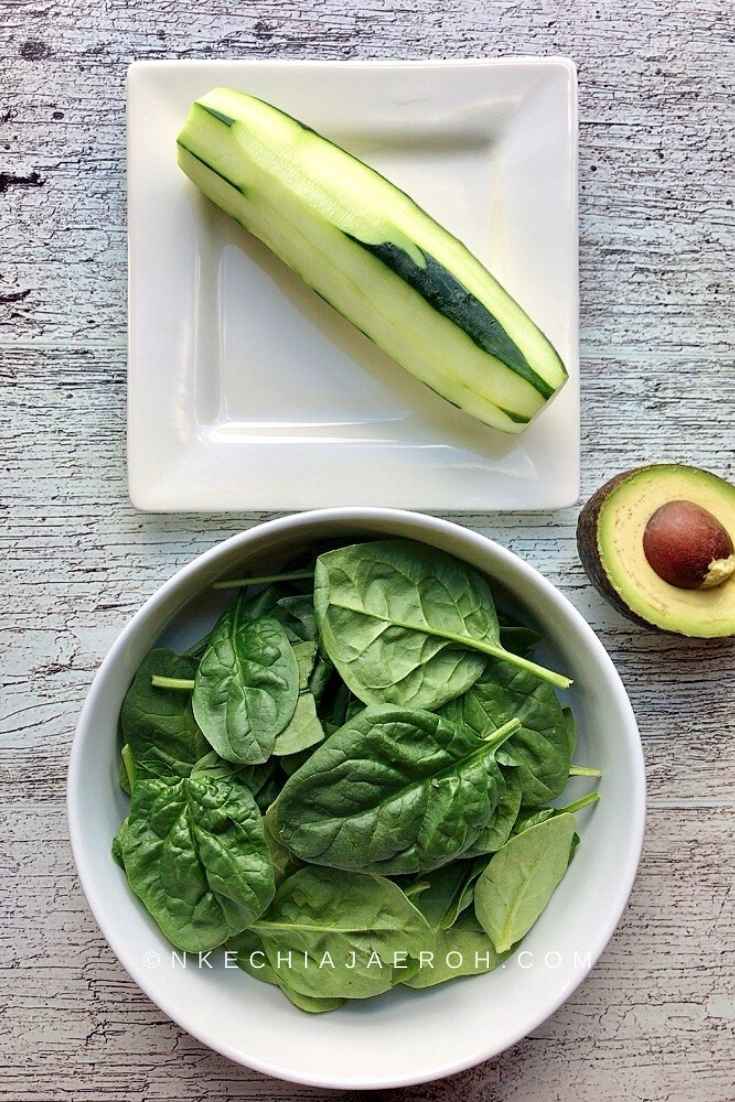 More Ingredients? Yes.
Spinach or any other Greens. Greens are naturally fantastic for tacos; I think they give it texture. Whether you choose spinach or kale or arugula, it doesn't matter. You could also substitute greens for purple/red cabbage, that's even better, the color is excellent!
Chicken (or tofu). I decided to add chicken; you can sub with tofu and sauté like I did chicken! Fish is equally a great alternative. Aside from the ingredients that I have mentioned, you will also need to add avocado, olives, etc. Everything is listed under the ingredients in the recipe card below.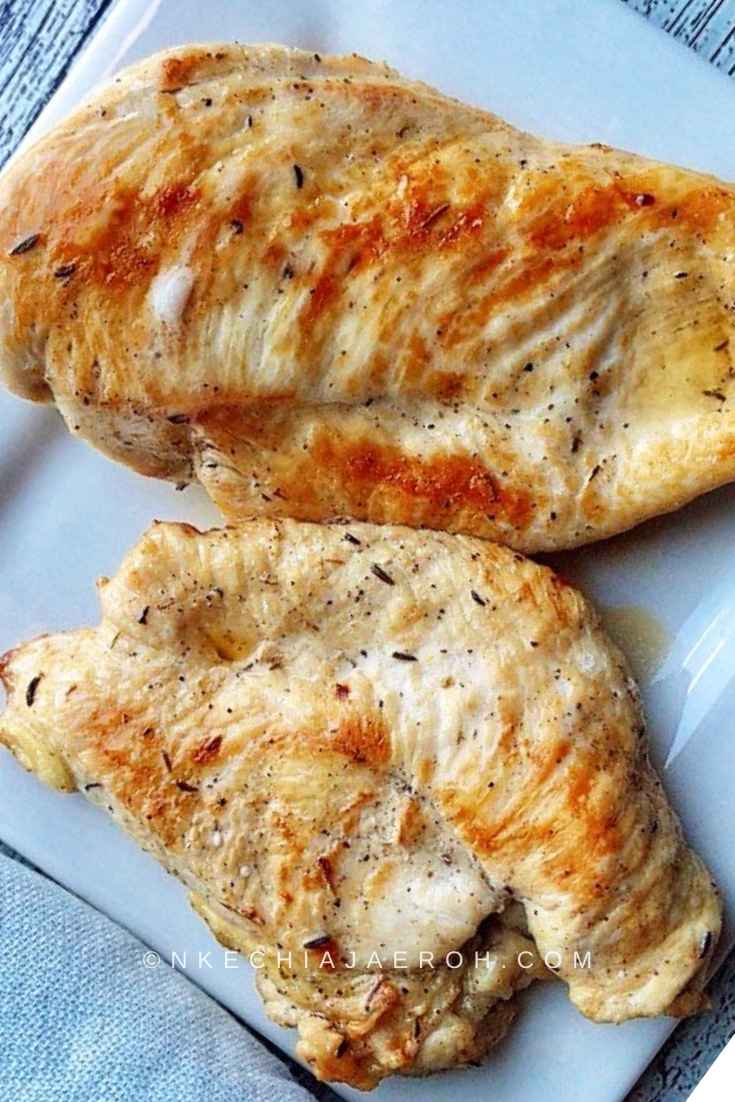 The process.
First of all, sauté the chicken. Make sure to cook it through.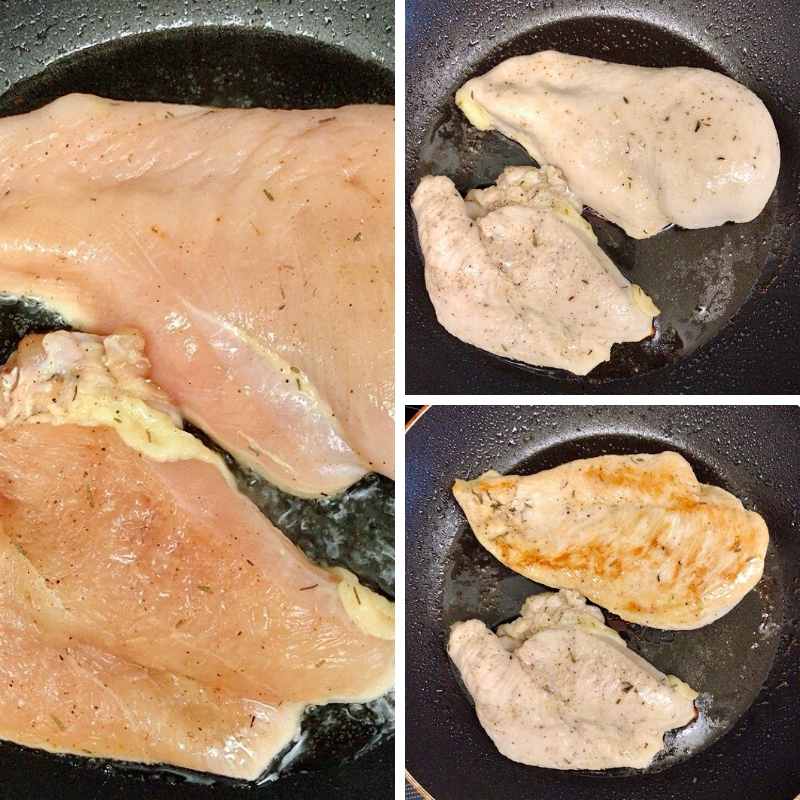 Sear the sweet potatoes. Alternatively, you can also bake these in the oven. This is a before and after Photo below, in the same pan, and very minimal oil.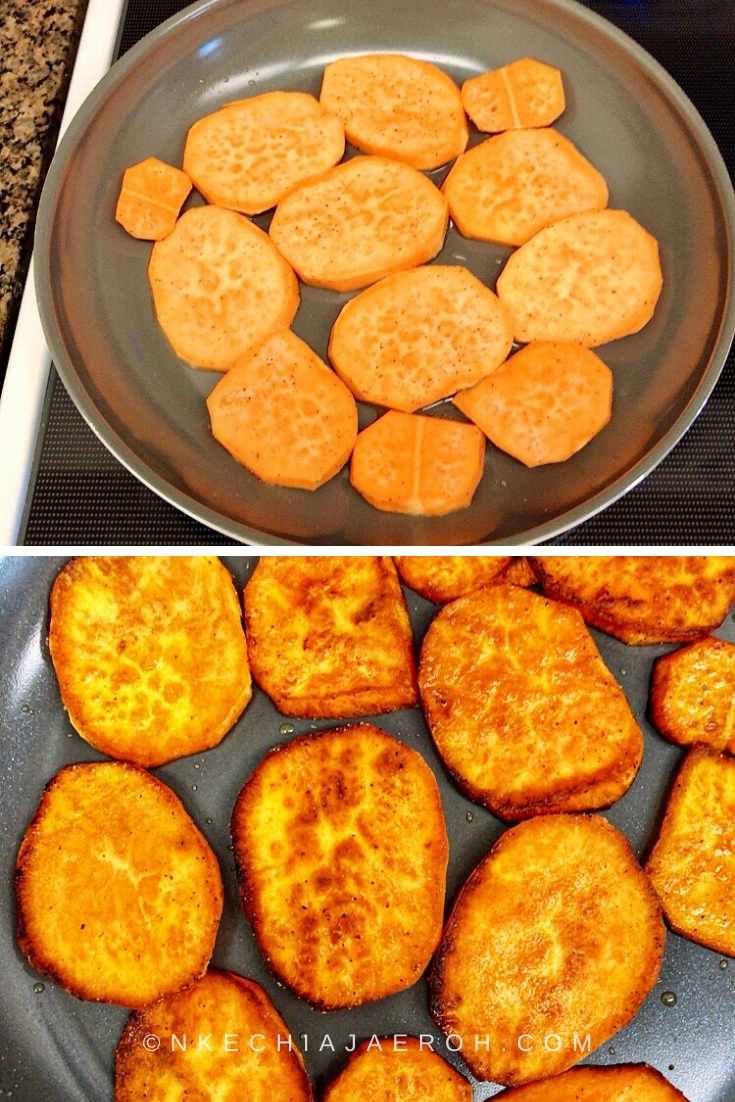 Make the black; as long as you are using already cooked beans or canned beans, sautéing the black beans is easy. First sauté the vegetables, then the beans, and finally mix together.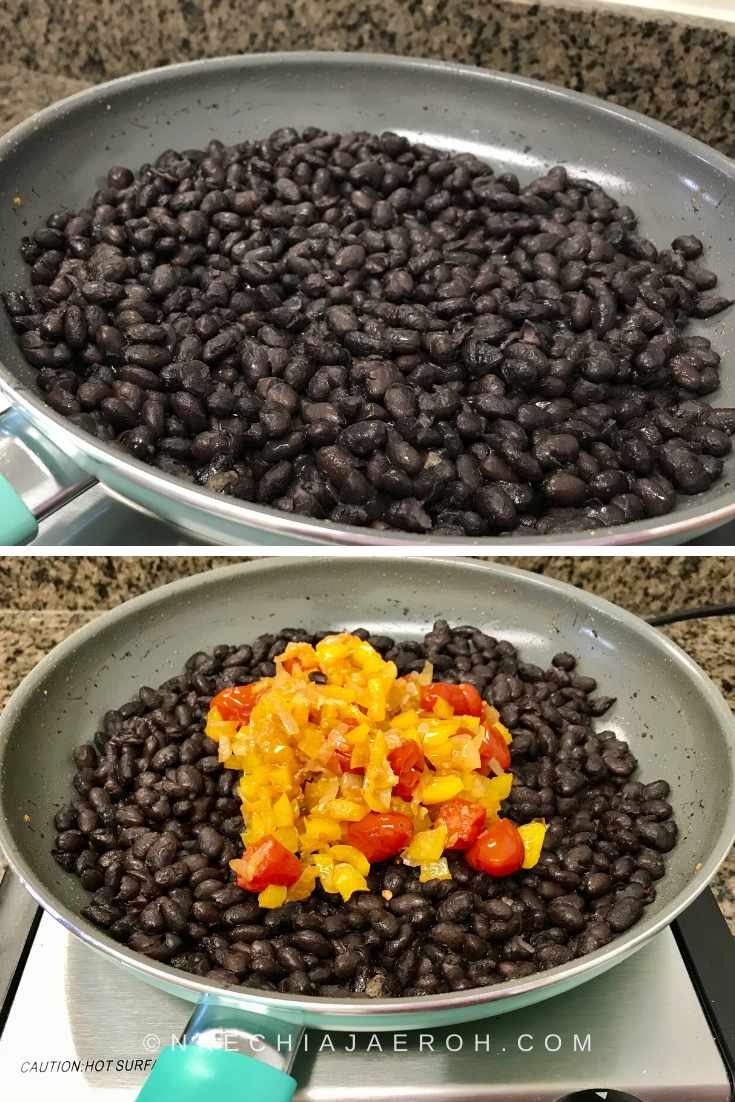 Let's go ahead and make the best taco bowl!
Print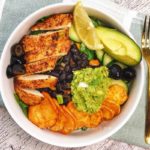 Deconstructed Taco Bowl with Sweet Potatoes and Black Beans
---
Description
The best thing aside from making this dish is actually eating it! This deconstructed taco bowl or taco salad is the best way to enjoy Taco, in my opinion. And the best part is that you get to add your favorite veggies, and make it your way!
---
2 – 3 cups of fresh leave spinach
1 – 2 cups of cooked black beans
1 chicken breast
1 sweet potato
1 medium size English cucumber (sliced) or 1 cup sliced.
½ an avocado (or more)
½ cup chopped onions
½ cup of chopped bell peppers
½ – 1 cup of fresh grape tomatoes
2 garlic cloves (grated)
½ teaspoon of ginger (grated)
Salt to taste
Pepper to taste
A dash of dry thyme

1 tablespoon chopped green onions
A dash of seasoning powder

2 tablespoon of olive oil (or less if using oil spray)
Some olives; optional
---
Instructions
Wash/clean the chicken, then dry with a paper towel. Sprinkle salt, pepper, thyme, and a little seasoning powder on the chicken, use your hand and give the chicken a good rub.
Place a clean pan on the stove, add a little oil (about a tablespoon), allow to heat up, and gently place the chicken to sauté. Cook 5 – 7 minutes on each side or until fully cooked. The amount of cook time usually depends on the thickness of the chicken. Set aside
Slice the sweet potatoes, season lightly with salt and pepper, add a little oil (about two teaspoons) to a clean pan. Place the sweet potatoes on it, and sauté on the stove on low – medium heat. Cover and allow to cook for 7 – 10 minutes on each side until fully cooked. Usually, the length of cooking time will depend on the thickness of the potato slices. Remove from the stove and set aside after cooking.
To sauté the black beans: In the same pan that you had sautéed the chicken, add the onions, cook 2 minutes to soften a bit, then add the bell peppers and cook for another 1 – 2 minutes, and add the grape tomatoes. Lower the heat and add salt, pepper, seasoning powder, and then grate in the garlic and ginger. Give a good stir, and taste for flavors, and adjust appropriately. Cook for the next 2 minutes or so until these veggies are properly sautéed, and tastes divine, then scoop out into a clean plate. Add a teaspoon of oil into the same pan, and then the black beans. Allow black beans to heat up properly, add a dash of salt, and pepper if necessary, may not be needed if using already seasoned black beans. Then lower heat, and return the sautéed vegetables into the pot alongside the beans. Give the entire food a good stir, ensuring everything combines well. Taste for flavors, and set aside.
Mash avocado with salt, pepper, and some fresh green onions. Squeeze a little lime or lemon juice, so that it helps the guacamole from turning brown. Mash avocado last, close to the time you are ready to eat. Taste for flavors and adjust, and set aside.
To put this bowl together, lay the spinach leaves on the floor of the bowl. Then add the black beans in the middle. Surround with sweet potatoes, cucumbers, chicken, and a couple of olives, top with mashed avocado. Add a slice of avocado and lemon wedge to garnish. Enjoy!
Notes
I like to mash the avocado after putting the bowl together. Lol, I do not want it to change color before I start eating. Always prep it last.
You can substitute the onions, bell peppers, and grape tomatoes with a cup of frozen mixed veggies. Feel free to use whatever Vegetables you have on hand.
If using canned black beans, remember to drain the water and rinse.
Keep your eyes on the potatoes; it can quickly burn/turn black, it doesn't look great if overcooked.
This recipe serves 1 – 2 people.
Prep time does not include the for cooking dry black beans.
To save time, while sautéing the chicken also start cooking the sweet potatoes with another pan.
You can substitute some of the olive oil with oil spray.
Prep Time:

10 minutes

Cook Time:

25 minutes

Category:

Lunch/dinner

Method:

stove-top

Cuisine:

Mexican
Keywords: Taco Bowl, Healthy meal prep bowls, healthy taco salad recipe, taco salad, sweet potato taco recipe, black beans taco, taco burrito bowl, chicken taco, deconstructed taco bowl recipe, healthy taco, Taco platter, taco recipe, deconstructed food, sweet potato and black beans taco, black beans tacos
Recipe Card powered by
First of all, please SHARE THIS POST. And if you like today's recipe, please rate it below; it helps my blog out. THANK YOU.
Here are some other recipes am sure you will enjoy:
At the same time, I do have an online healthy lifestyle community; click here to find out more! Meanwhile, I started on Instagram (finally)! LOL, I did put that off forever, well I am there now, and I will love for us to connect! Follow me on Pinterest, Facebook and Twitter as well. Finally, remember to share this recipe post, and SAVE/PIN THIS IMAGE ON PINTEREST. ⤵️

Stay well and safe, friends!