YES to One-Pot Nigerian Fried Rice!
If you are a regular here on the blog, you might have seen one of my nice rice posts; Africans run on rice, OK. We don't play when it comes to this food, in other words, we use every means necessary to make it legendary. The (traditional) Nigerian fried rice is a recipe after my heart, but sometimes, there aren't just enough hours in a day to make it happen because it is a little complex, YEAH. So, therefore, this one-pot fried rice recipe is a super quick version of our beloved fried rice. OH, and you may need another small saucepan for sautéing the shrimp.😊
In the view of the busy-ness of life, work-life balance, (bland) healthy and (palatable) not so healthy foods, I got you. Not only is healthy eating essential but, also needs to be tasty and timesaving. In today's recipe, I am happy to share with you healthy afro-fusion meal that isn't going to take all day to make. I wish I can make it for you, while that is not an option right now. I am more than happy to show you simple and straightforward ways to easily eat healthy meals. Also, this very recipe is so close to my heart (AGAIN) because my mother loves shrimp (both fresh and dry), and she never hesitates to add it to rice. It is important to realize that adding shrimp to this dish is optional but totally worth it. In general, do not overindulge in shrimp goodness; they are also high in cholesterol.
Ingredients for Shrimp Fried Rice:
Shrimp
For today's one-pot fried rice I used shrimp, you can use any protein really. In fact, in the past I have used chicken, beef, and liver; I would typically prep these proteins like the same way I will be prepping the shrimp today (sautéing). Without question I know you would agree with me that protein (shrimp in this case) is an excellent addition to this meal. Not only is shrimp a high-quality protein, it equally great for individuals that are on their weight loss journey because it has lower calories than regular meat. Click To Tweet Besides the benefits mentioned, shrimps provide the body with other essential minerals and compounds such as selenium, copper, iodine, vitamin B12, and many others.
Mixed Vegetables.
Mixed vegetables are the heart of every fried rice; they make them fanciful and flavorful!
Click To Tweet
I have in various different times in the past used fresh and frozen vegetables for this dish, and it comes out very delicious. In other words, feel free to use what you have on hand. Personally, I love seeing the mixture of carrots, peas, green beans, bell peppers, etc., when it comes to my fried rice. Finally, this fantastic meal would not be complete without rice itself. I love the
long grain
parboiled rice.
In reality, this dish is a simple yet classic way to entertain your family and your guest on a beautiful day like this.😁😋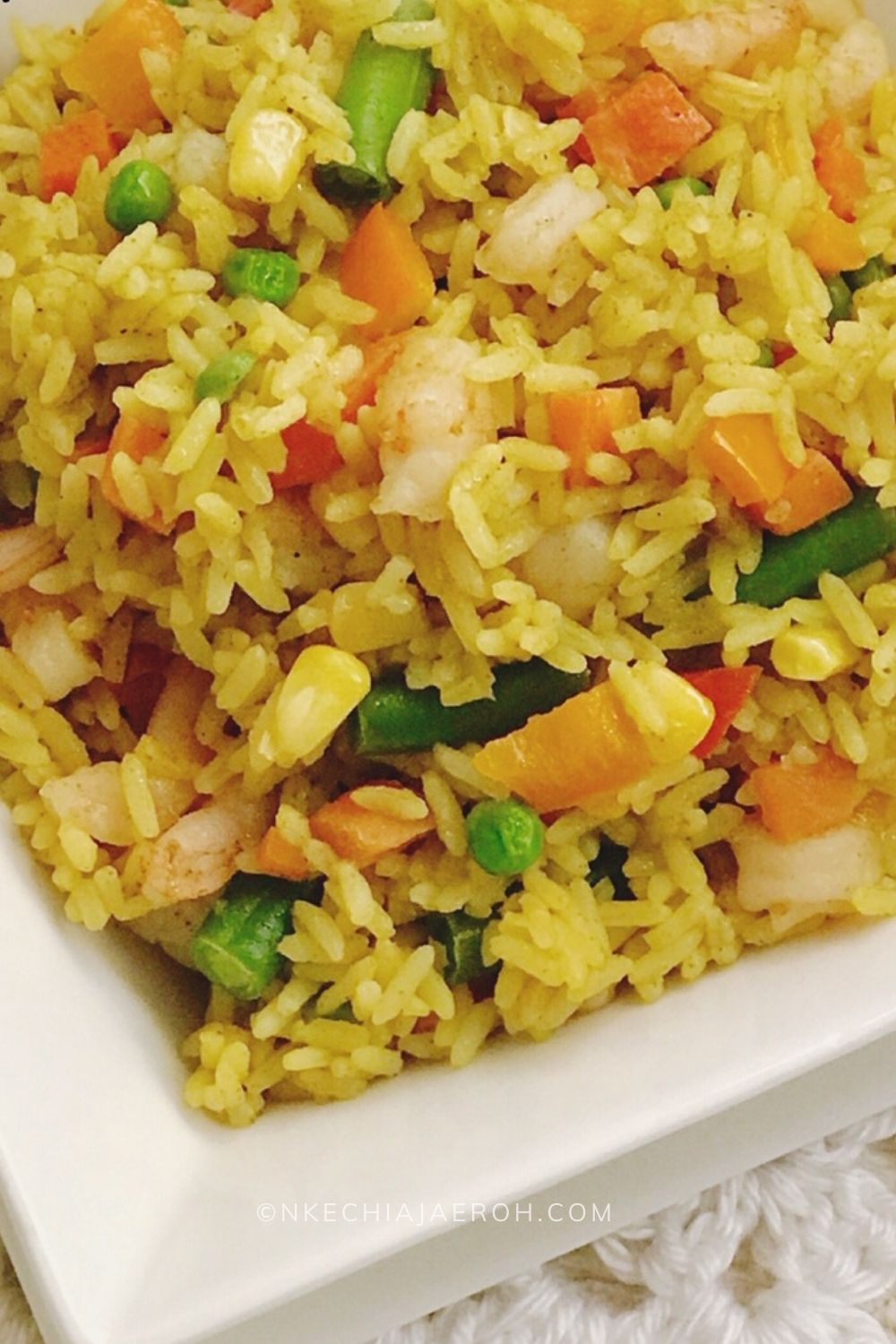 Easy One-pot fried rice is loaded with shrimp, mixed vegetables, and flavorful herbs and spices! This pot of rice is very flavorful, tasty, and super easy to make!
Click To Tweet
If you are ready, let's make this one-pot fried rice recipe, Nigerian style!
Print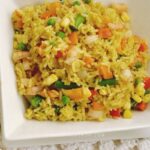 How To Make Quick and Easy One Pot Fried Rice
---
Description
Mixed vegetables are the heart of every fried rice; they make them fanciful and flavorful! Do not hesitate to add them alongside any protein of choice. Today I used shrimp; chicken breast would also work just fine!
---
2½ cups

of rice

12

(oz.) bag of shrimp

3 cups

of mixed frozen vegetables

1 cup

of chopped fresh bell peppers (different colors)

3 cups

of chicken broth

½

–

¾

cup of water (less than a cup, definitely)

2 tablespoon

of curry powder (reduce according to your taste; I LOVE CURRY)

3

seasoning cubes (or

1 tablespoon

seasoning powder)

2

-teaspoons of salt

1

-tablespoon vegetable oil (for sautéing shrimp)
a dash of black pepper (for sautéing shrimp)

1.5 ounce

of vegetable oil for cooking rice (about

3 tablespoons

)

2 tablespoon

chopped white or yellow onions

1

–

2

cloves of garlic
---
Instructions
Parboil rice in hot boiling water. Allow to boil for 4-5 minutes, turn off the heat and drain off the hot water. Then wash thoroughly with cold water until water is clear. Set aside in a sieve or drainer for all liquid to drain out. Also, chop vegetables and set aside.
Sauté shrimp in 1-tablespoon vegetable oil, and season with salt and a dash of black pepper. Set aside Set a clean pot on a hot stove, allow to warm up, then add vegetable oil (about 3 tablespoons). Allow the oil to heat up and add chopped onions and garlic; sauté for 1 – 2 minutes and add half of the curry (about 1 tablespoon; lower heat). Stir and add all the rice and continue to stir, then add the remaining curry powder, and crush in one Knorr cube, (and turn the heat back to medium-high). Keep turning/stirring to avoid rice sticking to the bottom of the pan. Sauté this rice for the next 7– 9 minutes, then add the chicken broth, plus a half-cup of water. Also, crush in another Knorr cube, add one-teaspoon salt, cover the pot and start cooking.
After 18-20 minutes on medium – high, add the shrimp; cover and cook for 2 minutes. Then, open the pot and add the fresh chopped bell peppers; cover and allow to cook for 2 minutes, then add frozen mixed vegetables, crush in the last remaining Knorr cube, give a good gentle stir so everything can mix well together, taste to see if you need to add some more seasoning. Cover pot to cook for another three minutes. Stir and serve hot by itself or some meat, chicken, avocado or beans. Garnish with spring onions or fresh parsley.
Notes
Measure your salt (2 teaspoons) and set aside to avoid using too much of it.
If you are using non-sodium chicken broth, you may need a little more salt/Knorr.
Though I used frozen mixed vegetables; the chopped bell peppers were fresh to give this food a kick of freshness.
If you are using a fatty broth, then reduce the vegetable oil from 1.5 ounces to only 1 ounce (2 tablespoons).
Substitute shrimp for any other protein (including tofu if you are a vegetarian).
I love to parboil my rice long before cooking starts (at least an hour before cooking) that helps all the water to drain out before "sautéing/frying."
If possible use a non-stick pot to avoid burning or rice sticking to the pot.
Prep Time:

0 hours

Cook Time:

0 hours

Category:

Entree

Cuisine:

Nigerian
Recipe Card powered by
Now your turn, do you eat fried rice? Ever made them this way or would you try them this way? Please tell me in the comment:)
MORE NIGERIAN RECIPES TO TRY:
THIS POST CONTAINS AFFILIATE LINKS, you are not charged more for using these links, but I make little coins when you do. Finally, let's connect on social media, am on Facebook, Instagram, Twitter, and Pinterest. Please subscribe to my Youtube Channel, I share fun healthy recipe video tutorials.
With love,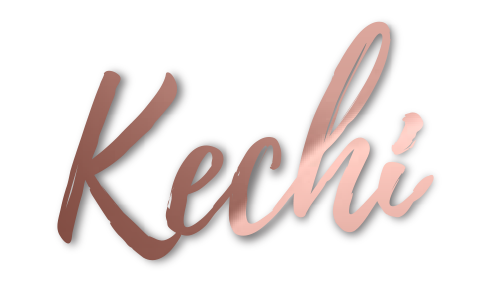 (Share this recipe post, and SAVE/PIN THIS IMAGE ON PINTEREST! ⤵️)