Classic chicken and carrot stir-fry.
My super delicious and nutritious chicken and carrot stir-fry are like no other. Aside from cutting up the vegetables, everything is just a breeze. I am sure you and I can agree that easy to make food are lifesavers, this is one of those lifesavers you can also use to save the day. This chicken and carrot stir-fry is all you need for your weeknight dinners. Gone are the days when men and women take pride in staying hours in the kitchen; just make some meal that would be gone in another hour. Click To Tweet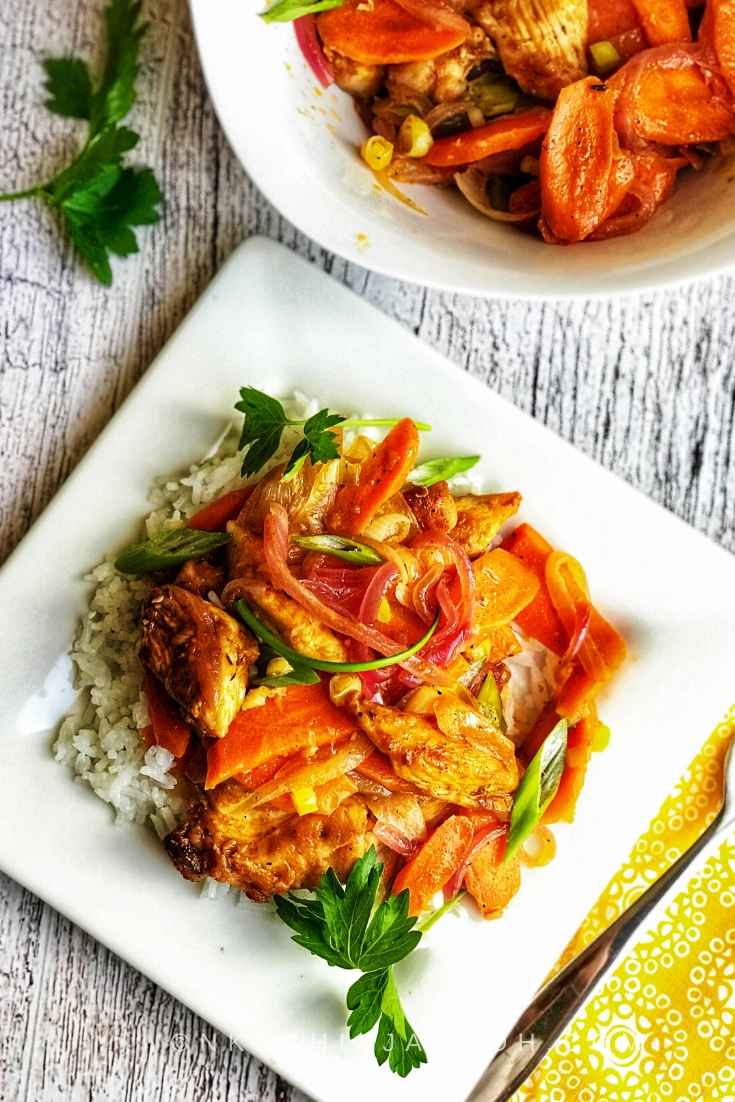 Super simple ingredients:
One of the reasons why I love this recipe and cook uncountable times is that the ingredients are available all year round. In other words, you can snap your fingers and get everything you need for this recipe.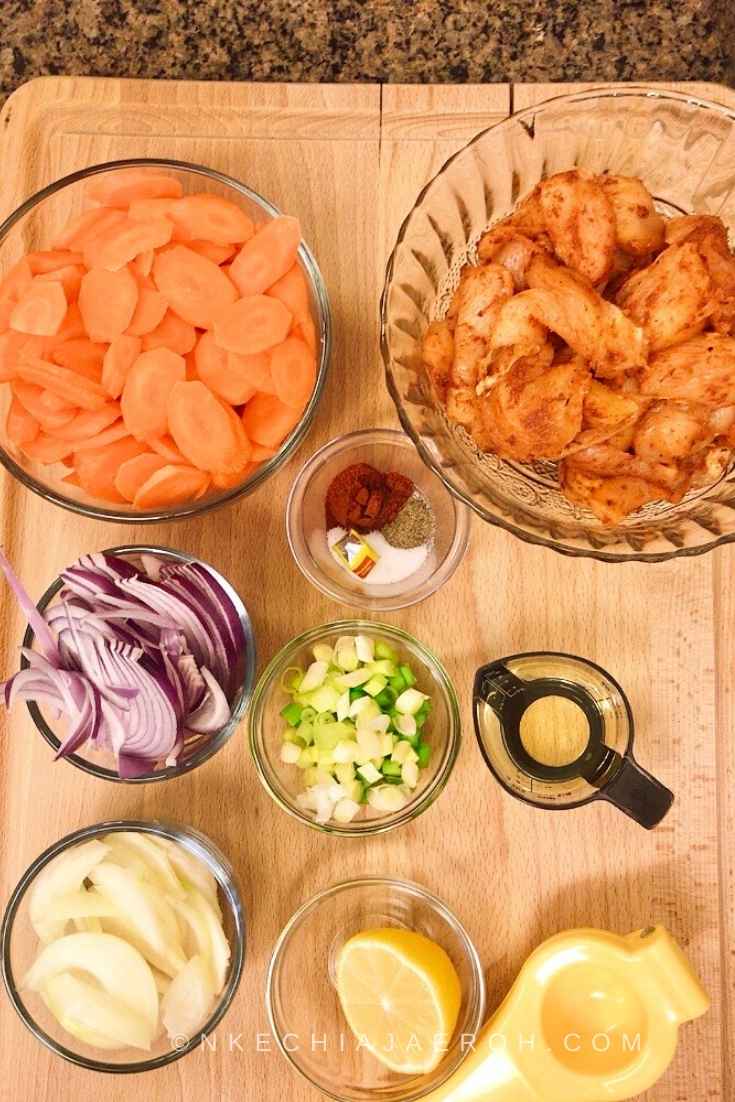 The three main ingredients you will need for this deliciousness are chicken, carrots, and onions.
Whether you have frozen chicken in your freezer or you have just bought fresh chicken breast, they can serve the same purpose when it comes to this recipe. It is no longer news that chicken breast is an excellent protein, and it has less fat compared to the other parts of the chicken. In case you are meatless, please feel free to substitute this with tofu. Can you use chicken drumstick for this recipe? Never used it, but you know what they say? Never say never.
Onions. A powerful antioxidant, inflammation fighter, immune boosting, and packed with cancer-fighting nutrients is a superfood that needs to get a seat in all your meals. Onions can also control blood sugar, and as well as it…
Click To Tweet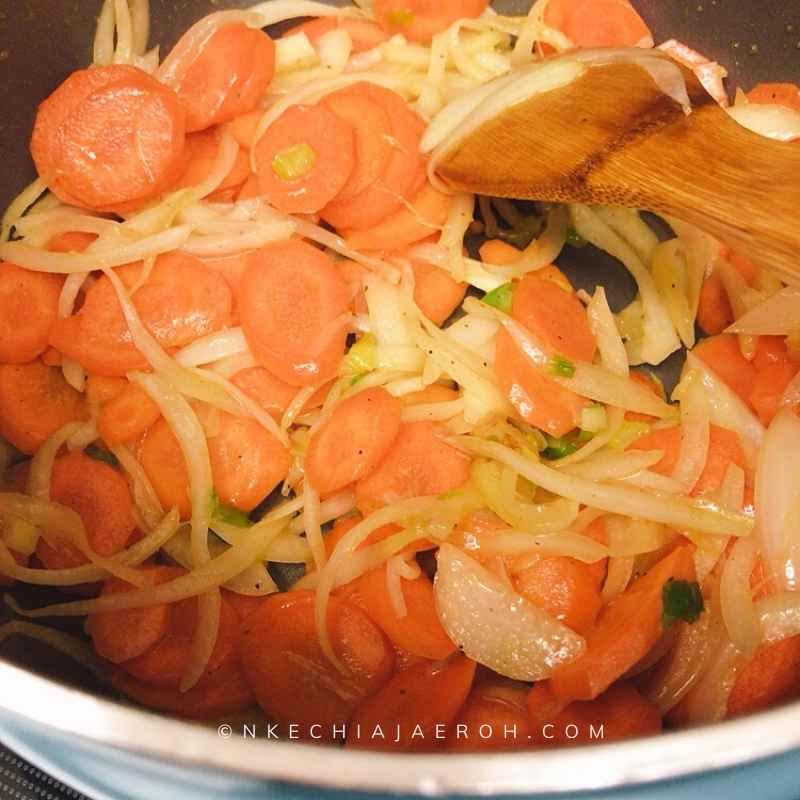 Carrots. In reality, carrot is one of my best vegetables, aside from beets. I love the color, the taste; whether it's raw, cooked, juiced, or stir-fry, I love me some carrots. The nutritional benefits of this vegetable are incredible, from promoting eye health to helping lower cholesterol, this veggie is dope. The inspiration for this recipe came from Rachael Ray's magazine!
Serving your chicken and carrot stir-fry.
When your stir-fry is ready, enjoy it as you wish! My family and I love to have it with boiled white rice. You can surely do quinoa, potatoes, or even yams. But to all my brothers and sisters of African heritage who enjoys white rice and red tomato stew, this chicken and carrot stir-fry is another excellent alternative. Not to mention that it cooks quicker, and it is equally healthier.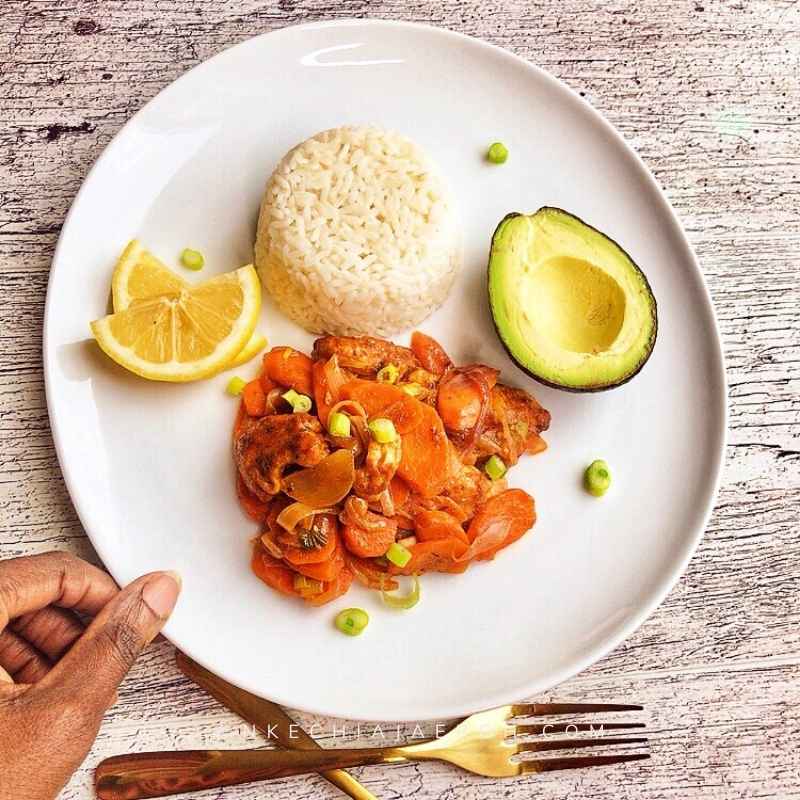 I went in on this plate so fast, and it was so good!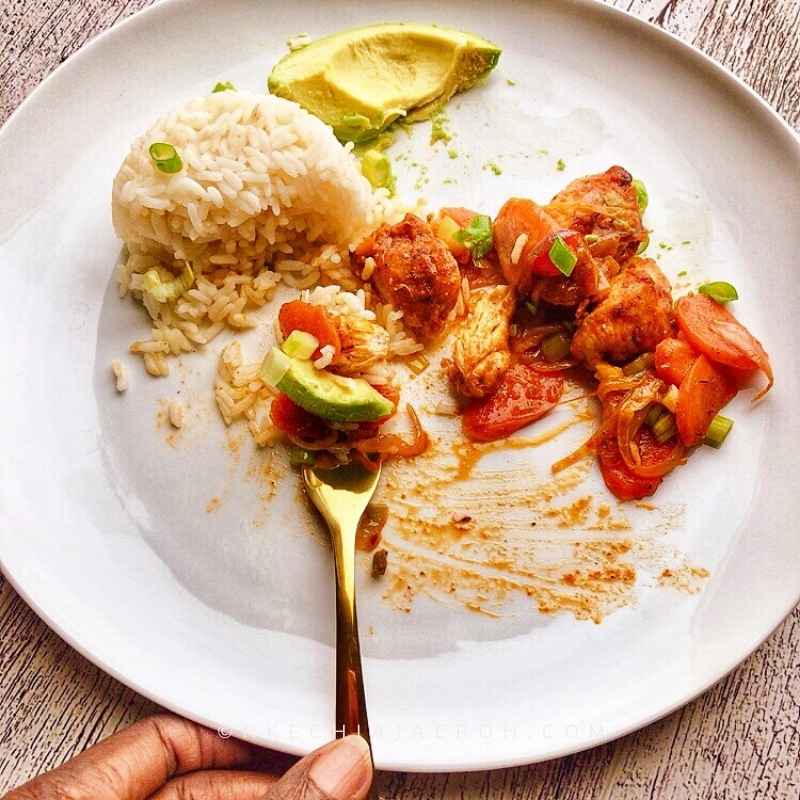 I know you are ready; let's go ahead and make this food official on your dinner table!
Print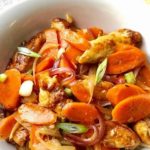 Chicken and Carrot Stir-fry Recipe
---
Author:

Nkechi Ajaeroh

Prep Time:

10 minutes

Cook Time:

20 minutes

Total Time:

30 minutes

Yield:

2

people

1

x

Diet:

Low Calorie
Description
Quick and easy weeknight or even weekend dinners don't get any easier than this! This chicken and carrot stir-fry are not just easy to cook; they are equally nutritious, delicious, colorful, and finger-licking tasty! This recipe will make your day! 
---
Scale
Ingredients
1

chicken breast (cut in

1

– 2-inch sizes)

1 teaspoon

of cornstarch

1 teaspoons

of ground paprika (or a little more if you desire it to be a bit more reddish)

1 teaspoon

of onion powder

¼ teaspoon

of garlic powder (or less)

½ teaspoon

seasoning powder
Salt to taste (always add salt according to your taste)
Pepper to taste (I like using a pitch of white pepper)
Crushed red pepper (if you want spicy)

¼

dry thymes leaves

2 tablespoons

of olive oil

½

of whole fresh lime

2 tablespoons

– ¼ cup of chicken broth or water (which you may not need)
For the vegetables:
1½ cups

of sliced carrots

1

bulb of onions (half each from different colors of onions; I used red and yellow)

1/3

chopped green onions

1 teaspoon

freshly grated ginger
Salt to taste (always use salt according to your taste or health need)

½ tsp

. seasoning powder

1/8 tsp

. pepper

½ tsp

. paprika
---
Instructions
In a clean bowl, add the already cleaned/washed and cut chicken. Then add the paprika, cornstarch, seasoning powder, onion powder, thyme, garlic powder, and salt. Use hands while wearing a glove to make sure the marinade is well mixed into the chicken, set aside.
While the chicken marinates, wash and cut the vegetables, slice, or cut them as you wish. But for this recipe, slicing works better than cubes.
In a clean pan, add half of the oil or about two teaspoons, allow heating it up. Start sautéing the vegetables, adding all the veggies at the same time. Then add the seasoning powder, salt, paprika, pepper, and stir well to combine. Sautee everything for 4 – 5 minutes, taste, and adjust flavors, scoop out of the pot, and set aside.
Add the last remaining oil or about one tablespoon of oil into that same pan, and gently lay the (already marinated) chicken in the pan. Allow to cook/sauté unbothered for at least 4 minutes or until that side turns a bit brown, flip to cook the other side, the same way.
Cook the chicken through, and then add the veggies back into the pan, give a good mix, add the grated ginger and minced garlic as well. Taste and adjust flavors accordingly, and then squeeze in the juice of ½ of the lime to deglaze the pan. And also, to intensify the flavor.
Give a good quick stir, then finally add the chopped green onions and turn off the heat, set this stir-fry aside to stop cooking and then serve with rice, potatoes, beans, or anything you wish. I ate mine with coconut basmati rice, and it was divine.
---
Notes
You may not get to use the chicken broth or water; I rarely do.
You can use it you desire for your stir-fry to be a bit loose, and perhaps have some juice. Usually, I never get to use it only on very few occasions I have had to add about 2 tablespoon water.
If you are vegan, no problems substitute chicken with tofu.
Category:

Dinner

Method:

Stovetop

Cuisine:

Mediterranean
Keywords: Chicken recipe, carrot recipe, vegetable stir-fry, healthy chicken stir-fry, carrot stir-fry, easy chicken recipe, vegetable chicken dinner
With everything going on in the world, this recipe is super handy and would very much serve your family, so when are you going to make it?
Also, in line with eating immunity-boosting foods, I have just created a pdf with over 21 immune-boosting recipes. You can snag it at a pre-order price of only $5.00; the price goes to $7.00 on April 7th, midnight PST. You get early access to this download from Friday 3rd, 2020 (via the email you provided at the time of purchase).
So, I just started on Instagram a few months ago, (well in October of 2019), and I will like for us to connect over there and on Twitter too!
Once again, thank you so much for reading, and please do rate this recipe. And whenever you make it, be sure to let me know!😊
With love,