How to Make Nigerian Buns.
Nigerian buns are one of the most favorite Nigerian snacks – crunchy on the outside, pillowy and soft on the inside, flavorful, satisfying, and incredibly delicious! Plus, it is super-duper easy to make! I ate many of these African donuts (aka Nigerian buns) growing up; these days, my kids want me to make them every weekend! But these Nigerian buns recipe is a little different from the ones I ate growing up.
I wanted to make these more nutritious and healthier, so I added pumpkin puree while also reducing the flour. Keep reading for an easy step-by-step process for making the best sweet Nigerian Buns that are healthier and tasty.
These Nigerian sweet buns recipe is healthier, flavorful, pumpkiny, and delicious! Whether you are looking for a quick, easy and healthy version of your favorite Nigerian Buns snack or just trying it out for the first time, these…
Click To Tweet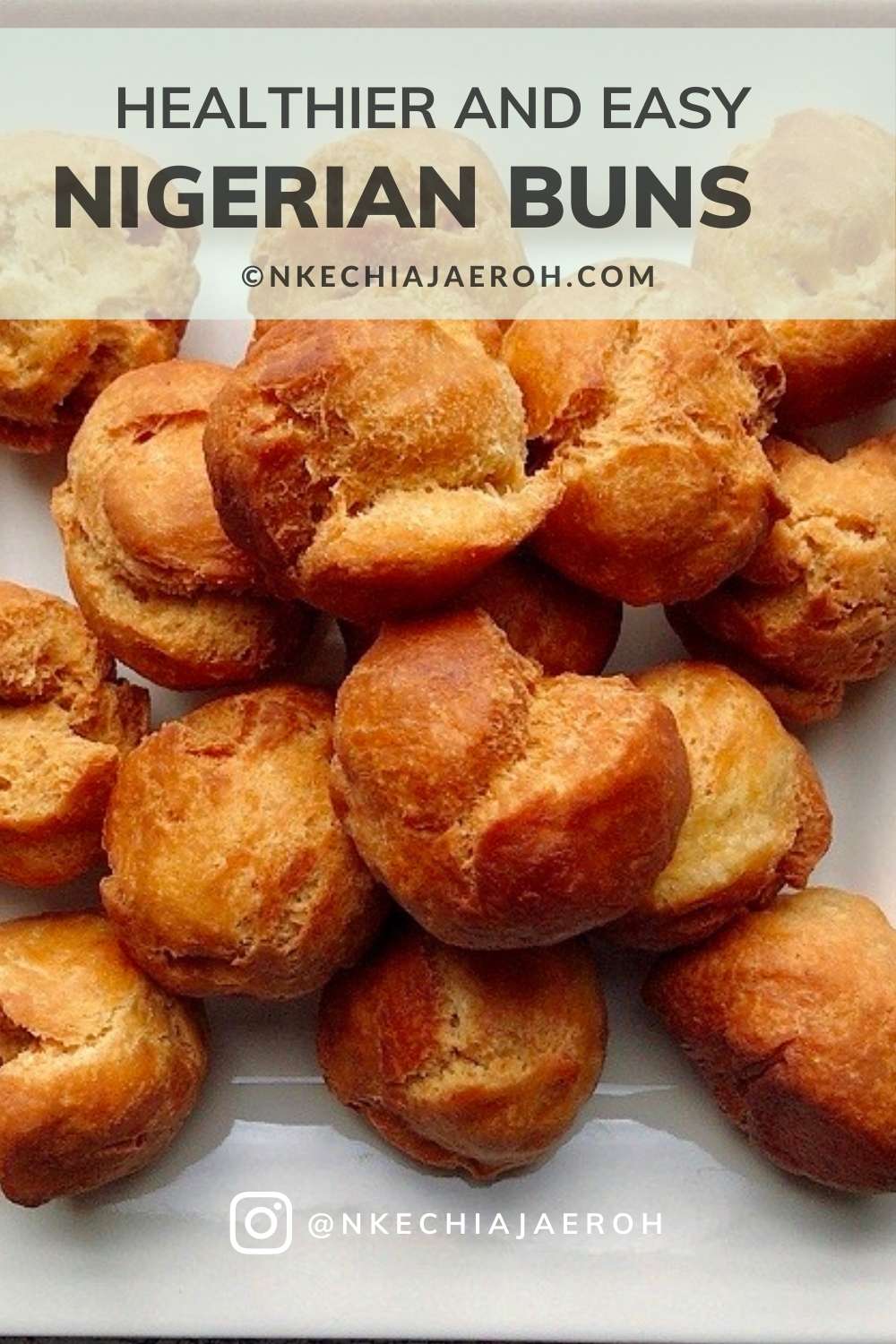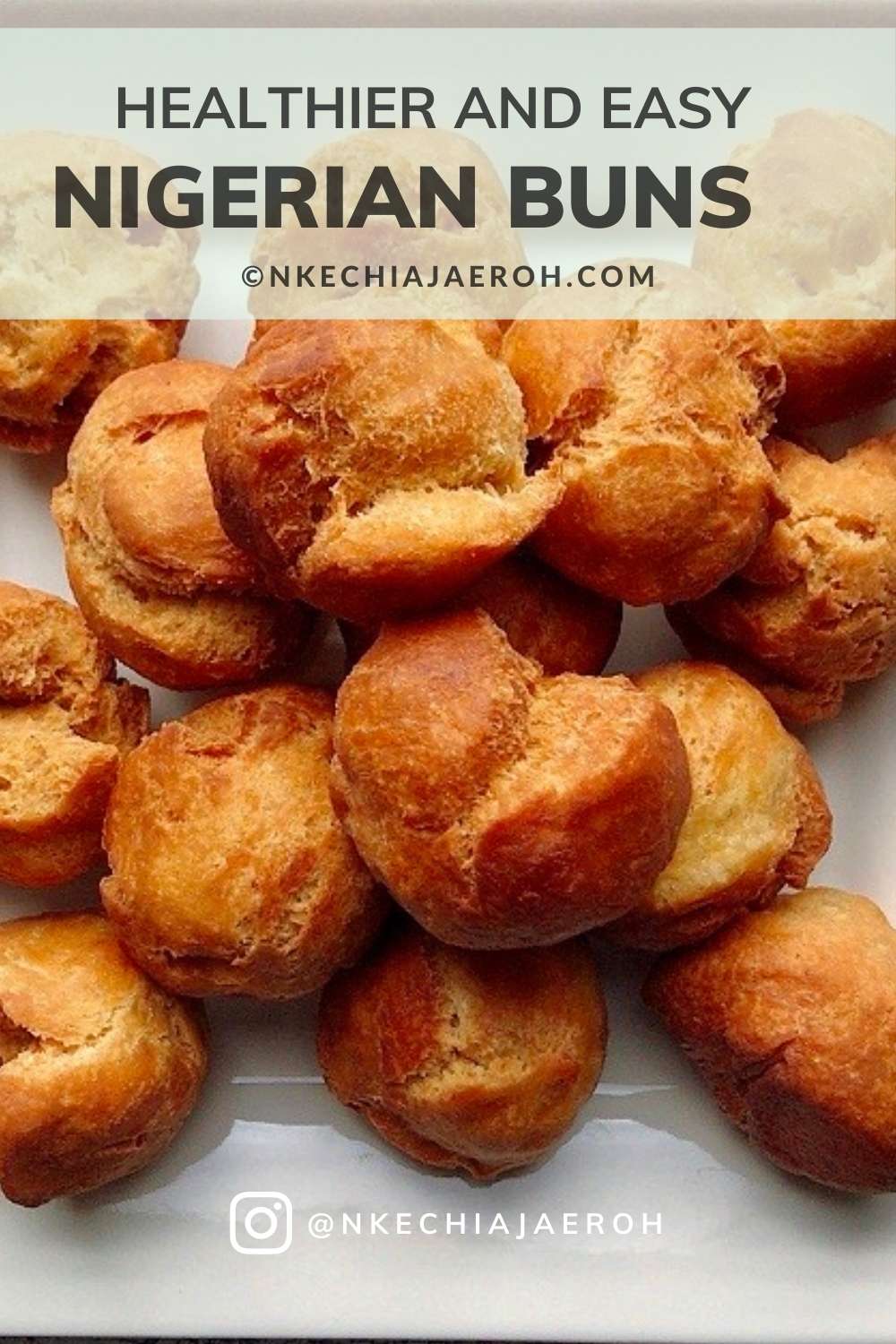 Ingredients for Healthier Nigerian Buns Recipe.
Though buns only require few ingredients, as my mother always says, it will leave you with an experience of a lifetime. Typically, you will need flour, butter, sugar, eggs, milk, baking powder, and nutmeg. Nutmeg is essential in every Nigerian buns recipe because it gives it that Naija vibe and flavor! And I am incredibly excited to use the nutmeg from the spice tribe's line of single-origin spices. Side bar: I love every spice from Spice Tribe.
To clarify, there is nothing as flavorful as freshly grated nutmeg; it so soothing and refreshing. I also used homemade pumpkin puree, as well; it added more depth and excellent nutrients to these recipe.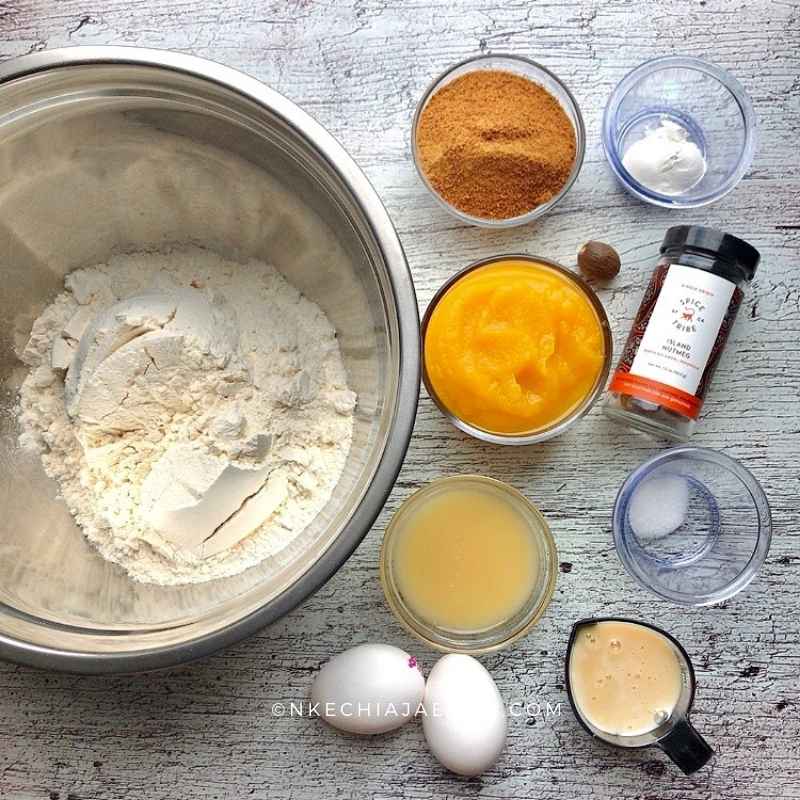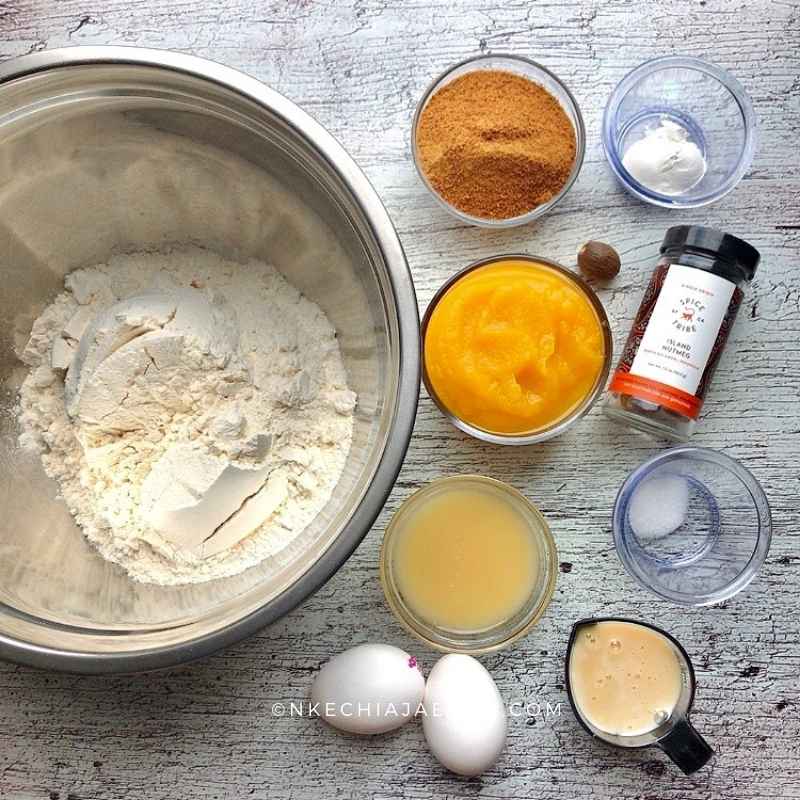 FAQs about Nigerian Buns Recipe.
Difference between Nigerian Buns and puff-puff?
Generally, buns are very different from puff-puff; though both are usually fried, buns are rich in texture and a little dense than puff-puff. Additionally, puff-puff has fewer ingredients than buns. For instance, puff-puff does not need eggs and milk, while on the other hand, Nigerian buns recipe usually does not require yeast!
How to Make Healthier Nigerian Buns Recipe.
The easiest way to make a healthy Nigerian buns recipe is to substitute a couple of things such as butter, sugar, and flour. For example, you can substitute butter with plant butter or olive oil and sub white flour with white whole wheat or reduce the amount of flour and add mashed fruit. Like I did, I added one cup of homemade pumpkin puree. What if you don't have pumpkin puree? One cup of mashed banana should work just fine. Finally, I used organic coconut sugar instead of granulated white sugar.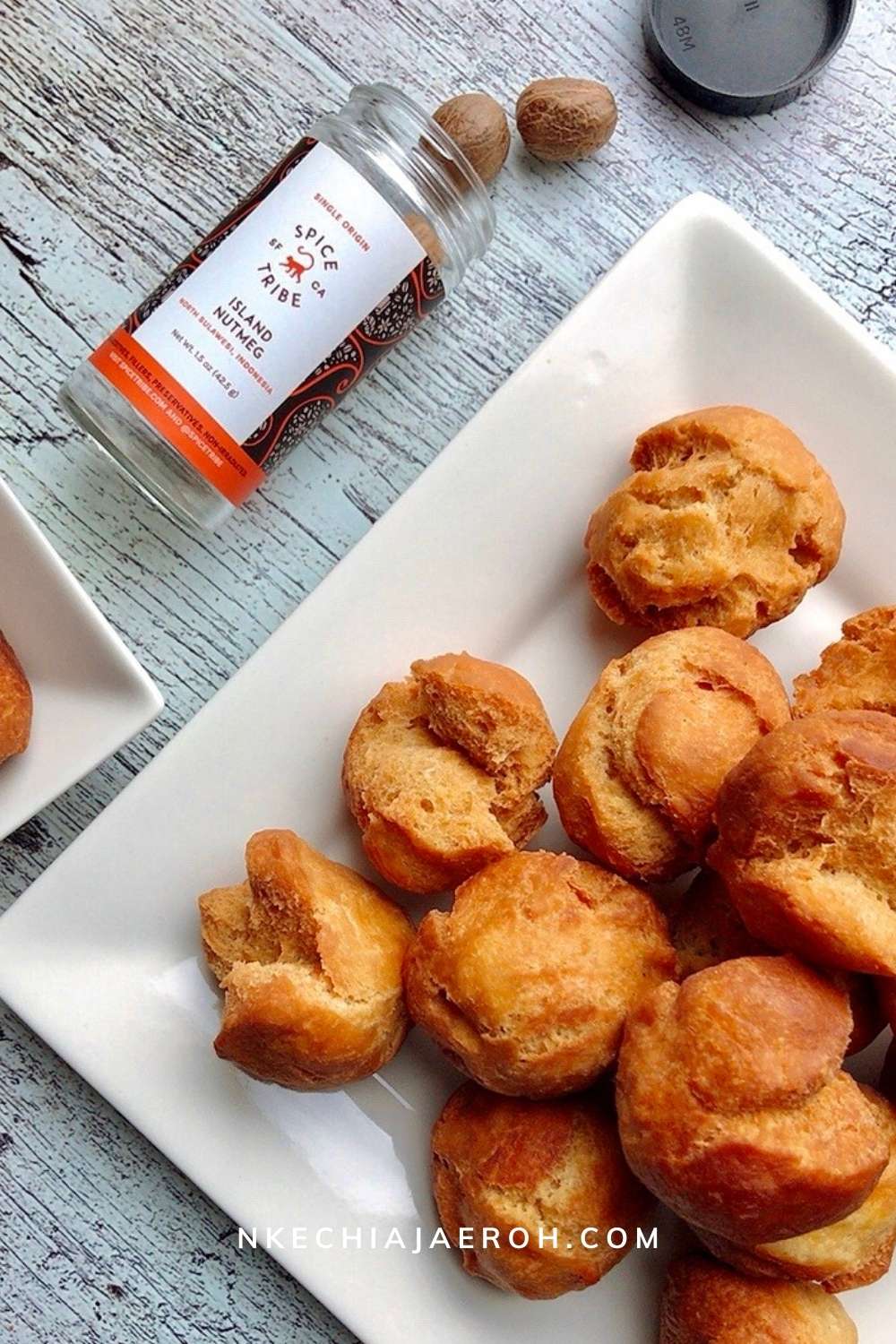 Can I Make Nigerian Buns without Eggs and Milk?
You can sure make Nigerian buns without eggs and milk; instead of adding eggs and milk, just add water. The eggs and milk make buns richer and nutritious, but they are not deal breakers for this recipe.
Can I Make Nigerian Buns without Yeast?
Yes, you can make Nigerian buns without yeast because it does not require yeast. Nigerian buns recipe calls for baking powder instead of yeast.
Nigerian Buns in Easy Steps.
Easily and quickly make Nigerian buns using this easy step/instruction. First, add the dry ingredients into a bowl. Add the wet ingredients into a separate bowl, then combine both to form a ball. Mold into small balls and get ready to fry.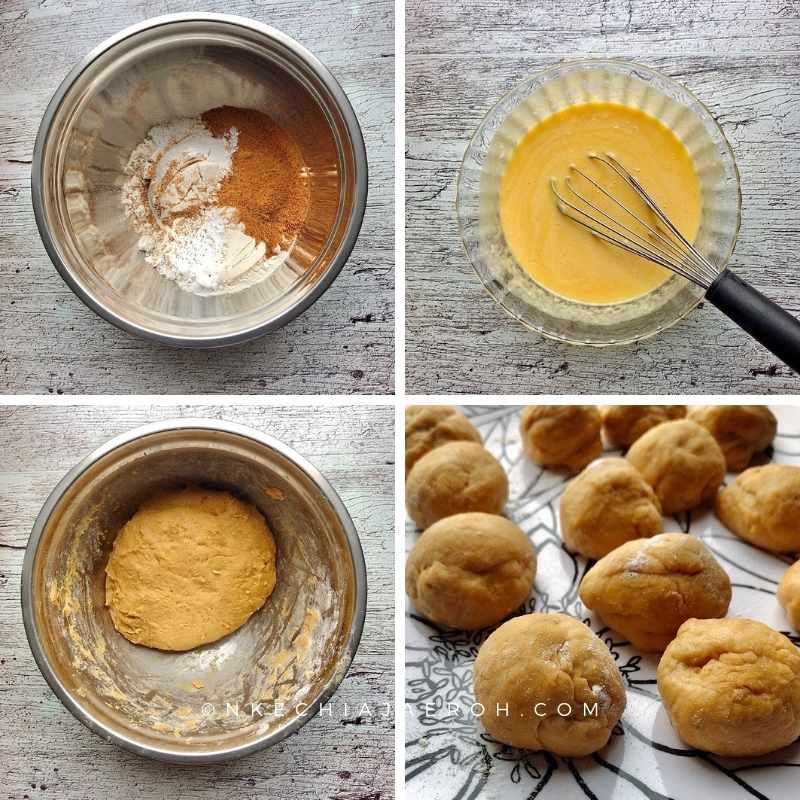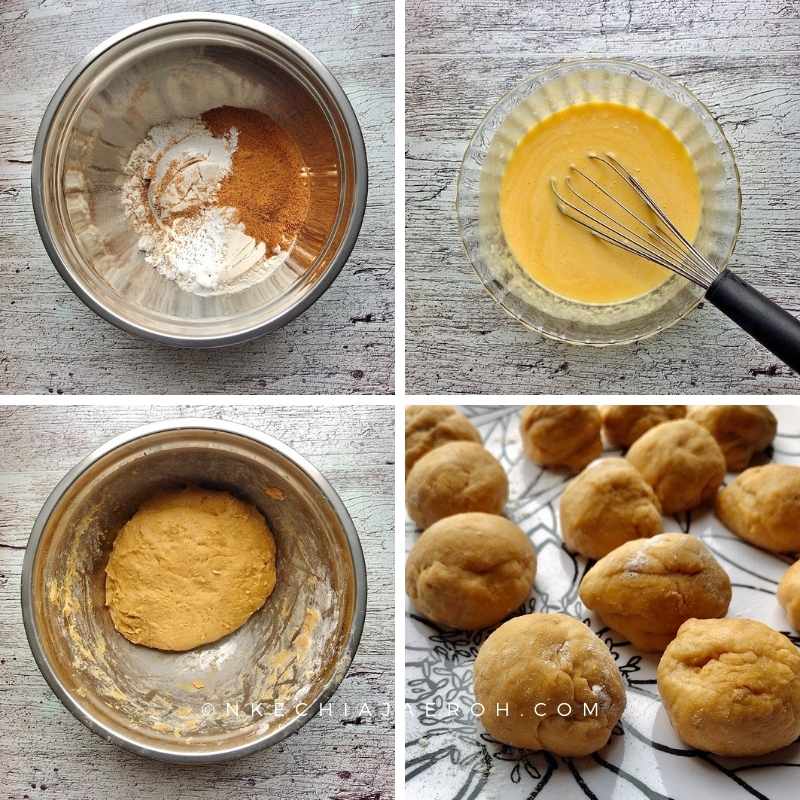 How to Preserve Nigerian Buns.
You can store leftovers in a tightly-covered dry container on the kitchen counter, or you can put it in the fridge. Also, these freeze very well if you wish to keep them for a very long time.
How Many Calories are in this Nigerian Buns Recipe?
These soft, pillowy, African donuts are less than 180 calories per serving. You may not be able to keep your hands off of these because they go by very fast! These are a little crunchy on the outside and soft inside, perfect holiday…
Click To Tweet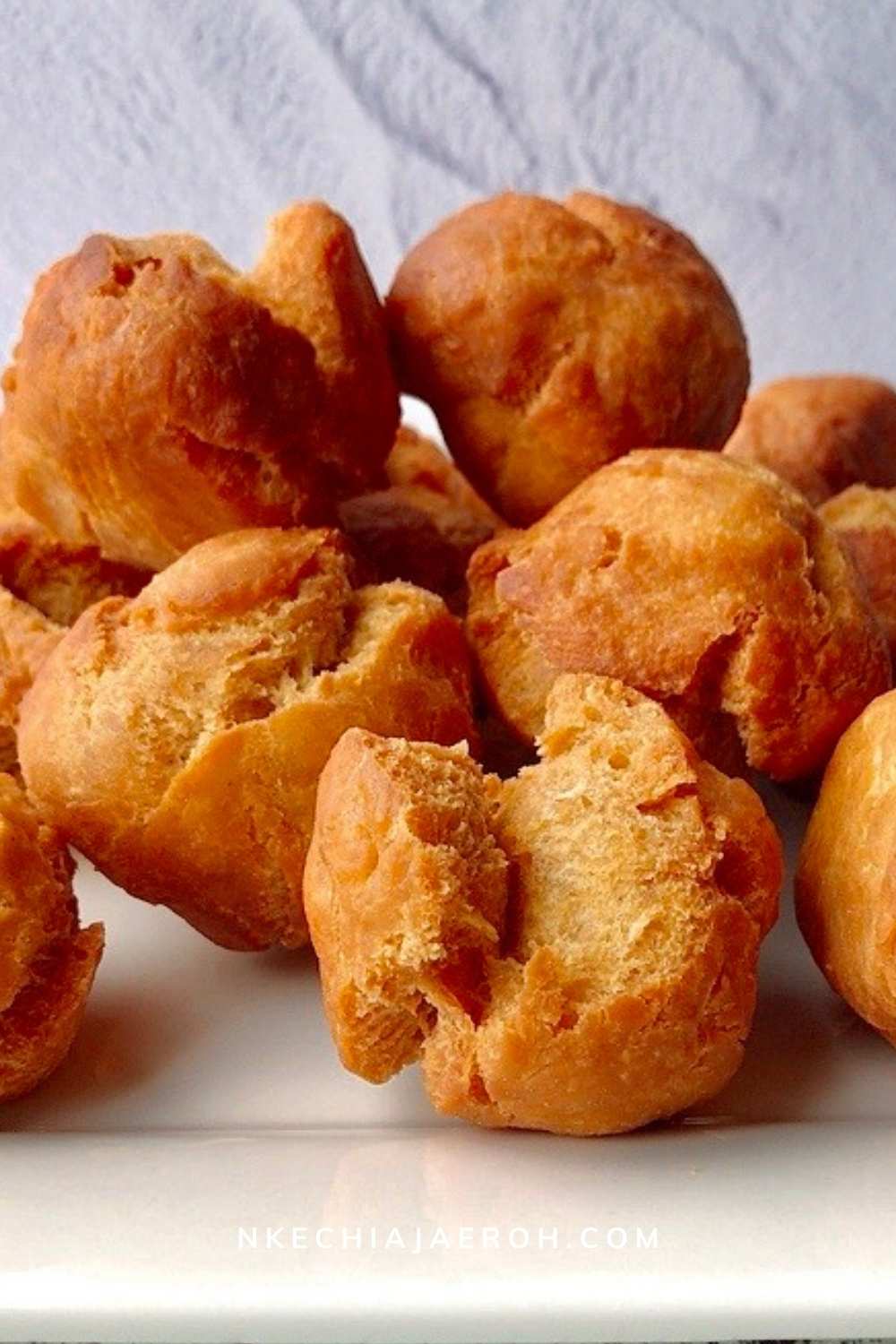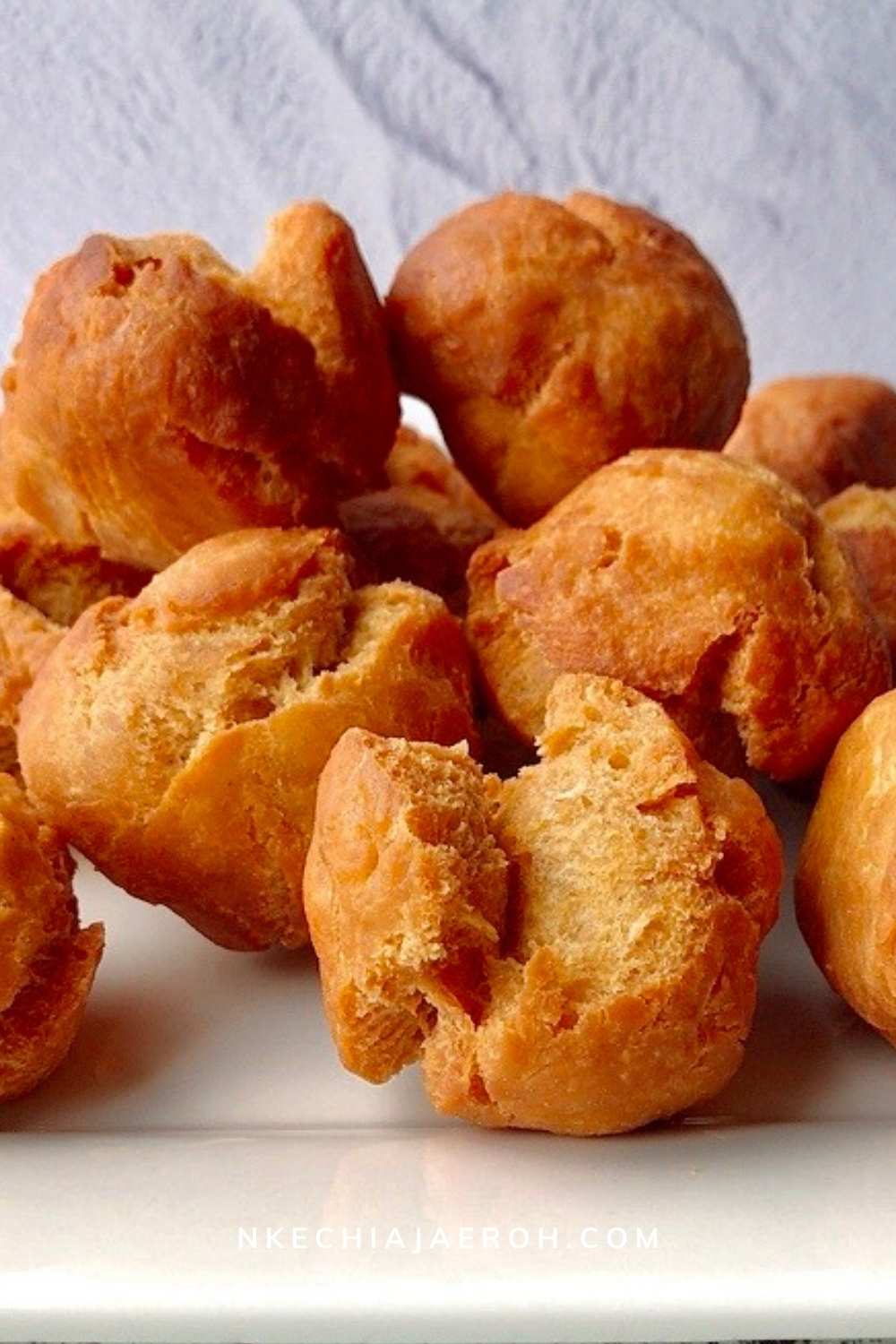 Print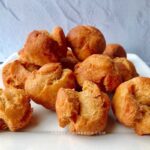 Nigerian Buns Recipe: Healthier Version with Pumpkin
---
Description
Nigerian buns are one of the most favorite Nigerian snacks – crunchy on the outside, pillowy and soft on the inside, flavorful, satisfying, and incredibly delicious! Whether you are looking for a quick, easy and healthy version of your favorite Nigerian Buns snack or just trying it out for the first time, these will make your day! Also, I added pumpkin puree to this buns' recipe making it more nutritious and healthier. Don't worry you can barely taste the pumpkin.
---
---
Instructions
Mix dry ingredients in a bowl, in a separate bowl, mix the wet ingredients as well.
Add the wet ingredients to dry; use hands to combine until if forms a dough.
Set a pan on the stove, and add frying oil, and allow to heat up.
Use one tablespoon measure to scoop and mold the dough; if possible, scoop and mold all the dough before you start frying.
Start Frying the dough when the oil gets hot, not too hot, though, because then the dough would burn on the outside, and still uncooked in the inside.
Fry dough until golden light brown on all sides (about 4-5 minutes on each side; insert a toothpick or skinny skewer, and if the dough is still raw inside, you see a raw dough pop out.)
Fry in batches and do not overcrowd the pot. This recipe made about 30 pumpkin buns; serving size is two buns (I ate up to 4 of these 😂).
Serve with your favorite beverage or drink; Watermelon lemonade, Zobo, tea, coffee, or hot cocoa are great. Enjoy
Notes
Sometimes flour measurement can differ for several reasons – this recipe requires 3 cups of flour and a little more (¼ – ½ cup) if the dough feels too sticky.
This would be a "light" dough; do not expect a rock-solid dough. You do not necessarily need to add the extra flour to prevent stickiness because "molding" this dough is not a deal-breaker. I personally like it that way. You can use a spoon and scoop dough into the frying pan.
The amount of time you fry your dough will depend on how big or small your "mold" dough is.
I add up to ½ teaspoon of salt, but ¼ teaspoon would be perfect if you are on a low sodium diet.
This recipe made up to 30 buns; I used one tablespoon measure. The number of buns you may end making will depend on how big or small they are.
If possible, mold all the buns before you start frying; that way, when you start frying, you just fry.
If you do not want to use pumpkin puree, that's ok, but this recipe may change slightly. I suggest you check out My Diaspora Kitchen Buns recipe here. She has a fantastic buns recipe that did not feature pumpkin purée.
Check out how I make my homemade puree recipe for pumpkin season recipes.
Prep Time:

10 minutes

Cook Time:

30

Category:

Snack

Method:

Stovetop

Cuisine:

Nigerian
Keywords: Nigerian Buns Recipe, Nigerian Buns, How to make Nigerian Buns, Nigerian Buns snack, easy Nigerian buns recipe, Nigerian buns in easy steps, how to cook Nigerian buns, how to make Nigerian buns using baking powder, buns Nigerian food, Nigerian sweet buns recipe, recipes for making Nigerian buns, Nigerian buns, healthy buns, healthier buns recipe, African donuts, drop donut, donut hole recipe, healthier Nigerian buns, Nigerian pumpkin buns, pumpkin dinner rolls, pumpkin bread rolls, pumpkin buns, Nigerian buns with pumpkin puree, pumpkin puree recipe, nutmeg buns, nutmeg recipe, easy buns recipe, pastry rolls, beignets
Recipe Card powered by
If you like these delicious buns recipe, you will love another Nigerian snack that is hands down Nigerian best export to the world – Nigerian Meat pie! This is a savory pastry filled with minced meat and vegetables. Meat pie so good! ⤵️

Check out some more Nigerian recipes:
Here are some Healthy Holiday Classics:
Do you enjoy Healthy Breakfasts?
While you are still here, grab my FREE (5) spinach salad recipe bundle would be a great addition to your dinner table if you like salads or you are wanting to eat healthier. Get the recipes here.
THIS POST CONTAINS AFFILIATE LINKS, you are not charged more for using these links, but I make little coins when you do.
Finally, let's connect on social media, am on Pinterest, Facebook, Instagram, and Twitter. Share this recipe post, and SAVE/PIN THIS IMAGE ON PINTEREST! ⤵️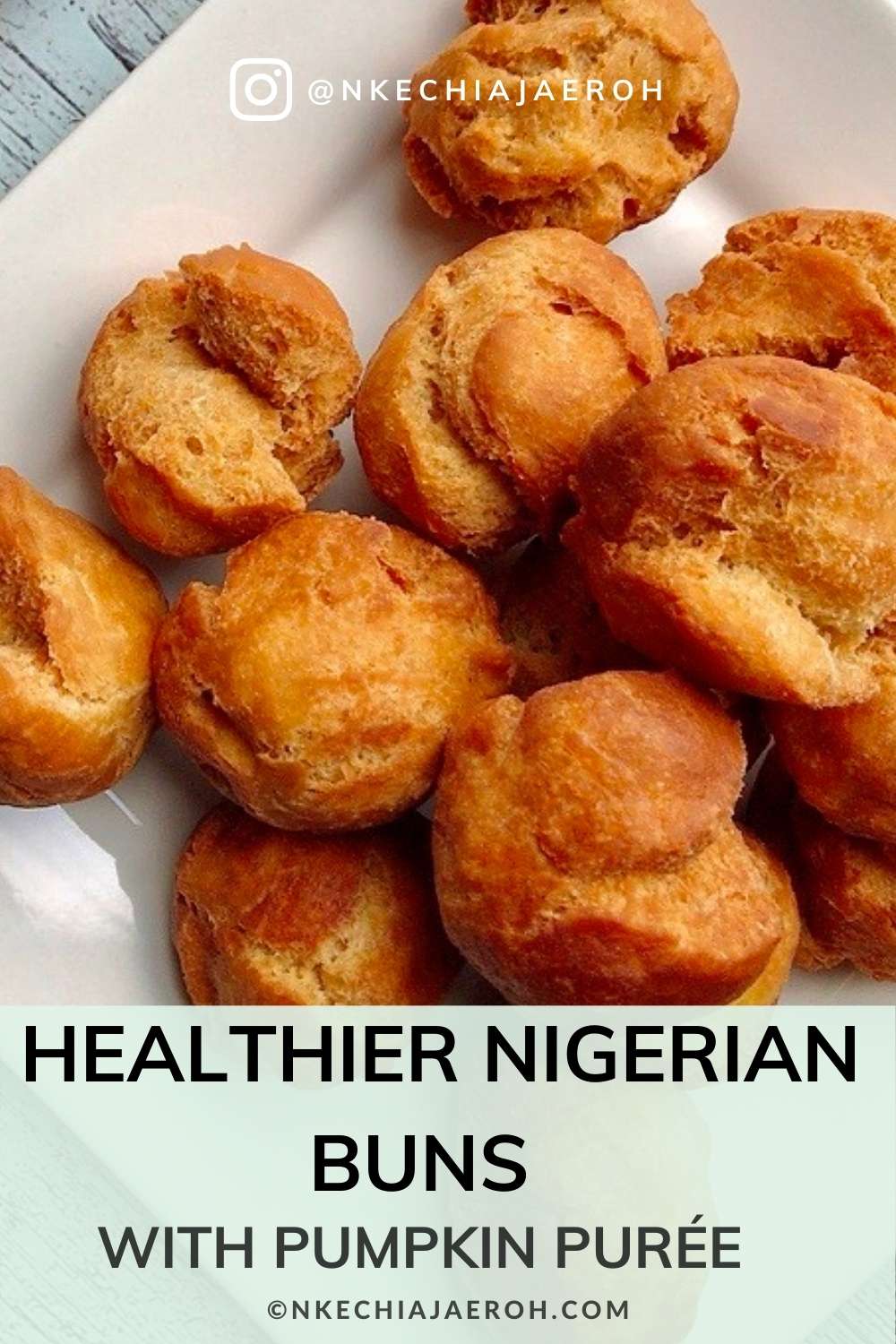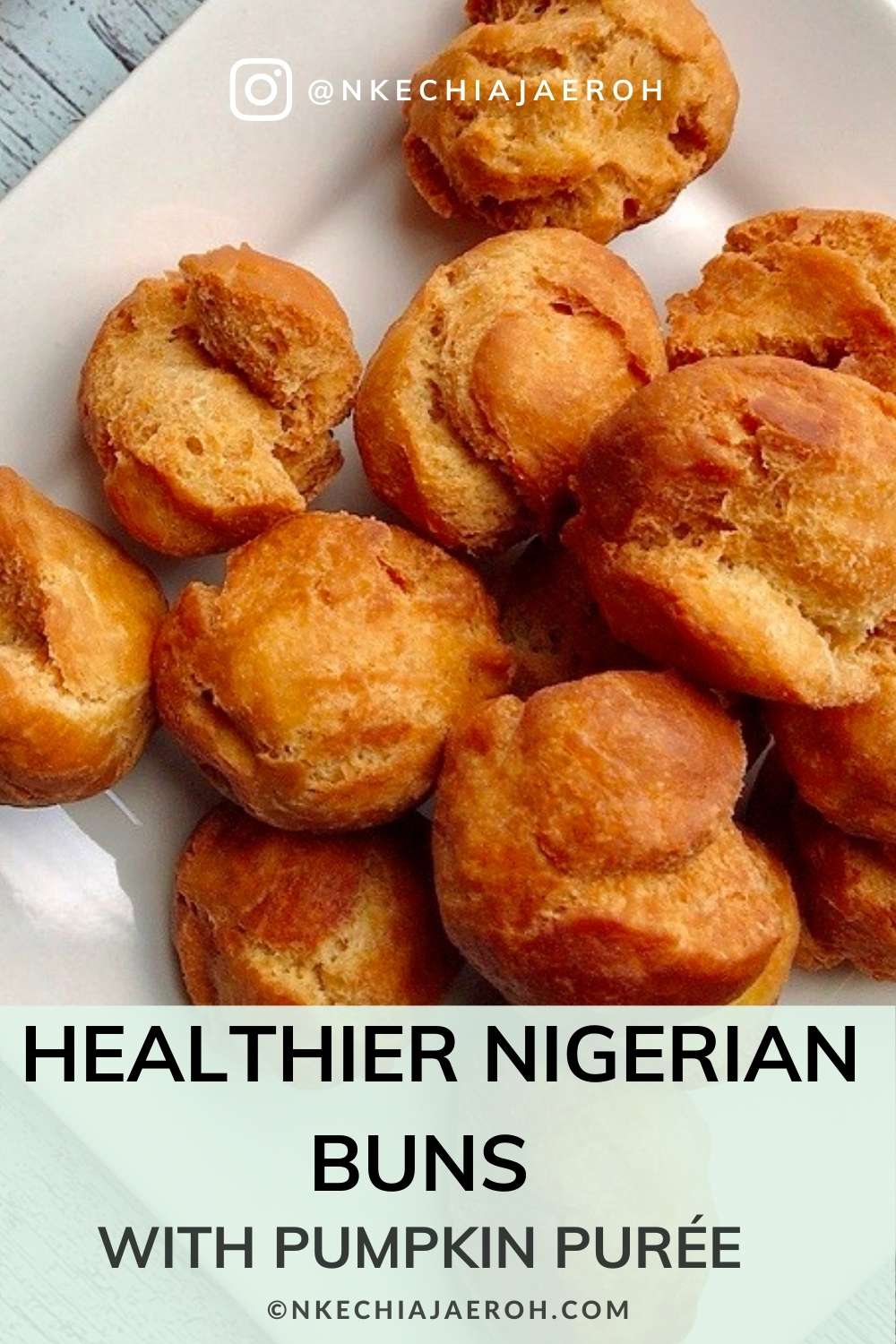 Stay well and safe.