A West African Delicacy.
Across Africa, especially West Africa, Suya is well-received street food, usually made with beef, or ram, and sometimes, chicken. Suya is unique – made with ground/powdered peanut-based spice, called Yaji, and also known as Suya spice/Suya pepper. I will like to say that this very Nigerian chicken Suya recipe is a healthier version of the regular Suya you can find on any street. In the first place, this is homemade, (we all know that homemade foods are healthier), and secondly, instead of beef or ram, I am using chicken breast. And whoever that says chicken breast is not that flavorful, tell them is a lie!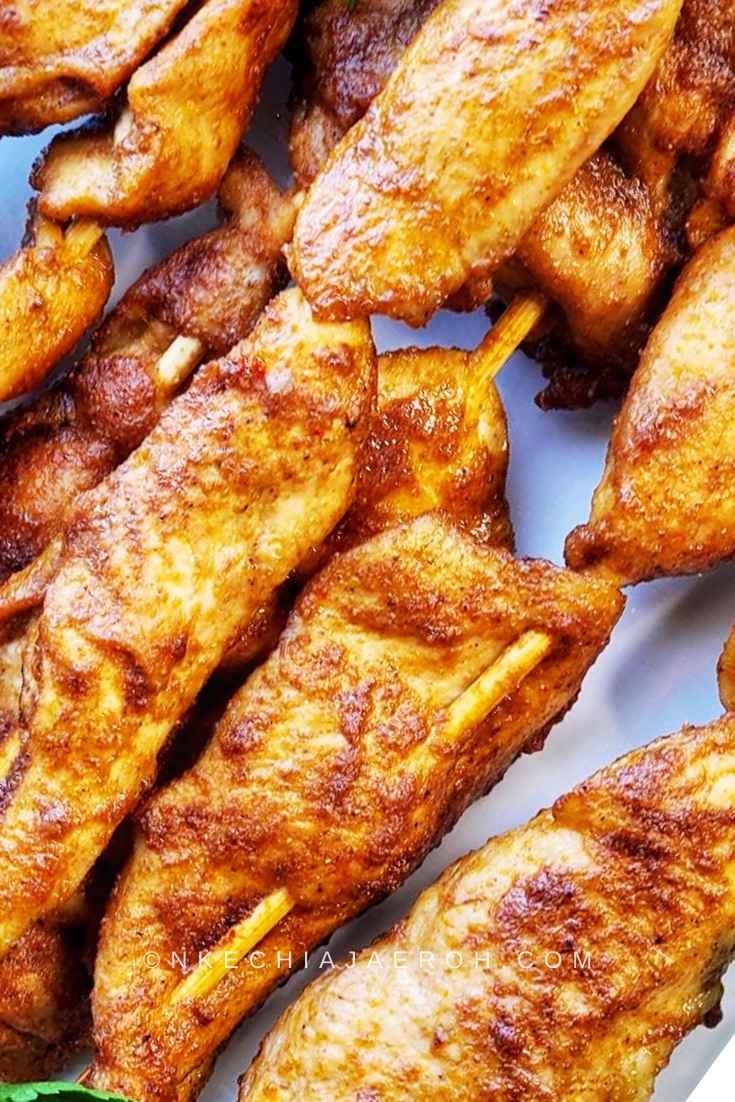 I remember the first time I went to Ghana. I traveled by bus, and this only meant one thing – I was able to enjoy the sights and sounds of the coastal region of West Africa – Cotonou, Benin, Lomé, Togo, before arriving Accra, Ghana. Usually, during such long road travel, the drivers are mandated to make a stop after every 6 hours or so (please don't quote me on the exact # of hours, lol). This very driver made sure to stop at "town centers," and there were tons of African snacks to load up on at each stop. At every stop the driver made, there were Suya, Suya, and more Suya. Oh, my! I loved that trip; it was an incredible way to experience this magnificent cultural similarity that most African nations share via food.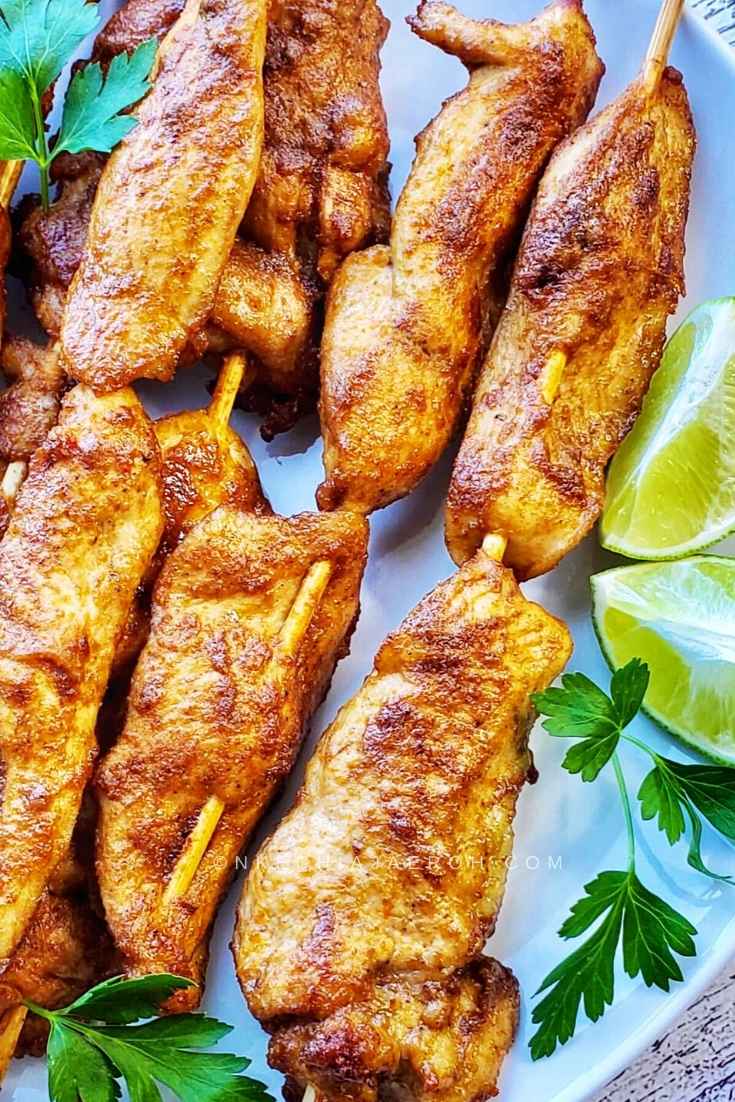 Not your Regular Kebab.
Nigerian Suya is not like regular meat kabab, not to say that the former isn't good, but if you have ever tried Naija Suya, you will surely know that it tastes different. Also, mostly across Africa, Suya is roasted on open fire/flame, which contributes to its unique flavor! These very Nigerian Chicken Suya I baked in the oven, and they were still palatable and perfect!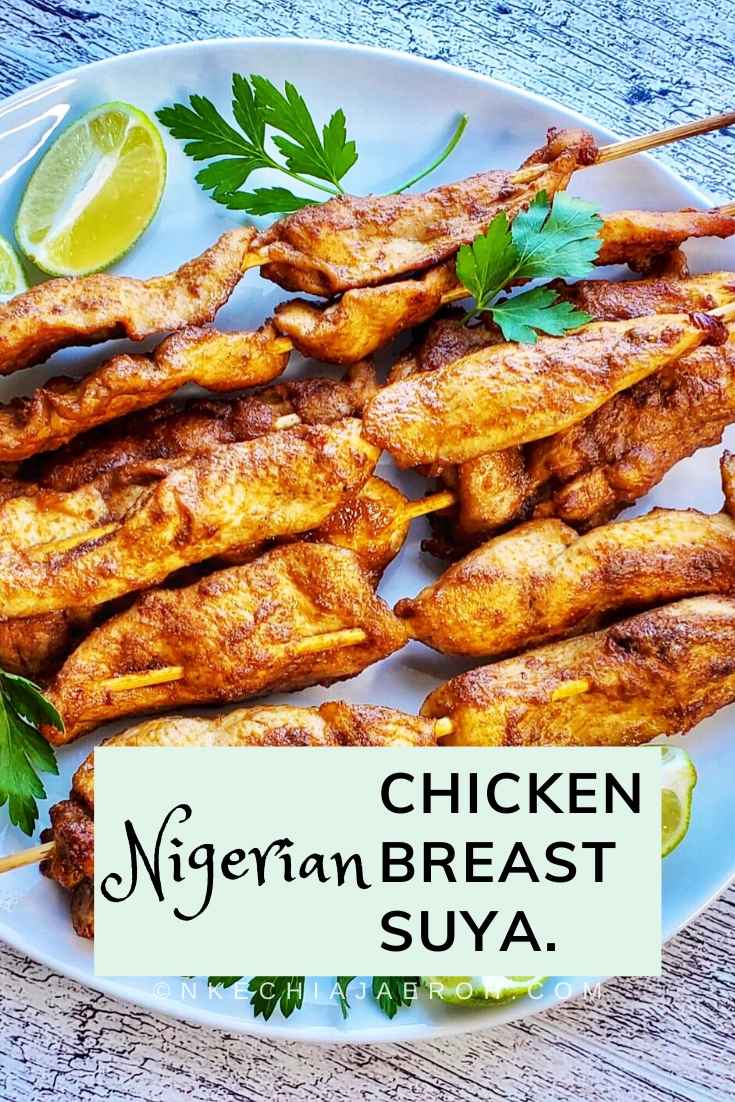 Why is Suya so distinct in taste?
For the most part, the Suya pepper/Yaji spice is solely responsible for making the Suya hella hearty! The distinct flavors stem from the Kani pepper, also known as djar or Senegalese pepper, and African nutmeg. These two condiments are vital for preparing the Suya spice.
Oh, kay, healthy foodie lover, if this whole thing sounds cumbersome, do not worry, you can easily buy Suya spice, and then it takes no time to make this Nigerian chicken Suya!
I guess the question becomes, can you make Suya without Suya Spice? Short answer – Heck no! Long answer – you can try, if you have peanuts or natural peanut butter, African nutmeg, Kani pepper, ground ginger, ground onion, paprika,…
Click To Tweet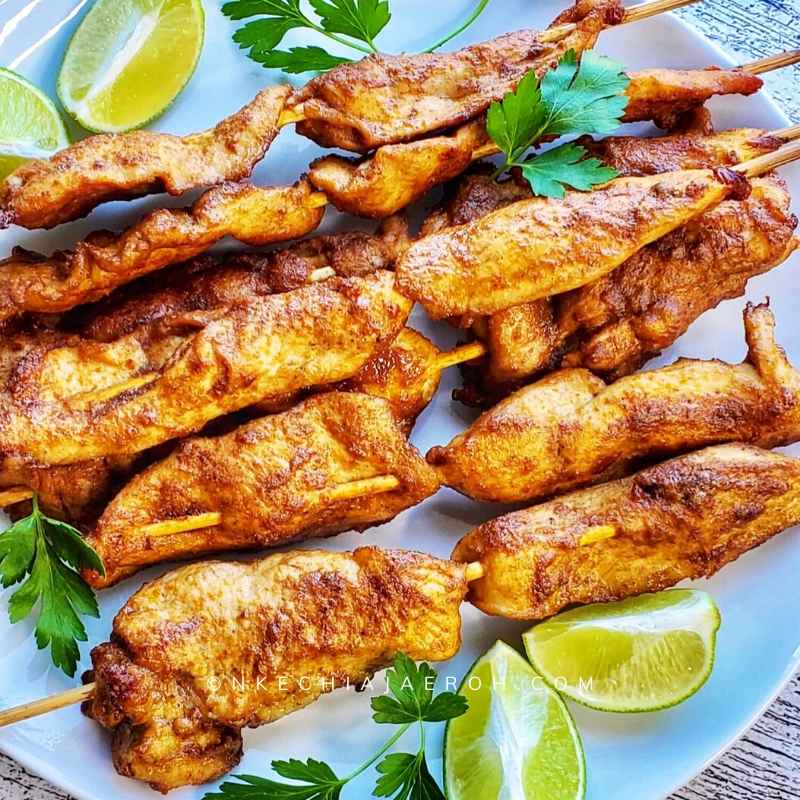 Suya without Skewers?
Yes, and Yep! Mostly in Nigeria and across West Africa, every Suya isn't necessarily roasted on a skewer. Usually, they thinly slice the meat, season them up real good, and then lay them on a wire rack that is over an open fire/flame. And when customers (you and I) buy, the seller would cut up some Suya that is worth our price. They would further spice it up with even more Yaji, fresh onions, and tomatoes. But it depends on what you want; the bottom line is that you enjoy this delicacy as you wish!
Nigerian Chicken Suya is easy to make!
Contrary to popular opinion, making African delicacies are easy! Specifically, making this healthy Nigerian chicken Suya on skewers is that simple. First, soak the skewers, second, slice the chicken. Third, marinate, and finally,…
Click To Tweet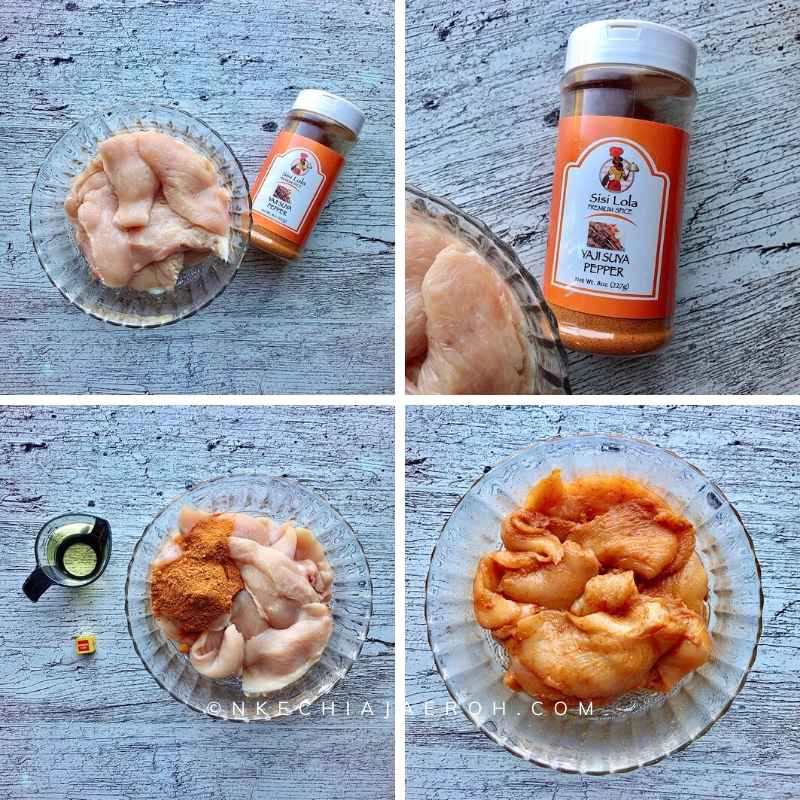 The best part, and with hand gloves gently skew the marinated meat on skewers. Remember to line the baking sheet with foil.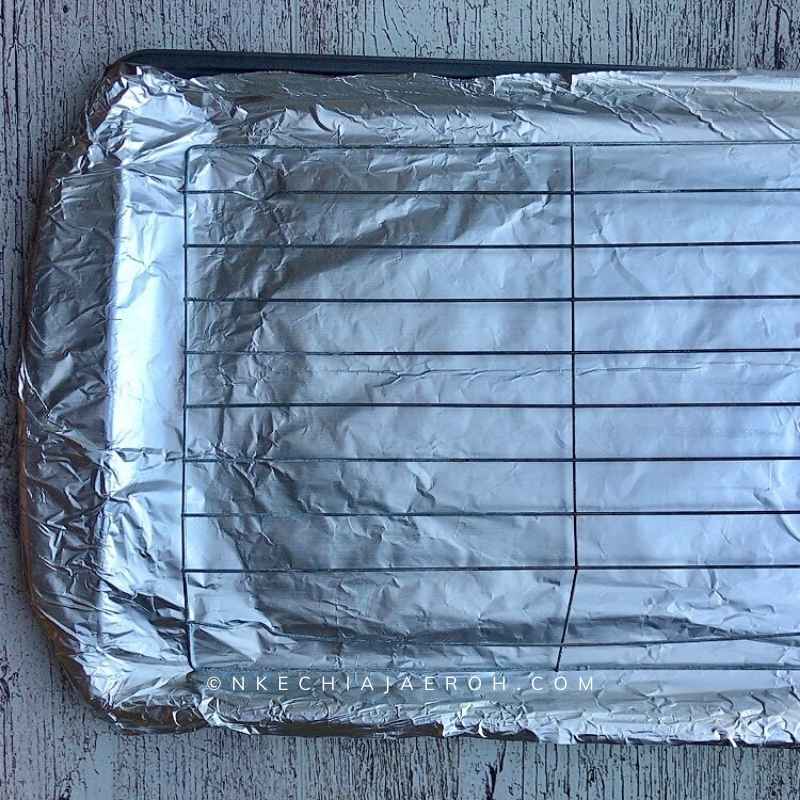 Brush even more marinade on the meats: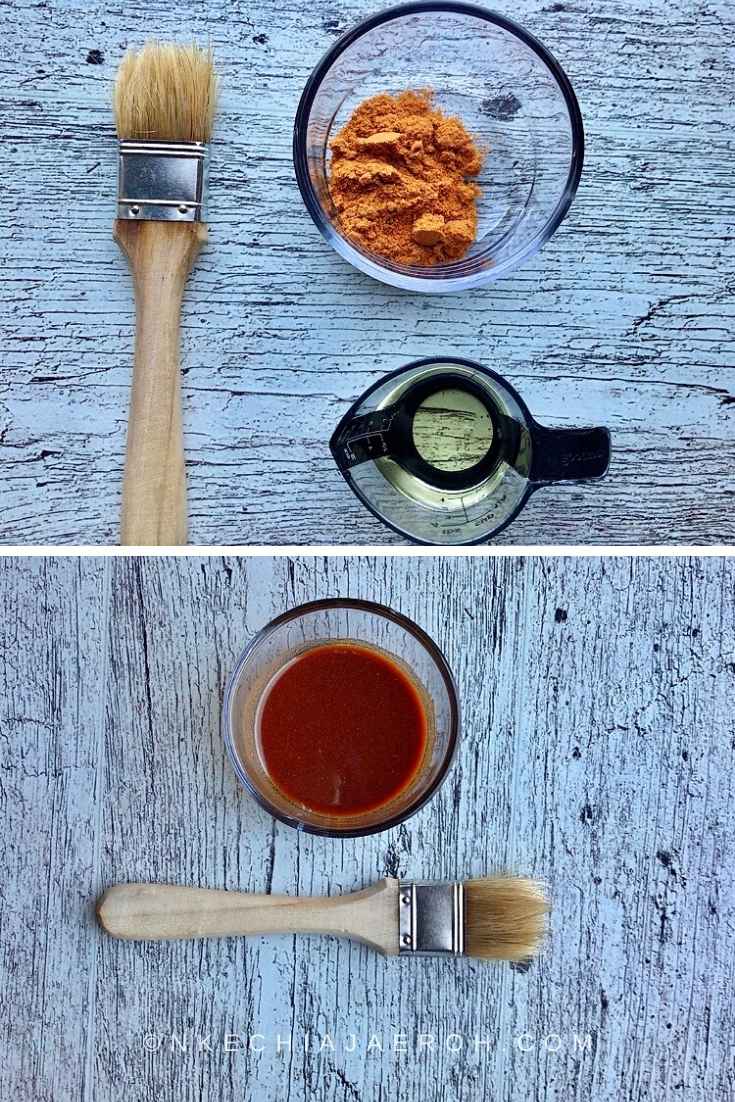 Be gentle when skewing the meats on the skewers; they could easily tear apart because they are thin.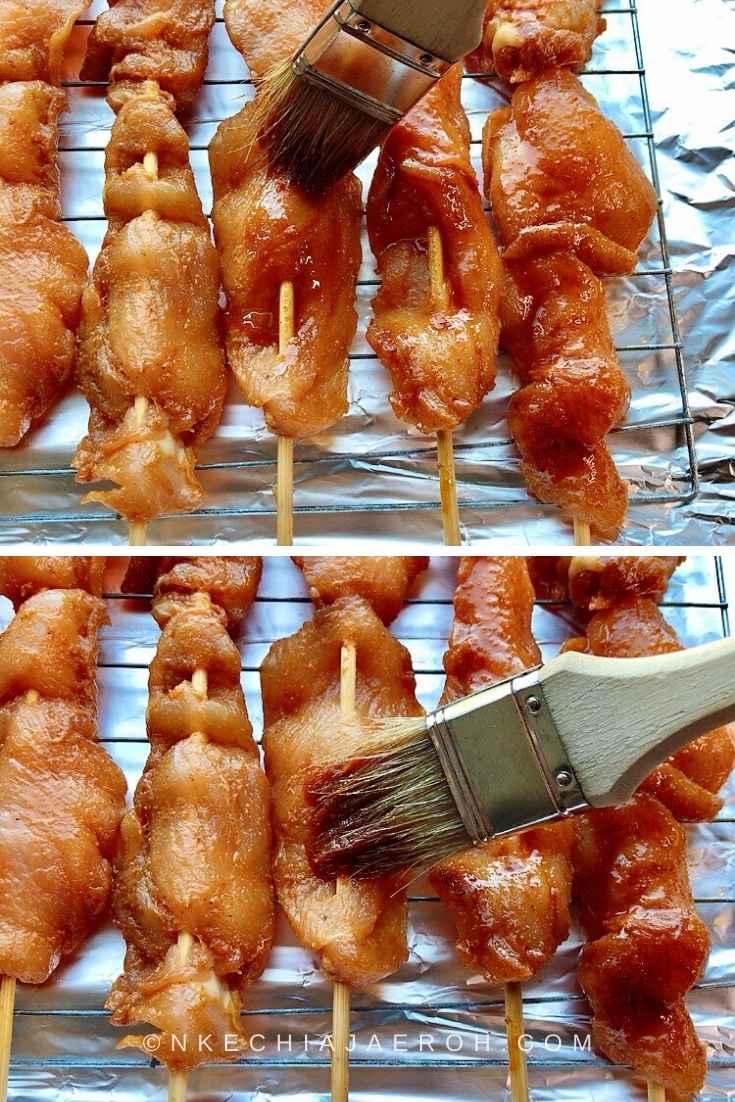 Do not forget to flip these Suyas midway to baking to allow for even cooking.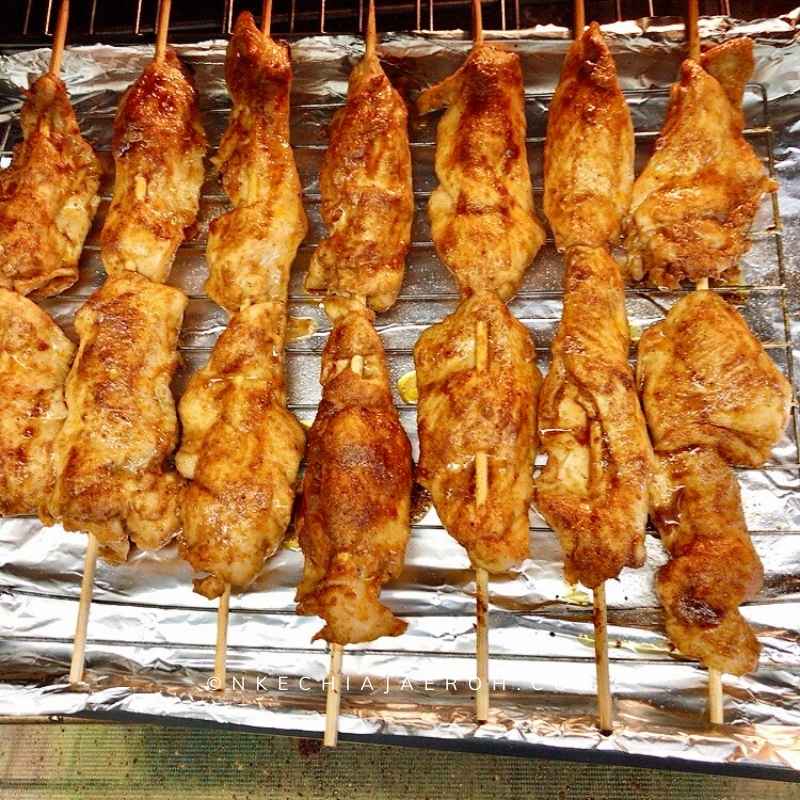 Fully cooked Nigerian Chicken Suya looking crisp and slightly golden on the outside…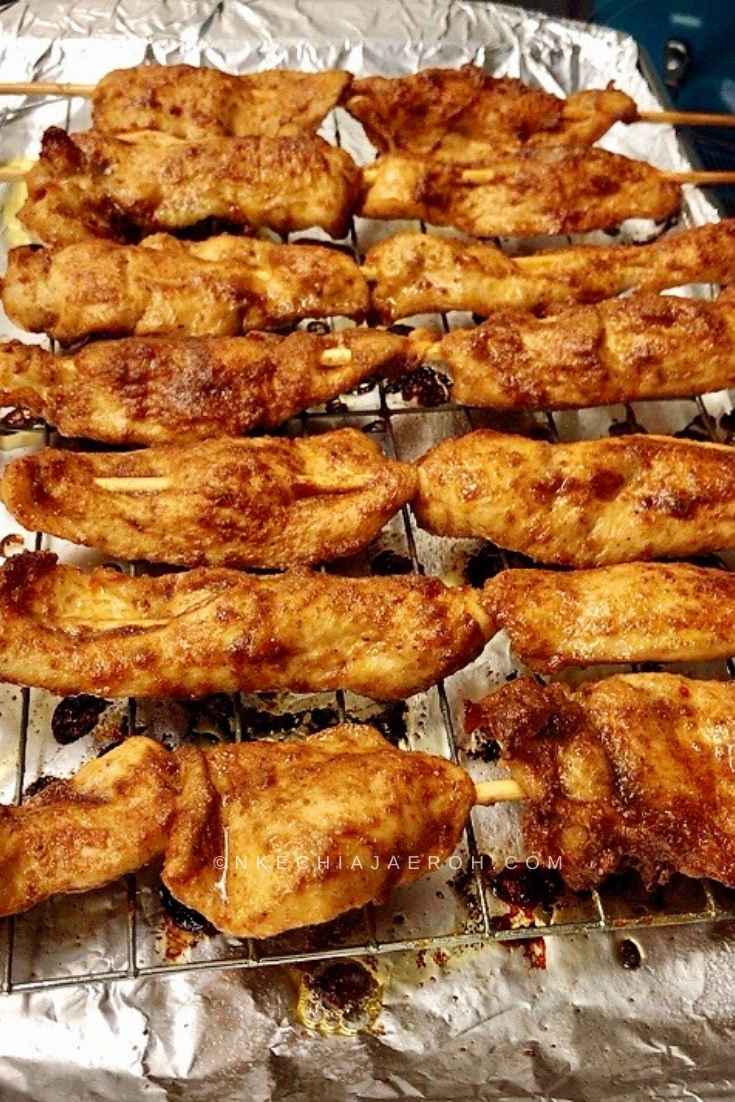 What to serve with Nigerian Chicken Suya?
Honestly, anything! You can eat these as an appetizer. On the other hand, you could also enjoy them as the main meal. I have, in the past, had this as the main meal alongside my red cabbage taco. They are also incredible with coconut rice, or even quinoa. One of my most fav ways to eat these as the main meal is to add then to lettuce leaves, as in to make a lettuce wrap with some fresh onions and tomatoes. My kids just love to enjoy them from the stick. They love the idea of eating these from the skewers; I don't mind as long as I am there and supervising.
The Best Nigerian Chicken Suya Recipe!
This homemade Nigerian chicken Suya is out of this world delicious! Flavorful, spicy, savory, and finger-licking good! The best part is that it made with healthy chicken breasts! Just what the doctor ordered.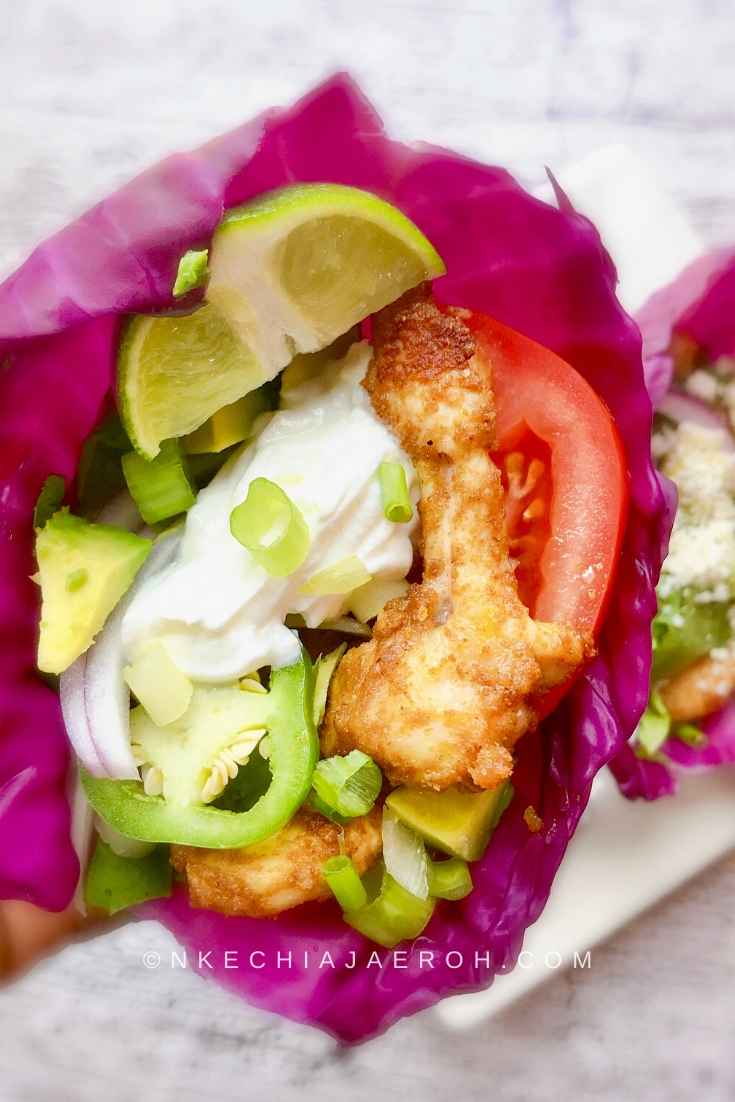 If you are ready, let's make these babies.
Print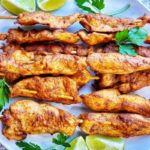 Nigerian Chicken Suya Recipe
---
Description
Suya is a very popular West African street food made with meat and ground peanut-based spice known as Yaji, Suya pepper, or Suya Spice. This very Nigerian Chicken Suya skewers recipe is easy to make, flavorful, and beyond delicious! You can serve it as an appetizer or as the main dish alongside other dishes.
---
2 Chicken breasts (thinly sliced)
4 – 5 tablespoons of Yaji (Suya spice/Suya pepper)
3 tablespoons peanut oil or any other type of oil (I personally chose to use peanut oil because the spice is peanut based)
Salt to taste
1 (small) cube of Maggi or 1 teaspoon of Bouillon seasoning powder
---
Instructions
Soak some skewers in cold water before use. Ensure to do this well ahead of time, at least up to 30 minutes. Preheat oven to 425. Line baking sheet with foil, and place baking racks on it, set aside.
Wash/clean and pat down the chicken with a paper towel to remove excess moisture. Then, thinly slice the meat and place in a clean bowl. Sprinkle some salt and the Maggi cube.
Add three tablespoons of Yaji spice to the "chicken" bowl, add half of the oil while wearing gloves, and mix well, ensuring that the chicken is wholly coated in the Yaji mix.
Cover the chicken and allow to marinate in say, 20 – 60 minutes, or proceed immediately with the next step. (Lol, I always continue, except for some days I have time.)
Gently skew the chicken on the skewers, do not overcrowd them. Depending on how you sliced the chicken, 2 or 3 chicken pieces is enough on one skewer.
Place them on the baking rack as you skew. After all the chicken is skewed, mix the remaining Suya pepper with the remaining oil and add a dash of salt and gently begin to coat the chicken (while they are on the skewers).
Flip the chicken over and repeat the process; use a rubber/silicone brush if possible. Ensure the marinade covers the chicken, make a little more marinade if need be.
Bake the chicken at 425 for 15 minutes on each side; halfway into baking, coat again with the leftover marinade when you flip over.
Notes
Always add salt according to your health need.
Some Suya spice has the right amount of salt, while some are sodium-free. Read food labels, and taste your spice to determine the amount of salt to add.
Reduce salt if using Maggi or bouillon – I used only one Maggi cube for two chicken breasts for this recipe, and it just perfect.
Be careful if you want to eat from the stick; otherwise, remove the meat from the skewer and enjoy it.
Traditionally beef is widely synonymous with Suya, but you can use any meat.
Prep Time:

10 minutes

Cook Time:

30 minutes

Category:

Appetizers

Method:

Baking

Cuisine:

Nigerian
Keywords: Suya, Healthy Suya recipe, African chops, African Kebab recipe, Nigerian Suya, Cameroon Suya, Baked Suya, Chicken Suya, Spicy Nigerian Suya recipe, grilled kebab, Chicken Breast Suya recipe
Recipe Card powered by
PLEASE SHARE THIS POST. If you like this easy to follow Nigerian Chicken Suya recipe, then I am very sure you will be in love with my:
Red Cabbage Taco, which all you have to do is use it to enjoy this Suya, because they go hand-in-hand.
And you can grab my FREE (5) spinach salad recipe bundle would be a great addition to your dinner table. Get the recipes here. Among many other things, my goal has always been to support your healthy lifestyle journey, so I started an online healthy lifestyle community. Find out how you can join us.😊🙌🏾
Meanwhile, I started on Instagram (finally)! LOL, I did put that off forever, well I am there now, and I will love for us to connect! Follow me on Facebook and Twitter as well. Finally, do not forget to share this recipe post with people you love.
Stay well and safe.