Classic Cabbage Course.
If you know my family and me, you know we have a high affinity for tacos, I mean they are tasty, easy to make, kid-friendly, what not to love?
These days, though, I have loved taco on salad leaves, I mean taco fillings can literally go on anything, especially with salad leaves. The other day I made one of the yummiest tacos yet with lettuce leaves, and today here we go with this classic red cabbage taco.
First of all, I am obsessed with the beautifulness of the color of the red cabbage. What else can I say? It's fresh, crisp, and attractive.
Click To Tweet
OK,
don't get me started
but this color draws you in
… my goal is to get you to fall in love with this deliciousness as I have.
Secondly, the red cabbage has powerful nutrients than their green counterparts. In other words, green cabbage is nutritious, but the red one is even more nutritious. Also, red cabbage is excellent anti-inflammatory food. It may help keep the heart healthier, as well as stabilizes blood pressure.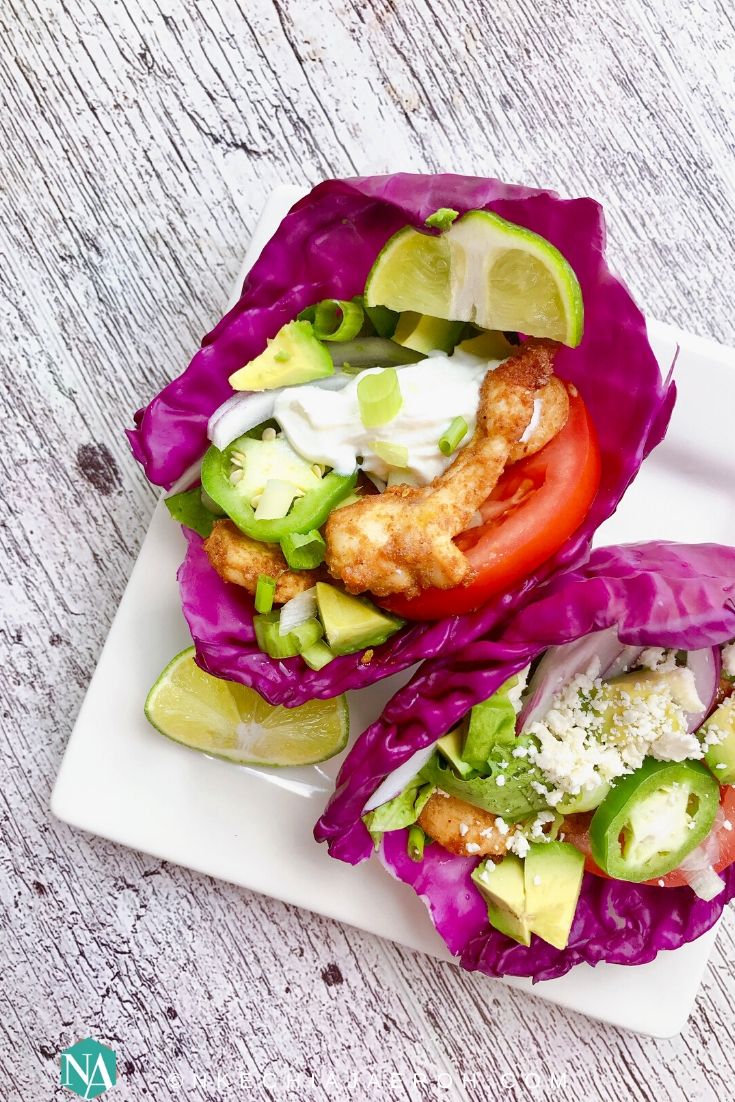 Building a Taco is like building a Tower.
I know, I know, let me explain, here's the deal, building your taco gives you room to experiment, so go for it. You can add whatever you want; this helps you to know what works better next time. With this red cabbage taco, you have the freedom to create. Yippee!
I love serving this with Nigerian Suya, which is I love to make with some chicken breast. Then I would add red onions, some lettuce leaves for a touch of greens, avocado, and some feta cheese. The truth is that you choose what you want to add to your red cabbage taco, period.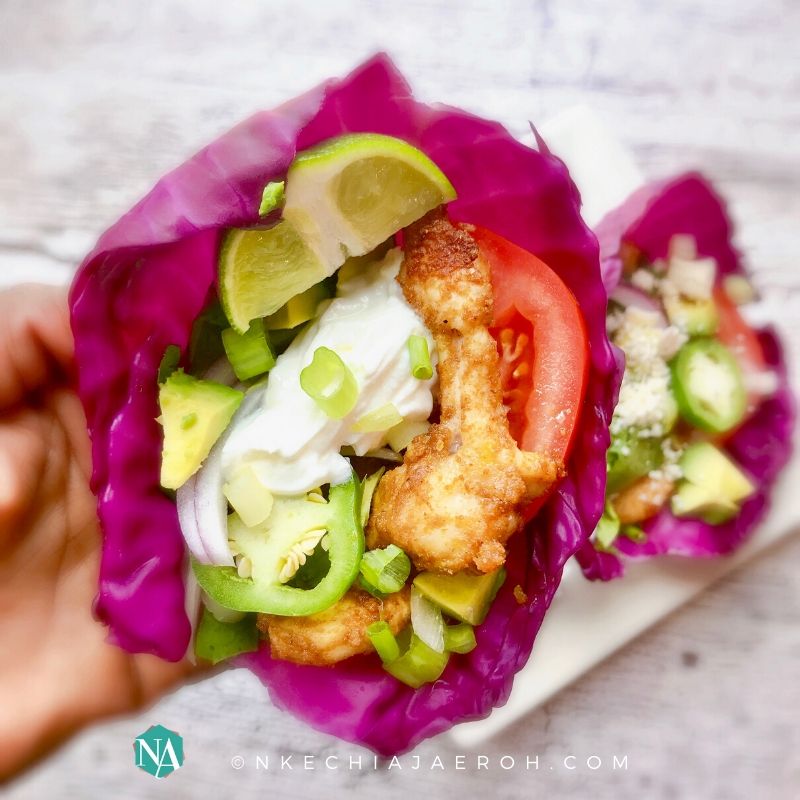 Red Cabbage Taco here, we come;
Save to BigOven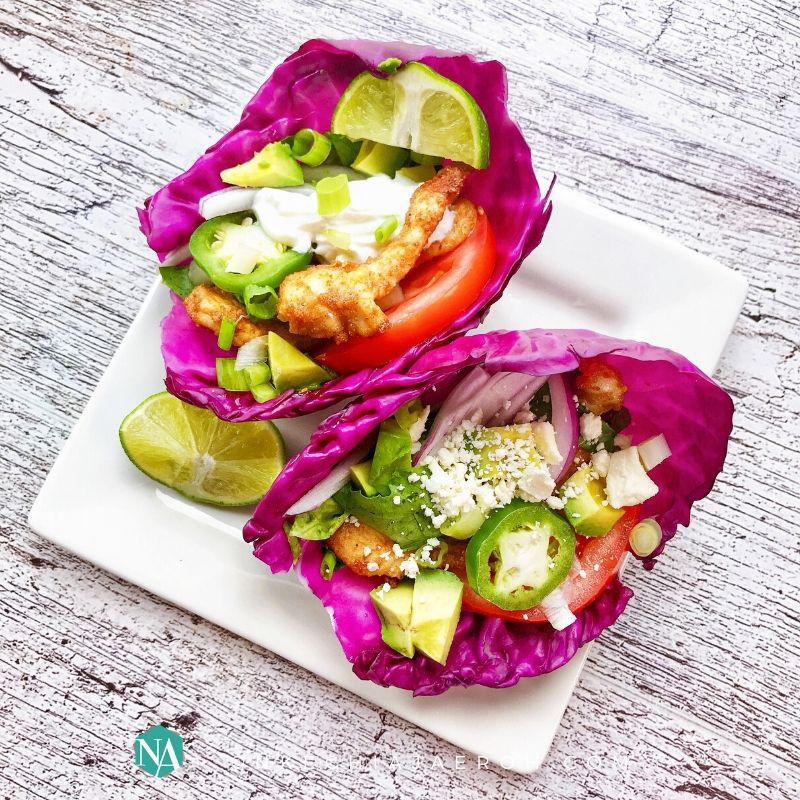 This red cabbage taco wrap is so simple, yet very delicious and an unforgettable classic. The color brings you in, but the taste keeps you enjoying it forever.
Ingredients
4 red cabbage leaves (or more; I would usually use two cabbage leaves for one taco wrap. And 4 leaves serve one person)
1 chicken breast (thinly sliced and prepared as "9ja chicken suya" if using it) (optional; you can sub for tofu or even chickpea)
2 leaves of lettuce (cut)
2 tablespoons green onions (chopped or cut)
½ cup of sliced red onions
½ avocado
A dash of salt and black pepper
1 whole Roma tomato
1 Jalapeno (optional but necessary for a kick of spice)
1 Lime
2 tablespoon of light sour cream (optional)
1-tablespoon feta cheese (optional)
Instructions
Remove some of the outer parts of the red cabbage, which I would refer to as the skin. Then gently pull out some leaves according to how many servings you wish to make. Wash thoroughly in water and use some paper towel to dry, then set aside and prepare the filling.
Make the Nigerian Suya according to instructions, alternatively, sauté the chicken breast, and set aside.
Cut all the vegetables; lettuce leaves, tomatoes, red onions, green onions; check to see if you need to trim the red cabbage leaves as well.
To build the red cabbage taco, lay two leaves on a flat plate, then start by adding the green lettuce leaves, followed by every other thing. There is no right or wrong way to do this. Finish up with a dollop of light sour cream, Jalapeno, green onions, and feta cheese. And before you dig in, feel free to sprinkle a dash of salt and black pepper for an even escalation of all the flavors. Enjoy your yummy and delicious red cabbage taco!
Notes
Note that some of the cabbage leaves may seem too wide, it is ok to use kitchen scissors and trim them up.
This recipe serves just one person, multiple as you wish.
https://nkechiajaeroh.com/kechis-kitchen/light-and-lovely/how-to-make-red-cabbage-taco/
© NkechiAjaeroh.com All Right Reserved.
Are you going to be making this recipe soon?
Don't forget to let me know when you do. If you like this recipe, then I am sure you will love most of the recipes in my light and lovely category.
And also, my FREE salad bundle may just be right for you. 🙂
So, I took a leap of faith and started on Instagram on October, 6th 2019. And I will love for us to connect on there. I share great healthy living tips and recipes.
If your friends and family are like mine, then I know they would appreciate you sharing this recipe with them. Thanks in advance for sharing this post!
Much love and blessings,
With love,