These Oven-baked Chicken Drumsticks Rock.
Here's the deal, this very recipe can quickly fill the gap for:
Barbecue drumstick need.
Fried drumstick craving,
As well as for roasted or stewed chicken drumstick desire. Whatever you are longing for, you are at the right place.
First of all, I know you want quick and easy chicken drumsticks, so do I; as well as healthier, and nutritious, so do I too. And that makes both of us, and am sure these oven-baked chicken drumsticks will not disappoint. Woohoo!
In other words, this recipe provides you the yummy and deliciousness you long for without the added extra-unwanted calories from the brown sugars, barbecues sauces, and all the rest them that you must avoid.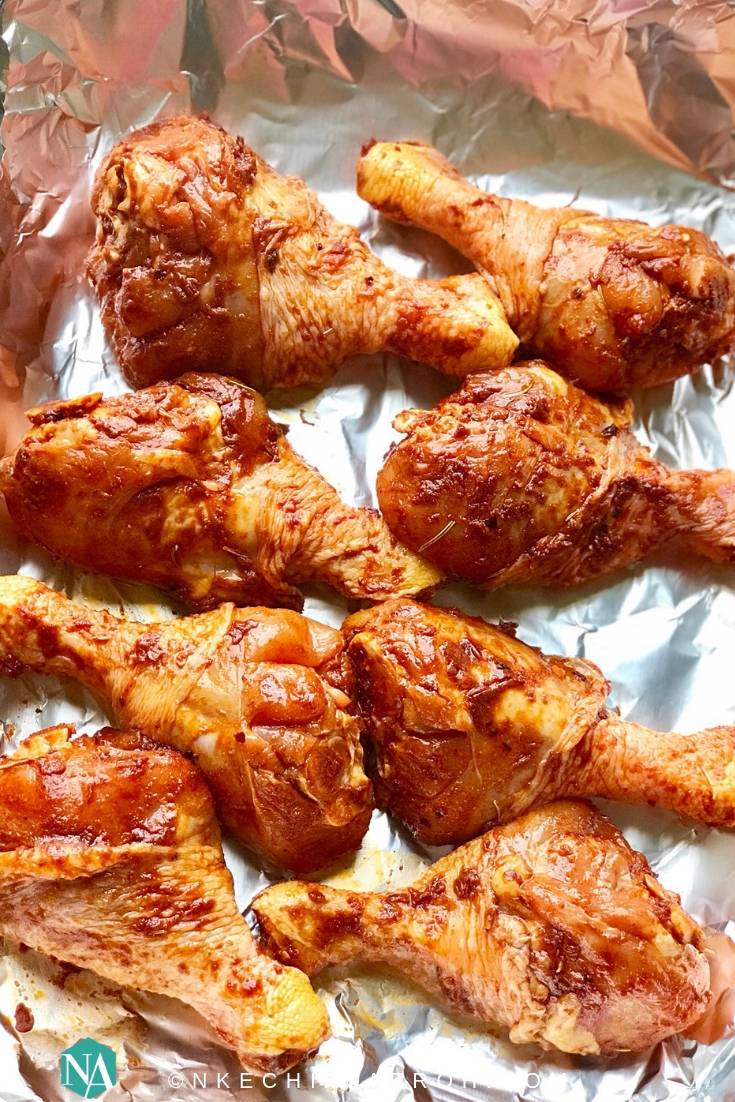 Delightful Drumstick you Desire.
In the world over chicken drumstick is generally loved and enjoyed at various occasion, and they are one of my favorite part of the chicken meat to eat. So as I serve more and more career women, it becomes essential that I create recipes that will nourish them so that they will, in turn, perform better. As you and I know health is wealth. And my goal is to lead you to your best health through my recipes even as simple as a chicken drumstick. You never go wrong with serving chicken drumstick, be it at your backyard grill, potluck, graduation, summer family cook-off, welcome party, the list is endless, and chicken drumstick is always a winner! Click To Tweet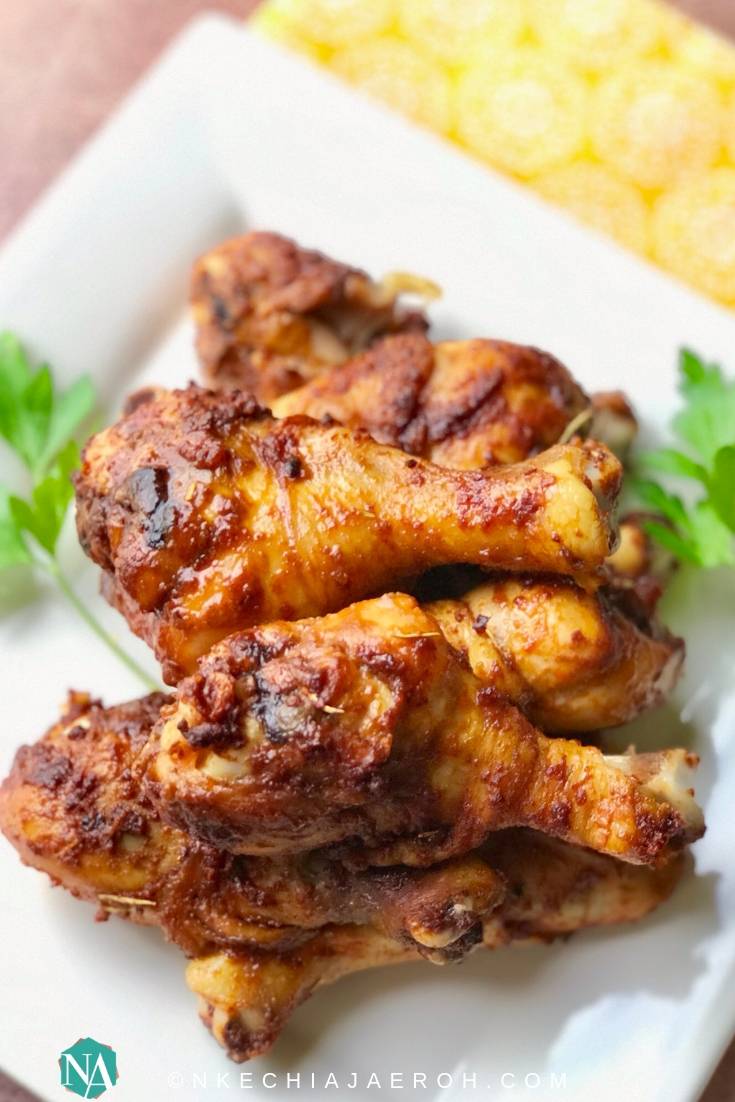 Drumstick Deliciousness.
For this recipe we are going to need about eight (8) drumsticks, feel free to reduce or double, and do the same to the other ingredients (if you intend to cook less or more respectively.)
The secret ingredient that helps me to get the vibrant color and rich taste for this recipe is paprika, yay, paprika is made of dried ground bell peppers. And it gives me the natural color I need for this recipe.
With that said let's begin, if you are ready.
Save to BigOven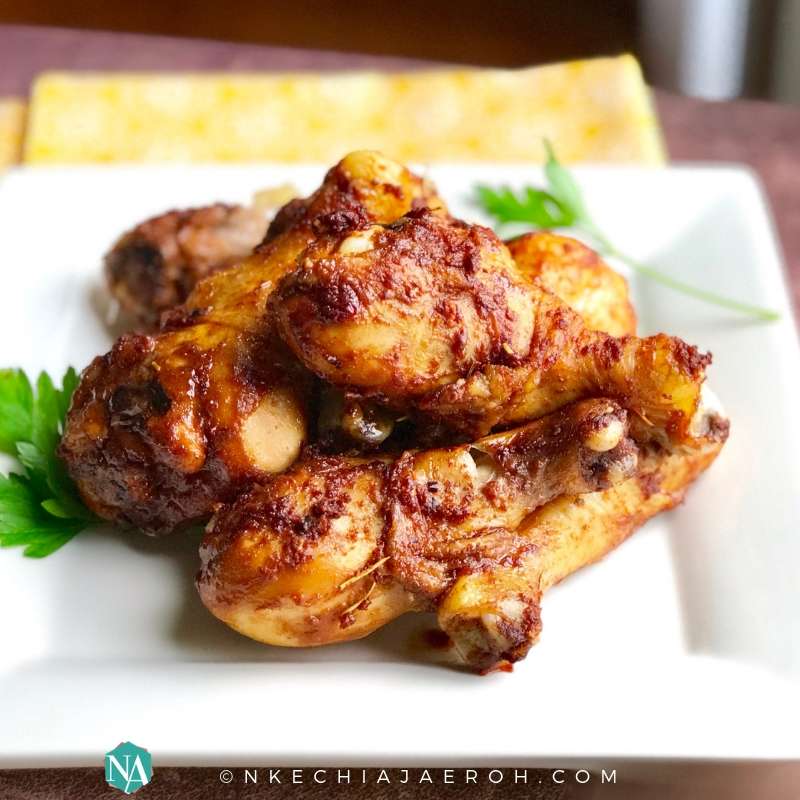 This recipe hands down is the best way to enjoy chicken drumstick that you love without the feeling of guilt. The good old chicken drumsticks, seasoned and baked up in the oven – YUM.
Ingredients
Chicken dry rub ingredients:

1 tipping tablespoon of paprika
1 tsp. of onion powder
½ tsp. of garlic powder
1 tipping tsp. of seasoning powder or 1 – 2 cubes of Maggi (crushed)
1 tsp. of cornstarch
½ tsp. of salt (or generous amount of salt as needed; always use salt according to your taste, and health need)
¼ tsp. of ground white pepper (or any other pepper)
A dash of crushed red pepper for extra spicy kick
A dash of dried rosemary
1 tablespoon of olive oil
Instructions
Mix the entire dry rub except for the oil, place clean chicken in a clean bowl, and liberally sprinkle the rub on the already washed/clean chicken. Then sprinkle the oil on top as well. Wear gloves or use your clean hands and ensure the mix gets on every part of the chicken drumstick. Then place the marinated chicken on a (foiled lined) baking sheet and place in a 425 degrees already preheated oven.
Bake for 25 - 30 minutes (or until the drumsticks are cooked through or the internal thermometer reads 165, set aside.) You may flip the drumstick in the middle of baking to ensure even baking. I usually do not do this, not sure why. Enjoy, the last time I made these drumsticks, I did serve this quinoa Jollof, and they were divine.
Notes
Remember to pat the drumsticks down before seasoning them. This removes excess moisture.
Remember to always add salt according to your taste or according to your health needs.
https://nkechiajaeroh.com/kechis-kitchen/how-to-make-healthy-oven-baked-chicken-drumsticks/
© NkechiAjaeroh.com All Right Reserved.
What is your favorite chicken drumstick recipe?
I want to extend a special invitation to you to join me inside my Facebook private community. We are friends that treat each like family. I provide free tools, resources, and recipes that are so irresistible. I can't wait to see you there!
Also, I have excellent light and lovely recipes you will enjoy. I got you!
Pease share this post on your social media, and with family and friends.
With love,