Perfectly Baked Brussels Sprouts Recipe.
This perfectly baked brussels sprouts recipe is hands down the best healthy brussels sprouts recipe you will ever need. First of all, these yummies are vegan, meaning dairy-free and meat-free! I am a firm believer that you do not need cheese or bacon to make tasty brussels sprouts; this recipe is a testament to that. Secondly, I blanched this brussels sprouts before baking them, which automatically got rid of any unpleasant smell/taste that you may have associated with brussels sprouts in the past. Finally, take a moment to appreciate this ultimate healthy crowd-pleaser that is also kid-friendly, it is the real deal! This brussels sprouts recipe is the yummiest guilt-free side dish for your holiday entertainment, be it Thanksgiving, Christmas, New Year, Birthdays, or simply for a weekly family dinner. It is healthy, vegan, low calorie, low carb,… Click To Tweet

Plenty Reasons to Love Brussels Sprouts.
I spent so much trying to get my kids to love brussels sprouts. I felt it would be easy because they already enjoy broccoli. After all, broccoli is the big brussels sprouts, at least according to my son. Thank God I perfected this baked brussels sprouts recipe that I am sharing with you today because they love it. In other words, my children now look forward to Brussels sprouts dinner nights! YAY!
First, Brussels sprouts are incredible anti-inflammatory foods. To put it differently, they can reduce inflammation.
Second, brussels sprouts are rich in vitamins C and K. Meaning their consumption can help the immune system and improve bone health.
Third, this vegetable is excellent for blood sugar, and with scary diabetes statistics, maintaining blood sugar is essential.
Fourth, eating more brussels sprouts means adding more fiber to your diet, which is very beneficial to health.
Finally, this vegetable is rich in antioxidants and may help protect the body against certain cancer!
In other to maintain some of the benefits of brussels sprouts, how you choose to cook it matters! This is why I am so excited to share with you my very easy and healthy way to cook brussels sprouts. Learn how to cook brussels sprouts like a pro!

How to Roast Healthy Brussels Sprouts.
Generally speaking, brussels sprouts remains one of the easiest dishes to make; there is absolutely nothing intimidating about cooking brussels sprouts! However, in other to make the best baked brussels sprouts recipe, you will need to buy fresh and healthy-looking vegetables! Whether you will buy pre-packed ones (like I did for this recipe), or perhaps you do have a farmer's market around where you can go and select, be sure to buy fresh, green, and happy brussels sprouts. If possible and applicable, check the expiration date!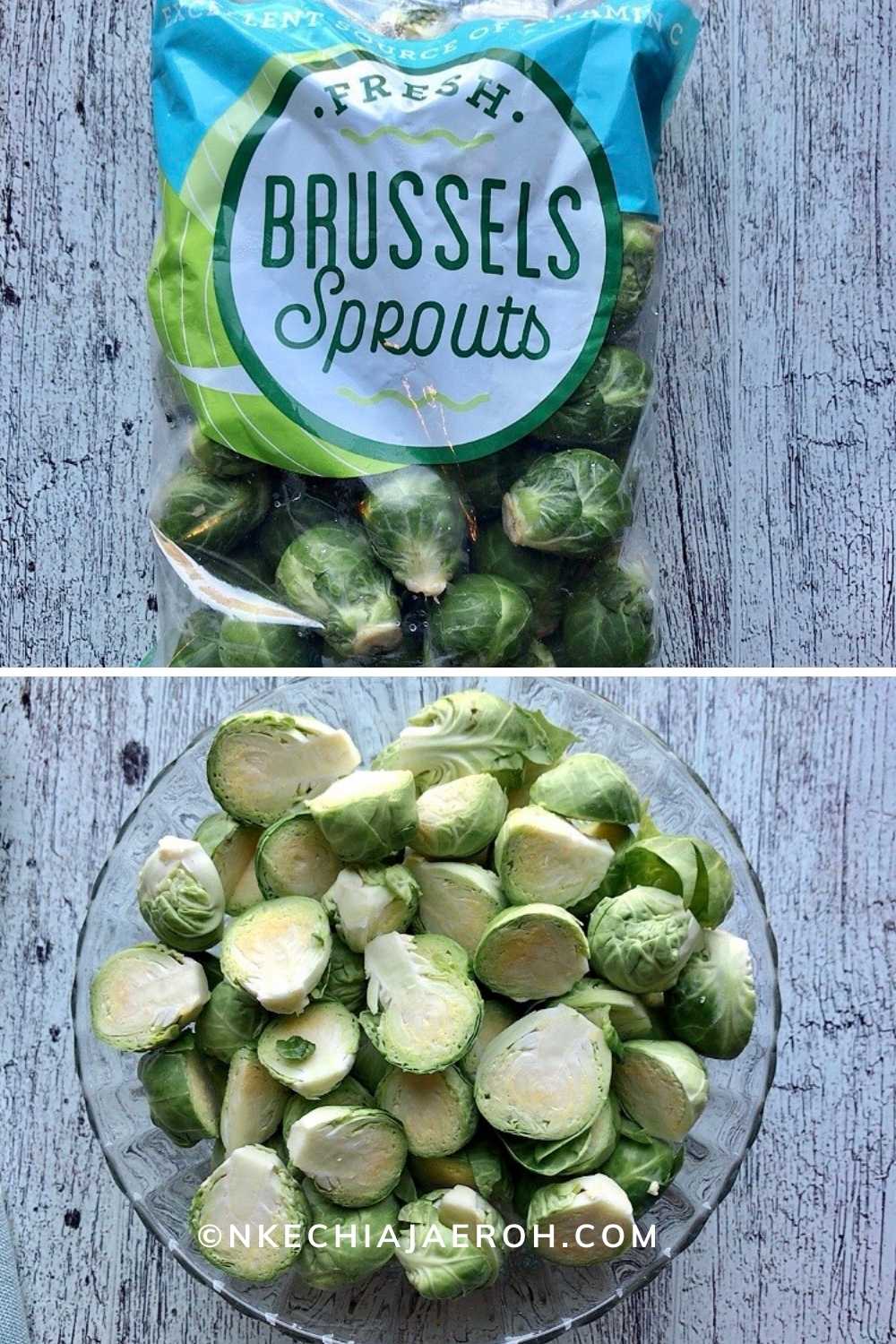 Honey Baked Brussels Sprouts Recipe Ingredients:
I always tell my friends that they need the simplest ingredients to make the most delicious dishes. To make this baked brussels sprouts recipe alongside fresh brussels sprouts, you will need olive oil, honey, salt, pepper, and fresh garlic! Now, how simple and easy to find are these ingredients?

The Trick to Make the Best Sprouts.
As earlier mentioned, my undeniable trick to make the most insanely delicious brussels sprouts recipe is blanching. Yes, you heard me. After blanching for just a couple of minutes, spread on a paper towel-lined tray to dry, then mix in the ingredients, and bake. This brussels sprout recipe is quick, easy, and healthy!

Easy Baked Brussels Sprouts Recipe.
These brussels sprouts cooks in no time! Make sure to check on them after first 10 minutes of baking, and if they seem ready, flip to evenly cook on the other side. The bottom line, let them cook to your desired perfection. Finally, finish up with a little honey.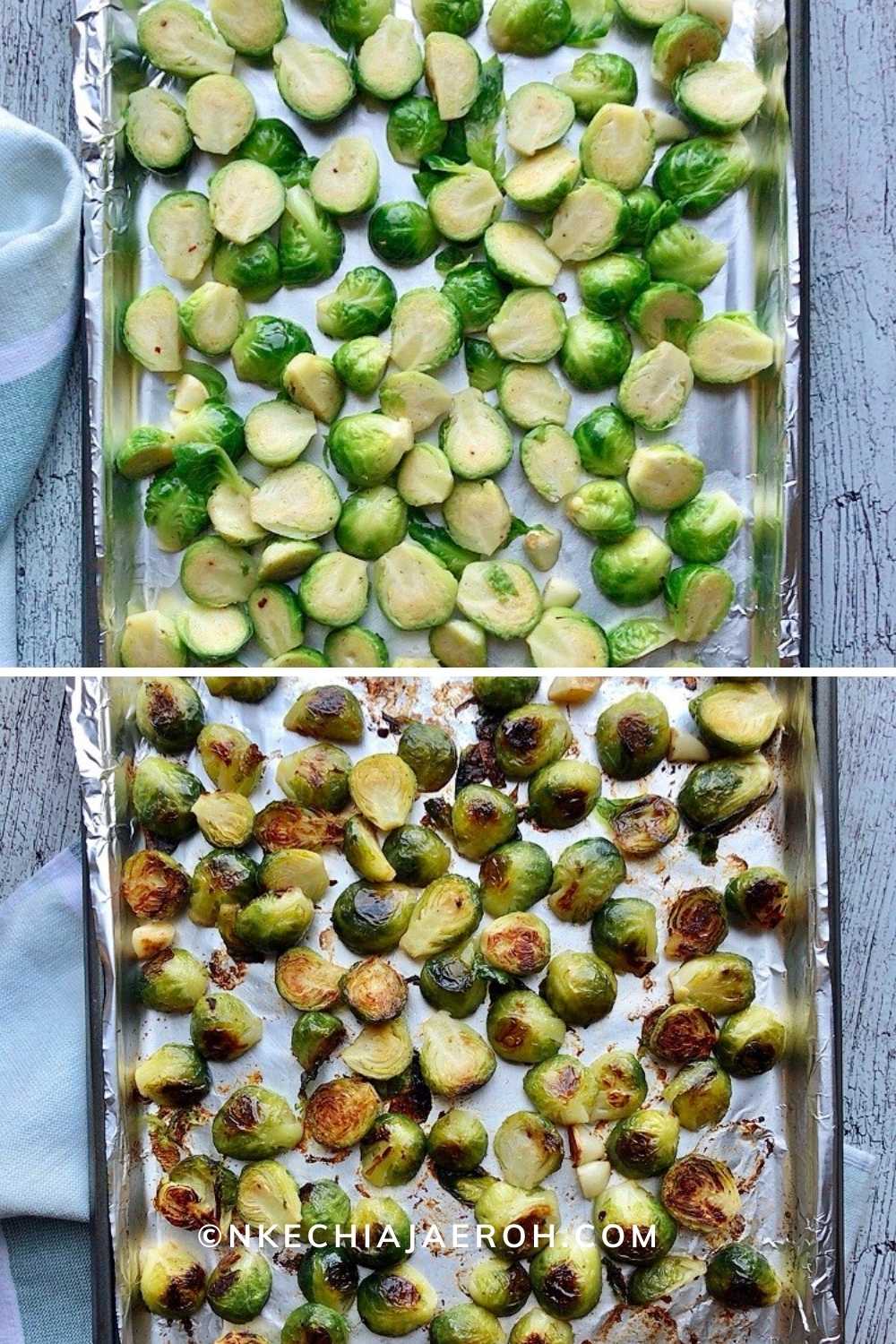 Baked Brussels Sprouts Recipe – Best Side Dish?
In a word, YES, this baked brussels sprouts recipe is the best side dish! I mean, my best side dish, hopefully, it would become your go-to healthy side dish as well! These slightly sweet brussels sprouts are crisp on the outside and tender on the inside. Super easy peasy to make, this recipe will get you eating more of this vegetable. Click To Tweet

Print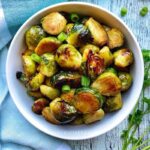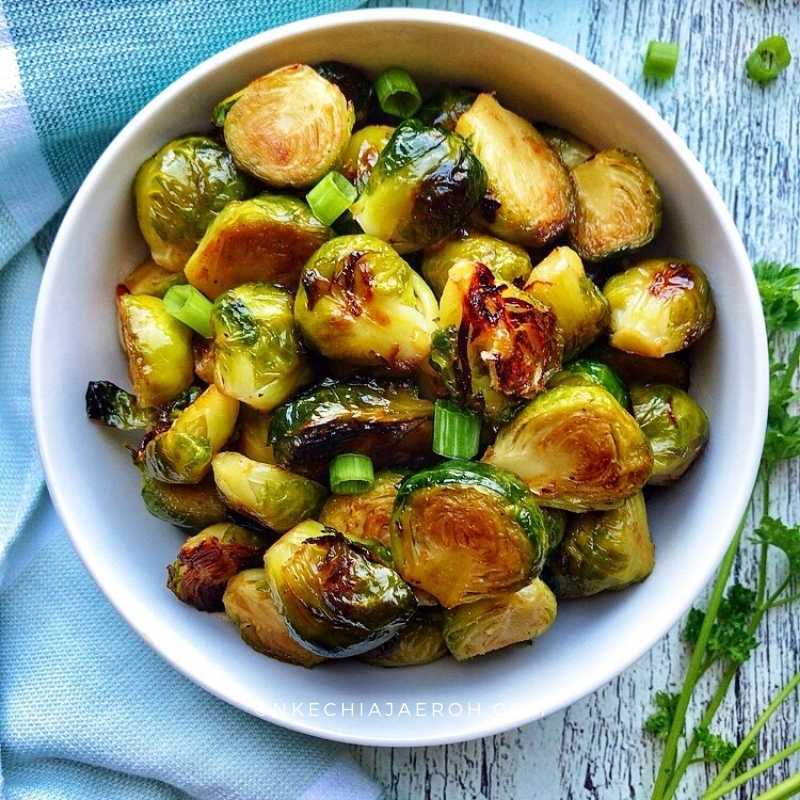 Baked Brussels Sprouts Recipe
---
Description
Vegan, Dairy-free, Gluten-free, and Paleo, Baked Brussels Sprouts Recipe – super easy to make and insanely delicious. This healthy side dish is a crowd-pleaser perfect for Thanksgiving, Christmas, Cookout, or regular family dinner! This recipe is low calorie and low carb, exactly the guilt-free side dish you need.
Wondering how to serve this oven-roasted brussels sprouts? Serve as a side alongside your main meal, eat as snacks, or eat as a main meal – yes, you heard me!
---
---
Instructions
Trim brussels sprouts, and preheat oven to 375.
Add water to a pot and place it on the stove (ensure that water could contain all the Brussels sprouts.)
When water starts boiling, add a good amount of salt, then add the brussels sprouts
Allow blanching for 3 minutes! Then pour through a colander; pour the entire Brussels sprouts on a clean towel or paper towel to soak up the remaining moisture.
Add the sprouts to a bowl, add the garlic cloves, sprinkle olive oil, pepper, Maggi, and salt (just a little salt because this was already blanched with some salt), toss together
Spread the Brussels sprouts on a foil-lined baking sheet on a single layer, bake for 30 minutes or until Brussels sprouts slightly change color, and are fully cooked. Check-in between baking (after the first 10 – 15 minutes) and turn the sprouts around for even cooking.
Sprinkle and coat with honey after you remove from oven, and gently combine to ensure all the sprout gets a touch of sweetness from the honey. Enjoy.
Notes
Make sure you buy fresh, healthy, and happy Brussels sprouts to make the best recipe!
You can grab the fresh ones from your local store or order a pre-packaged bag of fresh Brussels sprouts as I did.
Remember, Brussels Sprouts were blanched with salt, so start by adding only 1/4 teaspoon of salt and increase if you need some more. Do not use more than 1/2 teaspoon of salt (if blanched with salt.)
You can easily make this side dish a Whole30 compliant by getting rid of the honey. And trust me, this would still taste delicious!
If you wish to make this recipe vegetarian, then Sprinkle a little cheese on top; feel free to customize it the way you want.
Your baking time may also depend on how hot your oven is and how big the Brussels sprouts are. Keep eyes on them, and do not over bake.
Please note that with this blanching, I do not immerse in cold water afterward. I simply lay on paper towels to dry.
Prep Time:

10 minutes

Cook Time:

40

Category:

Side Dish/Appetizer

Method:

Oven - Baking

Cuisine:

American
Keywords: Brussels Sprouts, Brussels sprouts recipe, healthy brussels sprout recipe, how to cook brussels sprouts, baked brussels sprouts, quick and easy brussels sprouts, healthy side dish, thanksgiving side dish, Christmas side dish, vegan side dish, honey baked brussels sprouts, garlic roasted brussels sprouts, roasted brussels sprouts, oven roasted brussels sprouts, healthy recipe, holiday side dish, fall season recipe, fresh brussels sprouts, healthy Appetizer, veggie side, vegetable side dish,
Recipe Card powered by
If you like this healthy and easy baked Brussels sprouts recipe, please share this post, leave a comment and 5-star rating, then you should check out the following nutritious healthy recipes as:
And some of my healthy breakfast recipes:
THIS POST CONTAINS AFFILIATE LINKS, you are not charged more for using these links, but I make little coins when you do.
Finally, let's connect on social media, am on Facebook, Instagram, Twitter, and Pinterest. Remember to share this recipe post with the people you love. SHARE/SAVE THIS IMAGE ON PINTEREST. ⤵️

Stay well and safe.