Pumpkins are Precious.
These extra fudgy pumpkin brownies were so good, and I have Kat to thank! 🙂
Though you can have your hands on a pumpkin all year round clearly, the ember months are the pumpkin months. As soon as you hear "fall," that means everything pumpkin has officially begun. And of course, the grocery stores will always take advantage of it; literally, pumpkin spice everything!
To be honest, this is the first time I will be making a pumpkin recipe during the pumpkin season, and I decided to make everything from scratch.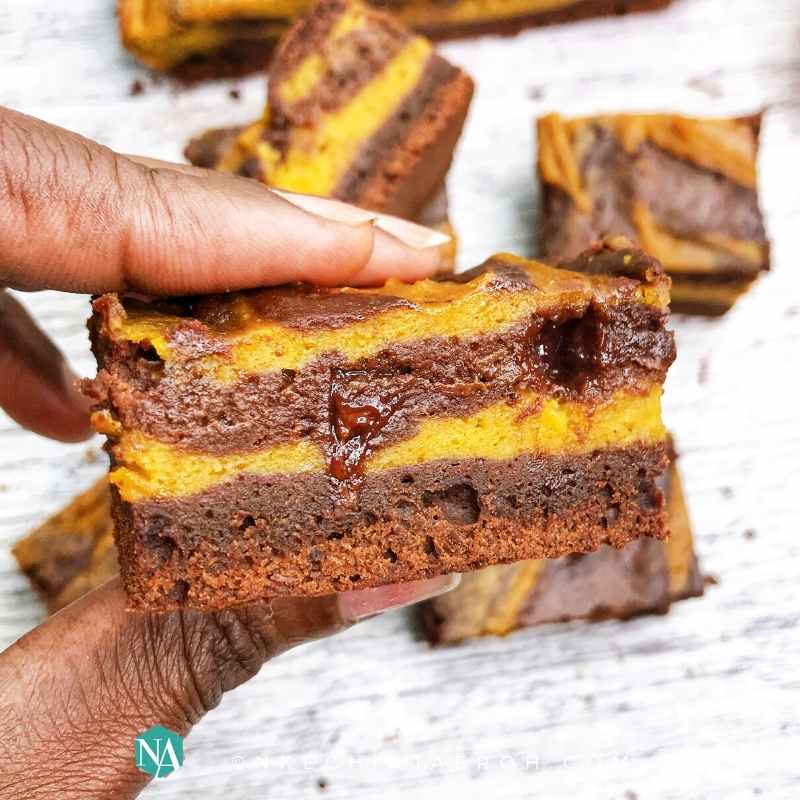 First stop: I needed some fresh pumpkins!
In order to make any kind of pumpkin recipe, you will need pumpkins. After a couple of research, I made up my mind to buy the small sized ones, and they did not disappoint.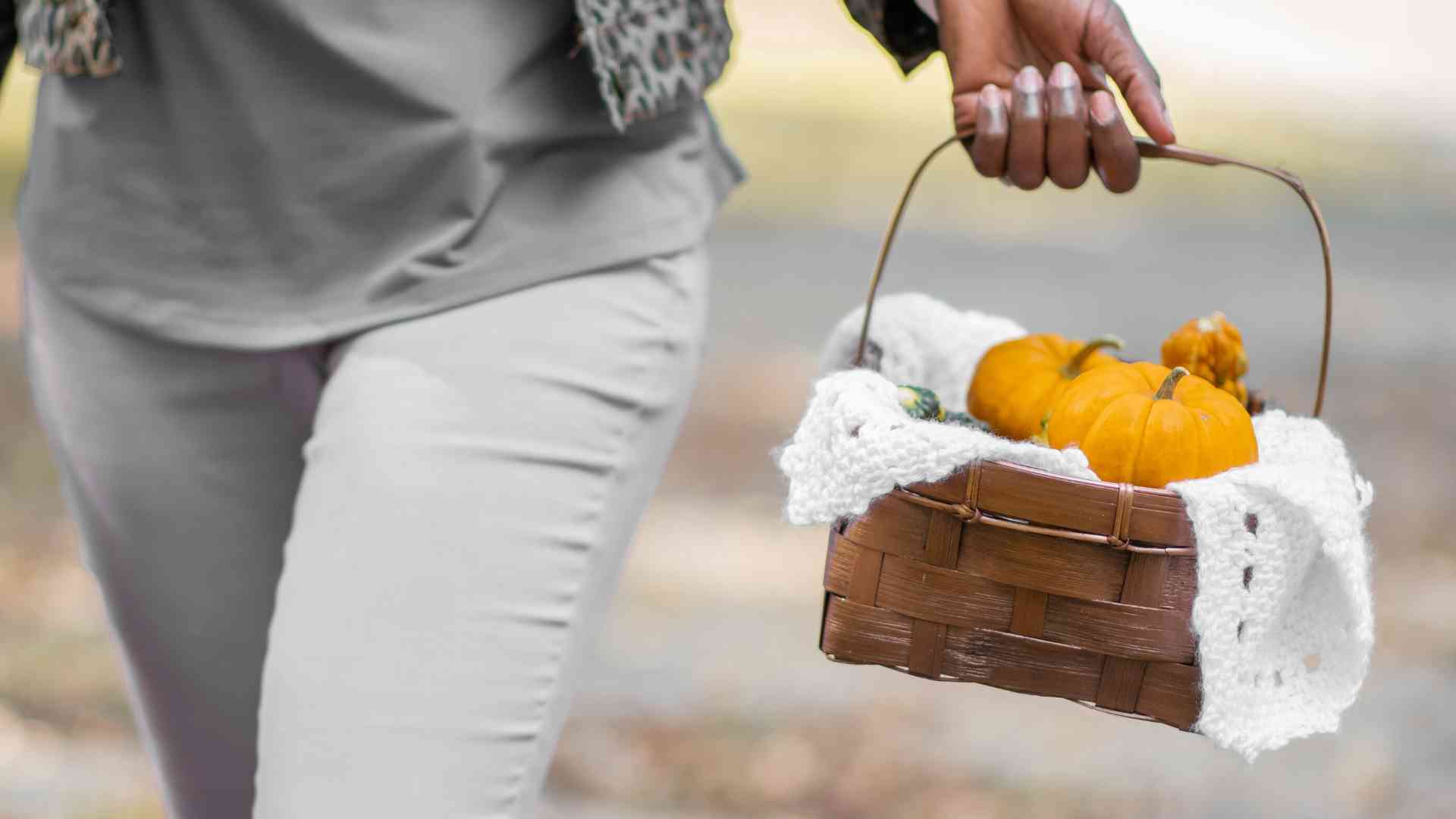 Secondly, the mouthwatering finger-licking recipe is necessary. I would like to thank the fantastic Kat whose original recipe I modified to make these. You can find that original recipe here.
Just for personal preferences, I subbed butter with olive oil, I subbed brown sugar with coconut sugar, and for white sugar, I used stevia. Also, I used regular milk instead of heavy cream. Please see recipe card below for the exact quantity. Every other thing pretty much remained the same!
Gathering ingredients was gold.
Well, what else can I say? I had almost everything I needed to get the ball rolling right from my pantry. How cool was that?
Prepping the puree.
To begin with the process of making the best fudgy pumpkin brownies, I made my puree. I washed the pumpkins, wiped them dry, cut them up, clean them out, and roasted them up. After they are cooled down, I peeled the skin and used the food processor to "blend" it. Though some people may boil the pumpkin and then process it, but the simplest possible way to intensify flavors is always to roast. And the puree were so flavorful that proves am right. lol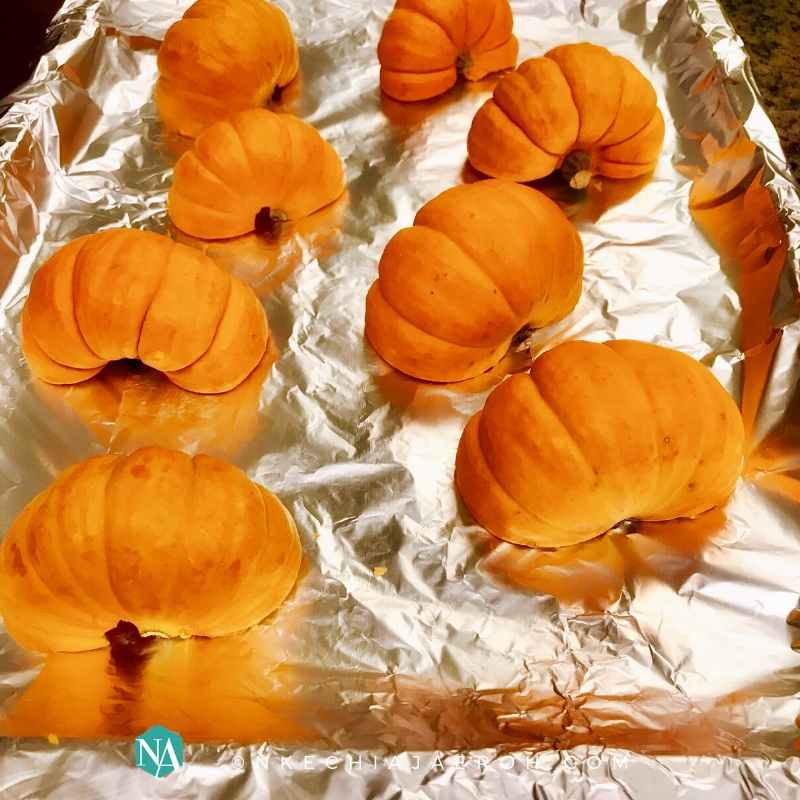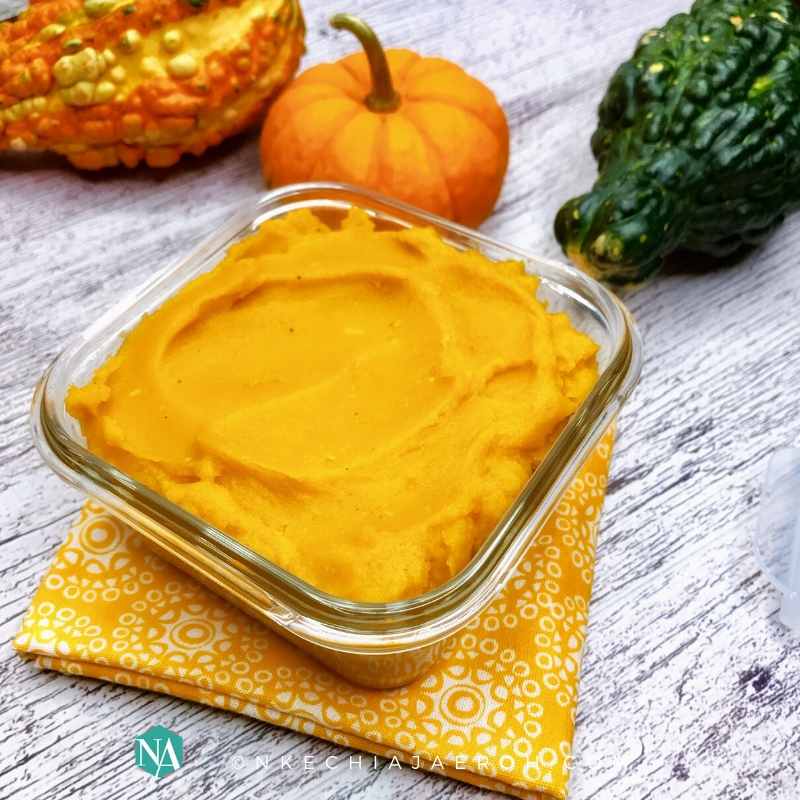 Then the fun part.
When you are ready to begin, add all the ingredients for the pumpkin filling into a bowl using a hand-held- mixer, mix well together, set aside. Melt the chocolate, set aside. Then the combination begins…
…Happy to report that my entire brood wanted extra bars…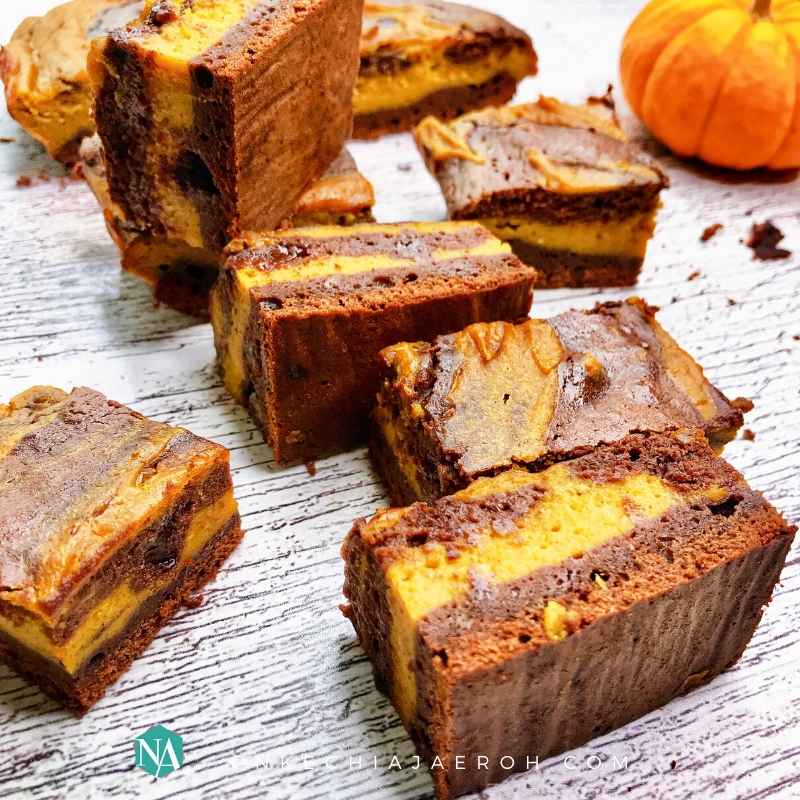 I am glad I waited and made this fudgy pumpkin brownies; it's worth the wait. What's so rewarding is that I made everything from scratch, yippee! Call it a labor of love. 🙂
Save to BigOven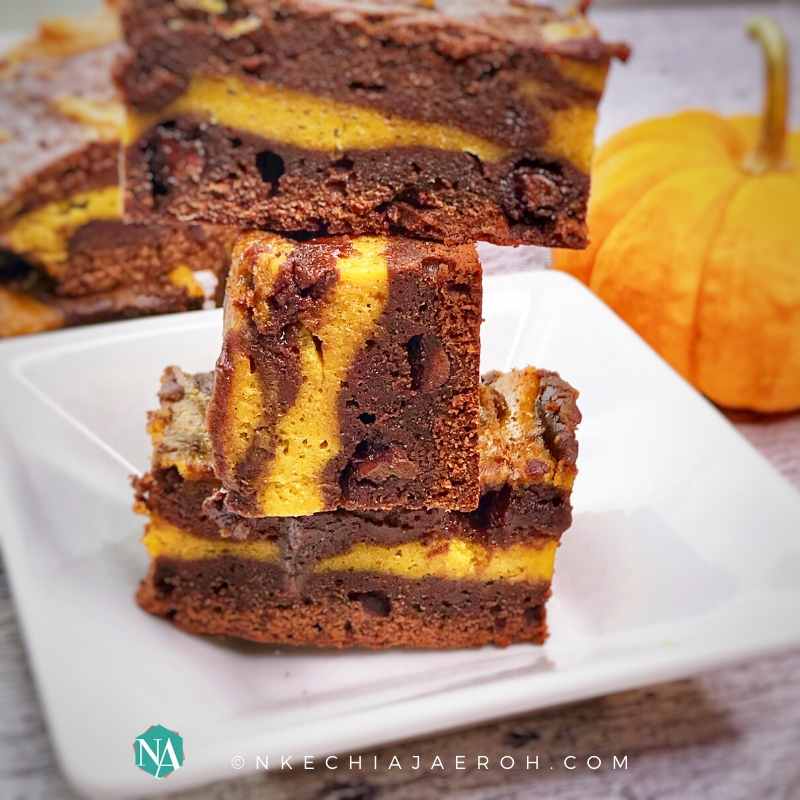 Look no further for the best fudgy pumpkin brownie recipe. This insanely delicious, easy-to-make recipe is a satisfying treat you always remember! Add small ice cream on top during warm weather, and your day is made. If the weather is cold, warm it up, and enjoy with a warm tea or hot cocoa.
Ingredients
For the Pumpkin filling:

1½ cups of pumpkin puree (I used homemade, am sure store bought would work)
1/3 cup of coconut sugar (my brown sugar substitute)
2 teaspoons of organic stevia (white sugar substitute)
2 fresh eggs
¼ cup of milk
4 teaspoons of cornstarch
½ teaspoon of fresh grated nutmeg (or more)
½ teaspoon of cinnamon
½ teaspoon pumpkin spice
A pinch of salt
For the brownie:

½ cup regular flour
¼ cup of raw cacao powder
1/3 cup coconut sugar (my brown sugar substitute)
1 tablespoon organic stevia (white sugar substitute)
1 cup of semi-sweet chocolate (thinking that I should use milk chocolate next time)
3 fresh eggs
¼ cup of olive oil
A pinch of salt (or ¼ tsp.)
Instructions
Preheat oven to 355. Grease your favorite baking dish, line with parchment paper, and set aside.
Sieve the flour, cacao powder, together, then mix in salt and set aside.
Add the pumpkin puree ingredients into a bowl then use a hand-held mixer to combine. Ensure everything is well mixed, set aside.
Gently melt the chocolate and olive oil in the microwave or place the chocolate chips and olive oil in a bowl and place over hot (boiling) water. Be careful with any method you choose. If melting with microwave, do not heat it for more than 10 seconds at a time. Check and stir after every 10 seconds. If melting on hot water, keep stirring until almost dissolved. Be mindful not to allow the chocolate syrup to become hot.
Using the hand-held mixer cream the coconut sugar, stevia, and eggs for about 6 minutes (and until they have doubled in size), then add the melted chocolate/olive oil and combine without over stirring. Add the flour/cacao mixture and mix well with a spatula.
Divide the brownie batter into 2; add the first batter to the already lined (and greased) baking dish, level out with a spatula. Then add the pumpkin filling, use a spatula to level out as well, then gently add the remaining brownie batter. Feel free to use some scraps from the pumpkin filling bowl to make a swirl. Then give a small shake, and use the spatula to level out before placing in the preheated oven.
Bake for 38 – 42 minutes (or little more or less, depending on your preference). I baked mine for exactly 40 minutes, and the bottom was almost beginning to overcook. So, from 38 minutes, keep your eyes on them!
After they come out from the oven, allow to completely cool before you cut them. Enjoy!
Notes
My family ate some of these with vanilla ice cream, and it was glorious!
You can freeze the leftovers (if there would be any) for months, but I wouldn't store in a regular freeze for more than six days. In other words, if you are planning to save them for longer than six days, freeze up.
Don't worry if the surface of the entire baking dish is looking uneven, my was uneven and still came out dope!
If you want to make a significant swirl, then leave out some spoonful of pumpkin puree to drop after the final brownie batter; this way, you can use a skewer to make a lovely swirl, kids like doing this part. Lol
https://nkechiajaeroh.com/kechis-kitchen/how-to-make-the-best-fudgy-pumpkin-brownies-recipe/
© NkechiAjaeroh.com All Right Reserved.
What is your best pumpkin recipe? Please let me know in the comment!
If you love this recipe, then I know you will enjoy my healthy almond cacao cookie recipe for sure! If you equally like salads, I have a FREE (5) salad recipe bundle, get the recipes here.
May I invite you to join me inside my private Facebook community? We are currently over 5K friends loving food and encouraging each to live better and healthier. Also, I provide exclusive tools, resources, and recipes that are so irresistible in there. I can't wait to see you there!
Before you leave, please check out my fantastic light and lovely recipes here.
If your friends and family are like mine, then I know they would appreciate you sharing this recipe with them. Thanks in advance for sharing this post!
With love,