Coconut Milk Oatmeal.
This warm, comforting, and satisfying bowl of healthy coconut milk oatmeal have been a total hit in my household in this cold winter. And who says you can't enjoy them in the summer months.
The kids love it, the husband and I adore it!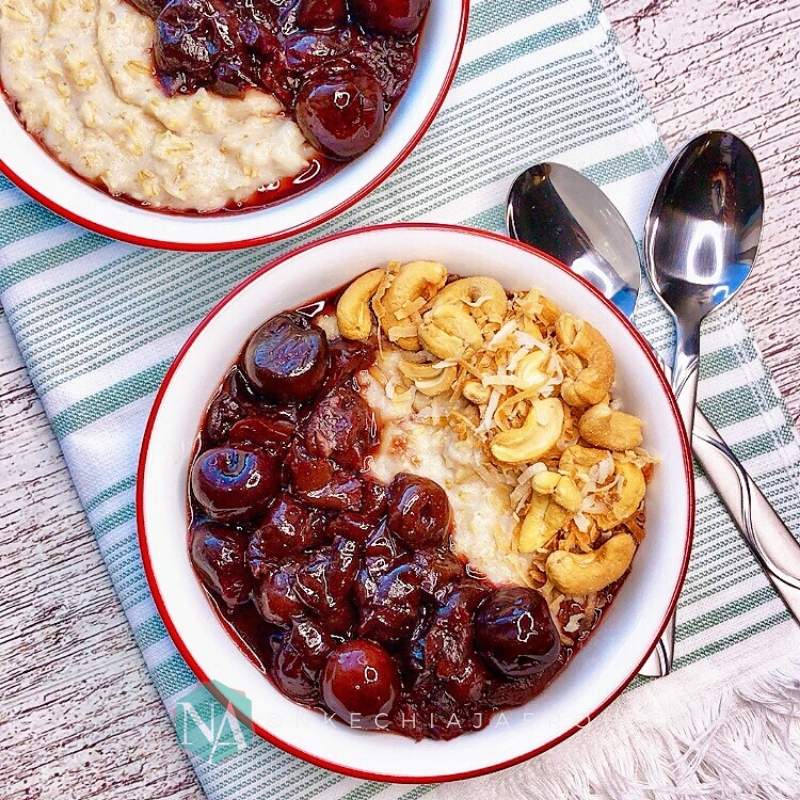 One of the things I love about this bowl is its tropical flavors, which am sure will also make this bowl your best oatmeal recipe going forward.
Click To Tweet
Here's the deal: when it comes to breakfast, I want the real thing. 70% of the time, as long as I have 10 – 15 minutes, I cook up some oats. But if I am on-the-go, then I would roll with the smoothies—either my avocado goodness, perfect peach, or king blueberry.
There are two significant ingredients when it comes to this nutritious and delicious coconut milk oatmeal—first, the fresh coconut milk, second, the oats. The cherry, and nut toppings are optional!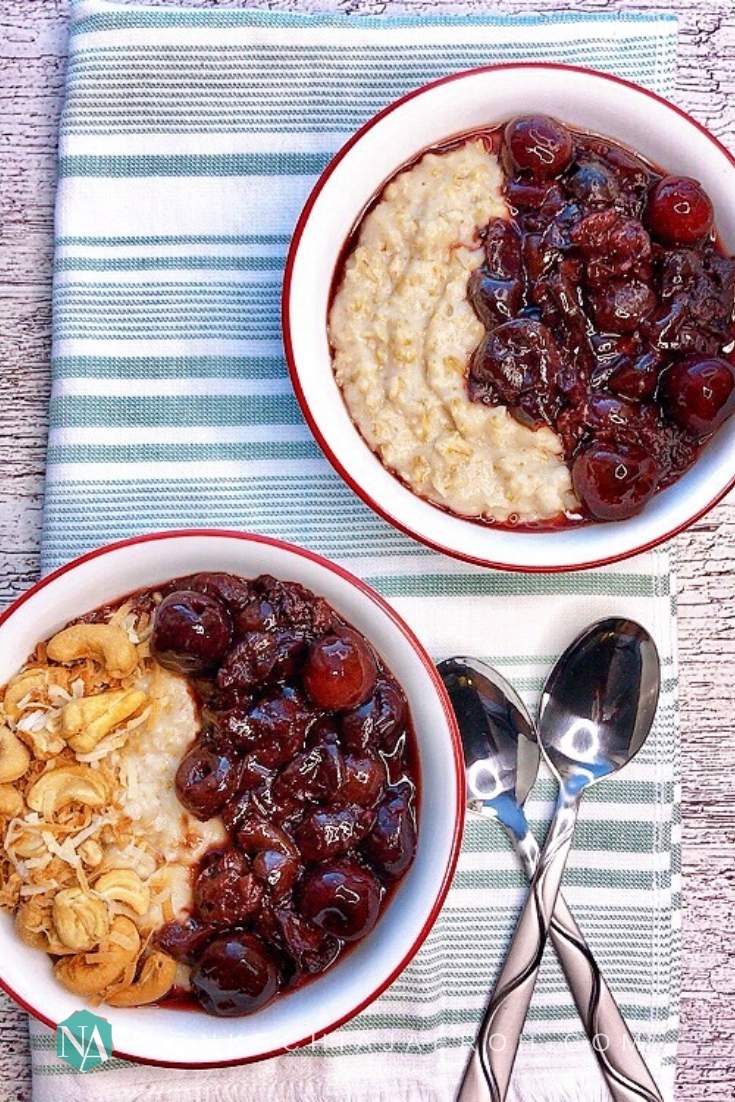 Coconut milk.
Before coconut milk, there was coconut, I mean the coconut fruit. To make coconut milk from the coconut fruit, you have to use coconut "meat." The coconut fruit is very versatile; aside extracting milk from this fruit, you can also extract oil (coconut oil). Ever heard of coconut rice, coconut sweet, coconut flour, the list is endless. You can even eat the coconut meat by chewing down on it and swallowing. It makes a great snack, or you can pair it with wet cassava snacks. Growing up, coconut was a readily available thing; we had a coconut tree in our compound in the village.😋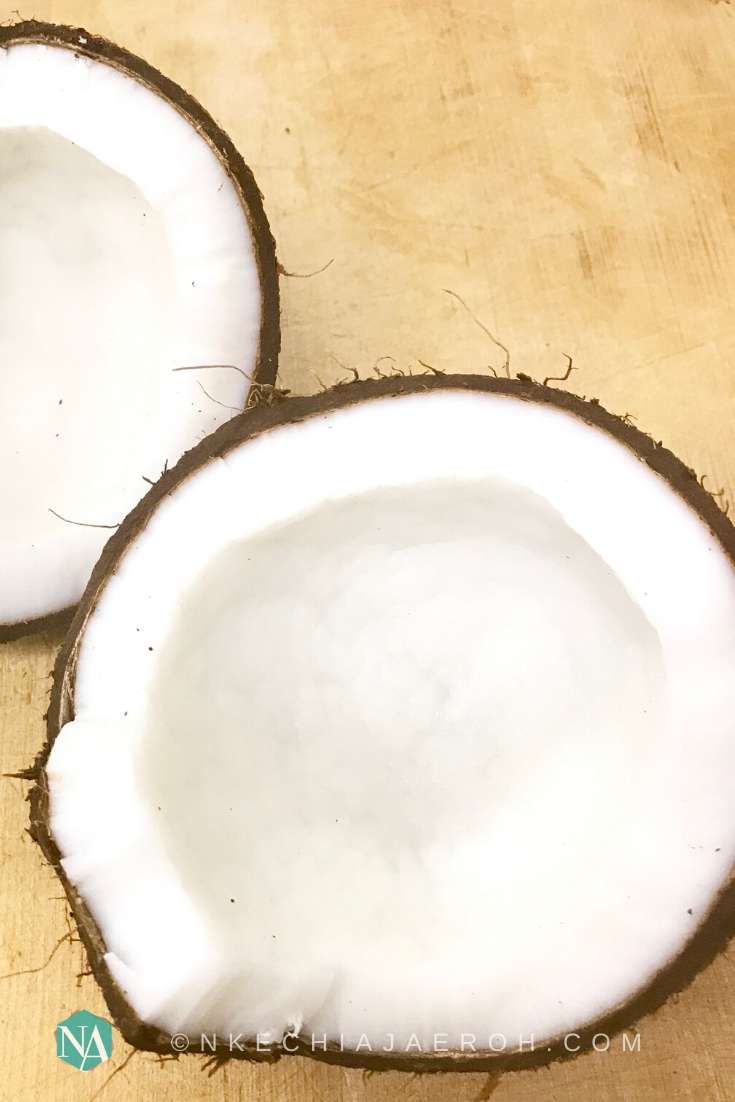 Without a doubt, coconut milk plays a significant role when it comes to this recipe. For the most part, I have always only used fresh coconut milk to make this recipe. I usually buy fresh coconut fruit and then make the milk, and afterward, I will use some of the milk to cook this oat recipe. I also think store-bought (from the dairy section) would work just fine, but I have yet to try it. Let me know how you choose to try it when you do!😊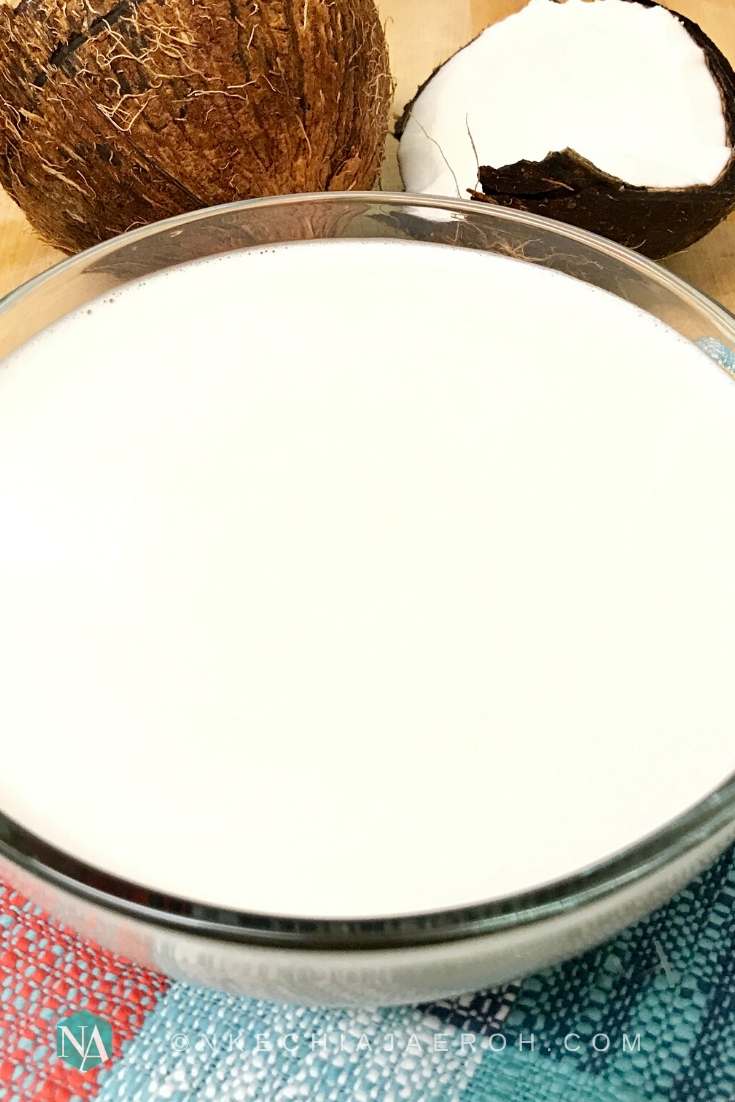 This brand would work. ⤵️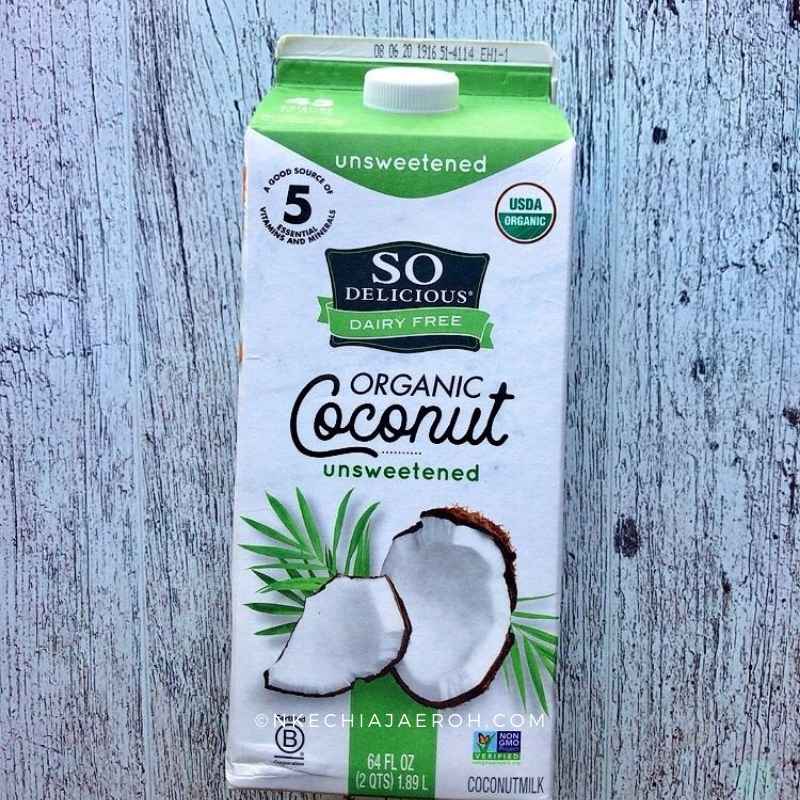 Oats.
Oats are nutritious, powerful antioxidants, and the excellent fiber that your body needs. Scientifically oats are referred to as Avena sativa. This whole-grain can lower cholesterol, improve blood sugar, and can help you keep your weight in check.
My warm coconut milk oatmeal porridge will not be complete without oats, obviously. Even the name suggests it. I love to use the old-fashioned oats; it does it for me when it comes to this coconut milk oatmeal recipe. You may try any other type, say, steel-cut, etc., I can't guarantee the same result.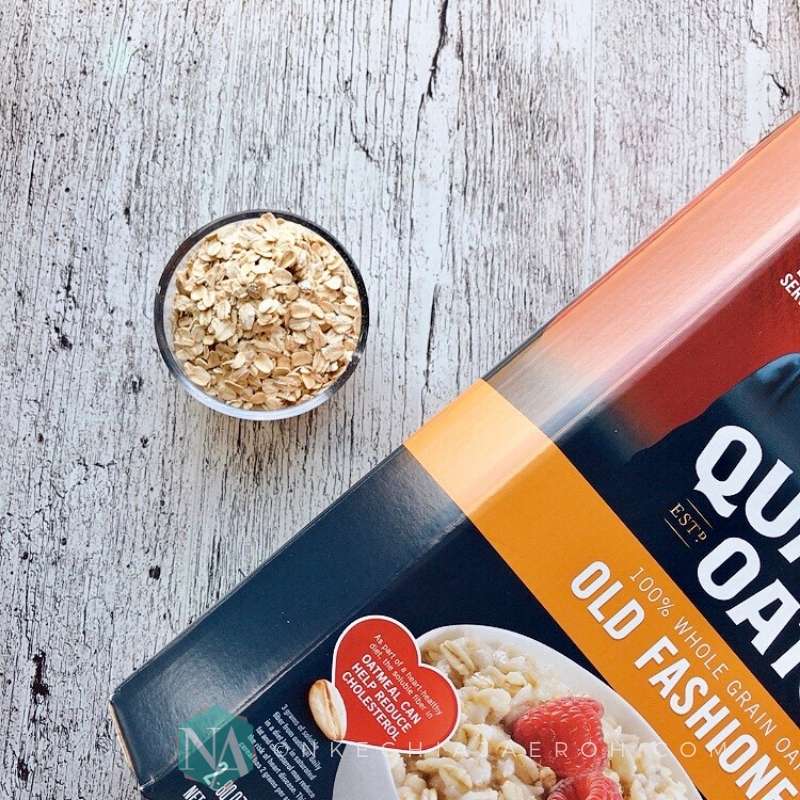 Oat is whole-grain.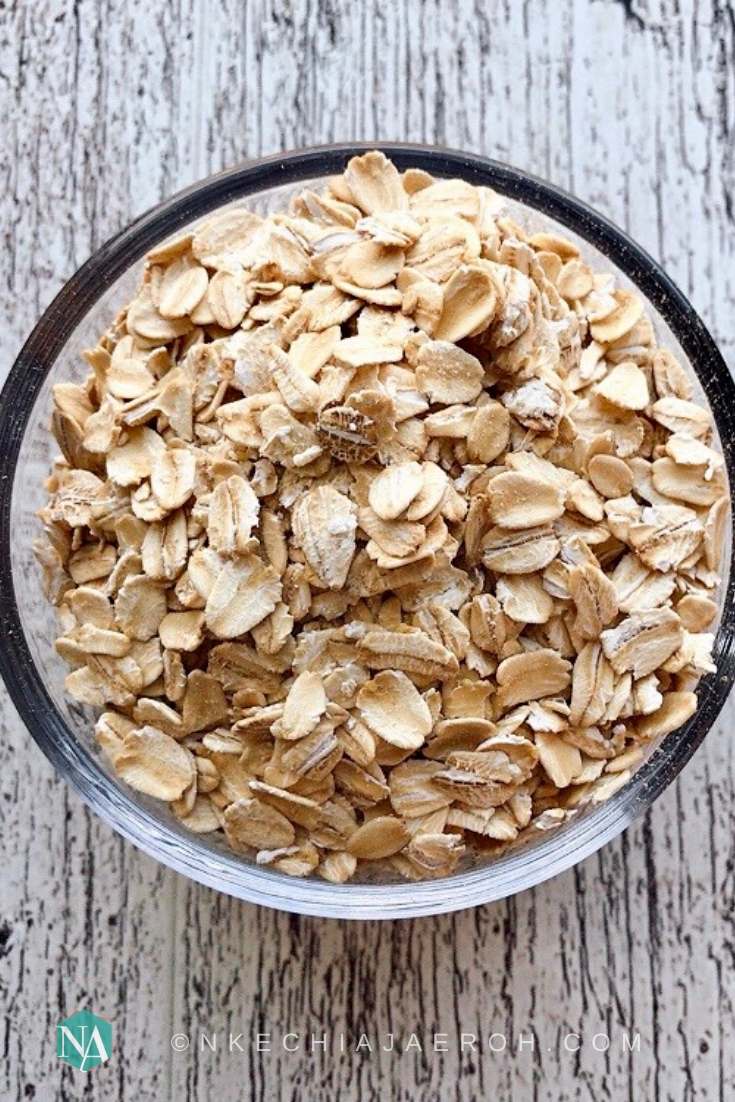 Cherry, (and this coconut milk oatmeal recipe are perfect match):
I love cherry. But I seem not to know when this fruit is in the season, so I typically resign my faith to frozen cherries, which is still very sweet and tasty. So, as you may already know, that was what ai used for this recipe, and it was fantabulous! Cherry has several benefits, and it is great for you.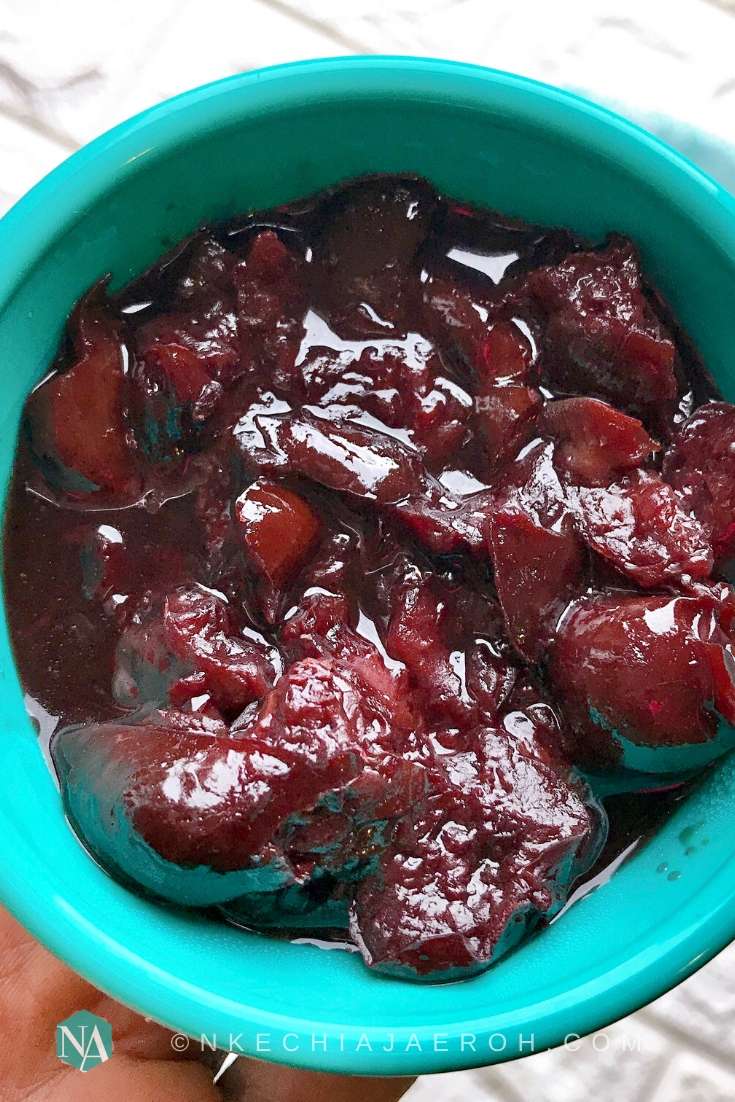 The verdict.
One of the most surprising and yet amazing thing about this recipe is that it doesn't need any additional sweetener! Not sugar, honey, stevia. None. The natural sweetness of the fresh coconut milk and cherry are just right and enough.
Click To Tweet
Now, if you are ready, SHARE THIS ON PINTEREST! Then let's make the most delicious and mouthwatering oatmeal recipe!

Print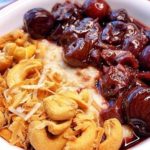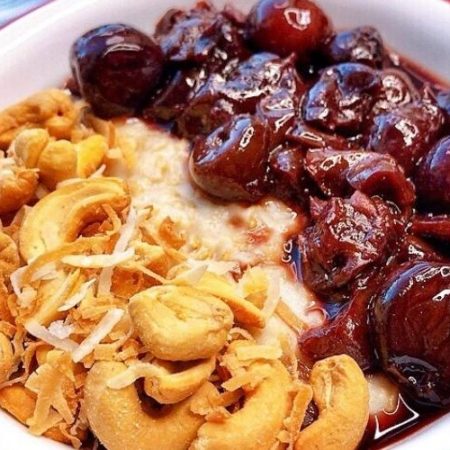 Healthy Coconut Milk Oatmeal
---
Author:

Nkechi Ajaeroh

Total Time:

27 minutes

Yield:

2

people

1

x

Diet:

Vegan
Description
This warm, comforting, and satisfying bowl of coconut milk oatmeal have been a total hit in my household. It's vegan, healthy, sweet, and everything you desire in one bowl! I hope you give it a try; this oat recipe will make your day! Please don't forget to let me know when you do try it.
---
1 cup

of old-fashioned oats

3 cups

of (fresh homemade) coconut milk.

2 cups

of frozen pitted cherries

1 teaspoon

of vanilla extract
Toppings (optional)
¼

shredded coconut

¼ cup

of cashew nuts
---
Instructions
Preheat oven to 250. Add the shredded coconut & cashew nut to the same baking tray toast to your desired perfection. Usually between 10 — 15 minutes. Please keep your eyes on it and stir in between. Set aside.
Add the cherry to a small pot turn stove to low — medium, cook until it softens, and the juice is runny. This may take about 15 minutes (or so). Keep an eye on it; can easily run over and make a mess.
Add oats to a clean pot, add coconut milk, then vanilla, cover, cook until soft and cooked through, just like you would with oats. Be sure to keep stirring as it is simmering to prevent from burning & oats sticking to the bottom of the pot.
To serve add oats porridge to a bowl, then top with stewed cherry, and toasted nuts. This will make your day.
Notes
This recipe serves two people.
I typically do not add any other sweetener, however, feel free to add some original maple syrup or honey (or any other one) if you think you need it. You go ahead and make it your way!
If you aren't able to make your own coconut milk, I suggest you use the coconut milk that you can find alongside other non-dairy milk in the dairy section of your grocery store. I can't guarantee the same result.
The toppings calorie are not included in the total calorie for this recipe because they are optional.
Prep Time:

2 minutes

Cook Time:

25 minutes

Category:

Breakfast

Method:

Stovetop

Cuisine:

Nigerian Inspired
Keywords: Coconut recipe, healthy Oatmeal recipe, Coconut oatmeal, Vegan oatmeal recipe, Vegan breakfast, homemade coconut milk
Recipe Card powered by
Please, share this post on your social media, and with your family and friends; I am sure they will love this recipe. Do you have a favorite oatmeal recipe? What is it? Leave me a message here on the blog, on my Facebook, or Instagram whenever you make these!
And if you love this recipe, then I know you will enjoy my FREE 7-Day Meal Plan, which helps you to start on the right part to healthy eating. Get the meal plan here.
The other day I did something. I started on Instagram! It may not seem like a big step, but it is big for me for sure because I have always dreaded IG because I see it as a perfect platform, and am so imperfect. Well, long story short; finally started, let's connect.
THANK you so much for reading! Hope to see you soon!
With love,