Smoothie Bowl for the Win!
There are avocado smoothies, and there is this thick avocado coconut smoothie bowl! My kids also call this smoothie avocado ice cream, and I totally agree with them. In other words, you can easily use this smoothie recipe right here to substitute your ice cream recipe, and people around you would never notice, (like my kids), Yippie! This vegan green goodness bowl of smoothie is thick, creamy, nutritious, and insanely delicious! The best part is that you need only 4 ingredients! Click To Tweet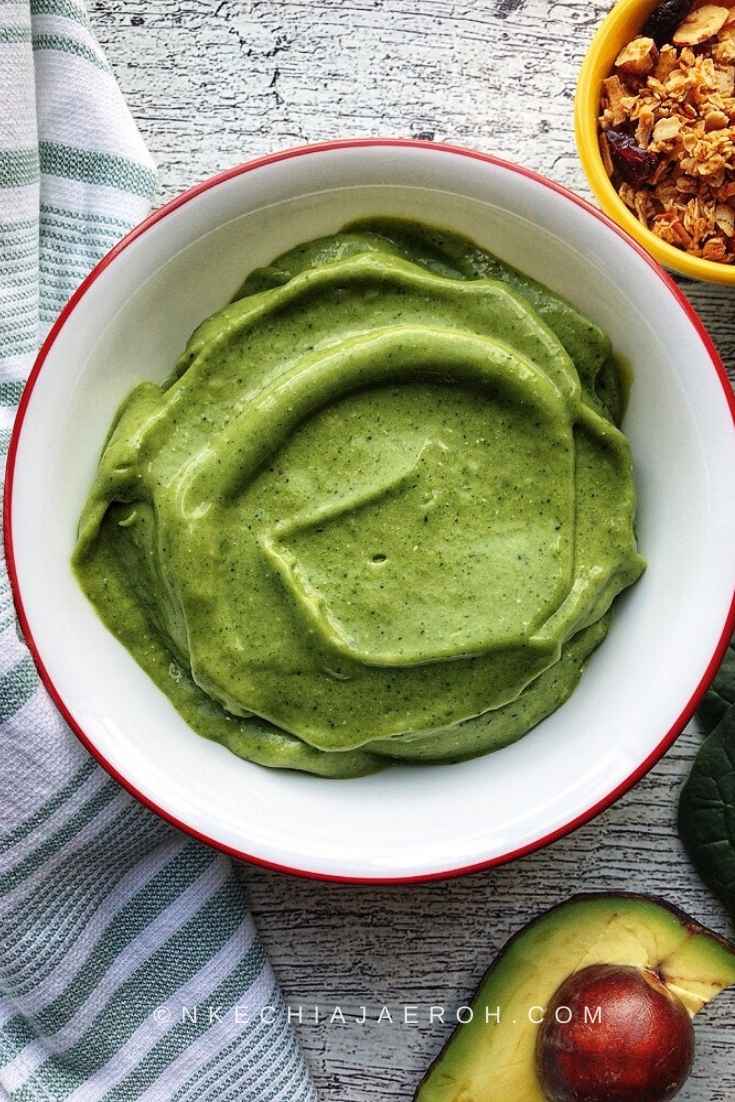 4 – Ingredients Avocado Coconut Smoothie Bowl Recipe.
Like most people, I love and enjoy superfood avocado; I eat them as snacks, use them in salads, add to my beans Jollof, use them to make the ultimate guacamole, just so many uses! Without question, one thing that makes me very happy about making this smoothie is that it takes only 4 ingredients, yes F O U R! You heard that right – avocado, banana, spinach, and coconut milk, that's it, nothing more. Garnish it with more fruits, or granola, as you wish, I do it from time to time.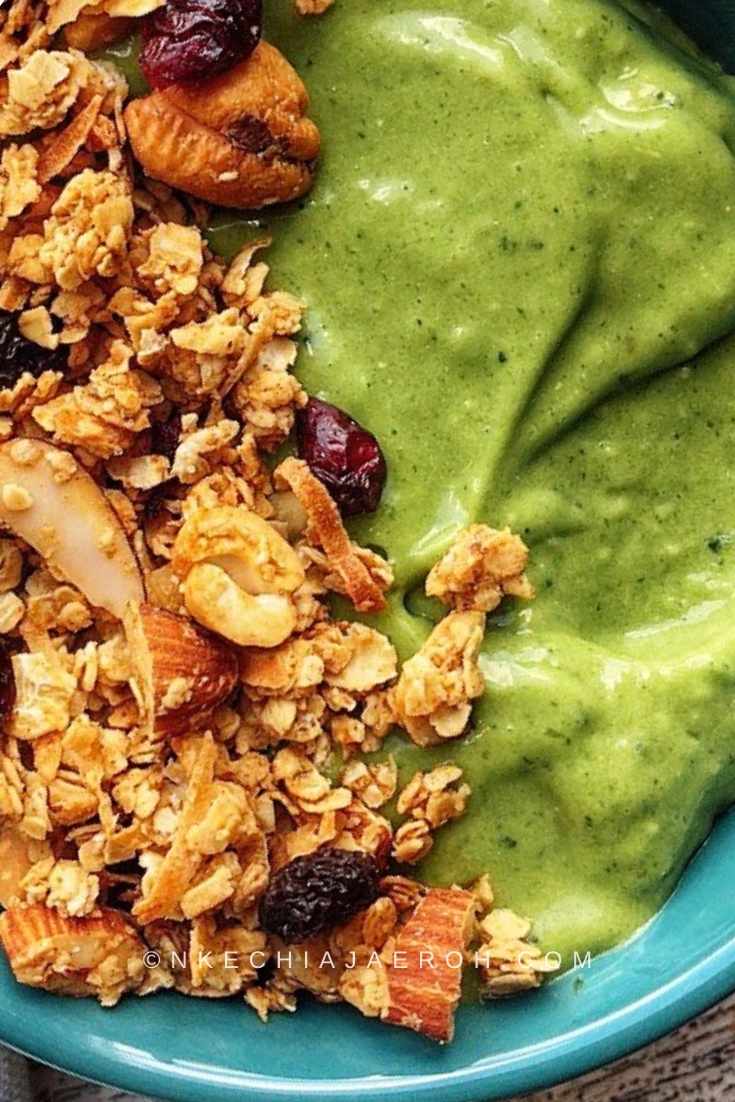 Making this Ultimate Smoothie.
In other to make this perfect avocado coconut smoothie bowl, you need frozen avocado, frozen bananas, fresh spinach, and full-fat coconut milk. The coconut milk makes this smoothie bowl a complete perfection!
Usually, I buy plenty of avocados, and bananas, then I will cut each avocado into half, and alongside one whole banana, I will pack up as an individual (freezer-board) smoothie bags.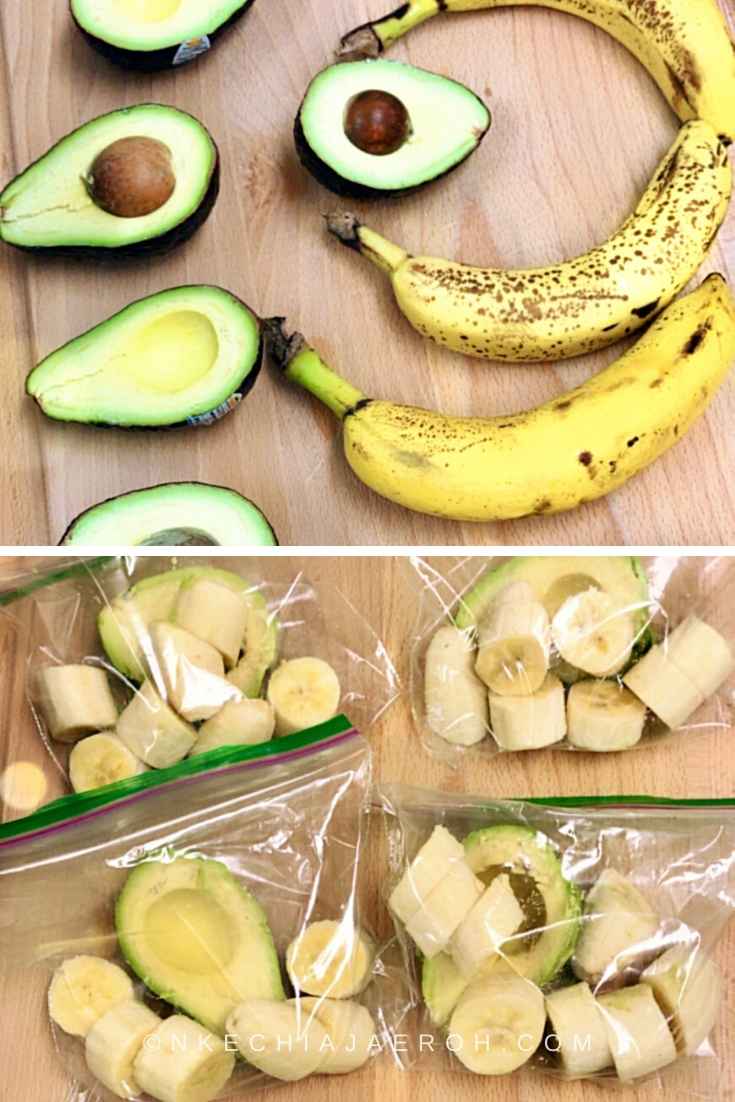 The thicker the Better.
First of all, I know most people already know to make their fav smoothies be it blueberry, peach, or tropical. Or even avocado smoothie! But to make this thick and luxurious avocado coconut smoothie bowl (just like in these photos), you will need frozen avocado, banana, and an additional frozen banana. Plus, of course, coconut milk, and spinach! And do not add ice when you are blending this, there is enough ice in the fruits already. Smoothie bowls are satisfying and incredibly enjoyable with a spoon rather than a straw. A healthy smoothie bowl like this one is a perfect replacement for ice creams, frozen yogurt, and unhealthy smoothies. Click To Tweet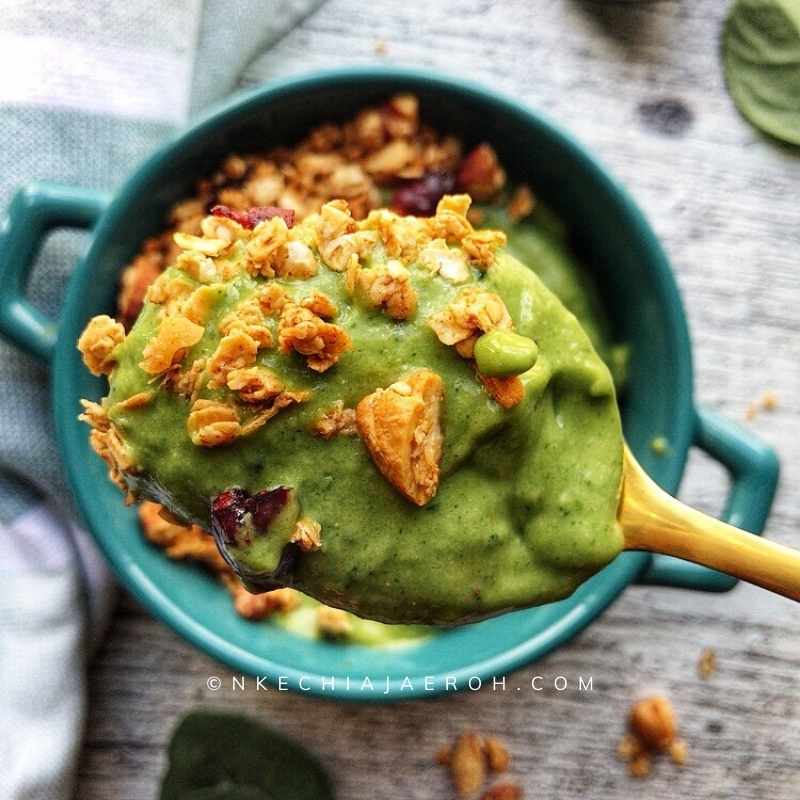 This Avocado Coconut Smoothie Bowl is a thrill!
In reality, avocado coconut smoothie bowl is a thrill; it gives you a melt-in-my-mouth kind of feeling with flavorful coconut aroma. Alongside this yummy taste comes the peace of mind that this smoothie is entirely healthy and great for your wellbeing.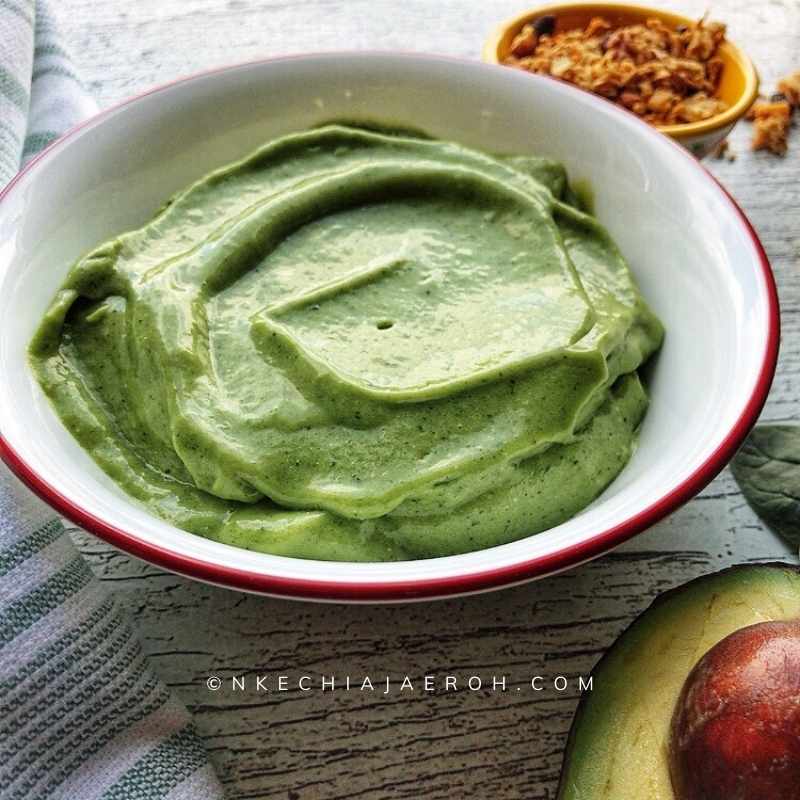 Avocado Coconut Smoothie Bowl Recipe.
If you are ready to make this smoothie, I am more than prepared to show you how! And if you don't like to use coconut milk, then use any other plant-based milk. My closest alternative would be cashew milk.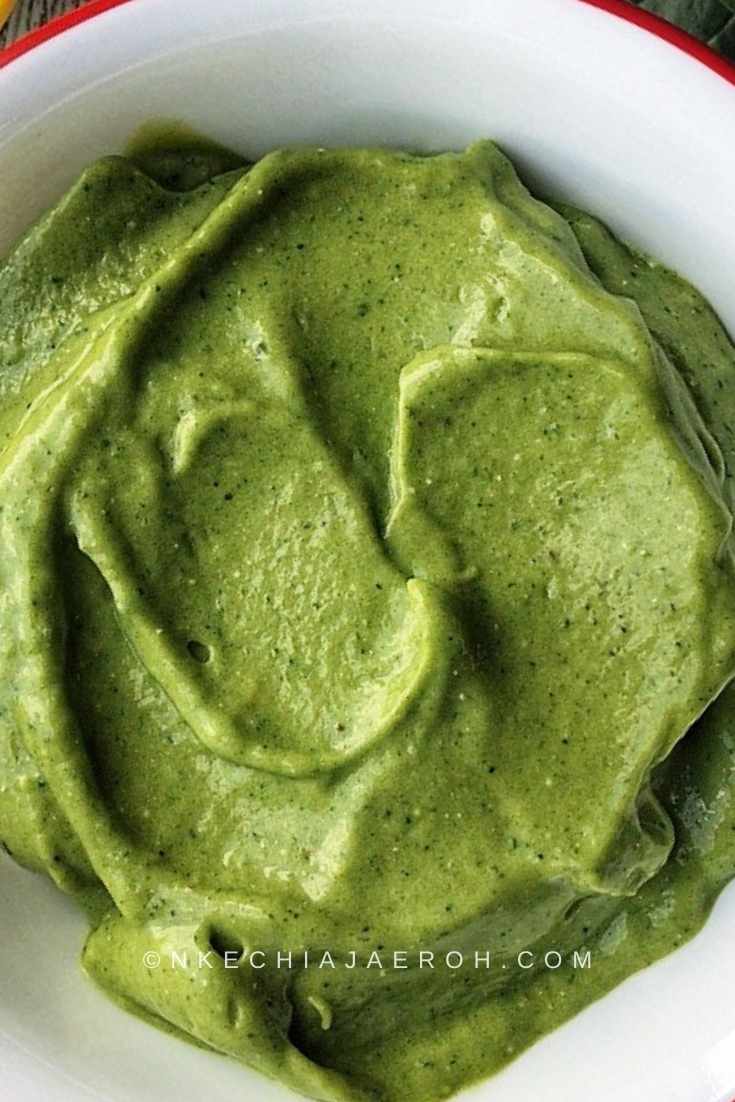 You will surely make perfect thick smoothies each time if you follow my simple steps!
Print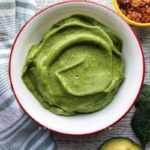 Avocado Coconut Smoothie Bowl
---
Description
This super green smoothie is creamy, coconutty, nutritious, and delicious, and made with only four ingredients! This avocado coconut smoothie bowl is the only healthy smoothie that should matter.
With frozen avocado, bananas, spinach, and coconut milk, you can say hello to this deliciousness. Healthy eating is that simple, avocado coconut smoothie bowl to the rescue!
---
½ of an avocado (frozen)
2 whole bananas (frozen; this is my key to making this smoothie super thick!)
½ cup of full fat organic coconut milk
1 – 2 cups of fresh baby spinach (I always do 2 cups)
---
Instructions
Add all the ingredients to the blender. I like starting with the milk, then spinach, avocado, and banana.
Blend with caution just because the liquid is barely enough. The goal is to make a nourishing thick smoothie, so less liquid is required. Use a wooden spoon to keep pushing down on the ingredients to blend properly.
Smoothie is ready when everything is smooth, scoop/pour into a bowl, and serve immediately. Enjoy with a spoon. This recipe serves 1; though two person can eat it as a snack.
Notes
Do not add ice blocks; I have noticed that they can make the smoothies more watery
Eat/enjoy your smoothie as soon as you finish making it; that way, it is still thick. The bottom line, eat it before it loses its form.
You can add yogurt if you wish; this recipe is totally fab without it, lol
I used full fat coconut milk; you can use light coconut milk if you want.
I actually used my regularly big blender to make this smoothie; a smaller blender works perfectly, but if all you have is a big blender, just go ahead and use it!
The key to making smoothies super thick is more frozen bananas,  and less liquid.
Prep Time:

7 minutes

Category:

Breakfast

Method:

Blending

Cuisine:

American
Keywords: Avocado smoothie, coconut smoothie bowl, spinach smoothie recipe, How to make thicker smoothies, Vegan smoothie bowl, vegan breakfast, 4 – ingredients green smoothie bowl, Healthy smoothie recipe, Thick smoothie recipe, avocado and banana smoothie bowl , smoothie bowls, Smoothie without yogurt
Recipe Card powered by
First of all, SHARE THIS POST. And please rate this a 5-star below when you comment. I appreciate you reading, commenting, and rating this recipe! It really helps my blog out. THANK YOU.
If you like this simple thick smoothie recipe then should definitely check out my other smoothie recipes:
Want some salads? My FREE (5) spinach salad recipe bundle would be a great addition to your dinner table. Get the recipes here. Meanwhile, I started on Instagram (finally)! LOL, I did put that off forever, well I am there now, and I will love for us to connect! Follow me on Pinterest, Instagram, Facebook and Twitter as well. Finally, share this recipe post, and SAVE/PIN THIS IMAGE ON PINTEREST. ⤵️

Stay well and safe.