Best Red Cabbage Taco.
Get excited about this red cabbage taco recipe; this isn't your regular tacos with a dash of sliced red or purple cabbage (noooo). We are getting get of our taco shells for this recipe and replacing them with healthy and nutritious red cabbage leaves. In other words, this is a super yummy and delicious low-carb red cabbage taco recipe you don't know that you need until now. No need for taco shells; we substitute them with these beautiful cabbage leaves!
This is simply another healthier way to enjoy what we already love – TACO! Also, the best part about this recipe is that I finished it with spicy chicken breast suya! The flavor and spiciness of the Suya meat compliments this dish. Okay, don't fret over "suya," it technically means that I cooked the chicken breast with my Nigerian Suya spice seasoning. But, to be honest, leftover chicken or any other meat would work. You can literally use any other choice of protein you love and enjoy.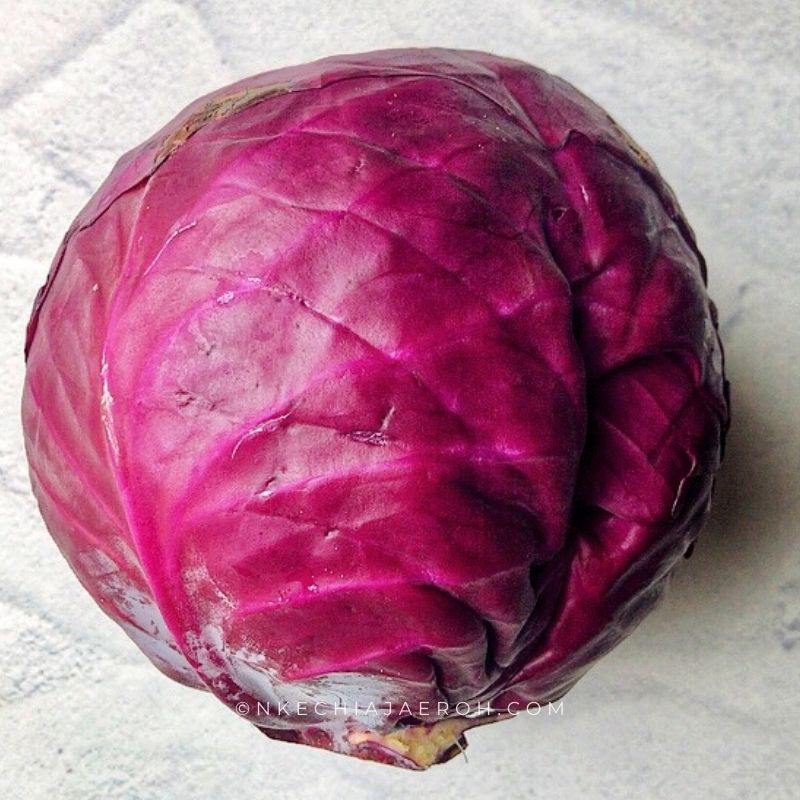 How to select the Best Cabbage:
This purple taco recipe starts with a good head of red cabbage, so this recipe starts with making sure that you select a good head of cabbage from the store. Some tips that will help you choose a great cabbage every time:
Make sure the cabbage is firm and not in any way soggy.
Choose a bright cabbage that equally feels crisp. So be sure to touch the cabbage, and hopefully, the leaves aren't wilting already.
Your cabbage should be shiny but not oily.
Press the head to ensure its firmness!
Additionally, do not but already cut cabbage leaves or sliced cabbage. And always wash and remove the outer cover before using.
This red cabbage taco is the best low-carb taco recipe you need. It is colorful, flavorful, tasty, and nutritious! Also, it is gluten-free and without all the heavy calories of the regular taco!
Click To Tweet

Red Cabbage Wrap Vs Red Cabbage Taco
Haha, I actually go with either, sometimes I call this recipe red cabbage wrap and other times I just call it red cabbage taco. Whether you chose to call this recipe cabbage wrap or cabbage taco, it is all the same. Most importantly this recipe is a low-carb vegetable taco served with chicken breast. So, also it may be appropriate to call it red cabbage chicken wrap. Well, hope you are not confused, and I can't wait for you to make this recipe.
Benefits of Red/Purple Cabbage:
The red cabbage has powerful nutrients than their green counterparts. In other words, while the green cabbage is nutritious, the red one is more nutritious. For instance, red cabbage is excellent anti-inflammatory food. Equally, it may help keep the heart healthier, as well as stabilizing blood pressure.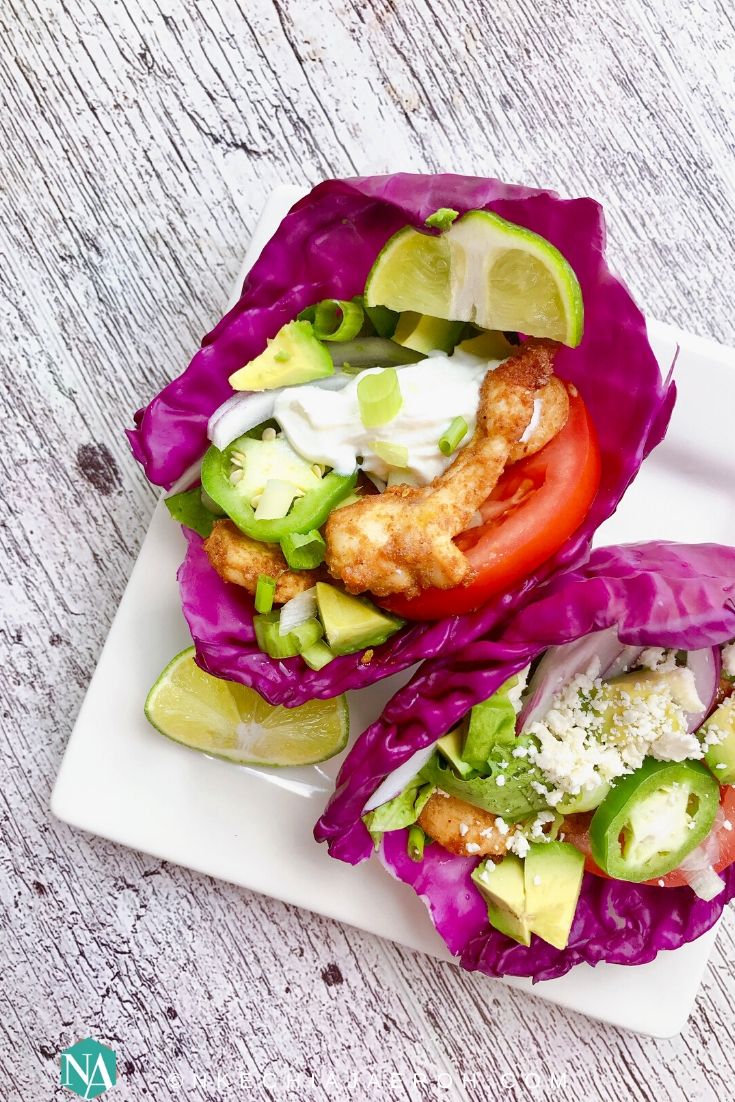 How to Make Red Cabbage Taco
First, wash and clean the cabbage, (always wash vegetables before use) Then gently separate the leaves, these are called "wraps." Second, make sure to dry the leaves/wraps with a paper towel. Finally, fill in your cabbage leaves with your desired vegetables and protein. You see? Easy peasy to make cabbage wraps. You can add whatever you want; this helps you to know what works better next time. With this red cabbage taco, you have the freedom to create. Yippee!
How to Serve Red Cabbage Taco
I love serving this with Nigerian Suya, which I love to make with some chicken breast. Though chicken is my choice of protein you use tofu or fish. Then I would add red onions, some lettuce leaves for a touch of greens, avocado, jalapeño, and some feta cheese. The truth is that you choose what you want to add to your red cabbage taco, period.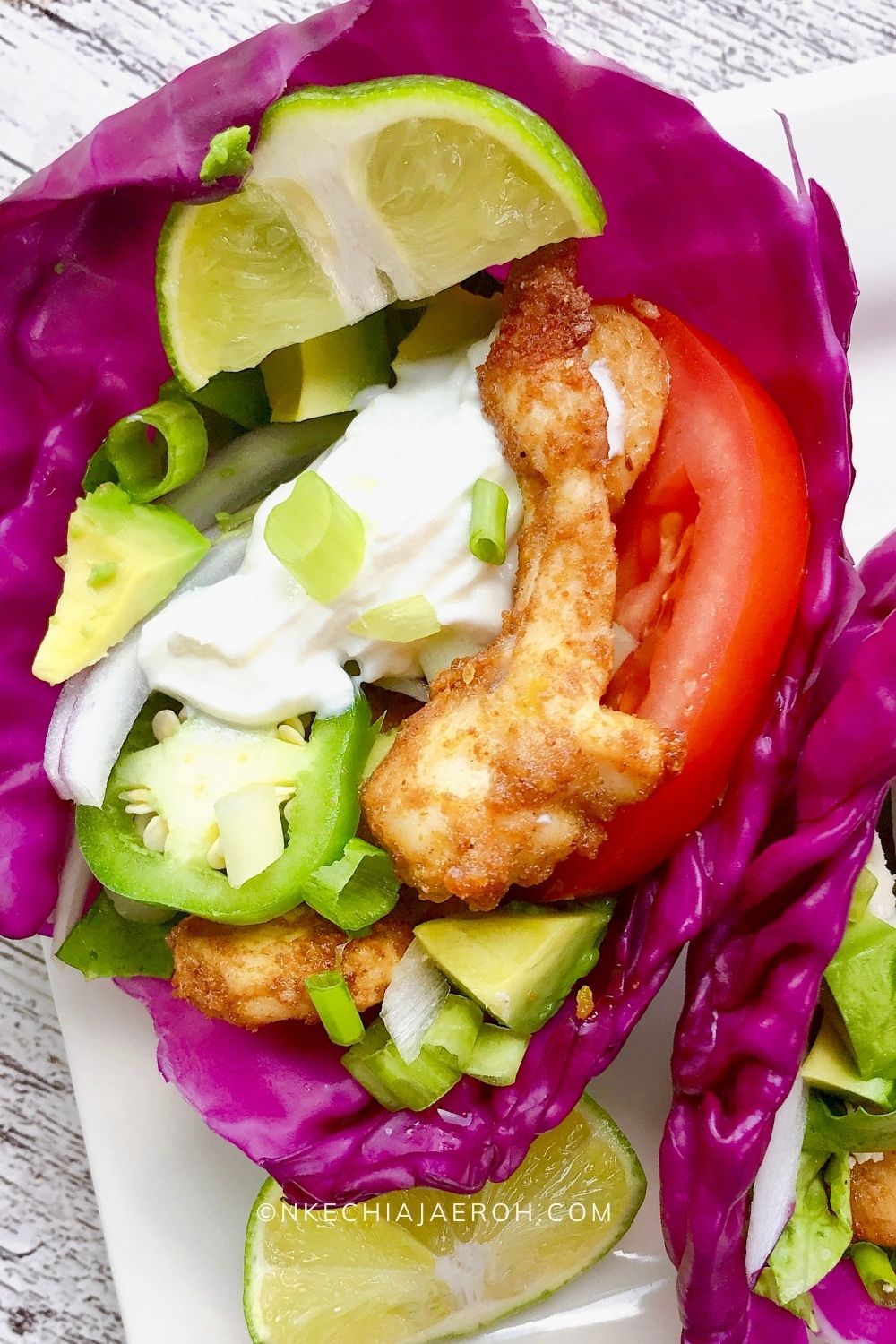 Print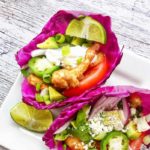 Low-carb Red Cabbage Taco
---
Author:

Nkechi Ajaeroh

Total Time:

20 minutes

Yield:

1

person

1

x

Diet:

Low Calorie
Description
Red cabbage wrap aka red cabbage taco is a great alternative to regular taco wraps.  This healthy red cabbage chicken wrap is low-carb,  easy and insanely delicious! You can easily make it vegan by not adding the chicken and cheese. This recipe is an incredible way to enjoy the rich taco flavors without the added calories. The best part about this low-carb  taco wrap is that I served it with the yummiest Nigerian Chicken Suya!
---
4

red cabbage leaves (or more; I would usually use

two

cabbage leaves for

one

taco wrap. And

4

leaves serve

one

person)

4

(already made) chicken breast suya skewers (you can sub with tofu, fish or even chickpea)

2

leaves of lettuce (cut)

2 tablespoons

green onions (chopped or cut)

½ cup

of sliced red onions

½

avocado
A dash of salt and black pepper

1

whole Roma tomato

1

Jalapeno (optional)

1

Lime

2 tablespoon

of light sour cream (optional)

1

-tablespoon feta cheese (optional)
---
Instructions
Remove some of the outer parts of the red cabbage, which I would refer to as the skin. Then gently pull out some leaves according to how many servings you wish to make. Wash thoroughly in water and use some paper towel to dry, then set aside and prepare the filling.
As per protein; sauté a chicken breast or use leftover that you already have. Alternatively, you can follow my instructions to make Nigerian Chicken  Suya.
Cut all the vegetables; lettuce leaves, tomatoes, red onions, green onions, jalapeños, avocado; check to see if you need to trim the red cabbage leaves as well.
To build the red cabbage taco, lay two leaves on a flat plate, then start by adding the green lettuce leaves, tomato slices, followed by every other thing. There is no right or wrong way to do this. Finish up with a dollop of light sour cream, Jalapeno, green onions, and feta cheese. And before you dig in, feel free to sprinkle a dash of salt and black pepper for an even escalation of all the flavors. Enjoy your yummy and delicious red cabbage taco!
Notes
Some of the cabbage leaves may seem too wide, it is ok to use kitchen scissors and trim them up.
This recipe serves just one person, multiple as you wish.
You can substitute Chicken with Tofu, or fish.
You can easily make it vegan by not adding the chicken and cheese.
Prep Time:

10 minutes

Cook Time:

10 minutes

Category:

Salad

Cuisine:

Universal
Keywords: Taco, Healthy Taco, Vegetable Taco, Purple Cabbage recipe, Healthy salad, Nigerian Suya Taco, Taco Leaves, Cabbage wrap, Red Cabbage chicken wrap, red cabbage wrap recipe, low calorie wrap
Recipe Card powered by
WANT MORE SALAD RECIPES?
THIS POST CONTAINS AFFILIATE LINKS, you are not charged more for using these links, but I make little coins when you do. Finally, let's connect on social media, am on Pinterest, Facebook, Instagram, and Twitter. I have also started my Youtube Channel, be sure to subscribe! Can't wait to see you there!
Thanks for stopping by! Please share this post with your family and friends! And don't forget to let me know when you make this recipe!
With love,