Nigerian Stew Recipe with Chicken and Beef
Nigerian stew is a classic red tomato stew that is spicy, tasty, and finger-licking good! This is a classic Nigerian dish (rather classic African dish), undoubtedly, one of the most famous Nigerian delicacies. This distinctive tomato soup is prepared and enjoyed differently by hundreds of ethnic groups in Nigeria and across Africa. Nigerian red tomato stew use goes beyond "white rice and beans." Generally eaten with white rice, it can also complement eba or garri (swallow), yam, and beans. Add a small amount to your egusi, Ogbono, or okra soup, and you will be on another planet (literally). How about bread, stew, or even red tomato stew on your macaroni/spaghetti? YUM.
Nigerian red tomato stew is savory, not sugary at all. Growing up, I have never seen my mother add sugar to her red stew o, lol, not all. I have also made my stews that way, which doesn't disappoint. Listen, expect a savory, spicy, flavorful, tasty red sauce you can put on anything, especially white rice!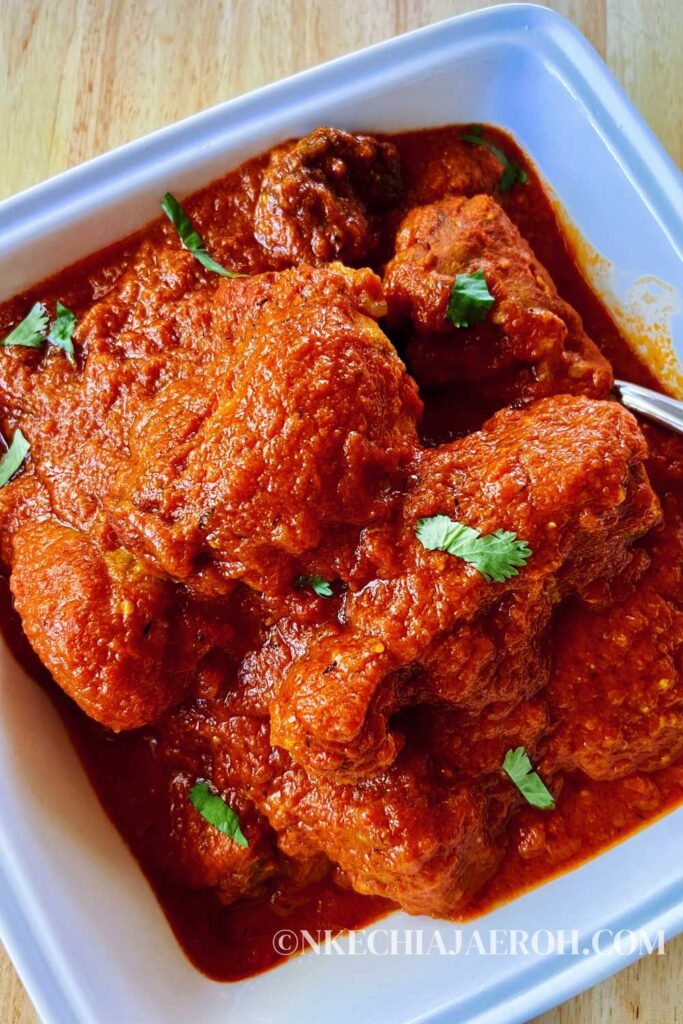 Why You Will Love This Nigerian Stew Recipe:
Nigerian stew, aka African stew, is versatile yet with a distinct taste.
Low-carb and keto-friendly. This tomato-based stew is gluten-free, dairy-free, and perfect if you are on a low-carbohydrate diet!
This Nigerian stew recipe is healthy, requiring primarily healthy ingredients.
Customizable. Nigerian red tomato stew is easily customizable. Make it to your preference. For instance, you can make it with only chicken, excluding beef. Or better still, make it with only fish. On the other hand, you can reduce the quantity of chicken and beef to suit you and your family.
Put this Nigerian tomato stew on anything- white rice, beans, dip your bread in or add some to your okra soup. YUM
9ja stew is perfect for the holidays. I love making this African stew recipe during Christmas, Easter, and other special occasions. It really elevates my dinner table!
This recipe for Nigerian stew is one and done! With this recipe, I make this stew only three times a year because it makes a lot of stew that lasts up 4 months. With an actual job, family, and the busyness of life, I still have 9Ja stew in the freezer all year round!
Finally, this Nigerian Stew recipe is authentic, tasty, and finger-licking good!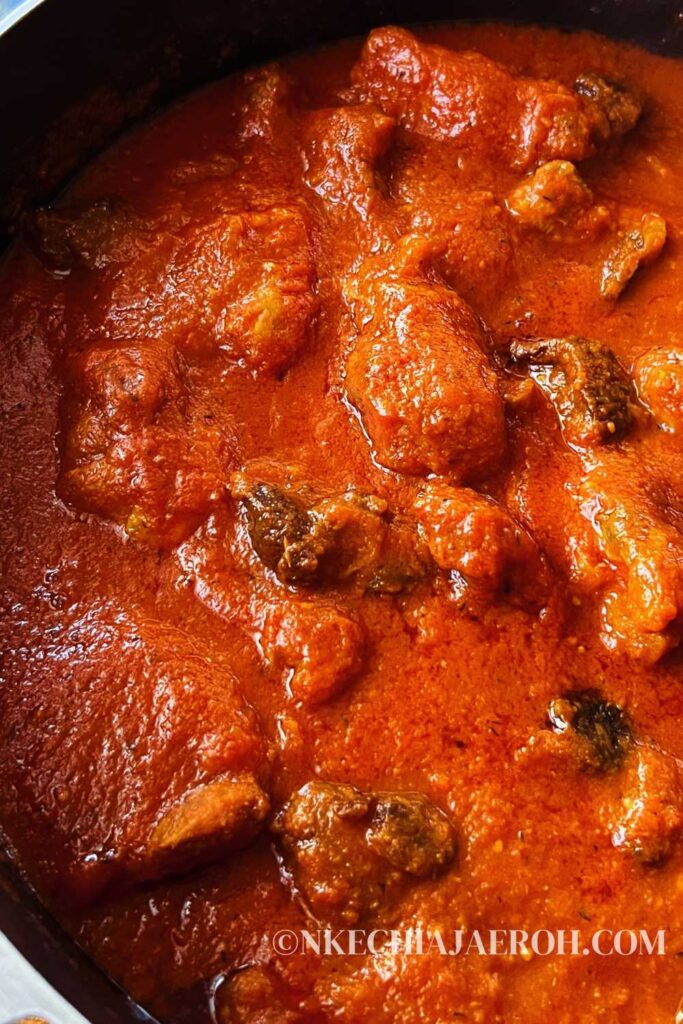 BEST Nigerian Stew Recipe!
Nigerian stew is the first class of everything red sauce; in other words, there is nothing like it because it sets the bar very high. The basic of any Nigerian stew is fresh tomatoes, fresh pepper, onions, and garlic, and so to me, those things are non-negotiable when it comes to preparing this dish.
An exceptional indulgence, classic, flavorful, and insanely tasty, Nigerian stew is versatile yet with a distinct taste. It indeed makes every dish come to life with its vibrant red tomato color—a must try for your rice, beans, and…
Click To Tweet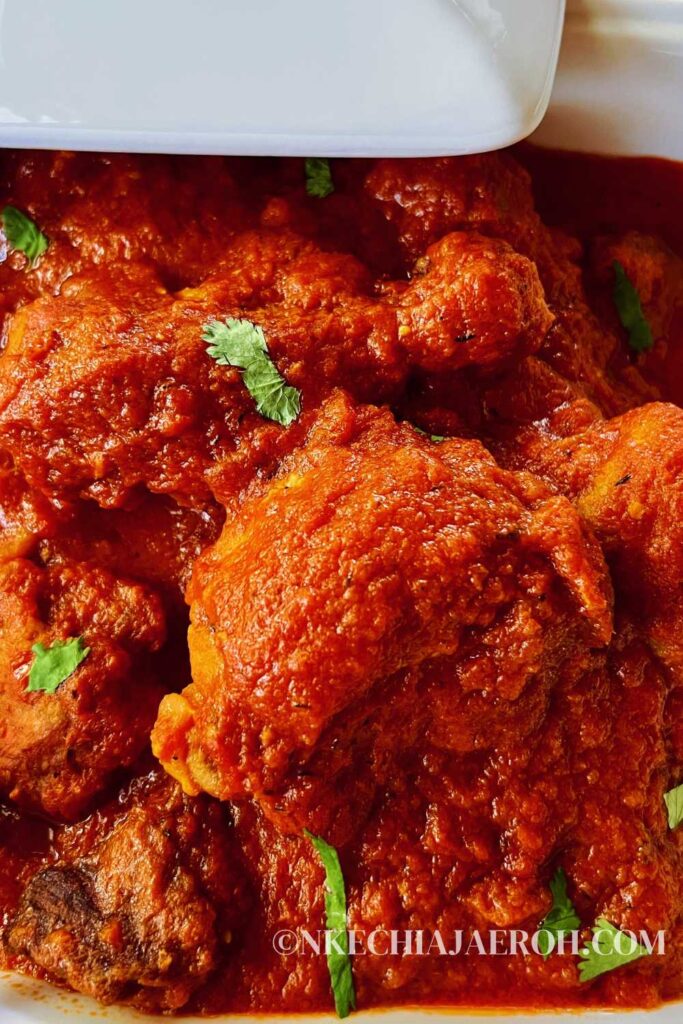 Main Ingredients for Authentic Nigerian Stew.
Fresh Tomatoes
Tomato originated in South America, technically a fruit, they are a good source of antioxidant. Vitamins K, C, potassium, and folate. Some health benefits of tomato include the promotion of heart health, and skin health, also, studies have shown the link between tomato and low incidences of certain cancers. Therefore, tomatoes are a must for this recipe!
Bell peppers.
On the other hand, fresh bell peppers are equally significant source of vitamins and minerals. Like the tomato, bell peppers are said to have originated from South and Central America. For this dish, I love using different colors of bell peppers including the green ones. Bell peppers are enriched with vitamins A, B6, C, E, and K1, as well as folate, potassium, etc., these peppers are particularly useful for the prevention of anemia; it helps with absorption of iron in the body. Additionally, red peppers play a significant role when it comes to eye health. This is because the compounds found in bell peppers can protect the retina from oxidative damage among other things.
Onions.
Generally speaking, onion is an essential component of this dish, and it makes it more delicious and nutritious. In the meantime, here is the list of what you gain by eating lots of onion: great for the bone, regulates blood sugar, and reduced risk of certain cancers. Some of the vitamins and minerals found in onions are vitamins C, B6, folate, and potassium. As well as other compounds such as anthocyanin, thiosulfinates, and other compounds. In addition to everything listed, you will need garlic, oil, spicy pepper or habanero, tomato paste, herbs, and spices! Go to the recipe for the complete list of ingredients.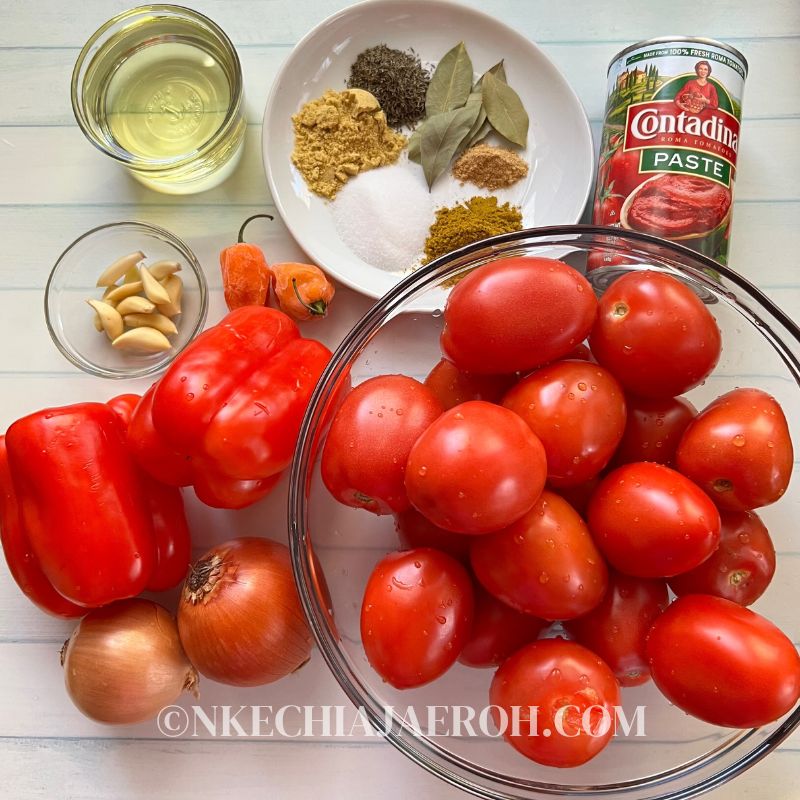 Do you Add Chicken Broth/Stock to Nigerian stews?
Yes! Chicken broth adds flavor, taste, and overall deliciousness to your Nigerian red tomato stew. Seasoned chicken broth or stock is essential to make Nigerian or African stews. Without chicken broth or chicken stock, I suggest beef broth. Usually, I use homemade chicken broth, which is so easy to make. Use this recipe here!
In the absence of broth, you can obviously use water. Below is a photo of the chicken broth I use in the tomato stew.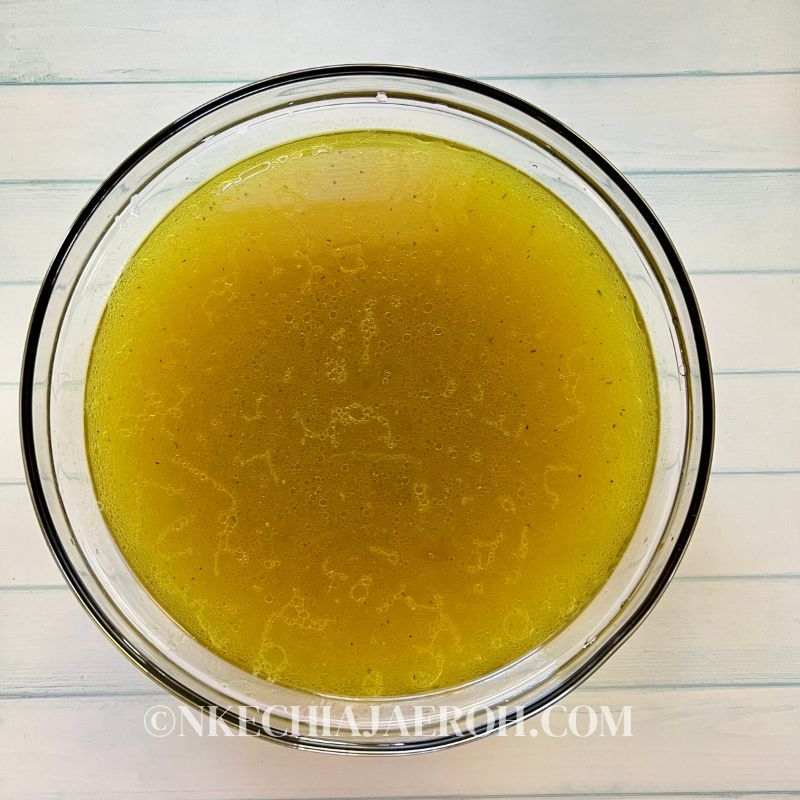 HOW TO MAKE AUTHENTIC NIGERIAN TOMATO STEW
Here is how I generally make my Nigerian red tomato stew (as passed down to me by my mother), obviously with a few tweaks and changes.
Make the Meat

Boil and air fry chicken and meat; set aside. This recipe calls for frying the meat. However, I air-fry the chicken and beef these days using my air-fryer. These chicken and beef were air-fried not fried.

Prepare the Tomato Blend

Add tomatoes, onions, fresh bell pepper, and garlic to the blender and blend. Set aside.

Make the Stew

Place a clean pot on the stove, and set your stove to medium-high. Add oil, allow to heat up, then add onions. Sauté onions until translucent. Add the tomato blend, and cook until done. Season, taste, and adjust flavors. The length of time will likely depend on the amount of your tomato blend. Add the fried (or air-fried) meat when the stew is almost ready. Go to the recipe card for a detailed step-by-step process + a video of making this Nigerian stew recipe.
How to Serve Nigerian Stew.
I love this classic red tomato stew and am optimistic you would too. There are plenty of ways to serve this tasty sauce; first on the list is ultimate white rice and stew. Please take a look at the photo below before we continue. Tell me that isn't gorgeous. Listen, that plate was a WINNER!!! When it comes to entertaining your guest, this stew never disappoints.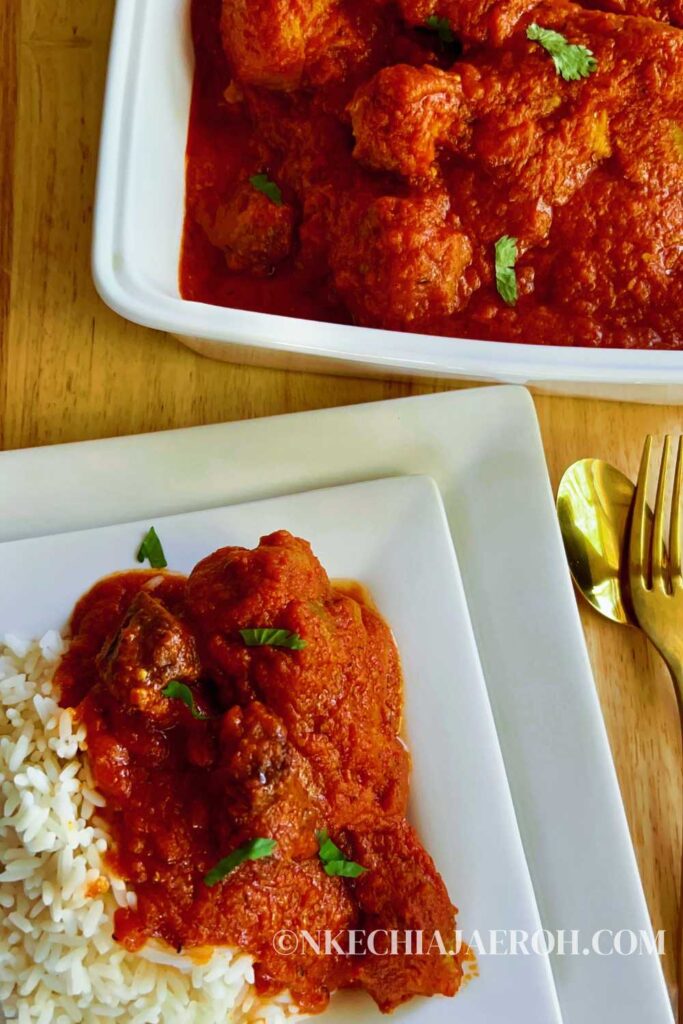 Nigerian Moi-moi and Nigerian stew.
Without question this stew makes everything better, and when you serve it with some yummy moi moi, then you will know!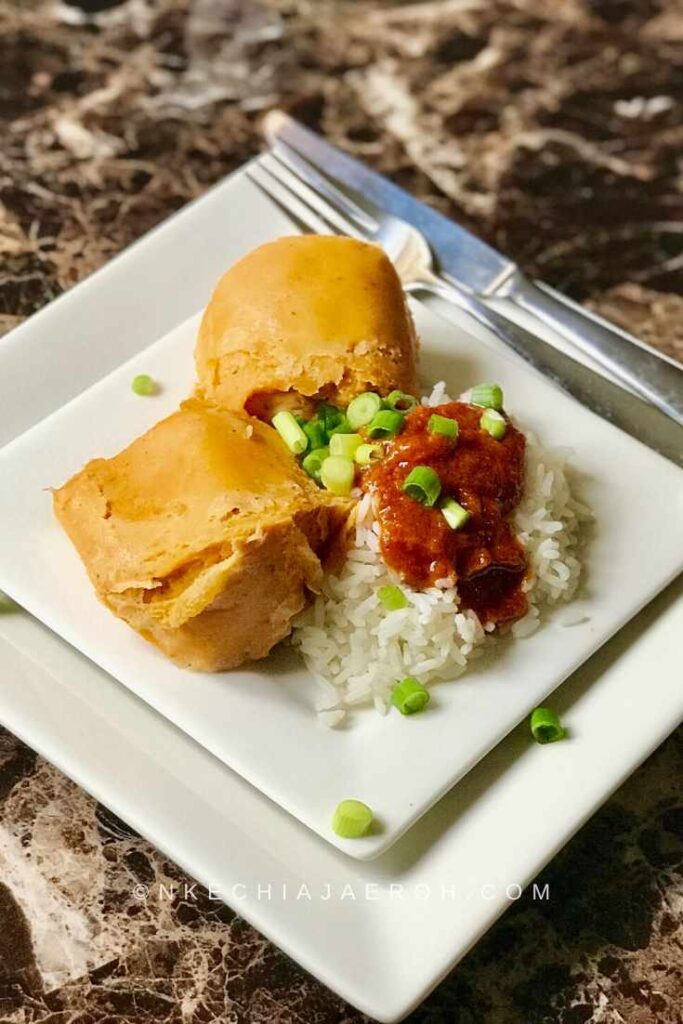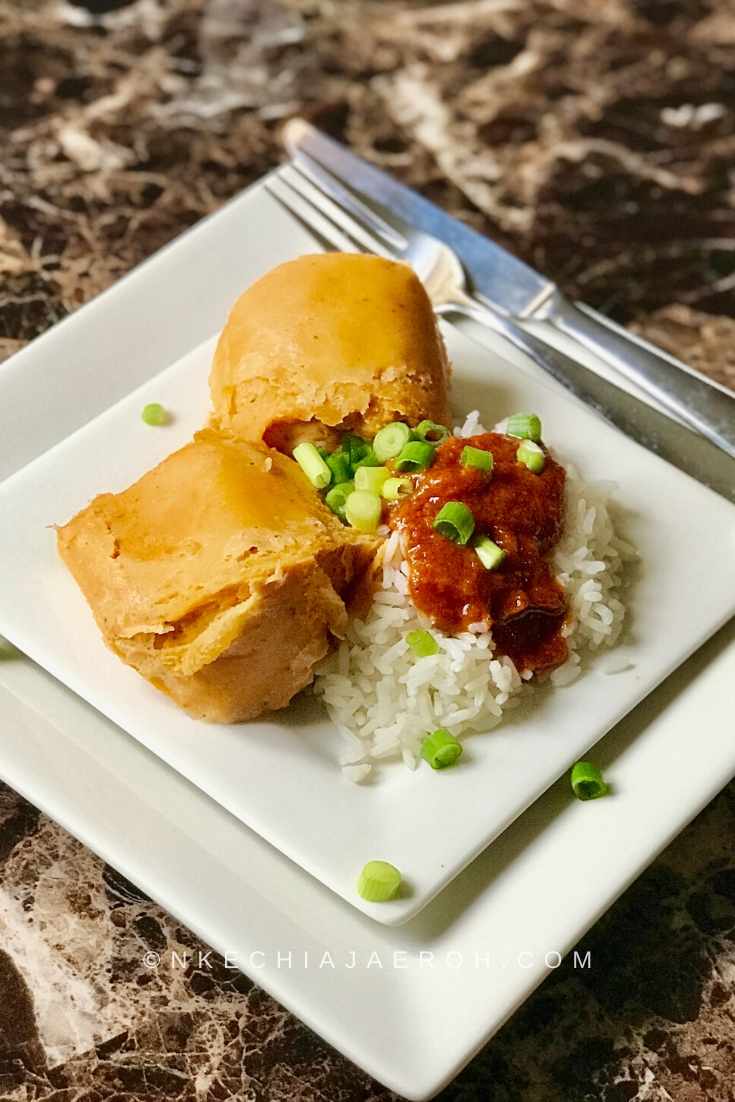 Black-eyed Peas Porridge
This stew compliments Nigerian beans porridge really good!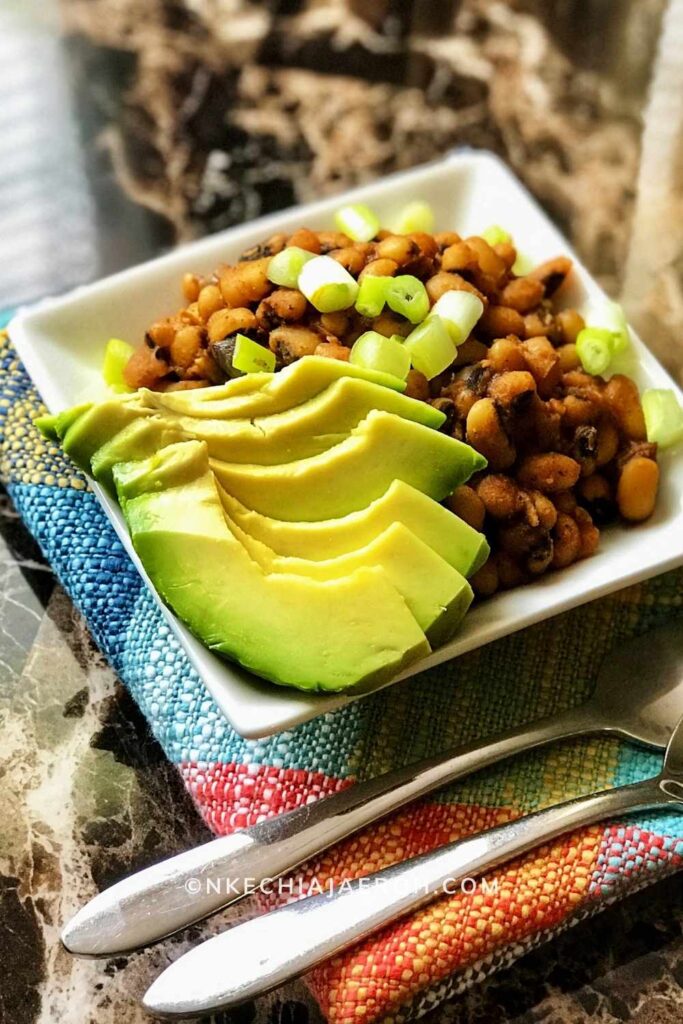 Can I Batch Cook Nigerian Stew?
YES! You should absolutely batch cook Nigerian stew and other Nigerian soups and sauces. Listen, days have gone when our mothers sleep in the kitchen making fresh dinners every night!
There are several reasons why I like batch making this recipe. First, it offers me the opportunity not to cook African stew every Sunday. Who doesn't want that?
I only make stew 3-4 times a year with this recipe! And occasionally, I cook some rice, yam, spaghetti, or anything else to pair them. But you do not have to make new red stew each time. In reality, this is one of those dishes I would encourage you to make tons of it ahead of because you will need it.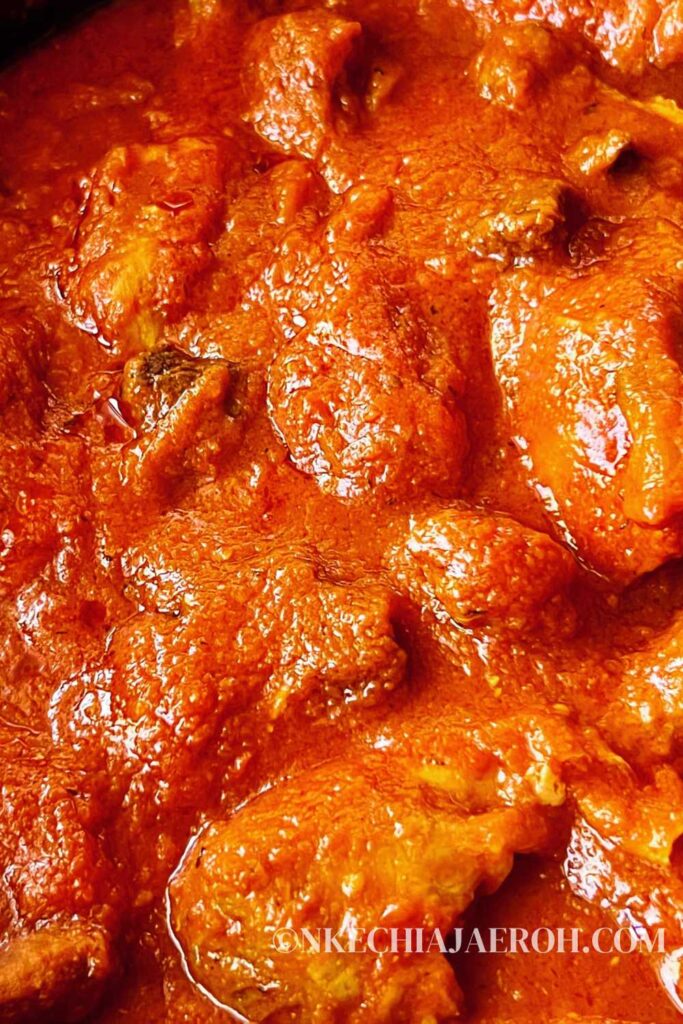 What Meat is Best for Nigerian Stews?
Any meat would be great in a Nigerian stew recipe. Chicken, beef, oxtail, goat meat, lamb meat, and fish are all fantastic for making Nigerian stew. Hence, we have Nigerian chicken stew, Nigerian goat meat stew, Nigerian fish stew, and Nigerian stew with oxtail or lamb meat. The versatility is endless; however, I suggest using the meat you already enjoy (I mean the protein you already eat and enjoy). If you do not eat meat/fish, no worries; use mushrooms.
The bottom line is that you can make Nigerian red tomato stew with any meat, fish, or choice! On the other hand, you can mix it up, as I did just by using chicken and beef and giving this stew the fantastic flavors from both chicken and beef!
Listen, this authentic Nigerian stew with chicken and beef is worth trying!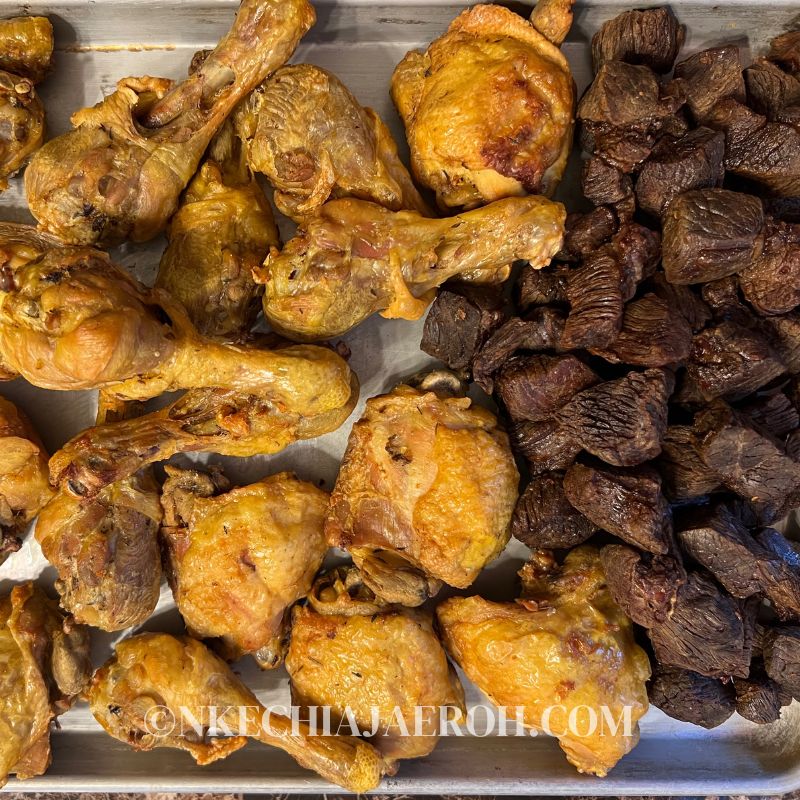 Are you ready to slay your stew? Let's do it!
HOW TO MAKE AN AUTHENTIC NIGERIAN STEW (Step-by-Step):
Print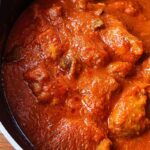 Nigerian Stew: How To Make A Classic Red Tomato Stew
---
Author:

Nkechi Ajaeroh

Total Time:

1 hour 40 minutes

Yield:

21

servings+

1

x

Diet:

Gluten Free
Description
The basic of this stew is fresh tomatoes, fresh bell peppers, and onions. These fresh vegetables compliment each other to give this stew a distinctive taste. You can serve Nigerian red tomato stew with white rice, beans, or even add a dollop to Nigerian moi-moi.
---
Chicken, beef or any other meat of choice. I used up 7 lbs of chicken and 3 lbs of beef

18

–

20

medium-size plum tomatoes (note: you will have about

12 cups

of tomatoes/peppers blend after blending the fresh tomatoes, bell peppers, onions, and garlic).

2

big red bell peppers

2

habaneros. 

2

big bulbs of onions; 1½ for the blend; ½ for sautéing

5

cloves of garlic to add to the blend

13

(oz.) or

340g

canned tomato paste

2

pair of knorr cubes or

1 tablespoon

of knorr bouillon powder

3

cubes of Maggi or another 1 tablespoon Knorr Bouillon powder  

1 cup

of peanut oil (for this amount of stew you do need up to this amount of oil)

2 tablespoon

of salt (or less. Always add salt according to your taste/health need)

1 tablespoon

of curry powder

1 teaspoon

of (Nigerian) ground red pepper or any Chili peppers

1 teaspoon

of dry thyme

1

-teaspoon nutmeg

4 cups

of homemade chicken broth or store bought broth

1 cup

of water (optional but necessary)
---
Instructions
Boil, and fry chicken and beef meat; set aside. You can air the chicken and beef after boiling if you have an air fryer!
Add tomatoes, onions, fresh bell pepper, and garlic in the blender and blend away. Ensure that the blend is up 12 cups (wow, that sounds like a lot; yep!) Cut/slice the other half of the onion and set aside.
Open the can of tomatoes paste, put it into a bowl and add 2 cups of chicken broth, mix well and set aside.
Place a clean pot on the stove, set your stove to medium-high. Add oil, allow to heat up then add 1 teaspoon of salt and chopped onions. Sauté onions until translucent, about 3-5 minutes depending on the quantity. After the onions are ready add the tomato blend, give a good stir and place the lid on the pot.
Allow to cook for about 20 – 25 minutes depending on the quantity of the tomatoes. Ensure to stir every 5-7 minutes as it is cooking to avoid burning; also, lower heat before opening the lid to avoid hot splashes.
After the said time, stir very well, and add the remaining ingredients: the already mixed tomato paste and chicken broth, ground red pepper, dry thyme, nutmeg, Maggi, and Knorr cubes, curry powder, and the remaining salt, mix very well and cover the pot to cook for another 25-30 minutes.
Add the remaining 2 cups of chicken broth after the said time, and stir again. You may also add additional one cup of water if you do not wish to have a very thick stew. Cover, turn the heat up to medium and allow to cook for 10 more minutes.
After 10 minutes, reduce the heat, and open the pot; then gently add the already fried chicken/meat. Ensure that the chicken/meat and stew combines very well, taste for flavor (and add more so salt, pepper or Maggi if so desire.)
Allow to simmer for additional 10 – 12 minutes on low – medium heat, and your Nigerian tomato stew is ready. Serve with rice or any other thing.
Notes
Always add salt to your preference.
I do not add crayfish to this very Nigerian stew. But you can add if you wish. 
Total cook time does not include the time used to prepare the meat.
I suggest preparing your chicken/meat ahead of time (chicken preparation includes boiling and frying or air frying). Instead of frying the chicken/meat, you could bake or air fry. My favorite way is currently air frying the chicken/meat after boiling. Also, use amount of meat you want.
See this recipe card as a guide; this video shows how to make this Nigerian stew from scratch. However, feel free to tweak it to make your preferences or diet choice.
You can use any meat of your choice. 
Finally, you can make a small amount of stew. I only batch-make it, so I make this stew 3-4 times a year! Feel free to reduce to suit your situation.
Please remember that cooking involves making decisions and using what you eat/enjoy! 
You can add your favorite herbs, spices, and condiments to this stew. For instance, I used plum tomatoes; you can use another type of tomatoes. 
Prep Time:

20 minutes

Cook Time:

1 hour 20 minutes

Category:

Entree

Method:

Stove top

Cuisine:

Nigerian
Keywords: Nigerian Stew, Nigerian Tomato Stew, Nigerian Chicken stew, Nigerian style chicken stew, Nigerian tomato and chicken stew, Quick and easy Naija Stew, Nigerian sauce, Chicken sauce, African stew, African food, Nigerian stew for white rice, Ghana stew, Stew recipe
Recipe Card powered by
SHARE THIS POST, then go ahead and check out other Nigerian inspired recipes, such as:
Party-Style Nigerian Basmati Jollof Rice.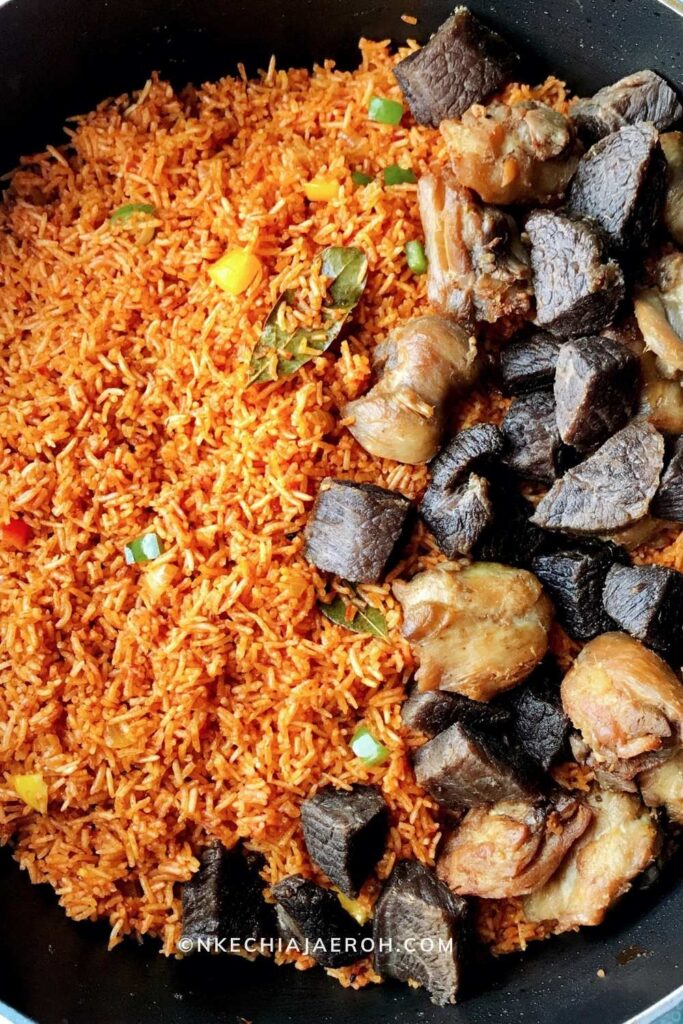 Authentic Okra & Ogbono Soup Recipe (Naija Style)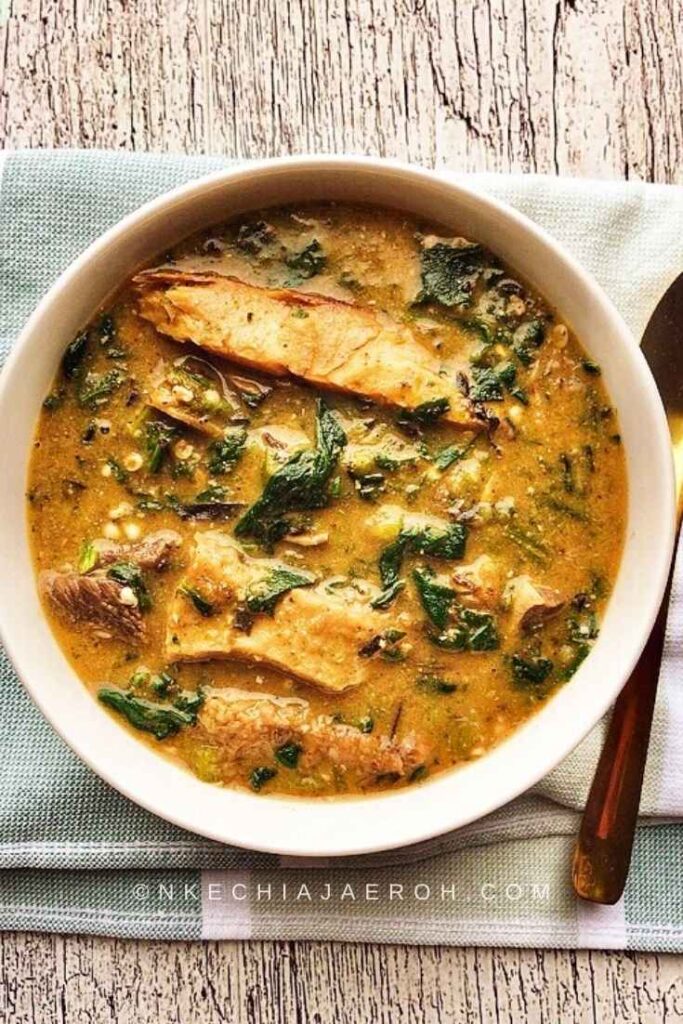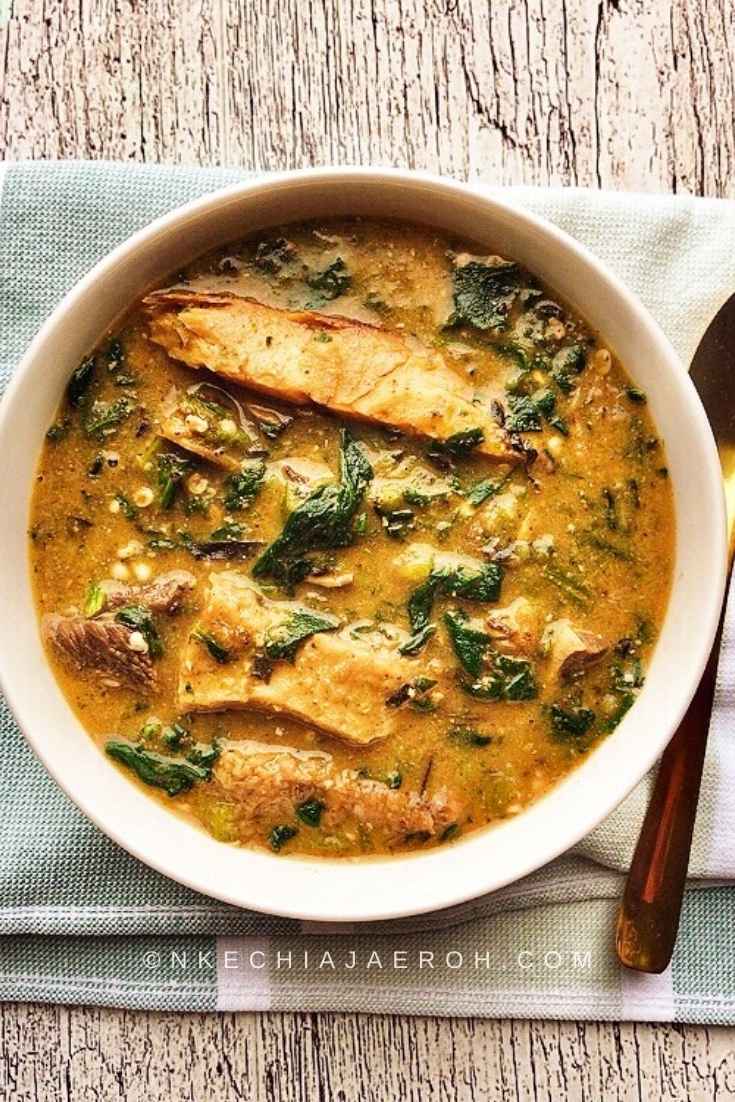 The Best Nigerian Fried Rice Recipe.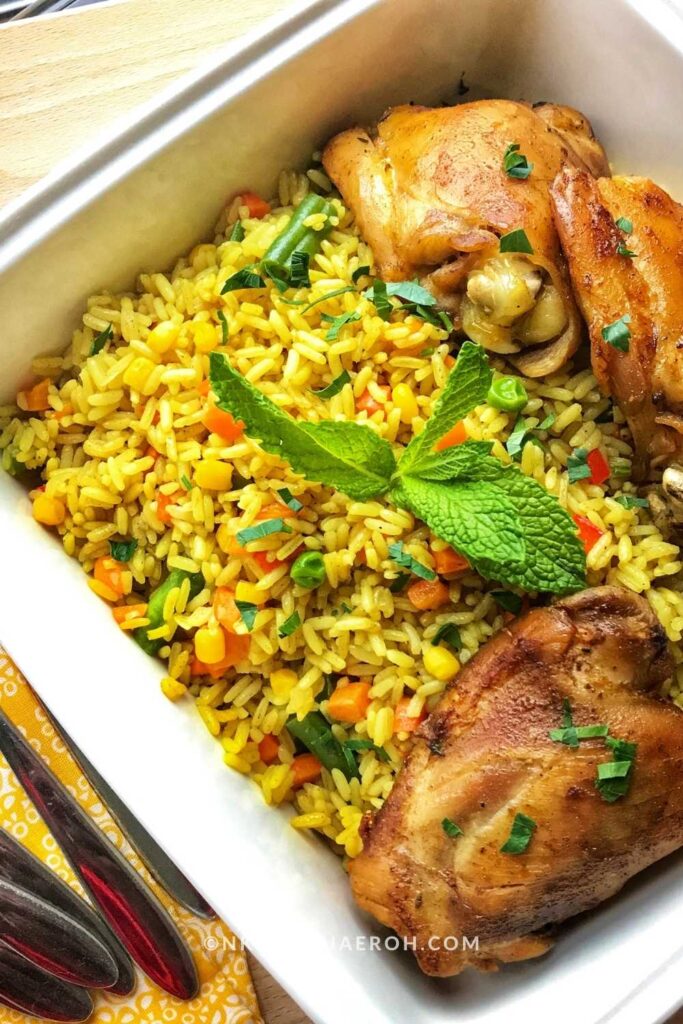 Want More Nigerian Food to Try? Here you go!
As well as healthy breakfast recipes such as Coconut milk oatmeal, avocado coconut smoothie, and healthy banana oatmeal waffles.
Finally, let's connect on social media, am on Pinterest, Facebook, Instagram, Twitter, and YouTube. If you like video recipes, then be sure to head over to my YouTube Channel. Share this recipe post, and SAVE/PIN THIS IMAGE ON PINTEREST! ⤵️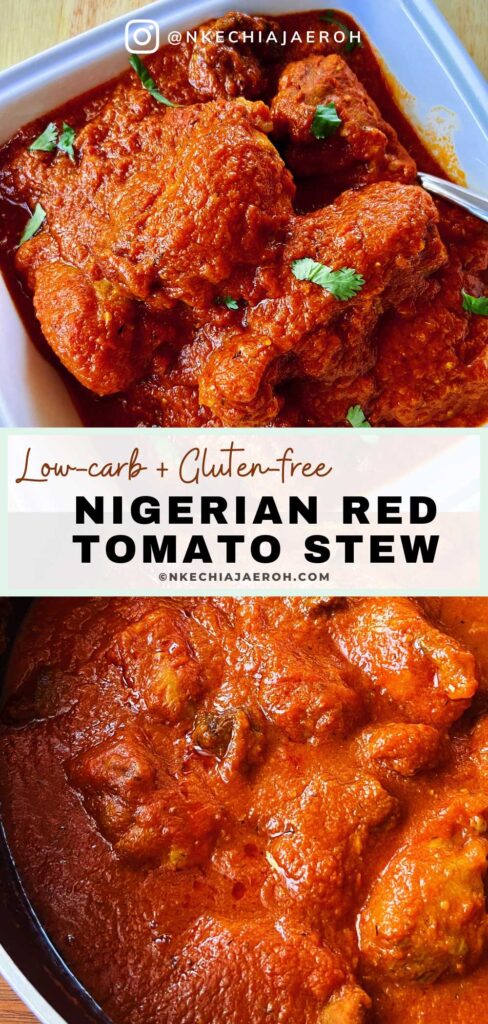 THANKS FOR STOPPING BY! Stay well, safe and keep cooking!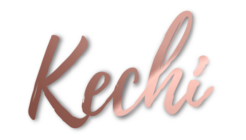 THIS POST CONTAINS AFFILI ATE LINKS, you are not charged more for using these links, but I make little coins when you do.