Clap it up for okra!
Okra soup is one of the most popular Nigerian soups. Most of the ethnic groups we have in Nigeria have a thing for okra. In other words, it isn't a kind of soup reserved for one particular ethnic group. I grow up eating okra, and I loved it. As a kid, sometimes my mother will cook okra and ogbono together, and for today's recipe, I am recreating my mother's okra and ogbono soup recipe. Okra is generally the best Nigerian soup that most Nigerian parents use to start their kids on the part to eating traditional Nigerian soup and swallow.
Swallow is a process of eating soup with some paste. Usually, this paste such as (pounded yam or yam flour, garri, akpu or cassava flour, and oat fufu) is dipped into the soup and then swallowed. Additionally, okra and ogbono soup are natural to eat and likewise gentle with the tummy.
Soup = Superb in Nigeria.
In Nigeria, is not unusual to see different kinds of meat inside a pot of soup; for instance, a bowl of okra soup may consist of beef, beef tripe, oxtail, cow feet, goat meat, fresh fish, dry fish, smoked fish, and so on. The list is endless; I guess we cook extraordinarily and we derive joy in doing so. So for this very soup, I will be adding and using different parts of meat. Skip the meat if you are vegetarian, and I encourage you to swap the meat to your preference if you do not like a particular part of the meat that I will be using today. And if you particularly prefer light and lovely recipes, I got you😊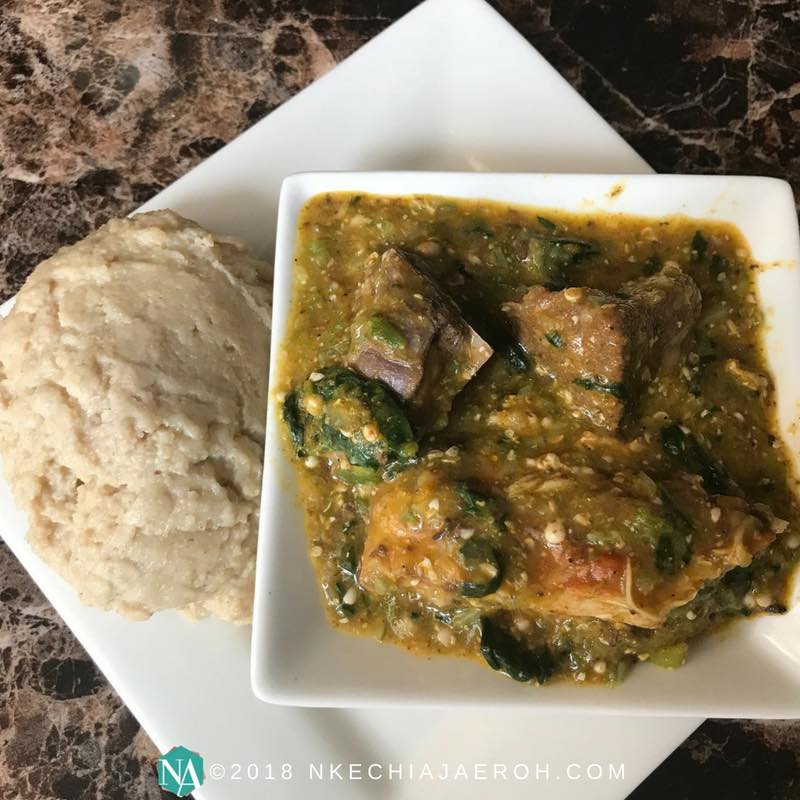 Celebrate your okra creations.
Okra is full of high-quality fiber, which aids in digestion and can stop constipation. Okra is an excellent source of protein; who would have thought!? Click To Tweet
Low in fat and sodium, therefore it can help you improve your cholesterol health. Ogbono at the same time is a dry seed of edible fruit popularly eaten in Nigerian. If you haven't noticed, most Nigerian soups require thickeners, which are usually seeds ( mostly in ground form). In case of this soup, alongside frozen okra I will also use ogbono; it will help the thickening process. Okra and ogbono combo are a match made in food heaven; it combines the freshness of okra and on the other hand the magic-ness of dry ground ogbono seeds. Both tend to draw very well; when used together produces one of the best soups from Nigeria.
Okra Memories wouldn't go away.
As a kid, we would eat okra with anything, like anything. Sometimes at my house, we would eat okra with rice or yam. In reality, it is naturally eaten with cassava flour, pounded yam or yam flour, garri or oat fufu. In other words do not be afraid to celebrate your okra creations. Own it, make and eat it your way!
Okra and Ogbono here we come:
How To Make Easy Nigerian Okra And Ogbono Soup With Spinach Leaves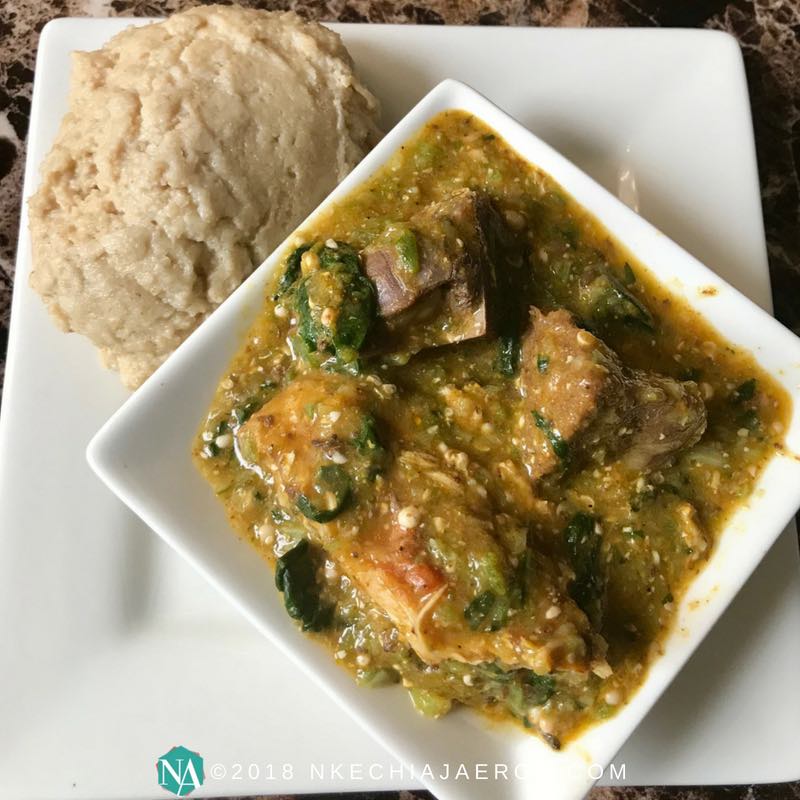 This soup is generally served with Fufu (cassava flour, yam flour, garri or oat-fufu). In the photo above okra and ogbono soup is served with oat-fufu.
Ingredients
2 lbs. of beef or more (as you desire)
1 lb. of goat meat
2 lbs. of cow feet
Dry fish; wash and set aside (about 1 lb. or less. I use generally use Kuta or Kuni dry/smoked fish for the majority of my Nigerian soups).
One big bulb of onions (quartered; use for cooking meat)
1-tablespoon salt (for cooking the neat).
1 tablespoon Knorr seasoning powder or 4 cubes of Maggi (for cooking the meat).
4 (12oz) bags of frozen okra (roughly blend with a blender).
1 (12oz) bag of frozen spinach (remove from the spinach to thaw)
2 tablespoons of Lante leaves (optional)
1 teaspoon Nigerian red pepper
1/3 cup of palm oil
¼ cup of ground ogbono
1 additional Maggi cube
¼ cup of ground crayfish
Additional 1-teaspoon salt (optional)
7 cups of broth from all the meat.
Instructions
For Precooking/Boiling the meat

Add all the meat to a clean pot (I prefer to cook the goat and beef separate from the cow feet because the cow feet takes the longest to cook.
Add water until it is well over the meat.
Add quartered onions, a tablespoon of salt, a tablespoon of Knorr powder or 4 cubes of Maggi seasoning.
If you are cooking the meats separate, remember to distribute the onions, salt, and seasoning among the meats.
Cover the pot, set the stove to medium to high and cook all meat until tender and set aside.
For the soup

Set a clean pot on the stove and set your stove on low
As soon as the pan warms up add palm oil
Allow the palm to melt, then add ground ogbono and stir
Keep stirring gently up to the 1-2 minutes to dissolve all the ogbono
Then gently add the stock (about 7 cups or so; all the broth from cooking the entire meat.)
Then stir in all the meat and fish, and cover the pot. Allow cook for about 7 minutes.
Stir in between cooking to avoid burning.
Now add the other ingredients: pepper, crayfish, one cube of Maggi and stir everything together. Cover the pot and continue to cook for about 7 minutes.
Then gently stir in the roughly blended okra. Make sure it is well distributed, cover and keep cooking.
Stir the pot within intervals of 3-5 minutes to ensure that the soup is cooking evenly and avoid burning of any sort.
After 7 minutes of adding the okra, stir in the spinach (I would usually squeeze water out of the spinach before adding)
By this time your soup is looking yum just like the photo above. Please taste it to make sure all the ingredients combined very well. You can decide to add the additional salt or Maggi to satisfy your taste bud.
Allow it to simmer for another 3-4 minutes, and your yummy okra and ogbono is ready!
Serve with Fufu, Garri pounded yam or oat Fufu or just eat a bowl by itself. Today I serving this soup with oat-fufu.
Notes
You may need additional salt or Maggi seasoning if you are not using the broth from the meat as described above or if you choose to use water. The same goes if you are using a diluted stock. Add extra time to cooking the cow feet; it takes about 2-3 hours to make them tender unless you are using a pressure cooker. As you cook the cow feet the water will continue to decrease, keep adding water as you go. You will need this water as it becomes the base for the soup. Ensure always to precook your meat to tenderness before you start making your soups. Taste the soup as you go along to make sure it is coming together well.
https://nkechiajaeroh.com/nigerian-kitchen-plus/how-to-make-easy-nigerian-okra-and-ogbono-soup/
© 2018 NkechiAjaeroh.com All Right Reserved.
Do you eat okra soup? How do you make them?
One more thing: Please share this post out.
If you enjoyed reading about this recipe, then you will love all the awesome things I share with my community. Join our kitchen table here right now and receive a fantastic gift! Get other recipes in the Nigeria Kitchen category here.
With love