Cooking beans cannot get easier than this.
No sautéing.
No caramelizing.
No stir-frying.
No stewing.
Just add your beans and ingredients in one pot, add water, cook, and just like that beans is ready.
First and foremost I grow up in Nigeria, so, eating beans is not News. Like, I ate a lot of beans growing up, I mean a lot of beans! It is hard to remember any single week that passes without eating beans in my house. My family like most Nigerian families cherished its existence. A staple food in most households, beans brought beams of smiles to hungry faces. Besides its tastiness, the majority of Nigerians are creative beans eaters I can confidently say; some people eat with rice (which I love BTW), some with bread, yam, and some also would add avocado (which I adore).  In Nigeria, most families eat more beans and less meat.
On the other hand, there is this misconception that beans take forever to cook. Though there is some truth to that, I am here today to help you enjoy this delicacy like a pro. Dump in your already washed beans, and all ingredients into your pot, cover to cook and continue with your busy life, well, just make sure you keep your lovely eyes on the beans.😃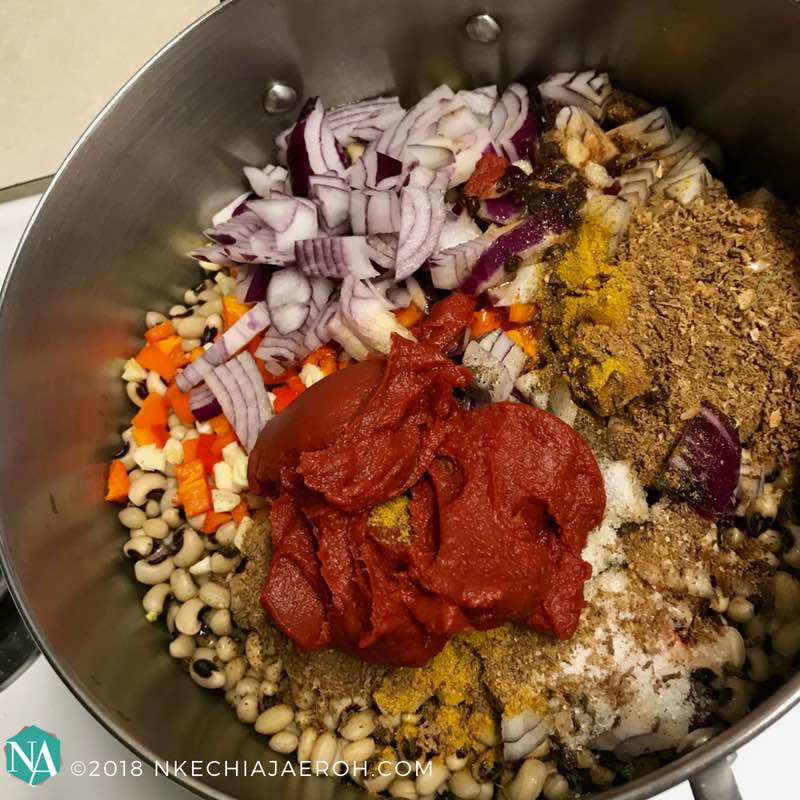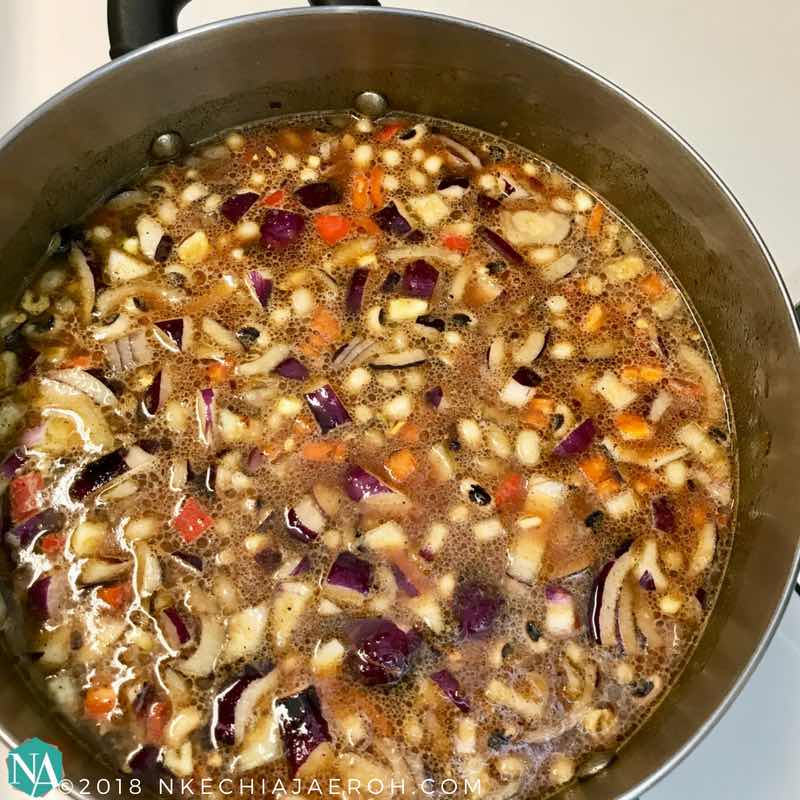 Let us break it down.
Generally, beans are a fantastic way to fill up on fiber; and they are easily affordable so you cannot beat that. Secondly, beans are made up of high-quality protein, and they are also vegetables as well. What? Well, YES! They are.
Unless you are allergic to this product or you do not like the taste, I definitely would encourage you to bring on the beans.
As you know, there are different kinds of beans such as black beans, black-eyed peas, navy beans, pinto beans, kidney beans, brown beans, etc., plus additional ones I have not mentioned. In other words, there is much variety of this food so choose your type. For this very recipe, I will be using black-eyed peas, which is one of my favorite kind of beans.
Benefits of a delicious bowl of beans.
Are you ready for all the nutritious-ness a bowl of beans of brings?
Firstly, if you are eager to lose weight, then beans is your buddy. Because it has low-calorie and it contains mostly protein and fiber, both of which are very helpful for weight management.
Secondly, beans are said to promote good heart health. It can lower cholesterol.
Additionally, beans can help to counter type-two diabetes as it can help to decrease blood sugar insulin.
Noteworthy: It is also important to realize that beans have had its share of drawbacks; from certain beans causing bloating and flatulence to some people among other things. It is essential to read beyond food labels and ensure that your beans product is fully cooked and prepared correctly.
After one and half hour of cooking, this meal is ready, then serve it up MANY WAYS! Yum.😋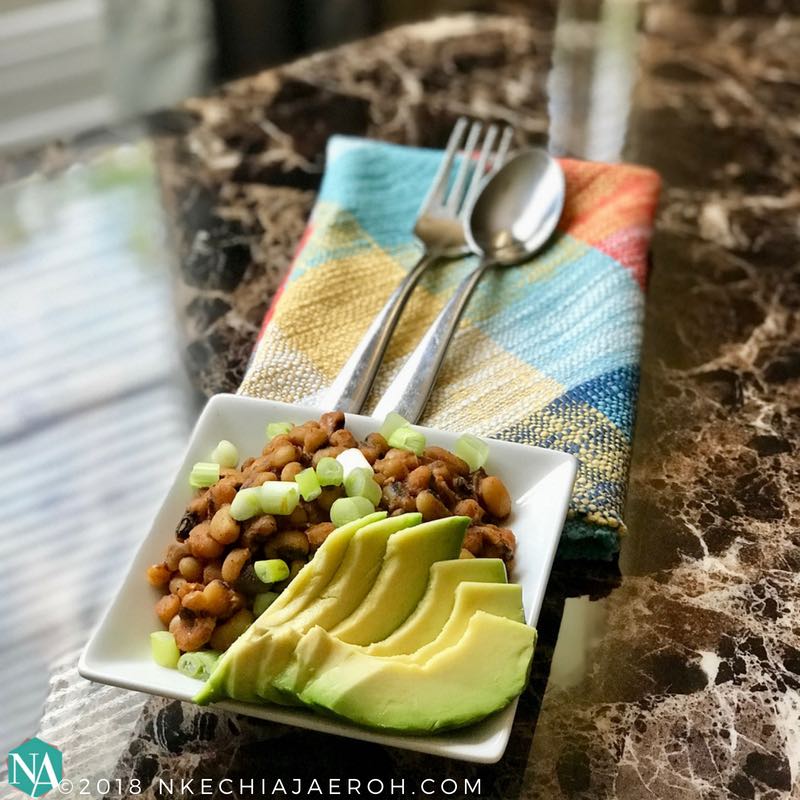 Or… pair it with rice!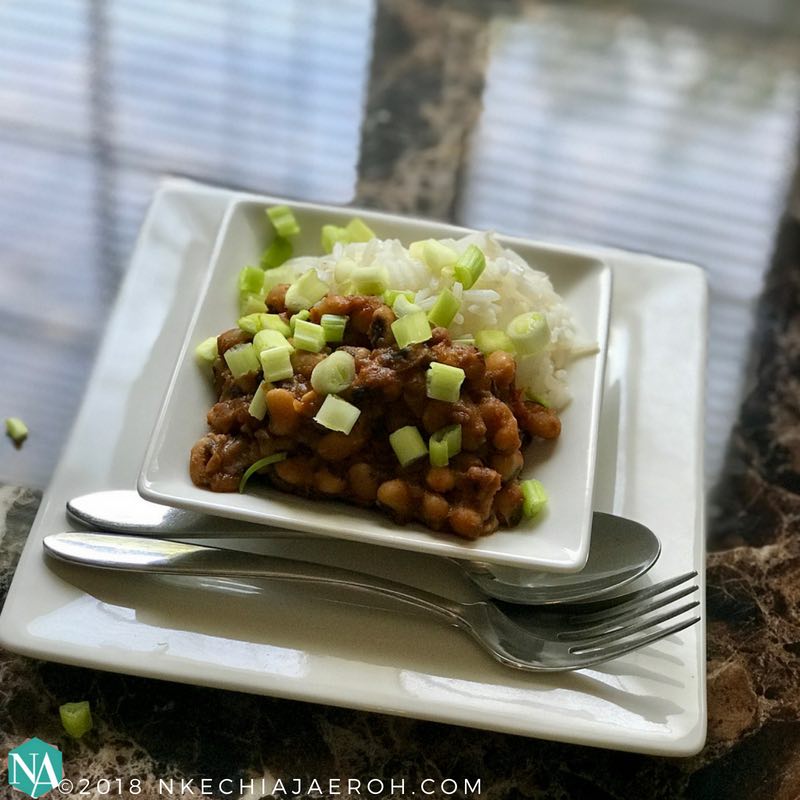 C'mon let's eat!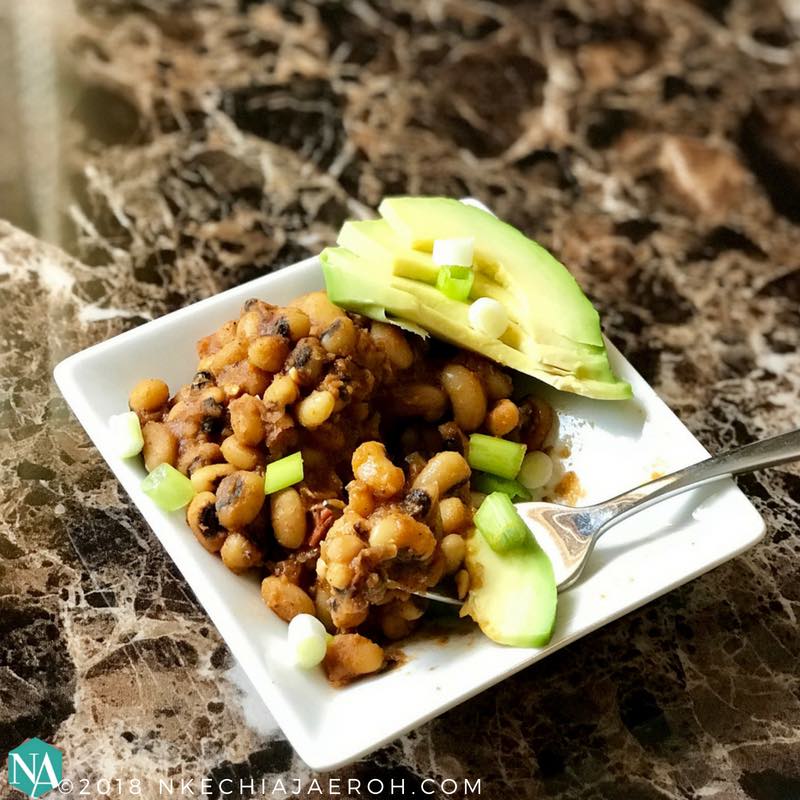 Are you ready to bring it on with beans? Let's go!
Save to BigOven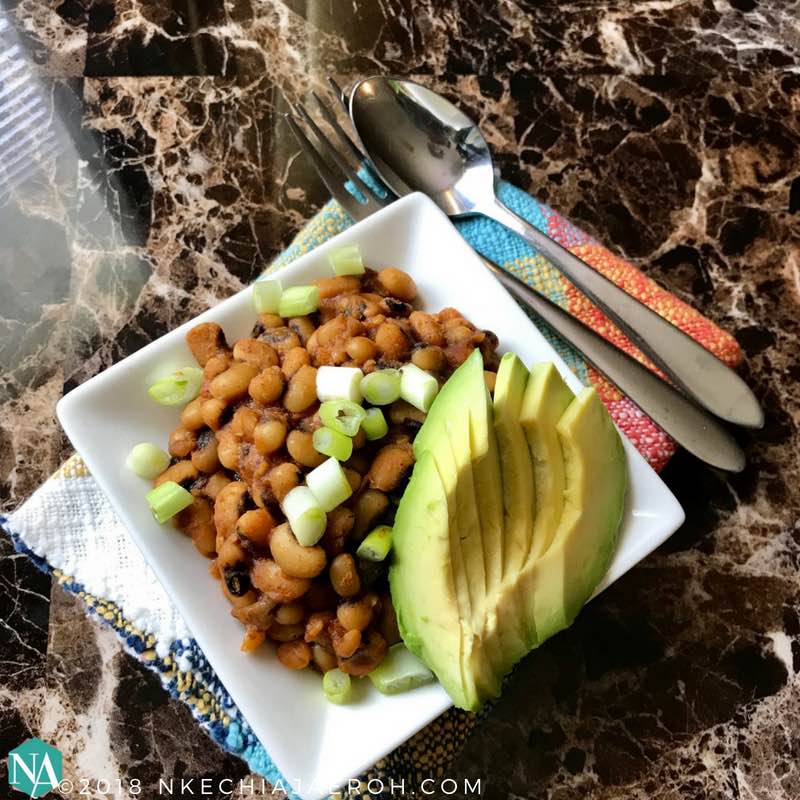 You can eat this dish by itself, with steamed rice, avocado or even bread. Whatever you choose works just fine.
Ingredients
2 lbs. of black-eyed peas or two 16 oz. bags of black-eyed peas
1 big bulb of onions (chopped)
3 cloves of garlic (diced)
3 small fresh bell pepper
1 (6 OZ) tin tomato paste
1/3 cup of peanut oil (any oil really)
¼ ground crayfish
1-tablespoon salt
1-tablespoon curry powder
4 cubes of Maggi
1 teaspoon of dry thyme
½ teaspoon of crushed red pepper
½ teaspoon black pepper
8 cups of water
Instructions
Precook beans in boiling water for 12-15 minutes. Wash about thoroughly for about 6-7 times until water is clear, then set aside.
Get a big pot or pan; add the beans and all the ingredients.
Then add 5 cups of water. Give the pot a good stir and cover.
Cook on the stove at medium for the next 1 hour and 30 minutes stirring from time to time to avoid burning your food.
After about the first 30 minutes and as the water starts to reduce add the remaining 3 cups of water and keep cooking.
Be sure to taste your food and continue to cook until the beans are soft and tender or for the next one and half hours.
When your beans are ready, serve it by itself, with rice or avocado.
Garnish with spring onions.
Bon appetite.
Notes
I usually use black-eyed peas for this recipe, not sure how the result would be on other kinds of beans.
https://nkechiajaeroh.com/kechis-kitchen/how-to-make-busy-moms-easy-beans-recipe/
© NkechiAjaeroh.com All Right Reserved.
What is your favorite type of beans and how do like to make them? Share in the comment below. Before you leave I want to personally ask you to share this post and to also check out our other delicious recipes.☺️
I want to also invite you to join my community.
With love,