Description
An authentic Nigerian meat pie is a savory, flaky pie filled with the tasty minced or ground beef cooked with potatoes, carrots, onions, garlic, herbs, and spices. Nigerian meat pie, also known as African meat pie, is divinely delicious and easy to make at home. Nigerian meat pies are perfect for snacks, breakfast, or brunch. They are a must-have on most Nigerian occasions. As a family, we love making meat pies during most holidays, such as Christmas, Easter, or Thanksgiving. 
---
For the dough
7 cups

of flour

2

-tablespoon sugar

½ teaspoon

of salt (because am using salted butter)

1

-teaspoon baking powder

½ teaspoon

of nutmeg

3

sticks (about 340g) of very cold butter (use quality butter; I like Kerrygold Irish butter)

3

eggs (plus another egg for sealing and glazing)

½

–

1

 cup of very cold water
For the filling:
1.6

lbs. of minced or ground beef (90% lean; or according to your preference)

1

– 

1½ 

cup(s) of chopped golden or white potatoes (I used Idaho)

1

– 

1½ 

cup(s) of chopped carrots (or less depending on the amount of ground meat)

½ cup

of chopped onions and garlic

2 teaspoons

of seasoning powder ( I use Knorr Bouillon) or

2

 seasoning cubes (I use Maggi cubes)

1 teaspoon

of salt (plus more if needed)

½ teaspoon

black pepper

¼ teaspoon

of thyme

2

–

3

tablespoons of flour (start small and increase as needed)

1

–

2

 tablespoon(s) of olive oil

½

–

¾

 cups of water

½ teaspoon

of crushed red pepper or 1 bonnet pepper (optional; for extra spicy). Please always add salt and pepper to your preference.
---
Instructions
HOW TO MAKE NIGERIAN MEAT PIE FILLING:
Wash and cut all the vegetables, and set aside. Set a clean skillet or pot on a medium – high heat (on the stove) and allow the pot to warm up. Add olive oil to the pot and as soon as the oil heats up, add a dash of salt and the chopped onions and garlic, stir to cook to soften for about 2 – 3 minutes. Add the ground beef and use a wooden spoon or spatula to break down. Add the seasonings: salt, seasoning powder, thyme, black pepper, etc. Stir well to combine, and keep cooking on medium until all the pinkness disappears from the meat; for the next 8 – 10 minutes or so.
Then add the flour, cook for 2 minutes and then add water. Ensure the water is evenly distributed by stirring well. Now is the time to add potatoes and carrots; mix well to combine and cover to cook until the potatoes and carrots are soft and the water visibly reduced (we do not want a runny pie but we do want it moist).
The cook time for this depends on the size of beef honestly. It took me about 10-15 minutes for my desired consistency. As soon as the meat pie filling finishes cooking, set aside cool completely before using.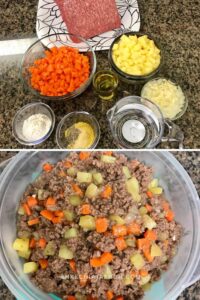 HOW TO MAKE MEAT PIE DOUGH:
Add all the dry ingredients (flour, salt, sugar, baking powder, and nutmeg) to a big mixing bowl and combine. Add the very cold butter into the flour mixture and starting mixing. Work the butter into the flour until it sort of becomes like breadcrumbs, then add the eggs and continue to mix. At this point, the mixture will begin to form into a dough, add the iced cold water, and mix everything well. You may need to sprinkle some flour (I usually do) to reduce stickiness. Do not over mix; wrap or cover this dough and put in the fridge for about 30 minutes before using. Or use immediately!
Alternatively, you can easily mix the dough in a food processor. I do use my food processor, sometimes. To use a food processor follow the same steps – first combine all the dry ingredients, then add the chilled butter and mix to become like breadcrumbs then add the eggs and water. Remove as it begins to form and use your clean hand to form into a ball. Whether mixing by hands or with a food processor; do not over mix!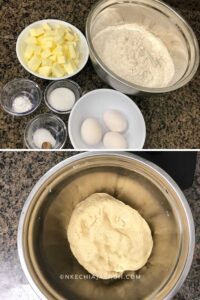 HOW TO FILL AND BAKE NIGERIAN MEAT PIES:
Crack an egg in a bowl; use a fork to beat it. You will need a pastry brush to brush "egg wash" on the edges of the meat pie to seal them. Also, you will need to brush "egg wash" on top of the pies before baking. 

Divide meat pie dough.

 Remove dough from the fridge after the set time, and place it on a clean 

cutting board or pastry mat

. For the sake of convenience and also in other to avoid over-rolling of dough, divide the dough into smaller sizes depending on how many meat pies you have in mind to make. I divided this dough into 17 small (almost equal) parts, and 

I went ahead and formed them into small dough rounds. Alternatively, you can easily form and roll one small size of dough when you are ready to use it.

Preheat the oven.

 Place parchment paper on the baking pan and set aside—Preheat the oven to 350 F.

How to cut the perfect meat pie shape;

 Take one small dough, lay it on a pastry mat or cutting board, and then roll it to flatten with the 

rolling pin

. Use a small round 

pot cover

 to cut out "a dough circle." Use an 

empanada cutter/press

 if you want smaller meat pies. Personally, I prefer to use the pot cover to cut my meat pies to get a precise and even shape. Also, this makes medium-size meat pies. Set aside the dough scraps; do not throw them away. 
Filling and sealing the pie dough. While the flattened dough is still on the pastry mat or cutting board, add 2 tablespoons of filling to the center. 1 or 1½ tbsp may be enough if using a smaller dough, and you will need more for an oversize meat pie. Touch the pastry brush in egg wash and brush it around the edges of the open pie dough. Fold and seal the pie properly. Use a fork to press down on the edges to fully secure the seal (so the filling does not lick out while baking).
Place the meat pie on the already lined baking pan; repeat this process until all meat pies are filled (and sealed). Afterward, gather the dough scraps and re-roll to make about 4 more additional pies. This recipe makes 20 – 21 medium-size meat pies. Finally, use a fork to create a vent on the pies; this allows the pies to "breathe" while baking. Then lightly brush "egg wash" on each meat pie before placing them in the oven.
Place in the oven to bake for 25 – 30 minutes at 350 or until fully cooked. Gently remove from the oven after baking, and allow pies to rest before serving. Remember, if your pies are smaller they will bake quicker and if they are bigger or supersize they will need more time. Enjoy with your family.
Notes
Meat pie dough needs very cold butter. Usually, I would cut the butter into tiny pieces and put them inside the freezer for at least 30 minutes before use. Also, it needs iced cold water.
This recipe makes 20 – 21 medium-size meat pies. If using an empanada press, you could easily make up to 30 or more meat pies.
Do not overcrowd the baking pan when making meat pies. I typically place only 7 pies in my large baking tray.
If you have a food processor, you could use it to mix the dough instead of hand. When the butter is chilled (almost frozen), it's challenging to mix with bare hands.
I would typically add 1 teaspoon of salt to about 1 – 1½ pounds of ground meat, however, add salt to your preference.
Bake at 350 for 25 – 30 minutes; I would generally take out one meat pie and taste to ensure that it is fully cooked before removing all of them.
Depending on the size of your meat pie, this recipe would make up 17 – 22 meat pies. I made about 21 medium-size meat pies. Last time, I made about 16 small/regular meat pies  and one supersize pie. 
Do not overly overcook these pies just because you want the skin to turn golden. The goal is for it to have a perfectly moist filling. Usually, I do not bake the medium-size pie for more than 30 minutes.
If have an idea where I can get a meat pie cutter, please let me know!
Prep Time:

35 minutes

Cook Time:

1 hour 10 minutes

Category:

Snack

Method:

Oven

Cuisine:

Nigerian
Keywords: Meat pie, Nigerian meat pie, Nigerian food, Nigerian snack, Nigerian street, African meat pie, African pie, British pie, pastry pie, pastry