Boli – Baked Ripe Plantains.
Although plantains may look like bananas, plantains are not bananas; nevertheless, some people call them big bananas. And for these baked ripe plantains recipe, I will be using plantains and not bananas. As a child, I had plantains trees in the compound, and whenever they mature, my father would cut them down (because that's the only way to harvest them), and then we would feast on those plantains. I say "feast" because that's what it is. Uniquely, another new plantain tree would spring out from the cut-down tree, just wow!

My mother would make all kinds of plantain recipes. My favorites are the fried ripe plantains; usually, we make those in the mornings. Unripe plantain porridge, just like the name suggests, this recipe is made with unripe plantains also known as green plantains. Then, the roasted, grilled, or baked ripe plantains, typically known as Boli in Nigeria, which is what we are making today.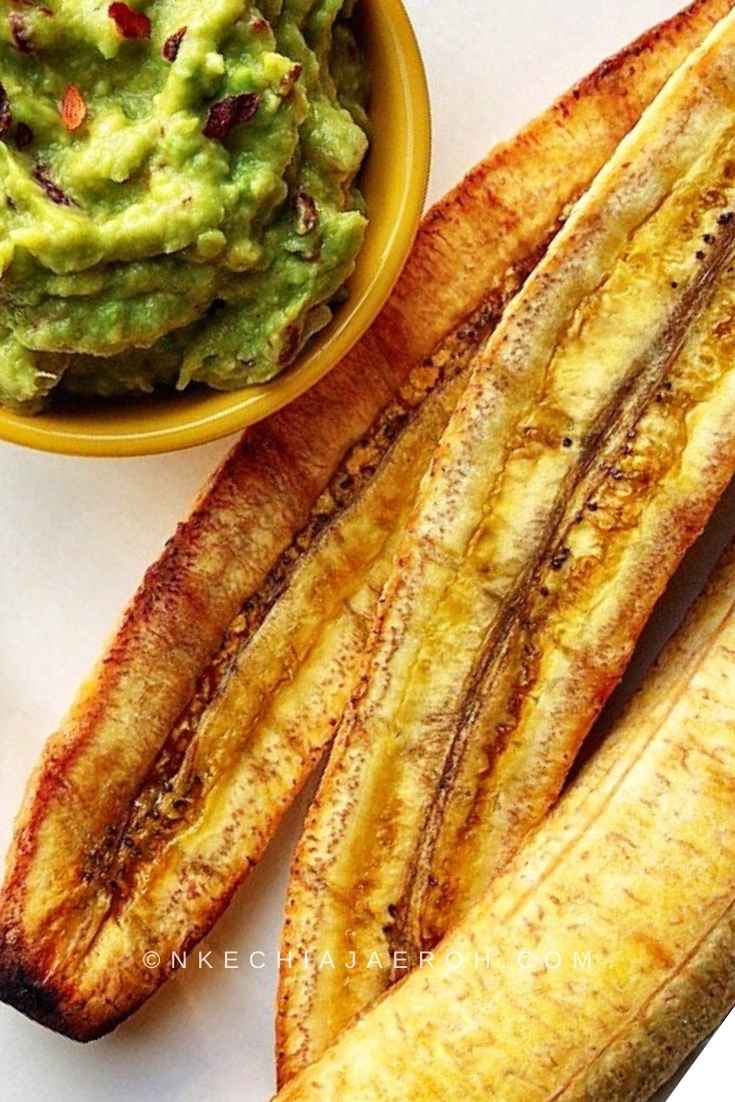 Nigerian Street food – roasted/baked ripe plantains
Boli – roasted, grilled, or baked ripe plantains are usually made with ripe sweet yellow plantains. This very popular Nigerian street food is generally roasted over an open fire; usually, a wire rack is placed on the fire, and the…
Click To Tweet
 These days, most people either
grill or oven bake ripe plantains, and it still tastes delicious!
Though baked ripe plantains are perfect summer cooking, we eat these all year round in Nigeria and around the world. And even if you have never had plantains this way before,
I got you, and assure you that you will love this
.

Benefits of Plantains:
Generally, plantains have several benefits for the body, here are some notable ones:
First, plantains are filling this is especially the case with unripe/green plantains.
Second, it can help you manage your weight. This is no brainer because when you are full, you eat less.
Third, plantains are great for the heart as they are high in potassium. By the same token, plantains can help lower cholesterol.
Finally, plantains are gluten-free and paleo-friendly, not to mention that they are versatile in usage.
Green vs. Ripe Sweet Yellow Plantains?
Oh, kay, green plantains, also known as unripe plantains, are the source of resistant starch, meaning it will not immediately raise the blood sugar level. In other words, these would be the best type of plantains for those with diabetes. Additionally, green plantains can keep you full for the longest.
On the other hand, ripe plantains are sweet, yellow in color, and naturally sweet! Mostly fried and enjoyed alongside other savory dishes. Some people also use sweet plantains in desserts. However, we shall be using no sugar, no butter, no chess, or unnecessary add-ons for today's recipe. All you need is a dash of salt, and a sprinkle olive oil to make these healthy baked ripe plantains then serve it up with freshly made guacamole!

Plantains are naturally sweet.
#ProTip: When it comes to grilling, roasting, or baking, the ripe yellow sweet plantains do not go overboard with spices and herbs to the extent that overwhelms or overpowers its sweet deliciousness.
Click To Tweet
And when it comes to eating, there are options such as spicy pepper sauce, roasted peanuts, or perhaps eat them with
guacamole
like me! No matter what you chose to eat your baked ripe plantains with, it surely will be delicious.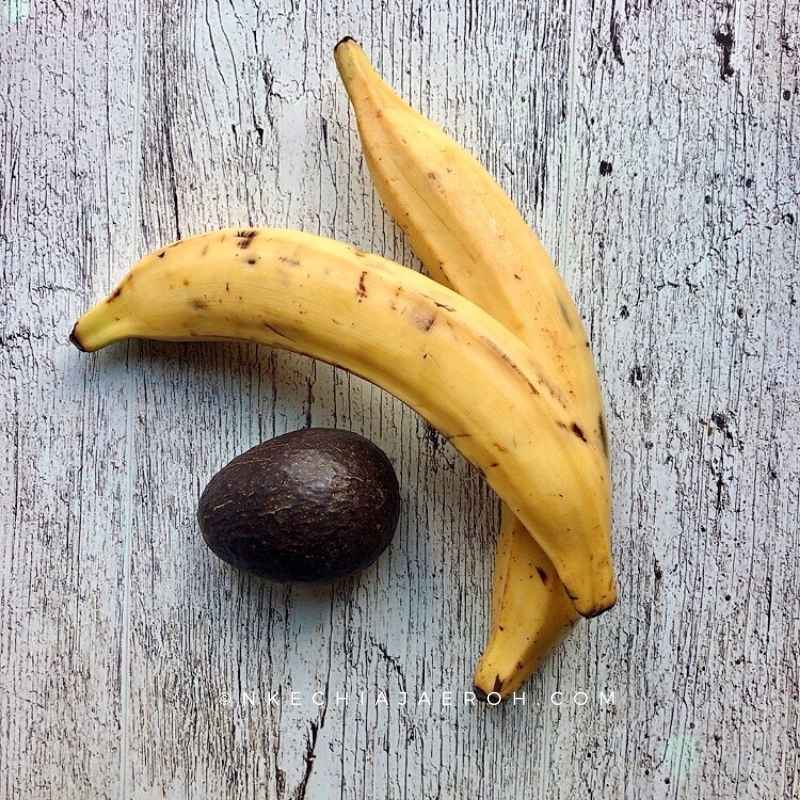 Making Baked Ripe Plantains.
Fortunately, it is super easy to make this recipe, annnnnnd the best things to do aside baking up some ripe sweet plantain is to eat it! If you are trying this recipe for the first time, you are in for a thrill! Step 1: Peel, cut, and bake up these babies.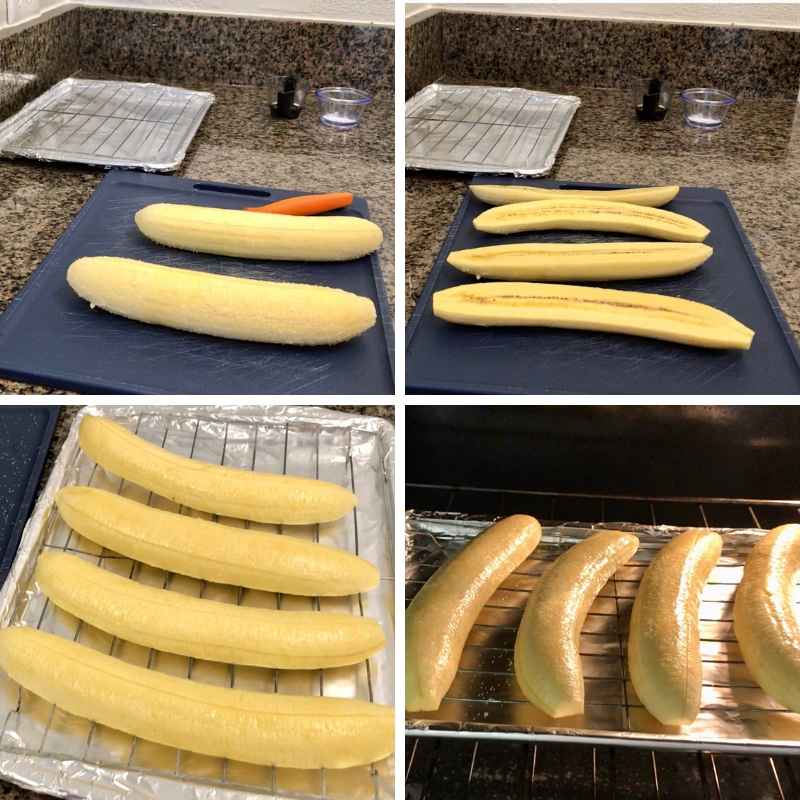 Step 2: Prepare the guacamole: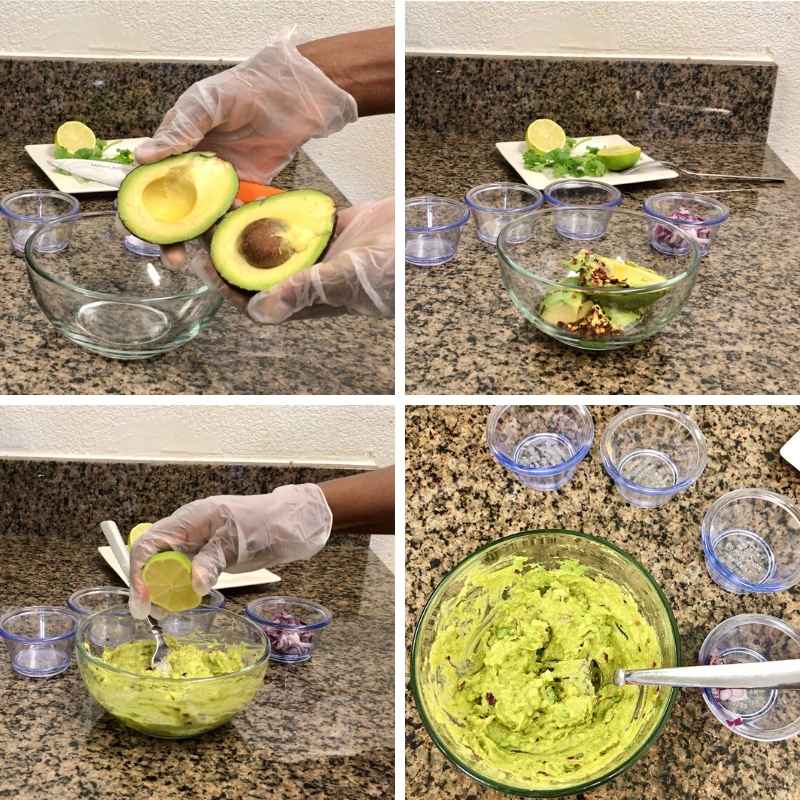 Today I am excited to show you how to make Boli – roasted/grilled/baked ripe plantains and am serving it with fresh guacamole. Guess what? Everyone loves Nigerian Boli, and I know you will too!
Click To Tweet

By all means necessary let's start making this yumminess.
Print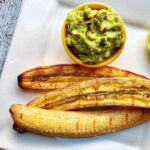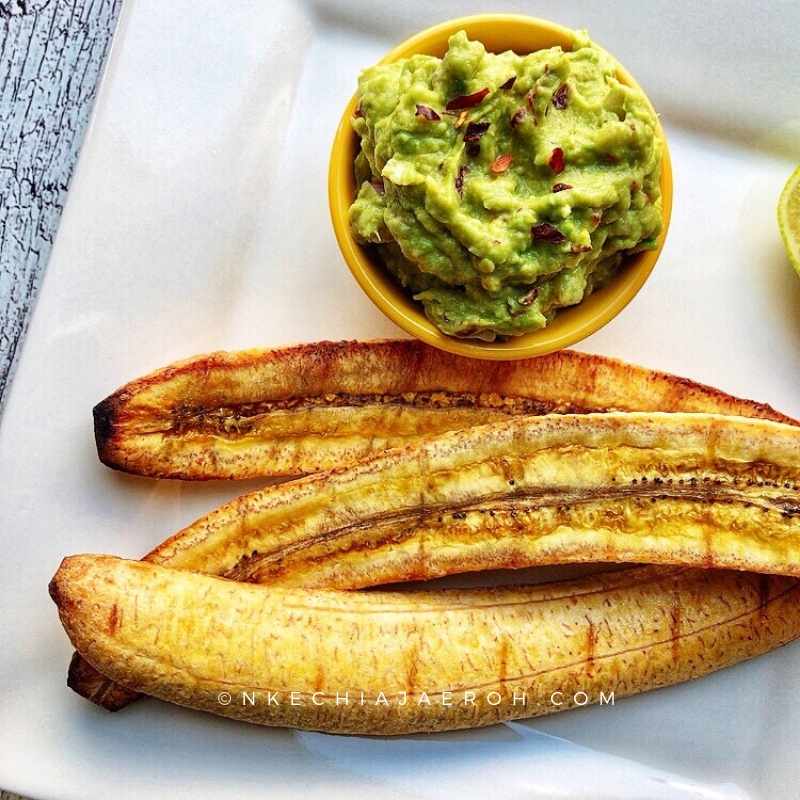 Baked Ripe Plantains: Nigerian Boli with Guacamole
---
Description
These oven-roasted perfectly baked ripe plantains served with guacamole is mouthwatering and insanely delicious! Also known as Boli – this very popular Nigerian street food is generally roasted over an open fire, normally a wire rack will be placed on the fire, and the plantains will be placed on the rack. Well, I want to show you how to bake it in the oven, and it will still be incredibly satisfying. This roasted, grilled or baked ripe sweet yellow plantain recipe can serve as breakfast, lunch, dinner, or snack!
Ripe sweet yellow plantains are naturally sweet, and when it comes to grilling, roasting, or baking, ripe plantains do not go overboard with spices/herbs that would overwhelm this deliciousness.
---
2 fully ripe plantains
1 avocado
1 tablespoon of olive oil (or less; for brushing/rubbing plantains before baking)
Salt (according to your taste)
Black pepper
Crushed red pepper (according to your taste)
2 tablespoons of chopped red/purple onions
---
Instructions
Preheat oven to 400.
Wash plantains; dry with a pepper towel. Peel plantain, and gently slice/cut in the middle.
Cover a baking pan/sheet with foil, and place a baking wire rack on it.
Sprinkle a little salt and oil on the sliced plantains, and use clean hands to rub, making sure the salt and oil are well distributed.
Place the plantains on a rack, and place the rack in a preheated oven.
Bake until fully cooked and slightly golden and a little charred. Flip over after about 15 to 20 minutes in baking to allow for even cooking on both sides. Total cooking may take between 35 – 45 minutes; (sometimes cooking time may depend on the oven, that is how hot it gets.) Keep your eyes on these do not burn it.
Remove from the oven after baking, and serve hot with freshly made guacamole, this recipe serves two people.
For the Guacamole:
Wash and cut the avocado, gently remove the seed and scope it into a clean bowl.
Add some black pepper, sprinkle some salt, and crushed red pepper.
Mash roughly, I like to see some textures, but mash according to how you want it!
Squeeze in some lime juice if you wish, but especially if you are not serving this immediately, as it prevents from turning brown.
Finally, add the purple onions, totally optional, but I love it in mine.
Notes
Refrain from using the overly ripe plantains that may appear black and soft because they won't maintain their shape after cooking. Moreover, they can quickly burn and not taste good!
You can surely roast/bake this without oil or oil spray, but I think a little oil rub makes look even more appetizing
Serve this with spicy pepper sauce or roasted peanuts just like in Nigeria
Even though you can also roast/grill or bake the green/unripe plantains. They equally taste yummy but not sweet, unlike the ripe ones.
Prep Time:

10 minutes

Cook Time:

45 minutes

Category:

Lunch

Method:

Baking

Cuisine:

Nigerian
Keywords: Plantains, Ripe plantain recipe, Gluten free recipe, Roasted plantains, Nigerian Boli recipe, Cuban plantain recipe, Healthy plantain recipe, Sweet ripe plantain recipe, Oven baked plantains, Healthy roasted, grilled and baked plantains
Recipe Card powered by
First of all, PLEASE SHARE THIS POST. If you like this savory and healthy baked ripe plantains, then am sure will enjoy my other plantain (and banana recipes)
And if you desire to get started on a healthy lifestyle, then I want to invite you to join my healthy lifestyle online Community, find out more about it here!
Finally, I will like for us to connect on Instagram, and Facebook and Twitter lol, let's connect everywhere!
Finally, do not forget to share this recipe post with people you love. SAVE/PIN THIS IMAGE ON PINTEREST under "Healthy Nigerian Recipe." ⤵️

Stay well and safe.