The best Nigerian Akara Recipe.
Akara or black-eyed peas fritters is a popular Nigerian vegetarian/vegan delicacy made with beans mainly black-eyed peas. Akara, also known as beans cakes, beans ball, koosé, or acarajé, is a popular street food enjoyed across Africa and beyond. Click To Tweet To make Akara, you start by de-skinning/peeling the beans (black-eyed peas), then you blend it into a paste like you would for moi-moi, but unlike moi-moi, you will end up frying the fritters. Also, unlike moi-moi's paste; akara's paste is usually simple – beans blended with onions, and bell peppers (or added afterward). The aroma of freshly fried black-eyed peas fritters will make your day!

Additionally, no need to add seasoning powder or cubes, curry, thyme, or rosemary in your Akara paste. No need for all of the seasonings that could overpower the hearty taste of these fritters. In today's post, I am excited to show you how to make the best Nigerian breakfast – akara.
Making Nigerian Akara is as simple as 1-2-3 Step 1: Have raw/dry black-eyed peas on hand.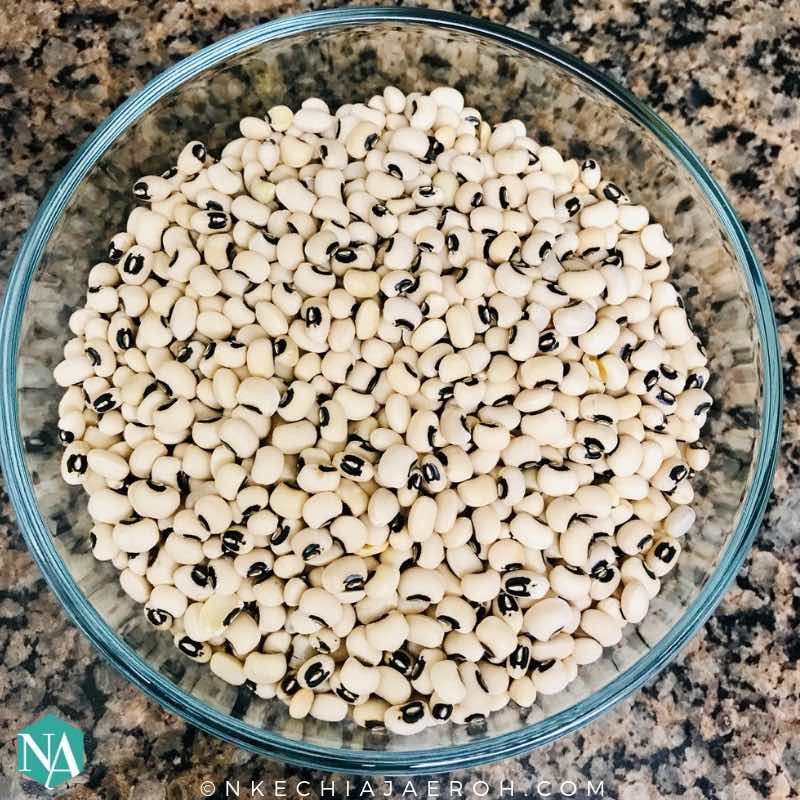 Step 2 & 3: First, de-skin/wash the beans like the first part of the photo, second, then blend with bell peppers and onions to look like the paste.

Step 4: Frying. When it comes to frying Akara, first, heat the oil, second, fry in batches, and not overcrowd the pot. Third, place all fried Akara on a paper towel, and lastly, serve and eat as you wish. Some people will eat this by itself (like my kids all day every time)! lol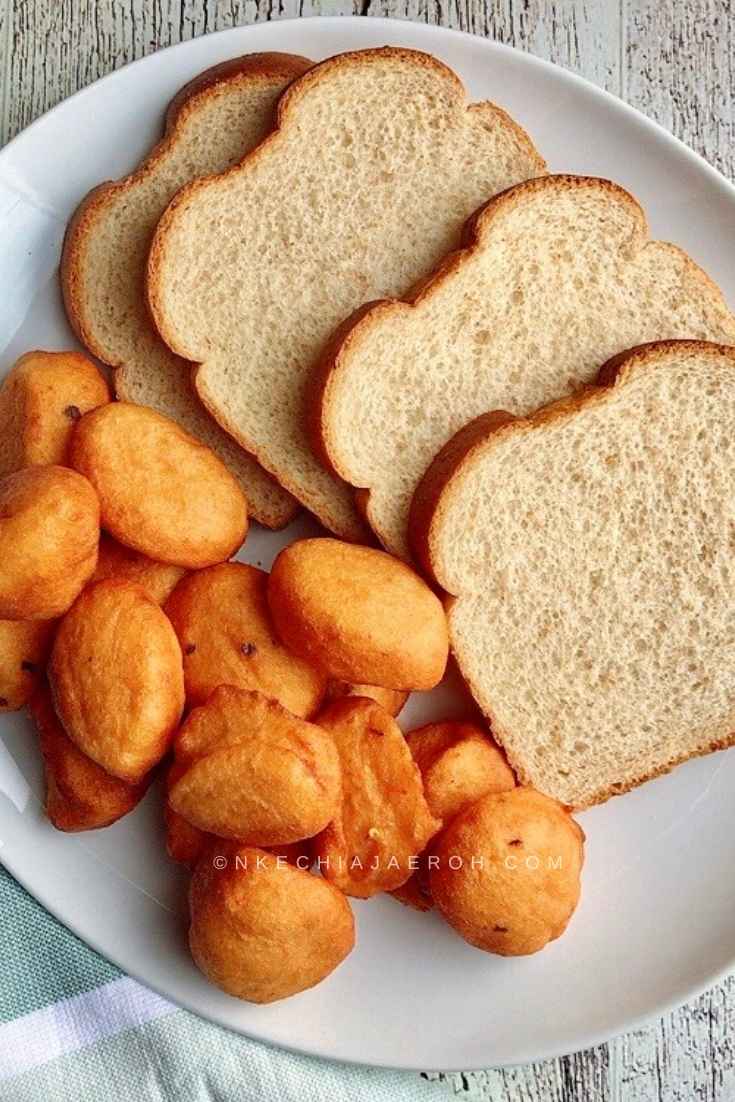 Nigerian Akara and Akamu/Pap.
Growing up in Nigerian, we look forward to eating Akara daily, this very popular Nigerian street food is always a choice of breakfasts for most families. While some people will eat this by itself, similarly pairing Akara with Akamu…
Click To Tweet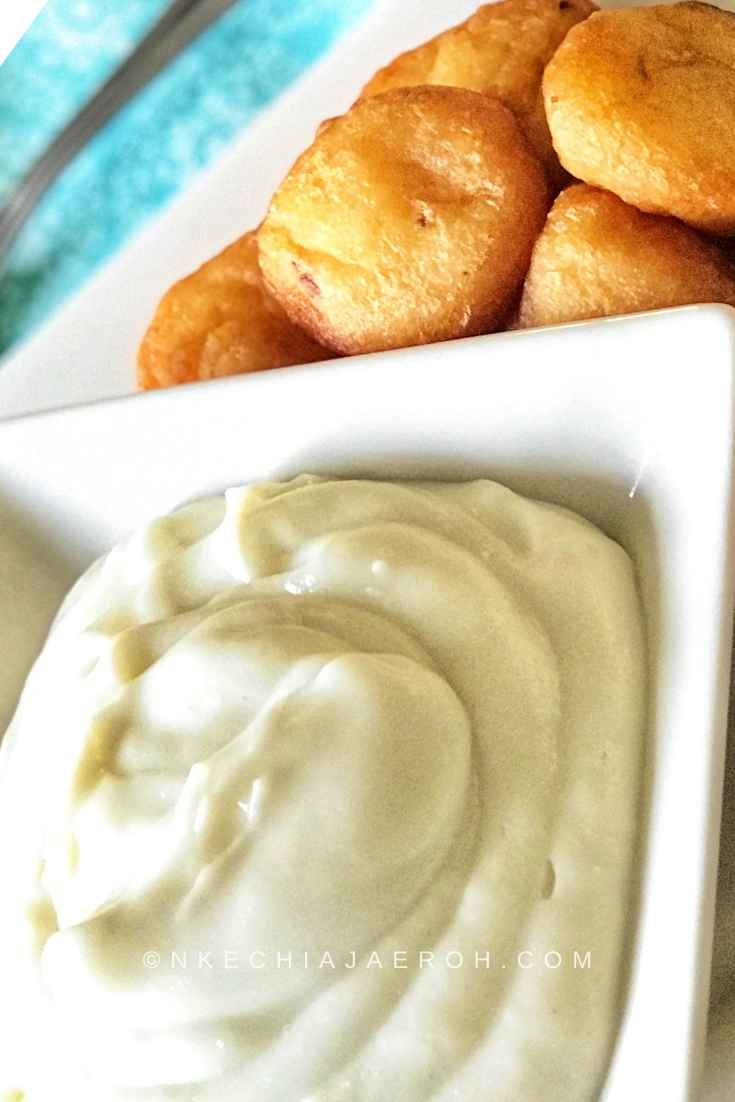 Or simply substitute Pap/corn pudding with custard like this photo below. We prefer bird's custard powder. This combo is the bomb! You are missing a whole deal if you have never tried black-eyed peas and custard. You can also do Akara and akamu (corn pudding).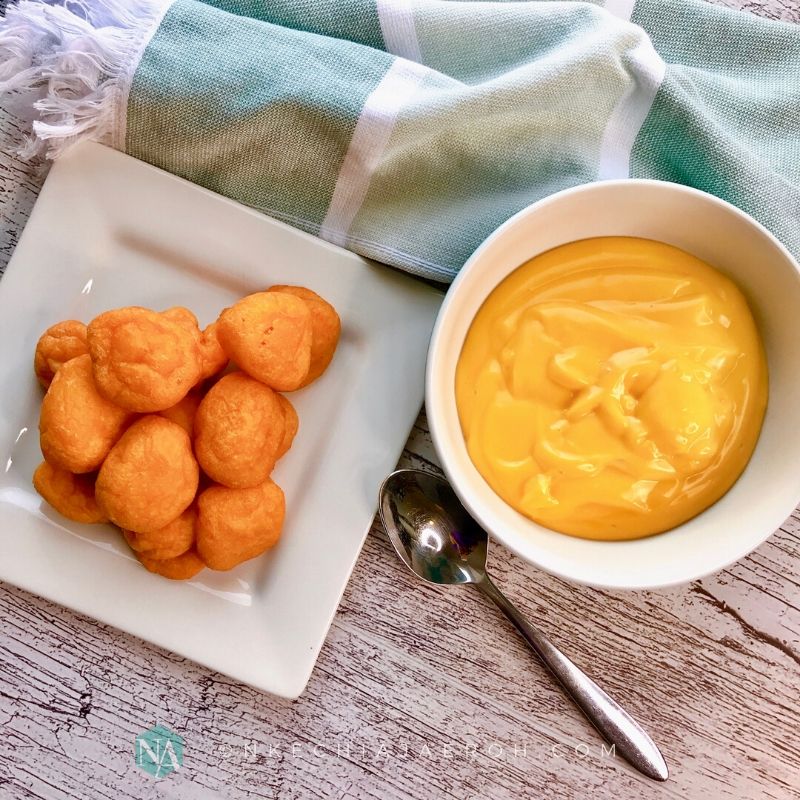 Ever heard of Nigerian Akara burger?
Probably that's the best way to eat Nigerian Akara, well, according to my husband – YUM! This dish, just like Rice and stew, pepper soup, and okra soup, reminds me so much of childhood.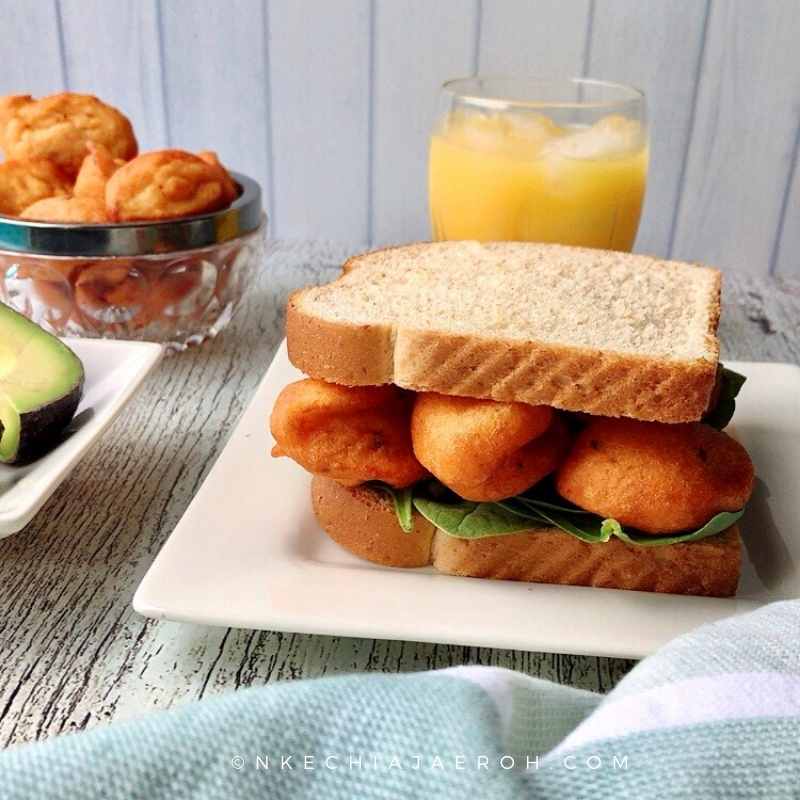 Family Time is Nigerian Akara Time.
Without question, all you need for extraordinary family time is the best Nigerian Akara. Kids love it, adults love it, everyone is happy, problem solved! My kids and husband love Akara very much, and this only mean one thing – we make it more often (at least 3x every month!) The weekend is for akara, and that means bonding time with family as well. The house smells heavenly when these fritters are frying, and that warms up the heart too! Click To Tweet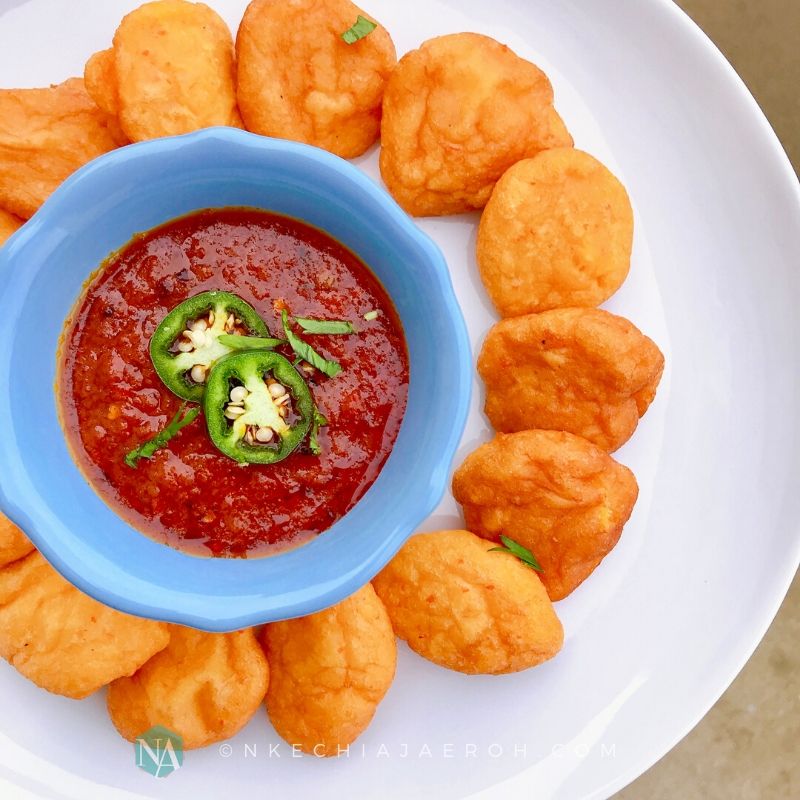 If you are ready, let's make some Akara!
Print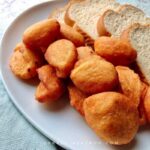 How to make the Best Nigerian Akara
---
Author:

Nkechi Ajaeroh

Total Time:

1 hour

Yield:

10

–

1

2

1

x

Diet:

Vegan
Description
Akara or black-eyed peas fritters is a Nigerian vegetarian/vegan delicacy made with beans mainly black-eyed peas. Akara, also known as beans cakes, beans ball, beans fritters, or acaraje, is a popular street food enjoyed across Africa and beyond.  Nigerian Akara is perfect for breakfast, lunch, or dinner. Also, Akara pairs well with corn pudding, bread, custard, as well as very delicious just by itself.
---
Black-eyed peas (1 lb. bag or less)

½

big onion or

1

medium size Onion

1

–

2

Fresh big bell peppers (Red or orange color preferably. I like using red/reddish bell peppers for this recipe.)

1

habanero (add more if you like spicy food)
Salt and crushed red pepper to taste
Oil for frying (I normally use peanut oil, and at least 3 inches deep)
---
Instructions
Wash/cut onions, bell peppers, habanero, and set aside. To the blender, add some beans, onions, bell pepper, habanero, plus little water (too much water will make your fritters runny, remember you will be frying them.)
Then blend until very smooth; pour the mixture into a bowl. Repeat the above process to blend the whole beans.
(Optional step if you have a mortar and pestle); add some paste into the mortar and use the pestle to "grind" in a circular motion. This eliminates air from the paste and further "prepares" it for frying. And if you do not have mortar and pestle, ignore, and just add the paste into a bowl, and use spoon to stir.
Then in small increments, add salt and crushed red pepper to the paste, stir very well to combine, and taste before frying. Be mindful not to add too much salt; a tiny bit goes a long in this recipe. Also, you may not need to add crushed red pepper if you blended in the habanero.
The best part of the work begins; frying. Ensure that you add enough frying oil into the pan (up to 3 inches deep), and place on medium heat, allow the oil to heat up, but make sure the oil is not too hot.
Use a tablespoon measure to scoop the paste and gently drop into the hot oil. Be mindful not fill up the entire pot with too many Akara balls. When the underside turns brown, use a fork or wooden skewer to flip the balls so the other cooks as well. When both sides of the Akara balls are cooked, use a skimming ladle or spoon to scoop them off the oil and place them on a paper towel-lined plate. Repeat this step to fry all the paste, enjoy with family, and friends. WATCH THE RECIPE VIDEO BELOW: ⬇️
Notes
Usually, the exact quantity of the ingredients will depend on the amount of akara you want to make. If you are new to akara, you start with 1 – 2 cups of dry beans. Adjust as you wish. Look at my beans paste, and possibly model yours that way.
Add onions, fresh bell peppers, habanero according to your taste. Typically Nigerian AKara doesn't need other spices such as Maggi, curry, thyme, nutmeg, etc. That's why those spices aren't included in this recipe. Akara is super simple and naturally tastes better that way. However, you do you when you are in the kitchen!
Do not use too much water to blend your Akara beans. Usually, Akara paste is thicker than moi-moi paste.
Do not overcrowd the pot while frying the fritters
Avoid overheating the oil; if it is too hot, the outside of the fritters might cook while the inside is still raw.
While frying the Akara, be mindful not fill up the pot with too many Akara balls.
Depending on the size of your pot, add Akara paste to cover only half of the pot because the Akara will rise and likely double in size. They need space to cook properly.
Please do not add (too much) salt to Akara paste as you would do in regular meals. Akara requires a minimal amount of salt because it goes a long way, if not, your Akara will be too salty and almost un-edible. The trick is to add a little increment of salt and taste for flavor. Then you can add (small) salt according to your liking (or health need); you can also add more peppers, and then fry.
Usually, the serving size of Akara will depend on how big or small the balls are; I make mine small just like photos on this post and I eat plenty.🤣😊🤷🏾‍♀️
Prep Time:

35 minutes

Cook Time:

25 minutes

Category:

Nigerian Breakfast

Method:

Frying

Cuisine:

West Africa- Nigerian Recipe
Keywords: Black-eyed peas fritter, Akara, Kose, Nigerian Akara recipe, Ghana Akara recipe, bean fritters,
Recipe Card powered by
If you like this Nigerian Akara recipe then should check out my:
And more healthy breakfasts and lunch such as:
At the same time, I want to invite you to join my healthy lifestyle online Community, find out more about it here!
Meanwhile, I started on Instagram (finally)! LOL, I did put that off forever, well I am there now, and I will love for us to connect! Follow me on Pinterest, Facebook and Twitter as well. I just started my Youtube Channel, please subscribe for easy video recipes. Finally, do not forget to share this recipe post, and please SAVE/PIN THIS IMAGE ON PINTEREST. ⤵️

Thanks so much for stopping by! With love,