Salmon is Satisfying.
My kids love fish, and their favorite is salmon, I mean, why should that surprise me? This salmon recipe is easy to make, heart-warming, incredibly satisfying, and timeless. This should be your go-to recipe when you want to eat out at home. The best part is that it takes about 20 minutes to put together. What else can you ask for? This easy and healthy salmon should be on your dinner table this every week, and every week! SAVE/PIN THIS IMAGE ON PINTEREST. ⤵️

The Healthy Salmon.
Here are some of the reasons why you should care about salmon, and always make it your choice of protein:
Easy to cook: they are pretty much super easy to make because they are naturally very tasty. For instance, I will just be using salt, pepper, and a dash of adobo today. How incredible is that?
Salmon is an excellent source of protein, an essential nutrient that you must get from your food.
Rich in omega-3 fatty acids, in other words, also salmon provide the body with the best source of this essential nutrient. Fatty acids can reduce inflammation, lower high blood pressure, and improve the function of cells. Especially those cells that are in the arteries.
Salmon fish is a great source of potassium, as well as high in vitamin B.
This fish also provides the body with selenium, contains certain antioxidants, and is linked with reducing the risk of heart disease.
These days, I try to make salmon almost 2x weekly because after discovering the amazingness of this fish, I took a special liking to it. I mean, who wouldn't? Another best part is that you can serve this delicacy with vegetables, fried rice, coconut rice, or beans! You can also add it to your salad like I did below!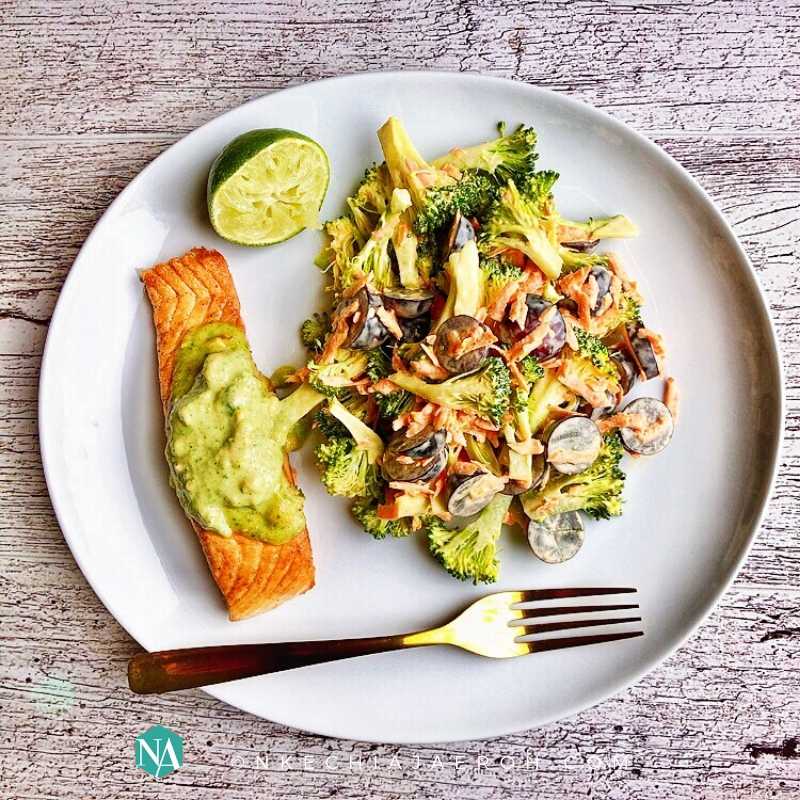 This healthy Salmon dish was a Sunday lunch to remember: delicious, nutritious, and finger-licking good!
Click To Tweet
If you are ready, let me show you how to make this insanely delicious, easy, and healthy salmon with green cashew – lime sauce.
Print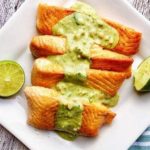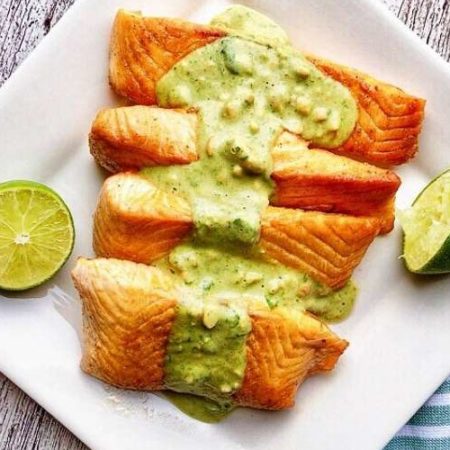 How to Make Healthy Salmon with Green Sauce
---
Author:

Nkechi Ajaeroh

Total Time:

20 minutes

Yield:

4

servings for

4

people

1

x

Diet:

Low Calorie
Description
Salmon fish is timeless, and this recipe is unforgettable. You can make this during weekly family dinners, or Sunday dinners. This recipe equally rocks during special occasions such as anniversary, Christmas, Thanksgiving, etc.
Simply enjoy with your favorite main dish.
---
For the salmon:
4

salmon cutlets or fillets
Salt and pepper to taste

½ teaspoon

of adobo or seasoning powder

2 tablespoons

of olive oil
For the sauce:
¼ cup

of cashew (slightly toasted; I usually do not use raw cashew for this.)

½

of whole lime (if its big or

one

small whole lime); squeezed

2 tablespoons

of water

2 tablespoons

of olive oil
A dash of honey to balance the lime (about 2 teaspoons; all depends according your taste)
Salt and pepper to taste
About a

¼ cup

of fresh spinach or just a couple of leaves
---
Instructions
If using frozen, allow salmon to thaw. Wash and clean up as required, dry with a paper towel, and lay on the tray. Sprinkle with salt, pepper, and a dash of adobo or small seasoning powder.
Place clean pan on the stove, add olive oil, and allow to heat up, then gently drop the salmon.
Cook about 5 – 7 minutes on each side, and until cooked through, remove and place on a plate. Repeat this process for all the salmon.
For the sauce
Add all the ingredients to the blender (except the spinach): cashew, olive oil, salt, pepper, honey, water, lime juice, and roughly blend for 8 – 10 seconds, the goal is not to make this very smooth (at this time).
Taste, and adjust flavors, then finally add the spinach leaves, and give another quick blend. And you are done. I always want to see and feel the little broken nuts. But if you like your sauces very creamy smooth, go for it, and blend a bit more to your consistency. Pour this on the salmon, and enjoy with your favorite main dish.
Notes
Always add salt and pepper according to your taste or health need.
You can use raw cashews without toasting them, but toasting them also intensifies their flavors.
Remember to soak the cashew in hot water for at least 1 – 3 hours before use; this way, they are soft and tender, and easily blends into a creamy paste (if you want it so). I have also sometimes soaked this in cold water overnight. Make sure to place them in the fridge if you want to soak overnight.
Add a little bit of water, or more lime juice to loosen this paste if it becomes too thick
We usually serve this salmon recipe with salad. It would be fantastic with grilled vegetables, potatoes, or even rice.
Prep Time:

5 minutes

Cook Time:

15 minutes

Category:

Fish

Method:

Sautéing

Cuisine:

Universal
Keywords: Fish, Salmon Recipe, Fried fish, Fish sauce
Recipe Card powered by
This is the best healthy salmon recipe for the holidays!
I forgot to mention that this recipe is terrific for the holidays or special occasions, especially if tired of the regular "holiday menus." And if you love this recipe, then I know you will love the following recipes:
Want some salads? Grab my FREE (5) spinach salad recipe bundle would be a great addition to your dinner table. Get the recipes here.
Meanwhile, let's connect on social media; well, your girl is everywhere! Instagram, Pinterest, Twitter, and Facebook. LOL, I did put starting on Pinterest and Instagram off forever, well I am there now, and I will love for us to connect! Meanwhile, please SAVE/PIN THIS IMAGE ON PINTEREST. ⤵️

With love,