Easy Pan Seared Salmon Recipe.
This pan seared salmon with vegetables is healthy, easy to make, insanely delicious, and finger-licking good! This salmon recipe deserves a place on your dinner table today! Without question, this healthy salmon and vegetable recipe will blow your mind. We all know that salmon is a special kind of fish and a little more expensive than other regular fish(es). Some people eat salmon only on a special occasion like anniversaries, Valentine's Day, birthdays, etc. Others eat it just in restaurants because they do not know how to prepare it restaurant-style (and are afraid to mess it up).
Today, I am excited to show you how to make restaurant-style salmon, the one you and everyone around you will love. And for this simple recipe, I used skinless salmon and mixed vegetables.
Click To Tweet

Fish is Fabulous.
I grow up eating a lot of tilapia, sardine, and croaker fish (in 9Ja.) In reality, I couldn't remember eating salmon back home in Nigeria. In America, I discovered salmon fish, and since then, it has continued to be stable on my kitchen table. In fact, my husband is also a salmon fancier. Moreover, Pan seared salmon with vegetables like this one is a perfect weekday lunch or dinner! The best part is that it comes together so fast! Furthermore, this recipe is customizable; use your favorite veggies, and you are good to go!
Today's recipe is a winner on my dinner table, and equally important is that it is kid-friendly, my kids (seriously) love this dish. In other words, they are smart; after all, they know good food when they see it.😁
Making Pan Seared Salmon with Vegetables.
Salmon;
In other to make this dish, you will need some salmon fish (well, yeah!). In reality, you can use either frozen or fresh. If you are using frozen, allow it to thaw before using. Amazingly, salmon is an excellent source of high-quality protein, potassium, selenium, and vitamin B. Rich in omega 3 fatty acid, excellent antioxidant; overall, salmon fish is fantastic for the body.
The vegetables.
I love that I paired this dish with varieties of vegetables such as potatoes, carrots, peas, etc. I love to mix up the veggies; for instance, I would use fresh potatoes, onions, carrots, and frozen peas. On the other hand, you can also use all frozen vegetables if that's what you have. It should work just fine. Finally, be sure to use the veggies that you know and love. When you add different vegetables, it sure adds beautiful colors and flavors. One of the things that got my kids interested in this dish in the first place is the color; they love the colorful vegetables. I am sure most kids and adults do.
This pan seared salmon recipe is so colorful because of the vegetables. And just in case you still need to hear it from me, veggies are fantastic for your digestive system, gut, and bones, helping to keep the doctor away.
Click To Tweet

As has been noted, this pan fried salmon meal is deliciously good! It goes by so fast as soon as it gets to the dinner table. Just so you know.😊 Let's get cooking.
Print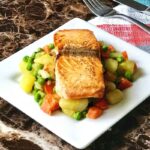 Pan Seared Salmon With Vegetables
---
Author:

Nkechi Ajaeroh

Total Time:

45 minutes

Yield:

Serves

4

- 5

1

x

Diet:

Vegetarian
Description
This pan seared salmon with sautéed pot-pie style vegetables recipe is healthy, easy to make, insanely delicious, and finger-licking good! The best salmon recipe for busy weekday lunches and dinner, because it cooks in no time. Use your favorite vegetable and enjoy this crispy seared salmon dinner with your family.
---
4

cuts of salmon

1

big bulb of onions for salmon (cut spirally for caramelizing and cooking the salmon)
Another

1 cup

of cut /chopped onions (for cooking the vegetables)

2

cloves of garlic (chop alongside onions for cooking vegetables)

3 cups

frozen peas

4 cups

of cut fresh carrots (you could use frozen, I personally prefer fresh for this recipe.)

4 cups

of cut fresh potatoes

2

-teaspoons of salt (plus more as desired) for cooking the potatoes, cooking the vegetables and searing the salmon

¼

–

1/3

-cup of oil for searing the salmon and 2 tablespoons more for cooking the vegetables; any choice of vegetable oil works.

3

seasoning cubes or

3 teaspoons

of seasoning powder

¼ teaspoon

black Pepper

½

–

1

tablespoon fresh rosemary (dry would work just fine)

1 tablespoon

of flour

½ cup

of whole milk

¼ cup

of water
---
Instructions
For the vegetables
Wash and cut potatoes in 1-2 inch sizes; you need about 4 cups. Wash and cut all the other vegetables: carrots, onions, and garlic. Precook potatoes in boiling water with a teaspoon salt for 6-8 minutes or until it is halfway cooked. Then drain the water and set aside.
Set a clean pan on a medium – high heat on a stove. Add vegetable oil, and allow to heat up. Then add some salt, onions, and garlic and allow to cook for 2-3 minutes while stirring continuously. Add carrots to the pot, continue to stir and cook for about 5 – 6 minutes, it should still be crunchy. Now add potatoes, peas, 1 seasoning cube (or a teaspoon seasoning powder) and give a good stir. Then sprinkle the flour and stir one more time.
Cover the pot and cook for 3 minutes (on low heat) so that the flour is no longer raw. Stir in ½ cup of milk, and ¼ of water. Crush in another seasoning cube, pepper, rosemary, as well. Cover the lid and cook for 5 minutes while stirring in between. Taste and adjust flavors, (if needed), and your pot pie-style vegetables are ready. Empty into a clean dish and set aside until salmon is ready for serving.
For Salmon
Remove salmon from freezer to thaw (if using frozen salmons, I mostly use frozen☺) Wash and dry out excess water with a paper towel, place salmon on a board. Liberally sprinkle salt on both sides of salmon; sprinkle black pepper with caution (especially if this meal is equally for kids.)
Place a big pan on the stove, and add oil to heat up. Add about ½ teaspoon salt to the hot oil, add onion and start caramelizing, be patient with this process. Continue to stir to avoid onions sticking to the pot and burning. Cook for about 10 – 12 minutes to ensure a good caramelization, then reduce heat and crush in a seasoning cube (or 1 teaspoon seasoning powder), stir well to combine. Then, make a hole in the pan by gently moving the onions away so you can strategically place the salmons. Gently add the salmon to the pot, and then gently heap the caramelized onions on top of each salmon to protect them from over-drying. (Turn the stove back to medium-high after placing the onions on top of the salmon)
Cook salmon for 6 minutes on each side; repeating the same process. After 6 minutes on the second side (12 minutes total), reduce the heat, cover the lid, and allow to simmer down for another 2-3 minutes. Do not overcook. Salmon is ready after 3 minutes; gently remove from the pot and place on serving plates. Serve with already prepared potpie style veggies. Garnish with fresh rosemary, scallions or parsley.
Notes
Be careful not to let the vegetable to dry out, it has to be moist that's why kids love it. If it becomes dry then you will need some stew or gravy.
Lower the heat before flipping salmon to avoid breaking if it is sticking to the bottom.
Ensure to use a pan that can accommodate all the four salmons at the same time. It makes it easier.
Divide the vegetable oil so you can cook both the vegetables and salmon in separate oil. I don't want my veggies smelling too fishy.
If using all frozen vegetables, then cooking time will reduce.
Prep Time:

15 minutes

Cook Time:

30 minutes

Category:

Entree

Method:

stovetop

Cuisine:

American/Universal
Keywords: Crispy Salmon, Fish recipe, Healthy Eating, Healthy Salmon, Juicy Salmon, Pan fried Salmon, Pan-seared salmon, pot pie, Recipes, Salmon, Salmon and vegetables, Salmon dinner, Salmon Recipe, Sautéed Vegetables
Recipe Card powered by
What is your favorite way to cook salmon? Please share in the comment below.
If you like this easy chicken pan seared salmon with vegetables then, I am sure you will like:
Want some salads? Grab my FREE (5) spinach salad recipe bundle would be a great addition to your dinner table. Get the recipes here.
Meanwhile, let's connect on social media; well, your girl is everywhere! Instagram, Pinterest, Twitter, and Facebook. LOL, I did put starting on Pinterest and Instagram off forever, well I am there now, and I will love for us to connect! Please SAVE/PIN THIS IMAGE ON PINTEREST. ⤵️

With love,