Plantain is Versatile.
Growing up in Nigeria, plantain was a huge part of my life; we had plantain trees in the compound and on the farm. My mother would use it in different ways, such as roasting, boiling, frying, or making it into porridge (the same way as sweet potato porridge.) Today I will be spinning around one of my mother's (plantain) recipes to make this highly requested plantain stuffing.
Whether you prefer to eat plantains ripe or unripe, they always make one of the most delicious recipes.
Click To Tweet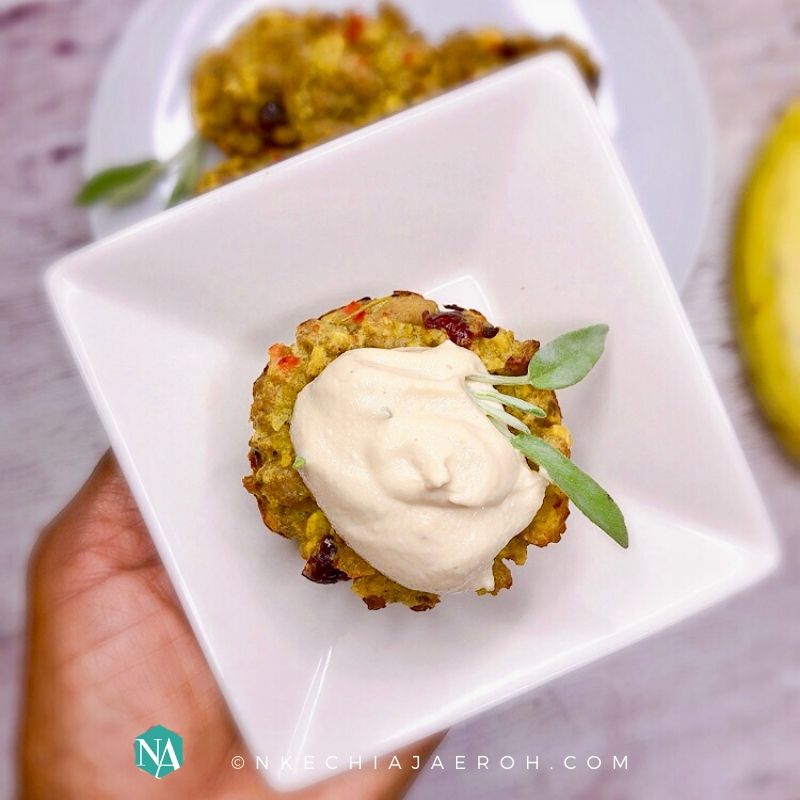 Special Stuffing.
Living in America has afforded me the opportunity of adding yet another tradition to the ones I had growing up in Nigeria.  Every single year my family and I look forward to Thanksgiving – an American tradition celebrated every last Thursday of November. One of the unique thanksgiving dishes is "stuffing." Usually, stuffing is made from bread or cornbread, but I decided to make my family's stuffing from plantains; semi-ripe plantains. Well, guess what? It worked. YIPPEE!!!
Cheers to this deliciously yummy plantain stuffing, if you are excited about this new tradition, keep reading for the exact recipe.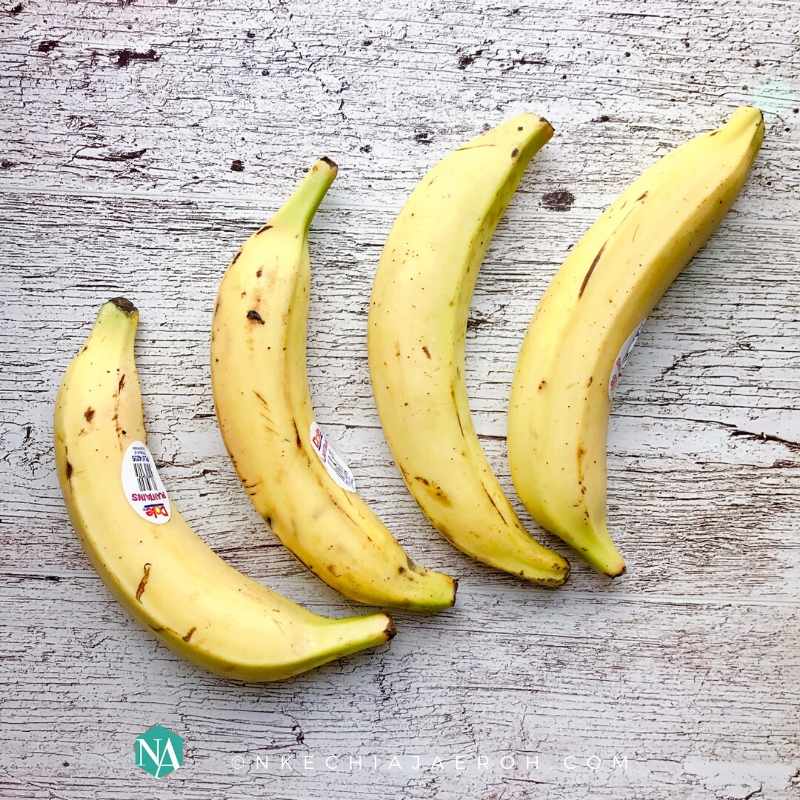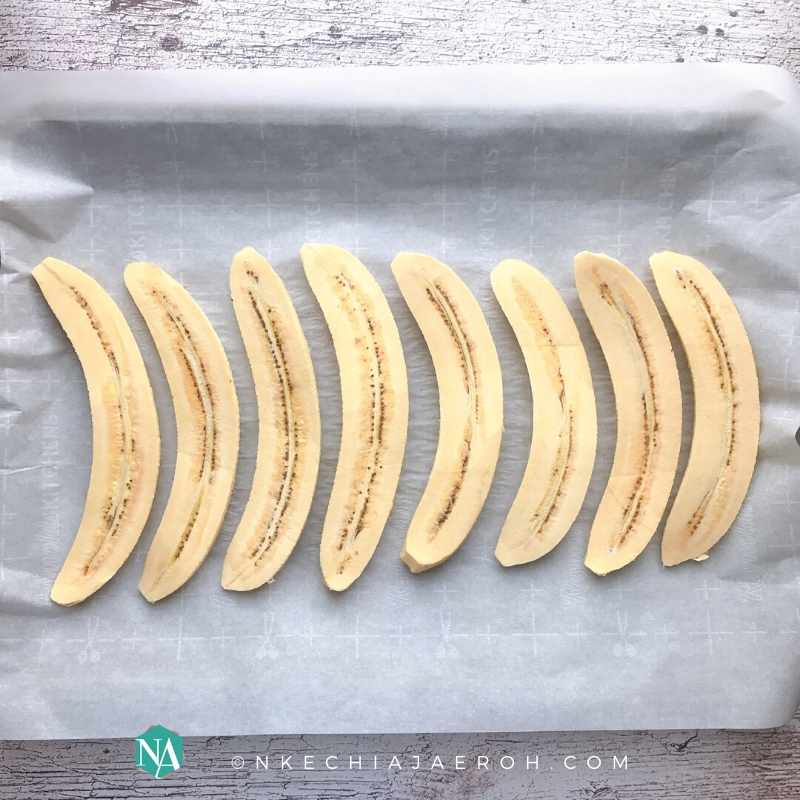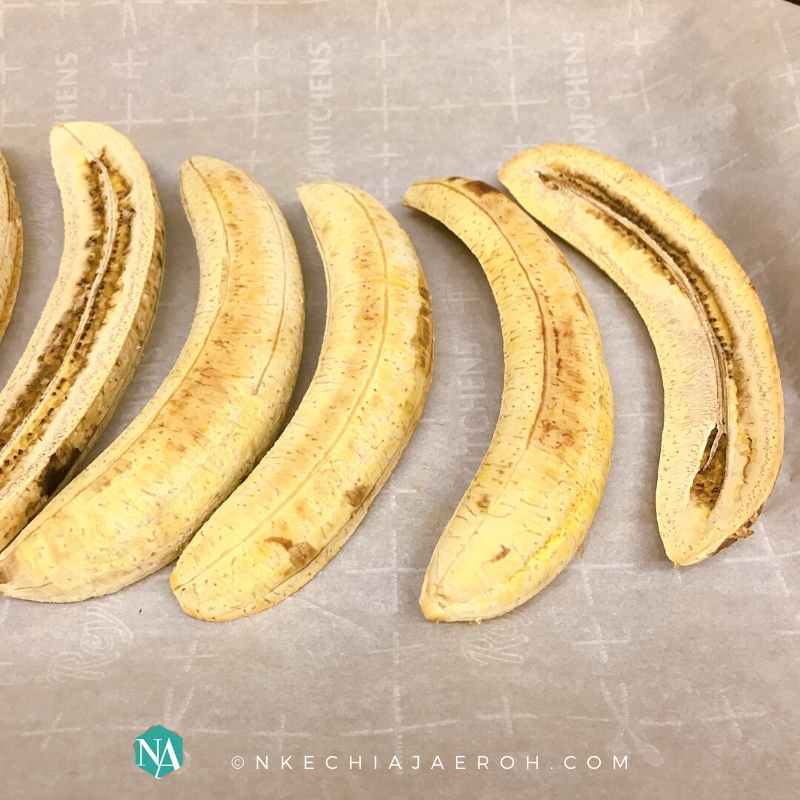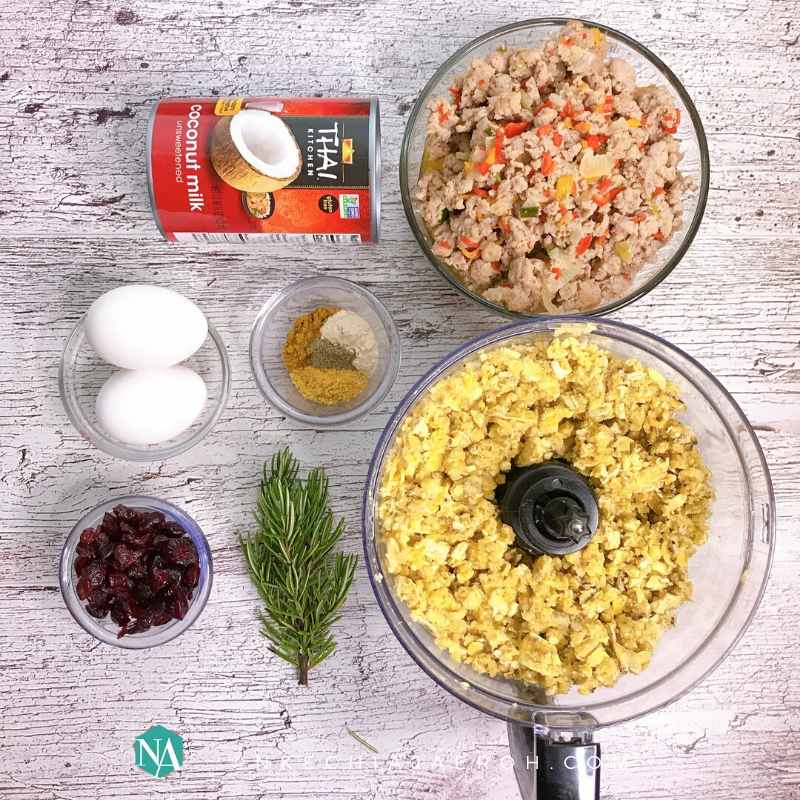 Thanksgiving Plantain Stuffing.
With few ingredients, be ready to wow your family and friends with this incredible recipe: some semi-ripe plantains, using very ripe plantains will make these very sweet, that's not necessarily the goal. Then coconut milk (as my choice of liquid), ground turkey, usually sausages are added to stuffing, but I subbed that for ground turkey. Eggs as well as other spices… This side dish is one for the books.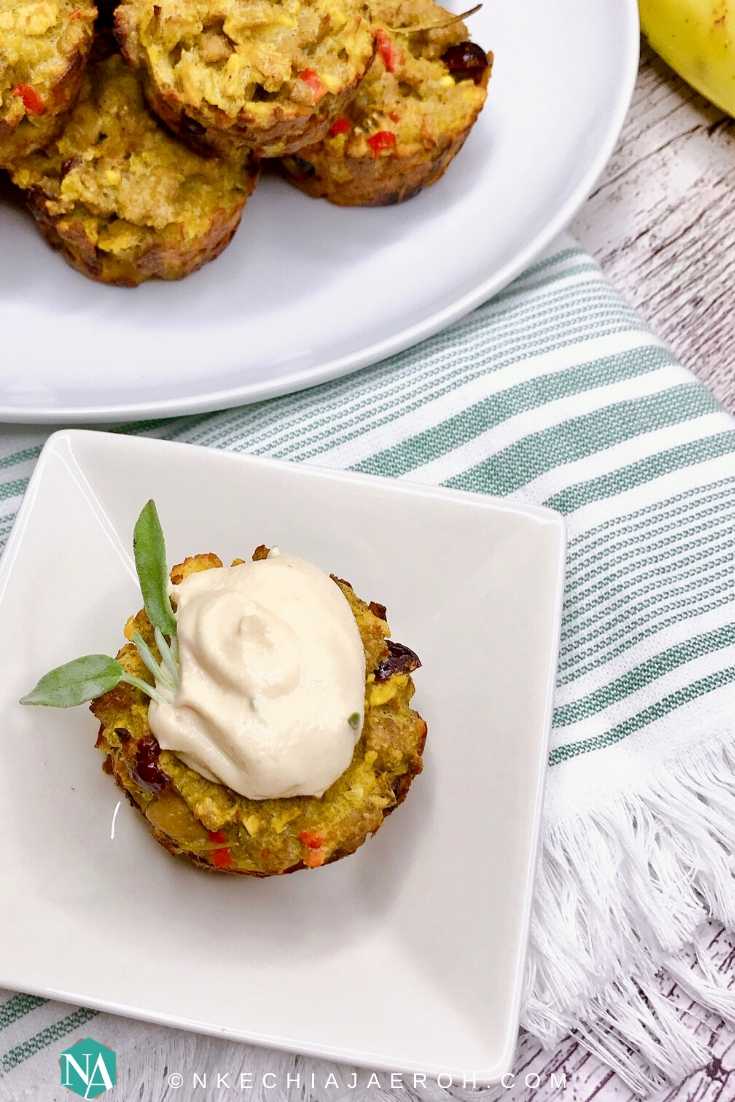 Well, enough said, let's make this dish.
Save to BigOven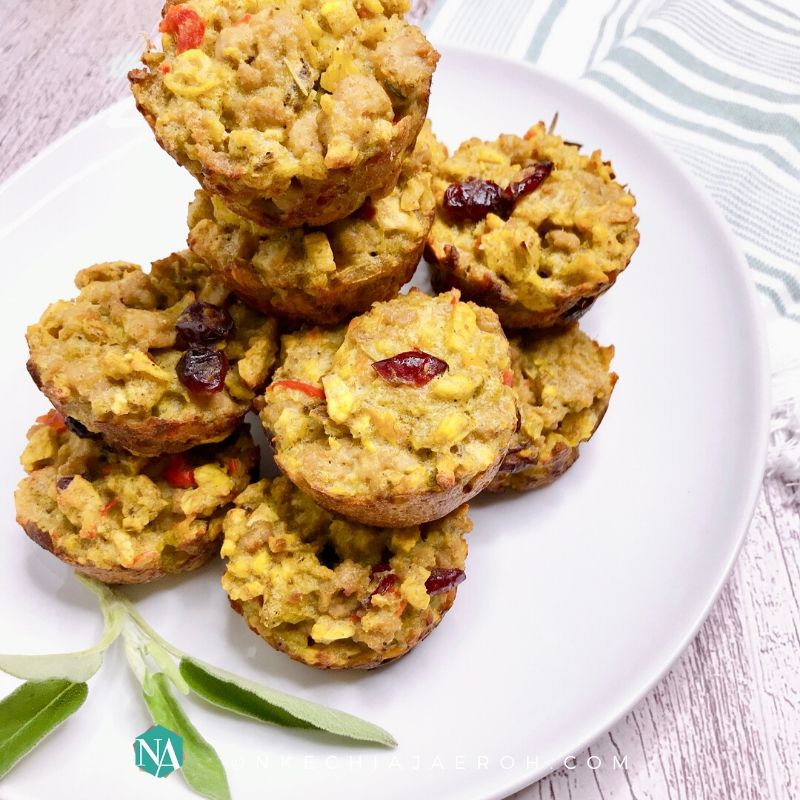 This stuffing recipe is filled with EVERY good THING you want, and none of the things you don't. Why use bread to make stuffing while you can natural ingredient – plantains.
Ingredients
4 semi-ripe plantains
1 cup of coconut milk
½ - 1 cup of broth (this could be meat or beef broth it don't matter., This could also come from the moisture from ground turkey, which was what I used. Usually ground turkey will have good amount of moisture when they are sautéed
2 fresh eggs
1/3 cup of dried cranberries
2 tablespoons of olive oil
For sautéing ground turkey:

1 lb. of ground turkey
1 cup of chopped onions
1 cup of chopped bell peppers (different colors)
1/3 chopped green onions
1 teaspoons of seasoning powder (or one small cube)
½ teaspoon of salt (remember to always add salt according to your taste or doctor
For the final mixing prior to baking

1 teaspoon of seasoning powder (or one small cube)
1 teaspoon of onions powder
¼ teaspoon of black pepper
½ teaspoon curry powder
1 tablespoon of fresh rosemary
Salt to taste if needed (remember, you had used salt to sauté the ground turkey)
Instructions
Wash and cut all the vegetables; onions, garlic, bell peppers, and green onions.
Add 1 – 2 tablespoons of olive oil to the pan allow to heat up, then add onions, cook for 2 minutes before adding the garlic, and then bell peppers. While the bell peppers are in, add the salt, pepper, seasoning, and then the turkey. Cook until turkey fully cooked. Set aside.
Meanwhile, preheat oven to 350, wash plantain and dry with a paper towel to remove external dirt, then peel off the skin, and roast/ bake them for 30 minutes or a little under/ more until they almost cooked through and with slightly golden color. Please see the photos.
Remove plantains from oven add to the food processor, and process to your desire, I like to see a bit of a chunk, (in those days my mother would use pestle and mortar to break them.)
Add the processed plantain to a big bowl, add the sautéed (well-seasoned) ground turkey, alongside the remaining ingredients: seasoning cube/powder, onions powder, black pepper, curry powder, fresh rosemary, dried cranberries, and coconut milk. Mix well, taste and adjust flavors appropriately, then finally add the eggs.
Spray your cupcake/muffin tins and using an ice cream scooper scope into the tins, bake for 22 – 25 minutes, or until fully cooked. Enjoy as a side dish with gravy/stew or for more creaminess (which we went for, add a dollop of creamy cashew – lime dressing.
Notes
The amount needed to sauté the ground will depend; usually, I will 1 tablespoon oil if the meat is 80 – 85% lean and use 2 tablespoons of oil if the meat is 90 – 97% lean.
I would typically add the eggs to separate small clean beats to combine before adding to the rest of the mixture. For some reason, I like to add eggs last, so I would have already tasted the entire before the eggs join the party.
https://nkechiajaeroh.com/kechis-kitchen/how-to-make-classic-and-delicious-thanksgiving-plantain-stuffing/
© NkechiAjaeroh.com All Right Reserved.
Do you like plantains? And would you be trying this any time soon?
Now that you are here go ahead and grab my FREE salad bundle. And if you love more light and lovely recipes, then check out this catalog. They are a collection of quick and easy to make healthy meals I know you will like.
Ok, this is unrelated, but it is true: I took a leap of faith and started on Instagram on October, 6th 2019. Well, if you are on IG, let's connect. I share great healthy living tips and recipes.
If your friends and family are like mine, then I know they would appreciate you sharing this recipe with them. Thanks in advance for sharing this post!
With love,