This Nigerian Breakfast is Everything!
In reality, one word that I can confidently use to describe most Nigerian breakfast is filling. You can call it one and done, in other words, it can carry you throughout the day. And, not only that it can satisfy you for that long but also it provides essential nutrition to your body. Personally, I think a very Nigerian breakfast of fried yam, plantain, and eggs is the best way to kick-start your day, every day.
I grew up eating this very breakfast. It used to be one of the stables on my family table then. By and large, it remains one of the favorite foods to make whenever I desire to eat like a king, for real. Usually, then my mother will likely make this every Saturday morning or at least most Saturdays when no one is in a rush to go out.
How to Make Nigerian breakfast of fried yam, plantain, and eggs.
Though this meal comprises of three different foods (yam, plantain, and eggs), they make a great combination. The steps to make them are quite straightforward. So therefore if I can make this dish, you can make it.
Here's all you need:
Nigerian Yam Tuber: although some Nigerian yam tubers could appear like potatoes they are not potatoes. They planted annually and mainly grown all over the continent of Africa. It is important to realize that yam is an excellent source of energy, dietary fiber, vitamins, and antioxidants.
Not sure where to get Nigerian yam tuber? Check out this post on finding Nigerian foods.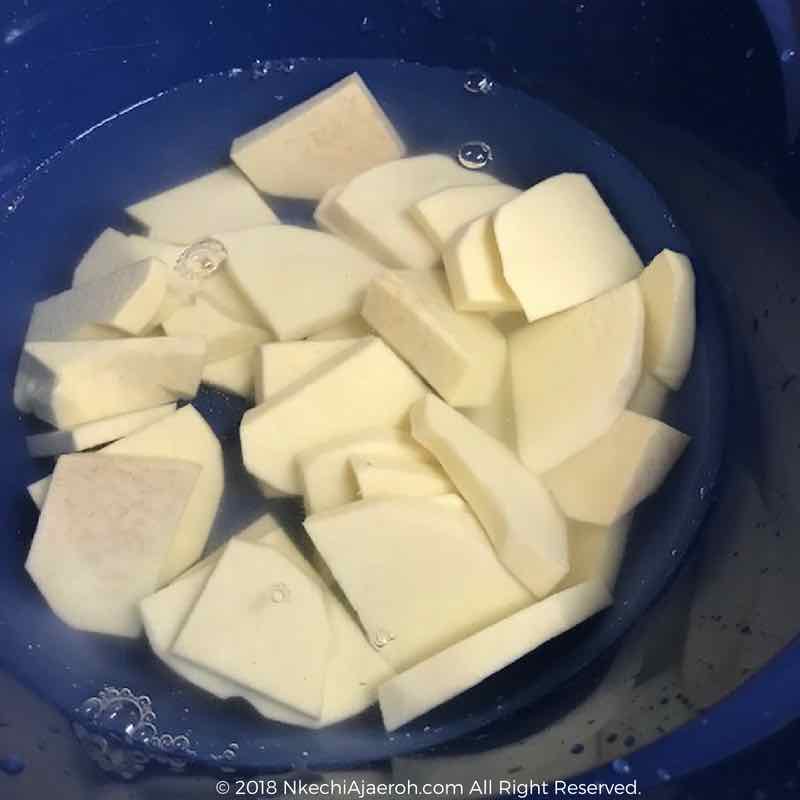 Plantain: in spite of plantains looking like bananas and often referred to as big bananas, they are typically different from regular bananas. However, they both belong to the Musaceae family. In fact, plantains are more abundant in vitamins A and C than bananas. They are also high energy giving foods and have a right amount of carbohydrates, some dietary fibers, and nutrients. There are tons of recipes for both ripe and unripe (green) plantain, for this dish I used ripe plantain.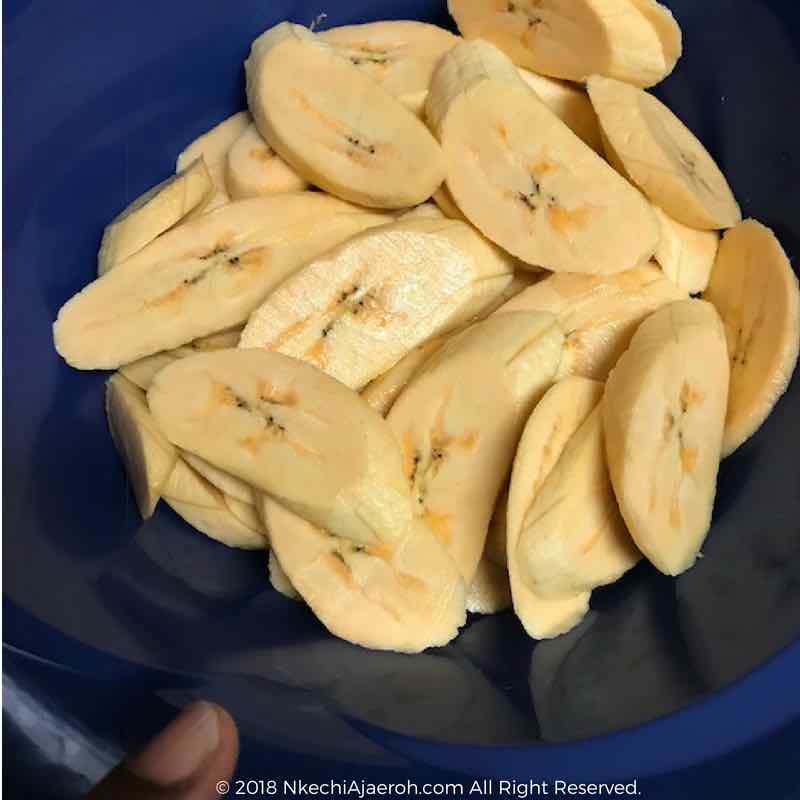 Eggs: given that (almost) everyone on planet earth love eggs, do I need to enumerate on it? Eggs are an excellent source of high-quality protein. At only 75 calories per egg, you get tons of other vitamins and minerals such as iron, sodium, potassium, vitamin A, and good fat.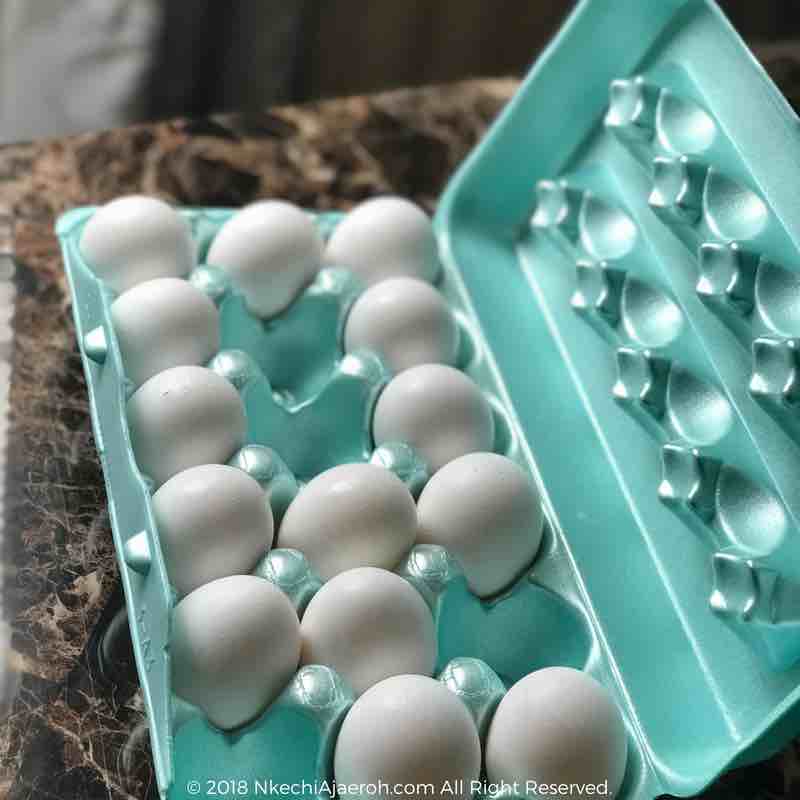 Despite what could seem like a long road to this very Nigerian breakfast, it is easy to put together as long as you have the three main ingredients (yam, plantain, and eggs). Above all have fun making it if possible some loved ones; it makes a great bonding time. Serve up a plate of this goodness to your family, and they will never forget you☺
In reality, this meal can be eaten at any time of the day: breakfast, lunch or dinner.
Please share the recipe with your friends and tell me whenever you make it.
Print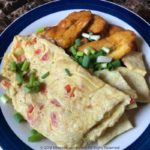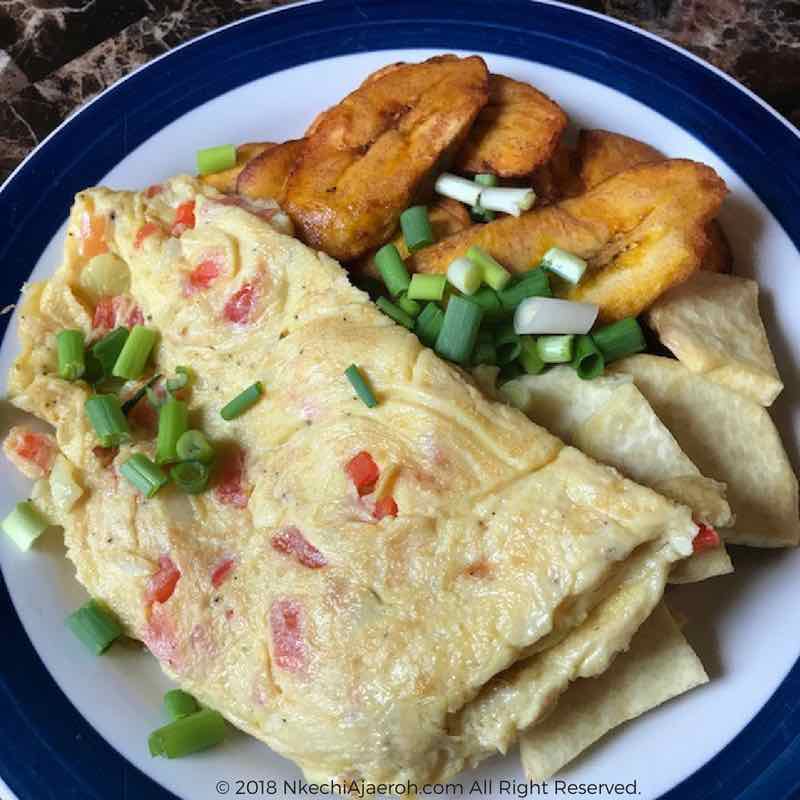 Nigerian Breakfast of Fried Yam, Plantain And Eggs
---
Prep Time:

0 hours

Cook Time:

0 hours

Total Time:

1 hour 45 minutes

Yield:

3

1

x
About

¼

Nigerian yam tuber (depending on yam size or the number of people serving, you could use more or less).

3

Ripe plantains
Peanut or any other oil of choice for frying the yam and plantain
Springs onions (optional for garnishing).
For the Omelet:
Four medium size fresh eggs
About

1

-tablespoon red bell peppers or more (cut)

1

-tablespoon fresh tomatoes cut

1

-tablespoon onions cut

½ teaspoon

minced/cut garlic

1/8

-teaspoon black pepper (add more according to your taste obviously)

½ teaspoon

onion powder

½ teaspoon

salt

½

cube of a Nigerian Maggi seasoning
---
Instructions
Cut the desired amount of yam you want to use. (A quick tip: remember yam is a root vegetable so it could be sandy. Therefore wash it before you start cutting.)
With your kitchen knife or vegetable peeler, gently peel off all the brown skin of the yam.
After peeling, cut the yam into your desired fry-able sizes. Ensure that you cut the yams sizes of equal size to enable them to fry up at the same time.
As you cut the yams put them into a bowl filled with water, this will prevent the yams from changing color.
As soon as you are done cutting the yam into pieces, wash them thoroughly and rinse with another water. Then pour into a drainer so that all the water will drain out. (Avoid frying super wet yam to prevent hot oil splash incidents)
Set a dry saucepan or frying pan on the stove and add a reasonable amount of oil for frying, (depending on the amount of yam 1-2 cups should be ok). Allow the oil to hit up.
Then, sprinkle some salt on the yam and shake to make sure the salt combines well and touches the entire yam inside the drainer.
As soon as the oil is hot enough, start frying the yams on medium to high heat. Do not overcrowd your frying pan.
Fry each batch until done, about 4-5 minutes (depending on size). When in doubt of whether the yam is done or not, please take out one, let it cool and taste.
For the Plantains:
Wash and peel all the plantain. (Remember to wash plantain before you peel. Do not wash peeled ripe plantains).
Cut into your desired fry-able sizes, sprinkle some salt for (entirely optional).
Fry in hot oil. (Use the same oil you used to fry the yams). The only difference between frying the plantains and yams is that for the plantains, you have to cook them until they are slightly brown.
Fry in batches and be sure not to overcrowd your pan with too many plantains.
For the Eggs:
Break the eggs into a bowl.
Chop all your vegetables: onions, tomatoes, red bell peppers, garlic and pour into the egg bowl.
Chop spring onions and set aside (this is optional and for garnishing).
Add some salt, a pinch of black pepper and some onion powder into that bowl as well. Crush in a ½ cube of Maggi
Use a fork and beat the egg and vegetable mixture to make sure everything is well combined.
Turn the stove to low. Set your saucepan or frying pan on the stove, add about one tablespoon of oil.
As soon as the pan gets hot, slowly pour your egg-vegetable mixture. (Please do allow the pan to overheat if not you could end up with a burnt egg.)
Allow the mixture/combination to settle into the pan, do not immediately start stirring. Think of omelet instead regular "scrambled eggs."
Give the mixture about 1 and 1/2 -2 minutes (or as soon ass you start seeing cooking evidence) before you turn or flip around with a spatula.
Cook until done and just the way you want it, then remove from the pan and place on a paper towel covered-plate, then serve with the fried yam and plantain immediately. Just like so, your fried yam, plantain, and eggs are ready and tasty. Garnish and serve with spring onions or any other vegetable of choice such as avocado
Notes
WHEN USING THE SAME PAN: You can use the same oil that you fried the yams and plantains in but be sure to pour the oil into a separate container. You do not want to fry your egg with excess oil, so if you desire to use the same saucepan, you had used for the yam and plantain you probably do not need to add additional oil after emptying the pan. Just ensure that you do not have more one tablespoon of oil in the pan, as you get ready to fry the eggs.
MAKE THE EGGS SCRAMBLE: If you want the eggs "scrambled eggs" instead of Omelet then start stirring as soon as you pour in your egg mixture.
WHEN FRYING THE YAMS: Be mindful not to fry your yam too long, they could change color and loose taste. Gently remove fried yams and place on a paper towel-lined plate to drain excess oil.
Recipe Card powered by
With love,