The Sweet Potato Sweetness.
I grow up eating sweet potatoes. I remember how as kids my parents would encourage us to plant sweet potato at the backyard. OH, yes! Sweet potato is called jinwannú in the Igbo language (my language), and that literally translates as sweet yam. Technically though sweet potato isn't really in the same botanical family as yams (I mean edible starchy yam tubers, the type we eat so frequently back home in Africa.) Even though by merely looking at sweet potato you could think that it belongs with the yam, and it does not belong to the (regular) potato family either. Sweet potato belongs to the bindweed family and in reality; sweet potato is a root vegetable.
Growing up I had many fun memories with sweet potatoes; I rarely remember my mother frying them. But on numerous occasion, my mom will either roast them, boil them, add them to beans porridge or just make sweet potato porridge (like am about to make now.) I particularly love that this food is naturally delicious by itself, it does not require so many ingredients or spices to make it taste good; it looks good on the outside and tastes even better in the inside. (What an excellent quality to have.)
How to sweet potato slay.
In other to slay-age this spectacular dish you will need among other things sweet potatoes (no substitution). A cup of sweet potato with the skin has about 950mg of potassium, more than can ever be found in a banana even though bananas are regarded as potassium powerhouse. Click To Tweet And just in case if you are wondering, potassium helps the body to take care of excess sodium and also lowers high blood pressure. In other words, sweet potato has tons of antioxidants; it has high-quality fiber, vitamins A and C, manganese, vitamin B6 plus other minerals and compounds.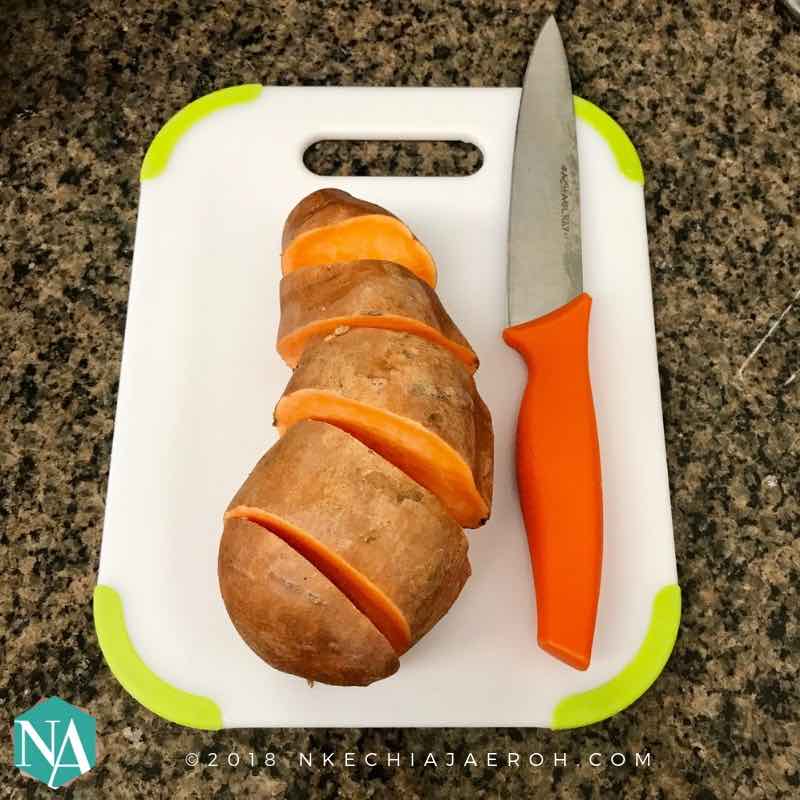 #Noteworthy: sweet potatoes are low in calories, one medium size is only a little over 100 calories, 103 precisely and they are packed with superior-quality nutrients.
Spinach.
Apart from sweet potatoes, you would also need spinach for this dish. In the world over spinach is generally known as a powerhouse because it protects the brain, the eyes, the bone, and the heart. OH, and, which means spinach can quickly improve your overall health. In other words, you really need to incorporate spinach in your dishes. By all means, you cannot go wrong by adding them to this dish. Spinach belongs to the same family as beets, and quinoa; this category of foods are said to have the capacity to reduce inflammation as well protect your body against free radicals. Click To Tweet
Squared up and ready to shine.
I love cutting these goodies in squares; you wouldn't even notice these by the time they are cooked. Plus it looks gorgeous in squares too! In addition to how they look to the eyes, cutting sweet potatoes at (almost) equal sizes allow for even cooking.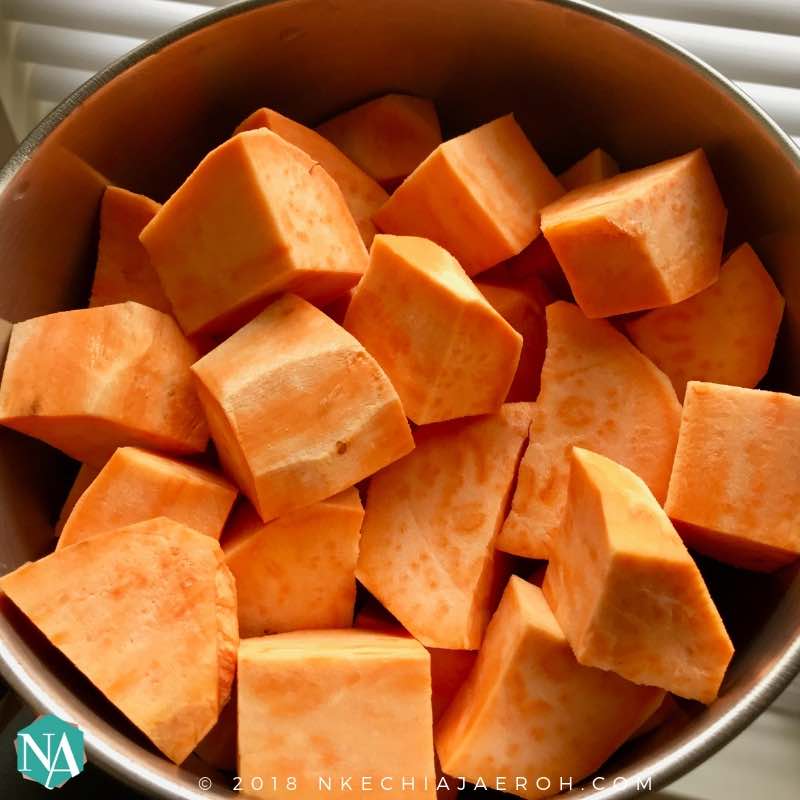 And serve it up like so:
OH, snap! Sooooo good! While I finish up with this, go make some.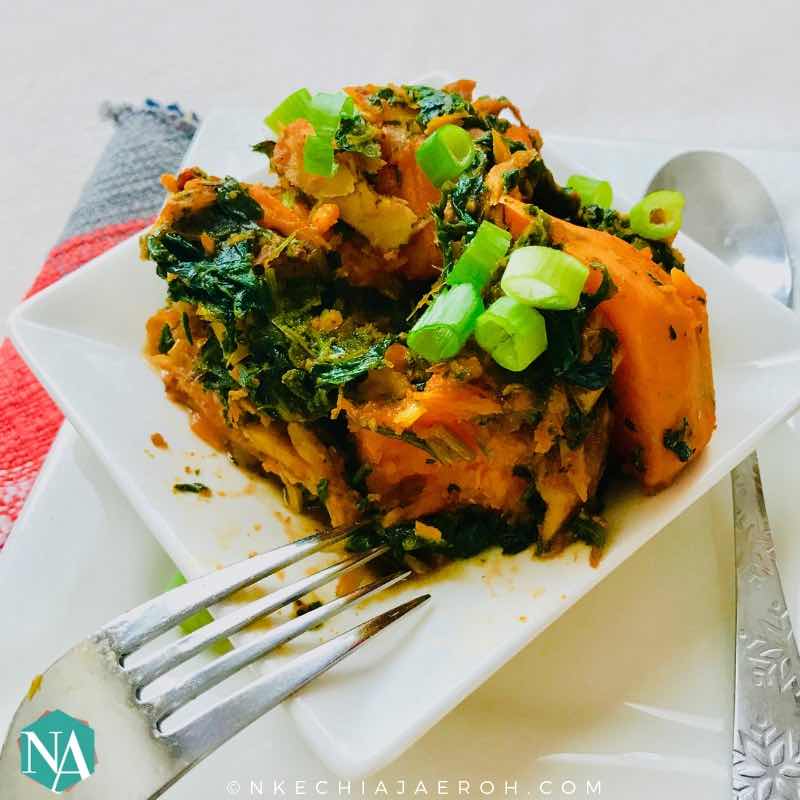 This dish go by so fast in my household. I love that my kids love it!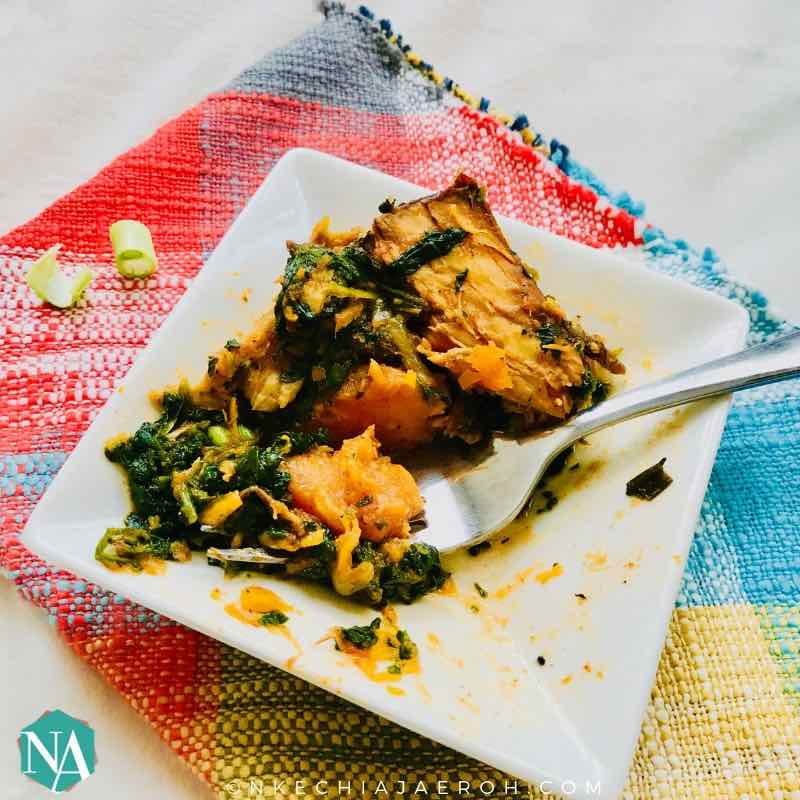 Now if you are ready, let's get cooking.
Save to BigOven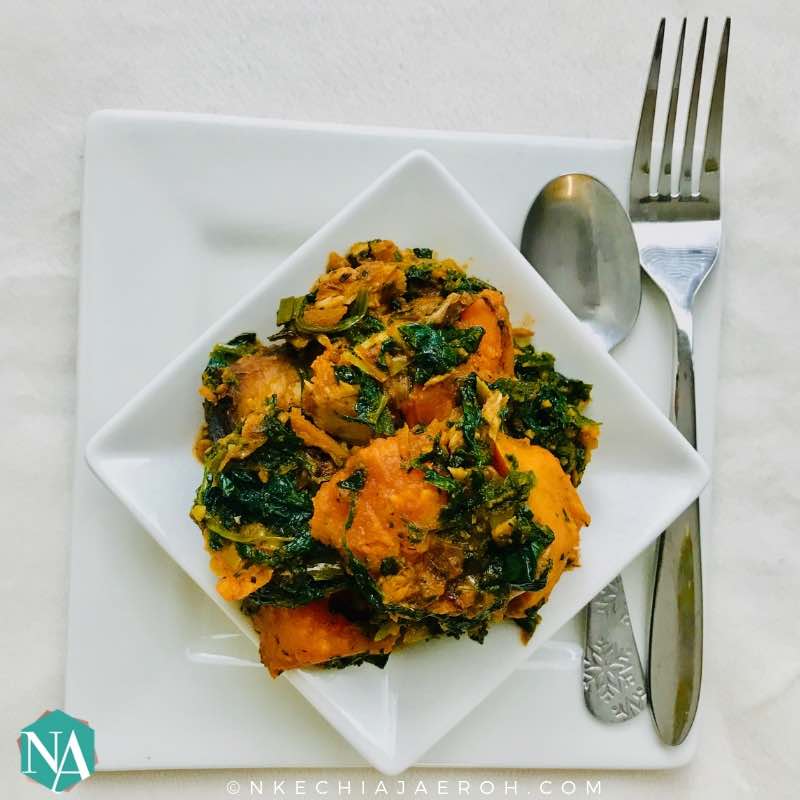 This sweet potato porridge is simple, spectacular, flavorful and mouthwatering. Fully packed with nutritious ingredients. It is a family favorite for brunch, lunch, or dinner.
Ingredients
3 big sweet potatoes (cut in squares, about the same size)
2-tablespoon vegetable oil
1 bag of 12oz. (chopped/cut frozen spinach; you may not need all of it)
3 oz. tomato paste
1 cup of chopped fresh vegetables (colorful bell peppers, onions, garlic and bell p
1 – 2 tablespoon of ground crayfish
10 oz. of dry/smoke fish (totally optional)
1-2 teaspoons of salt (add salt according to your taste)
2 seasoning cubes or 2 teaspoons of seasoning powder.
1 teaspoon of dry thyme
½ teaspoon curry powder
a dash of crush red pepper or ground red pepper (optional)
2 cups of water (plus a little more; about ¼ - ½ cup)
Instructions
Wash and cut sweet potatoes; set aside. Wash and chop other vegetables as well. Wash and clean the dry/smoke fish if you are using it.
Set a clean pot/pan on the stove, and turn the stove to medium and allow to warm up. Add oil and allow to heat up, then add about ½ teaspoon salt and the chopped fresh vegetables.
Sauté for about 2 minutes and add the fish while reducing the heat (this process helps the fish to become more flavorful). Sauté for another 2 minutes, gently stir in the tomato paste. Ensure that the heat is still low to avoid the tomatoes sticking to the pot, and continue to stir for 2 minutes mildly. When combining tomato paste with the vegetables and fish; be careful not to break the fish into pieces. (Though that's ok, too.)
After 2 minutes add water and stir. Then add all the other condiments: about 1 teaspoon salt, thyme, curry, ground or crush red pepper, crayfish, one Maggi or Knorr cube and stir to combine. Taste to ensure flavors are how you like them.
Now gently add the cut sweet potatoes, give a good stir, crush in the last Maggi or Knorr cube, and taste again, add more salt (about ½ teaspoon), and pepper if so desired. Also, add about ½ cup more of water if like your porridge a little more porridge-y.
Cover the pot, and turn the heat to medium – high. Cook for the next 20 minutes or until potatoes is a bit soft. (Remember to check on the potatoes every 5 – 7 minutes, and give small stir if need be.) Then, gently stir in spinach, and allow to simmer for another 3 – 4 minutes, and your food is ready. Taste for perfect flavor and serve warm. Garnish with spring onions.
Notes
Make this meal vegetarian by not adding ground crayfish, and dry/smoke fish (I personally love adding proteins.)
https://nkechiajaeroh.com/kechis-kitchen/how-to-make-simple-and-healthy-sweet-potato-porridge/
© NkechiAjaeroh.com All Right Reserved.
Do you eat sweet potato? How do you make them? Tell me in the comment. Check out my kitchen and see what's hot. If you love what you see then son't hesitate to join my family.😊
With love,