Healthier and Easier Nigerian Fried Rice Recipe.
Nigerian fried rice recipe is one of the best exports out of Africa. It is perfectly okay to call this recipe West African fried rice because we generally cook fried rice the same way across West Africa – Nigeria, Ghana, Cameroon, Togo, Cotonou, etc. You can also call this dish vegetable fried rice because it uses tons of veggies, and you can easily make this fried rice recipe vegan by swapping only one ingredient (yes, it is that easy). There are many versions of this dish – the most important thing is to learn the basics and then make it your way when you desire – shrimp fried rice, chicken fried rice, assorted meat fried rice, etc. And the best part is that you can never go wrong any version of Nigerian fried rice recipe.
I love simplicity, and in line with that, I also made this recipe healthier. If you are interested in learning my tricks to making the best healthish Nigerian fried rice each time, please keep reading or scroll down to the recipe card. As you may already see, I served this dish with oven-baked chicken thighs; you can use any protein of choice. This is one dish my family enjoys; in other words, they are never EVER tired of eating fried rice. I mean this homemade fried rice.
For the folks at the back, this is one fried rice recipe you want in your arsenal; it is easy to cook, colorful, flavorful, and will leave you with an unforgettable experience! The best part is that you can serve this recipe with…
Click To Tweet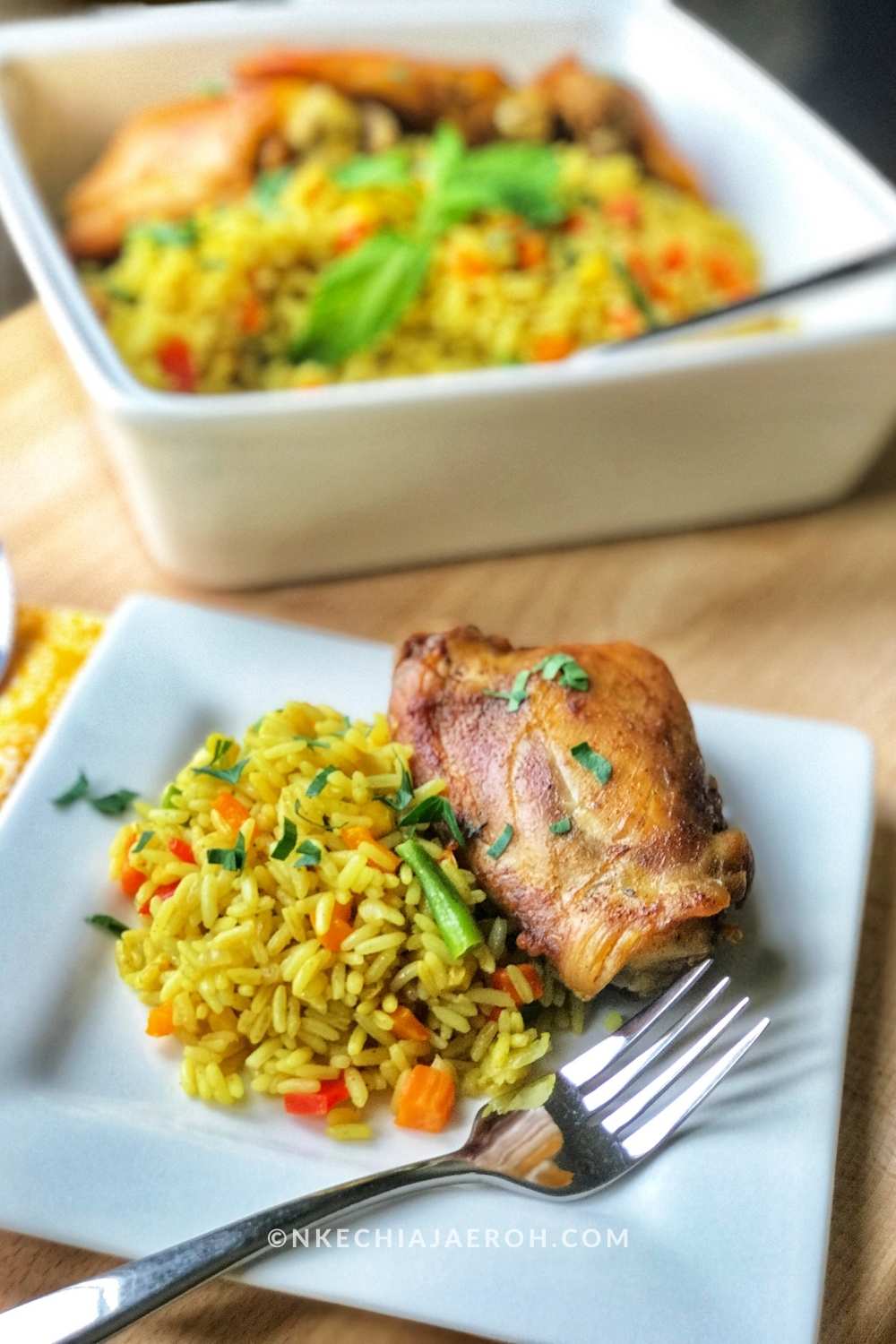 Is Nigerian Fried Rice Recipe Vegan?
Traditional Nigerian fried rice recipe is not vegan because it usually uses chicken broth, and most of them also use fried liver. But it is very easy to make this recipe vegan by simply using vegetable broth instead of chicken broth and not adding or serving this recipe with any meat – effortless, you may say! Check out my vegan coconut jollof rice.
Ingredients for Nigerian Fried Rice.
Okay, friends, the essential ingredient in making Nigerian fried rice is love, yes, you heard me. But I mean, not literally. The truth, though, is that when you cook with love, your food tastes better. If you agree, say, AMEN!
In actuality, the main ingredients of any Nigerian fried rice recipe include rice (well obviously), onions, garlic, bell peppers, curry, turmeric, broth, and mixed vegetables (consisting of carrots and peas, green beans, corn), etc. For today's recipe, my mixed vegetables are frozen. In other words, you can use either frozen mixed vegetables or fresh mixed vegetables – both works just fine. When it comes to making this dish, I encourage you to use the veggies you already use and love.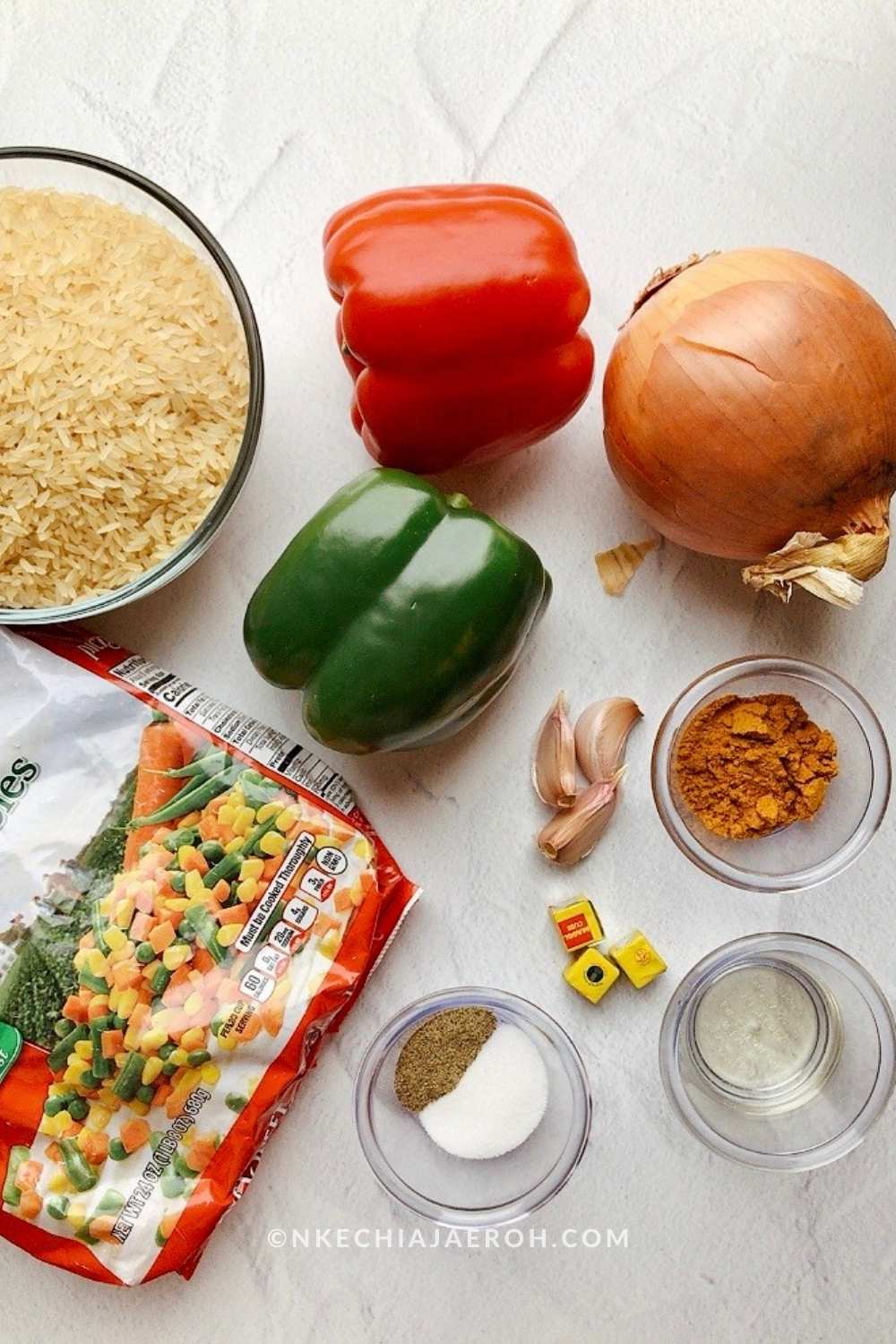 How to make the Best Nigerian Fried Rice (step-by-step)
The procedure for making the best Nigerian vegetable fried rice is actually simpler than you think. It has a two-step process. Well, I say vegetable fried rice because this dish uses tons of vegetables like my cauliflower fried rice.
First, cook the rice in a well-seasoned broth. ⤵️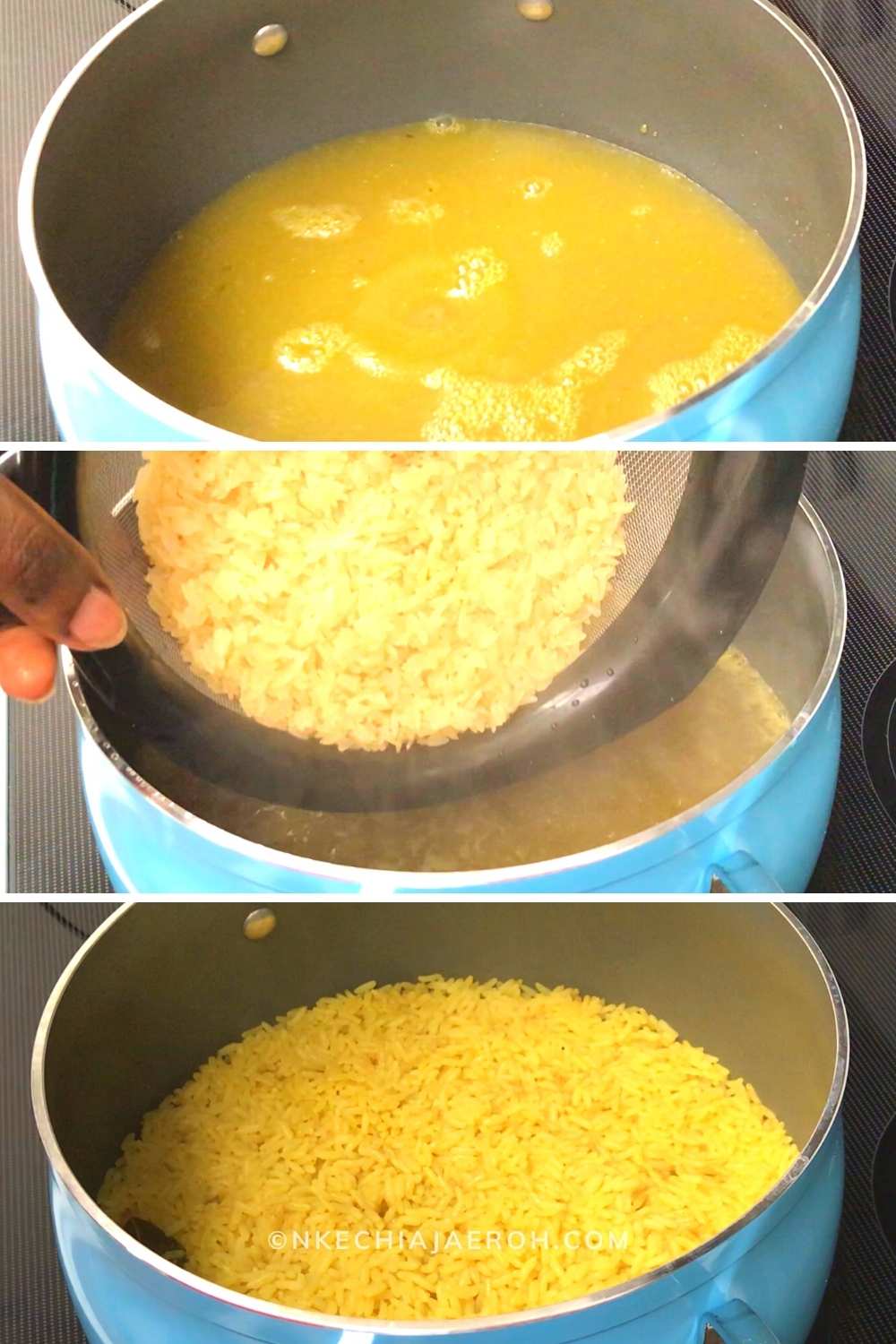 Second, fry the rice in sautéed vegetables. Yes, it is this easy to make fried rice! Make sure to watch the video so you won't miss any step.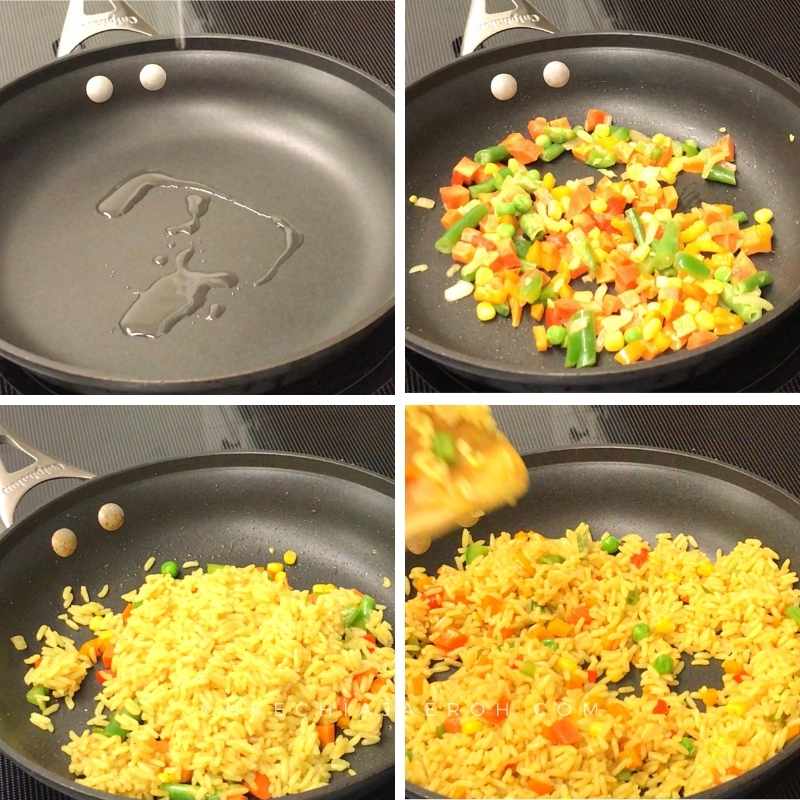 The Best Gluten-free and Dairy-free Nigerian Fried Rice Recipe.
YES! This fried rice recipe is irresistible, friends, truly the best – can't wait for you to make it. I served this dish with baked chicken thighs but can use any other protein. You can equally choose to make it vegan fried rice.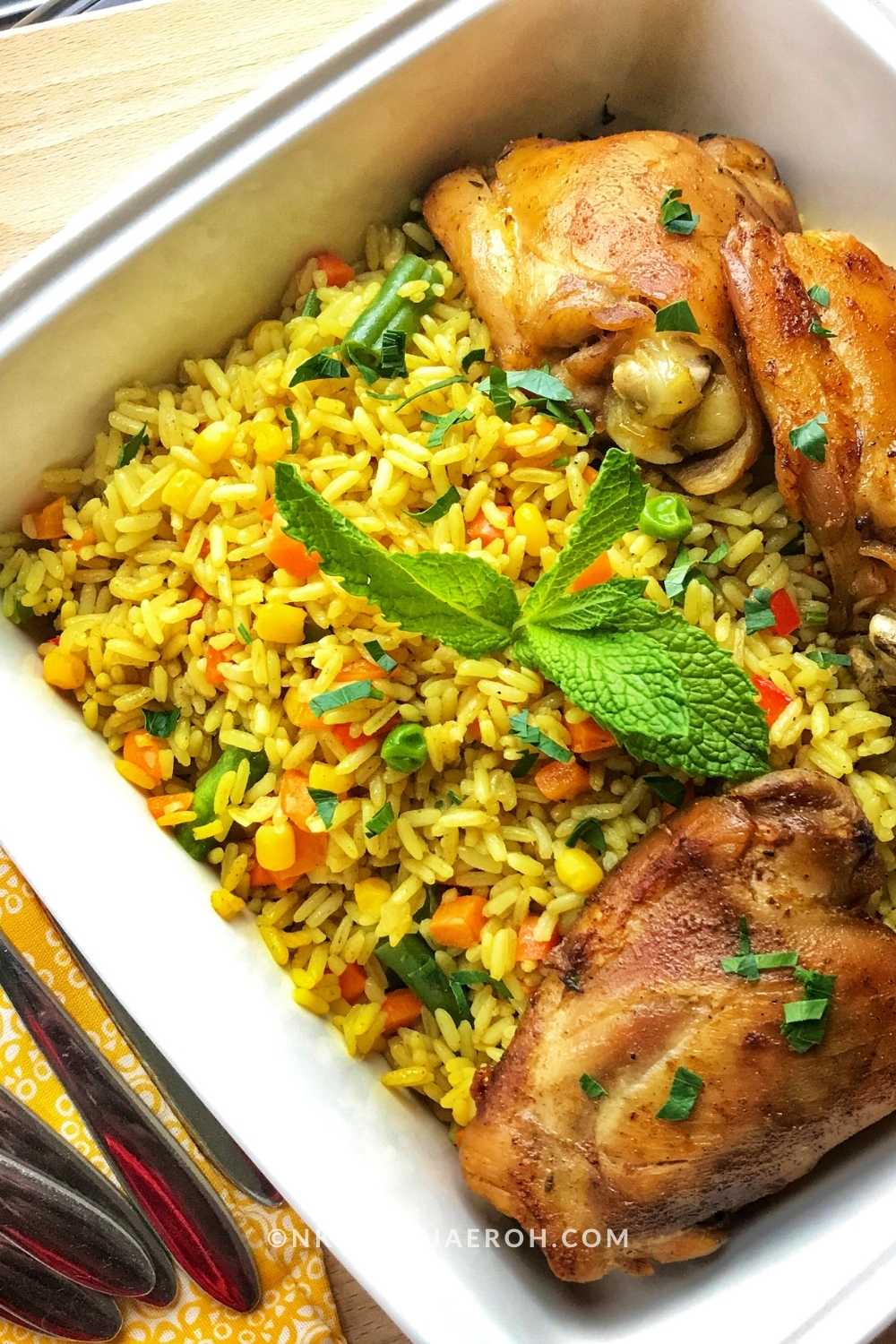 Can I use leftover rice to make Nigerian fried rice?
Yes, yes, and yes!! You can easily make fried rice with leftover rice; you do not have to cook "new" rice from scratch each time you desire to make fried rice. The bottom line is that leftover rice is a perfect fit for making fried rice.
Can I make Nigerian fried rice without frying?
Fortunately, you can make fried rice without frying. To make fried rice without frying, you will need to, first, parboil the rice, second, sauté onions/garlic, add broth, then add rice and cook until soft, and finally, add the vegetables, all in one pot. Check out my easy one pot fried rice recipe with shrimp (also known as no-fry "fried rice) for directions.
The Difference Between Nigerian Fried Rice and Asian/ Chinese Fried Rice.
Here are some ways Nigerian fried rice recipes differ from Chinese (Asian) fried rice; and by "Chinese fried rice" I mean the fried rice you would typically buy from a Chinese restaurant.
Aside from the differences mentioned above, making fried rice Nigerian style can also make the leftovers last longer. Sometimes our fried rice leftovers can last up to 5 days in the fridge. I doubt if you leave others this long.
Similarities Between Chinese (Asian) Fried Rice and Nigerian Fried Rice Recipe.
All fried rice is not the same – some are better than others. Nigerian fried rice is not the same as the famous Asian fried rice (Chinese fried rice) we see in the Western world. The former is waaaaay flavorful and delicious even…
Click To Tweet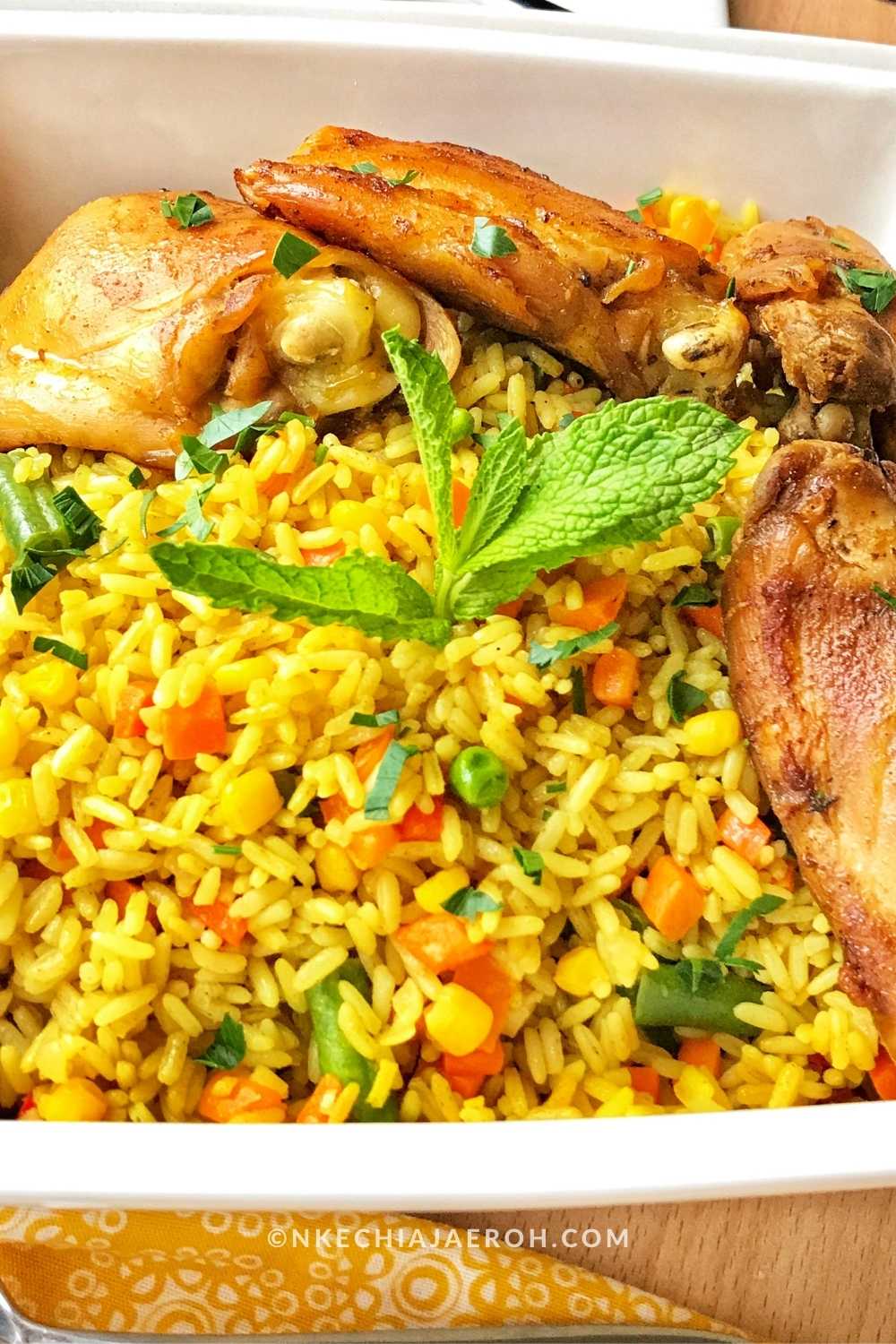 How can I make fried rice without chicken broth /stock
You can substitute chicken broth with vegetable broth or stock, and if you have neither the cook the rice with seasoned water. Surely, broth or stock will make the rice taste flavorful, but in the absence of chicken broth (or if you are vegan), you can get away with cooking the rice with water, salt, and Maggi.
Can I use beef broth (stock) instead of chicken broth (stock)?
Short answer: no. Long answer: the closest option would be turkey broth, and if you are vegan, or you desire to make vegan fried rice, then use vegetable broth. On the other hand, you can make use of seasoned water. But, honestly, if all you have is beef broth, and you want to use it, you can give it a try and let me know how it went. Perhaps the color won't be as bright, and also, the taste may be slightly affected. I rarely think it would be that bad.
Where does Nigerian fried rice get its color.
Typically, Nigerian fried rice gets its color from some of the ingredients – curry, turmeric, broth, and vegetables. Equally, it gets its taste from the ingredients as well. Meanwhile, am going to enjoy this plate, I know I deserve it!🙌🏾

If you are ready let's make some mouthwatering Nigerian style fried rice.
Print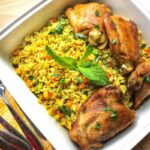 Nigerian Fried Rice Recipe with Baked Chicken
---
Description
Easier, healthier, and irresistibly delicious Nigerian fried rice recipe. This fried rice recipe is gluten-free and dairy-free, and you can effortlessly make it vegan fried rice if you so wish by cooking the rice in vegetable broth instead of chicken broth. Packed with assorted nutritious veggies, this vegetable fried is a must-try! Here I served it with oven-baked chicken thigh, you can serve it with any choice of protein.
---
2 cups of rice
4 cups of chicken broth (I used homemade but you use store-bought chicken broth)
1 cup (fresh) mixed bell peppers
1 cup of chopped onions and garlic
2 cups of frozen mixed vegetables
1 – 2 teaspoons of seasoning powder or 2 seasoning cubes
1/4 teaspoon of salt (if needed)
2 teaspoons of ground curry (for color and flavor): add one in the broth just before adding rice & use the rest during the "frying."
Salt & pepper to taste (as desired)
2 tablespoons of Olive oil
2 bare leaves (for boiling the rice)
Fresh Mint Leaves (optional; for garnishing)
Parsley (sliced; for garnishing)
---
Instructions
Wash and cut all the vegetables. Cover and set aside.
In a clean pot, add the broth or stock, usually at a ratio of 1 cup of rice to 2 cups of broth. Also, add bare leaves and 1-2 teaspoons of curry.
Add washed rice when the broth starts boiling. Usually, the broth is salted, so I do not add additional salt.
Cook for about 20 – 25 minutes or until rice is more than halfway cooked (about 75% cooked) and all liquid absorbed (please see the video). Turn off and set the rice aside. I would normally cook the rice for about 25 minutes or so, depending on the quantity.
Then in a clean pan, start by frying the vegetables and slowly adding rice to about one cup at a time. Do not overcrowd the pan—just bit by bit. To explain this: set a clean pan on the stove, add oil, then add onion/garlic as it heats up. Cook for 1 – 2 minutes, add bell peppers, cook another 2 minutes, and add mixed vegetables. Season with a little salt, curry, seasoning cube, or powder, and then add the already cooked rice—Fry to your desired consistency. Watch the video if you need more clarification.
Taste and adjust, repeat to fry all the rice. Garnish with parsley and mint leaves. Serve warm with baked chicken thighs.
Notes
Avoid overcooking the rice. I always do 1-part rice to 2 parts broth. For instance, to cook one cup of rice, you will need two cups of broth. Sometimes, this may differ depending on the type of rice.
There is no need to add food coloring to this fried rice recipe; the curry, turmeric, and the vegetables make a great color combination.
Keep your eyes on the rice while it's cooking.
There is no need to add salt if you used salted broth; you may need just a little salt while frying the rice and see what I mean from the video.
Prep Time:

25

Cook Time:

25

Category:

Entree

Method:

Stovetop

Cuisine:

Nigerian
Keywords: Nigerian fried rice, vegetable fried rice recipe, vegan fried rice, Nigerian fried rice recipe with baked chicken, Gluten-free rice recipe, Healthy fried rice recipe, Easy fried rice recipe, dairy-free rice recipe, African fried rice recipe, easy rice, recipe, Nigerian food, African food, Nigerian rice, African rice, how to cook fried rice in Nigerian, how to cook authentic Nigeria fried rice, healthy Nigerian fried rice, easy Nigerian fried rice, Nigerian party food, Nigerian party rice recipe, vegan fried rice
Recipe Card powered by
PLEASE CHECK OUT OTHER NIGERIAN RICE RECIPES:
More NIGERIAN RECIPES to try:
Check out These Healthy Recipes:
Do you enjoy Healthy Breakfasts?
While you are still here SUBSCRIBE TO MY YOUTUBE CHANNEL. Am brand new!
THIS POST CONTAINS AFFILIATE LINKS, you are not charged more for using these links, but I make little coins when you do.
Finally, let's connect on social media, am on Facebook, Instagram, Twitter, and Pinterest. Share this recipe post, and SAVE/PIN THIS IMAGE ON PINTEREST! ⤵️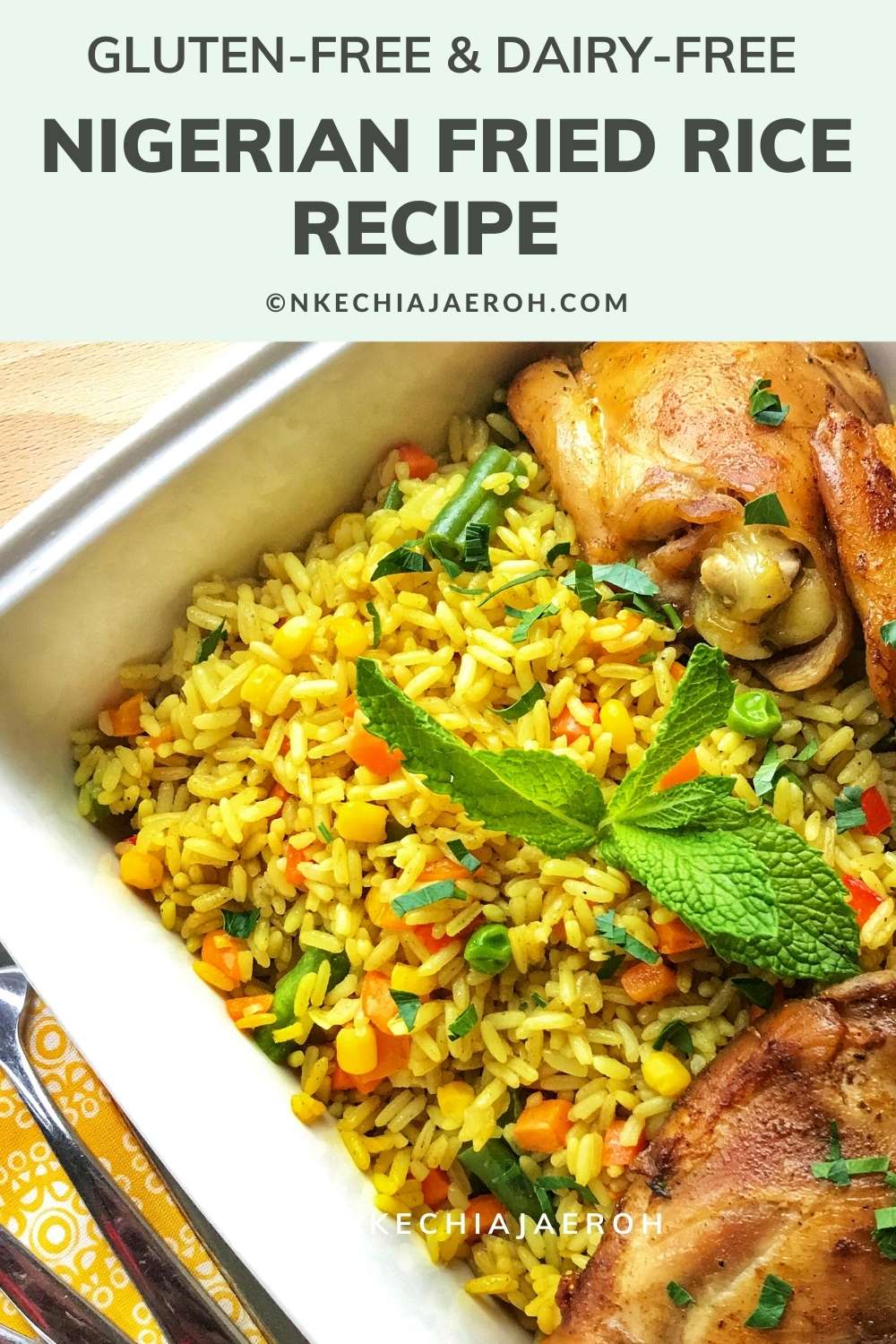 Thanks so much for stopping by. Hope you stay well and safe.