Nigerian Pepper Soup Recipe.
Nigerian Pepper soup or African pepper soup is a light hot soup prepared with varieties of meat and spicy peppers. Though pepper soup is enjoyed Worldwide, it originated from the West African Region. Pepper soup is crazy hot (I mean very very spicy)! Usually made with hot spices and herbs, it is sure to wake you up any time any day; this is a naturally "hot" light soup not meant for swallow though you can try.
The flavor and spices are intended to make this dish super spicy so you can literally warm up. In reality, though, you are responsible for making your pepper soup as spicy as you want it. Personally, I try not make them as hot because my kids love to eat it with us sometimes. Aside from the spiciness of this dish, different types of meat are also used in making Nigerian pepper soup, and that is one of the reasons why it is so special. To be honest, I have never seen a "Nigerian pepper soup" that is made of solely vegetarian ingredients, there could be now, I mean Its October 2018, hellooooooo!
In those days, my father would usually make pepper soup, and he often makes the goat meat pepper soup. However, today I am going to show you the most essential steps in making a flavorful Nigerian pepper soup. In other words, stay with me as we simplify this classic dish. When you are struggling with life-work balance the last thing you need is completed cooking method. Also, I will be using only two different kinds of meat, namely, goat meat and beef strife.
How to Prepare Authentic Pepper Soup.
Aside from the ultimate Nigerian pepper soup spice, which is an absolute MOST in any authentic Nigerian pepper soup, you will also need some vegetables like onions and fresh bonnet peppers. (I have to substitute scotch bonnet peppers with ground red chili peppers because I rarely get them where I live). It is important to remember that scotch bonnet peppers are extremely hot/spicy, and you can also substitute them with other spicy ones such as jalapenos etc.
Finally, I love to garnish with some bell peppers, and spring onions for that fantastic fresh taste, surely this is optional but highly encouraged. I love the marriage of dry and fresh ingredients as shown below: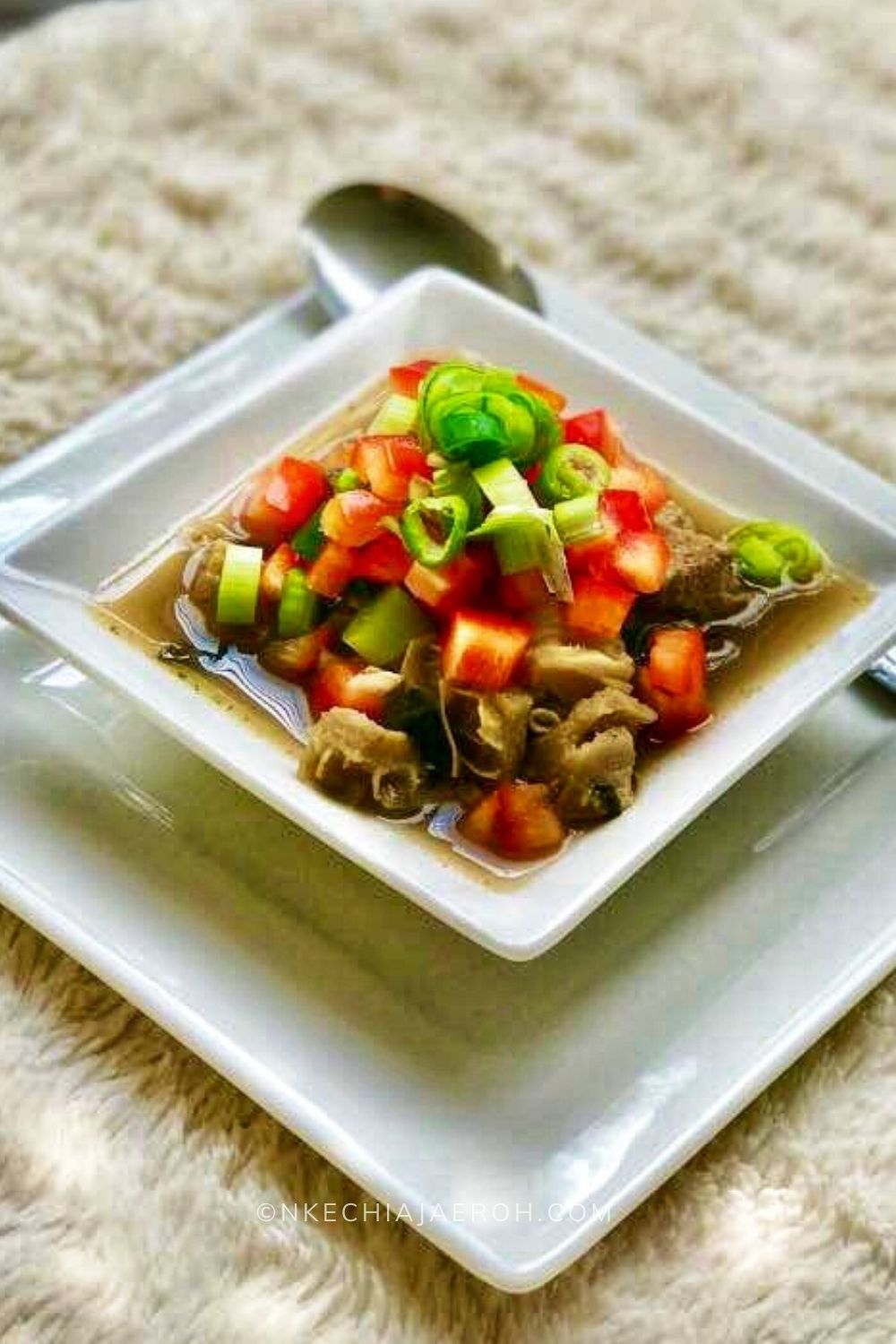 Ingredients:
Typically the ingredients you choose will depend on what you want, for instance, the type of meat you want. However, for this pepper soup recipe, you will need the following things.
-Goat Meat
-Honeycomb or Beef Strife
-Meat Broth (aka, all the broth from cooking the meat)
-Scotch bonnets or Nigerian hot red pepper
–Natural non-sodium pepper soup spice
-Onions
–Seasoning cubes
-Utazi leaves, etc.
How to Serve Nigerian Pepper Soup.
Pepper soup is usually served as an appetizer in most Nigerian restaurants and homes like mine (your girl is a pepper soup fancier, don't judge). More people gravitate towards it during chilly weathers but in reality it is enjoyed all year round in Nigerian and beyond.
On the other hand, this pepper soup are perfect with Nigerian Agidi (corn flour jello) Another key point: this dish is best enjoyed while it a little hot or warm. Do not eat it cold, heat it up and get the best from those heartwarming spices.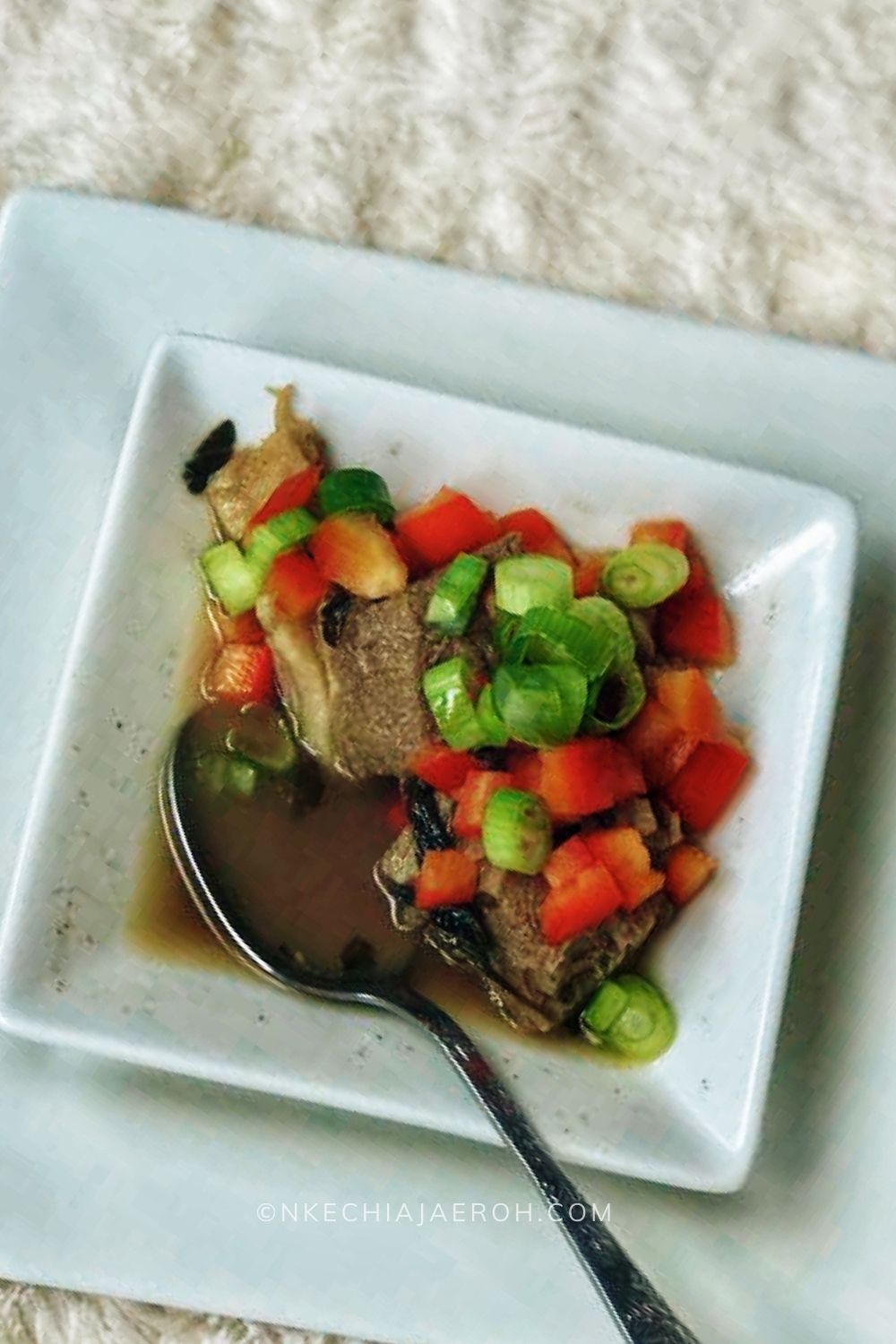 Nigerian Pepper soup or African pepper soup is a light hot soup prepared with varieties of meat and spicy peppers. Though pepper soup is enjoyed Worldwide, it originated from the West African Region.
Click To Tweet
Print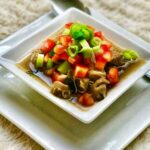 How to Easily Make Authentic Nigerian Pepper Soup
---
Total Time:

3 hours 30 minutes

Yield:

8

-

10

servings

1

x

Diet:

Gluten Free
Description
Nigerian Pepper soup or African pepper soup is a light hot soup prepared with varieties of meat and spicy peppers. Though pepper soup is enjoyed Worldwide, it originated from the West African Region. 
---
2

lb. goat meat

1

lb. honeycomb/beef stripe

4

–

5

cups of meat broth (from cooking the meat)

½

bulb of onions (for boiling)

1

-tablespoon salt

1 teaspoon

Nigerian hot red pepper (ground)

1

-tablespoon natural non-sodium pepper soup spice

2 tablespoon

of dry utazi leaves (mainly sold in African stores that is if you live abroad like yours truly.)

2

pair of Knorr cubes (or

1½ tablespoons

of Knorr powder.)

1 cup

of chopped bell peppers (divide in to two;

½

for sautéing and

½

for garnishing)

1 oz

. or

2 tablespoon

of tiny chopped or minced onions

1

clove of garlic (minced)

1

-tablespoon olive oil

1/3 cup

of chopped spring onions and celery (basically a handful. Optional; for garnishing)
---
Instructions
Set stove on medium high. Add all the meat (goat meat and honeycomb) to a pot, add a half bulb of onions enough water until it is well over the meat, and start cooking. 30 minutes into cooking add one-tablespoon salt and 3 cubes of Knorr/ one-tablespoon Knorr powder). Keep adding water in between as you cook, and as the liquid reduces.
After two hours of cooking remove goat meat, keep cooking the beef stripe for another 30 minutes or until it is tender. At every point in time ensure that water is well over the meat. (The goal is to have up to 4 cups of broths by the time the meat is ready.)
As soon as the beef stripe is ready, turn off the heat, and gently remove the meat placing them on the same container where you had put the cooked goat meat.
Then sieve the broth or the liquid from the meat with a colander. (This is to ensure a clearer broth, and wash the pot as well before proceeding to the next step.
Place a clean pot on the stove and turn heat to medium – high, allow to warm up and add olive oil. As soon as it heats up add onions, garlic and one part of the chopped bell pepper, sauté for about 3 minutes or until onions becomes translucent. Then add all the broth (about 4 – 5 cups) to the pot. Gently add all the meat back to the pot as well. Add one more cup of water bringing the liquid in the pot to 5 – 6 cups. Stir in the ground red pepper, pepper soup spice, the remaining Knorr cube or one more teaspoon of Knorr powder.
Cover the pot and allow to cook on medium, after 10-15 minutes of boiling add the washed dry Utazi leaves, cover and allow to simmer on medium for another 15 minutes. Taste to ensure flavors are how you love them. Add additional ground red peppers or any other spice to your satisfaction if so desired. Your pepper soup is ready. Serve with freshly boiled yam or white rice or boiled golden potatoes, top with fresh spring onions, celery, and bell peppers. Enjoy.
Notes
Usually, the beef stripe takes a little longer to cook, be patient. Meat cooking is way easier with a pressure cooker. For clarification, I added meat-cooking time as "prep time" because it isn't active cooking time.
The pepper soup spice I used for this dish is a non-sodium spice that came directly from Nigeria. If you are using a salted pepper soup spice from an African store or any other market place, then be mindful of the salt you will be adding, and or if you will even be needing salt at all.
Prep Time:

30 minutes

Cook Time:

3 hours

Category:

Appetizer

Method:

Stovetop

Cuisine:

Nigerian
Keywords: Pepper soup, soup, Nigerian soup, African pepper soup, Nigerian pepper soup, Spicy soup, African soup, Light soup, pepper soup recipe,
Recipe Card powered by
Do you eat pepper soup? If not, what is your favorite soup? Please tell me by leaving a comment below.
CHECK OUT OTHER NIGERIAN RECIPES:
THIS POST CONTAINS AFFILIATE LINKS, you are not charged more for using these links, but I make little coins when you do. Finally, let's connect on social media, am on Pinterest, Facebook, Instagram, and Twitter. Please subscribe to my Youtube channel. I have fun and healthy cooking video tutorials!
With love,