Plantains are not Bananas.
I wish I do not have to explain this, but I have had the opportunity to reassure some people that plantains and bananas are indeed different, and are used differently. In other to make my perfect plantain and eggs frittata, we will use plantains, not bananas.
First of all, both plantains and bananas belong to the same family. However, banana is sweeter while plantain is starchier. in other words, we rarely grab plantain, and eat like we do bananas because we need to cook them before eating. Even though it is ok to eat raw ripe plantain, they are not quite as sweet and enjoyable as bananas. They are more enjoyable when cooked or baked accordingly.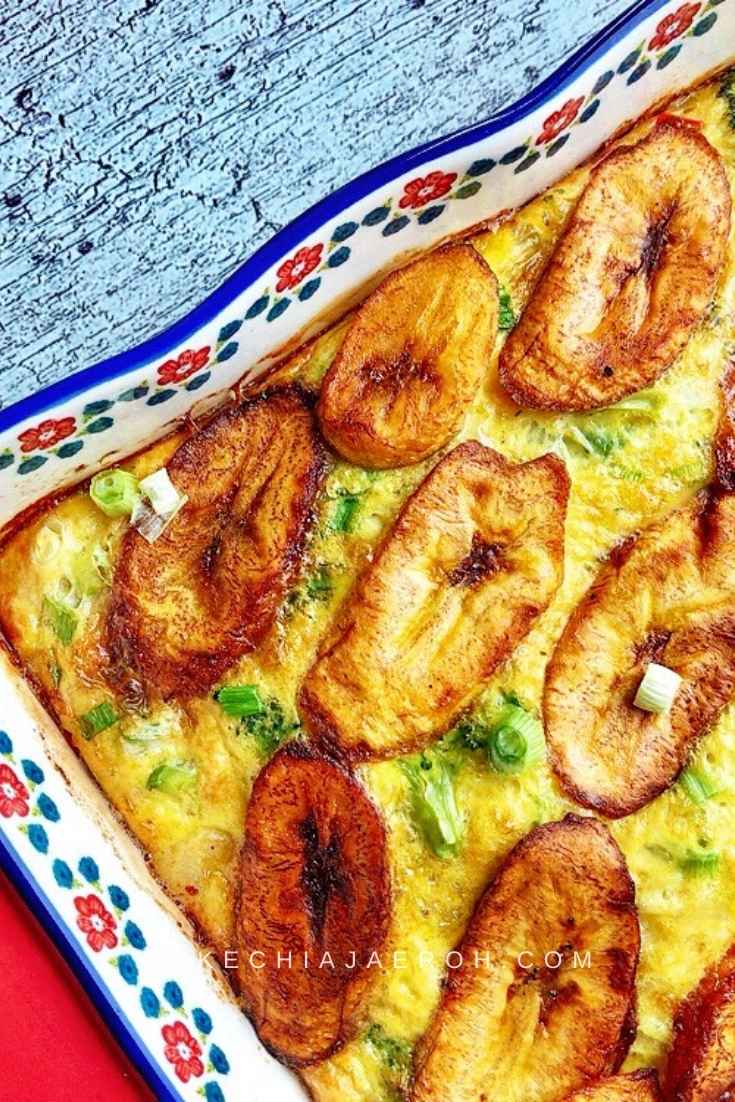 Plantain Paradise.
I think it is safe to say that I grew up in a plantain paradise. My parents had plenty of plantain trees around the compound and on the farm. This means that first hand I saw how plantains how grow, bear fruits, and eventually harvested. Usually, we gather plantains at their prime, sometimes with one or two already ripen while still on the tree. Plantain leaves also function the same way as banana leaves. It has several duties under its belt, such as "moi-moi" wrapper, aged wrapper, pot liners, snack wrappers, and many others I can't think of right now.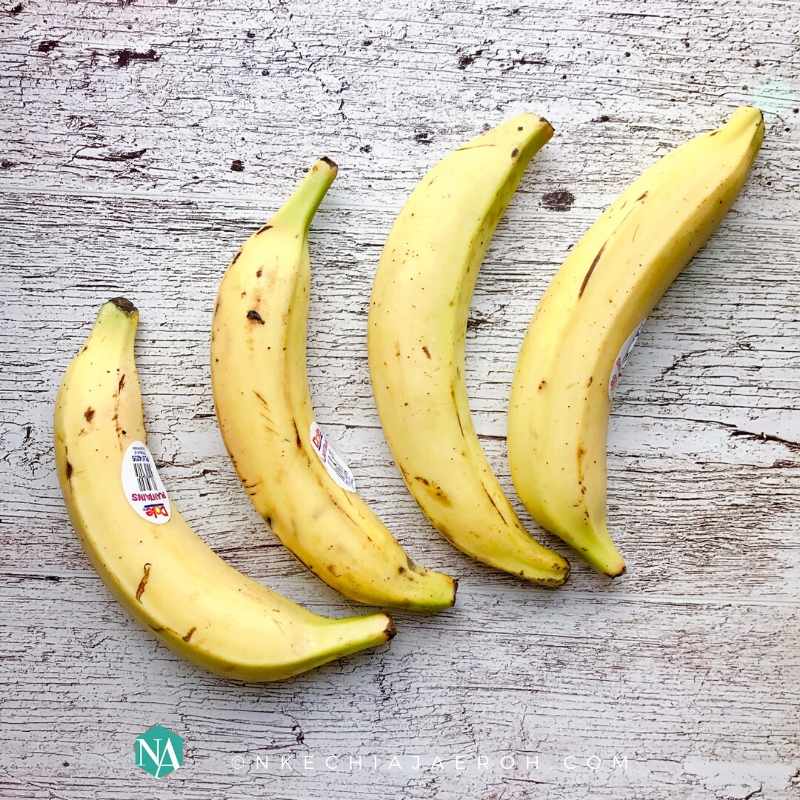 As far as I can remember, plantain has always been a stable in my home, well, my parents' house. We boil them, roast them, cook them as porridge, fry them up as sweet plantains to add to your rice or beans. Any which way you choose,…
Click To Tweet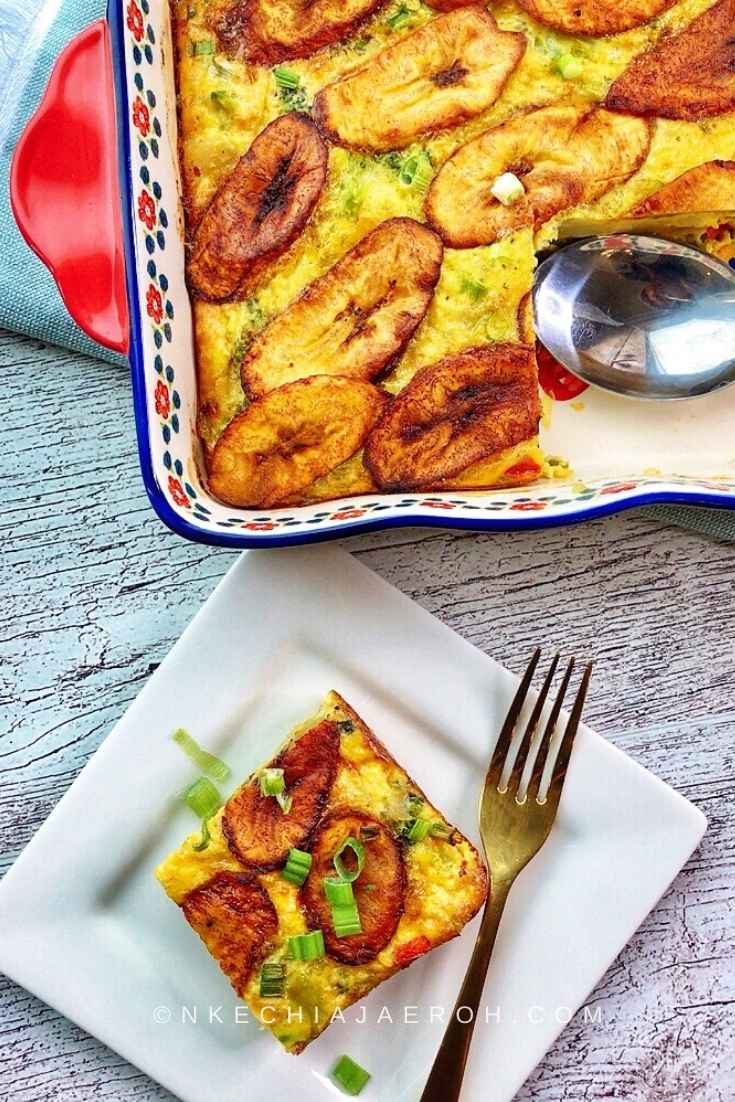 Baked Plantain and Eggs Frittata Step by Step.
Making Frittata…
There are several ways to make plantain frittata; the two common ways are stovetop and oven-baked. This flawless, and perfect frittata recipe is nutritious and delicious, as well as easy peasy to make! I baked up this baby; when you make this, though, feel free to add your favorite veggies.
My primary goal in today's post is to show you how to make healthy and hearty plantain frittata, and my second primary goal is to inspire you to make it your way. I mean, isn't that why we read/learn recipes so we can recreate them however you wish. 🤷🏾‍♀️ Henceforth, your best perfect frittata starts in your kitchen. This way, you can enjoy it with the people you love one slice at a time.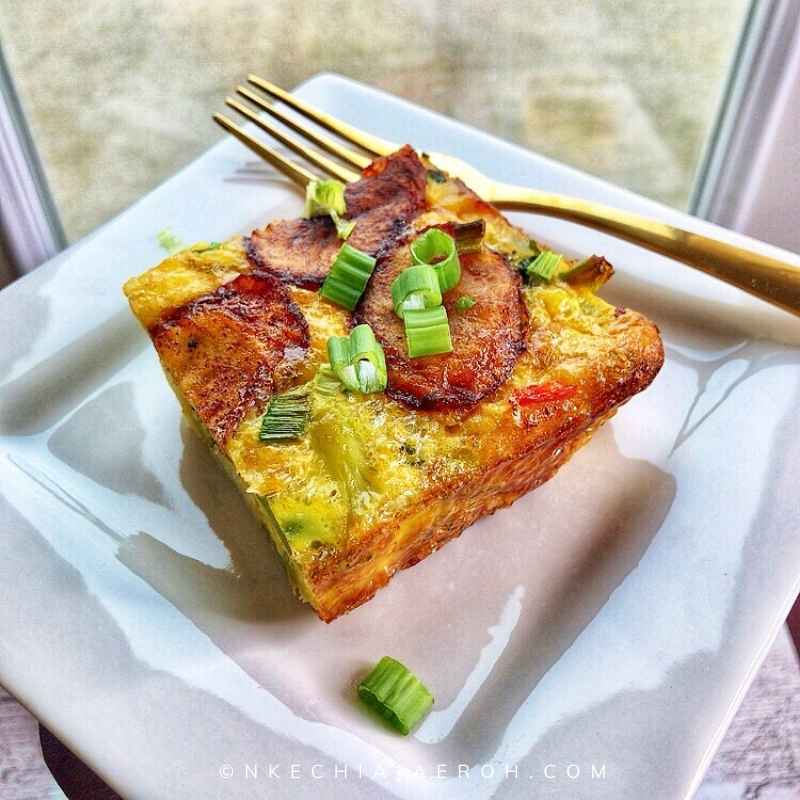 Ingredients for making plantain and eggs frittata.
Plantain (well, of course);
Plantains are high in vitamin A; a serving size plantain of plantain provides the body with almost about 40% of the daily recommendation of vitamin A. Plantains promote digestive health because they are high in fiber as well potassium and magnesium. Plantains help heal ulcers caused by aspirins. You can eat green (unripe) or yellow (ripe) plantain. Ripe or yellow plantains are sweet. Most plantain frittata recipes call for ripe plantain, and that's what I will be using.
Eggs;
Is there ever "egg" frittata without eggs? Well, am yet to see, but with tons of amazing vegans recipes out there, I would say yes. Significantly eggs are high-quality protein and one of the most famous and staple foods in most households. Alongside plantain and eggs are onions, bell peppers, tomato, garlic, and any other vegetable you want. And some spices as well. It is essential to realize that only you (or someone that knows you best) can make your perfect plantain and eggs frittata, and you do that by adding the veggies that you love.
Broccoli.
The comes the broccoli, which are immune-boosting wonders. There are several benefits of broccoli, such as immune-boosting, digestive health, excellent for constipation, as well as a very high content of vitamin C.
Broccoli is equally remarkable in supporting brain health; this is one of the reasons I love making broccoli cheddar soup from time to time.

Personally, I love buying my veggies whole, and fresh, if what you currently have is frozen Vegetables, they would still work.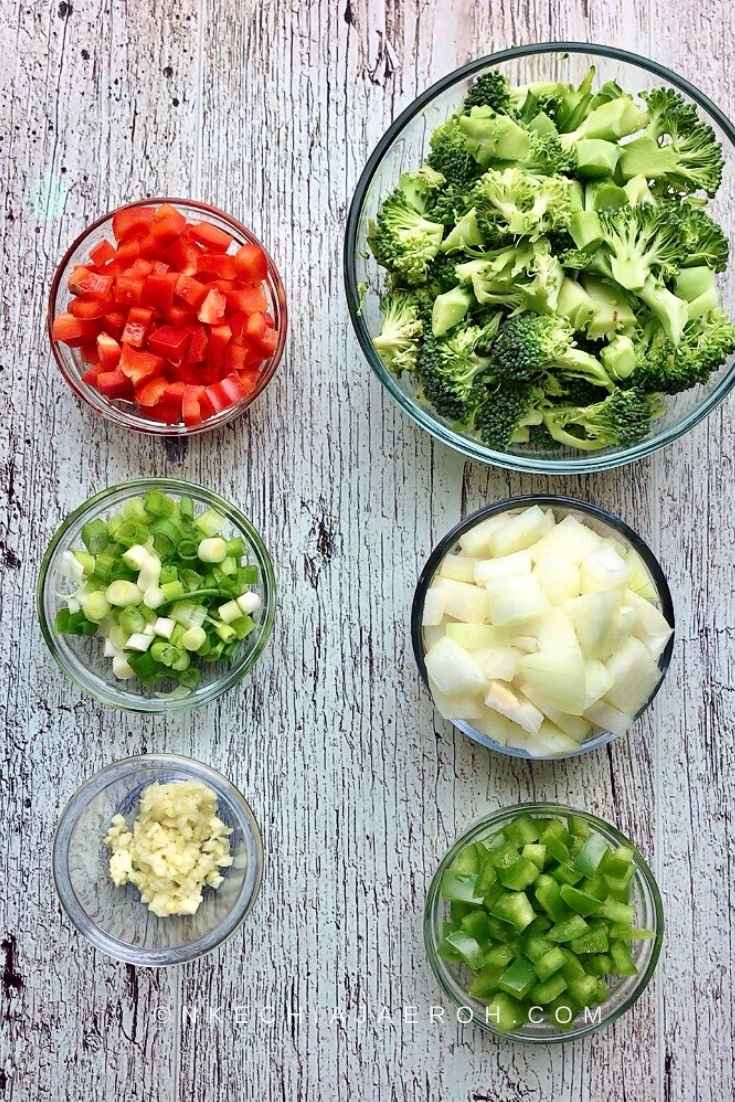 Perfect Nigerian Plantain and Eggs Frittata.
The process
To say that the process of making this dish is as easy as ABC is not an understatement. First, we wash and cut all the veggies; I hear you say easy peasy. Overall, cutting and chopping vegetables aren't the hardest part of cooking. 😂
I love sautéing the Vegetables that I use in making frittatas; this incredibly intensifies the flavors and ensures that you have the yummiest and most delicious plantain frittata. Click To Tweet

How to Make Baked Plantain and Eggs Frittata.
Make sure to grease a baking dish; I love and enjoy my pioneer woman rectangular baking dishes. In reality, this is one of the best ones out there! And if you are ready, let's make it together.

Mix and bake.
Finally, add all the ingredients into a big dish and then pour it into the grease baking dish.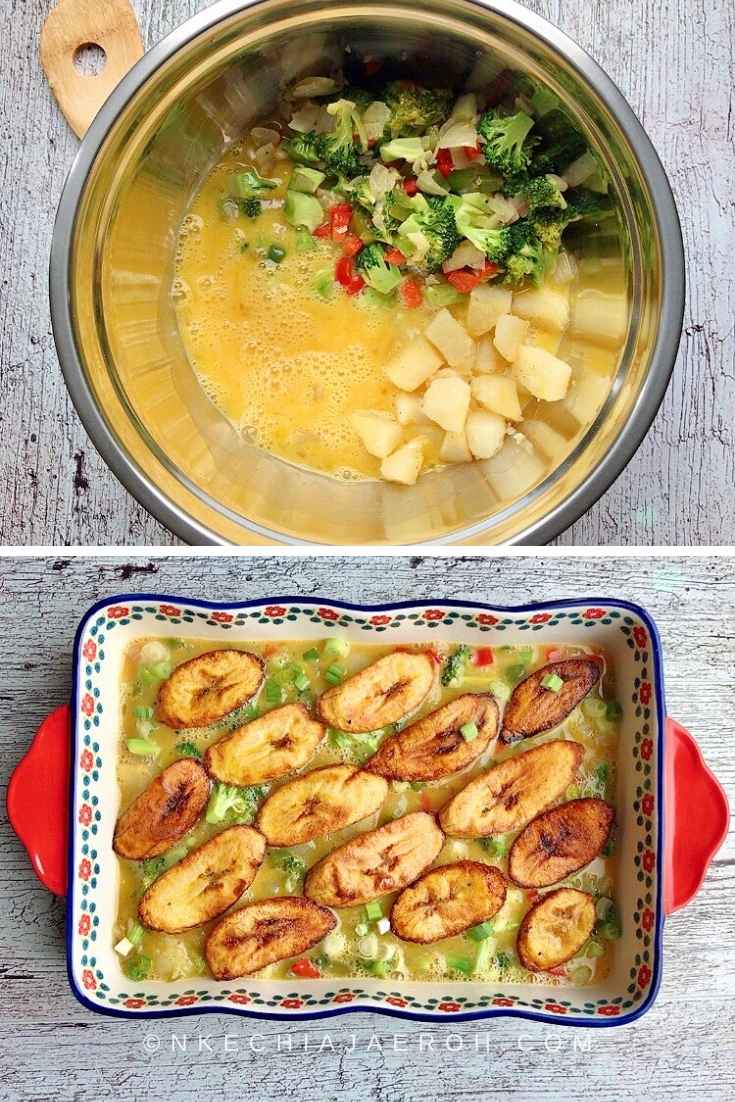 A must-try Nigerian style plantain and eggs frittata.
Without question, this is a must-try recipe! It is crunchy on the outside and delicious yummy and filling on the inside. Rather than just frying ripe plantains and chewing on them, please make this!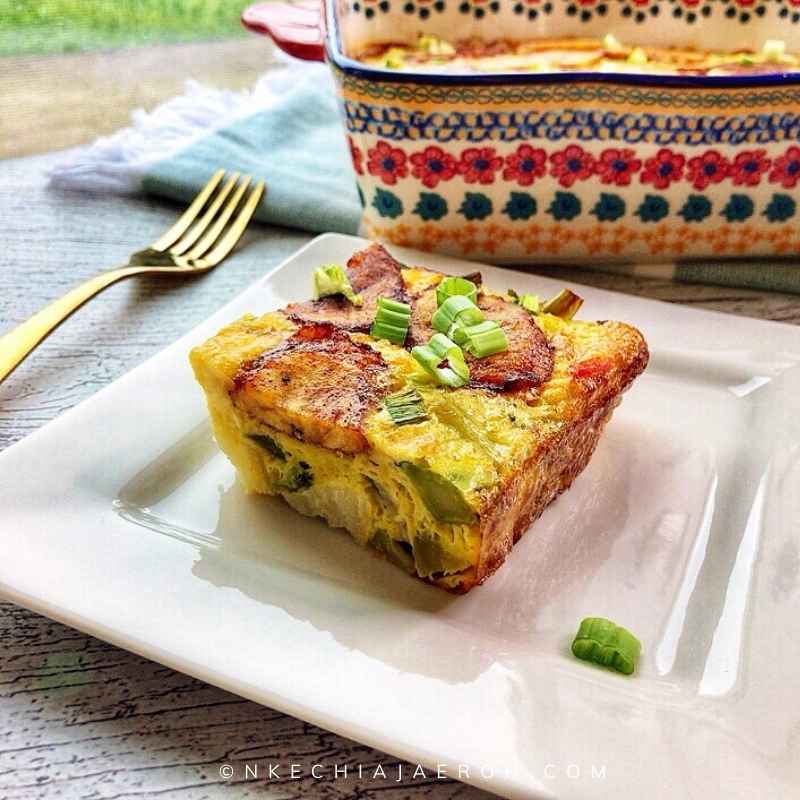 And if you are ready, let's make it together.
Print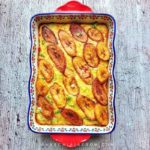 How to Make Perfect Plantain and Eggs Frittata
---
Author:

Nkechi Ajaeroh

Total Time:

1 hour 8 minutes

Yield:

6

Servings

1

x

Diet:

Vegetarian
Description
This healthy plantain frittata and eggs is simply perfect! It is a great way to enjoy your favorite vegetables, and honestly, even a picker eater wouldn't even notice or care. Serve it warm for either breakfast or dinner. Also, this recipe is a great make ahead Breakfast for weekends, and busy weekdays.
---
2

ripe plantains

10

eggs

1

small/medium size onions bulb; chopped

1

big head of broccoli or

2

–

3

cups of broccoli florets

2

medium size potatoes (precooked, and sautéed)

1 tablespoon

of olive oil for sautéing vegetables, (plus more frying oil for frying plantain)
A dash of dry thyme (fresh works as well)

1 teaspoon

salt or less (for everything; remember to always add salt and pepper according to your taste)

1 teaspoon

vegetable bullion or one cube (optional but necessary)

¼

crushed red pepper or chili (for extra spiciness; feel free to add more if you wish)

¼ cup

green onions (chopped)

½ cup

chopped green bell pepper

½ cup

red bell pepper

2

cloves garlic; grated

¼ teaspoon

black pepper

½ teaspoon

onions powder (optional)
---
Instructions
Wash and cut all vegetables accordingly and set aside. Wash and cut potatoes into ½ inch sizes, then precook in boiling for about 4 – 5 minutes (or until half cooked), drain the water and set aside.
Set a frying pan on the stove for the plantain. Slice plantain and season liberally with salt and start frying as soon as the oil is hot; also, ensure that the oil is not too hot to prevent burning or untimely browning. Fry both sides, and place on a paper towel-lined plate as they come out of the oil; fry all the plantain and set aside. Allow the hot oil to cool and safely pour away. Then in that same pan lightly sauté the potatoes; this process is optional, but it intensifies the flavors.
Place a clean pan on the stove (perhaps a deeper pan/pot)
Add 1 – 1½ tablespoons of olive oil and allow to heat up then add a dash of salt and the cup of chopped onions. Cook for 2 – 3 minutes to soften and add the bell peppers, and garlic. After about 3 minutes, add the broccoli, then add all the other ingredients (salt, vegetable bullion, black pepper, thyme, crushed red pepper, and onion powder),stir, and mix in everything to combine and taste for flavors and adjust appropriately. Do not over cook these veggies; remember you are still going to bake them. Turn off the stove.
Scope out into a clean plate and allow (the sautéed vegetables) to cool a bit (place in the fridge to cool quicker if you are in a hurry).
Preheat the oven to 350 degrees, and grease a baking pan, set aside.
Then break all the 10 eggs in a big bowl sprinkle a dash salt, pepper, plus a little vegetable bouillon and beat well to combine. Then gently stir in the already sautéed (and cooled) vegetable mixture; use a spatula or wooden spoon to mix. Pour the mixture into an already grease baking dish.
Line the top of the frittata with the (already) fried or baked ripe plantain. Bake for 30 – 40 minutes or until a toothpick inserted into the baking dish comes out clean. I baked mine for approximately 38 minutes. Enjoy! This recipe serves 6 people.
Notes
Please feel free to customize this healthy Nigerian-style plantain – egg frittata as you wish; add more or less plantain. Also, add any other kind of vegetable, it would work just fine! You can also add some cheese if you wish. I have also added sausages, for instance… 🤷🏾‍♀️
Usually, the bake time of frittata will depend on the amount of vegetables and eggs you are using. When I make with fewer eggs, say, 7, it bakes at 25 minutes or little more.
If you are using this as a side dish, it could end up serving more than six people.😊
Vegetable bullion is the same as seasoning powder.
Feel free to incorporate your fav veggies
Prep Time:

30 minutes

Cook Time:

38minutes

Category:

Breakfast

Method:

Stove top and Baking

Cuisine:

Nigerian
Keywords: Healthy Vegetable Frittata Recipe, Frittata Recipe, Vegetable Frittata, Plantain Frittata, Plantain-eggs Frittata, Nigerian Frittata, Baked Frittata recipe, Breakfast Frittata
Recipe Card powered by
PLEASE SHARE THIS POST. Thanks so much for reading, I appreciate you even more for sharing, and giving me a 5-star review of this dish! I pour myself into creating the recipes that I share with you guys, and I appreciate your support from my heart. It means a lot!
Now it is your turn to share with me in the comment the vegetables you will add to your own frittata. Also, let me know when you make this recipe.
If you love this recipe, then check out my other plantain related recipes, such as:
As well as my heart-healthy lunch ideas
Finally, let's connect on social media, am on Pinterest, Facebook, Instagram, and Twitter. Share this recipe post, and SAVE/PIN THIS IMAGE ON PINTEREST. ⤵️

With love,