The Best Nigerian Moi moi/Moin Moin.
Identically, moi moi are interchangeable with moin moin, and we know it to be the same thing – the spectacular Nigerian dish made from bean seed and steamed to perfection. Usually, Nigerian moi-moi is made from a type of Nigerian brown beans or black-eyed peas. This delicacy of steamed beans pudding flavored with a combination of onions, pepper, garlic, as well as tomato paste, makes this dish uniquely tasty. Generally known as moi-moi, Moin Moin, and also known as elélé in the Igbo language, Nigerian moi-moi is no doubt one of the most famous foods in every Nigerian occasion, whether in Nigeria or abroad. Such as weddings, naming ceremony, engagement, graduation, name it! Partygoers do not shy away from this mouthwatering delicacy – Nigerian moi-moi is savory, flavorful, nutritious, and insanely delicious, and obviously, one of the most recognizable dishes out of Nigeria and African. Click To Tweet

Basics of Nigerian Moi moi
Growing up, my mother would make moi-moi a little less often, perhaps once every month; in contrast, I wanted her to cook it every week!
Click To Tweet
I eventually understood that making Nigerian moi moi is not a child's play due to a lack of cooking gadgets at that time. Fortunately, things have changed for the better since then, and you can rightfully eat Moin moin every day if you so wish! Firstly, the bulk of the work
then
was
peeling/de-skinning the beans.
Note
I said "
then
" because peeling/deskinning beans are no longer a challenge right now.
Learn how I easily peel/deskin beans for moi moi in minutes!

Secondly, when it comes to grinding the beans use a blender; usually, mom would use grinding stone most of the time, or mortar and pestle to do the job! Not to mention the times we would go to the commercial grinder. Going to the commercial mill is tricky because sometimes you would queue for minutes or even hours waiting for a turn. In either case, any time spent preparing Nigerian moi moi is a time well spent because this delicacy is divine!

How to Cook Nigerian Moi moi:
Without question, in other to make Nigerian moi moi you will need beans (obviously). In Nigeria (then) my mother would always prefer the Nigerian brown beans. And sometimes the black-eyed peas. Living in America, I have been making moi moi/moin moin with mainly black-eyed peas, which is perfect because it is cheap and readily available!
If you ever live close to an African store and you want to try the  Nigerian brown beans to cook this dish, go for it!

Step 2: Blend peeled beans with tomato paste, fresh bell peppers, and onions to get this result. ⬇️

Relatively, you could also use beans flour if you do not have the time or energy to de-skin beans, wash and blend the beans. And am sure it could work just fine, not exactly sure how it will affect the taste. I have never used beans flour to make moi moi.
Making Nigerian Moi moi step by step.
The process of making Nigerian moi moi is not as daunting as it may seem. In a nutshell, it only entails:
Peel beans (de-skin beans.)
Blend the beans to turn it into a paste.
Spice up the paste with the necessary condiments, wrap, and steam. And the most delightful moi-moi is born. BOOM!

How to Wrap Moi Moi prior to Steaming.
The second most important thing to do when it comes to cooking Nigerian moi-moi is wrapping – by that, I mean wrapping the paste prior to steaming. And there are ways to achieve this.
First, banana leaves; traditionally, the moi-moi paste is wrapped in 

banana leaves

. In other words, one of the skills needed to make this deliciousness happen is banana leaves wrapping skills! But don't worry if you don't have this skill yet (I don't either)!

Second, cooking tins or cups; in fact, the Igbo Language's translation of moi-moi is "elele iko," IKO here meaning tins/cups. Aside from wrapping moi-moi in banana leaves, people would usually scoop the paste in tins/cups in other to steam it. If you fancy this method use the silicon cups instead.
Third, nylon bags: by all means, I do not encourage you to use this, because it is now determined that cooking/boiling nylon bags are not the healthiest thing to do, unless if the bag states otherwise. Typically, people would scoop beans paste into small polythene bags, tie them properly, and put in a pot to steam.
 Finally, and what I currently use are the moi-moi cooking pouches. I ordered mine from Amazon, but you can equally buy them from African stores (here in America)
Nigerian Moi moi/moin moin is a Delicious Street Food.
OK, it is equally important to mention here that usually people buy moi-moi from street and in marketplaces because it is a readily available snack/food. So, if you do not have the time or patience to make this delicacy, you can still enjoy it without a sweat, and it is quite understandable. However, nothing compares homemade, obviously.
Fortunately, the recipe I have for you here today is the recipe for making moi-moi from scratch, but don't worry it is not scary. To put differently, we are squashing the fear surrounding moi-moi making today! Aside from beans (which is the star of this dish and which comprises of high-quality protein as you know), you would need some fresh bell peppers, onions, garlic, tomato, vegetable oil, and other condiments. Click To Tweet

Party goers love moi moi!
Whether you are planning your next party, a simple family dinner, or a wedding, our dear Nigerian moi moi has to be on the menu. You can also head out of the door for the next picnic with your loved ones with moi moi in tow!

What to eat with Nigerian moi moi/moin moin
First, rice. Nigerian moi-moi is a perfect match for white rice, and stew, as well as coconut rice! And from time to time, I have paired moi-moi with quinoa.

Another way to enjoy one or two moi-moi wraps would be by itself with slices of boiled eggs, and some fruits. Here I added some kiwis.

If you are ready, let us get cooking.
Print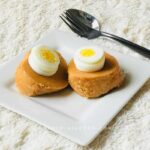 How to make the Most Delightful Nigerian Moi-Moi
---
Author:

Nkechi Ajaeroh

Total Time:

1 hour

Yield:

8

servings

1

x

Diet:

Vegetarian
Description
Nigerian moi-moi is savory and scrumptious. Obviously, one of the best dishes to come out of Nigeria (and African.) Serve with rice, avocado, boiled (as above) or just enjoy by itself. Moi-moi is a deliciousness of miracle.
---
1

lb. of beans or

16 OZ

black-eye peas bag

2

Maggi cubes

1 teaspoon

of seasoning powder

1 teaspoon

of salt

½

of big onions bulb or

one

small onion

3 oz

. tomato paste

2

small bell peppers

½ teaspoon

Nigerian red pepper or any other red chili for a little spice

½ teaspoon

ground Nutmeg

¼

of cup of vegetable oil

1

–

2

tablespoon ground crayfish (optional)
Two cloves of garlic

½ teaspoon

curry powder

3 cups

of water (for blending)
---
Instructions
Wash/clean onions, bell pepper, garlic and set aside. Open the tin tomato paste as well.
Get a big clean mixing bowl, set aside. Gently start blending the already deskinned/peeled/washed beans by adding to the blender some beans, onions, pepper, garlic and small tomato paste plus water (yes, I like adding my tomato paste alongside the other ingredients and blending everything.) As you blend, pour the mixture into the big mixing bowl. Repeat the above process to blend the whole beans about three times or so. (For the amount of beans in the recipe it takes me about 2½ -3 cups of water to blend.)
After blending, place a big pot on the stove on low heat and add small some water (about 1 – 1½ cups. If you have a steamer, it would work better for this purpose.
In the big mixing bowl add all the other condiments; salt, curry powder, red pepper, nutmeg, vegetable oil and crush in the Maggi. Also, add ground crayfish if you are going to be using it.
Use a wooden spatula to give a good stir to combine all the ingredients. Taste to ensure flavors are how you love them before proceeding. For this final process, you need moi-moi wrapper (basically something you will use to wrap the paste before you steam. Some people use banana leaves, foil, or moi-moi pouches.
Use a spoon or cup and gently scoop some moi-moi paste into the moi-moi pouch. Ensure that each bag has an equal amount of paste for even cooking time. Zip up/close tight and then place it inside the pot/steamer (that is on the stove). Repeat the process until you scoop up all the entire mix, cover the pot and turn the heat from low to medium-high. As the "steaming," continues the water will be reduced; ensure to keep adding water to the pot to avoid drying/burning.
Cook for about 30-35 minutes or until moi-moi is ready (and you will know that it is ready by opening one of them and cutting right through. It will be firmer, and the color would have intensified a bit.)  If still in doubt cook the moi-moi to the maximum cooking time! After turning off, remove pot and place on a tray to cool down. Serve by itself, with rice, avocado or Nigerian stew.
Notes
You have to be very careful if you are using the blender to de-skin the beans because you do not want to blend it entirely in that process (with the skin on.)
Do not fill up moi-moi cooking pouch to the brim. About 65 – 75% full is ideal.☺
Handle hot moi-moi bags with care.
Moi-moi Cooking time usually depends on the quantity of paste inside an individual wrap; for instance one-cup wrap will cook faster than two-cup wrap.
Prep Time:

25 minutes

Cook Time:

35 minutes

Category:

Appetizer or Entree

Method:

Stove-top

Cuisine:

Nigerian
Keywords: Moin-Moin, Moi-moi, Nigerian moi-moi, Ghanian moi-moi, Beans pudding, Moi-moi recipe, Nigerian bean pudding, Fluffy moi-moi, Nigerian Moimoi
Recipe Card powered by
Do you know about moi-moi? And have you eaten it before? Tell me in the comment, and SHARE THIS POST!
If you love this moi. moi recipe, then, by all means, check these favorite Nigerian delicacies:
So, I started an online healthy Lifestyle community, and if you are currently eating healthier or planning to do. As long as you desire to get a result, I will love to invite you to join us. Cook Yourself Healthy, aka CYH, helps you to learn how to cook better so you can live healthier; I am excited to support your health! This way, you stay on top of your healthy living goal and make your food your medicine.
One More Thing: if we haven't already, please connect with me on Instagram! It took me forever to get there!
With love,