Cauliflower Fried Rice Charm.
First of all, I love cauliflower very very much! And even though I adore this vegetable, I still expressed great doubts when I was repeatedly asked to make cauliflower fried rice. I will be lying if I tell you otherwise. The truth is that I grew up eating fried rice; I mean real fried rice made with real rice. I wasn't sure how cauliflower "fried rice" was going to be, I have seen plenty mushy cauliflower fried rice, and I didn't want to be part of… Click To Tweet

Healthy Cauliflower Fried Rice.
Well if you have ever hesitated about cauliflower rice, you are not alone, but I humbly bring you some good news, in the name of the best cauliflower fried rice EVER! May I present to you my tasty and healthy cauliflower fried rice.
Nutritious.
Delicious.
And veggie-full!
This cauliflower recipe is all you need, since I tried it this way, I have never gone back. Today I am happy to show you the step-by-step process of elevating your cauliflower-fried rice to the next level.

Clearing the curiosity.
The word "Cauliflower" has Italian origin, and originally derived from "cavolfiore," which means "cabbage flower" in English translation. While the name is said to originate from Latin. The vegetable itself originated from the northern Mediterranean. Wait; what?
Cauliflower belongs to the same family as broccoli, brussels sprouts, kale, collard greens, and cabbage. Equally important to note is that there are about four colors of cauliflower namely; white, green, lime/light green, purple,…
Click To Tweet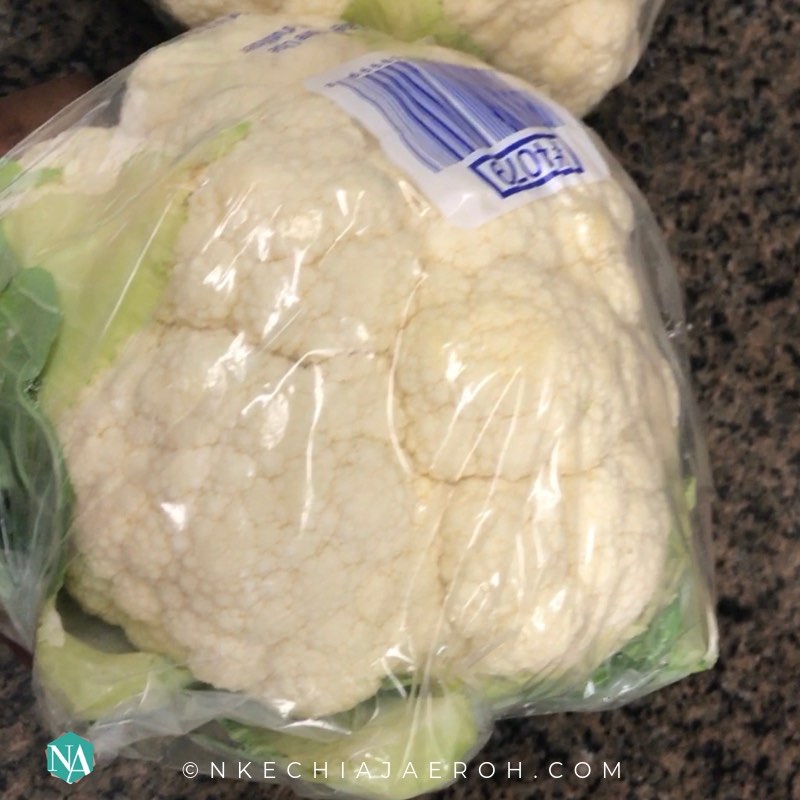 Making Cauliflower Fried Rice.
Similarly, in other to make this recipe, you will need to shred your cauliflower (just in case you have fresh ones like those above.) Alternatively, you can buy frozen cauliflower and use it!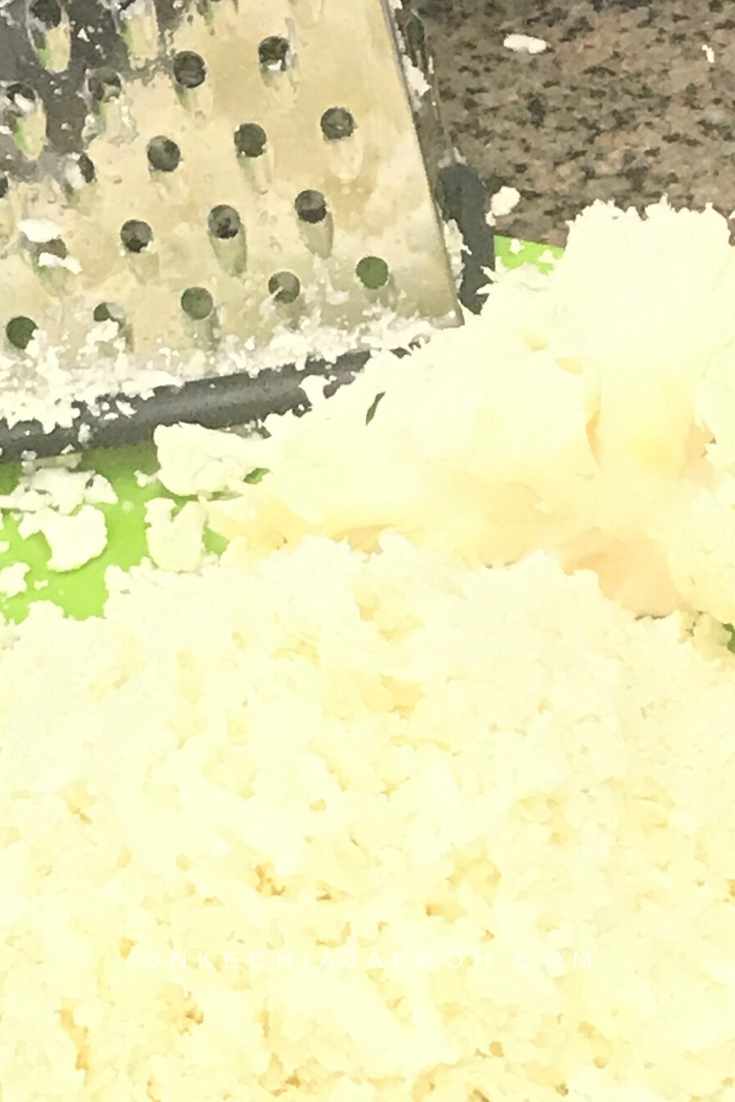 Additionally, here, I have some frozen mix veggies as well; (peas, green beans, carrots, and corn). Then I also have chopped fresh green bell peppers, fresh onions, green onions, and obviously fresh cauliflower.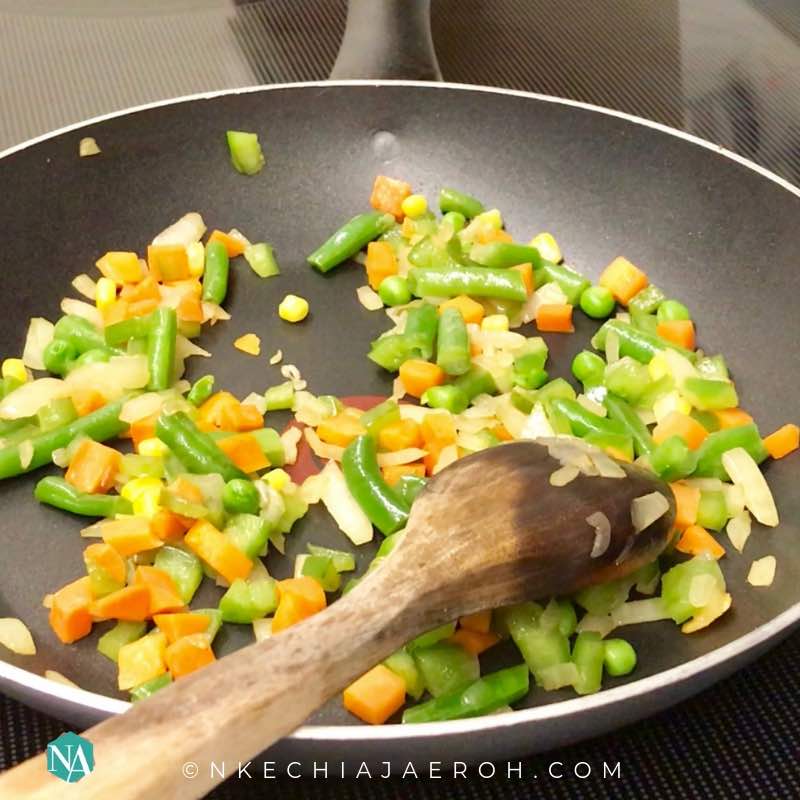 As you can see I cook this dish bit-by-bit, in other words, small portion after a small portion. Please do not add the entire cauliflower at once like those "gurus" do unless you are planning for a mushy feast. 🤔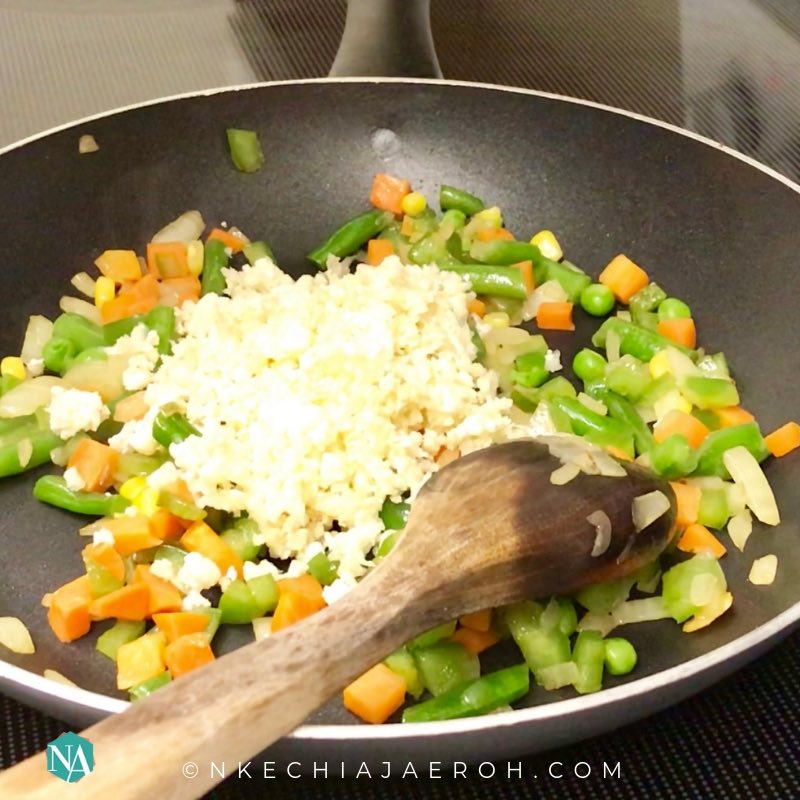 To emphasize this is the tastiest recipe out there, Both the preparation and cooking are within 30 minutes. And if you plan to use frozen (already shredded cauliflower), then this takes only half of that time – 15 minutes!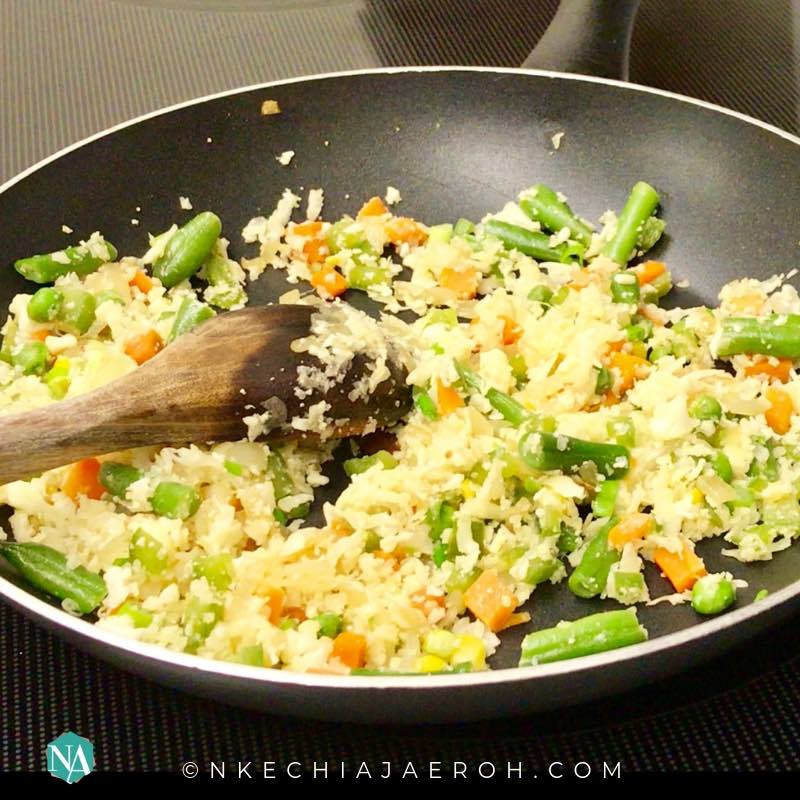 The Best Cauliflower Fried Rice.
For the fact that this dish comprises of only vegetables, and vegetables alone, you can absolutely have it for breakfast. No sugar, no carb, no meat, no guilt. Just joy.

Without further ado let's make this delight!
Print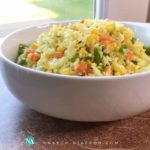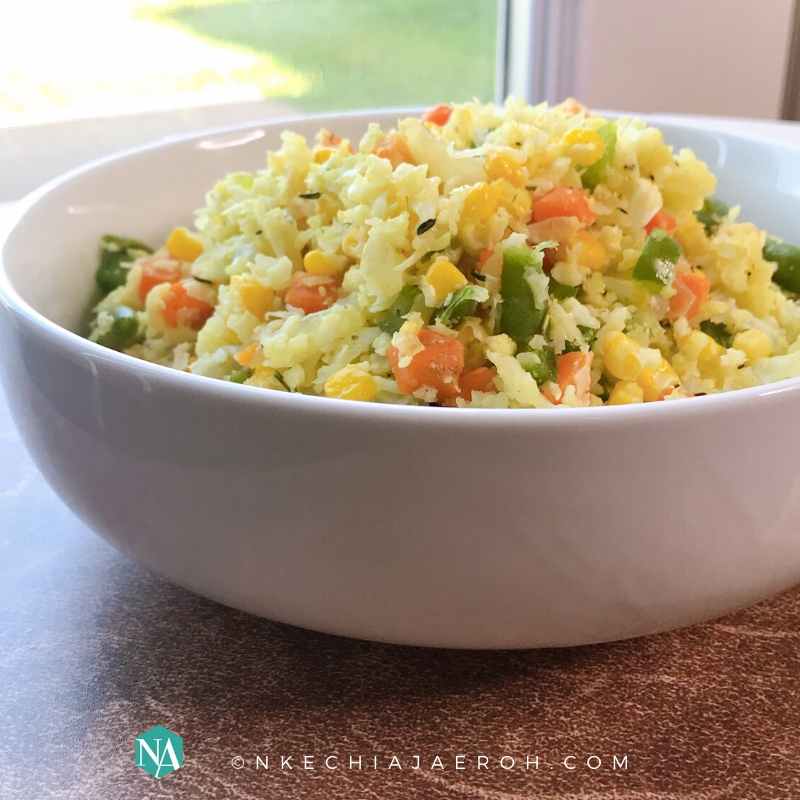 Tasty and healthy cauliflower fried rice
---
Author:

Nkechi Ajaeroh

Total Time:

20 minutes

Yield:

Serves 2

Diet:

Vegan
Description
Easy to make gluten-free cauliflower fried rice recipe with vegetables. This recipe is perfect for a low carb diet, as well as a healthy vegan diet.
Serve this as a side dish or add some meat, mushrooms, and tofu to make it a complete meal! This vegetable cauliflower fried rice recipe is ready under 15 – 20 minutes, amazing for low carb weekday lunches or dinner. This recipe is a crowd-pleaser
---
½

head of cauliflower (shredded)

1 cup

of mixed vegetables

1 cup

of yellow onions (reduce if you wish, but I love onions)

1/3 cup

green onions

½ cup

of green bell pepper

1 teaspoon

of seasoning powder; bouillon or Maggi cube (divide into two; add

one

piece to shredded cauliflower and the other part to sautéing)

1/2 teaspoon

of salt (split into two; add

one

part to shredded cauliflower and the other part to sautéing)

¼

black pepper or any pepper of choice

1 tablespoon

of olive oil
---
Instructions
Wash and dry the cauliflower with a paper towel. Then use a box shredder (the second to the largest hole, and shred it all up. Add half teaspoon of salt and half teaspoon seasoning powder, stir very well to combine, set aside. Wash and cut all the other vegetables and let the best part begin.
Place a clean pan on the stove and set the heat on medium. Add a tiny bit of olive oil about one teaspoon. As the oil heats up sprinkle in a dash of salt (very small amount from the half teaspoon that you set aside earlier). Then add the onions, remember you are making this dish bit-by-bit, do not add the entire onions. For this recipe, I added only about 1/3 of the onions because I usually go three rounds. Allow the onions to soften (for about 1 – 2 minutes) and then add the green pepper. Allow the green pepper to cook for about (another) 1 – 2 minutes and then add some mixed veggies (peas, green beans, carrots, and corn. From the frozen bowl.) then sprinkle some seasoning powder, and black pepper (and any other spice you will like to add), after that and keep sautéing for 2 more minutes to allow for the infusion of flavors.
Then you are ready to introduce the cauliflower. With the cauliflower in, keep stirring, and gently throw in some green onions in about 3 – 4 minutes. At this time you can taste the food and adjust flavors. I like my veggies to be a little crunchy, so I rarely cook them very long. Depending on how you want your vegetables, your cauliflower fried rice is (almost) ready.
Repeat the process to cook the rest of the cauliflower. As you can see I didn't add water, the vegetables have enough moisture. Afterward, serve warm and enjoy. And of course, thank me later. And for real, this tasty and healthy cauliflower fried rice is E V E R Y T H I N G!
Notes
Always remember to add salt and pepper according to your taste.
The vegetables may seem a bit much for half head of cauliflower, please feel free to reduce as you wish. The goal of this recipe is to show you my process of cooking cauliflower fried rice, and I hope you got something out of it. Add veggies as you would wish.
You can also use seasoning cube like Maggi instead of Bouillon powder.
Please not that you will not need up 20 minutes if you are making food worth of one person. And if you are using frozen or already shredded cauliflower (riced cauliflower) then time reduces even more!
Prep Time:

7 minutes

Cook Time:

13 minutes

Category:

Lunch/Dinner

Method:

Stove-top

Cuisine:

Universal
Keywords: Cauliflower recipe, Healthy fried rice recipe, cauliflower fried rice, Shredded cauliflower, vegetable fried rice, cauliflower fried rice without meat, Easy cauliflower fried rice
Recipe Card powered by
First, PLEASE SHARE THIS POST. If you are looking for more recipes like this then, you must check out my FREE exclusive salad bundle recipes here.
I started on Instagram (finally)! LOL, I did put that off forever, well I am there now, and I will love for us to connect! Follow me on Pinterest, Facebook and Twitter as well. Finally, do not forget to share this recipe post with people you love. SHARE/SAVE THIS IMAGE ON PINTEREST under "Low carb plant-based Recipes." ⤵️

With love,