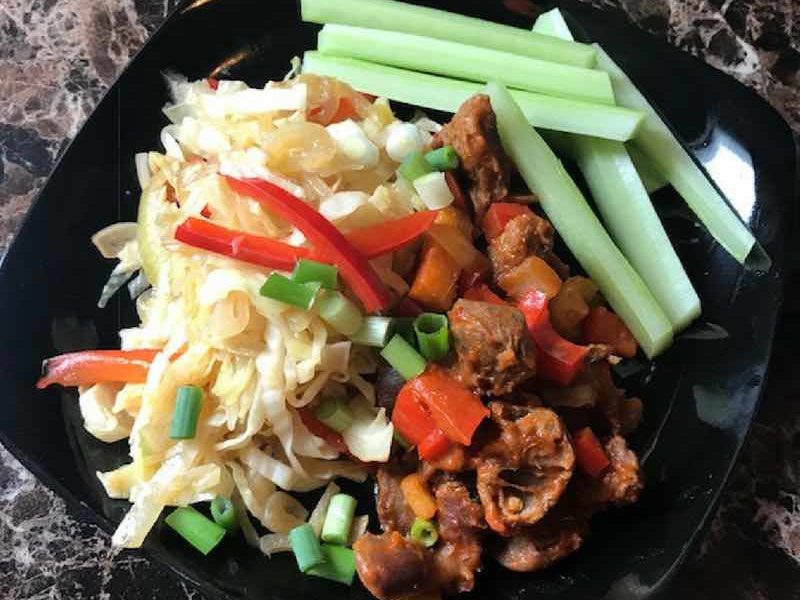 Chicken Gizzard Really?
Well, that was some people's reaction when they came into my periscope cooking show one day, and I was making gizzard and cabbage stir-fry.
As I have shared many times in the past, I was born and raised in Nigeria and chicken gizzard was one of the delicacies we enjoyed from time to time in our family. In fact, most Nigerian families eat chicken gizzard either as an appetizer or alongside the main meal. Between living in Nigeria and in America I have seen different chicken gizzard recipes. For example, some people fry it, some boil it while others bake it. Such is the power of individuality and culture, though we eat "the same" food, we prepare them in different ways.
To that end, I am excited to share one of my gizzard recipe with you. By all means feel free to modify this recipe and customize it to fit your eating plan or habit.
In other to provide you with some nutrition information about today's recipe I headed out to research🤔
How to make a healthy gizzard and cabbage stir-fry
Chicken Gizzards
Here are some reasons why you should eat chicken gizzard if you were skeptical about this delicacy before.
First, gizzards provide the body with a good serving of high-quality protein and less fat. Second, gizzards are a better option than pork and beef meat that are high in fat. Third, a 3.5-ounce serving of chicken gizzard provides your body with 4.4 milligrams of zinc and 3.2 mg of iron. Both are highly essential nutrients for the body. Get more nutritional information about chicken gizzards here.
I love combining my chicken gizzards with cabbage am sure other vegetables such cauliflower, broccoli, and potatoes would work just fine. Personally, moderation is my watch-word when it comes enjoying this exquisite treasure.
Cabbage
I love cabbage, and I like its leafiness and how it comes in different colors. A leaf of cabbage has about six calories and zero cholesterol. One of the reasons why I love pairing it with chicken gizzards. A chopped cup of cabbage provides the body with about 22 calories, loads of vitamins such as A, C, E, K, etc., and essential minerals like calcium, magnesium, phosphorus, sodium, etc.
Naturally, you can eat cabbage raw or cooked, entirely depends on you. But in this recipe, I will show you how to sauté it like a champ.
In the long run, cabbage does your body good, so add it to your stable already.
How To Make A Healthy Chicken Gizzard And Cabbage Stir-Fry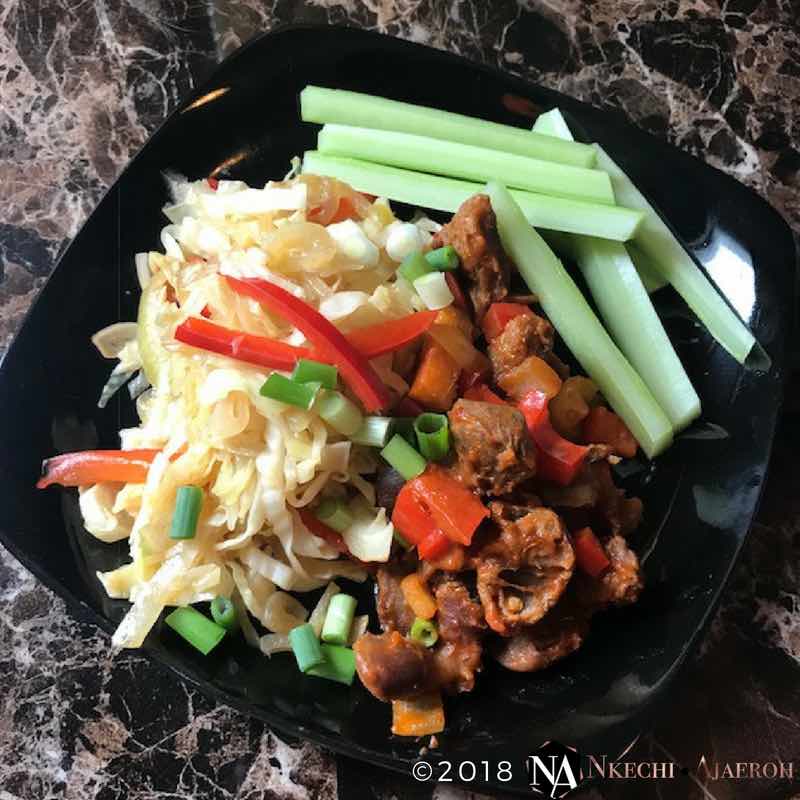 Most Nigerian families eat chicken gizzard either as an appetizer or alongside the main meal. Today am pairing it with cabbage stir-fry, I hope you will like it. Am sure other vegetables such cauliflower, broccoli, and potatoes would work just fine.
Ingredients
3 pounds of Chicken Gizzard
3 cups of roughly cut/chopped cabbage or more
For Chicken Gizzard:

- One big bulb of onions (quartered for boiling the gizzard.)
- 5 cloves of garlic (chopped and used for boiling gizzard)
- 1 Cup Fresh bell pepper (variety of colors; chopped for stir-frying)
- 2 tablespoon of tomato paste
- ½ cup – 1 cup of gizzard broth (I use the stock from the chicken gizzard. You can use regular chicken broth if you so prefer)
- ½ teaspoon ground ginger (fresh or ground works just fine)
- 1 teaspoon thyme
- ½ teaspoon curry
- ¼ teaspoon nutmeg (optional)
- ½ teaspoon cumin
- 4 seasoning cubes or 4 teaspoons of seasoning powder (2 cubes/2 teaspoons for boiling gizzard and 2 cubes/2 teaspoons for the stir-fry).
- Good amount of salt for boiling the chicken gizzard and a little more for the stir-fry
- ½ teaspoon ground red pepper
- 2-3 tablespoon olive oil
- 1/3 chopped/cut Spring onions (for stir fry and garnishing)
- Some chopped/cut celery stalk (optional; for garnishing)
For the Cabbage:

- 3 cups of cabbage (chopped)
- ½ cup of chopped bell pepper; preferably different colors.
- one white or yellow bulb of onions cut as rings
- a pinch of salt
- a seasoning cube
- 1-tablespoon of olive oil
Instructions
For the Chicken Gizzard:

Wash the 3 lbs. of gizzard and put in a pot. Add enough water until it is well over the whole gizzard. Add quartered onions, garlic, salt, two seasoning cubes or 2 teaspoons of seasoning powder. Set the pot on the stove and turn the stove to medium-high, ensure the pan is covered and cook for about 2 hours. If you are using a pressure cooker, probably cook less than 1 hour. Keep an eye on the chicken gizzard while it is boiling to ensure that the water doesn't dry out. Continue to add more water as it is cooking as required.
After the chicken gizzard is thoroughly cooked and very tender, pour it out into a drainer bowl. You easily separate the chicken gizzard from the broth this way (remember you will need this broth later). Set the oven to 400. Line your baking sheet with foil. Add the gizzards to the baking sheet and place in the oven to bake 20-25 minutes or as soon as you notice the golden brown color. Every 7 - 10 minutes check on the chicken gizzard, stir/turn if necessary to avoid overcooking on one side.
Do not over bake to avoid overly dried chicken gizzard. The goal is to have the gizzards to become crisp on the outside though they are still very tender on the inside. Remove from oven after baking and get ready for the fun part. YAY!🤩
Set saucepan on the stove. Add about 2-3 tablespoons of vegetable oil, allow it to heat up. Then add a dash of salt, and immediately add tomato paste. Stir for about 2 minutes, then add the chopped bell peppers and then reduce heat. Add all the other condiments: thyme, cumin, ground ginger, curry, nutmeg, red pepper, a seasoning cube, and stir together. Add gizzards into the pot, add some gizzard broth (about half a cup) as well, and stir very well. Lastly, crush in the second seasoning cube, and add about two more tablespoons of gizzard broth (if necessary) and mix again to combine.
Finally, add (cut) spring onions and cover the pot. Allow to heat up for another 2-3 minutes (with everything else) in medium heat, and your gizzard is ready. Dish out appropriately and garnish with more cut spring onions and celery stalk. Eat by itself as an appetizer or serve with cabbage.
For the cabbage stir-fry:

Set a clean pot or saucepan on the stove. Turn the stove to medium. Add olive oil to the pan and allow it to warm up. Then add a pinch of salt (or half teaspoon salt), then onions and keep stirring. Ensure that your stove is not on a high because you do not want your onions to burn. Keep stirring until the onions are cooked down (about 6 - 8 minutes), then add fresh bell peppers stir in for about 1 minutes and then add cabbage, and crush in one seasoning cube.
Continue to stir for another 3 minutes or less until the cabbage is ready according to your desire. I usually do not like overcooking my cabbage. I like a little crunch in my cabbage. Taste the cabbage to make sure it is what you like. Season more as needed. Serve with some gizzards on the side.
Notes
The cabbage serves 4 while chicken gizzard is up to 8 - 10 servings. This way I always have some left over gizzard just in case. But you can always tailor this recipe to your need.
Please add salt according to your taste. However, I would normally use up to 2 teaspoons or more for this amount of gizzard (3 lbs.)
I like to use tomato paste because of color and of course it has great nutritional value as well.
Be sure to taste both the gizzard and cabbage before serving and add more seasoning if you desire. Enjoy!
https://nkechiajaeroh.com/kechis-kitchen/how-to-make-a-healthy-chicken-gizzard-and-cabbage-stir-fry/
© 2018 NkechiAjaeroh.com All Right Reserved.
Do you eat chicken gizzards? How do you make them? please share in the comment section.
Please share this post with your friends and family. I hope to see you soon☺
Also, check out my light and lovely recipes as well as other recipes from Kechi's Nigerian Kitchen Plus.
*Some links on this post are affiliates. Meaning I (don't) make tons of bucks when you make a purchase using them, just so you know:)
With love,