Nigerian stew is Spectacular.
Nigerian stew is a classic red tomato stew that spicy, tasty and finger-licking good! This is a classic Nigerian dish, undoubtedly, one of the most prominent Nigerian delicacies. This distinctive goodness is prepared and enjoyed differently by the hundreds of ethnic groups in Nigeria. The use of Nigerian red tomato stew goes beyond "white rice and beans." Generally eaten with white rice, it can also be a great compliment with eba or garri (swallow), yam, beans, add a small amount to your egusi, Ogbono or okra soup and you will be in another planet. How about bread and stew, or even some red tomatoes stew on your spaghetti, YUM.
Nigerian red tomato stew is savory, not sugary at all. Growing up I have never seen my mother add sugar to her red stew o, not all. I have also carried on making my stews that way, and it doesn't disappoint.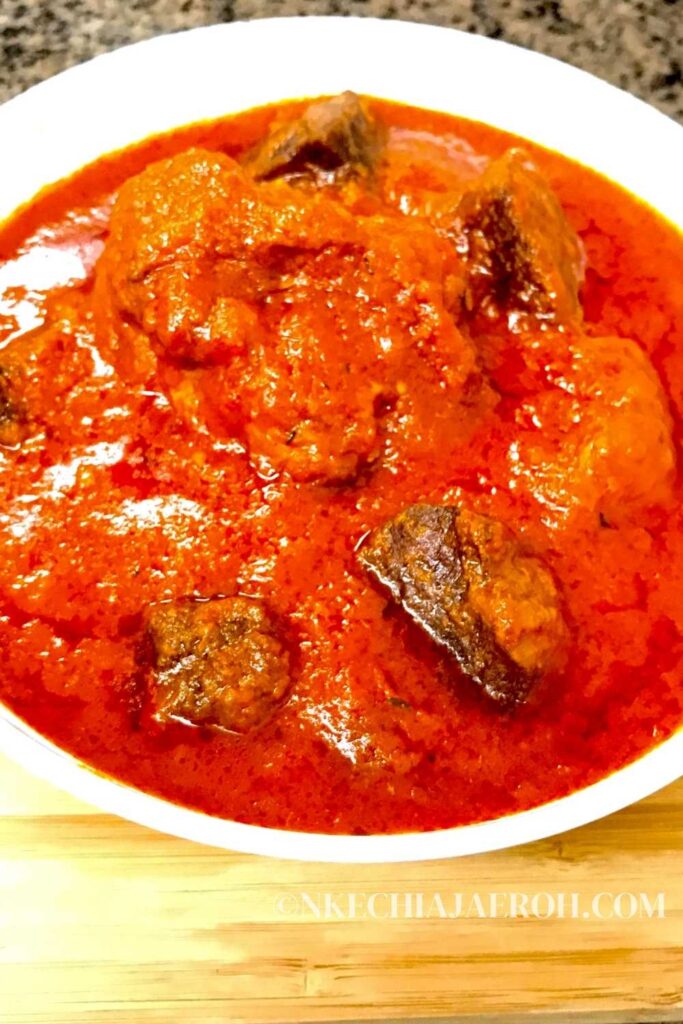 BEST Nigerian Stew Recipe!
Nigerian stew is the first class of everything red sauce; in other words, there is nothing like it because it sets the bar very high. The basic of any Nigerian stew is fresh tomatoes, fresh pepper, onions, and garlic, and so to me, those things are non-negotiable when it comes to preparing this dish. When it comes to describing the delicacy of Nigerian stew in general, and my own recipe, in particular, (passed down to me from my mother). I will say it as an exceptional indulgence, ageless, classic, flavorful, and insanely tasty! Click To Tweet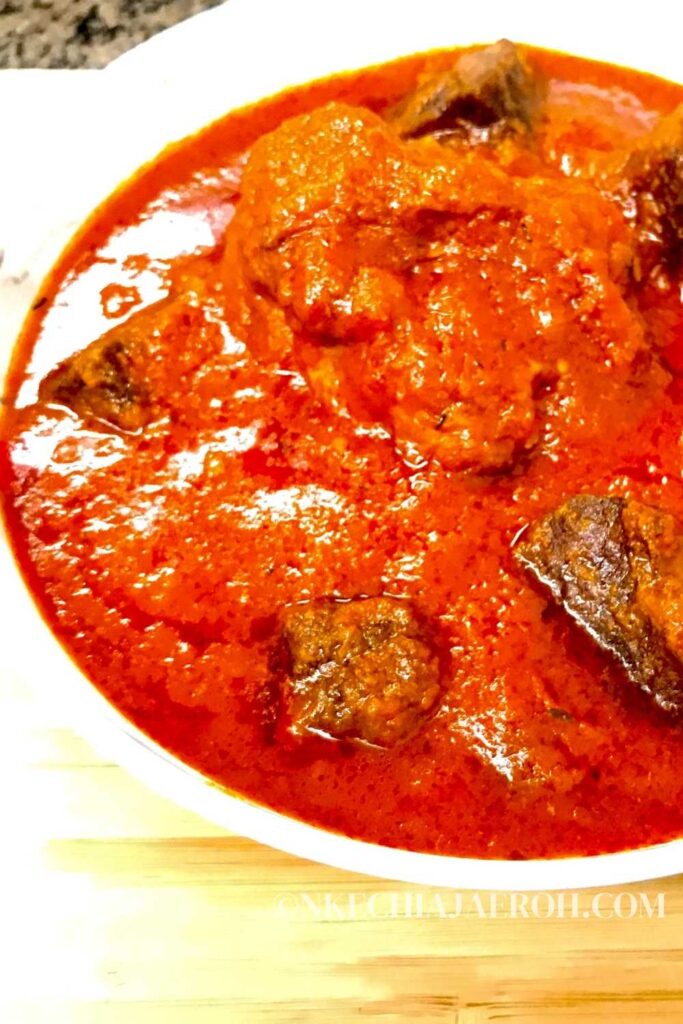 Nigerian Stew ingredients.
Fresh Tomatoes
Tomato originated in South America, technically a fruit, they are a good source of antioxidant. Vitamins K, C, potassium, and folate. Some health benefits of tomato include the promotion of heart health, and skin health, also, studies have shown the link between tomato and low incidences of certain cancers. Therefore, tomatoes are a must for this recipe!
Bell peppers.
On the other hand, fresh bell peppers are equally significant source of vitamins and minerals. Like the tomato, bell peppers are said to have originated from South and Central America. For this dish, I love using different colors of bell peppers including the green ones. Bell peppers are enriched with vitamins A, B6, C, E, and K1, as well as folate, potassium, etc., these peppers are particularly useful for the prevention of anemia; it helps with absorption of iron in the body. Additionally, red peppers play a significant role when it comes to eye health. This is because the compounds found in bell peppers can protect the retina from oxidative damage among other things.
Onions.
Generally speaking, onion is an essential component of this dish, and it makes it more delicious and nutritious. In the meantime, here is the list of what you gain by eating lots of onion: great for the bone, regulates blood sugar, and reduced risk of certain cancers. Some of the vitamins and minerals found in onions are vitamins C, B6, folate, and potassium. As well as other compounds such as anthocyanin, thiosulfinates, and other compounds. Red (or purple) onions, and yellow onions are richer in antioxidants than white onions.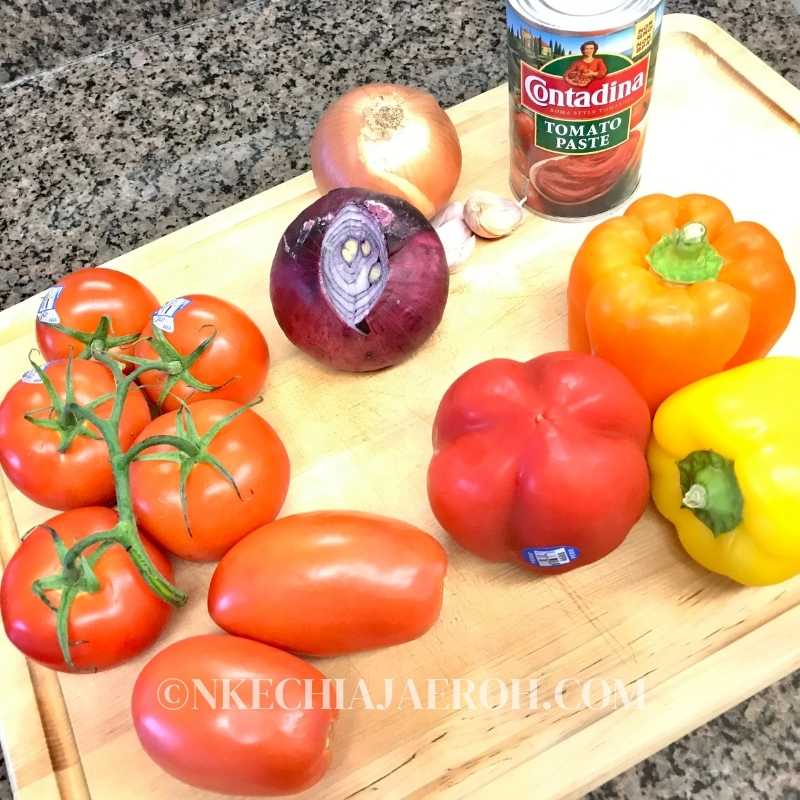 Batch Cooking is The Answer
I love batch cooking; it offers me the opportunity of not cooking every single day. Who doesn't want that? In reality, this is one of those dishes that I would encourage you to make tons of it ahead because you will need it and so you don't have literally live in the kitchen making stews. If you are going to need it all, then, why not make some more, and shut the door? So that the next 2 months you are good, like stew good. Occasionally, you can cook some rice, some yam, spaghetti or even some beans and use your stew to eat them. But you do not have to make new red stew each time. In fact, what you can do with Nigerian red tomato stew is limitless.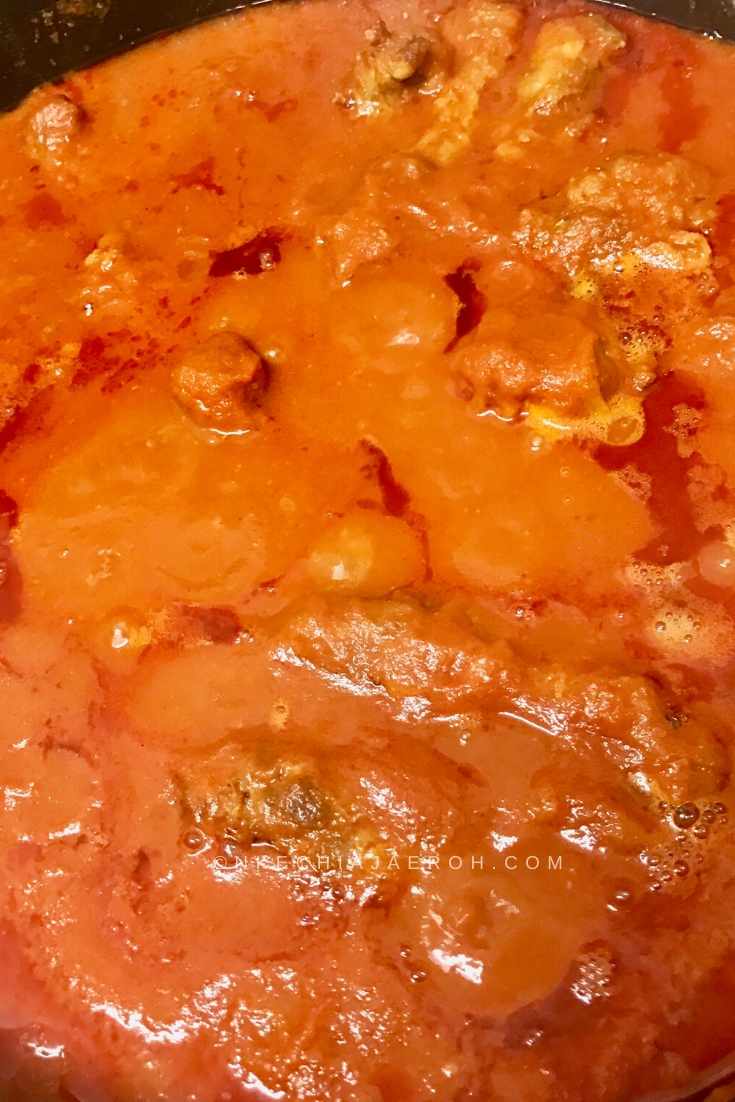 How to Serve Nigerian Stew.
I love love this stew, and am optimistic you would too. It never disappoints, and it's nothing you have tasted before, (well, except if you are a Nigerian, or if you eat 9ja foods😂😁). When it comes to entertaining your guest this stew never disappoint as well. Who wouldn't take this savory plate from you? Additionally, you can serve it plenty of ways, too!
Nigerian Stew with white Rice and beans.
This is a sure winner on your kitchen table any time, any day. Traditionally, Nigerian Stew is served with white rice! This is a typical Sunday lunch.😊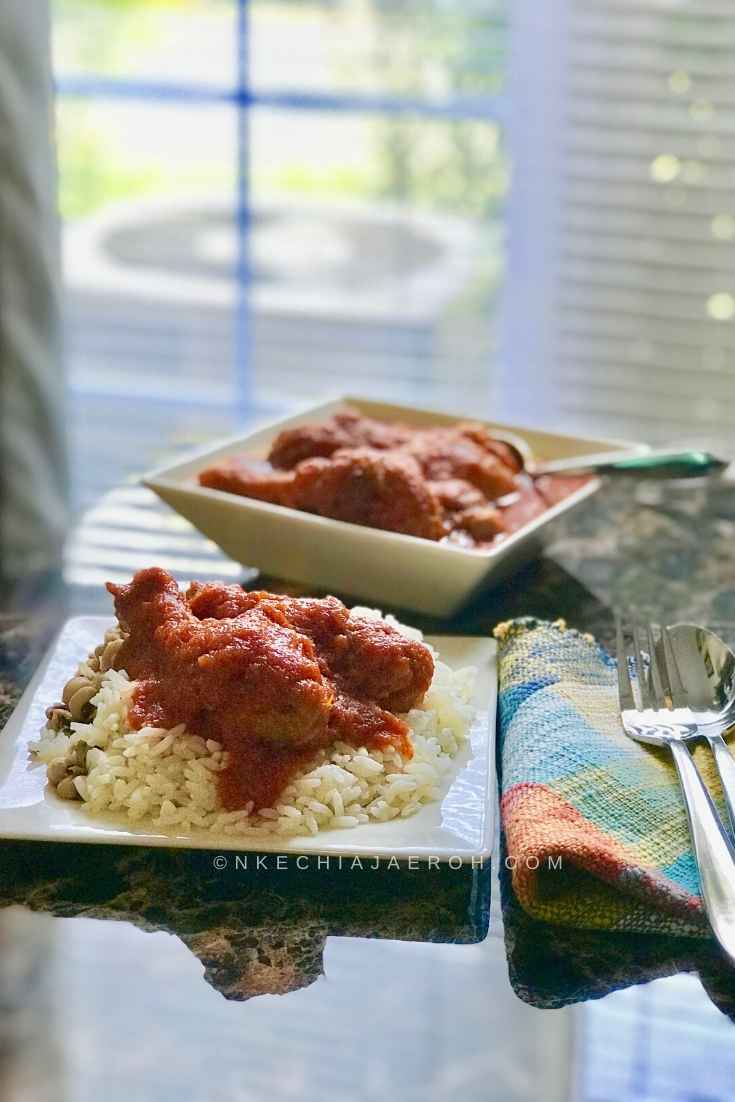 Moi-moi and Nigerian stew go hand in hand.
Without question this stew makes everything better, and when you serve it with some yummy moi moi, then you will know!

Are you ready to slay your stew? Let's do it!
HOW TO MAKE AN AUTHENTIC NIGERIAN STEW (Step-by-Step):
Print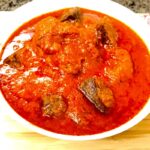 Nigerian Stew: How To Make A Classic Red Tomato Stew
---
Author:

Nkechi Ajaeroh

Total Time:

1 hour 40 minutes

Yield:

15

–

1

8

1

x
Description
The basic of this stew is fresh tomatoes, fresh bell peppers, and onions. These fresh vegetables compliment each other to give this stew a distinctive taste. You can serve Nigerian red tomato stew with white rice, beans, or even add a dollop to Nigerian moi-moi.
---
10

lbs. of chicken

12 cups

of fresh tomatoes, bell peppers, onions, and garlic blend.

2

big bulbs of onions; 1½ for the blend; ½ for sautéing

5

cloves of garlic to add to the blend

12

(oz.) or

340g

tin of tomato paste

2

pair of knorr cubes or

1 tablespoon

of knorr powder

3

cubes of Maggi

1 cup

of peanut oil (for this amount of stew you do need up to this amount of oil)

2 tablespoon

of salt (or less. Always add salt according to your taste/health need)

1 tablespoon

of curry powder

1 teaspoon

of (Nigerian) ground red pepper or any Chili peppers

1 teaspoon

of dry thyme

1

-teaspoon nutmeg

4 cups

of chicken broth

1 cup

of water (optional but necessary)
---
Instructions
Boil, and fry chicken; set aside.
Add tomatoes, onions, fresh bell pepper, and garlic in the blender and blend away. Ensure that the blend is up 12 cups (wow, that sounds like a lot; yep!) Cut the other half of the onion and set aside.
Open the can of tomatoes paste, put it into a bowl and add 2 cups of chicken broth, mix well and set aside.
Place a clean pot on the stove, set your stove to medium-high. Add oil, allow to heat up then add 1 teaspoon of salt and chopped onions. Sauté onions until translucent, about 3-5 minutes depending on the quantity. After the onions are ready add the tomato blend, give a good stir and place the lid on the pot.
Allow to cook for about 20 – 25 minutes depending on the quantity of the tomatoes. Ensure to stir every 5-7 minutes as it is cooking to avoid burning; also, lower heat before opening the lid to avoid hot splashes.
After the said time, stir very well, and add the remaining ingredients: the already mixed tomato paste and chicken broth, ground red pepper, dry thyme, nutmeg, Maggi, and Knorr cubes, curry powder, and the remaining salt, mix very well and cover the pot to cook for another 25-30 minutes.
Add the remaining 2 cups of chicken broth after the said time, and stir again. You may also add additional one cup of water if you do not wish to have a very thick stew. Cover, turn the heat up to medium and allow to cook for 10 more minutes.
After 10 minutes, reduce the heat, and open the pot; then gently add the already fried chicken. Ensure that the chicken and stew combines very well, taste for flavor (and add more so salt, pepper or Maggi if so desire.)
Allow to simmer for additional 10 – 12 minutes on low – medium heat, and your Nigerian tomato stew is ready. Serve with rice or any other thing.
Notes
I do not add crayfish to this very Nigerian stew.
Total cook time of does not include the length of time used to prepare the chicken.
I suggest preparing your chicken ahead of time (chicken preparation includes boiling, and frying.) And if you do not like fried chicken, then bake or broil it.
Make this dish vegetarian by not adding the chicken at all.
Always add salt according to your taste/health need)
Please note that this video shows you how to make Nigerian Stew from scratch but with beef. Switch out the meat to chicken to make a Nigerian Chicken Stew. You can also make it with both Chicken and beef or even with some fish, oxtail, etc. Use whatever you have; for instance, you could notice that I ended up adding a leftover turkey drumstick in the video as well…
You do not have to make this vast amount of stew, feel free to reduce to suit your situation.
Prep Time:

20 minutes

Cook Time:

1 hour 20 minutes

Category:

Entree

Method:

Stove top

Cuisine:

Nigerian
Keywords: Nigerian Stew, Nigerian Tomato Stew, Nigerian Chicken stew, Nigerian style chicken stew, Nigerian tomato and chicken stew, Quick and easy Naija Stew, Nigerian sauce, Chicken sauce, Nigerian stew for white rice, Ghana stew, Stew recipe
Recipe Card powered by
SHARE THIS POST, then go ahead and check out other Nigerian inspired recipes, such as:
Party-Style Nigerian Basmati Jollof Rice.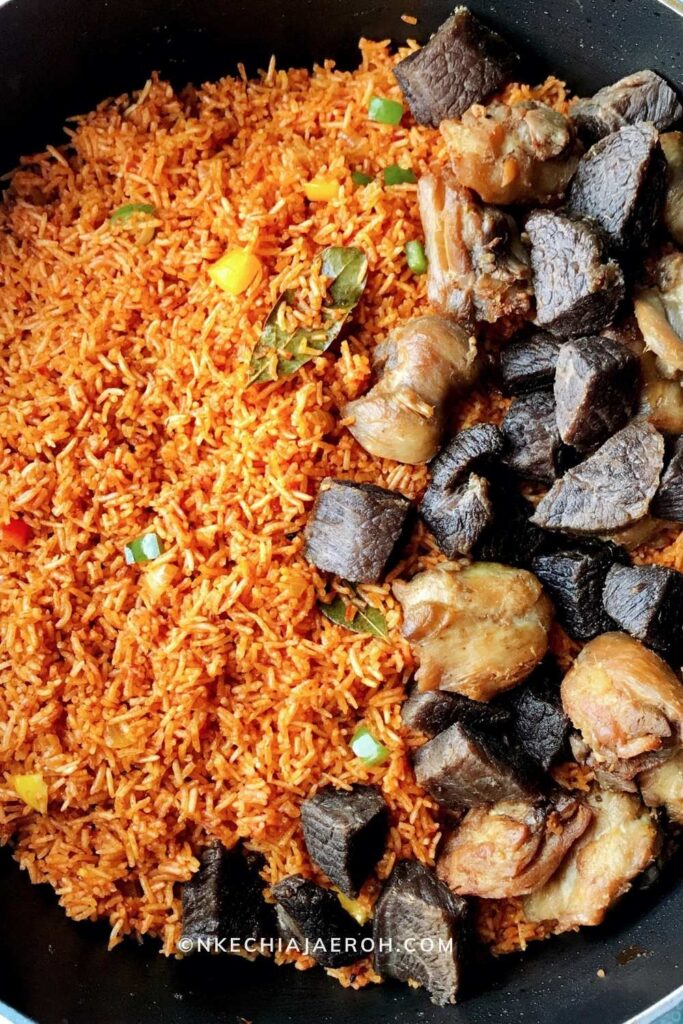 Authentic Okra & Ogbono Soup Recipe (Naija Style)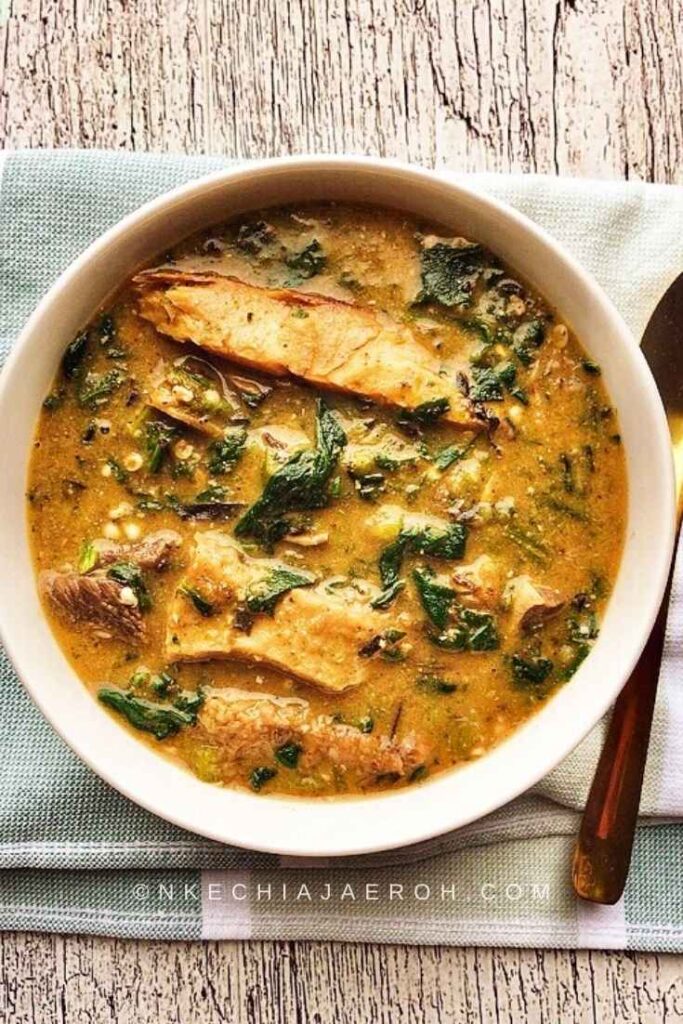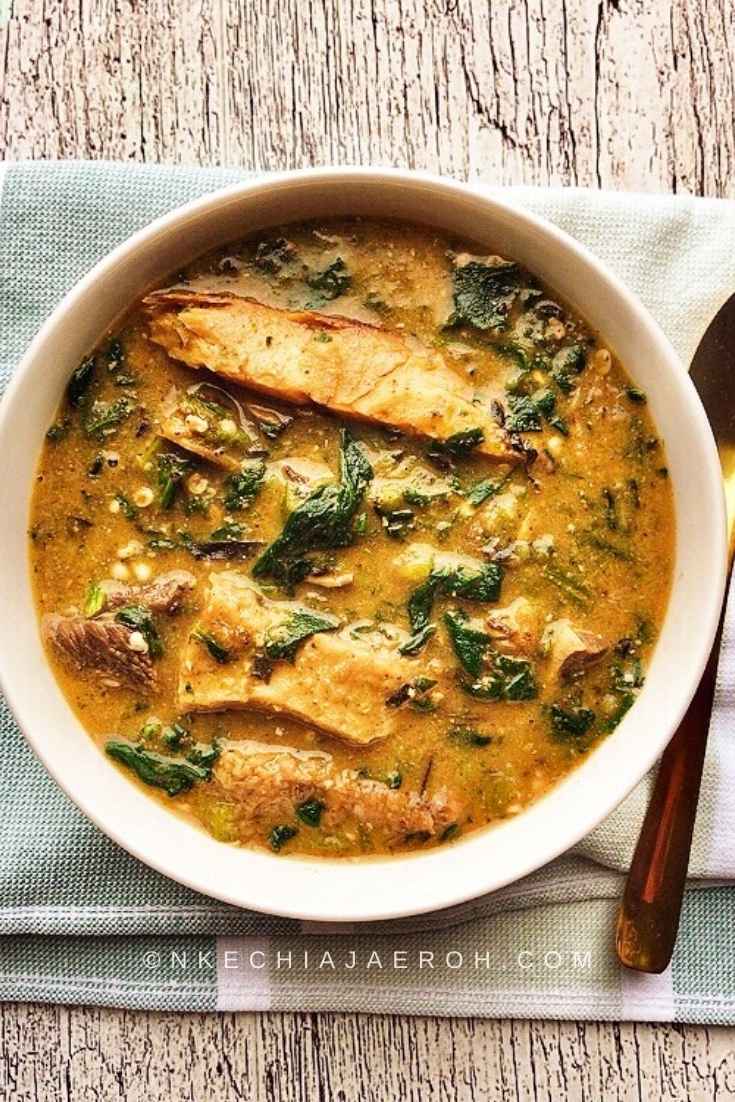 The Best Nigerian Fried Rice Recipe.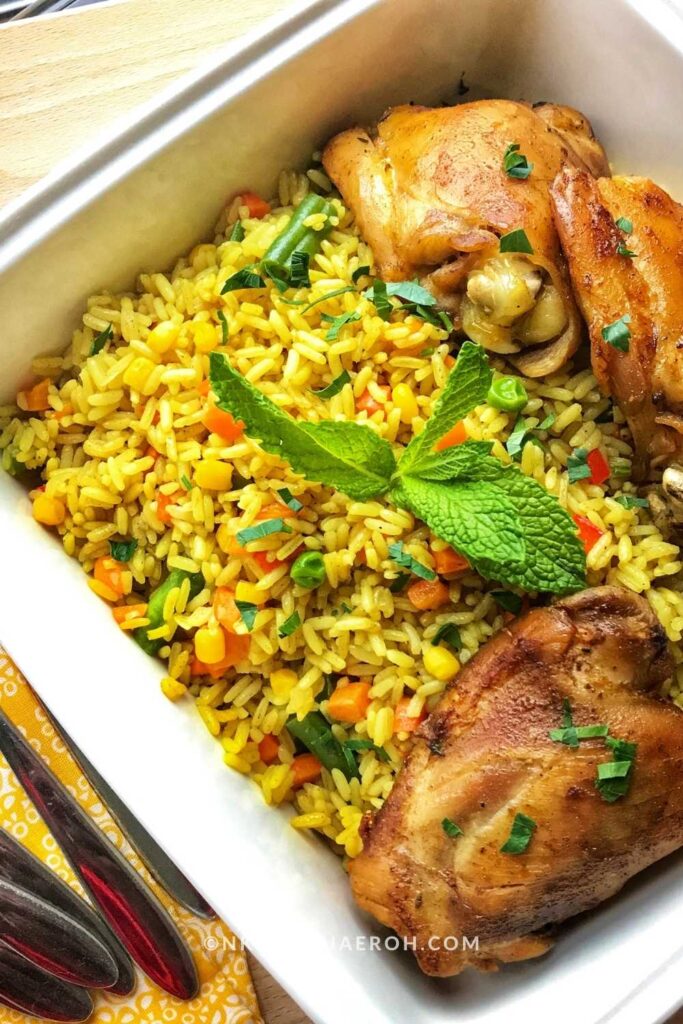 Want More Nigerian Food to Try? Here you go!
As well as healthy breakfast recipes such as Coconut milk oatmeal, avocado coconut smoothie, and healthy banana oatmeal waffles.
Finally, let's connect on social media, am on Pinterest, Facebook, Instagram, Twitter, and YouTube. If you like video recipes, then be sure to head over to my YouTube Channel. Share this recipe post, and SAVE/PIN THIS IMAGE ON PINTEREST! ⤵️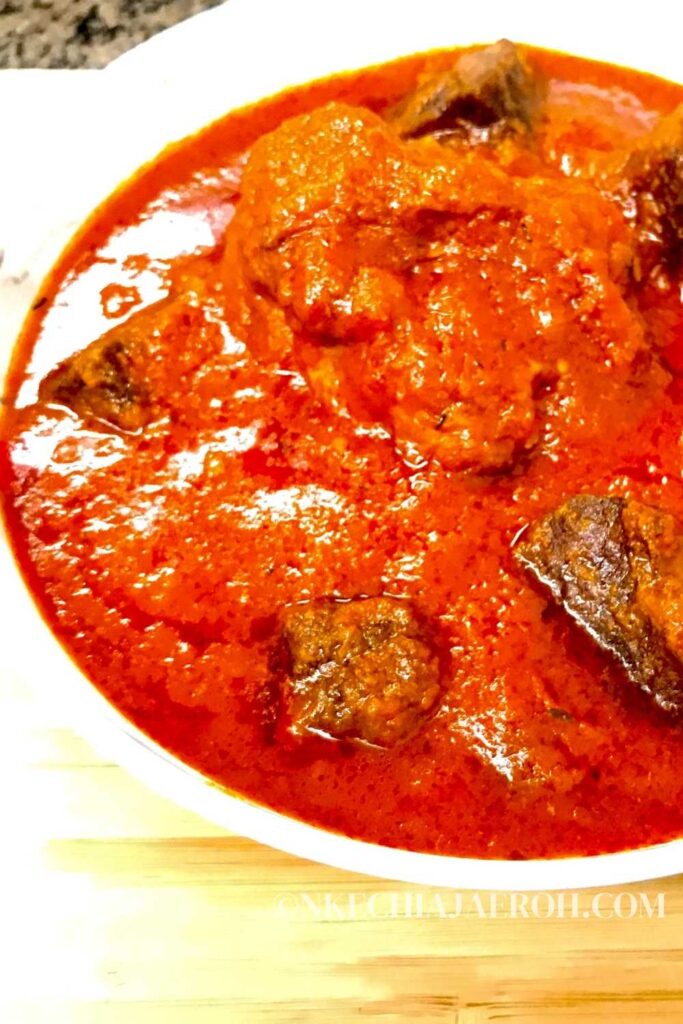 With love ❤️