Description
Delicious and nutritious chicken and carrot stir-fry made with chicken breast, sliced carrots, onions, fragrant herbs, and sautéed in olive oil. Serve this over rice or anything you wish. This easy chicken recipe is always a perfect weekday lunch or dinner! This recipe is kid-friendly and takes less than 30 minutes to cook!
This gluten-free, dairy-free, stress-free, and whole30 compliant healthy chicken recipe is calling your name!
---
1

chicken breast (cut in

1

– 2-inch sizes)

1

–

2

teaspoon(s) of cornstarch

1

 – 2 teaspoon(s) of paprika (or a little more if you desire it to be a bit more reddish)

1 teaspoon

of onion powder

¼ teaspoon

of garlic powder (or less)

½ teaspoon

Knorr seasoning powder
Salt to taste (always add salt according to your taste)
Black pepper to taste (or white pepper)
A dash of Crushed red pepper (if you want spicy; add to taste)

¼

dry thymes leaves

2 tablespoons

of EVOO

½

of whole fresh lime

2 tablespoons

– ¼ cup of chicken broth or water (which you may not need)
For the vegetables:
1½ cups

of sliced carrots

1

bulb of onions (half each from different colors of onions; I used red and yellow)

1/3

chopped green onions

1 teaspoon

freshly grated ginger
Salt to taste (always use salt according to your taste or health need)

½ tsp

. seasoning powder

1/8 tsp

. pepper

½ tsp

. paprika
---
Instructions
In a clean bowl, add the already cleaned/washed and cut chicken. Then add the paprika, cornstarch, seasoning powder, onion powder, thyme, garlic powder, and salt. Use hands while wearing a glove to make sure the marinade is well mixed into the chicken, set aside.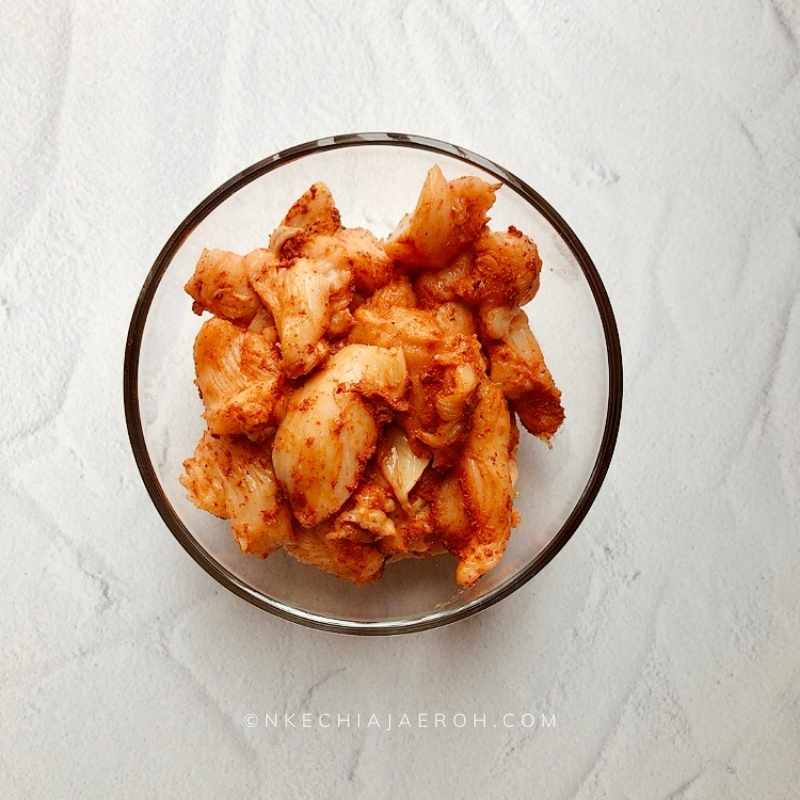 While the chicken marinates, wash and cut the vegetables, slice, or cut them as you wish. But for this recipe, slicing works better than cubes.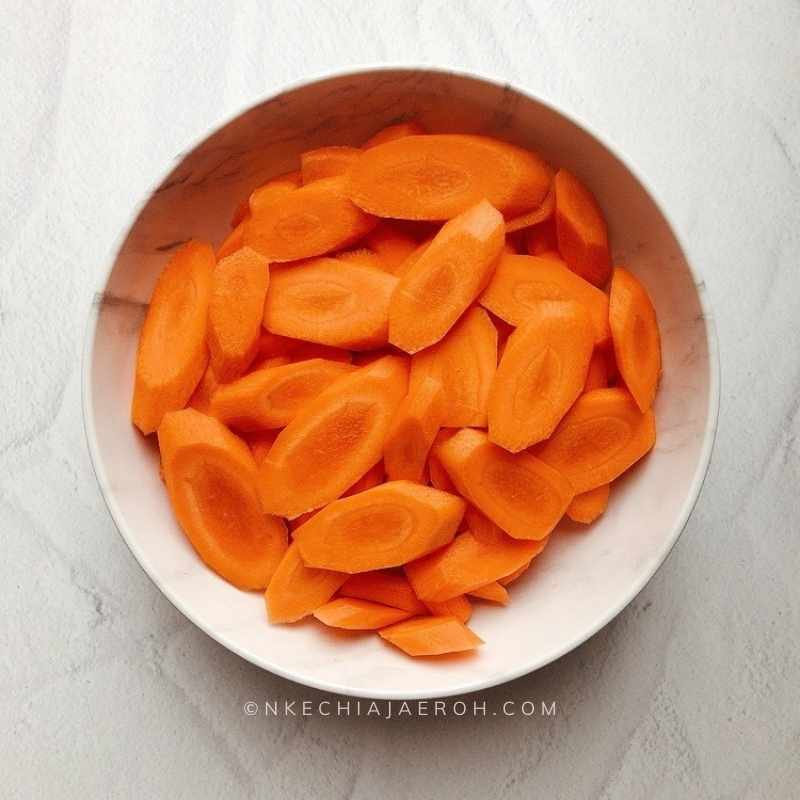 In a clean pan, add half of the oil or about two teaspoons, allow heating it up. Start sautéing the vegetables, adding all the veggies at the same time. Then add the seasoning powder, salt, paprika, pepper, and stir well to combine. Sautee everything for 4 – 5 minutes, taste, and adjust flavors, scoop out of the pot, and set aside.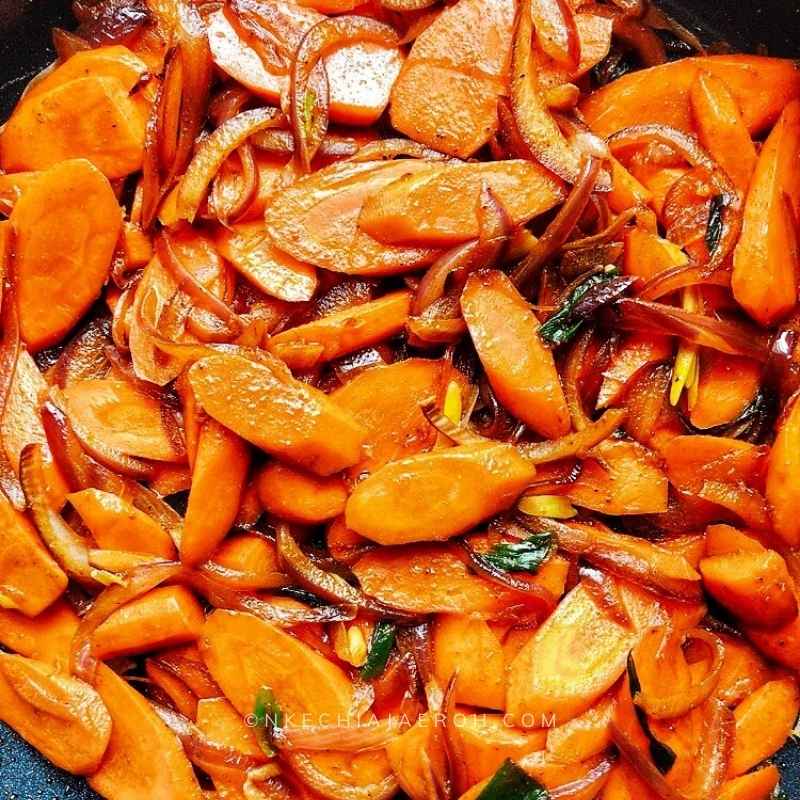 Add the last remaining oil or about one tablespoon of oil into that same pan, and gently lay the (already marinated) chicken in the pan. Allow to cook/sauté unbothered for at least 4 minutes or until that side turns a bit brown, flip to cook the other side, the same way.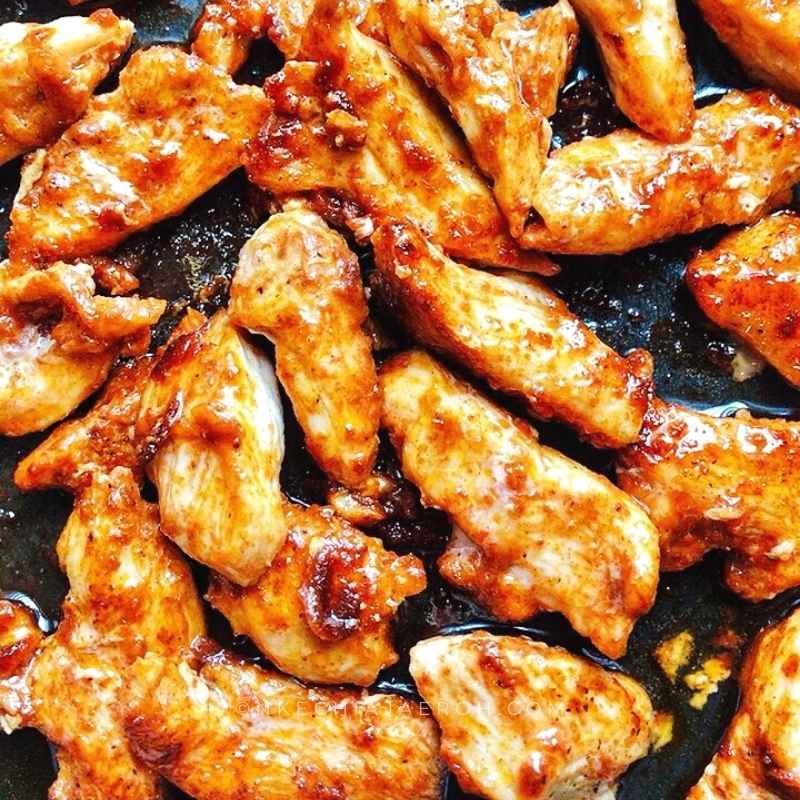 Cook the chicken through, and then add the veggies back into the pan, give a good mix, add the grated ginger and minced garlic as well. Taste and adjust flavors accordingly, and then squeeze in the juice of ½ of the lime to deglaze the pan. And also, to intensify the flavor.
Give a good quick stir, then finally add the chopped green onions and turn off the heat, set this stir-fry aside to stop cooking and then serve with rice, potatoes, beans, or anything you wish. I ate mine with coconut basmati rice, and it was divine.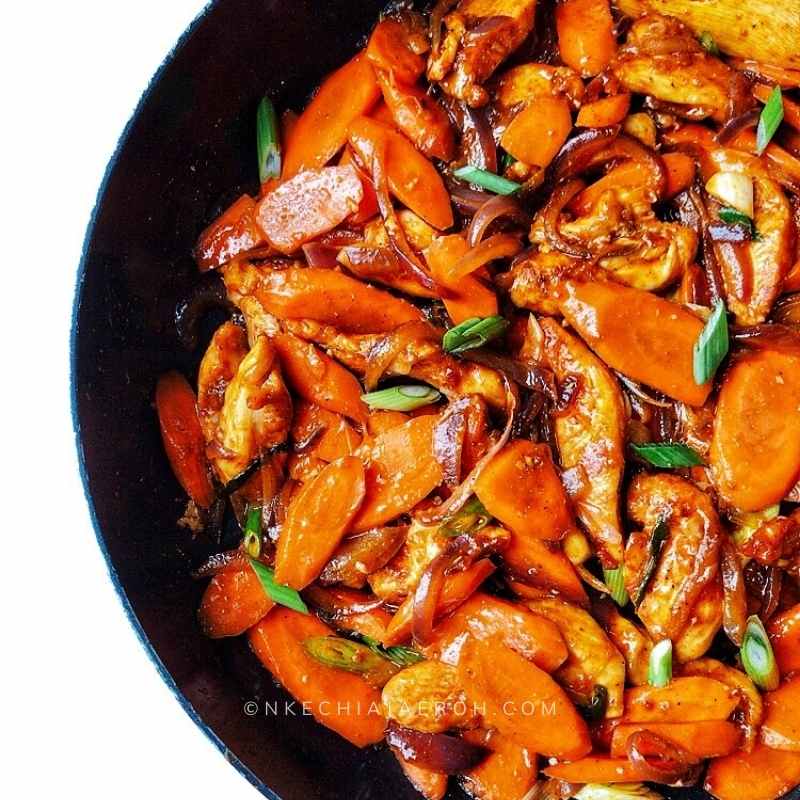 Notes
If you desire for your sauce to be a little liquid-y then add a drop of broth or water; I rarely do. About 2 tablespoon should do.
If you are vegan, no problems substitute chicken with tofu, or just make this without it and it still tastes delicious!
Increase cornstarch and paprika to 2 teaspoons if using a big chicken breast.
Prep Time:

10 minutes

Cook Time:

20 minutes

Category:

Dinner

Method:

Stovetop

Cuisine:

Mediterranean
Keywords: Easy chicken recipe, Chicken stir fry, Stir fry recipe, Healthy chicken recipe, Chicken and broccoli, chicken and carrot stir fry recipe, stir-fry, chicken dinner, Chicken stir fry healthy stir fry, Asian food, healthy recipe, low carb chicken stir-fry, Chicken recipe, carrot recipe, vegetable stir-fry, healthy chicken stir-fry, carrot stir-fry, easy chicken recipe, vegetable chicken dinner