This shop has been compensated by Inmar Intelligence and its advertiser. All opinions are mine alone. #HolidaysWithSaraLee
Best Holiday Appetizer.
I'm sure you will agree with me that 2020 has been an uneasy year, and with everything we have faced, we are still here (and about to celebrate the holidays). Uniquely, Thanksgiving and Christmas will be different this year. My goal with today's post is to share an easy, tasty, and fun recipe, let's just say the best holiday appetizer! These peppered turkey bites on Sara Lee® Delightful™ White Made with Whole Grain Bread will put a smile on your face this Thanksgiving, Christmas, and every time you make it! Can I get an AMEN for that? These are the perfect snacks for you and your family to enjoy the days after Thanksgiving or Christmas.
Right now earn $.65 cash back on Sara Lee® Delightful™ White Made with Whole Grain Bread
Celebrate the Holiday with Turkey Bites on Bread.
Look no further for a nutritious holiday appetizer; these healthy and easy to make peppered turkey bites on keto-friendly bread is about to be your best appetizer for any occasion, especially this holiday. These little bites are scrumptious & satisfying.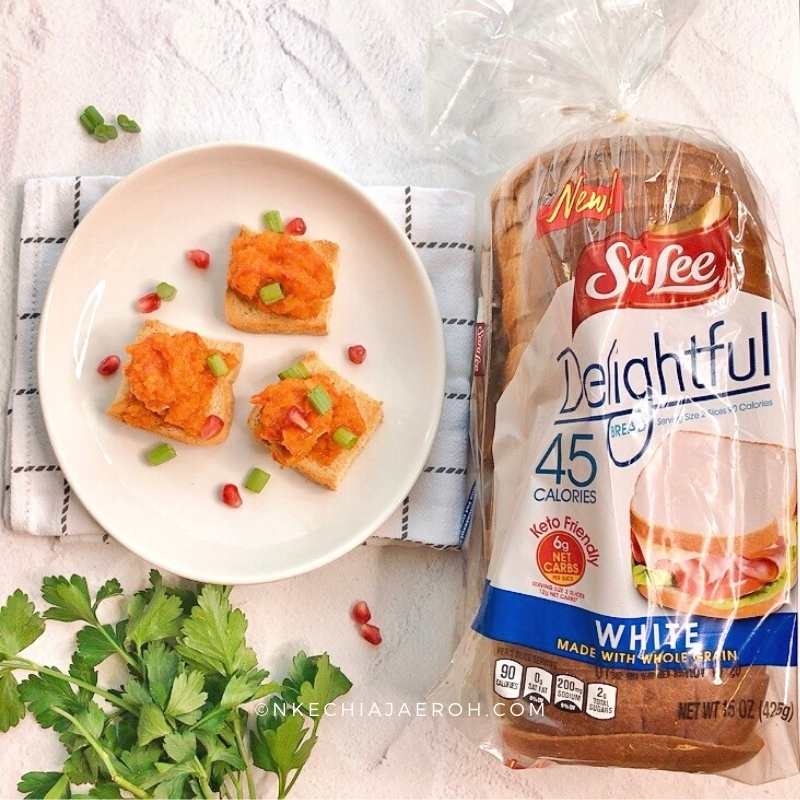 Peppered Turkey Bites Ingredients.
The best thing about this peppered turkey bites recipe is that it uses only 6 ingredients, yes, S I X ingredients, in other words, less time to shop and cook, and more time to relax and enjoy.
First is the healthy keto-friendly bread that I am currently loving — Sara Lee® Delightful™ White Made with Whole Grain Bread. This bread is a low-fat food (hello), cholesterol-free food, contains no high fructose corn syrup, and 45 calories per slice! You surely cannot beat it.
Additionally, you will need some leftover Turkey; amazingly, you can make these turkey bites with white or dark turkey meat; I used turkey breast (white), also, bell peppers, onions, olive oil, and salt. I stopped at my local Walmart to grab everything I needed to make this recipe. The bread was easy to find on the bread aisle. Click the image above to add it right to your own Walmart Online Grocery cart.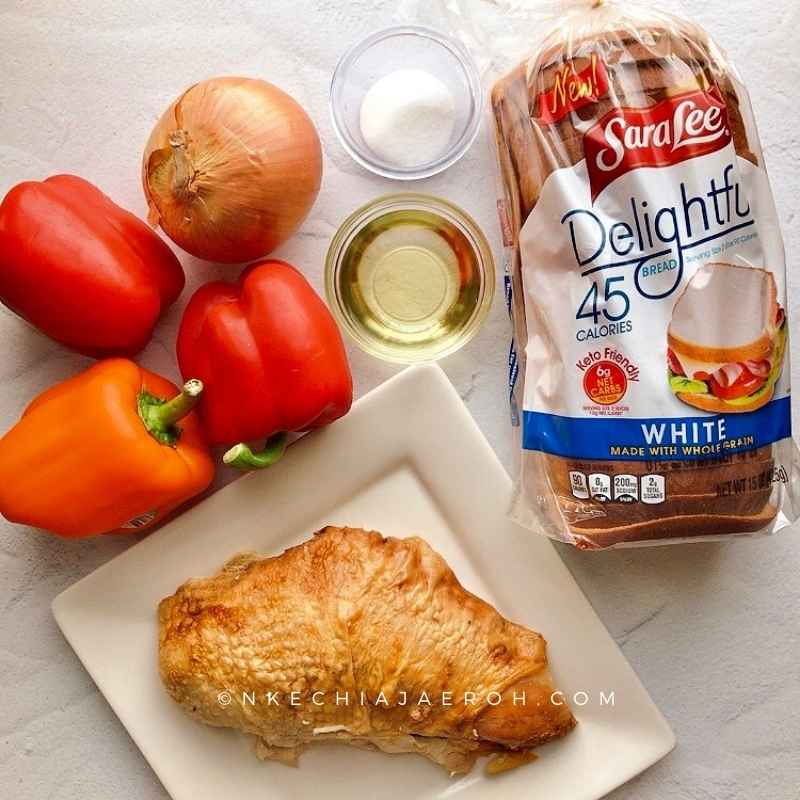 Sara Lee Keto-friendly Bread.
Apart from being an excellent source of fiber, I personally love Sara Lee products for peace of mind. This company does not use artificial colors or flavors; what you see on the ingredients list is what you get, which means a lot. It would also be worth noting that this bread is made with renewable wind energy!
As always, I promise to support and only promote the products that I believe in, and this recipe is a testament to that; I hope you like and enjoy this recipe as my family and I have. Do let me know when you make this recipe.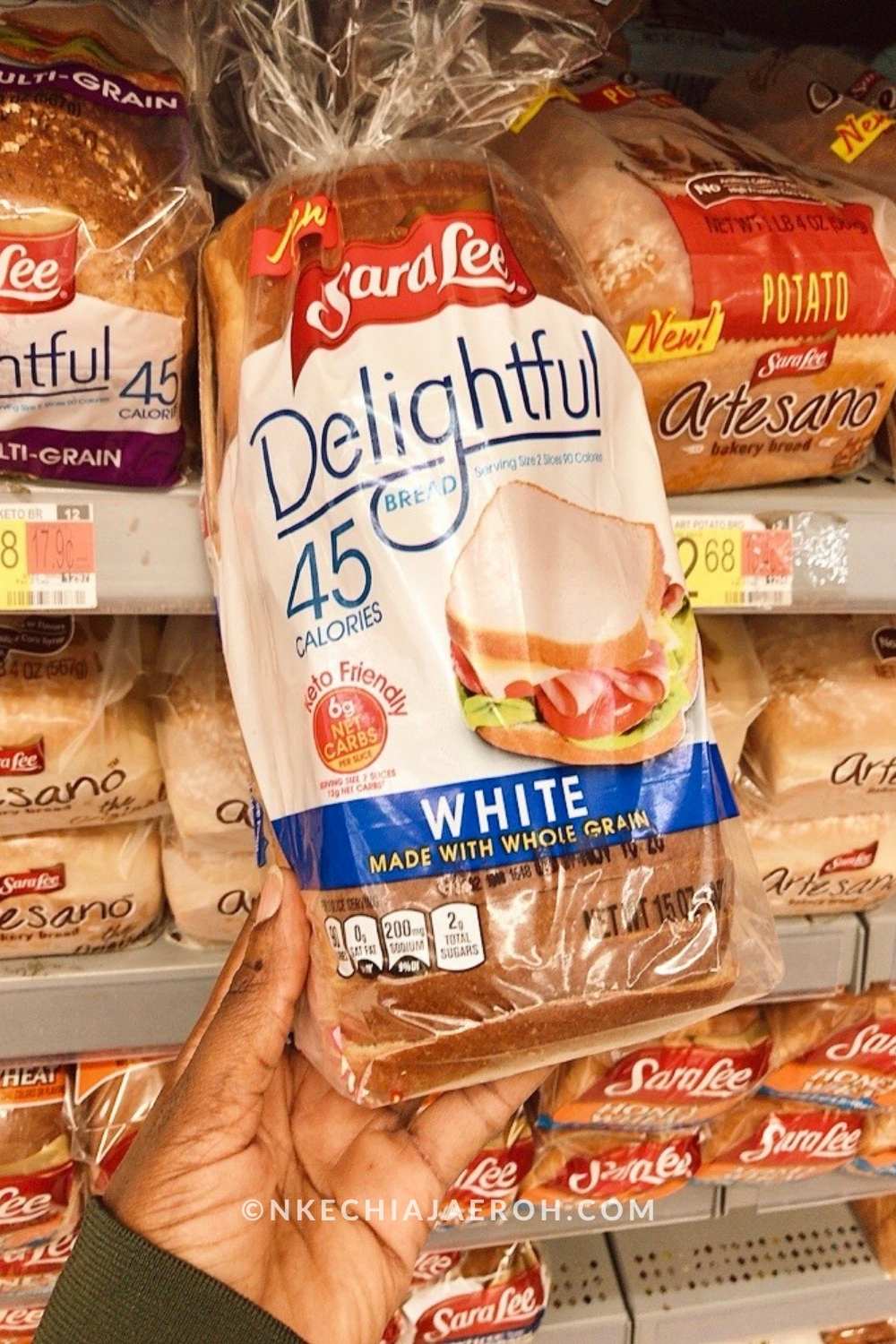 How to make Peppered Turkey Bites.
Whether you plan to use this turkey bites recipe as an appetizer, snack, or main meal, the step remains the same – very simple and straightforward.
Step one: Prep the Bread.
I cut each of the bread slices into four squares before baking them. Alternatively, you can choose to pan sear them as well (video direction coming soon)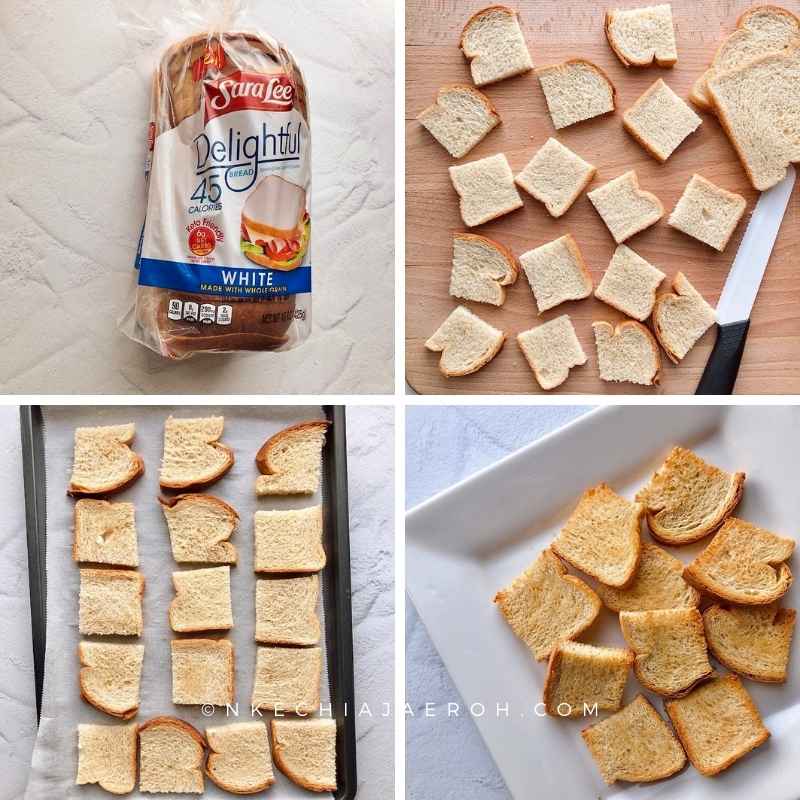 Step Two: Prepare the Turkey.
First, gently remove the turkey skin; second, cut it up into cubes or squares. Finally, place on a baking sheet, and bake to crisp up.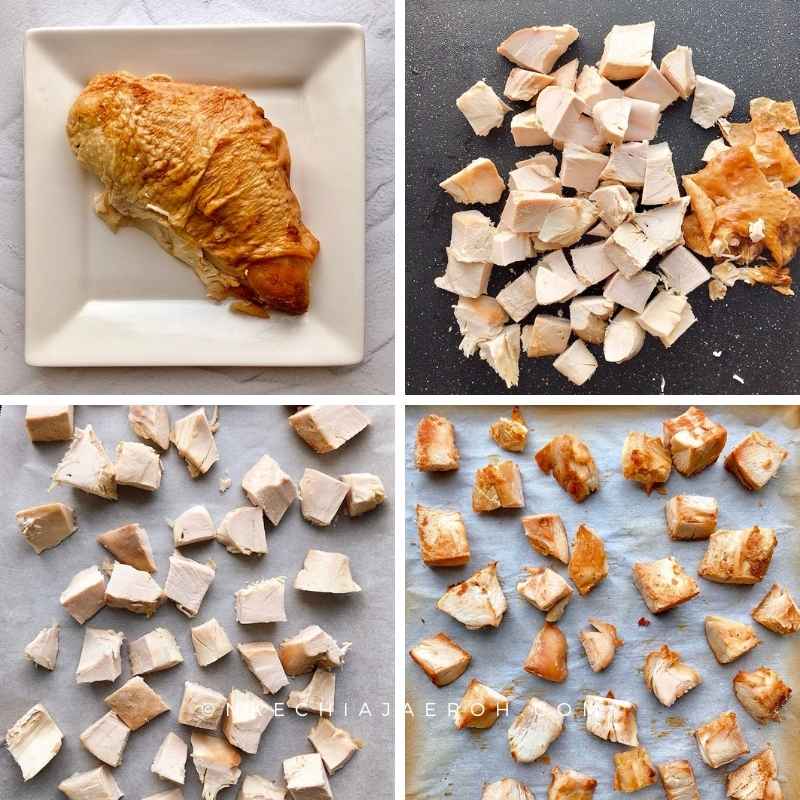 Step Three: Peppered Turkey Bites Sauce.
Making this recipe includes making the "peppered" sauce, and just as the name suggests, we will use bell peppers and onions to make this incredibly delicious sauce that will transform this recipe.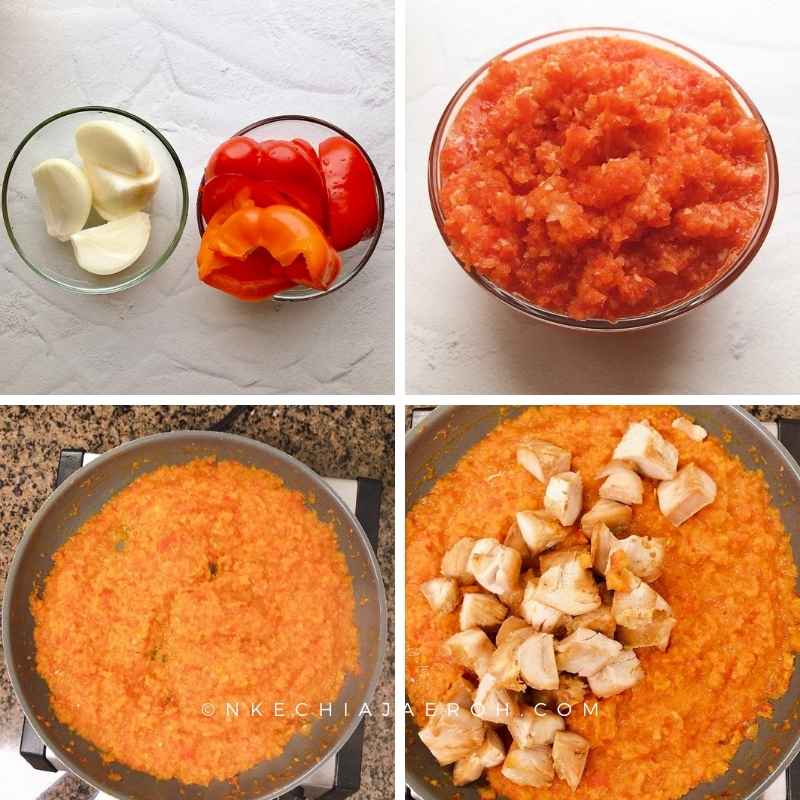 These flavorful, fun, and fabulous turkey bread bites will leave you with an unforgettable experience. The best part about this recipe is that you can make it ahead; as long as you follow my instructions, you can make it up to 5 hours early, and it won't get soggy.
On the other hand, you can prep the bread and peppered turkey separately days ahead and then put them together shortly before serving. To be honest, you will not be disappointed with the outcome of this dish either way.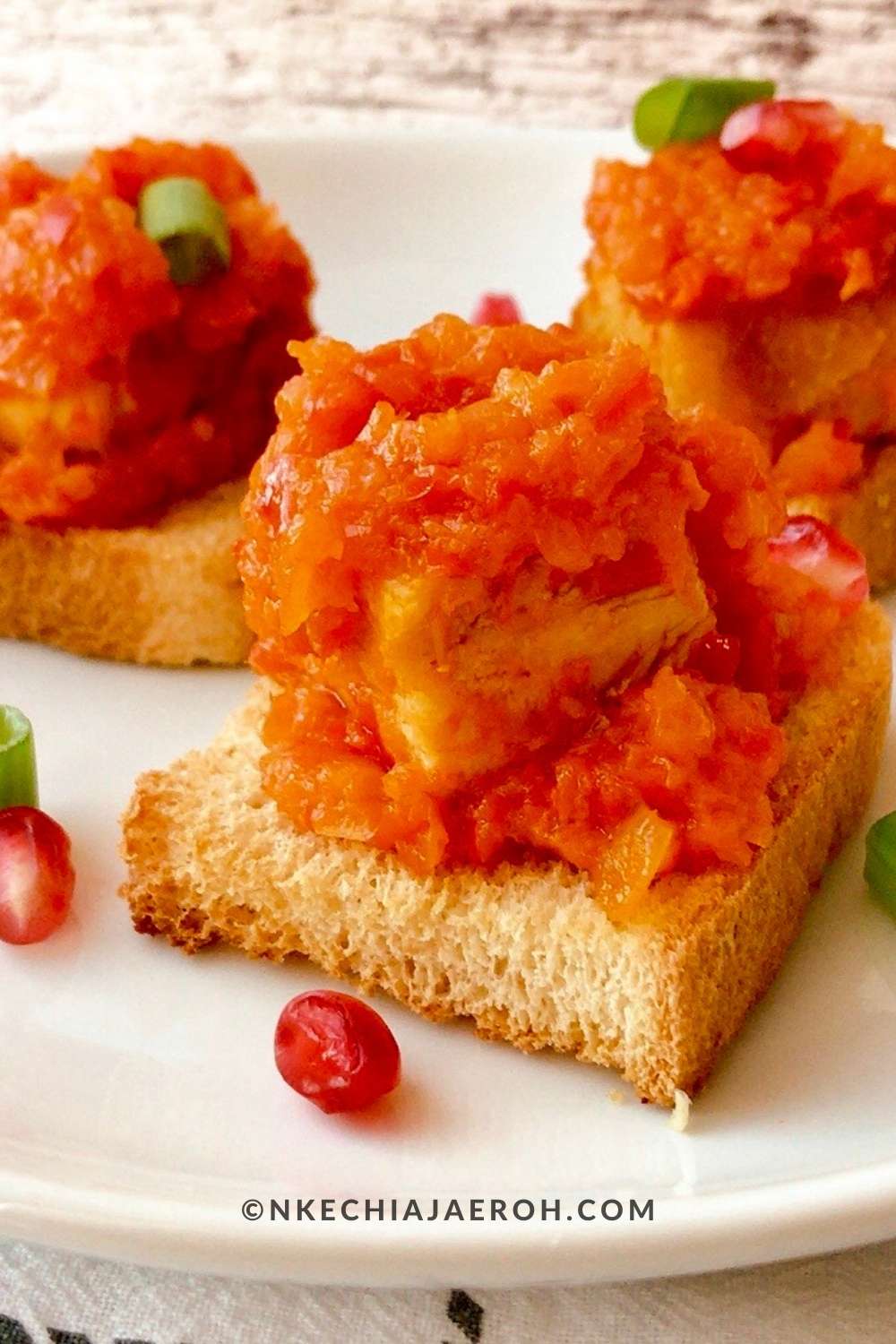 Counting Calories?
How many calories are in Keto-friendly Sara Lee® Delightful™ White Made with Whole Grain Bread?
This bread has 45 calories per slice and 90 calories per 2 slice serving. This means you can enjoy it without worrying about the calories. And with mealtime savings (#mealtimesavings), you will never run out of ideas on what to make with this bread! As a busy working mom, this keto-friendly Sara Lee bread has been a total game-changer.
Can I use chicken for the turkey bites recipe?
Yes, you can substitute chicken for turkey.
Are these peppered turkey bites spicy?
No, these peppered turkey bites are not spicy at all; this way, everyone can enjoy it, including children.
Print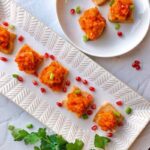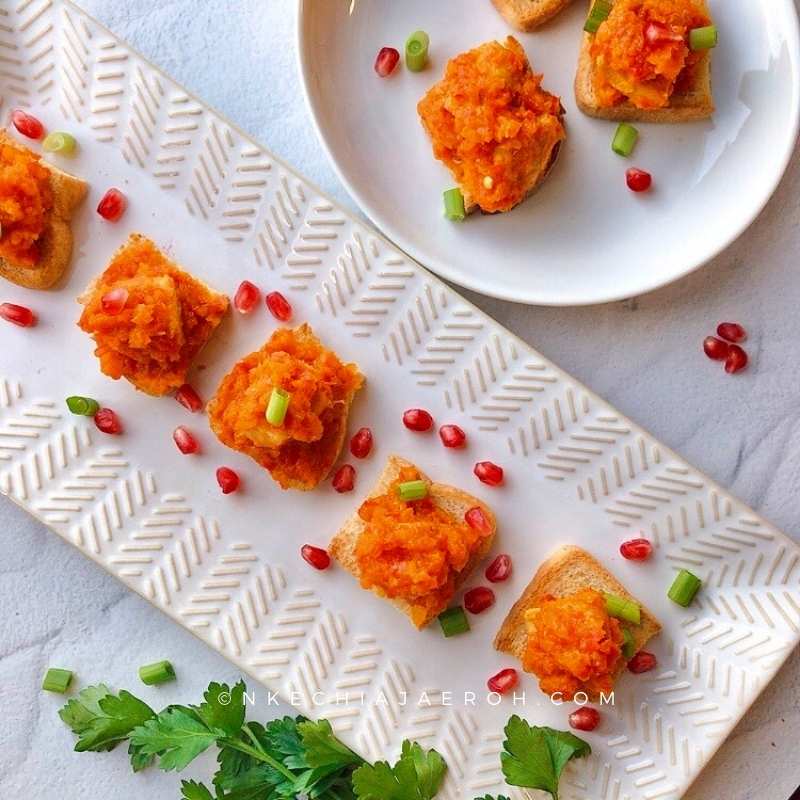 Peppered Turkey Bites on keto-friendly bread
---
Author:

Nkechi Ajaeroh, MPH

Prep Time:

20

Cook Time:

50

Total Time:

1 hour 10 minutes

Yield:

8

-

10

1

x

Diet:

Low Calorie
Description
These healthy and easy to make peppered turkey bites on keto-friendly bread is about to be your best appetizer for any occasion, especially during Thanksgiving and Christmas holidays. These little bites are scrumptious and nutritious appetizers/snacks.
---
4 slices of Sara Lee® Delightful™ White Made with Whole Grain Bread
1 (already cooked) Turkey Breast (any other part works just fine)
1 bulb of onions
3 big bell peppers (2 red and 1 orange; any color works just fine)
¼ cup of Olive oil (plus another tablespoon spoon or oil spray)
1 – 2 teaspoons of salt (always use salt according to your taste).
---
Instructions
Preheat the oven to 350.
Cut one slice of bread into four squares (do the same for all the bread), then lay on a baking sheet.
Sprinkle or spray olive oil on both sides of each bread "square," and sprinkle a little salt on both sides as well.
Bake for 7 minutes on one side and 3 minutes on the other side (a total of 10 minutes), set aside.
Cut the turkey meat into squares/cubes, spread on a baking tray, sprinkle a little salt, and broil in the oven for 10 – 15 minutes or until crisp and golden. Keep eyes on this, not to overcook. Then set aside.
Wash, and quarter the bell peppers and onions, then add to the food processor. Roughly blend so that you can still see the pepper/onion fragments.
Set a clean pan on the stove, and add olive oil, and then allow to warm up. Add the bell pepper onion blend as soon as the oil is hot.
Cover, and cook until the liquid visibly reduces; stir now and then while it cooks. This may take up 20 – 30 minutes, depending on the quantity of the blend.
Season with salt according to your taste, then add the turkey bites into the peppered sauce; make sure to properly incorporate, cover to simmer on low for another 5 – 7 minutes. Taste and adjust flavors.
Scope peppered turkey bites unto baked bread bites to serve. This recipe serves up 8 – 10 people.
Notes
Use seasoned white or dark turkey meat for this recipe; either would work just fine.
Keep eyes on the bread while they bake; it cooks quickly and can easily burn. You want crisp bread, not a burnt bread.
Start by baking for 7 minutes on one side, then flip, and complete baking for another 3 minutes.
Category:

Appetizers

Method:

Stovetop and Baking

Cuisine:

American and Nigerian
Keywords: Turkey recipe, Turkey, Thanksgiving recipe, Appetizers, healthy appetizer, Thanksgiving appetizer, Christmas appetizer, Peppered meat, Nigerian peppered meat, Thanksgiving holiday, bell pepper recipe, holiday recipe, Turkey appetizer, Bread appetizer, Peppered meat sauce, Turkey bite appetizer, Bread bites, Turkey bites calories, Turkey bread bites, Turkey sausage bites, Leftover turkey bites, Turkey bites on keto bread, Turkey pepper bites, Peppered Turkey bites on bread, How to cook turkey bites, Healthy turkey bites, Nigerian peppered meat, How to make peppered meat Nigerian style, Peppered turkey meat, Making peppered meat, Peppered assorted meat
If you like this flavorful and colorful appetizer/snack, then I am sure you will enjoy my Nigerian sandwich toast recipe. Perfectly toasted bread filled with savory scrambled egg veggies. So yummy!
Check out some of my other healthier holiday recipes:
While you are still here, grab my FREE (5) spinach salad recipe bundle would be a great addition to your dinner table if you like salads or you are wanting to eat healthier. Get the recipes here.
Finally, let's connect on social media, am on Pinterest, Facebook, Instagram, and Twitter, Share this recipe post, and SAVE/PIN THIS IMAGE ON PINTEREST! ⤵️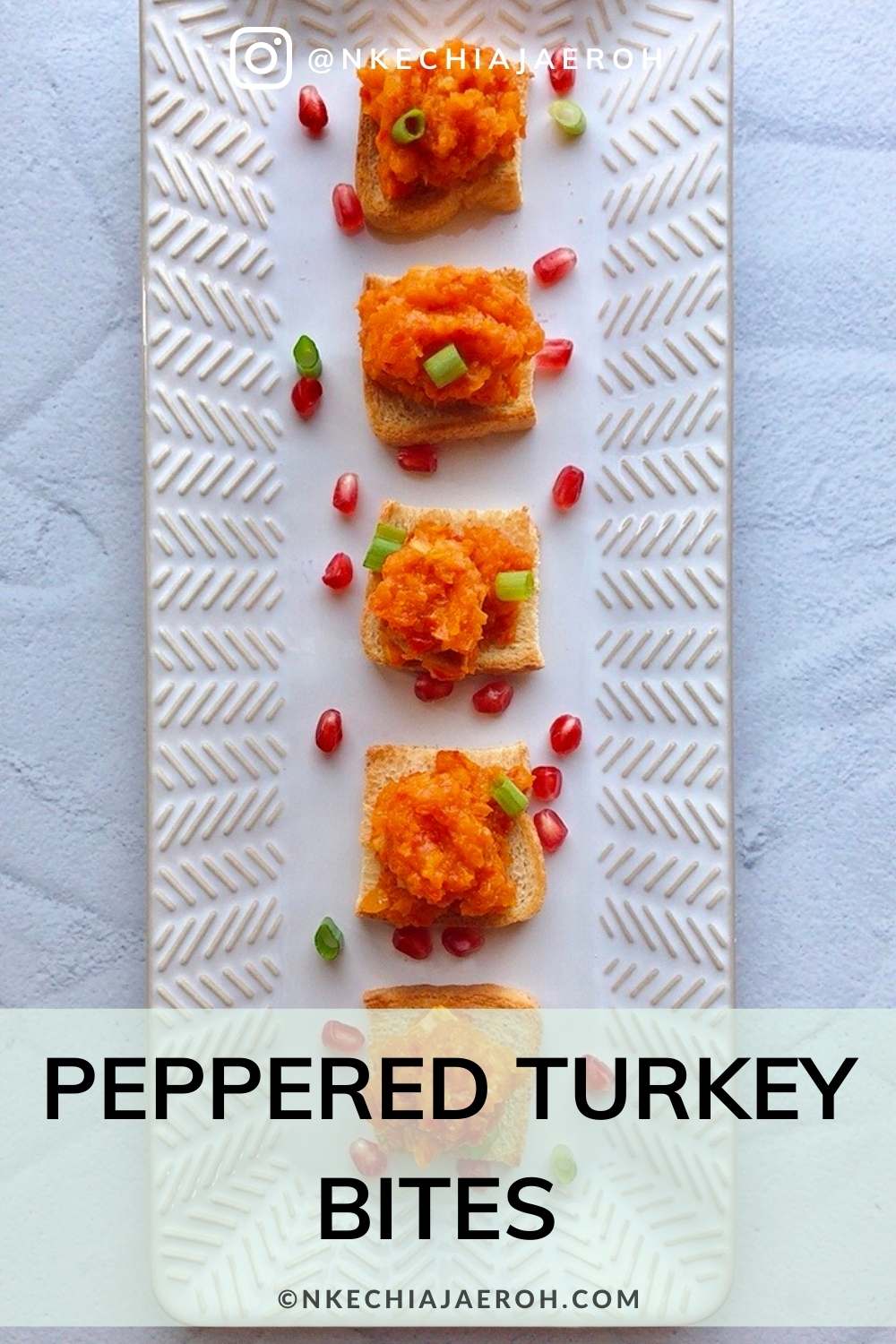 Stay well and safe.