Thanksgiving Day.
Every last Thursday of November, every year, is Thanksgiving Day here in the United States of America. A perfect family holiday that allows everyone to be thankful for one another. This day is also unofficially known as the turkey day because families typically celebrate Thanksgiving with Turkey – roasted, baked, fried turkey, all welcome! Among other dishes I make on this day, my Thanksgiving roasted turkey recipe is at the forefront. An easy and juicy oven-baked turkey recipe that any person can easily make! This recipe will guarantee you have the most succulent turkey breast, excellent turkey drumsticks, and overall best-roasted bird! Click To Tweet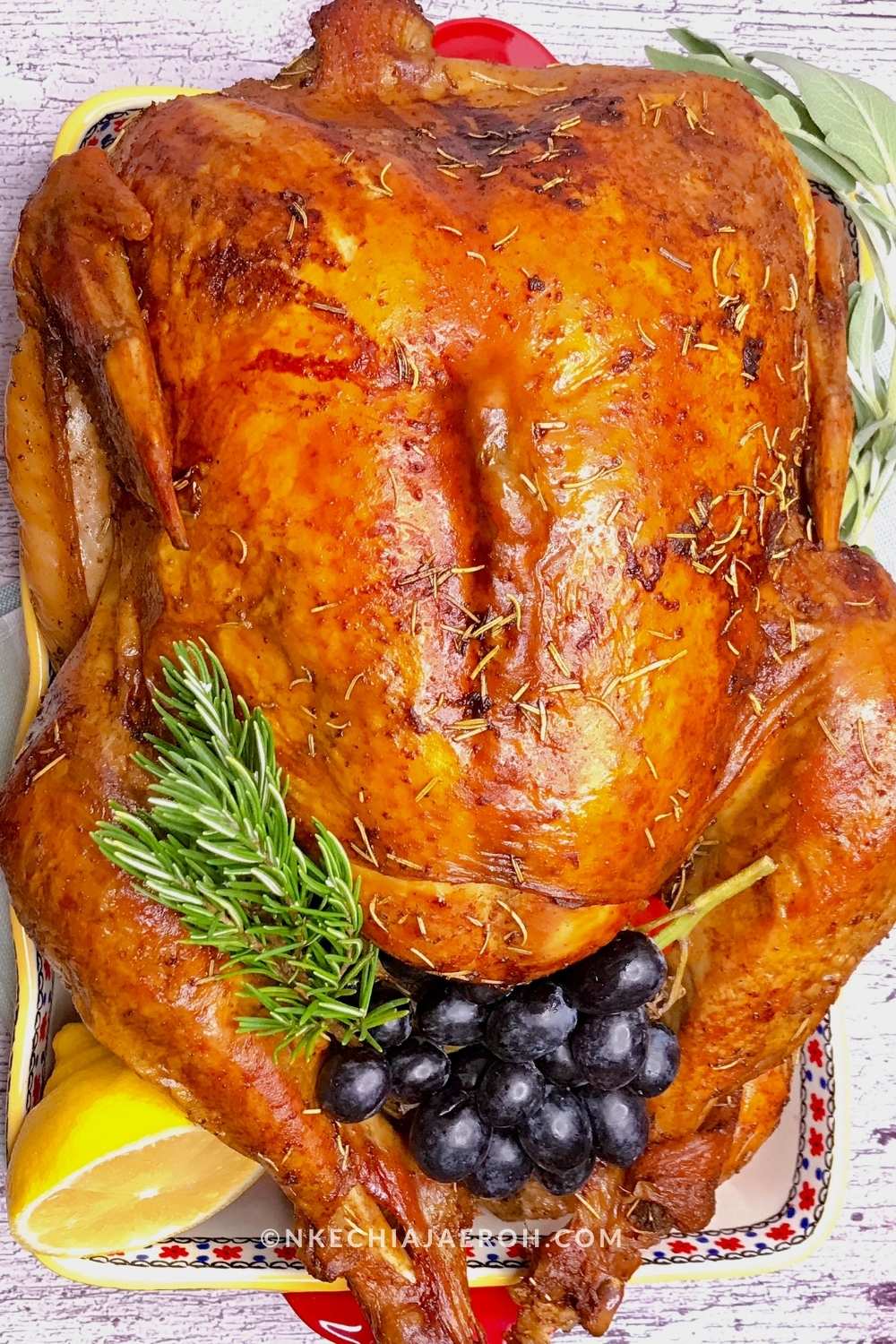 Easy No-Fuss Whole Thanksgiving Roasted Turkey Recipe.
I know first-hand that sometimes it seems cumbersome to make a whole turkey even during Thanksgiving! And I want to assure you that this oven-baked Turkey recipe is one of the easiest, straightforward recipes. No need to brine the turkey; in other words, do not brine the turkey. However, we would season this bird hella good, and you will make the moistest Thanksgiving roasted turkey recipe!
How do I keep my Turkey Moist? Juicy Thanksgiving Roasted Turkey Recipe:
One of the questions I get from time to time is, "Kechi, how can I make a juicy Thanksgiving turkey?" "Kechi, how do I keep my turkey moist?" To make a moist turkey, you must consider "moisture, " without adequate moisture, your turkey will be dry, so the two things I do to ensure that turkey stays moisturized even while baking is to stuff my turkey with roots, vegetables, and fruits.
I typically stuff my Thanksgiving turkey with root veggies such as onions, celery, carrots, garlic, ginger, and fruits, like apples, lemons, etc. Amazingly, this Thanksgiving roasted turkey recipe always comes out so insanely delicious too. Because I take it a step further by seasoning those vegetables and fruits before stuffing them into my turkey. Finally, I will inject the turkey with wet marinade. This equally helps the bird to stay moist.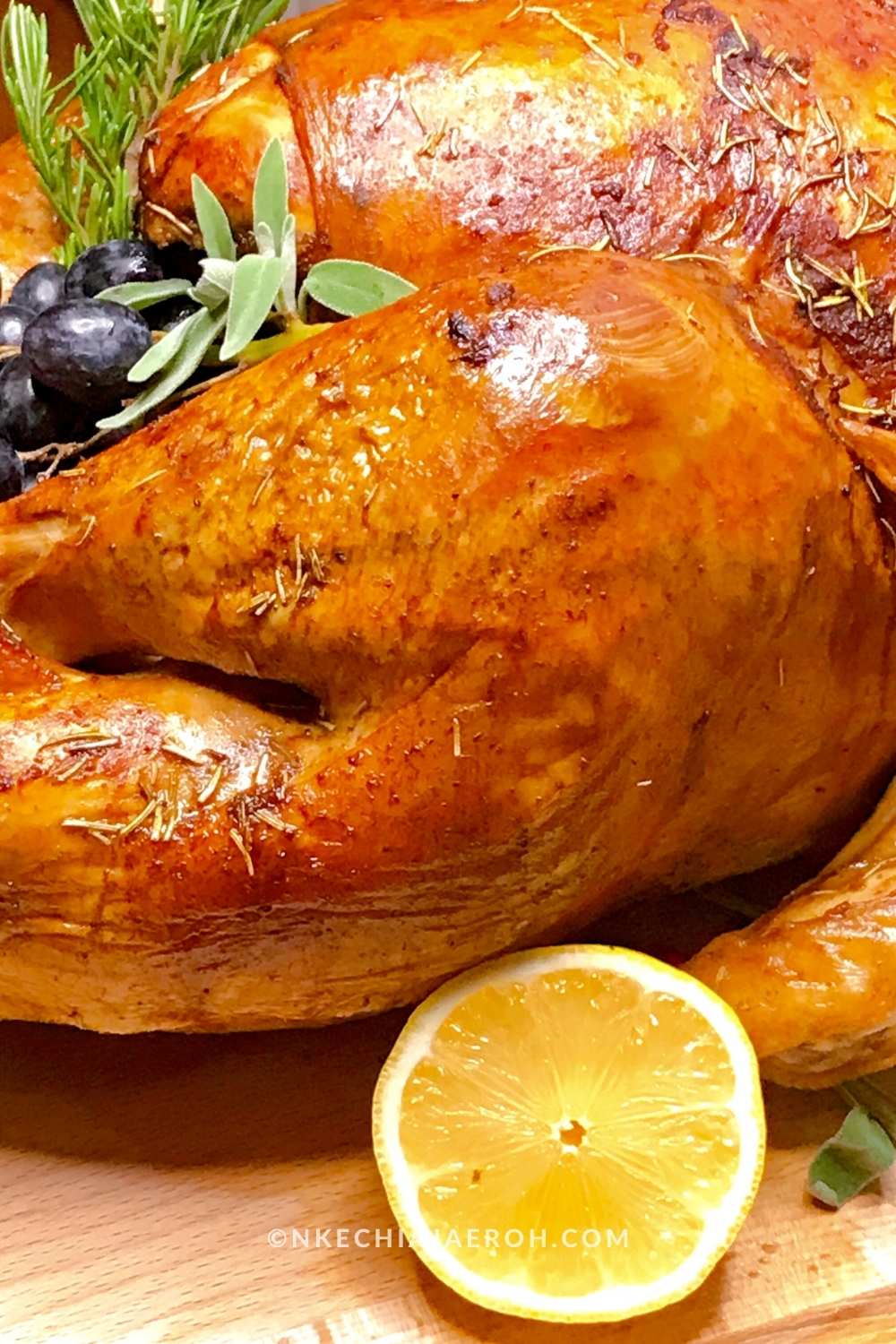 How to Make the Best Thanksgiving Roasted Turkey Recipe from a Frozen Turkey.
Most turkeys we buy in stores are frozen. Well, speaking for myself, I have never purchased a fresh turkey before. If you have a frozen turkey like most of us, then remember you cannot cook a frozen turkey. It would help if you allowed it to thaw; it is not a frozen pizza. To make the best Thanksgiving roasted turkey recipe, you must allow it to completely thaw and then bring it to room temperature before roasting.
How to Safely thaw a Turkey.
There are two ways I have thawed turkeys in the past – cold water thawing and refrigerator thawing. Cold water thawing is easy, and that was actually what I used for this recipe. Here are some things to know about safely thawing a turkey.
Thawing a turkey in the fridge takes the most time and takes a lot of space in your fridge. You will need 24 hours to thaw 4 – 5 pounds of bird. This means that a 25 pounds turkey would take up to 6 days. Well, that's a pretty long time!
The fastest way to defrost a turkey (the way I use most of the time) is cold water thawing. Typically, I fill a big bowl with cold water and submerge the turkey in the cold water. Make sure that the turkey itself is intact or in a leak-proof bag. Though this method is easy, it also requires your time and energy. In other to safely and adequately thaw a turkey in cold water, you will need to change the water every 30 minutes. So, make sure only to use this method on a day you are home. I find this as the best way to make moist Thanksgiving roasted turkey recipe all the time.
Regardless of the method, use this calculator to know exactly how long it takes to thaw any bird size.
Finally, I have also heard about microwave thawing, but I have never used it before, and when I do, I will let you know about it. Tell me in the comment the way you will be using to thaw your turkey.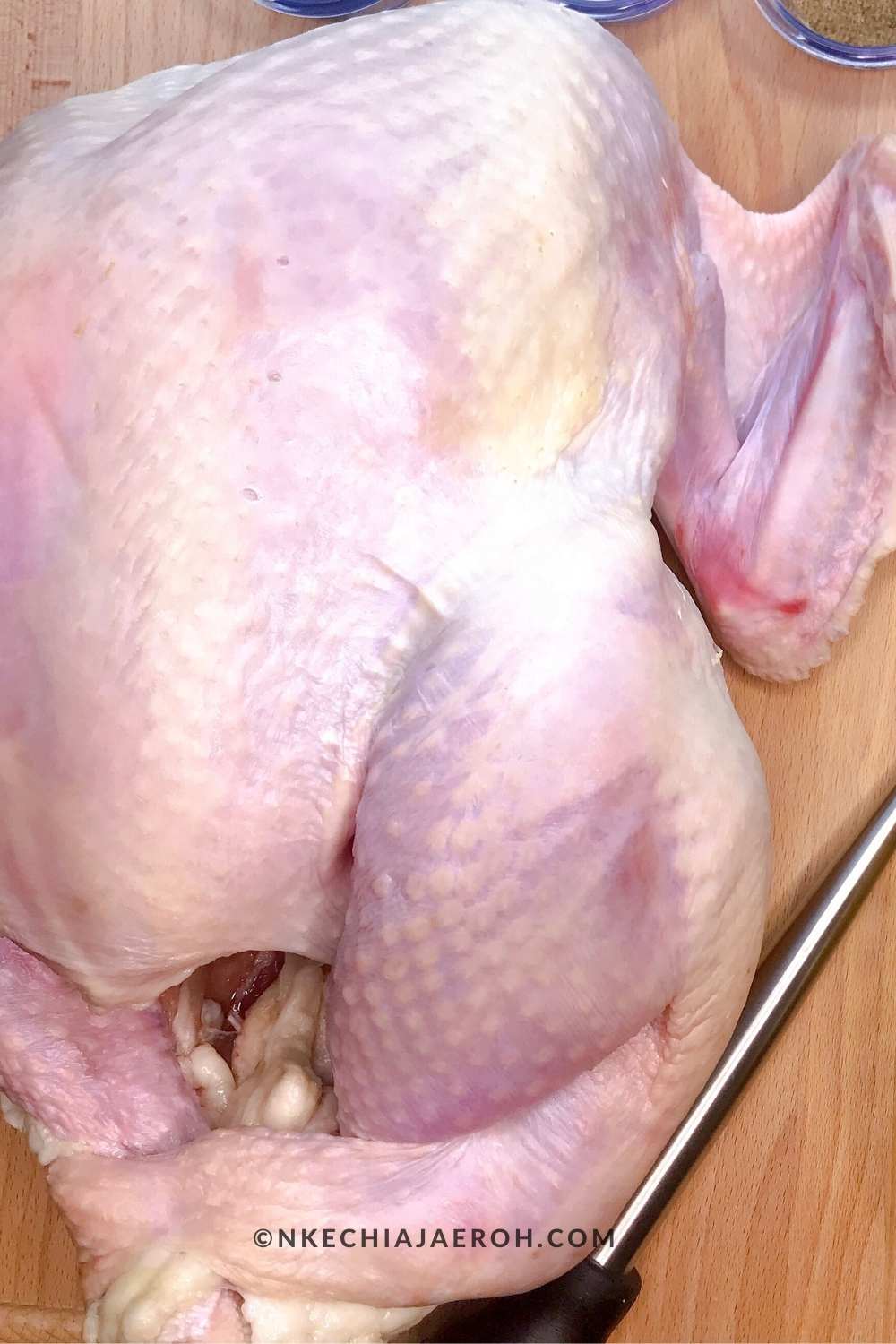 Ingredients for Making the Best Thanksgiving Roasted Turkey Recipe.
The most essential ingredient for making the best Thanksgiving roasted turkey recipe is turkey. Can you roast a turkey without a turkey? Alongside the bird, you will need some butter, garlic, herbs, and spices, as well as vegetables such as celery, onions, and fruits such as apples and lemon. I do not hold back when it comes to seasoning the turkey.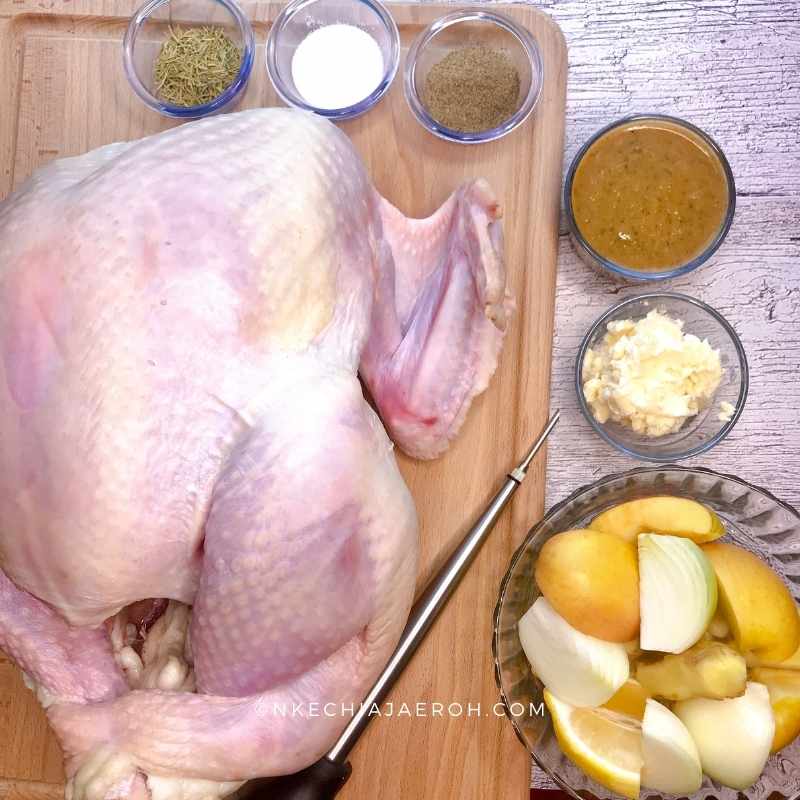 How long to Roast a Turkey.
Roast turkey at 325 for 20 minutes per pound of stuffed turkey. 15 minutes per pound of unstuffed turkey. To know exactly how long it will take to cook your size of bird, use this turkey calculator.
How do I know when my Turkey is cooked?
To check for the doneness of your turkey, use a thermometer. If the internal temperature registers a steady 180°F in the thickest part of the thigh, your turkey is ready. For more tips on how to check a turkey for doneness, click here.
What would you serve with this Thanksgiving Roasted Turkey Recipe?
This Thanksgiving roasted turkey recipe would be perfect with my healthy baked cauliflower mac and cheese. An excellent Thanksgiving side that everyone loves. So scrumptious!
What can I do with Leftover Thanksgiving Turkey?
There are plenty of things to do with leftover Thanksgiving turkey, but the best among them is my easy and insanely delicious peppered turkey bites. These little bites are scrumptious & satisfying – excellent holiday appetizers or snacks.

Print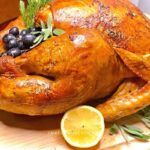 Thanksgiving Roasted Turkey Recipe — Easy and Juicy
---
Description
This easy no-fuss whole Thanksgiving roasted turkey recipe will show you how to cook a perfect turkey every Thanksgiving. There is no need to cook dry turkey anymore. This recipe will show you how to use both dry and wet rubs to make the best moist Thanksgiving turkey! And yes, no brine is involved.
---
1 whole fresh or frozen turkey (I used 17.85 lbs.)
For the lemon-garlic butter rub
2-tablespoons room temperature butter
1 teaspoon lemon zest
2 – 3 cloves of garlic (grated)
For Turkey stuffing:
Good amount of salt and pepper
1 lemon (cut in half)
1 whole onion (quartered)
1 whole apple (cut in half)
A bunch parsley leaves
5 garlic cloves
4 – 5 Celery stalks
Fresh ginger
Fresh rosemary
For the dry & wet rub
1-tablespoon salt
1 tablespoon seasoned salt
1 tablespoon of seasoning powder
1 teaspoon of black pepper
1 tablespoon garlic powder
1 tablespoon onions powder
Others:
1 tablespoon of dry thyme
1 tablespoon of dry rosemary
1 tablespoon of olive oil (to sprinkle on the turkey before it goes into the oven)
1 cup of chicken broth or water (to pour into the roasting to prevent the pan from drying out/burning.
More parsley and fresh rosemary for garnishing
More salt and pepper (if necessary)
---
Instructions
Preheat oven to 325. If using a frozen bird, ensure that it is fully thawed and come to room temperature. Also, ensure that the bird is cleaned and patted down or dry with paper towels). Remove the neck, liver, and gizzard from inside the turkey; wash and clean them up as well—place turkey on a clean, dry cutting board, a board big enough to fit the turkey.
Make lemon – butter; zest the lemon, add the lemon zest to the room temperature butter, add the grated garlic, and mix well.
In a clean bowl, add all the "dry rub" ingredients together, and mix. Then divide into half; add ½ cup of water to one part of the rub to make a wet rub; this will be used for injecting the turkey; set it aside. For the other half, add one tablespoon of dry thyme and one tablespoon of rosemary to use as a dry rub later.
Quarter the onions, apples, and cut the celery. Then season these vegetables and fruits generously with salt, pepper, Maggi, or Knorr, thyme, rosemary, etc. Work from inside out; sprinkle salt and pepper inside and outside of the entire bird.
Add all the veggies and fruits inside the turkey with the onions, apples, lemon, and then the garlic, celery, and parsley.
Use your hand, gently separate the skin around the bird's breast, then take the lemon butter and generously rub them in those breast areas. This rub keeps the turkey breast remain moist and also well-seasoned. Rub the remaining (leftover butter) on the outside.
Use a turkey injector, inject the turkey with the injection marinade we made earlier; ensure to stir the marinade before using to ensure flavors are evenly distributed, inject (almost) every part of the turkey.
Then sprinkle the dry rub on the turkey from the neck, liver, gizzard, and entire body of the bird; use your hand to pack in the dry rub to intensify the flavor.
Finally, pour a cup of chicken broth or water into the base of the pan you plan to roast this turkey. Place the turkey on a rack, not directly on the sheet; most turkey-baking sheets/dishes have a stand that prevents the liquid from touching the turkey.
Sprinkle olive oil all over the bird while on the rack after all the seasoning and injection.
Gently place the turkey in the oven and cook according to label or turkey cooking instructions; use this turkey cooking calculator.
Typically, turkeys are roasted at 325 for 20 minutes per pound of stuffed turkey, 15 minutes per pound of unstuffed turkey.
The neck, liver, and gizzards cook quicker than the whole turkey, so remember to take them out as soon as they are fully cooked; use the food thermometer to ensure they are done.
Gently remove the fully cooked turkey from the oven and place safely and allow at least 1 – 2 hours before cutting, carving, or serving. This ensures that the juices are further released in all areas of the meat and that you get the juiciest turkey EVER! Garnish with fresh rosemary, parsley, carrots, and other fruits and vegetable as desired. Serve and enjoy with some sauce, stuffing, rice, salad, and your favorite Thanksgiving dishes. Happy Thanksgiving.
Notes
My turkey was 18 pounds; please tailor (reduce or increase) ingredients to match your turkey size. It took about 4½ hours(or little less) to fully cook this turkey.
Make sure to season the vegetables and fruits generously with salt, pepper, Maggi, or Knorr, thyme, rosemary, etc, before stuffing them inside the turkey.
When you mix dry rub: mix all the ingredients and divide in half; add a ½ cup of water; this will be used for injecting the turkey. And in the second half, add one tablespoon of dry thyme and one tablespoon of rosemary for use as a dry rub later. I do this because if you add dry thyme and rosemary to everything, it will be difficult to inject. The text of thyme and rosemary may not allow the liquid to push through during injection.
Tie up the legs of the bird, if you desire, totally optional.
Sprinkle olive oil on the bird while on the rack and before it goes into the oven.
Check turkey every hour and base with the juices coming out of the turkey.
Prep Time:

30 minutes

Cook Time:

4½ hours

Category:

Entree

Method:

Baking

Cuisine:

American
Keywords: Thanksgiving, Thanksgiving Day, Thanksgiving meals, Thanksgiving dinner, Thanksgiving food, Thanksgiving holiday, Thanksgiving Season, Turkey recipe, Leftover Turkey, Peppered turkey meat, Easy Turkey recipe Easy, Juicy Chicken Juicy turkey, Thanksgiving Turkey, Roasted Turkey, Baked Turkey, Oven-baked Turkey Recipe, November recipes, American Thanksgiving, Family reunion, How to cook Turkey, Turday day
Recipe Card powered by
Check out some of my other healthier holiday recipes:
And these healthy breakfasts will keep you drooling.
My ethnic recipes are just phenomenal:
Love salads? Grab my FREE (5) spinach salad recipe bundle! Get the recipes here.
THIS POST CONTAINS AFFILIATE LINKS, you are not charged more for using these links, but I make little coins when you do.
Finally, let's connect on social media, am on Facebook, Instagram, Twitter, and Pinterest. Share this recipe post, and SAVE/PIN THIS IMAGE ON PINTEREST! ⤵️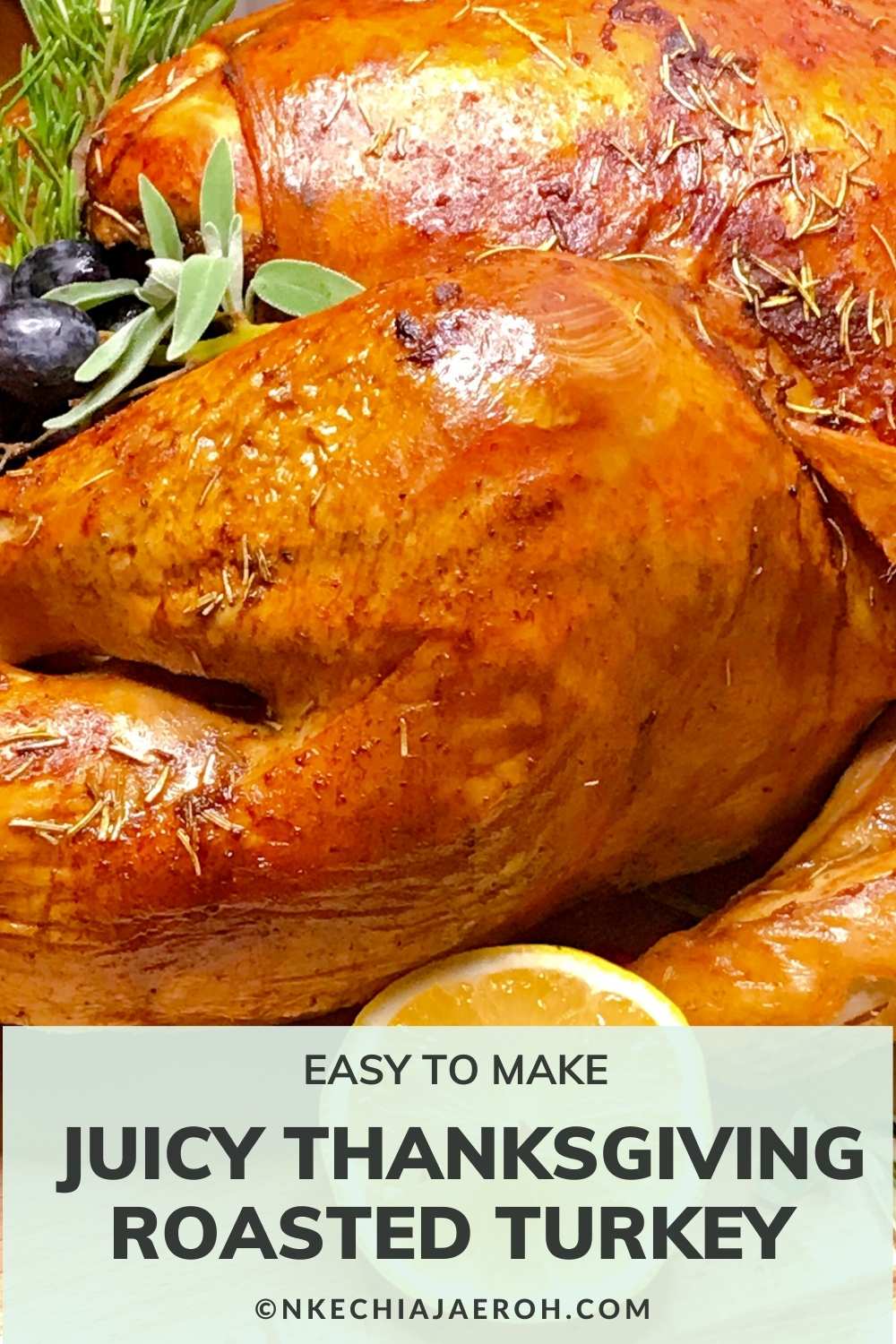 Stay well and safe.