DIY Fresh Pumpkin Purée Recipe.
If you have been buying canned pumpkins, you have been doing it wrong. The best and freshest pumpkin puree you will ever get is the one you make yourself. So, if you are interested in learning how to make fresh pumpkin puree from scratch, keep reading. First, you will go to your nearest grocery store and grab you a fresh, healthy-looking pumpkin. Second, roast it in the oven. Third, blend it up! It is this easy peasy to make pumpkin puree from scratch.
When you make pumpkin puree from scratch, you are guaranteed the freshest puree, that is light, creamy, fluffy, yellowy, unadulterated, and perfect for any pumpkin recipe, whether sweet or savory! The same cannot be said of canned…
Click To Tweet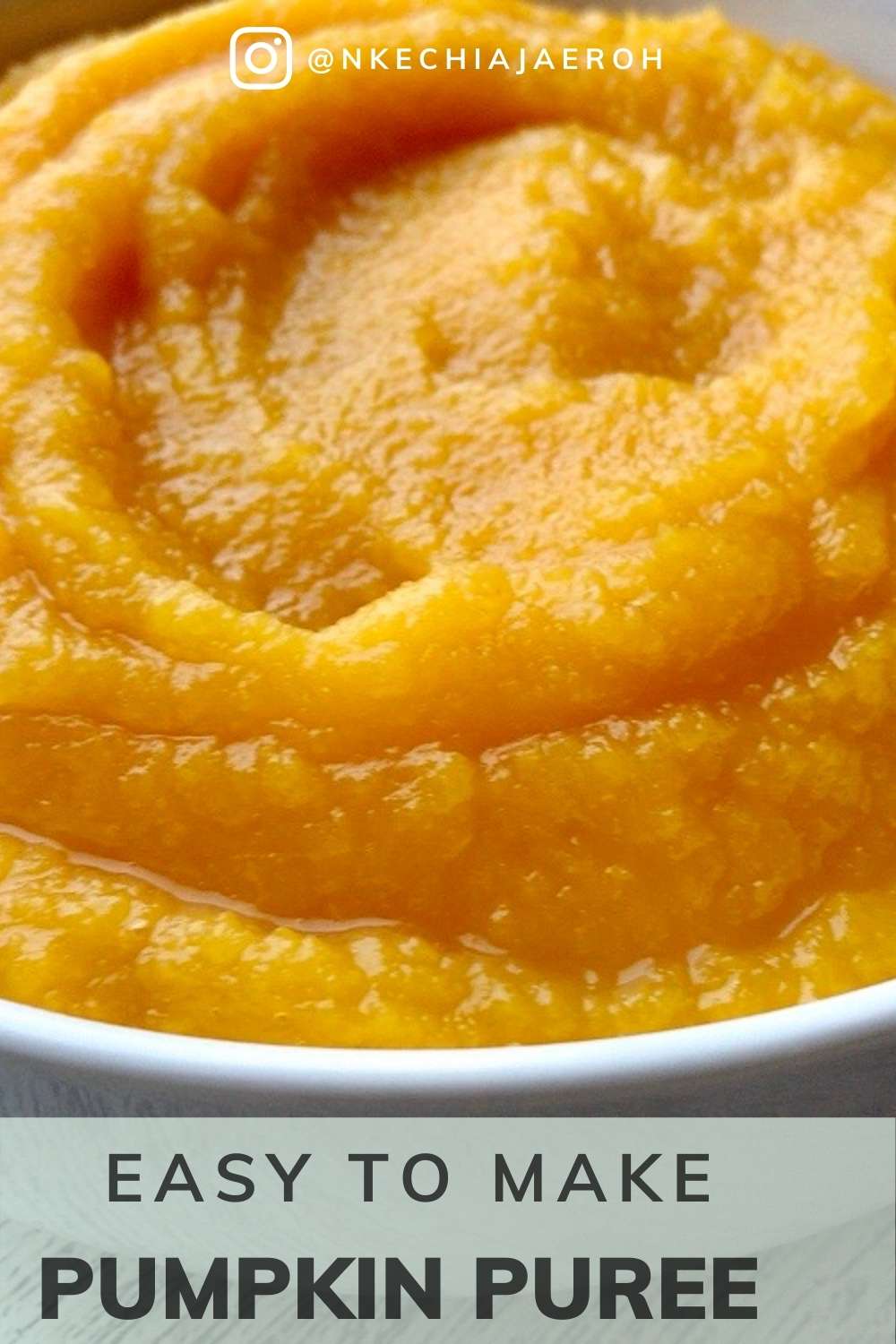 Canned vs Fresh Pumpkin Puree.
The difference between fresh and canned pumpkin purée speaks for themselves – the fresh purees are, (well), fresh, creamy, velvety, and just all-round the real thing! Unlike the canned pumpkin puree, which has additional preservatives and ingredients that help it stay in good shape over a long time. Usually, homemade pumpkin puree from scratch has a bright yellow color and very pumpkiny in flavor; on the other hand, canned pumpkins are dense and have a dark orange color. And depending on if you buy regular or organic, the color and texture will change even more. YIKES!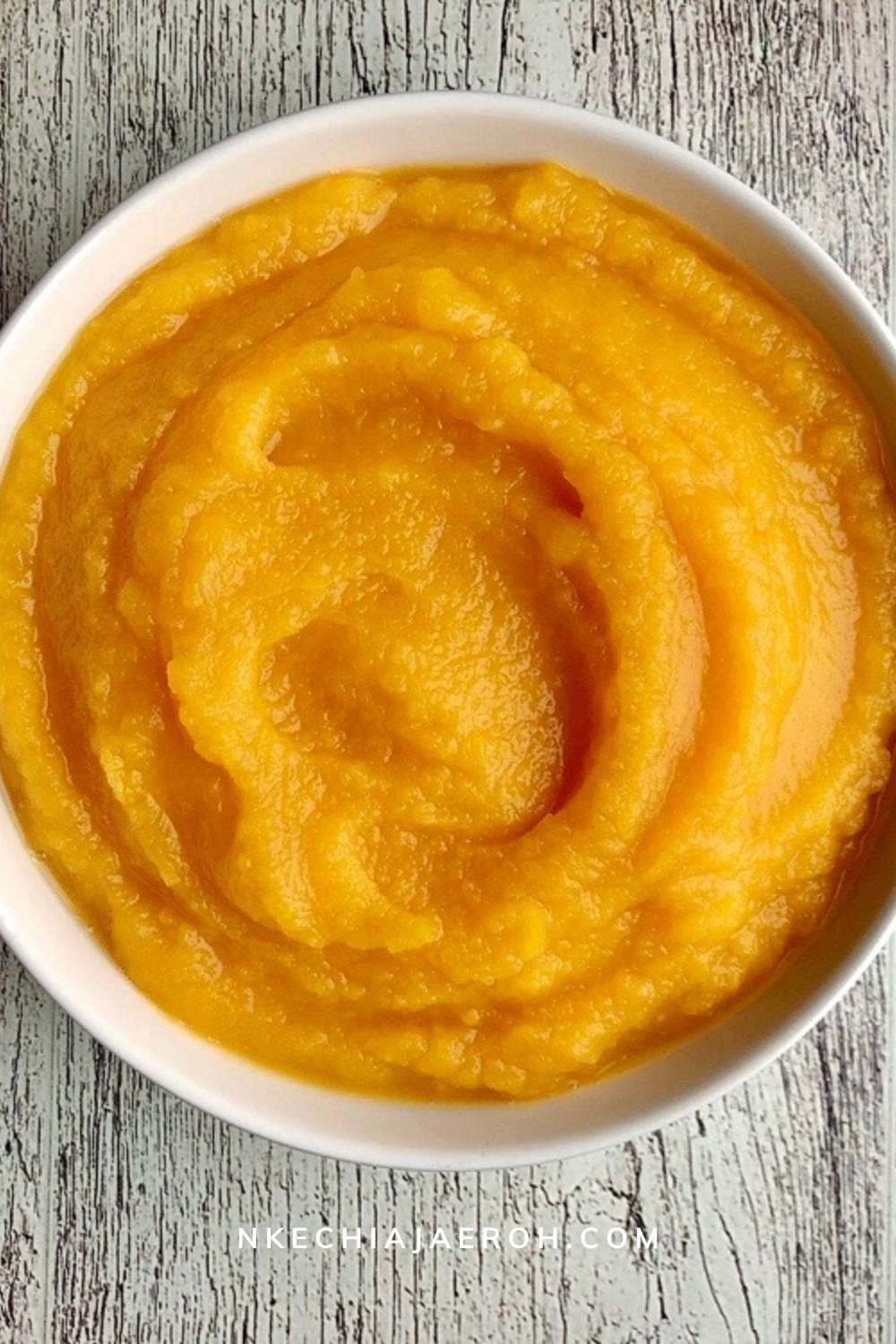 Is Canned and Fresh Pumpkin Purée the same thing?
Ideally, the canned pumpkin purée and fresh pumpkin puree are supposed to be the same; unfortunately, they aren't. Well, let me reframe; "certain brands" of canned pumpkin purées use/add other ingredients other than pumpkin even though the labels may say "100% pumpkin—ingredients such as other winter squashes (butternut, acorn, Boston Marrow, etc., may be added. Next time you are shopping for canned pureed pumpkin, be sure to read the label very well. Finally, I recommend making pumpkin puree from scratch; it is always the safest and most reliable option.
How do you make Pumpkin Puree from Scratch?
First, bake the fresh pumpkin, second, blend or puree it; that's it! Today, I am excited to show you this two steps in detail, so, you can easily do it by yourself. The truth is that making pumpkin purée is easy; in other words, there is absolutely no reason not to make yours. Not to boast, but I have never used canned pumpkin purée! Since I discovered pumpkins, I always make mine, and in batch for all my pumpkin needs. This photo shows the exact steps I use every time – step 1. ⤵️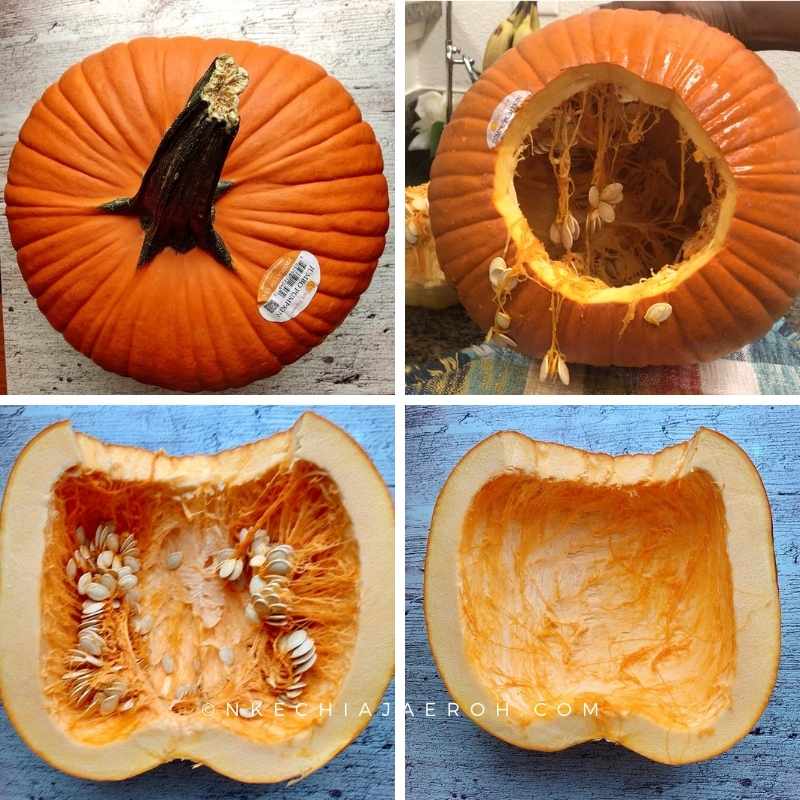 Step 2 of making Pumpkin purée. ⤵️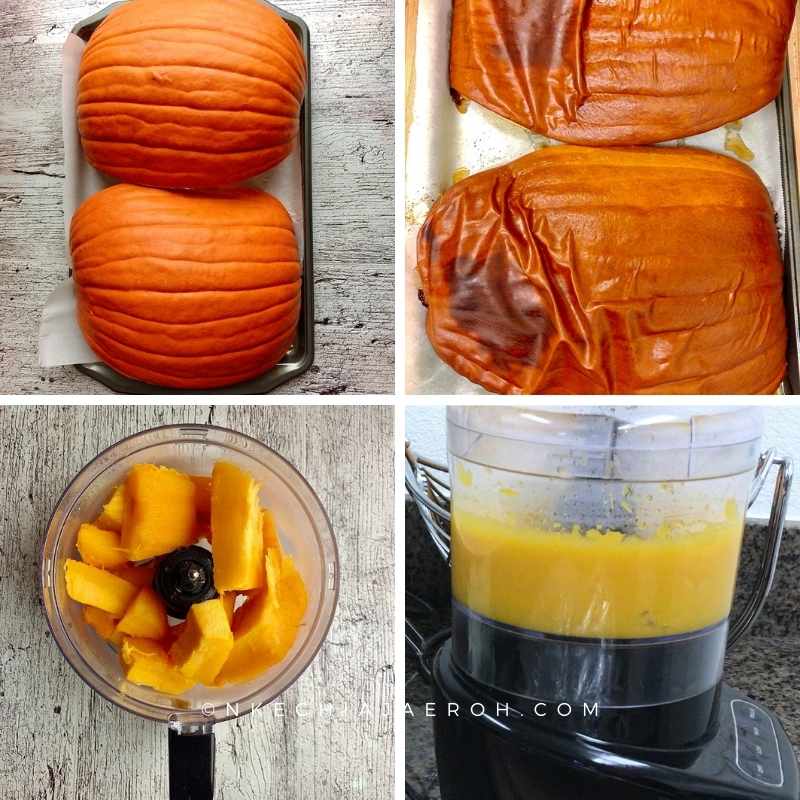 Can I buy pumpkin puree?
Yes, fortunately, you can buy pumpkin puree from any grocery store. You can also order canned pumpkin purée online.
What do I need to make pumpkin purée?
The only ingredient you need to make pumpkin purée is fresh pumpkin.
Is this Keto Friendly?
The pumpkin you make from scratch has only ingredient – pumpkin. As long as there is no added sugar, you should be able to use this puree in your pumpkin keto meals/recipes.
What can I substitute for pumpkin purée?
You can substitute pumpkin puree with mashed sweet potato, mashed butternut squash, or other winter squashes.
Best Tips for Pumpkin Purée from Scratch.
Homemade pumpkin purée is hands down the best! And to make it at home, you have to buy a fresh, healthy whole pumpkin! The best pumpkin puree is the one you make yourself from scratch. It is different from canned purée in color and texture; if you taste homemade fresh pumpkin puree, you will never go back to canned. Pumpkin puree from scratch all the… Click To Tweet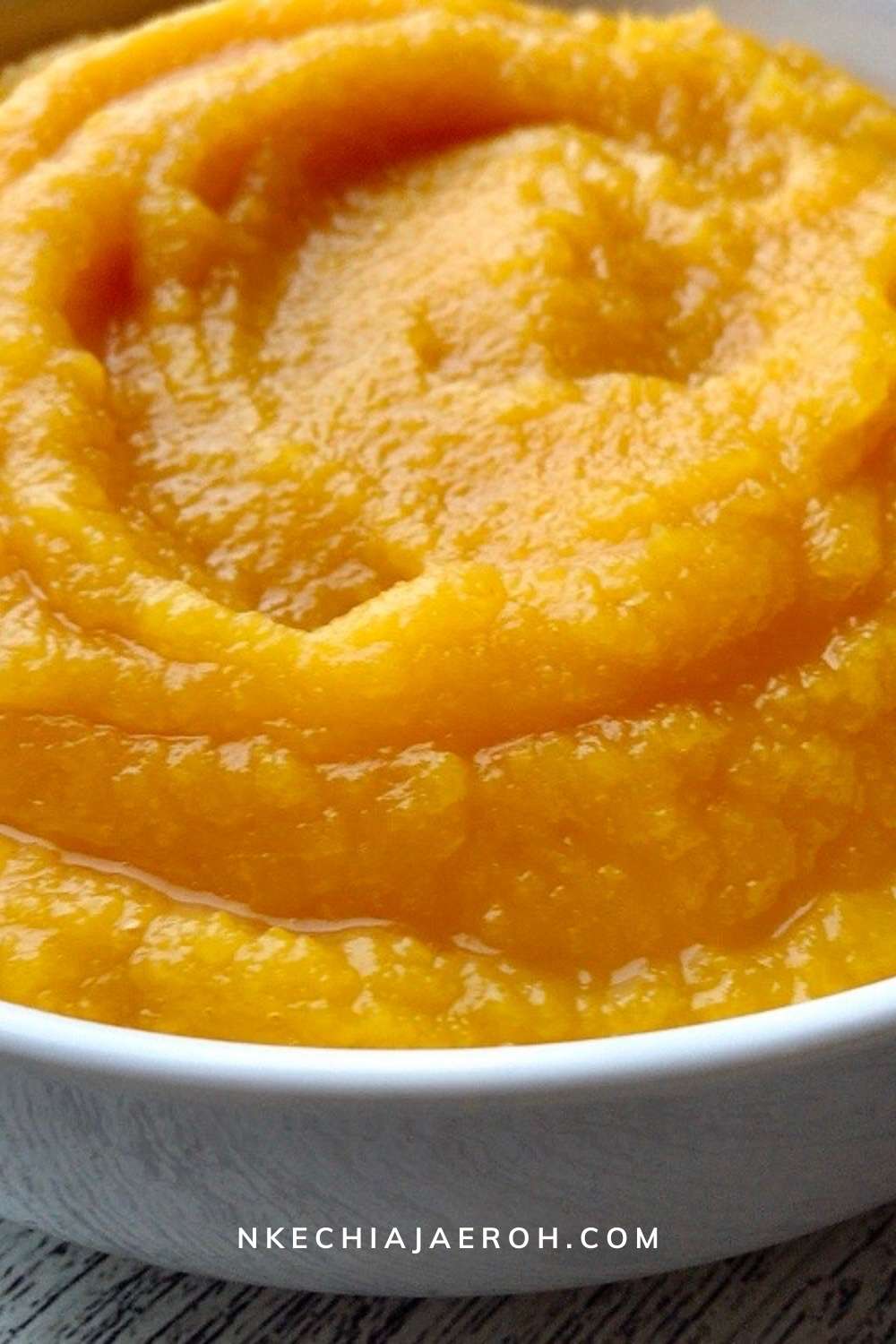 Print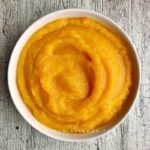 How to Make Pumpkin Purée from Scratch
---
Description
Homemade pumpkin puree is the best – fresh, fluffy, flavorful, and the real deal! Making pumpkin puree from scratch is easy peasy, and there is absolutely no reason to ever buy canned pumpkins. Learn how to make pumpkin puree from scratch and use it for all your pumpkin recipes. Make in batch and freeze the leftover for whenever you need them!
---
1 whole pumpkin (small, medium, or big works just fine)
---
Instructions
Preheat over to 400.
Wash the pumpkin, set on a clean surface.
Use a sharp knife to make a circular hole around the pumpkin's head, then remove the head.
Use that same knife or another big knife to cut vertically to the bottom, dividing the pumpkin into halves.
Use a spoon to scoop out all the pumpkin seeds from both halves.
On a parchment paper-lined baking sheet lay the pumpkin halves skin up.
Bake until soft; the color of the skin may change. Check with a knife to ensure pumpkin is soft, remove from oven and allow to cool.
Then gently tear off the skin revealing a beautiful yellowy-orange color soft pumpkin.
Cut into cubes, and use a food processor to blend until smooth and pureed.
Scoop out and store in the fridge (or freezer) and use for all your yummy pumpkin recipes. My healthier pumpkin brownie remains one of my best!
Notes
This recipe can work for any size of Pumpkin!
Do not blend this with any water.
If you are using small size pumpkins, the baking time may change. For this very big pumpkin I baked it up to 40 – 45 minutes.
Also, if you are using small pumpkins the skin may hard to tear off, so, allow to completely cool, and then you can use a spoon to scoop into the food processor to purée.
Prep Time:

10

Cook Time:

45

Method:

Oven

Cuisine:

American
Keywords: Pumpkin puree from scratch, Homemade Pumpkin purée, Pureed pumpkin, Recipe for pumpkin puree, Pumpkin puree recipes, Baking whole pumpkin, How to cook a whole pumpkin, Whole roast pumpkin, Baking a pumpkin whole for pureed pumpkin, Where to buy pumpkins, Fall recipes, Pumpkin recipes are fall season
Recipe Card powered by
If you like this beautiful pumpkin purée recipe. Then please check out these other ones:
While you are still here, grab my FREE (5) spinach salad recipe bundle would be a great addition to your dinner table if you like salads or you are wanting to eat healthier. Get the recipes here.
THIS POST CONTAINS AFFILIATE LINKS, you are not charged more for using these links, but I make little coins when you do. Finally, let's connect on social media, am on Pinterest, Facebook, Instagram, and Twitter. SAVE/PIN THIS IMAGE ON PINTEREST! ⤵️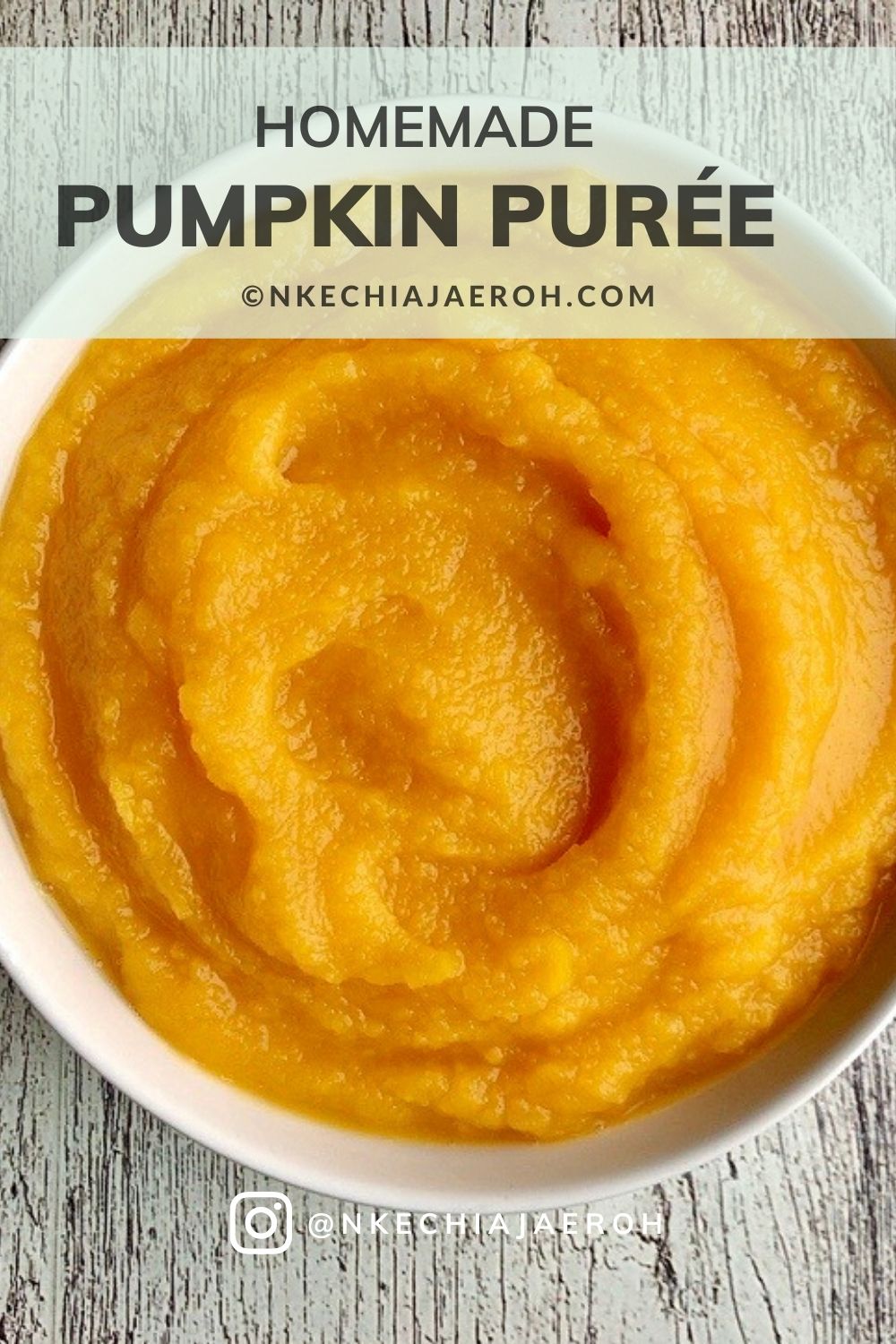 Stay well and safe.