Healthy Shrimp Lettuce Wrap Recipe
Healthy Spicy Shrimp Lettuce Wrap is low-carb, gluten-free, paleo-friendly, vegetarian, and super easy to make! This is an excellent alternative to regular taco, especially for light and clean eating. This lettuce wrap recipe is a 20-minute easy weekday lunch or dinner recipe is grain-free and served with healthy fruity salsa. You can substitute shrimp with tofu, or chicken; enjoy this healthy lettuce wrap recipe your way! This is one healthy recipe recipe idea you need in your arsenal!
People argue that "healthy food" can be boring. But, an un-boring healthy recipe wins my heart anytime, any day, just like this shrimp lettuce wrap! And it is not only un-boring, but it is also exciting, kid-friendly and easy-peasy! In other words, these lettuce wraps are insanely yummy, nutritious, delicious, flavorful, and equally colorful! I mean, these fresh green lettuce colors are giving me L I F E!! And did I mention that it is spicy? I know you would agree that shrimp and spicy go hand in hand. Be ready to enjoy this light-hearted shrimp wrap that will automatically replace your taco! Listen, healthy food does not equal bland or complicated. This spicy shrimp lettuce wrap is healthy, easy, exciting, and finger-licking good! Top it off with this fruity salsa, and you are in food heaven! Click To Tweet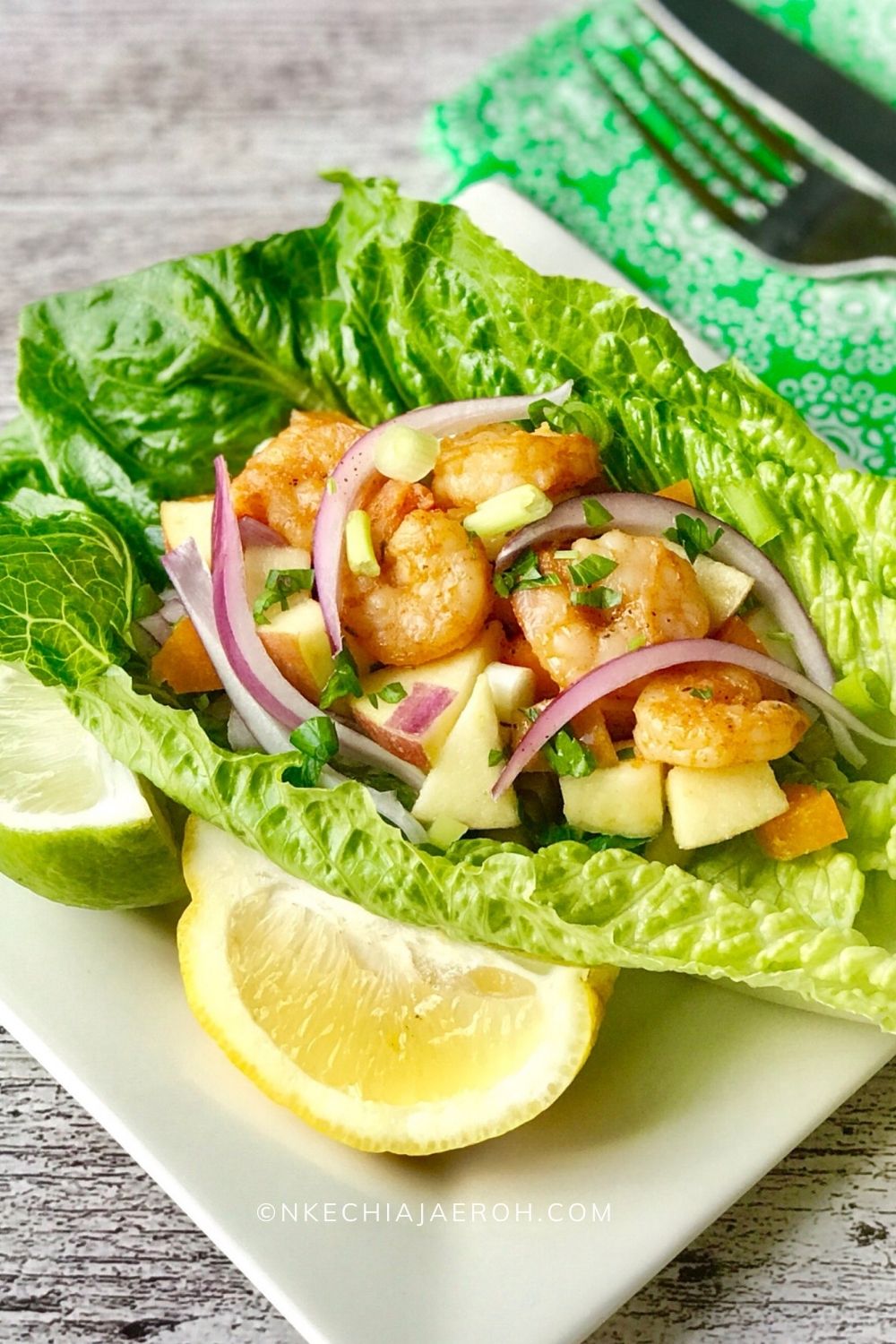 Shrimp Lettuce Wrap is Low-carb.
Whether you are thinking of eating light, healthier, or perhaps something different from what you are used to, vegetable wraps may satisfy that craving. Similar to this lettuce wrap is my red cabbage taco. (Another excellent low-carb taco replacement you need to check out!) Veggie wraps are excellent food choices when the weather is hot or during summer. Also, you can always make it your way! Do not restrict yourself to the recipe (it's only a guide)! For instance, while today's recipe is "spicy shrimp lettuce wrap," you can make it a chicken lettuce wrap or mushroom lettuce wrap (to keep it vegan). Equally, you can swap shrimp with mushrooms, beef, pork, or tofu. That is the ultimate power of cooking, so do not be afraid to try it your way.
This spicy shrimp lettuce wrap is a delightful lunch idea you may want to check out if you are bored of eating the same thing! It is very kind to your pocket, aka budget-friendly, super easy to prepare, nutrient-dense, fresh, and…
Click To Tweet

Reasons to Make this Lettuce Wrap:
For ages, the Egyptians cultivated lettuce due to its medicinal capabilities. Notably, lettuce is powerful anti-oxidants, it can lower cholesterol, it is a sleep inducer, and it has anti-inflammatory properties.
Click To Tweet
Shrimp is a high-quality protein, low in calories, and full of essential nutrients that the body needs. This may be great for people looking to lose weight. Also, shrimp contains omega 3 fatty acid, and antioxidants.
Alongside shrimp, you will also need lettuce leaves; it was interesting to find out that lettuce leave originated from Egypt.
Other ingredients includes – apples, jalapeño, bell peppers, and onions will be used to make this deliciousness as well.
The only thing that takes time about making this delightfully delicious spicy shrimp lettuce wrap is the time the shrimp takes to marinate. And remember that you can always cook it immediately if you are pressed for time.

How to Store Leftover Shrimp Lettuce Wrap
If you have leftovers from this recipe, store them separately; store shrimp in a different container, and the lettuce leaves and salsa as well. Put them together whenever you wish to eat them. Also, do not leave the leftover for more than 3-4 days in the fridge because lettuce leaves may wilt, and the apple salsa may become soggy. Personally, I wouldn't leave the salsa for more than 24 hours. As a matter of fact, this recipe goes by so fast in our household!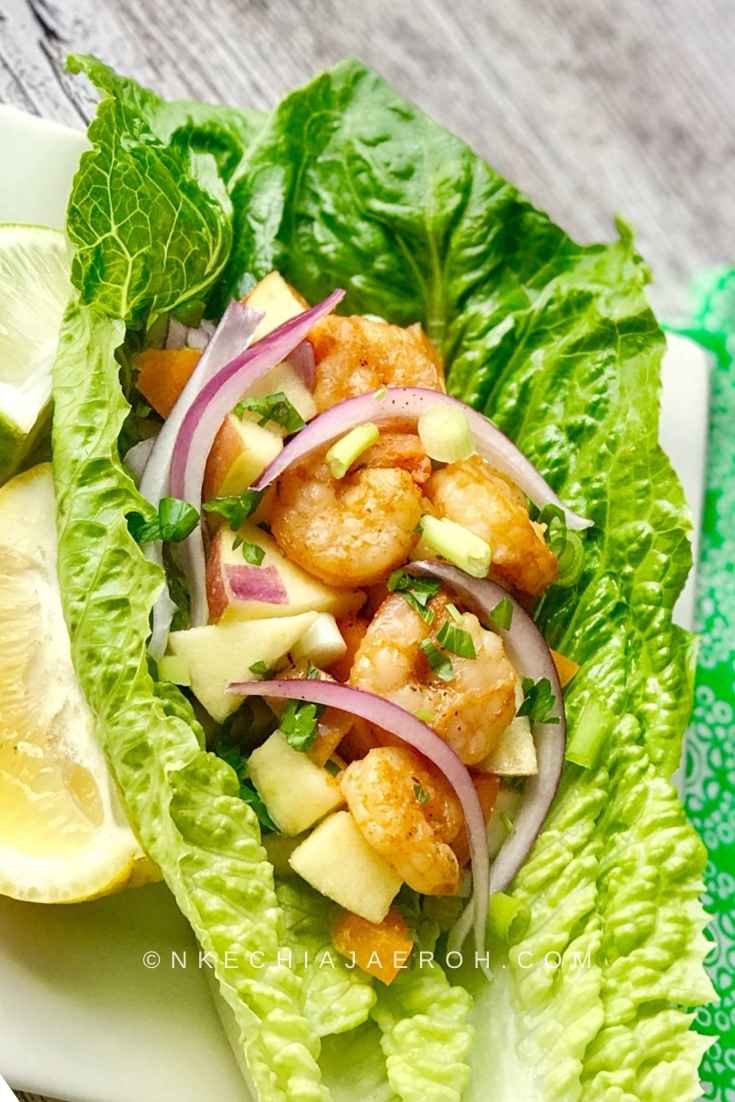 Well, enough said if you are ready let's make my quick, and easy spicy shrimp lettuce wrap. Get excited!
Print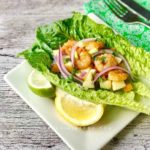 Spicy Shrimp Lettuce Wrap And Fuji Apple Salsa
---
Author:

Nkechi Ajaeroh

Total Time:

20 minutes

Yield:

Serves 2

Diet:

Low Calorie
Description
This Low Carb, Gluten-free, Paleo-friendly, grain-free, and Vegetarian Spicy Shrimp Lettuce Wrap is an excellent alternative to a regular taco. You can substitute shrimp with tofu, or chicken; enjoy this healthy lettuce wrap recipe your way!
---
8

lettuce leaves

1 cup

(or

8 oz

) of Shrimp (if frozen please allow to thaw before using.)
For shrimp marinade:
½

of (whole) lime (juiced)

1 teaspoon

of grated ginger

2

-teaspoon olive oil
A dash of salt

½ teaspoon

of seasoning powder or

1

Maggi cube

½ teaspoon

of ground chili pepper

½ teaspoon

of paprika

¼ teaspoon

of dry rosemary
For the apple salsa:
1 cup

of thinly chopped apple (about half of big apple)

½ cup

chopped bell pepper

¼

chopped red onions

2 tablespoons

of chopped jalapeno

2 tablespoons

chopped parsley

1

-teaspoon olive oil

2 teaspoons

lime juice

1 teaspoon

of honey
A dash of salt and pepper (optional)
For the Light Olive oil Dressing: (optional)
1 teaspoon

lemon juice,

1

-tablespoon olive oil,
A dash of black pepper and salt to taste

1 teaspoon

of honey (or maple syrup.)
---
Instructions
Mix the shrimp marinade.
Add the shrimp to it and allow marinating for at least 20 – 30 minutes inside the fridge. You can also sauté it right away if you are in a hurry.
Wash and chop all the vegetables for the salsa. Slice the red onions.
Make the salsa by adding all of them to a bowl (except the red onions). Then add lime juice, a dash of ground pepper and salt, oil, and honey. Toss together to combine and set aside.
Place a pan on the stove, add oil, allow to heat up. Gently drop the shrimp into the oil, lay individually; do not over-crowd the pan.
Cook 3 – 5 minutes on each side or until fully cooked; finish up with fresh green onions. Then remove from stove and set aside. How to serve this delicacy:
Place the already washed lettuce leaves on a clean plate, start by adding some apple salsa on the leaves, followed by shrimp, and garnish with sliced red onions. Feel free to add a dollop of sour cream or sprinkle a little olive oil dressing. Enjoy.
Notes
Though shrimp has cholesterol, which has given it some "bad" name, this isn't necessarily bad cholesterol; shrimp remains a great protein for the body. However, for the few individuals that have cholesterol issues, be mindful not to overindulge.
Marinating time is excluded from the total prep time for this dish. And if you are in a hurry, go ahead and cook immediately.
You use cabbage instead of lettuce for this recipe.
Two lettuce wraps makes one Taco wrap; and two wraps serves one person.
The olive oil dressing is optional.
Prep Time:

10 minutes

Cook Time:

10 minutes

Category:

Salad

Method:

Stove-top

Cuisine:

American
Keywords: Healthy Taco Recipe, Lime shrimp lettuce wraps, Spicy shrimp, taco, lettuce wraps, Low-carb shrimp lettuce wraps, Shrimp lettuce wrap with apple salsa
Recipe Card powered by
MORE SALAD RECIPES FOR YOU:
THIS POST CONTAINS AFFILIATE LINKS, you are not charged more for using these links, but I make little coins when you do. Let's connect everywhere; Instagram, Facebook, Twitter and Pinterest. Please SAVE/PIN THIS IMAGE ON PINTEREST! ⤵️ 

Stay, well, and healthy,