Yes, Lettuce Wraps are Trendy
But, un-boring lettuce wrap wins my heart anytime any day. And by un-boring, I mean lettuce wraps that are, yummy, nutritious, delicious, and flavorful, just like this spicy shrimp lettuce wrap recipe that I will share with you today. Listen, unless you live under a rock, you may have heard that bland or boring foods equal healthy, sadly, not where I came from. Click To Tweet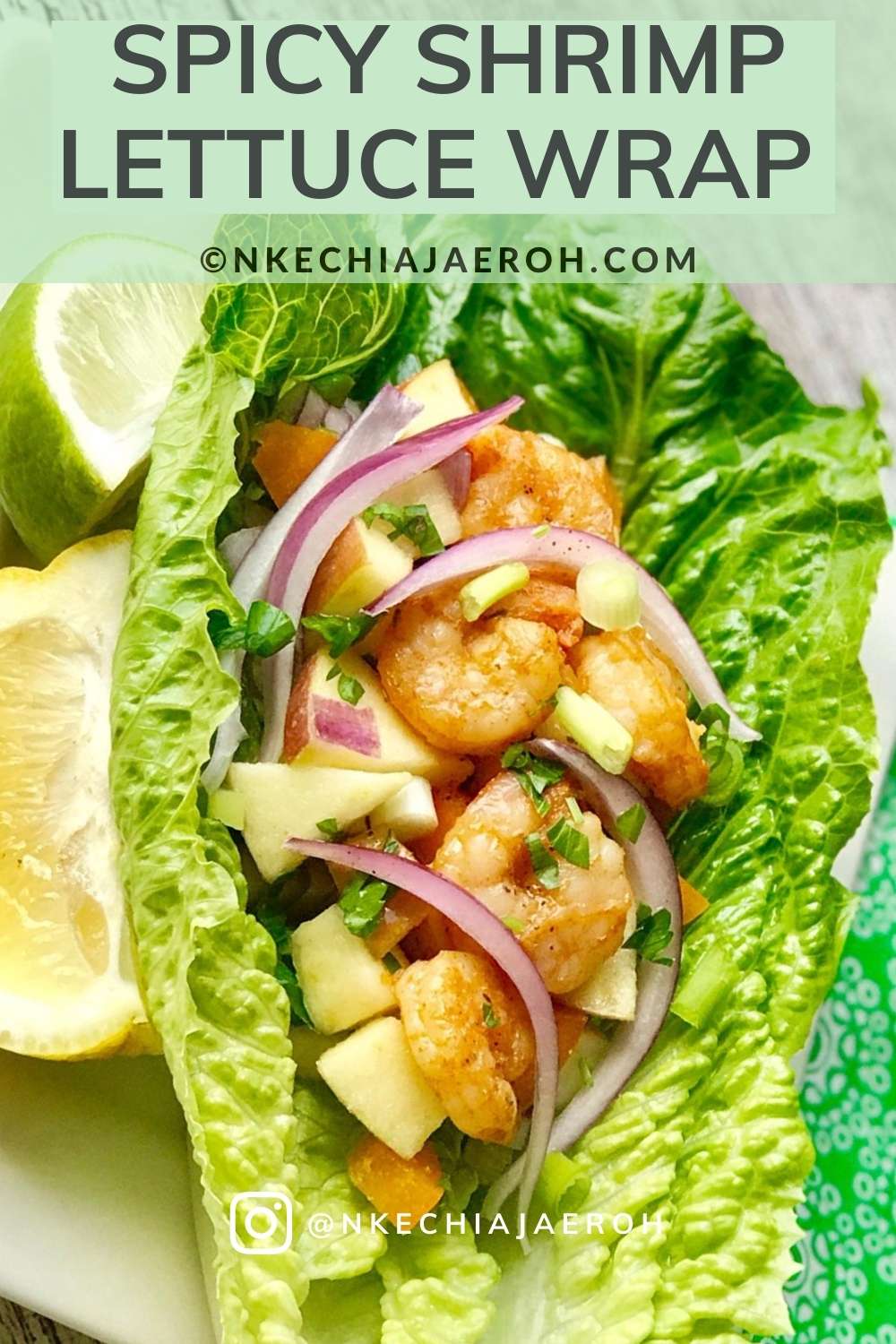 Spicy Shrimp Lettuce Wraps are God-sent.
Whether you are thinking of eating light, healthier, or perhaps something different from what you are used to, then wraps may be able to satisfy that craving. Similarly, lettuce wraps are excellent food choices when the weather is hot or during summer. In light of the goodness of this dish, I am also grateful because there are tons of ways to put it together. This isn't the kind of food that had only one method of preparation.
For instance, while today's recipe is "spicy shrimp lettuce wrap," I also have chicken lettuce wrap, oven-baked mushroom lettuce wrap. Matter of fact you can make your lettuce wrap with your favorite things aka feelings. You are free to swap the shrimp with mushrooms or with beef, pork, or even tofu. That is the ultimate power of cooking; so do not be afraid to try it your way.
This delicious dish is super easy, and simple to prepare as well, also to compliment it is the delightful apple salsa, no question these two are a match made in food heaven.

Make your day Special with this Spicy Shrimp Lettuce Wrap.
With this quick and easy spicy shrimp lettuce wrap, you are sure to have a fantastic day! Overall, this dish is great nourishment for the body, and also very pleasurable to enjoy.
Shrimp is a high-quality protein, low in calories, and full of essential nutrients that the body needs. This may be great for people looking to lose weight. Also, shrimp contains omega 3 fatty acid, and antioxidants.
Alongside shrimp, you will also need lettuce leaves; it was interesting to find out that lettuce leave originated from Egypt. For ages, the Egyptians cultivated lettuce due to its medicinal capabilities. Notably, lettuce is powerful anti-oxidants, it can lower cholesterol, it is a sleep inducer, and it has anti-inflammatory properties. Click To Tweet
At the same time, apples, jalapeno, bell peppers, and onions will be used to make this deliciousness as well.

Easy Spicy Shrimp Lettuce Wrap.
The only thing that takes time about making this delightfully delicious spicy shrimp lettuce wrap is the time the shrimp takes to marinate. And remember that you can always cook it immediately if you are pressed for time.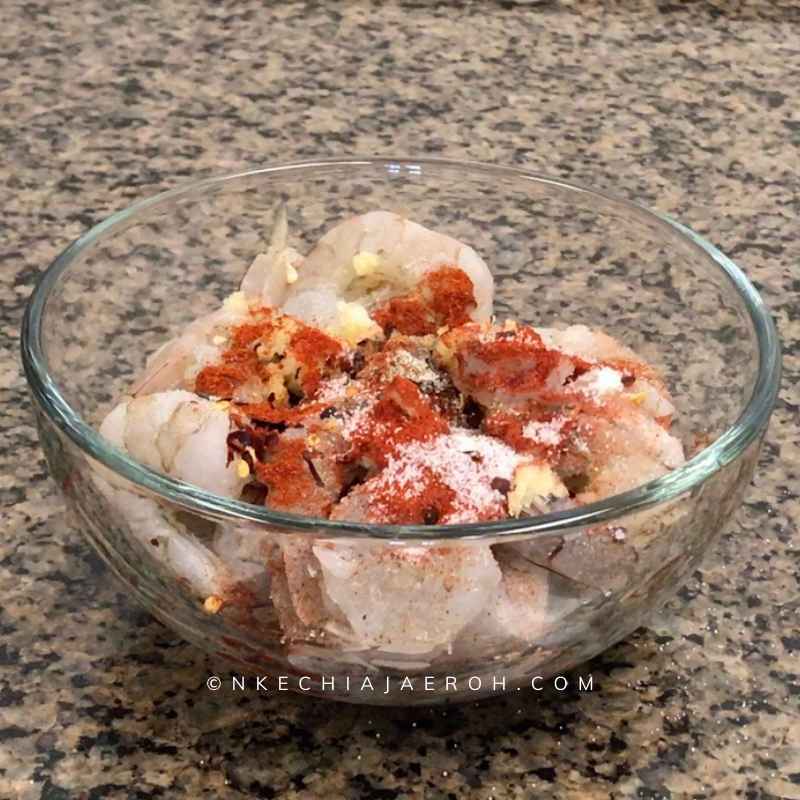 Well, enough said if you are ready let's make my quick, and easy spicy shrimp lettuce wrap. Get excited!
Print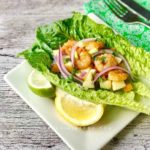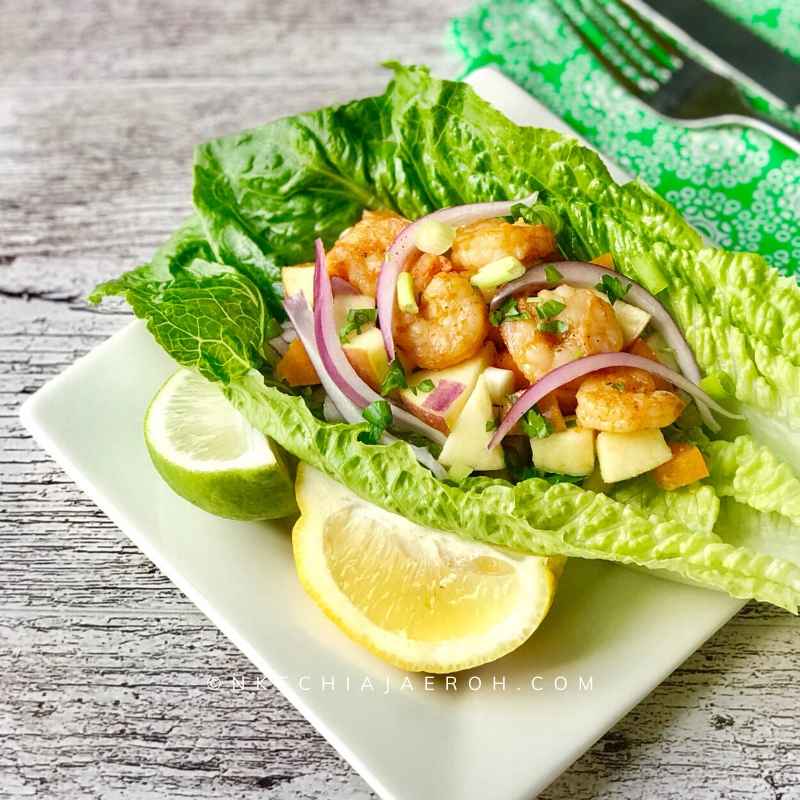 Spicy Shrimp Lettuce Wrap And Fuji Apple Salsa
---
Author:

Nkechi Ajaeroh

Prep Time:

10 minutes

Cook Time:

10 minutes

Total Time:

20 minutes

Yield:

Serves

2

1

x

Diet:

Low Calorie
Description
This Low Carb, Gluten-free, Paleo-friendly, grain-free, and Vegetarian Spicy Shrimp Lettuce Wrap is an excellent alternative to a regular taco. You can substitute shrimp with tofu, or chicken; enjoy this healthy lettuce wrap recipe your way!
---
8

lettuce leaves

1 cup

(or

8 oz

) of Shrimp (if frozen please allow to thaw before using.)
For shrimp marinade:
½

of (whole) lime (juiced)

1 teaspoon

of grated ginger

2

-teaspoon olive oil
A dash of salt

½ teaspoon

of seasoning powder or

1

Maggi cube

½ teaspoon

of ground chili pepper

½ teaspoon

of paprika

¼ teaspoon

of dry rosemary
For the apple salsa:
1 cup

of thinly chopped apple (about half of big apple)

½ cup

chopped bell pepper

¼

chopped red onions

2 tablespoons

of chopped jalapeno

2 tablespoons

chopped parsley

1

-teaspoon olive oil

2 teaspoons

lime juice

1 teaspoon

of honey
A dash of salt and pepper (optional)
For the Light Olive oil Dressing: (optional)
1 teaspoon

lemon juice,

1

-tablespoon olive oil,
A dash of black pepper and salt to taste

1 teaspoon

of honey (or maple syrup.)
---
Instructions
Mix the shrimp marinade.
Add the shrimp to it and allow marinating for at least 20 – 30 minutes inside the fridge. You can also sauté it right away if you are in a hurry.
Wash and chop all the vegetables for the salsa. Slice the red onions.
Make the salsa by adding all of them to a bowl (except the red onions). Then add lime juice, a dash of ground pepper and salt, oil, and honey. Toss together to combine and set aside.
Place a pan on the stove, add oil, allow to heat up. Gently drop the shrimp into the oil, lay individually; do not over-crowd the pan.
Cook 3 – 5 minutes on each side or until fully cooked; finish up with fresh green onions. Then remove from stove and set aside. How to serve this delicacy:
Place the already washed lettuce leaves on a clean plate, start by adding some apple salsa on the leaves, followed by shrimp, and garnish with sliced red onions. Feel free to add a dollop of sour cream or sprinkle a little olive oil dressing. Enjoy.
Notes
Though shrimp has cholesterol, which has given it some "bad" name, this isn't necessarily bad cholesterol; shrimp remains a great protein for the body. However, for the few individuals that have cholesterol issues, be mindful not to overindulge.
Marinating time is excluded from the total prep time for this dish. And if you are in a hurry, go ahead and cook immediately.
You use cabbage instead of lettuce for this recipe.
Two lettuce wraps makes one Taco wrap; and two wraps serves one person.
The olive oil dressing is optional.
Category:

Salad

Method:

Stove-top

Cuisine:

American
Keywords: Healthy Taco Recipe, Lime shrimp lettuce wraps, Spicy shrimp, taco, lettuce wraps, Low-carb shrimp lettuce wraps, Shrimp lettuce wrap with apple salsa
SHARE THIS POST. Additionally, to sharing this post, please rate this a 5-star below when you comment. It really helps my blog out. THANK YOU.
If you like this spicy shrimp lettuce wrap, then you should definitely check out my:
My FREE (5) spinach salad recipe bundle would be a great addition to your dinner table. Get the recipes here.
Let's connect everywhere; Instagram, Facebook, Twitter and Pinterest. Please SAVE/PIN THIS IMAGE ON PINTEREST under "Healthy Salad." ⤵️

Stay, well, and healthy,