Salads are for Special Occasions.
Well, what should I say every day we have an opportunity to be alive is indeed special, so, therefore, salad days are every day, right? Salads are supposed to be one of the simplest foods on the planet, yet sometimes it could sound very complicated and cumbersome. Today I want to share with you one of my easiest and yummiest 4 – ingredients spring mix salad. No more putting off eating salads for later, you got this, and I got you! Say hello to healthy eating without worrying.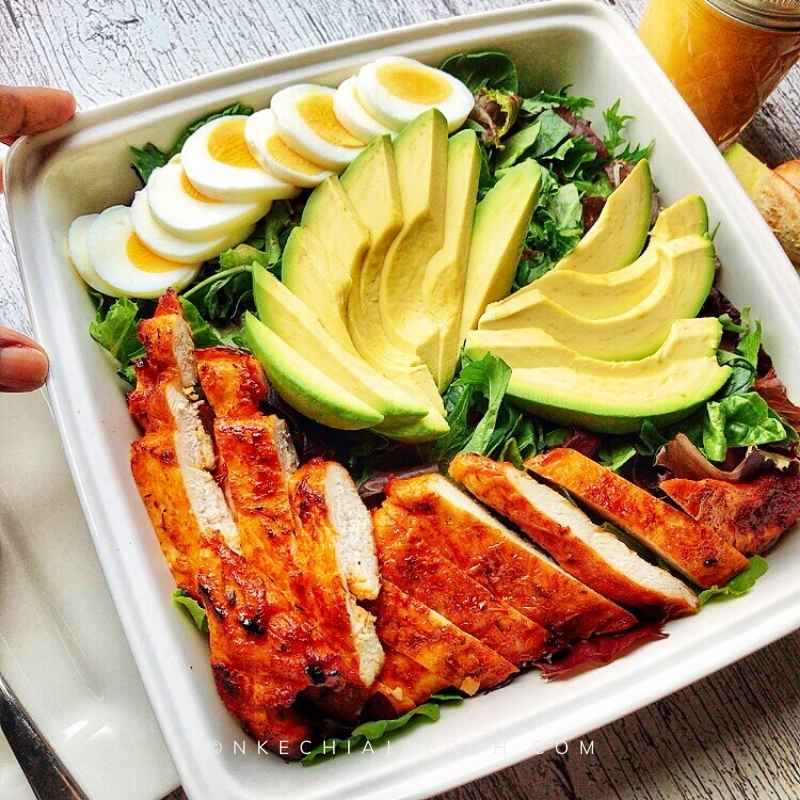 Easy to Make Spring Mix Salad.
With everything going on in the world at this moment, the new way to healthy eating is making it easy, and yummy. Instead of a salad recipe that requires 12 ingredients and 24 methods, you will get a delicious 4 – ingredients salad that will rock your world. On the other hand, you can also easily add other favorite things if you so desire like dry cranberries. Making a bowl of salad should be simple, and the salad in question must be yummy, you can absolutely have healthy and tasty. Why sacrifice either? Click To Tweet Also, making a salad should you not take the same it takes to cook Nigerian meat pie, moi-moi, or red tomato stew.
Something about Spring Mix.
Uniquely, spring mix salad contains different kinds of vegetables such as green chard, arugula, green oak, red mustard, baby spinach, baby lettuce, and some other green leaves.
Click To Tweet
With this in mind, spring mix allows you to enjoy a handful of different kinds of veggies, and this is one of the reasons why I like it.
To further make this spring mix salad yummier, you need avocado, boiled eggs, and chicken breast. It takes no time to make this salad happen! You can actually make it tonight, or tomorrow.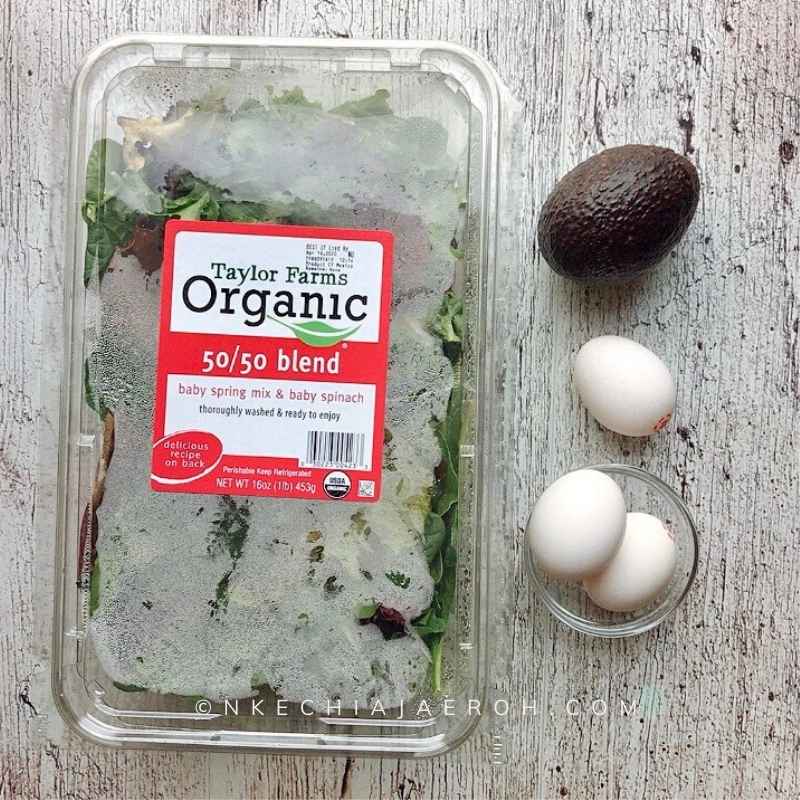 All in all, this remains one of my go-to salad recipes, and I hope you will like it, too! When next you go to grocery shopping, do not hesitate to take it home. I usually serve this salad with light citrus dressing, but you can use any other dressing! Happy eating!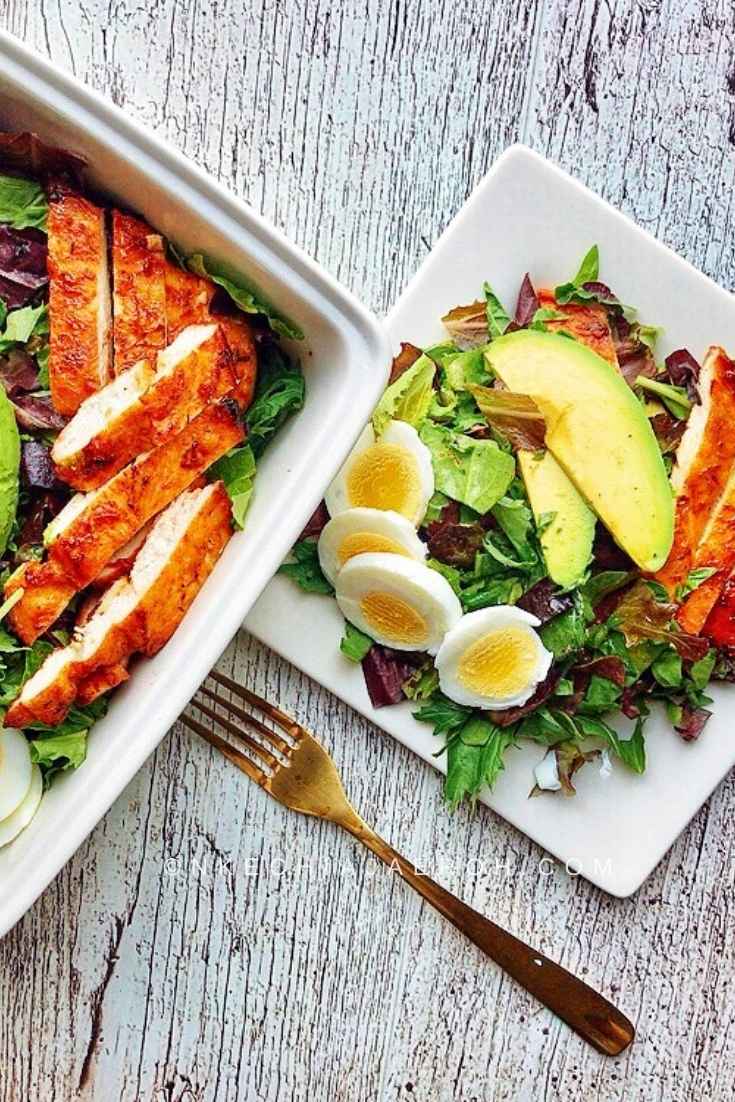 Print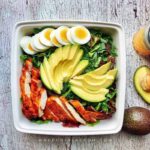 Spring Mix Salad with only 4 Ingredients
---
Author:

Nkechi Ajaeroh, MPH

Prep Time:

10

Cook Time:

15

Total Time:

25 minutes

Yield:

4

1

x

Diet:

Low Calorie
Description
This super healthy and easy to make spring mix salad contains only four ingredients – greens, avocado, eggs, and chicken. Healthy eating is that simple; let's not make it complicated.
---
Scale
Ingredients
8 – 10 cups of spring mix
1 whole avocado
2 chicken breasts (slice each in the middle; also makes it easier to cook)
3 boiled eggs
For Chicken dry rub:
½ teaspoon onion powder
¼ garlic powder
¼ tsp. dry thyme
A dash alt and pepper
¼ teaspoon seasoning powder
½ teaspoon cornstarch
1 – 2 teaspoons of paprika
1 – 2 tablespoons of olive oil (to sear or sauté the chicken)
---
Instructions
In a clean bowl, combine the chicken and the dry rub, ensuring that the entire chicken gets the rub. Then in a clean pan, add one tablespoon of olive oil, allow warming up, and gently drop the chicken breast. Sear/sauté the chicken about 6 minutes on each side or until cooked through and ready. Do not overcrowd the pan; usually, I would sear two chicken breasts at one time. Set chicken aside until you need them
Roughly cut the spring mix; this step is optional, but I suggest it, especially if you have little kids. The salad leaves may become bulky for children, and therefore prevent them from enjoying their salad.
Assemble the dish by adding the cut/chopped spring mix salad leaves to a big bowl, slice the chicken, and add them. Finally, add the eggs, ensure to remove the shell and slice however, you desire.
Dress up with your dressing of choice, I highly recommend light citrus dressing. Enjoy!
---
Notes
You can make this salad vegetarian by not using chicken
You can also make it vegan by substituting chicken with tofu and getting rid of the egg.
The ingredients for the chicken rub is optional. Some People are used to seasoning their chicken with just salt, and pepper. If that is you, then do that.
Category:

Salad

Method:

Chop

Cuisine:

Mediterranean
Keywords: Spring Mix, Healthy Salad, Simple Salad Recipe, Taylor farms spring mix, organic baby spring mix salad, 4-ingredients salad, Mixed Greens Salad recipe.
If you like this simple salad recipe then should definitely check out my:
At the same time, I want to invite you to join my healthy online cooking class slash Healthy Lifestyle Community, learn how to cook up 50 meals for only the price of one. Interested? Learn more.
Meanwhile, in October 2019, I started on Instagram (finally)! LOL, I did put that off forever, well I am there now, and I will love for us to connect! Follow me on Facebook and Twitter as well. Finally, do not forget to share this recipe post with people you love.