Green taco wrap is glorious.
Call it taco salad if you wish, all I know is that green "spinach" wrap is everything you need from nutritious to delicious. I use to not care about tacos, like seriously, why would I not?  Please don't judge me before you hear the entire gist.
First of all, I was born in Nigeria, and in my country of birth, nothing like taco existed. Probably there might be tacos in Nigeria right now, it's 2018 baby. But when I was growing up in 9ja, there was rarely anything like tacos or wraps. To be fair, I never saw any.
Secondly, I never really liked cheese, and I have always felt that cheese is a mandatory component of taco. So I gave up trying even though living in America. Ok, a moment of truth, now I do eat cheeses. Say cheese (lol).😁
Thirdly, whenever I hear the word "taco," I feel that it has to be fried, like the crunchy tacos. Well, as I started to educate myself, I realized that there are many ways to make and enjoy tacos or "Tuesday tacos" (BTW Tuesday taco is a Twitter hast tag, ding!). With this in mind, I took a special interest in the "green spinach taco wraps," first, I was attracted by its colors, and then, I wanted to make it my way. #Winning
Truthfully, I have tried this recipe ton of times before finalizing it this way, and so I am happy to share it with you; feel free to add your personal touch and make it your way. However, if you desire to get my exact result, you will have to make it my way. Fair enough?
It's time for a healthy taco.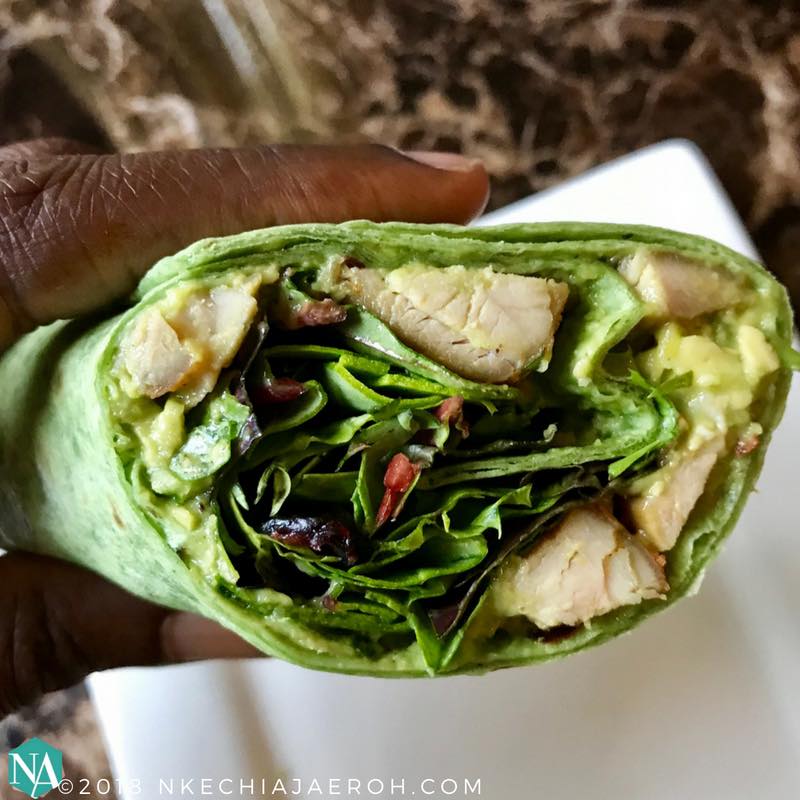 Here's all you will need to make my healthy taco aka "taco salad"
Green (mission garden spinach) wrap: this is the star of the day, in other words without this wrap, this dish would not be happening. I love using a big round tortilla, because am generous when it comes to the filling. If your taco/tortilla is too small, it can only contain so much. And this wrap provides a healthy serving of carbohydrate as well.
Chicken breast: equally important in making this dish a classic is the addition of some protein. It is essential to add high-quality protein such as beef, chicken, turkey, etc., I personally love to make it with chicken. Chicken breast is perfect, but if you have leftover chicken meat from any other part, it works as well. In case you cook your chicken with the skin as I sometimes do, that's ok, peel off the skin and use the meat.
Baby spring mix, and baby spinach; I like to mix them up. You are free to use only one of them. I love the texture of them both in the mouth. This ensures you get a good serving of vegetable while treating yourself to a tasty taco. Alongside this, you will also need some avocado, salt, pepper, little mayonnaise, and a sprinkle of dry cranberry.
Are you ready to taco with me?
Save to BigOven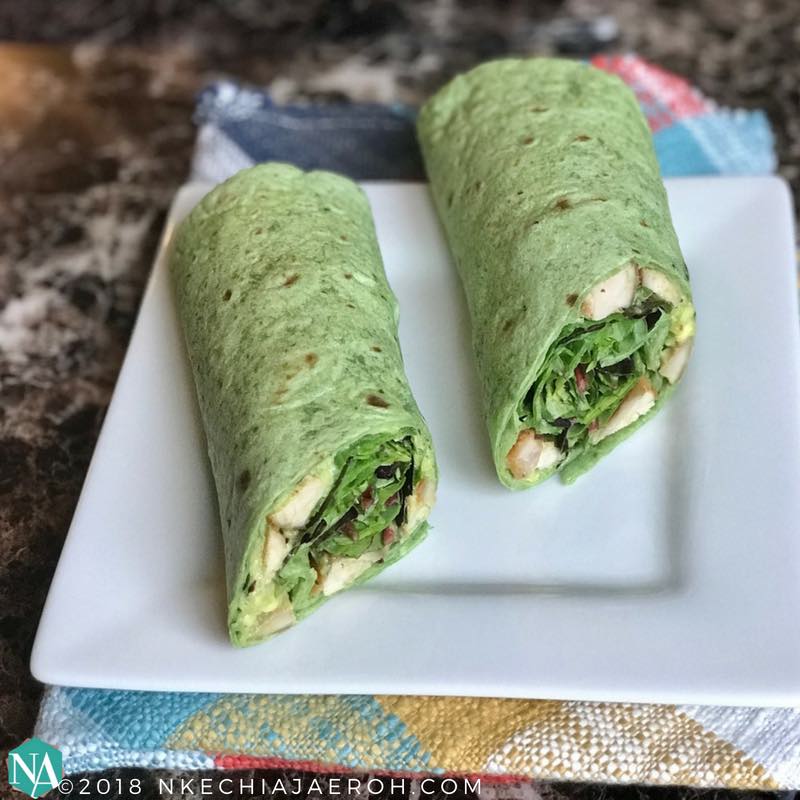 Healthy taco is honestly tasty, nutritious, and delicious. And you can make it your own way, too. Get creative with the filling.
Ingredients
1 Spinach green wrap
1 small roasted chicken breast
1/3 of medium size avocado
A dash of salt
A dash of crushed red pepper (optional; do not add if you do not like spicy)
A dash of black pepper
1-teaspoon light mayo (optional)
½ cup of salad
1 tablespoon of dry cranberry
Instructions
Cut chicken and set aside. (I assume your chicken is already fully cooked)
Scoop avocado into a small mixing bowl, add mayonnaise, a dash of salt, black pepper, crushed red pepper, and mix well. Set aside.
Warm up the green garden warp according to package instructions from the manufacturer. (I usually warm it up for 45 – 60 seconds in the microwave in between damp paper towels, when in a hurry.)
Lay green wrap on a tray, start with the avocado spread. Use your spoon and evenly spread the entire avocado mixture on the taco.
Then layer with the chicken.
Gently add the salad (I love adding it in the middle to ensure it stays put during the wrap.
Top this goodness with the dry cranberry.
Then wrap by folding gently from one side to the other; I love to cut it the middle for easy eating.
Enjoy.
Notes
I love the sweetness of the cranberry and how it brings everything together. Exclude it if you don't like it.
https://nkechiajaeroh.com/kechis-kitchen/healthy-recipes/how-to-make-mouth-watering-healthy-taco-tuesday/
© NkechiAjaeroh.com All Right Reserved.
Do you eat tacos? How do you make them? Tell me in the comment. Check out my kitchen and see what's hot. One more thing: Please share this post.🙏🏾
With love,