Blueberry is beautiful.
I was first attracted to the beautiful blue-ish purple color of blueberries, but aside those gorgeous skin inside each blueberry is an excellent antioxidant. Blueberries are heart, brain, and blood sugar healthy. And they are low in calories, no wonder they are regarded as superfood.
When my kids were starting on baby foods, and I had to start making home-made applesauce for them, I used to add blueberries. And it made the apple-blueberry sauce taste even better and tastier. Now as they are growing, they have continued to enjoy both fresh and frozen blueberry. On the other hand, my husband loves it so this fruit very much.; blueberries and blackberries are his two favorite berries. So, therefore, I would have thought that blueberry smoothie would have been the very first smoothie recipe I would have ever shared here on the blog. Well, a delay is not denial, and today I am finally getting it right, lets smoothie up some blueberries.
Benefits of blueberry smoothie.
Today's blueberry smoothie recipe would consist of blueberries, of course, for obvious reasons, some strawberries, banana, orange juice, and low-fat Greek yogurt. A superfood, blueberries has tons of vitamins and minerals, such as vitamins C, E, B6, and K1, as well as Manganese, and copper. Click To Tweet The Greek yogurt provides the needed high-quality protein to make this smoothie more balanced awesomeness.
This is indeed a gift from heaven!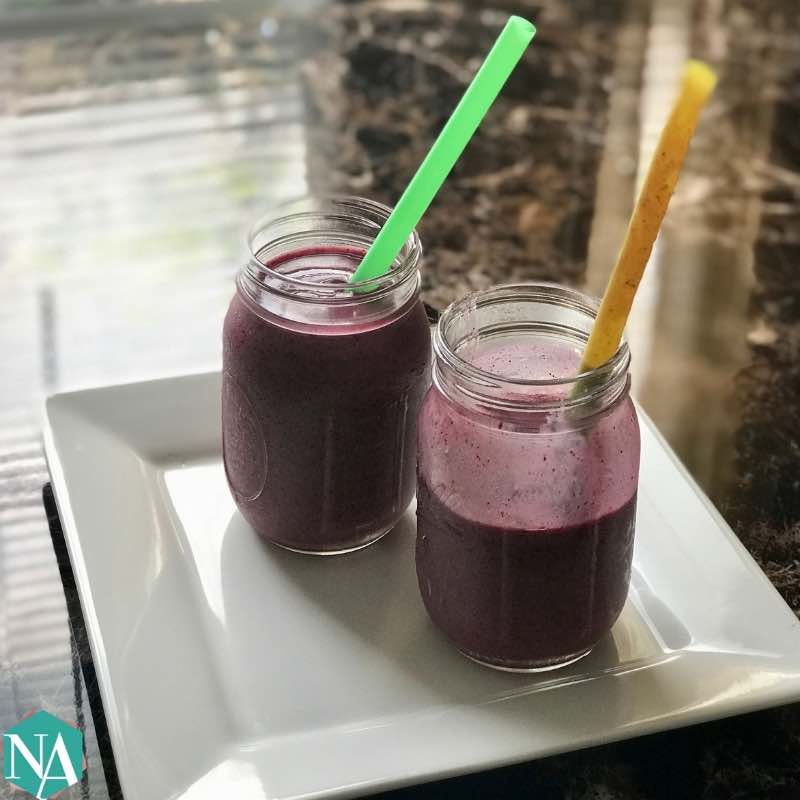 Make it a vegetarian blueberry smoothie.
Right! Let's totally do it. If for some reason you do not like yogurt, or you are a vegetarian then do not worry, cause I got you. Or perhaps if you are like my best friend that sometimes do not want strawberries in her blueberry smoothie then this version would be perfect for you. Above all, this version is the best! You heard me right; the best!
All you will need is frozen blueberry, fresh spinach, almond or soymilk, orange juice, and banana. If you enjoy this vegetarian blueberry smoothie then you will love other recipes in my light and lovely category.
This vegetarian blueberry smoothie is #goal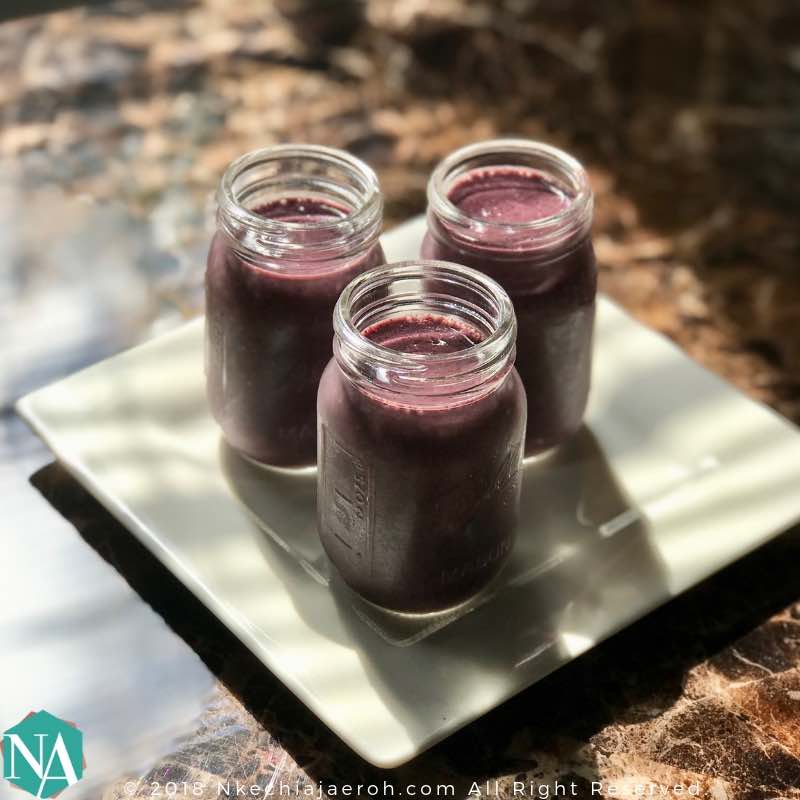 Ok, enough said, grab the recipe below: and don't forget to tell me all about it when you make them.
Save to BigOven
Blueberry smoothie is nutritious, delicious, and good for the body. It is a great way to eat healthy even if you are busy. This quick and easy blueberry smoothie is the immunity booster your body needs.
Ingredients
2 cups of frozen blueberry
1 cup of frozen strawberry
I whole medium banana (frozen)
1 cup of Greek yogurt
1 cup of freshly squeezed orange juice
For Vegetarian Blueberry Smoothie

1 cup of blueberry (frozen)
1 cup of fresh spinach
½ cup of Soy Milk (I used soy vanilla)
1/3 cup of freshly squeezed orange juice
½ of a whole banana (frozen)
Instructions
Add the entire ingredients into the blender starting with the liquid first; orange juice (this helps for easier blending).
Blend on high; you may have to pause and continue a couple of times to ensure a seamless transition.
Your smoothie is ready, when the texture is smooth.
Serve in a jar or a cup; you cannot go wrong.
Makes, 4 cups or 2½ jars of 12 oz. jar; serves 2 people.
For Vegetarian Blueberry Smoothie

Follow the same instruction as above, and blend.
Makes one "12 oz." jar.
Serves only one person.
Notes
This recipe serves two.
Smoothie is better enjoyed immediately after making it.
https://nkechiajaeroh.com/kechis-kitchen/healthy-recipes/how-to-make-quick-and-easy-blueberry-smoothie/
© NkechiAjaeroh.com All Right Reserved.
What is your favorite berry smoothie? Tell me in the comment. Check out my kitchen and see what's hot. One more thing; please share this post!
With love,