Let's Celebrate the Versatility of Plantains.
I was born and raised in Nigerian, and plantain, just like many other tropical foods such as rice, stew, sweet potato, meat pies, etc., were popular! Plantains are also super versatile, last time I used semi-ripe plantains to make plantain stuffing, which was to die for!
And today, I am using over-ripe plantains to make the healthiest vegan plantain brownies. My goal is to freeze some of these up for Christmas dessert!*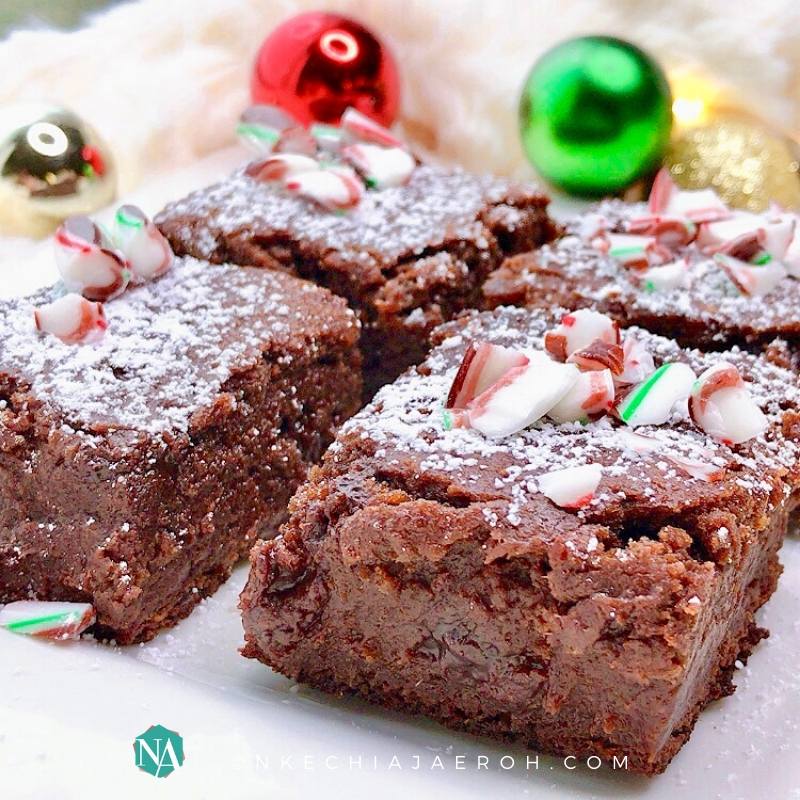 Plantain brownies are here to stay.
Look no further for the yummiest and most satisfying natural brownie recipe, EVER! These brownies was made with plantain, dates, raw cacao, pretty much everything your body needs.
Click To Tweet
This is definitely the kind of dessert your body needs. Enjoy it without guilt or looking sideways, whether you are entertaining or invited to a potluck, win everyone over with these gooey and heartwarming plantain brownies.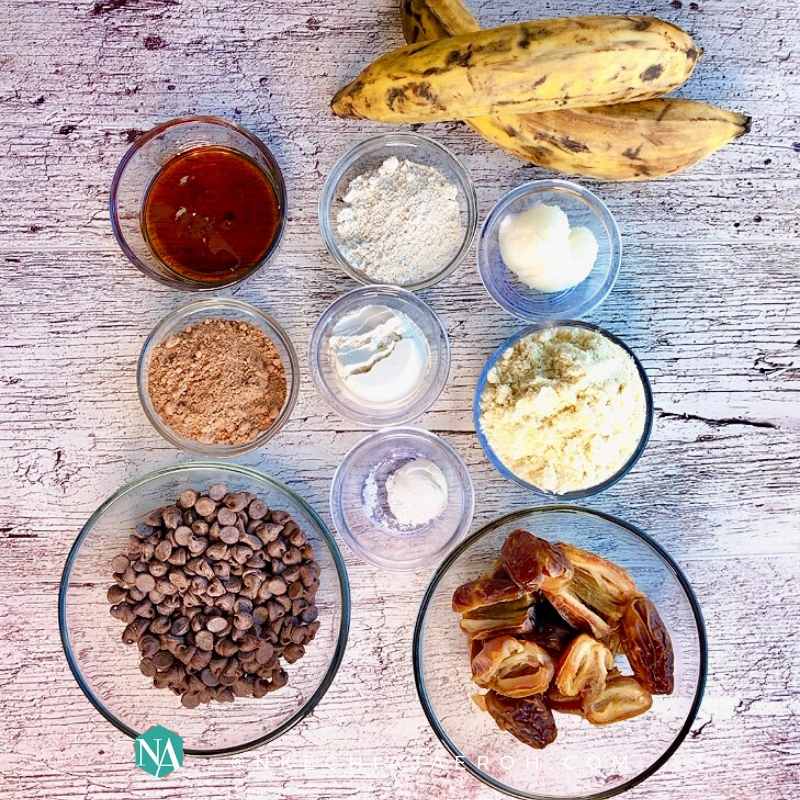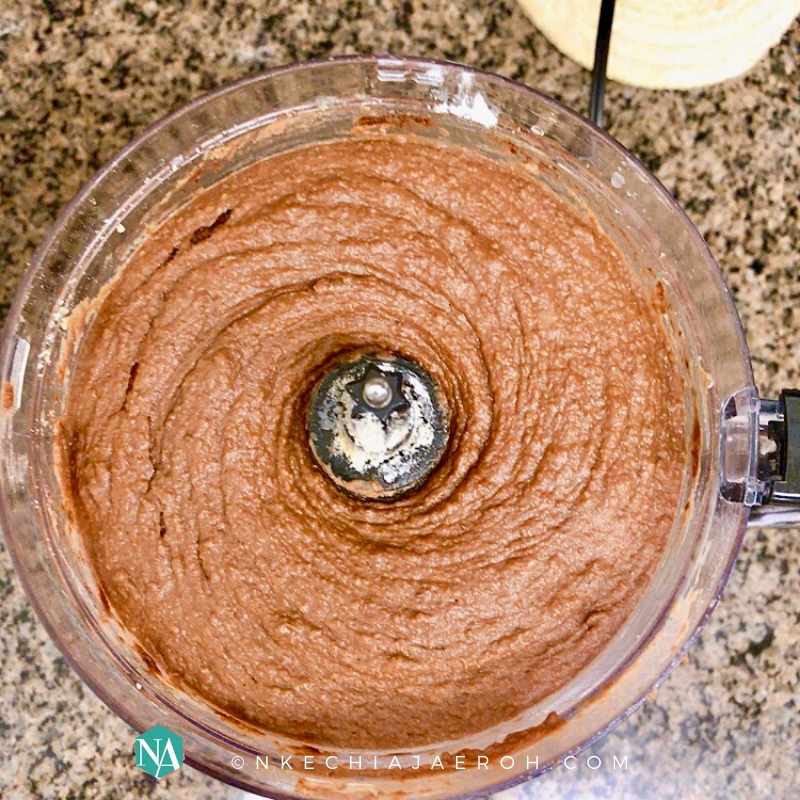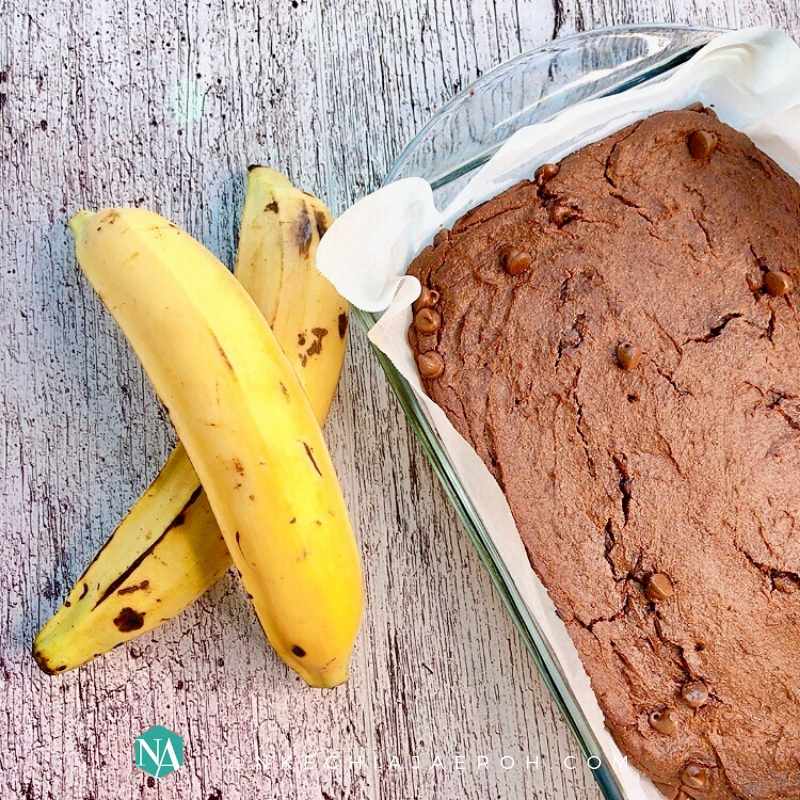 Start a new tradition with this plantain brownie recipe.
LET. ME. EXPLAIN. We are used to foods been a certain way, right? Been cooked a particular way, and all of that, well, if you are the cook, you can make it your way. And it wouldn't hurt. This recipe is an opportunity for you and me to make our brownie healthier, and also make "healthy" tasty.
The bottom line, if one of your goals is to eat healthier, then this brownie has to be your new fav dessert. Deal? DEAL!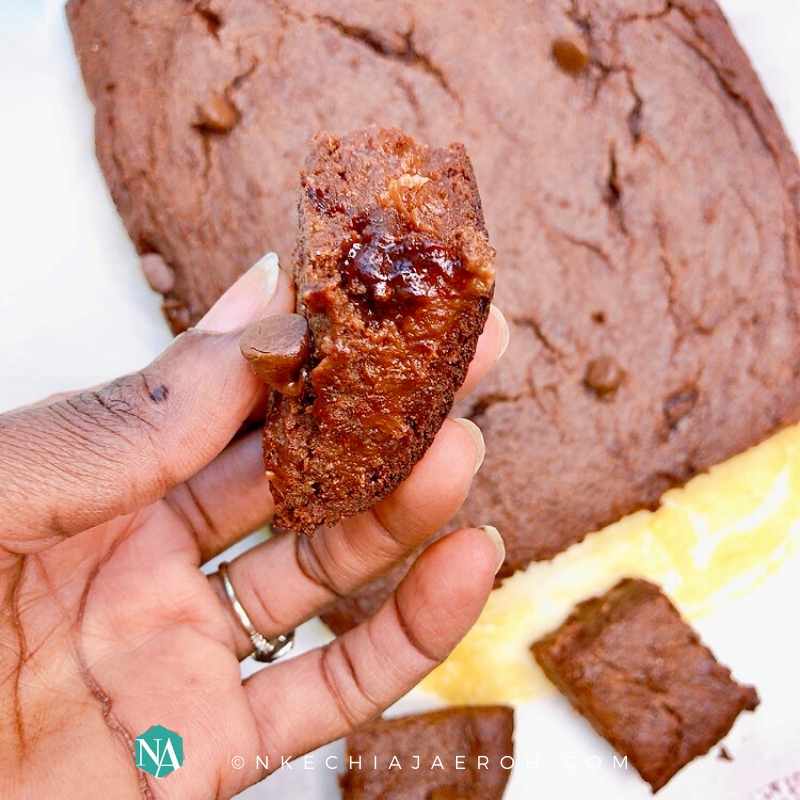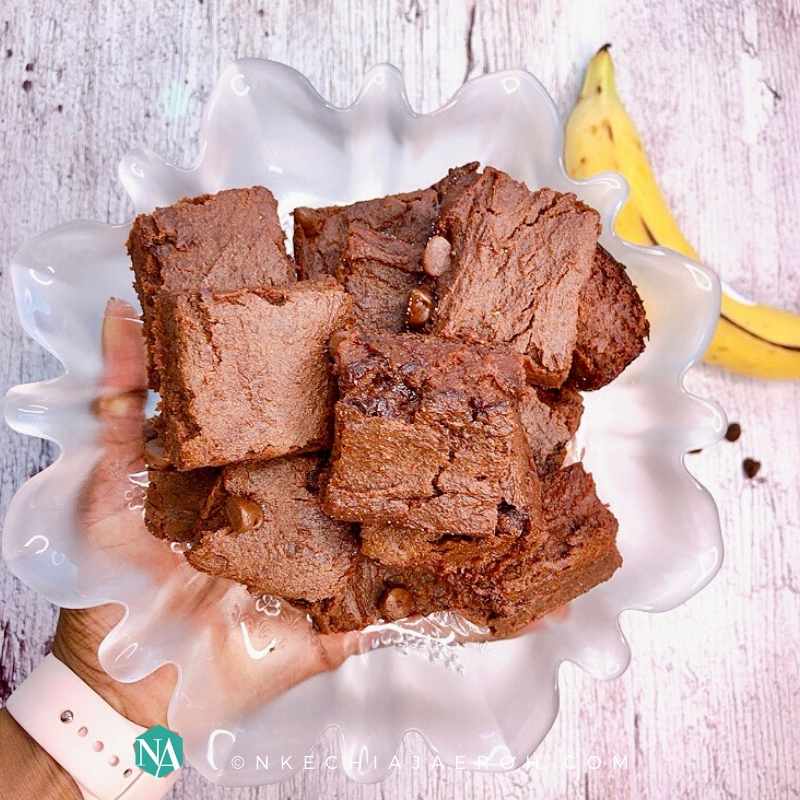 If you are ready like I am, let's make this goodness!
Save to BigOven
Did someone say "refined sugar-free" and "vegan" brownies? Yes, indeed, these comforting vegan plantain brownies are delicious, nutritious, and healthy!
Ingredients
2 very ripe plantains
12 dates
1 cup of almond flour
1 cup of non-dairy (or dairy) semi-sweet chocolate
5 tablespoons of maple syrup
¼ cup of oat flour
¼ cup of regular flour
1 teaspoon baking powder
½ teaspoon salt
¼ cup of raw cacao
½ cup of water drained from cooking
Instructions
Pit all the dates unless you are using pitted ones, then boil some water about 2 cups or little more and soak the dates. This would allow the dates to soften before the next process.
Add some water to the pot, and allow to boil, meanwhile, wash and cut the ripe plantains. Add the ripe plantains to the boiling water, cook until softened. About10 – 15 minutes depends on the quantity. Drain, and keep 1 cup of the water to use later.
Preheat over to 350, grease a baking dish, and place a parchment paper on it.
Into a food processor, add the (already boiled) plantains, then remove the dates from water and add alongside the plantains. Process/blend the two until combined and creamy. Then add all the other ingredients – almond flour, oat flour, regular flour, baking powder, salt, raw cacao, maple syrup, coconut oil, half of the semi-sweet non-dairy chocolate chips, and 1 cup of plantain water that you reserved earlier. Blend yet again to ensure that everything mixes well to become a fine brownie paste, then stop the processor. Add the last half of the chocolate chips and use a spatula to incorporate.
Pour the brownie mixture into an already lined baking dish, place in a preheated oven, and bake for about 40 – 45 minutes or so. Keep eyes on this goodness, and do the toothpick check from 35th minutes. Allow standing for at least 10 minutes before cutting.
Notes
Do not overbake this brownie, even if the toothpick does not look quite "dry."
I usually wet the sharp knife under running water before using it to cut the brownies. This is a very gooey bake, so I think to soak the knife a bit, as well as cleaning it out after each cut helps a lot.
If you are hesitant to use the plantain water, you may try using regular water. But am not sure how that would affect the taste.
If your coconut oil is solid, feel free to melt it with half of the chocolate. This makes it easy to mix in properly.
https://nkechiajaeroh.com/kechis-kitchen/healthy-recipes/the-most-delicious-plantain-brownies/
© NkechiAjaeroh.com All Right Reserved.
Ok, so, I am not going to ask you if you are going to make these. I will say, please leave me a message here or on any of my social media pages whenever you make them!
And if you love this recipe, then I know you will enjoy my FREE 7-Day Meal Plan, which helps you to start on the right part to healthy eating. Get the meal plan here.
Likewise, I have great light and lovely recipes you will enjoy, check them out here.
So, the other day I did something. I started on Instagram! It may not seem like a big step, but it is big for me for sure because I have always dreaded IG as a perfect platform, and am so imperfect. Well, long story short; finally started, let's connect.
THANK you so much for reading! Please, share this post on your social media, and with family and friends. I am sure they will love this recipe.
With love,