My mother's Macaroni Jollof.
First of all, I want to give my (late) mother thumbs up for today's recipe. Just like it was yesterday, I still remember the quickness, and easiness it takes my mother to put this meal together. Usually, all she need is a tin of tomato paste, a bulb of onion, and a box of macaroni. Then, she heads down to the kitchen, and the next thing, (in about 20 minutes or so), dinner is served – macaroni Jollof! I genuinely love my mother's recipes; their easiness and practicability are what we need in today's busy world. Click To Tweet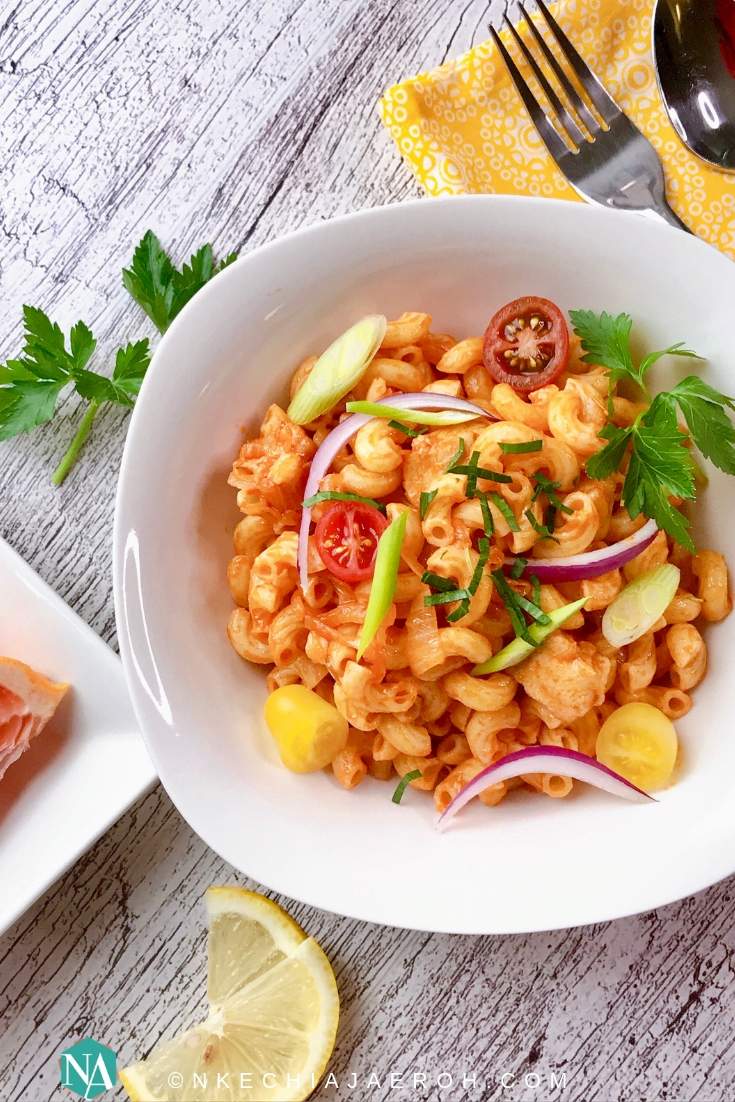 Will Never Forget My Mother's Store.
I remember going up; my mother used to have a shop, a convenience store, so to say. She also sells almost everything – call it a one and done, well, not really but you get what I mean. From cooked foods like fried chicken, and meat to raw foods like rice, beans, onions, tomato paste, macaroni, spaghetti, Maggi, salt, pepper, to soft drinks and beer. She got everything in there, ok!
Overall, I saw my mother's store as our neighborhood's mini stockpile. I have seen some members of our community "buy" food stock (on credit) from my mother's store, wouldn't even bother to pay, and another day come back asking for more things on credit. (Eyes rolled.)
I remember countless times; my father would ask my mother to stop giving people goods on credit. Anyways, I am laughing out loud reminiscing on these childhood memories.
I wish my parents are alive to see how I re-interpret these recipes, for my kids and the entire world to enjoy. Nevertheless, I know they are proud of me.
Quick And Easy is a Real Need.
This macaroni Jollof is super easy to put together, and faster take on our beloved Jollof. Most people think of rice whenever they hear the word Jollof. But that is not the case; you can pretty much Jollof anything; Jollof quinoa, Jollof beans, Jollof Spaghetti, it goes on and on. Jollof is a way of cooking, not necessarily, a type of food. Click To Tweet
I reality, if you like easy-to-make dinner(s) consider today's recipe. Then load it up with your favorite veggies. I decided to keep it simple in honor of my mother.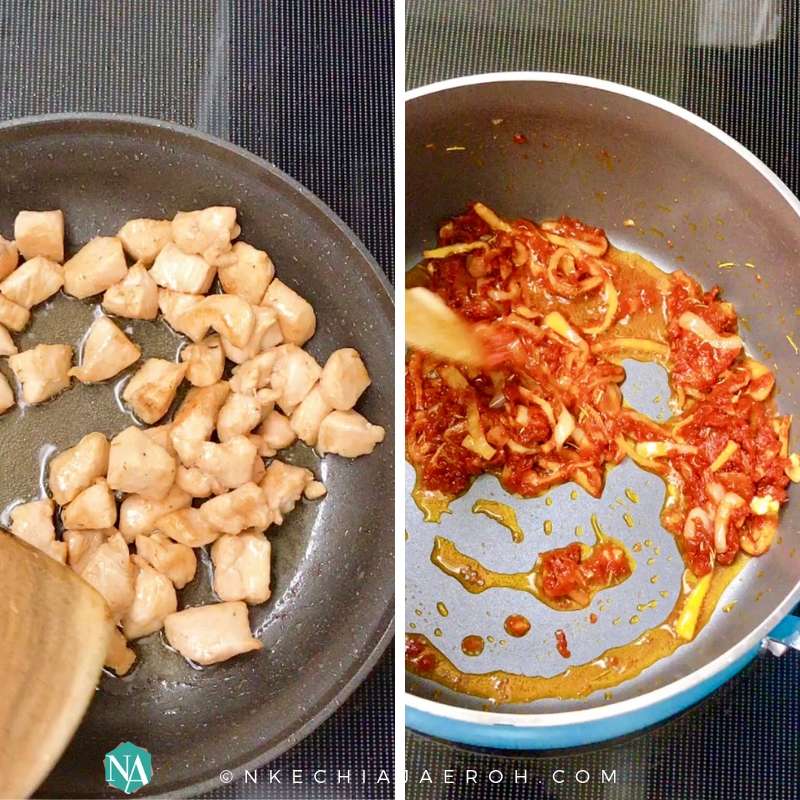 Making my mother's Macaroni Jollof Gives (me) Real Joy.
First, You will need macaroni, I mean; obviously, it should be the #1. I like using the exact recipe she used: elbow macaroni. Whole wheat, gluten-free, doesn't matter. I keep it simple, though; I use the one I have in my pantry.
Second, you will need tomato paste, I usually buy tomato paste from the store, but if you have homemade, that would be perfect as well.
Thirdly, you need some protein; I used chicken breast; you can use fish or tofu. My mother would typically use a kind of small smoke fishes called "azu oribiri" (in the Igbo language). I don't think it has an English name. All the above, alongside, onions, garlic, and other condiments listed under "ingredients," are what you will need.
Anyways, if you are ready, to let's make this marvelous deliciousness.
Print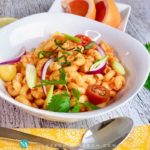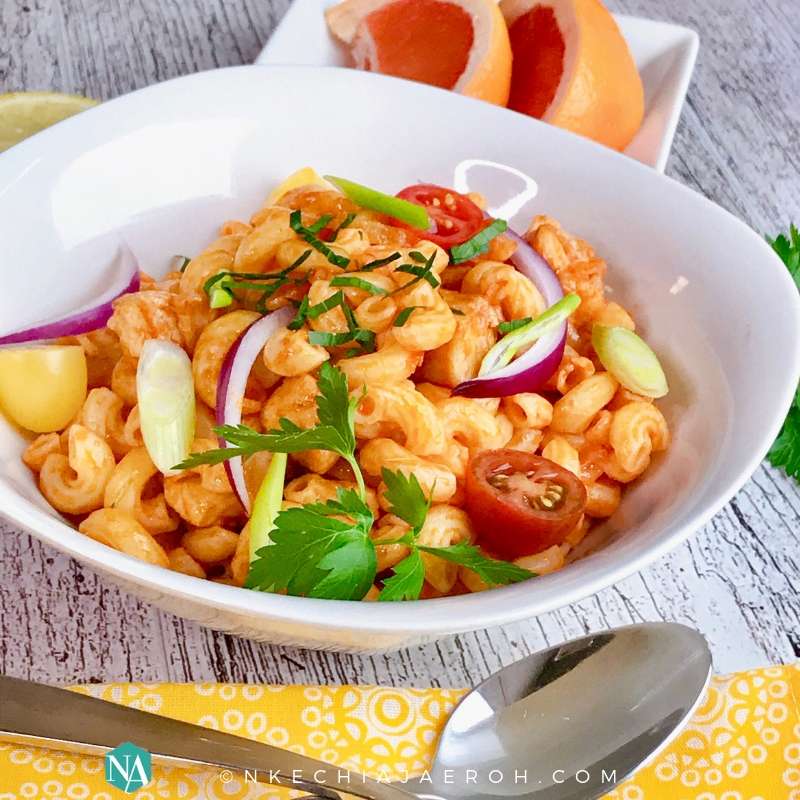 How To Make Quick And Easy Macaroni Jollof
---
Total Time:

30 minutes

Yield:

4

-

5

Servings

1

x
Description
Sometimes, simple foods are the best. A box of macaroni pasta, tomato paste, onions, and you are ready! Say hello to dinner in a flash! And it is super tasty too! – YUM.
---
1

box of elbow macaroni (I didn't use the entire box; check NOTE)

1

big boneless and skinless chicken breast

3 ounce

of tomato paste (or half of a

6 oz

. tin)

1 cup

of sliced yellow or white onions

2

cloves of garlic

2 tablespoons

of olive oil
Salt to taste plus more to add to cook the pasta with
Pepper

¼ teaspoon

of rosemary

¼ teaspoon

of paprika

1 teaspoon

of seasoning powder

¾ cup

of pasta water (aka water from cooking the macaroni)

½ cup

of grape tomato (optional; and for garnishing)
Small bunch of parsley (optional; for garnishing), see NOTE.

2 tablespoons

sliced red/purple onions (optional; for garnishing)

2 tablespoons

sliced green onions (optional; for garnishing)
---
Instructions
Cook the elbow macaroni according to manufacturer's instruction, and set aside. Do not throw away the water yet; I mean pasta water.
Cut already washed/cleaned and patted down chicken breast into bite pieces. This would probably be less than 1" sizes, then sprinkle some salt, pepper, and paprika, mix well to combine. Sauté in olive oil; to sauté: add oil to a clean pan and allow to heat up. Then add the marinated chicken breast, keep stirring while making sure that it doesn't burn. Cook chicken through (about 5 – 7 minutes), remove from oil and set aside.
In the same pot/pan add the remaining olive oil, or in another clean pot, add the oil from the sauté plus the remaining oil, allow to heat up and add onions, and garlic. Cook to soften and then add the tomatoes, rosemary, seasoning powder, a little more pepper, and cook for about 5 minutes. Keep stirring as you cook to avoid burning or sticking to the bottom of the pot. After 5 minutes, add the pasta water, taste and adjust flavors, then lower the heat, and it is time to stir in the macaroni. Taste again and adjust flavors as necessary. If need be add more pasta water. Make this dish as you at this time, I didn't use cheese; you may add cheese if you desire. Serve it up while still warm and enjoy. I love serving this with fresh grape tomatoes, some purple onions, and green onions. Yum!
Notes
Remember to pat the chicken breast down before marinating.. This removes excess moisture.
Remember to always add salt according to your taste or according to your health needs.
I didn't use the entire box of elbow macaroni; I removed about (a tipping) one cup.
Chop/slice some of the parsley, and leave the rest like that.
Prep Time:

5 minutes

Cook Time:

25 minutes

Category:

Entree

Method:

Stovetop

Cuisine:

Nigerian Cuisine Inspired
Keywords: Macaroni, pasta, pasta recipe,
Recipe Card powered by
What is your favorite pasta recipe? I hope you enjoy my mama's recipe as I do.
Meanwhile, I want to extend a special invitation to join me inside my Private Facebook community. We are friends that treat each like family. I provide free tools, resources, and recipes that are so irresistible. I can't wait to see you there!
Also, I have great light and lovely recipes you will enjoy. I got you!
Please share this post on your social media, and with family and friends.
With love,