Quinoa Jollof Bowl, Really?
Lately, I have been loving on quinoa, and have used it many times to replace rice and other carbs. Well, you may say, but quinoa is carb. Not quite. Though it very much embodies a grain crop; it is actually a pseudocereal, in other words, quinoa is not a grass like the other grains (such as rice or wheat).
Quinoa is truly one of nature's best; they are gluten-free, high protein, and has tons of vitamins and minerals that the body needs.
Click To Tweet
Quinoa is high in fiber and great for stabilizing or controlling blood sugar, plus other numerous health benefits.
Also, and as a matter of fact, quinoa in a salad is an absolute bomb! If you haven't added them to your salads yet, oh, they are a must-try, because it helps you get full quickly.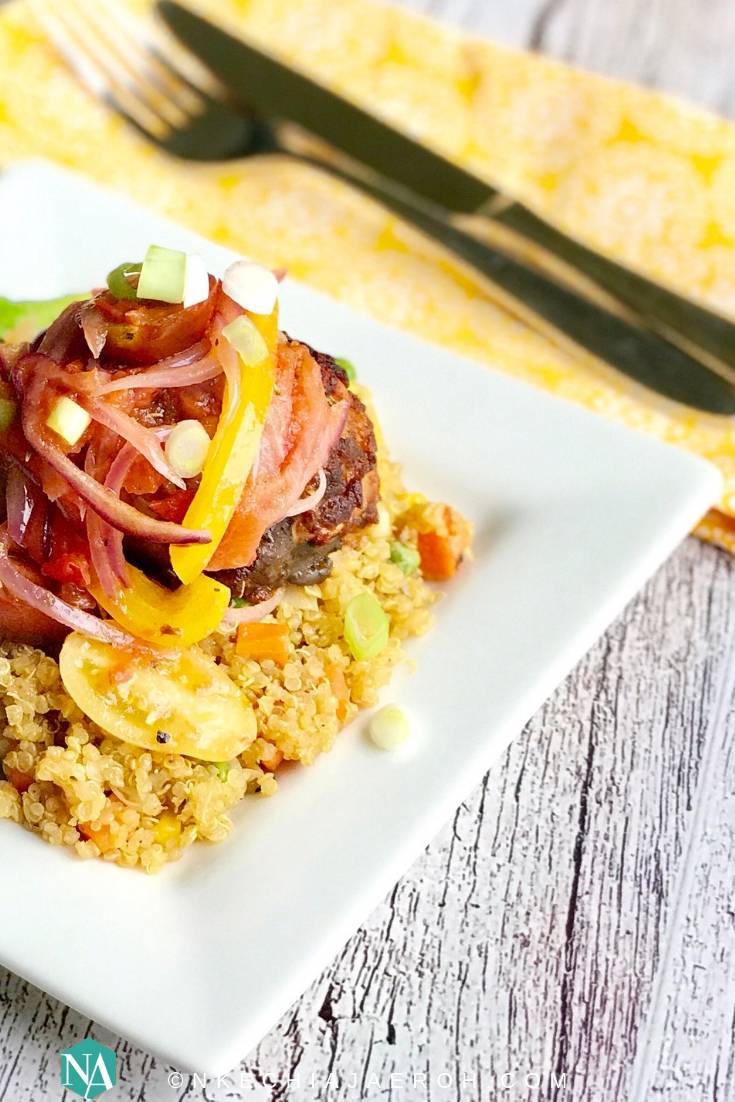 Quinoa is a Quickie.
Anyways, this dish is super quick and easy to put together especially if you make the quinoa ahead of time, but even if you don't, quinoa takes only 15 minutes to cook (yes 15 minutes), and then you can make magic with it.
In other to make my quinoa Jollof, you will need quinoa (apparently), and vegetables, take it a step further and add any protein of choice, I used drumsticks today.
If you are ready, let us get started with this yummy quinoa Jollof bowl. Don't worry if you are used to Jollof rice; this dish will not disappoint, did I mention that this delicious dish is kids friendly as well? Well, it is.
Save to BigOven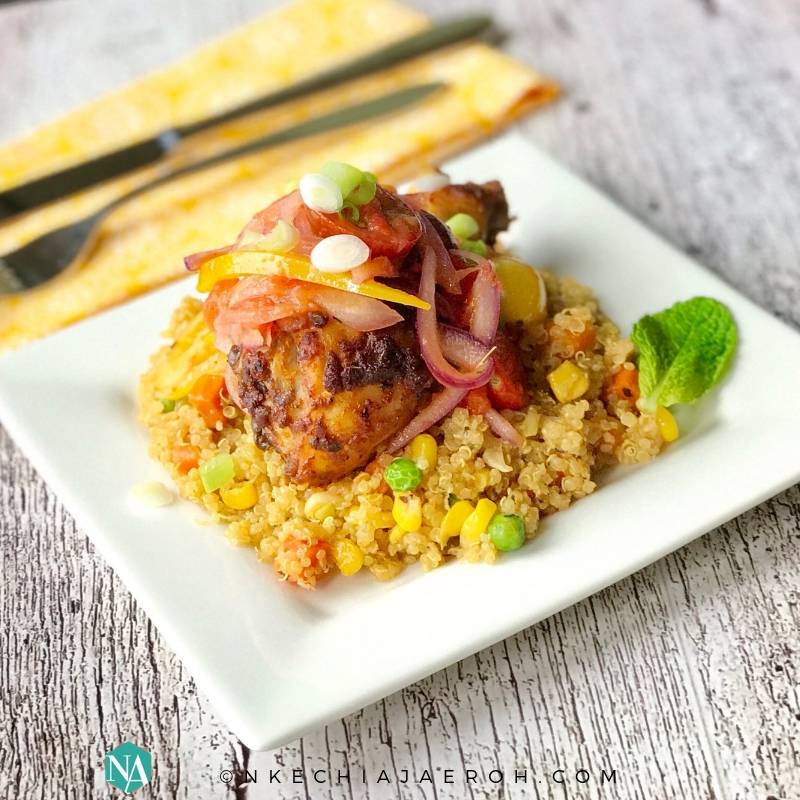 When you want flavor, color, yummy, and nutritiousness all loaded in one bowl, you go for this dish. Quick and easy to make, a great addition to your family's dinner table, smiles on the faces you love. Oh, you can't beat the magic of this dish. Don't forget to thank me later.
Ingredients
2 cups of cooked quinoa
1 and half cup cups of mixed frozen vegetables (you can use fresh)
2 tsp. of olive oil
1/3 cup of onions
Salt and pepper to taste
1 tsp. of paprika
¼ tsp. of seasoning powder or ½ a Maggi cube
OPTIONAL: warm tomato salsa:

½ cup of grape tomatoes (cut into halves)
1 Roma tomato (diced)
½ cup of red/purple onions (sliced)
1/3 sliced bell pepper (any color works, but is used yellow)
Salt to taste
Pepper to taste
¼ tsp. of seasoning powder or ½ of Maggi
1 – 2 tsp. olive oil
Instructions
Wash and cut all the vegetables and set aside. Then set a pan on a medium heat stove, and add the oil, as soon as it heats up, start sautéing the vegetables. Begin with onions, garlic, and then frozen vegetables. Sautee at 2 minutes interval or less, as the vegetables are cooking sprinkle a dash of salt, pepper, the seasoning powder or bouillon or Maggi cube and the paprika. Stir everything together, taste for flavors, and then add the quinoa.
Cook everything for the next 4 – 5 minutes or until both the quinoa and vegetables are married together. Taste and adjust flavors, accordingly. Serve with baked chicken, and top with warm salsa.
For the warm tomato salsa:

This is an optional step. Sautee the ingredients starting with the cut Roma tomato, then add some sliced red onions and sliced bell peppers. Then add some salt and pepper to taste and seasoning. Finish by finally adding the grape tomato halves, cook everything for another minute, and this warm salsa is ready.
Notes
Usually my quinoa is already pre-cooked in well-seasoned broth, so there was no need to add any more seasoning/salt to it. If you cook your quinoa with plain water, then your recipe may change a bit, and you may need to add more seasonings.
Remember to always add salt according to your taste or according to your health needs.
The total time shown here ONLY applies if you are cooking quinoa from scratch. If not, it takes far less than that (about 10 minutes.)
https://nkechiajaeroh.com/kechis-kitchen/healthy-recipes/how-to-make-quick-and-easy-quinoa-jollof-bowl/
© NkechiAjaeroh.com All Right Reserved.
Are you the quinoa train yet? How do you normally cook/eat your quinoa? Please feel free to share below in the comment.
I want to extend a special invitation to you to join me inside my Facebook private community. We are friends that treat each like family. I provide free tools, resources, and recipes that are so irresistible. I can't wait to see you there!
Also, I have excellent light and lovely recipes you will enjoy. I got you!
Pease share this post on your social media, and with family and friends.
With love,