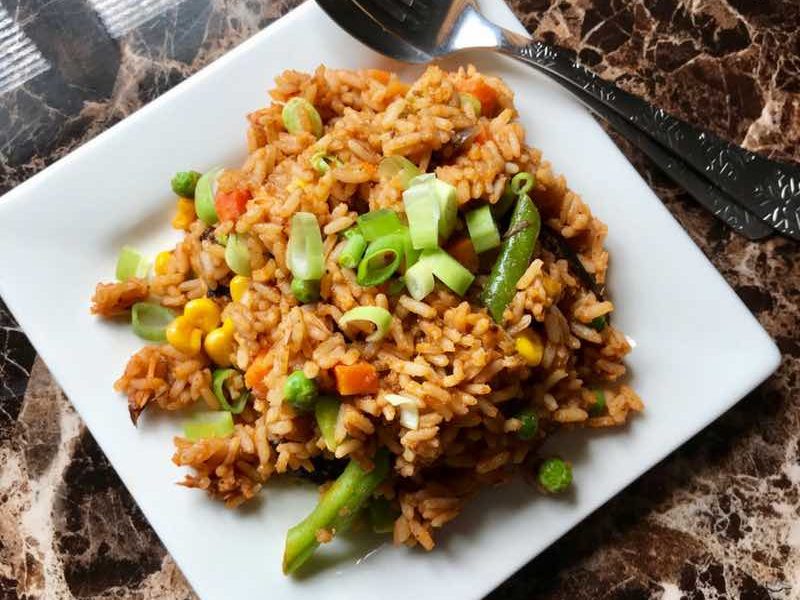 Ever tried smoky Jollof Rice?
Jollof rice is one of the most popular dishes ever to come out of Africa. Most West African nations eat jollof rice such as Nigeria, Ghana, Senegal, Gambia, Benin Republic, Cameron, Togo, Liberia, Mali, etc.,
Historically, the name "Jollof" is said to have originated from the "Wolof people" in some parts of Senegal and the Gambia. Unfortunately, some food historians disagree with this assertion.
Irrespective of how and where jollof rice originated, one thing we all seem to agree with is the amazingness and deliciousness of this dish.
Jollof rice is everything.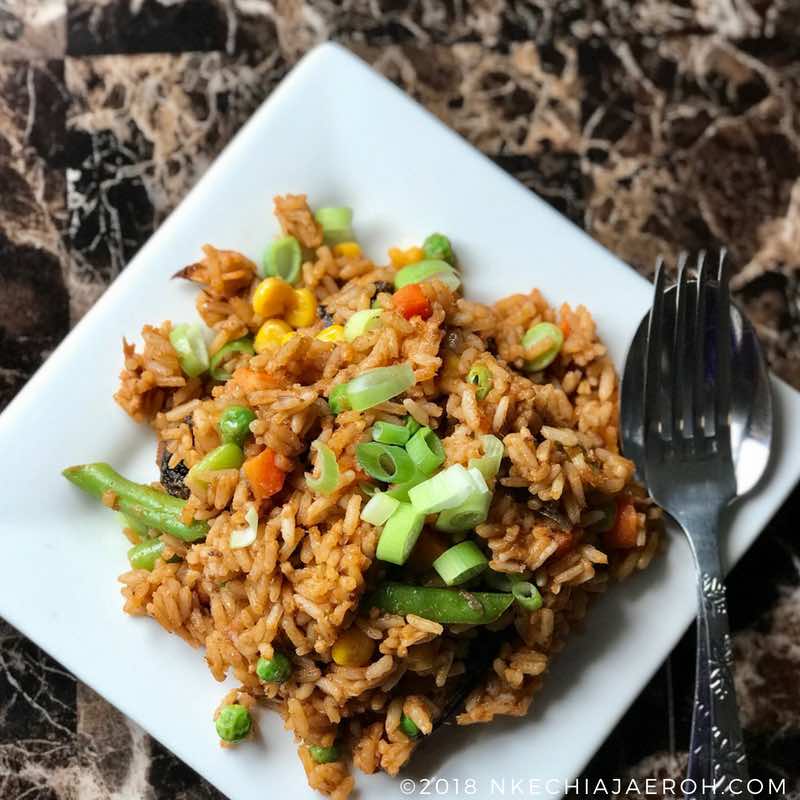 Even some Caribbean countries equally make jollof rice, again this is a common dish savored across most African countries and beyond, and they are made in different ways. For instance, there is the unending debate about Nigeria – Ghana jollof rice and which one tastes better. In other words, there are different varieties of jollof rice.
Even within our Nigerian community, there are different ways to cook jollof rice.
Oh yes!
With this in mind I am here to put a magic spin on our Naija jollof rice; I now present to you the ultimate Nigerian fancy smoky jollof rice recipe!
This is good and different from what you have had before. It is warm, welcoming and sure to be a winner on your family dinner table.
Growing up my mother would sometimes use smoked fish to make one of the best tasting jollof rice. I am happy to recreate that same dish today with a touch of vegetables to give you the best smokiness you would ever imagine.
How To Make The Ultimate Nigerian fancy Smoky Jollof Rice
Rice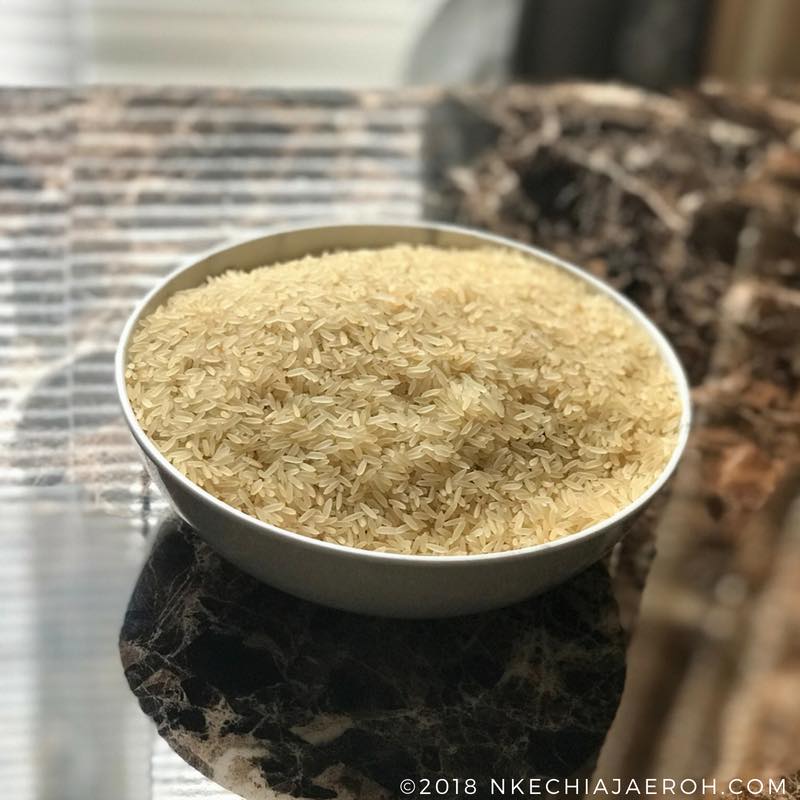 Can you make jollof rice without rice? I guess not!
Well, unless you want to use "fake rice." To put it differently, you will need rice, real rice to make this dish and get the same result.
Rice is one of the recipes I encourage first-time Nigerian food tasters to try. It is accessible, easy on the stomach, and very relatable.
Rice is one of the oldest grains and primarily consists of carbohydrate, which provides your body with energy.
Rice equally contains some amount of fiber, some vitamins, and minerals. As a rule in my household, I love cooking rice with some vegetables and proteins. This ensures a more balanced meal. And in today's recipe, I will be pairing the long grain rice with some dry, smoky fish and vegetables.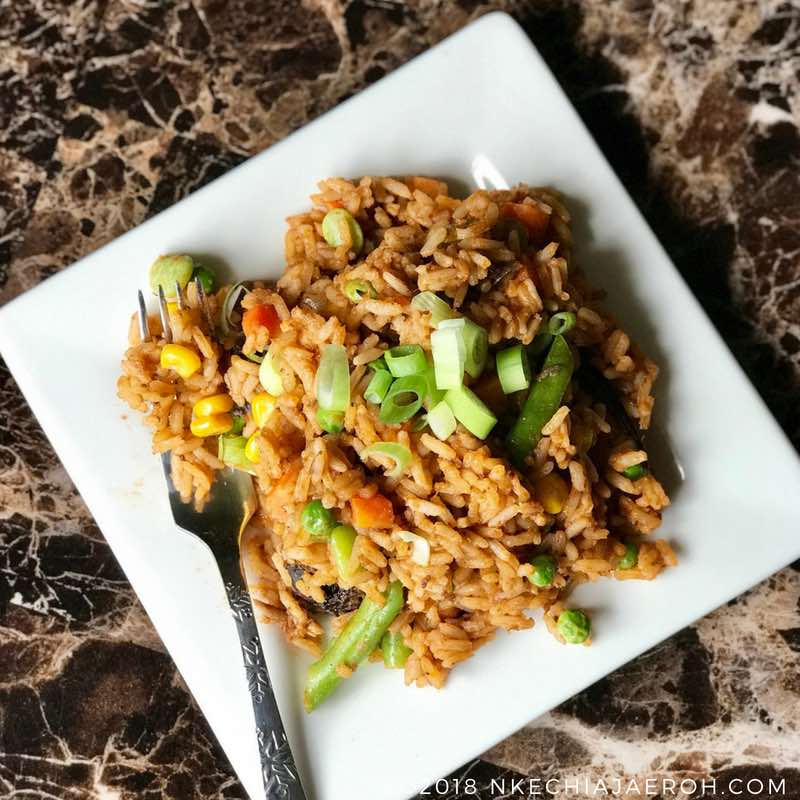 The Ultimate Nigerian Fancy Smoky Jollof Rice Recipe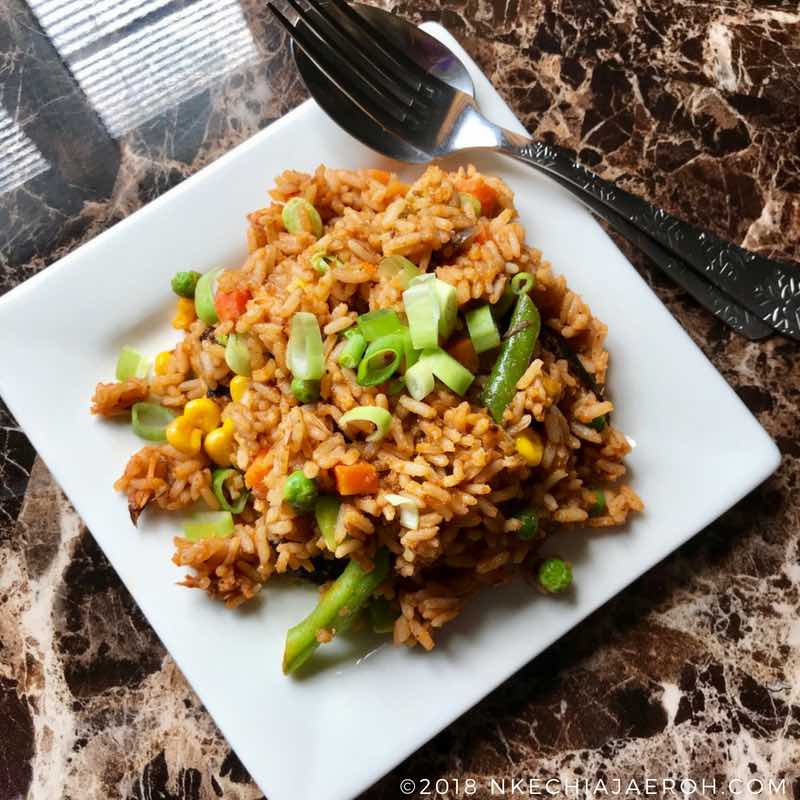 Ingredients
3 cups of long grain rice
3-3½ cups of stock
1 (6oz/170g) tomato paste
1 big bulb of onions
3 garlic cloves
1 medium-large size bell pepper (any color)
Dry/smoky fish (15oz – 1lb.)
¼ cup of ground crayfish
1 teaspoon dry thyme (fresh is fine as well if that's what you have)
2½ cups of mixed vegetables ( I usually use frozen)
1/3 cup of coconut oil (use your preferred cooking oil)
½ teaspoon ground Nigerian red pepper
1-teaspoon salt
1 cup of water (for blending)
Instructions
Parboil and wash rice; set aside
Thoroughly wash fish and set aside
Wash bell pepper; peel and wash onions and garlic as well; In a blender add bell pepper, ¾ of the onions, garlic, and tomato paste. Add a cup of water and blend all together.
Dice or cut the remaining ¼ of the onions and set aside
Set a clean pot on the stove, turn the heat to low – medium.
As soon as the pot is warm, add oil, then salt and the diced/cut onions.
Sautee the onions for about 1-2 minutes and add the tomato paste, onion, pepper garlic blend. Stir and cover the pot. Leave the stove on medium.
Allow the blend to cook for about 7 minutes then open the pot and stir.
While the pot is open add crayfish, 2 Maggi cubes, thyme, and ground red pepper. Stir properly and cover. Allow it to simmer for another 4 minutes.
After 4 minutes open the pot gently stir, then add the stock, mix again and allow to boil then add rice and fish. Distribute evenly and cover the pan and cook for about 25 minutes.
After 25 minutes (as soon as the rice is nearly fully cooked and no more liquid) give the pot a gentle stir and add the mixed vegetables and crush in the last remaining Maggi cube.
Reduce the heat to low, cover the pot and allow to simmer to another 4 – 5 minutes and your ultimate Nigerian fancy smoky jollof rice is ready!
Serve and garnish with spring onions. Best enjoyed warm.
Notes
Just as a precaution, before opening your pot be sure to turn the stove to low. Avoid hot liquids from splashing on you. Depending on the pot you are using be careful not to burn your entire food. Jollof is preferably cooked on low. Remember it is the steam that cooks Jollof rice, not the heat. You can use any stock to make this dish but if plan to use unseasoned/ non-sodium stock then you will need more than one teaspoon of salt and more seasonings to make this dish and get the same result.
https://nkechiajaeroh.com/kechis-kitchen/the-ultimate-nigerian-fancy-smoky-jollof-rice-recipe/
© 2018 NkechiAjaeroh.com All Right Reserved.
Do you eat jollof rice? How do you make them? Or how do you plan to make them?
And do not forget to let me know when you try this recipe.
One more thing: thank you so much for reading, and I can't wait to see you again.
Please share this post out.
If you enjoyed reading about this recipe, then you will love all the awesome things I share with my community. Join our kitchen table community here right now and receive a fantastic gift!
Get other recipes in the Nigeria Kitchen category here.
With love,