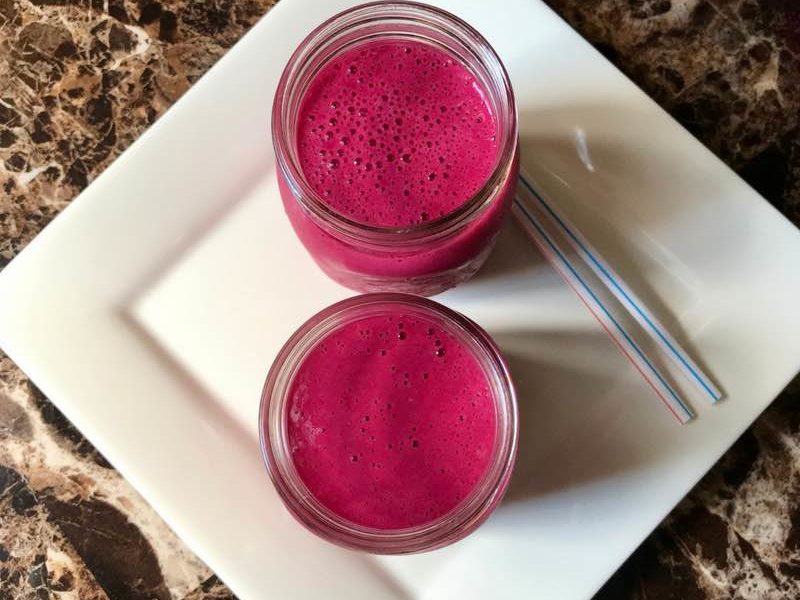 Well, the summer of smoothies continues, and today I am happy to share my healthy red beet strawberry smoothie recipe with you.
By all means and I mean this for a fact, this red beet strawberry smoothie recipe is the best. I have made and shared it repeatedly and each time people loved it, I hope you will also find it enjoyable and make it your summer special.
How to make my healthy red beet strawberry smoothie:
You will need:
Fresh Beetroot is a must have for this smoothie, I always love using raw beetroot. You are welcome to use the frozen beets if you desire, but I prefer fresh red beets anytime any day for this recipe. Beets are full of vitamins, mineral and a tiny amount of fat. Beets are known to lower blood pressure as well improve your stamina among many things.
Strawberry: At the same time I love adding strawberry to this recipe because of its nutritional value and color. I feel that strawberry blends well with beets. Also, strawberry is rich in antioxidants, vitamins and other minerals.
Yogurt: I love the richness and creaminess of yogurt in this smoothie. Mainly I prefer to use low-fat yogurt. Yogurt provides high-quality protein to the body. It is an excellent source of calcium, vitamins, some carbohydrate and lots of water.
Banana: In general banana is very filling, and it has a good amount of carbohydrate, some vitamins, and minerals. Some benefits of banana include energy boosting; it can also improve your digestive system. Banana is very affordable yet very nutritious.
Orange juice: You can squeeze your orange or you can use a store bought juice for this recipe; both works just fine. Orange contains vitamin c plus other minerals. Orange can protect your body by boosting your immunity.
Now let's get smoothie making!
Healthy Red Beet Strawberry Smoothie Recipe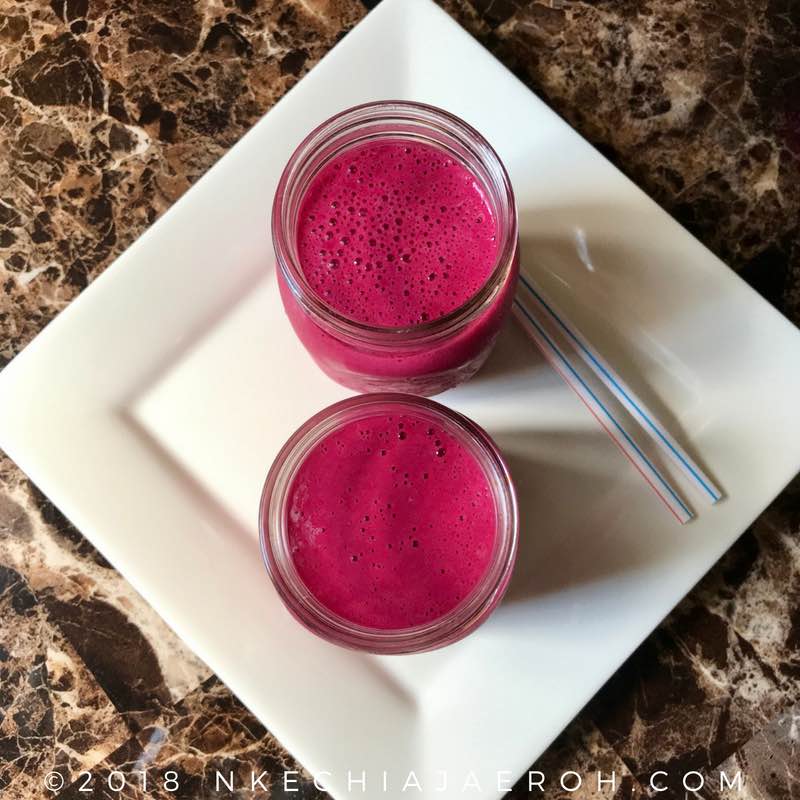 Healthy Red Beet Strawberry smoothies. A healthy substitute for breakfast or any other meal.
Ingredients
1 cup of freshly cut/chopped beets (the same as root beet)
I cup frozen strawberry
I cup low-fat yogurt
½ of a whole banana (chopped); this could be fresh or frozen (I usually prefer frozen)
½ cup of orange juice.
Instructions
Add all the ingredients into a blender and blend it up. Your red beet strawberry smoothie is ready.
Serve in a cup or jar.
Notes
This could substitute breakfast if you are looking to eat light. This very recipe makes two servings of 12 oz. jar.
https://nkechiajaeroh.com/kechis-kitchen/light-and-lovely/healthy-red-beet-strawberry-smoothie-recipe/
© 2018 NkechiAjaeroh.com All Right Reserved.
Did you enjoy today's recipe? Then, you will also love other recipes in my light and lovey category.
And don't forget to let me know when you make this smoothie😊 Do you currently make beets smoothie? Please tell me in the comment how you make yours.
One more thing: Please share this goodness with your friends and family.
With love,