Sweet Potato Hash.
In my eyes, sweet potato does no wrong, isn't it the best? It comes through in most astonishing ways. Notably, the sweet potato fries are substitutes to regular potato fries. How about the delightful sweet potato chips? Excellent, right? If you are looking to go savory, then you have mashed sweet potato, and the sweet potato porridge, which is absolutely one of my best!
Vegetable indeed.
In a nutshell, sweet potato is actually a root vegetable, not carbohydrate. This crop is a beautiful vegetable that is also capable of filling you up. In other words, if you are thinking of losing weight, make the sweet potato your buddy. It will keep you full for the longest, and that works in your favor.

Apart from being highly nutritious, sweet, and tasty, sweet potatoes also support vision health. As well as, gut health, may improve brain functions, and support your immunity due to the abundance of beta-carotene.
Click To Tweet
With this in mind, in today's blog post, I am showing you one of my favorite sweet potato recipes. This sweet potato hash with eggs is everything you need for a great breakfast, an excellent lunch or a heart-healthy dinner. It is also super easy to make, and it is equally "a healthy on budget" kind of meal. There is always a win-win-win situation with this dish because no one loses.
Aside from sweet potatoes and eggs, you will also need other vegetables such as green peppers, onions, etc.,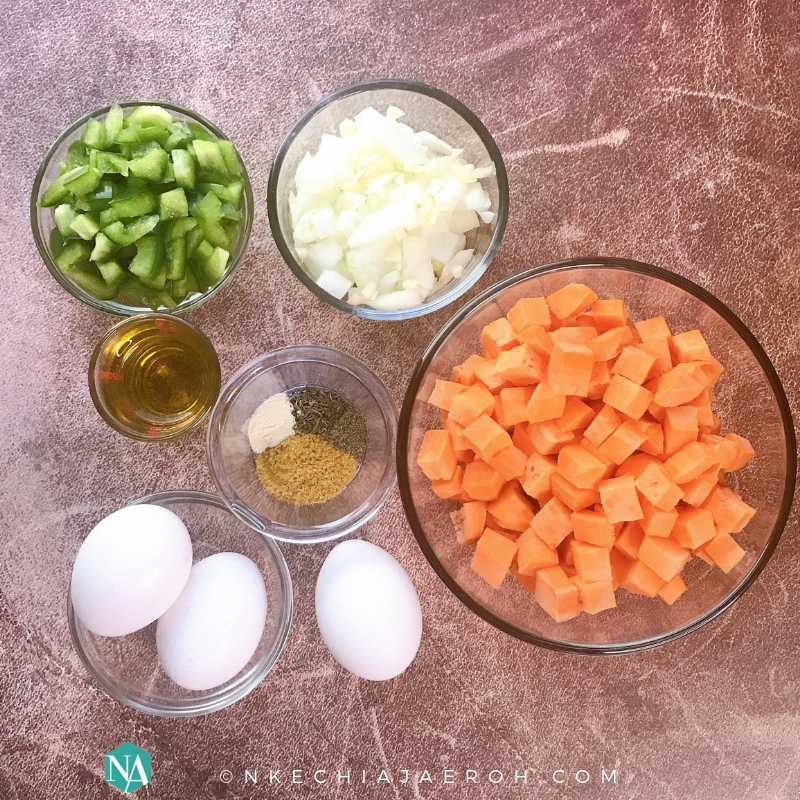 This sweet potato recipe is simple, yummy, and nourishing, be sure that it will warm up your soul.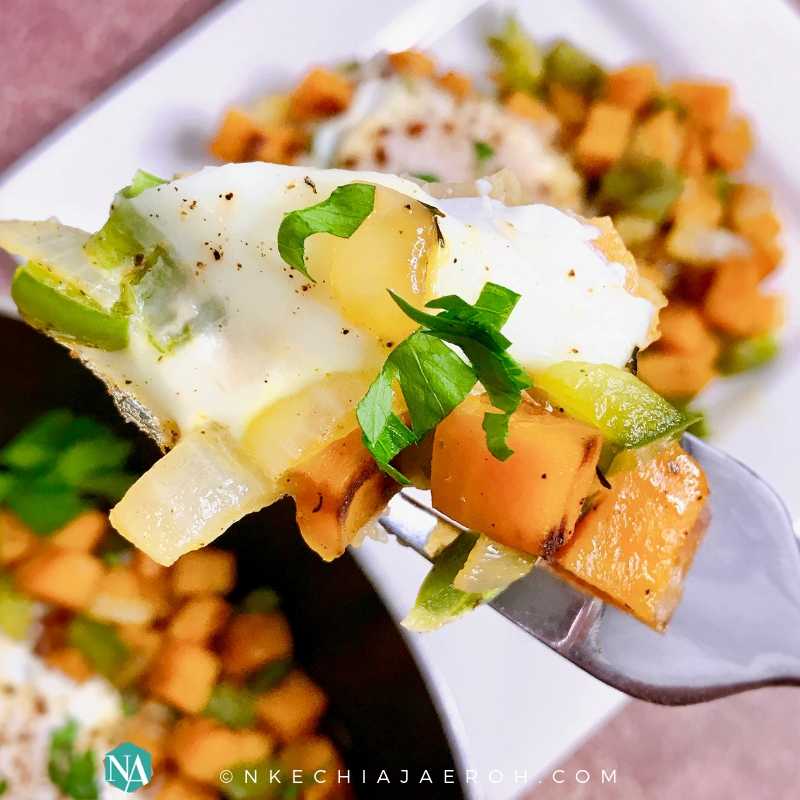 And, if you are ready lets make this yummy!
Healthy And Delicious Sweet Potato Hash With Eggs
Hands down this is one of the best sweet potato hash recipes ever! Whether you are looking to start your day right or end it well, this healthy and delicious sweet potato hash with eggs comes in handy – YUM.
Ingredients
3 cups of cut sweet potatoes (cut in cubes)
3 eggs
½ cup of chopped green bell pepper (you can use any color)
1 tablespoon of olive oil
1 cup of chopped fresh onions
1 - teaspoon of seasoning powder (or one seasoning cube)
1/8 teaspoon of dry thyme (you can substitute with dry rosemary.)
¼ teaspoon of salt (remember to always add salt according to your health need or taste)
1/8 teaspoon of black pepper (or add according to your taste)
¼ - ½ cup of water
2 tablespoons of parsley (for garnishing)
Instructions
Wash all vegetables, and cut into desired sizes. Add olive oil to a hot clean pan, and add the onions, sauté about 2 minutes to soften and add the green peppers, cook for 1 additional minute and add the sweet potatoes. Stir very well to combine, and then add the salt, pepper, thyme, seasoning powder or cube, ensure to combine everything well, deglaze the pan with half of the water, cover the pan, and cook until the potatoes are tender. Taste and adjust flavors.
Inside the pan, make three "holes" or indentations, and break the eggs into each hole one after another. Add one or two tablespoons of water around the edges of the pan to further deglaze so your dish is not burnt while eggs cook. Cover and cook for up 5 minutes or until the egg are ready. (Some people may prefer the eggs half done, and that's ok. Garnish with chopped parsley, enjoy with friends and family.
Notes
It is better to deglaze with water than add excess oil, and much better to deglaze with water than add wine, especially if you don't drink.
Cook on medium, and keep eyes on this meal, it can easily dry up/burn.
Feel free to add more or less of ingredients listed.
https://nkechiajaeroh.com/kechis-kitchen/light-and-lovely/healthy-and-delicious-sweet-potato-hash-with-eggs/
© 2018 NkechiAjaeroh.com All Right Reserved.
OK, seriously, when are you making this recipe? Please let me know when you do!
If you love this recipe, then I know you will enjoy my FREE 7-Day Meal Plan, which helps you to start on the right part to healthy eating. Get the meal plan here.
Meanwhile, I want to extend a special invitation to you to join me inside my private Facebook community. We are currently over 4K friends loving food and encouraging each to live better. Also, I provide free tools, resources, and recipes that are so irresistible. I can't wait to see you there!
Likewise, I have great light and lovely recipes you will enjoy, check them out here.
Please share this post on your social media, and with family and friends. I am sure they will love this recipe, thanks in advance! 🙂
With love,