An Apple A Day Keeps the Doctor Away!
Raise your hands if you have heard the general saying, "One apple a day keeps the doctor away." As much as this saying sounds like a cliché, it simply shows that apples have numerous health benefits that can improve life! With only 95 calories per medium apple, apples have tons of nutrients. Fiber, vitamins, and antioxidants to help you keep the doctors away! In today's post, let's dive deeper and explore the health benefits of apples. 
Even if you love apples as much as I do, you might not be fully aware of how good these fruits are for you. But if you want to know how much they can benefit your health, read on!
Apples make a great snack, and here I am dipping it in romesco sauce. YUM! Peanut butter and almond butter all make great dips too!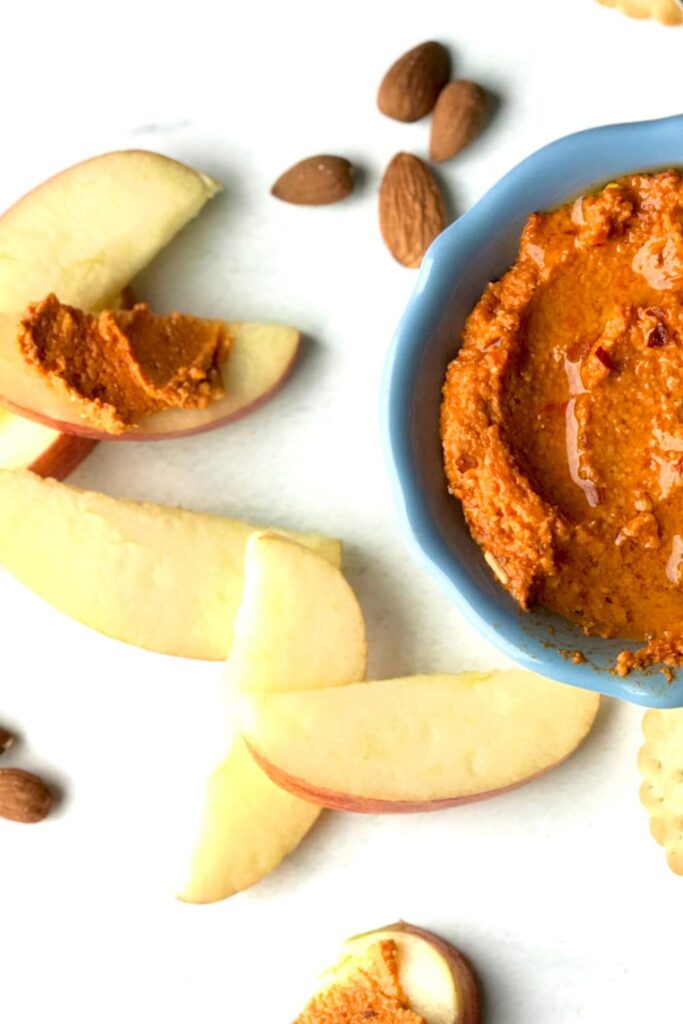 The Origins of Apples 
What's funny about apples is that they are always noted in apple pie, something that is actually not American! They're not even native to North America, but rather, they came from Kazakhstan.
Around 1500 BC, apple seeds had made their way throughout Europe. They were cultivated by the Greeks, Romans, and Etruscans. As they made their way around, many varieties of this fruit began thriving in England, where as it turns out, apple pie originated.
Apples are packed with healthy nutrients, potent antioxidants, vitamins, and minerals. Eating an apple a day surely keeps the doctor away!
Click To Tweet
Types of Apples
Throughout the world, there are over 7,500 different varieties of apples. In the U.S., there are about 100 different types of apples that are grown commercially. It would be a chore to list all of them here, but the most common types you'll find in America are Granny Smith, Pink Lady, Fuji, Golden Delicious, Gala, Empire, Honeycrisp, McIntosh, and Red Delicious.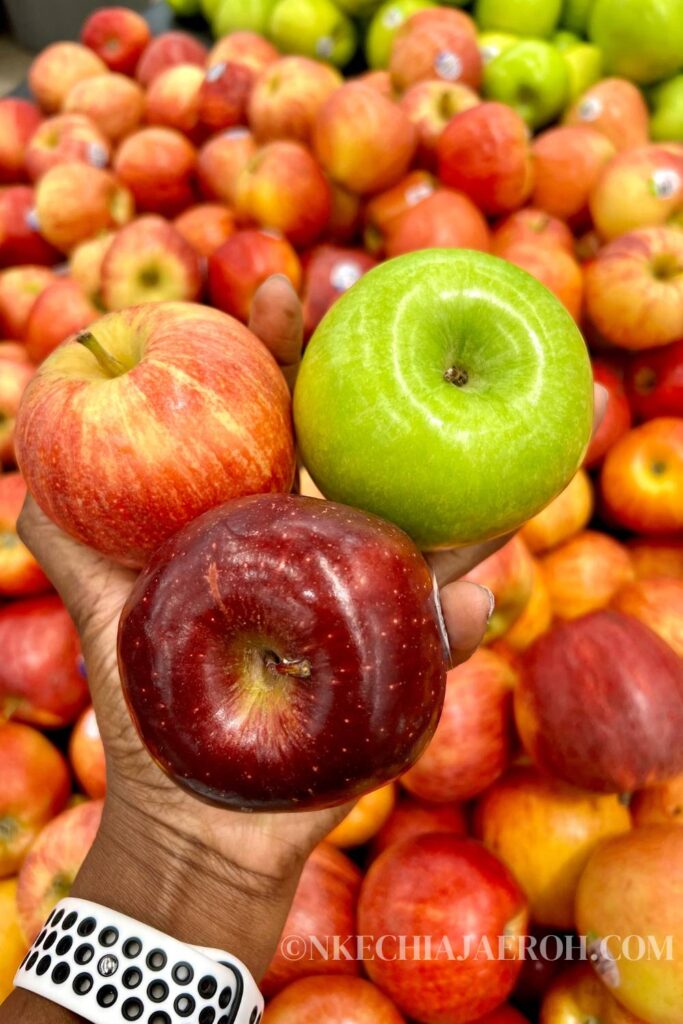 12 Astonishing Health Benefits of Apples
While we all know the apple a day saying, science really does back that catchy little phrase we were all taught as kids. Here are 12 health benefits you get from eating apples!
1. Lots of Antioxidants
It's in the skin! Apples have potent antioxidants like vitamin C, quercetin, and catechin. These protect your cells from oxidative stress which can protect you from diseases.
2. Apples Have Loads of Fiber
Soluble and insoluble fiber are an important part of a healthy diet. If you eat an apple a day, you'll be sure to get that fiber your body needs for digestive health and lower cholesterol levels too.
3. Health Benefits of Apples – Gut Health
That pectin is at it again, helping produce short chain fatty acids to help your gastrointestinal health along. Apples have everything you need to keep your gut in great health. 
4. Apples Contain Healthy Nutrients
Apples contain a lengthy roster of nutrients that include vitamins C and E, copper, magnesium, and potassium. And that's just the short list! If you eat an apple each day, you'll be giving your body essential vitamins and minerals it needs to thrive with good health.
5. Supports a Healthy Heart
Since apples have all those antioxidants which can reduce inflammatory markers, they may support a healthier heart. They have polyphenols that are great for blood pressure and help improve cholesterol levels.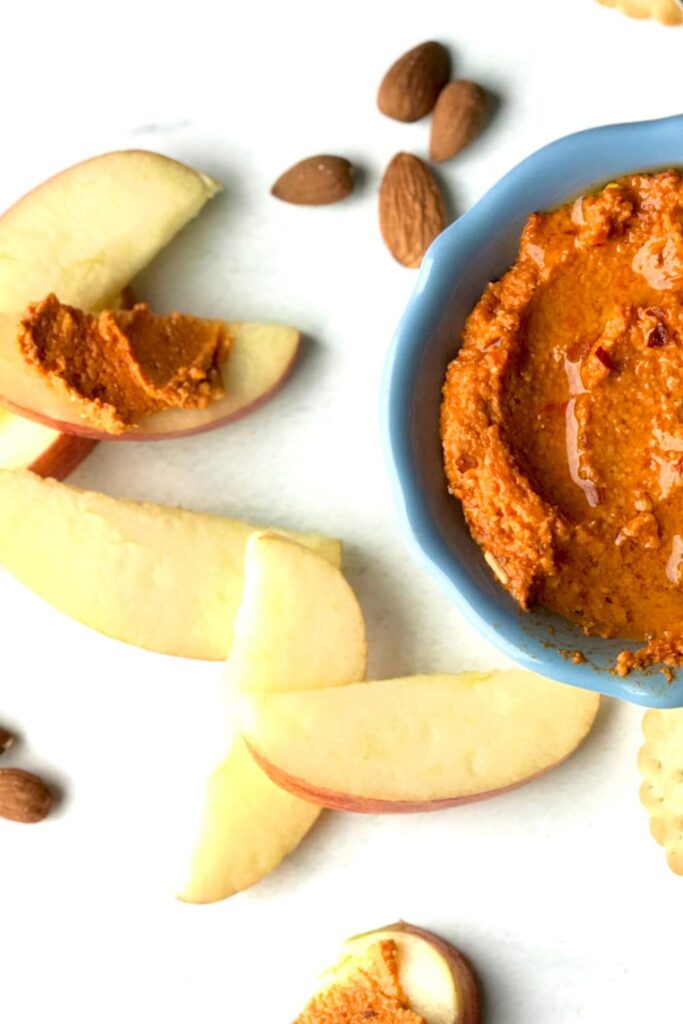 6. Health Benefits of Apples for Healthy Weight
Apples are sweet and taste like a treat but have low calories. With all that fiber, it fills you up, making it less likely for you to overeat. And since it has prebiotics, it helps balance your blood sugar which is good for reducing cravings.
7. Prebiotic Powers
Apples have something called pectin which acts as a prebiotic. This is ideal for fueling the beneficial bacteria in your gut, keeping things healthy in there.
8. May Protect Against Asthma
If you have asthma, apples may provide some more protection. More studies are needed but they seem to help regulate your immune responses in the body, especially when it comes to the symptoms of asthma.
9. Supports Bone Health
Minerals like potassium and magnesium from apples can help neutralize dietary acids which can impact bone loss. So if you're not a fan of milk, make sure you eat more apples. 
10. Protects Brain Health
Healthy compounds in apples may help strengthen the relationship between the brain and the gut, improving cognitive performance. The research is still a little new, but apples can't hurt!
11. Lower Diabetes Risk
If you're at risk for type 2 diabetes, start adding apples to your diet. The polyphenols they contain help prevent tissue damage to cells in your pancreas where your body produces insulin. 
12. Lower Cancer Risk
Apples have flavonoids and polyphenols which can lower your cancer risk. Research is ongoing, but the preliminary finds are fascinating!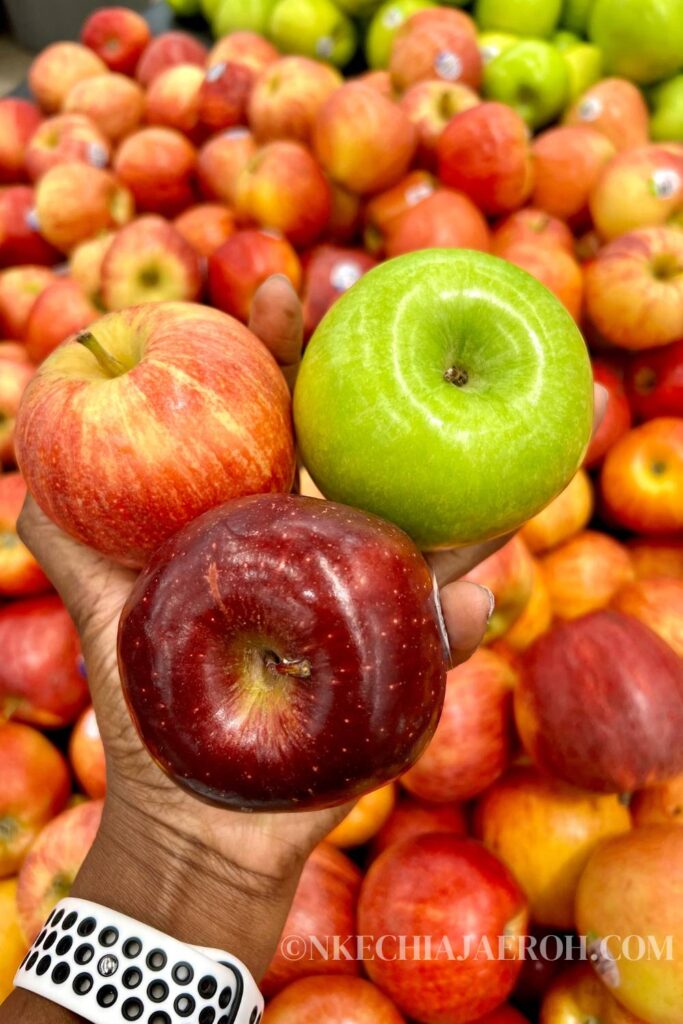 How to Cut an Apple
Perhaps you just wash your apple and bite right in! There's nothing wrong with that! And granted you will still get the health benefits! Lol. But if you want to ensure everyone in the family eats more apples, slice it up first. You can cut it by using a sharp knife to cut to the side of the stem, avoiding the core.
Even better, if you have an apple corer, this is the easiest way to get the core and seeds out of your way. Once the core is removed, you can slice up the apple into uniform pieces. 
How to Eat an Apple
You can of course just chomp right into a whole apple and enjoy. But if you're sharing it, slices are best. You can serve them with a little natural peanut butter, or even a drizzle of raw organic honey. I particularly enjoy slices apples and romesco sauce!
Some Must-Try Recipes with Apples:
Pomegranate Arugula Salad with Apples and Pecans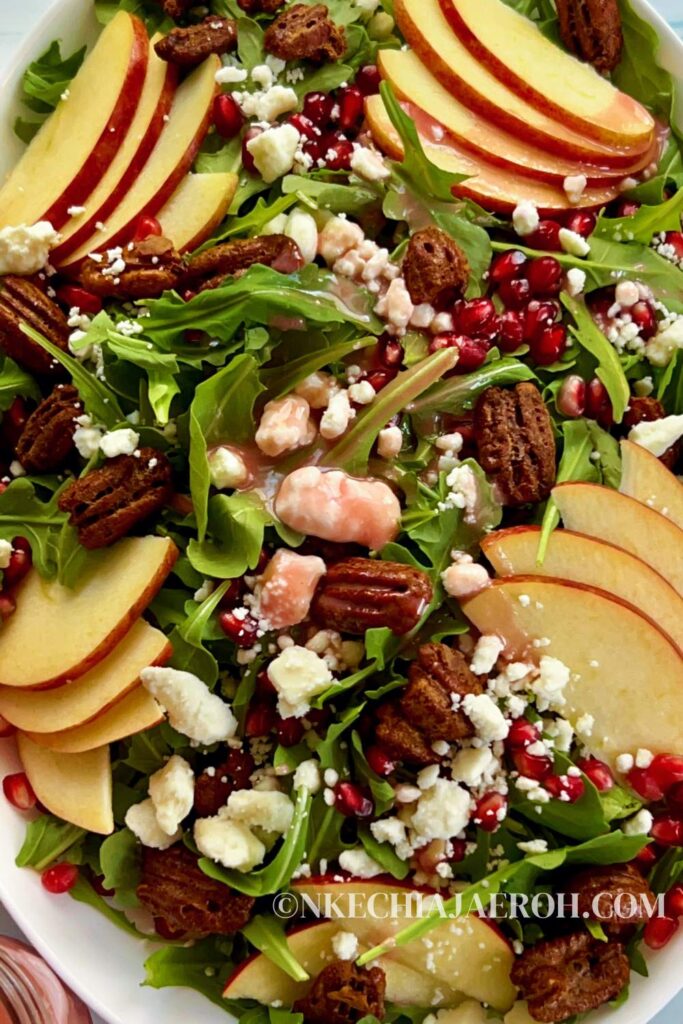 Braised Red Cabbage with Apples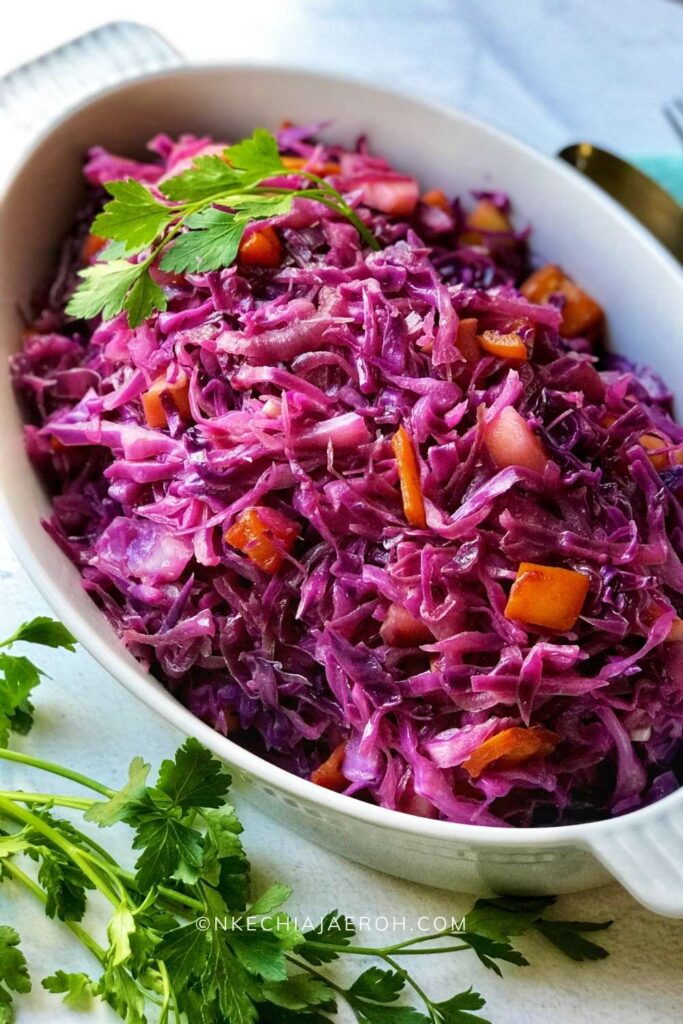 Favorite Healthy Apple Muffins!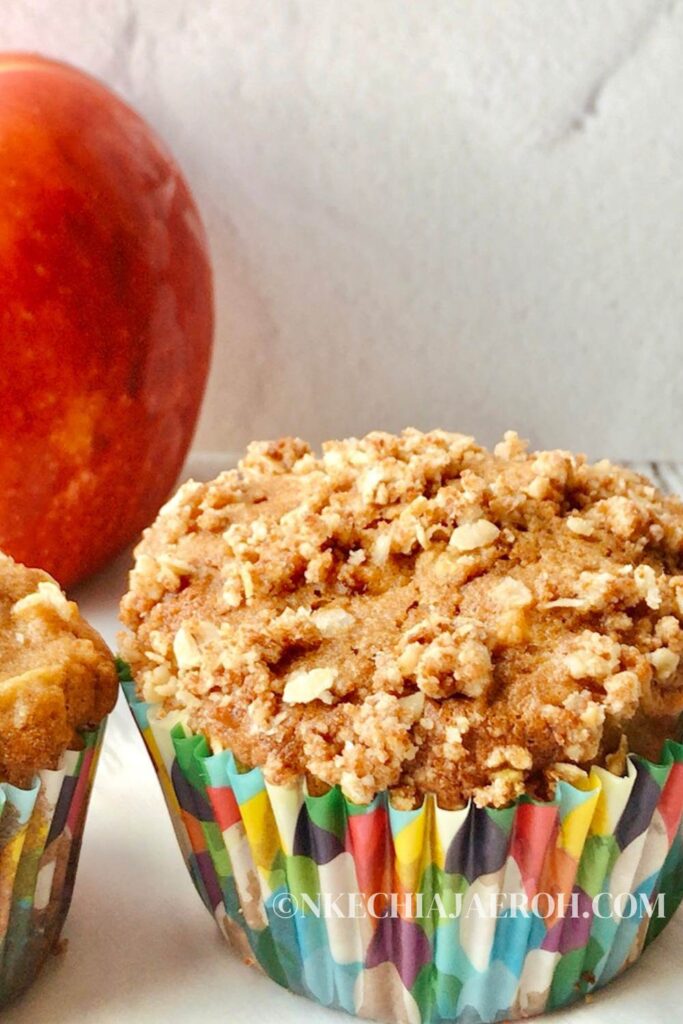 FAQs on Health Benefits of Apples
How Many Apples Can I Eat Each Day? 
As good for you as apples are, it's not a good idea to eat more than 2 of them per day. Too much of a good thing always winds up being a bad thing!
What Does Apples Do For Your Body?
Eating apples helps your digestion and keeps your entire body healthy. No wonder they have always said it can keep the doctor away. I'd still not skip checkups but if you eat an apple each day, you will improve your health. 
What Could Happen If I Eat An Apple Each Day?
If you eat an apple each day, you can help your blood pressure and cholesterol. You'll also improve inflammation throughout your body which helps you stay healthy. 
Should You Eat The Skin Of An Apple?
Yes! The skin of the apple has more fiber and polyphenols which are excellent for your body. 
What Is The Healthiest Way To Eat Apples?
Eating apples in any way is a great boon to your health, however, having them raw ensures the best spectrum of nutrients.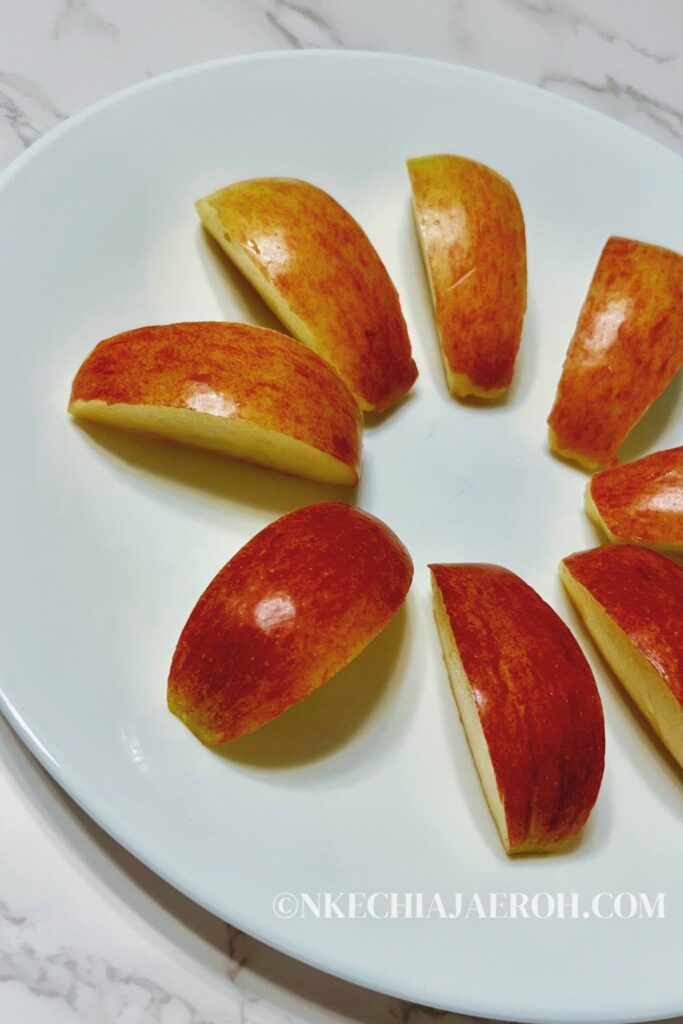 While you are still here, grab my FREE (5) spinach salad recipe bundle. It would be a great addition to your dinner table (if you like salads) or you are looking to incorporate more veggies. Get the recipes here.
Finally, let's connect on social media, am on Pinterest, Facebook, Instagram, Twitter, and YouTube. If you like video recipes, then be sure to head over to my YouTube Channel. Share this recipe post, and SAVE/PIN THIS IMAGE ON PINTEREST! ⤵️